We've gathered 19 of the best crochet Christmas Tree patterns to celebrate the festivities.
Christmas is on it's way! And what better way to prepare for the festive season than to crochet your own Christmas Tree decorations for your home, office or for gifts.
Browse through these free crochet christmas tree patterns and pick your favorite one (or two) to kick start your Christmas decorations and gifts.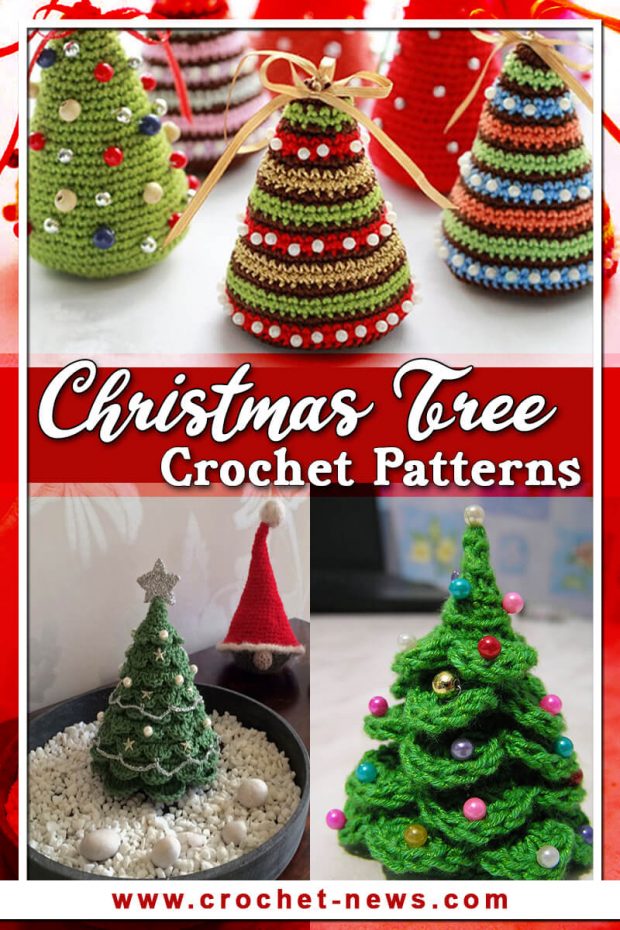 1. Little Colorful Crochet Christmas Tree Pattern by ZoomYummy
These crochet Christmas trees are great for tree decorations, ornaments and as gifts. The PDF includes patterns for both the striped trees and the single color trees.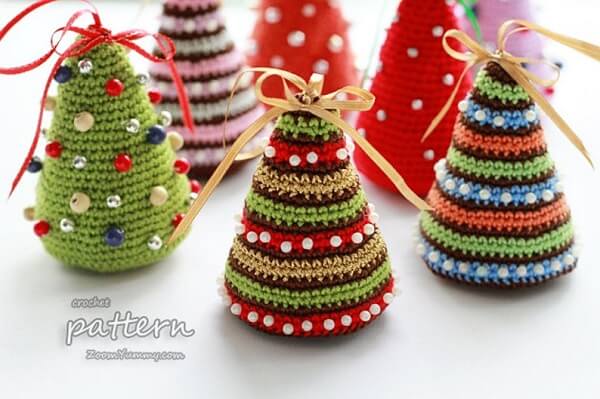 Get Little Colorful Christmas Tree Pattern here

2. Yolochka Christmas Tree Free Pattern by Asichka
A fast and simple Christmas tree to crochet, this pattern is available in both English and Russian. Add your own flare with decorations for the tree and cluster a few trees together for a festive touch to your home or office.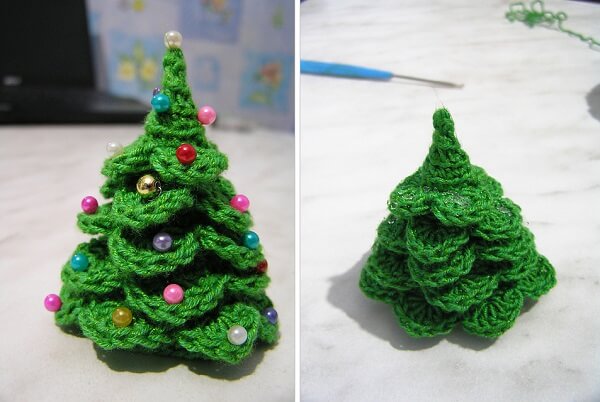 Get Yolochka Christmas Tree Pattern here

3. Crochet Christmas Tree by BautaWitch
Experiment with colors and seasons with this crochet Christmas tree pattern.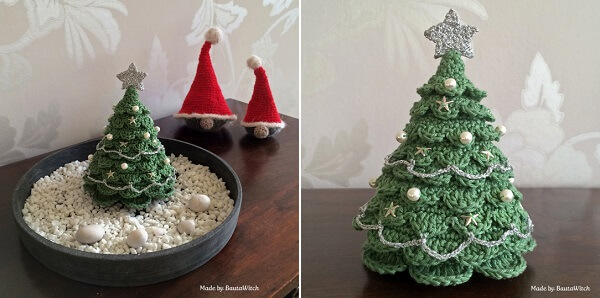 Get BautaWitch's Crochet Christmas Tree Pattern here

4. Free Crochet Christmas Tree Pattern Ornament by Craftsy Amore
This crochet Christmas Tree ornament pattern is perfect for beginners! Use the double crochet stitch and have this project completed within the hour.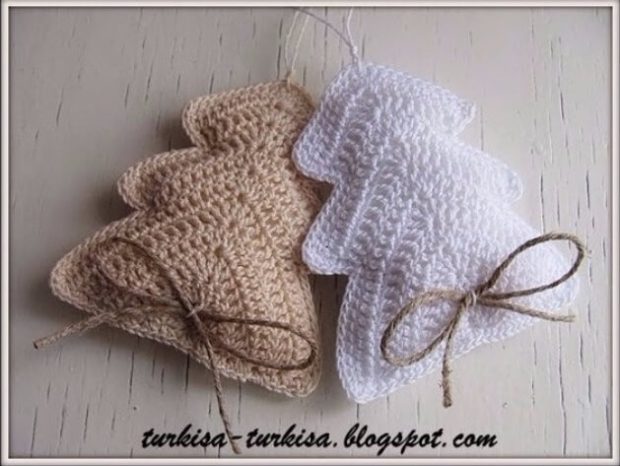 Get Christmas Tree Ornament Pattern here

5. Crochet Christmas Tree Pattern by Deborah O'Leary Patterns
Create your own crochet Christmas tree farm for a fun project and to add to your Christmas decor this festive season.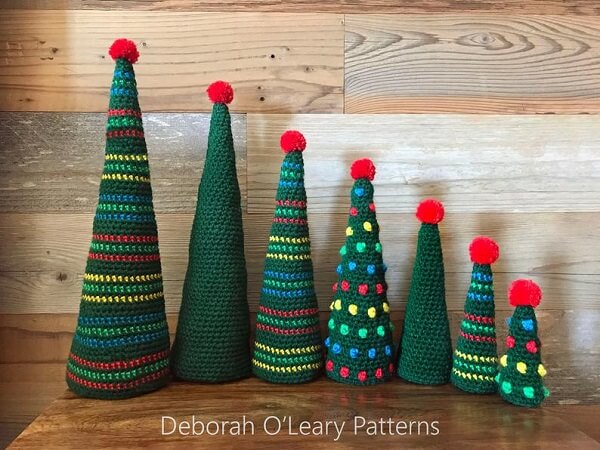 Get the Christmas Tree Farm crochet pattern here

6. Christmas Animals Tree Ornaments Crochet Pattern by Birds and Crickets
With all the crochet Christmas trees you'll be making, add a few crocheted animals in the mix to spice things up for your festive decor. The pattern by Birds and Crickets includes patterns for a racoon, deer, owl, bear, penguin and fox.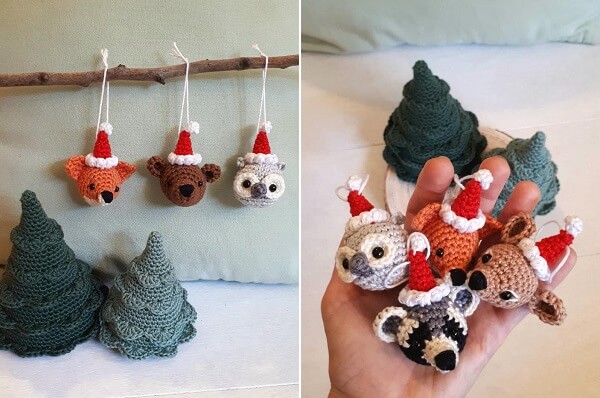 Get Christmas Animals Tree Ornaments crochet pattern here

7. Going Round in Circles by Frankie Brown
Add some color and flare to your Christmas decor! You can make these crochet Christmas trees in any color you like and any size.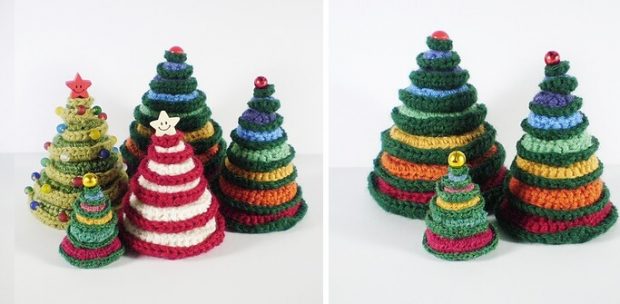 Get Going Round in Circles Crochet Patterns here

8. Colorful Amigurumi Christmas Trees by Elealinda Design
Crochet a bunch of amigurumi Christmas trees in a range of colors! The pattern comes with instructions for both a Christmas tree with decorations and a colorful stripes tree.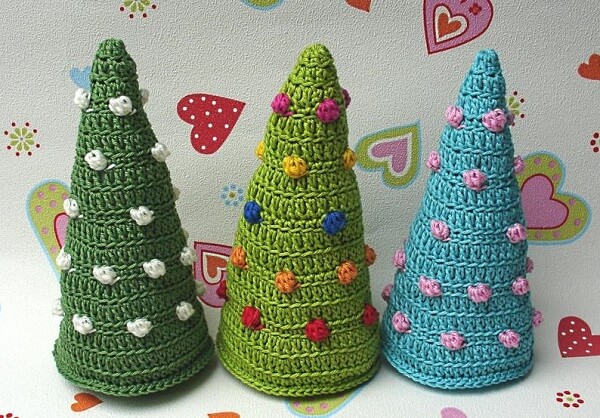 Get Colorful Christmas Trees crochet pattern here

9. Colorful Crochet Flat Christmas Tree Pattern by Homemade@MyPlace
Brighten up your home or office with these colorful and modern crochet Christmas decorations. They are fast and fun to make, and you can use an array of colors to suit your own festive feel.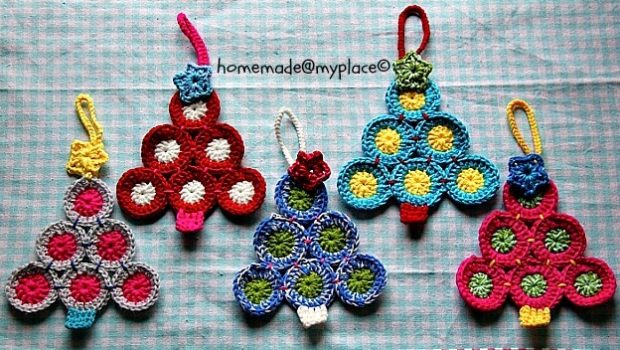 Get this Colorful Crochet Flat Christmas Tree Pattern here

10. Christmas Tree Crochet Pattern Doll by Heycancrochetmea
The kids will love this one! The Christmas tree doll is a great craft project for the kids to get involved in. They'll learn some basic crochet stitches and see how they come to life.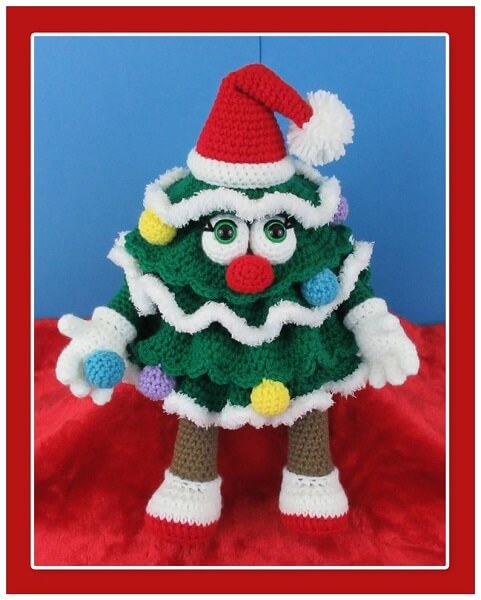 Get crochet pattern for the Christmas Tree Doll here

11. Garland Christmas Tree Pattern by Lilleliss
Create a simple and modern set of crochet flat Christmas tree garland to decorate your home for the festive season. Or use the individual trees to add a special handmade touch to your Christmas gifts.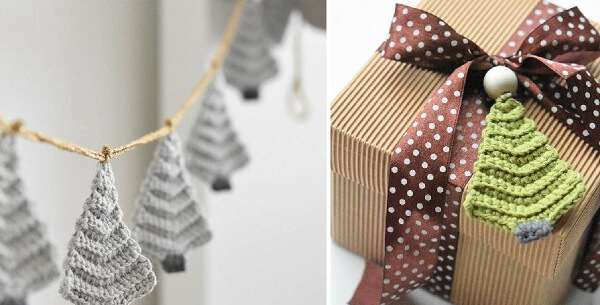 Get the Christmas Tree Garland crochet pattern here

12. Crochet Ribbon Christmas Tree Pattern by Poppy&Bliss
These fun pops of color will brighten up your home this Christmas! Get the kids involved in this one, with simple and fast stitches they'll be crochet pros in no time!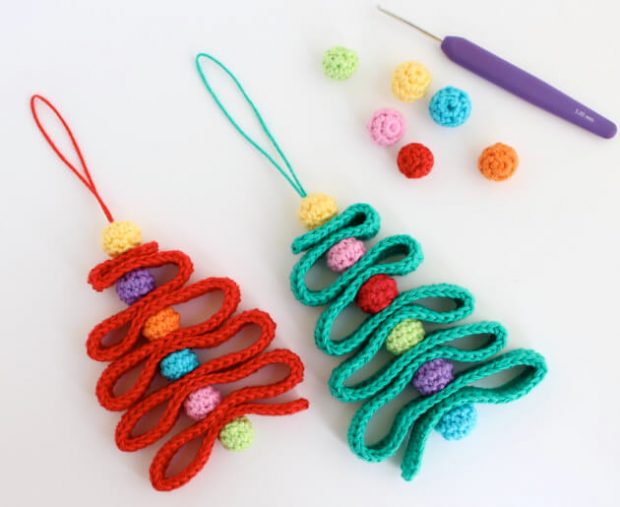 Get Crochet Ribbon Christmas Tree pattern here

13. Amigurumi Christmas Tree Crochet Pattern by Crochet Toys Ukraine
A traditional crochet Christmas tree to add to your collection. You can create a festive Christmas scene with the tree as the center piece, or have it stand out on it's own as the main star of the show.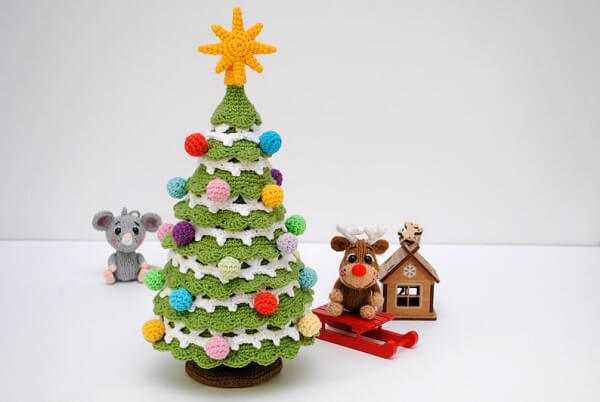 Get Crochet Toys Ukraine's Christmas tree pattern here

14. Chain Crochet Christmas Tree by Seams of Life
Using a simple chain stitch, a paper cone and some glue you can create a bunch of crochet Christmas trees in any color or size you like.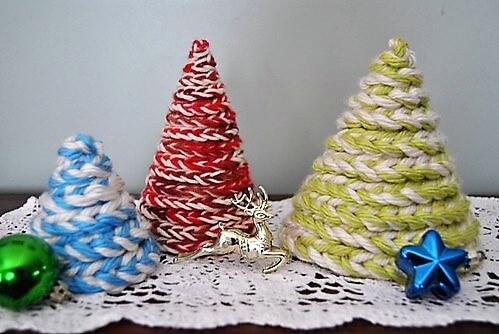 Get the Chain Crochet Christmas Tree here

15. Vintage Granny Square Christmas Tree by Dawn
Go vintage this Christmas and create a simple granny square Christmas tree as a door decoration or table runner.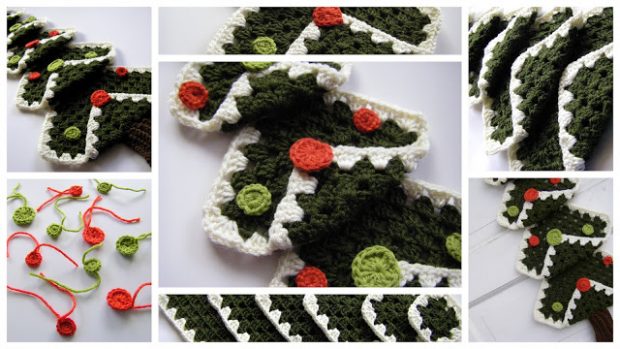 Get the Vintage Granny Square Christmas Tree pattern here

16. Crochet Christmas Tree Pattern by Knittoy World
Topped with a cute-as-a-button Santa hat, this tree is sure to be the star of the show among your festive decorations.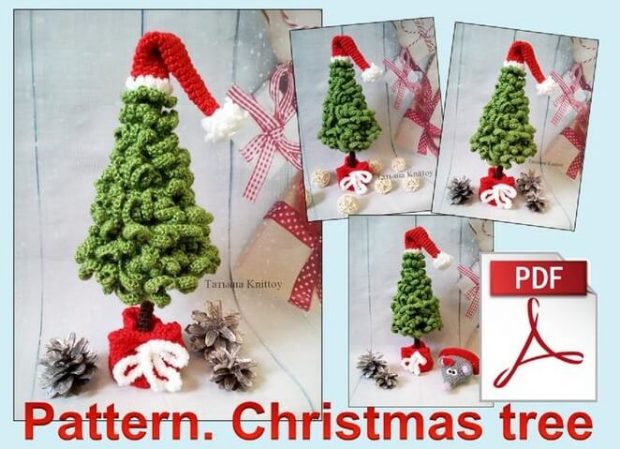 Get Knittoy World's Christmas Tree crochet pattern here

17. Amigurumi Christmas Tree by Helen Free
This free crochet Christmas tree patterns includes instructions for both a small and large Christmas tree. Decorate the trees with a range of colors to brighten up your home this festive season.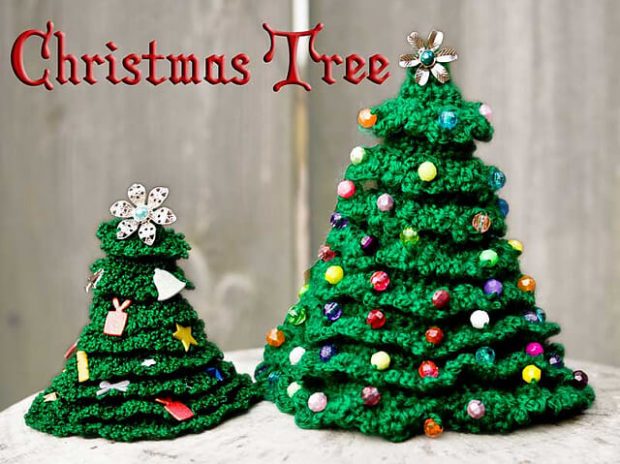 Get this free crochet christmas tree patterns here

18. Crochet Christmas Tree Bunting Pattern by The Mayfield Makery
Create a bunting of Christmas trees in your favorite color to hang across your windows, mantelpieces and around your Christmas tree.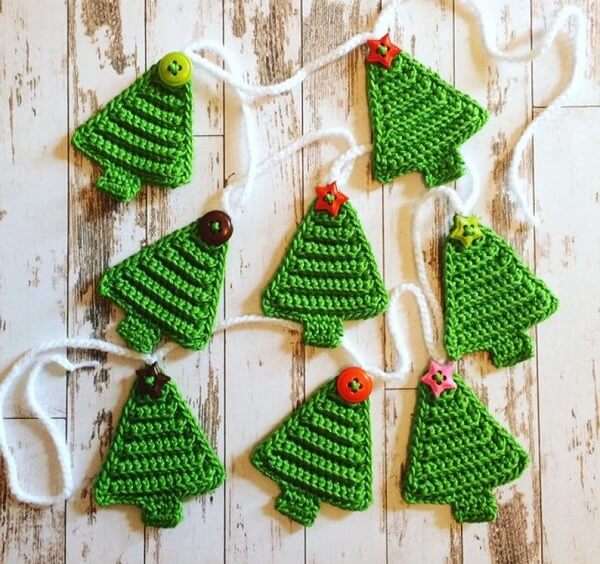 Get Christmas Tree Bunting pattern here

19. Tabletop Crochet Christmas Tree Pattern
This fun and cute tabletop crochet decor Christmas tree pattern is part of a set of 8 Christmas tree pattern is created by LittleOwlsHunt. Not only is it perfect for small spaces, it can also stand on its own!

This Crochet Tabletop Christmas Tree Pattern is perfect for you! Standing approximately 11 inches tall, it will fit perfectly on top of your table or on your office desk!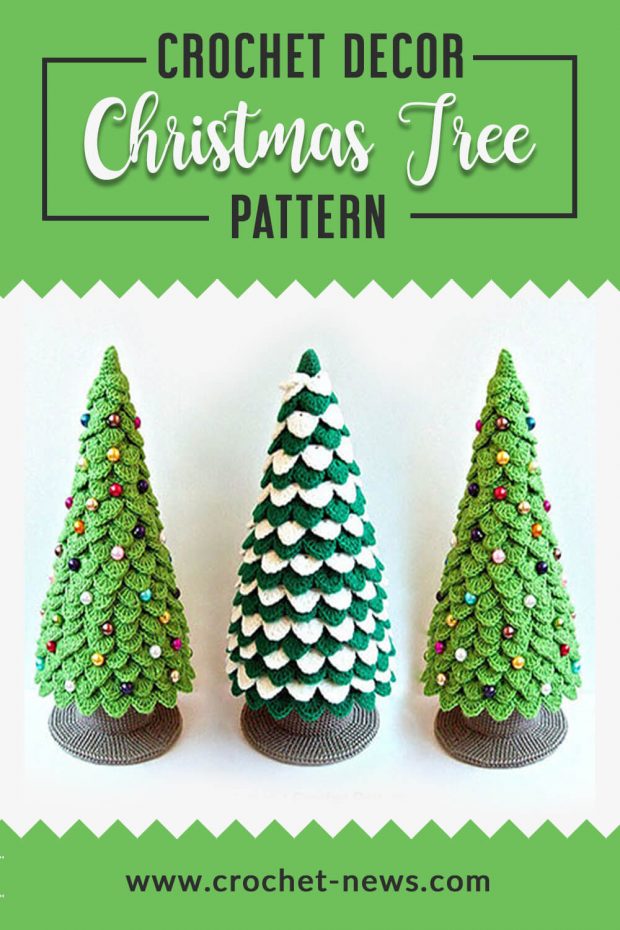 Although Christmas trees usually come in green, you're free to choose your own color! You know what's better? You can also make it in two colors!
Having a plain one makes it a little flat, good thing this pattern includes directions on how to add small colorful beads to make your tree a little more lively. Feeling a little bit creative?
Why not make these Candy Cane Ornaments to decorate the tree! Make them a little smaller or use a smaller yarn to match the size of the tree.
Just a little reminder if you plan on adding the small details like the beads, please be cautious when you leave it around children. Stay safe!
About the Yarn
Since this piece is meant to stand, it is advisable to use a sturdy yarn. The suggested yarn for this pattern is "Bambino" by Nako, 25% wool, 75% acrylic. One skein of this 4 ply yarn is 130 meters long and weighs 50 grams.

You have the option of making a plain green Christmas tree or a snow covered one. For the plain green one, you will need 115 g of green yarn for the tree, and 35 g of brown for the base.
If you prefer a snow-covered one, ready 80 g of green yarn, 35 g of white yarn for the snow, and 35 g of brown.

Other 4 ply yarns that are 250-280 meters long, and 100 grams can serve as an alternative yarn if the "Bambino" by Nako is not readily available.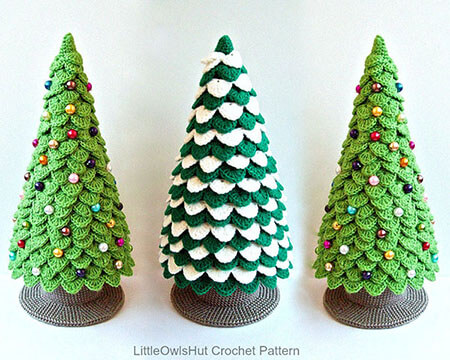 About the Pattern

Because of the more advanced stitches, this pattern is for intermediate crocheters and also perfect for those who want to take the leap from beginner to intermediate patterns. A pattern example is available for download so you can try it before buying the whole pattern.

Having second thoughts because it looks a little complicated? Worry not! This pattern is pretty easy to follow and comes with 13 pages of detailed step by step instructions, tips, and photos to guide you in the process. This pattern got you covered!

Skill Level
Intermediate
Materials Needed
4 ply yarn ("Bambino" by Nako )
beads of different colors
crochet hook – 2.5 mm
four CDs (or four circles cut out of thick cardboard or thick plastic)
nail (6-8 cm long)
stuffing
a piece of foam rubber
Finished size

approx. 28 cm (11 inches) tall

Stitches Used

Slip Knot
Chain – Learn chain stitch here.
Slip Stitch
Single Crochet – Tutorial for single crochet.
Decrease
Increase
Half Double Crochet
Double crochet – Double crochet guide.
Treble Crochet
Fasten off yarn
Weaving ends
You will surely be ready to join the holiday festivities with these Crochet Christmas Tree Patterns!

Looking for other patterns you can make to add more Christmas spirit to your place? Checkout this Christmas Nativity Amigurumi Pattern, Santa Boot Crochet Pattern, and more Christmas Themed Crochet Patterns such as:


You will surely have a fun time creating more decorations for this Christmas!
Got the materials you need? Come on, time to work on your favourite Crochet Christmas Tree Pattern!