Looks like these Christmas Crochet Candy Cane Pattern is just what you need! Is your tree looking a little bit flat? Wondering how you can make it somehow pop?
With the candy cane's iconic red and white color, you'll get the perfect color contrast to make your tree look lively! Continue reading to find out how to brighten up your tree with these Christmas amigurumi candy cane patterns.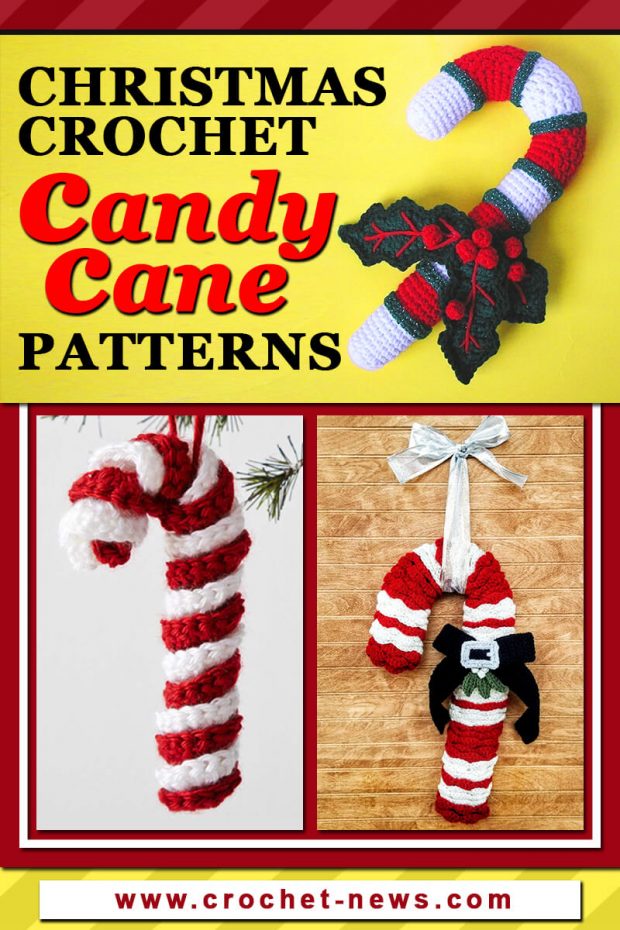 27 Crochet Candy Cane Patterns to add to your homes Christmas decorations this year
1. How To Crochet A Candy Cane by Naztazia
Here's a quick and very easy candy cane to crochet. With just 2 rows of single crochet stitches, this crochet pattern is perfect for a beginner.
A glue and water mixture then help stiffen the candy canes keep their shape. Once completed they are about 8 inches tall and 3 inches wide.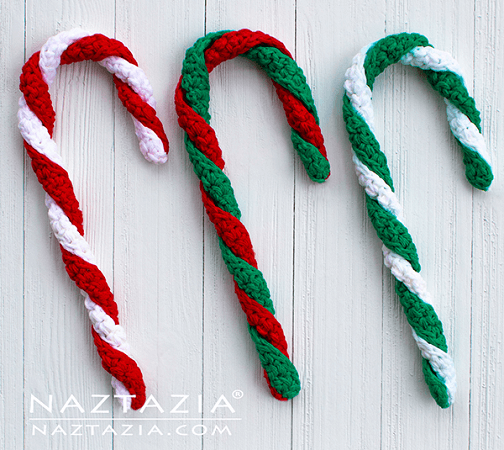 Get the Pattern here
2. Amigurumi Free Crochet Candy Cane Pattern by Sarah Leese
This super cute candy cane amigurumi is perfect for hanging on the tree, gifting in a stocking or standing on the mantlepiece. You can make bunting out of them or really make them the star of the show by placing at the very top of the tree. Perfect for gifting and decoration alike.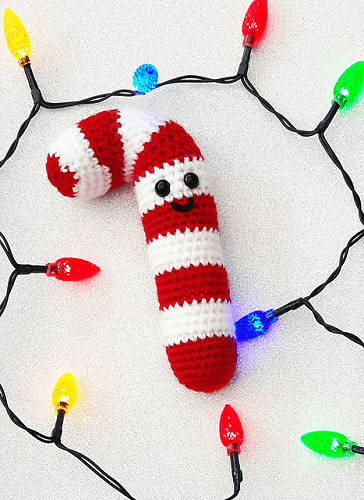 Get the Pattern here
3. Christmas Hat Pattern by CozyNorthWoods
Here is a really cute crochet hat pattern that features a subtle candy cane design on the front. The addition of the pom pom makes the hat fun to wear.
This is an easy level crochet candy cane pattern. You will need to know the regular corner-to-corner stitch and the modified mini corner-to-corner stitch.
You also must be able to follow a corner-to-corner pattern and graph. The sizes available include 0-3months, 3-6months, 6-12 months, toddler, child/pre-teen, and teen/adult.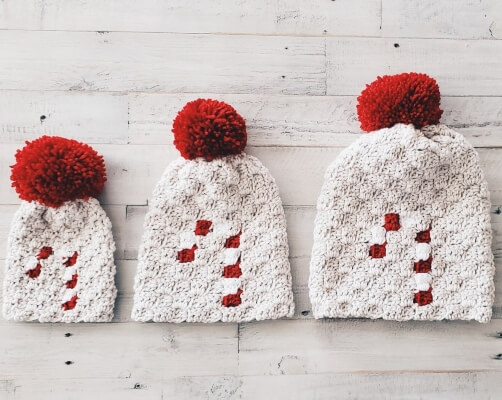 Find the Pattern by CozyNorthWoods Here
4. Crochet Candy Cane Cover Pattern by Sewrella
These Crochet Christmas Candy Cane Covers work perfectly for ornaments hung on the tree, tied to a gift, or given out at school or work! Make one or two for your tree, and use the others as classroom gifts or something fun and handmade to add to a store bought gift!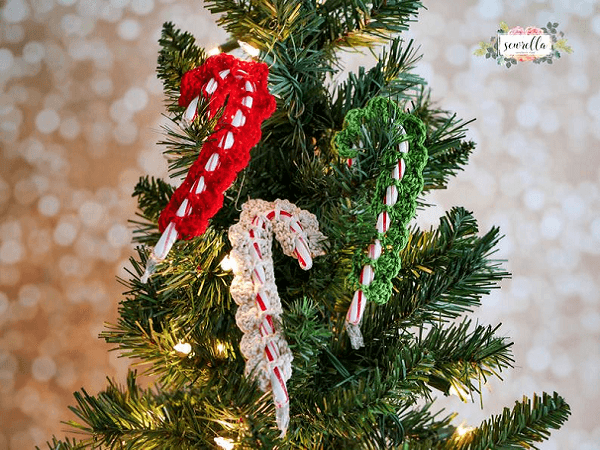 Get the Pattern here
5. Candy Cane Crochet Pattern by 3am Grace Designs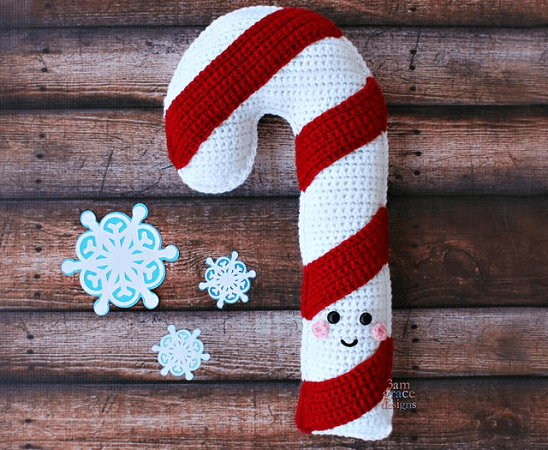 Get the Pattern by 3am Grace Designs here
6. Crochet Candy Cane Pattern by Bvoe 668
This Crochet Candy Cane Pattern makes up quickly using worsted weight yarn and a little glitter yarn on the bands. The candy cane measures 12″ tall by 9″ wide including the holly leaves.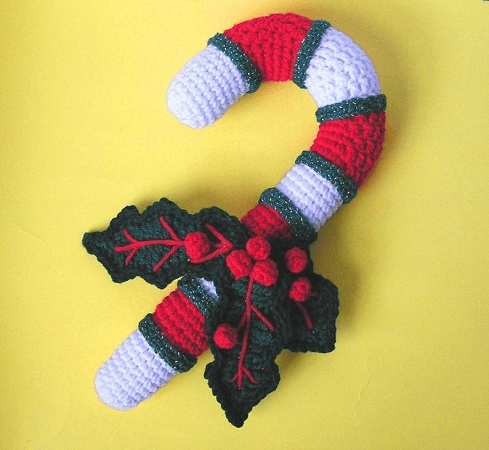 Get the Pattern by Bvoe 668 here
7. Bag For Gift Cards Crochet Candy Cane Pattern by Amber Millard
A super easy option for those of you who give away gift cards for gifts but hate the idea of just throwing it in a card. This bag has enough space to include a little note or some candy in addition to the gift card you picked out.
While this is candy cane inspired, you can really do any color arrangement or keep it one colored, it's up to you. It's also very easy to make larger, as explained in the pattern.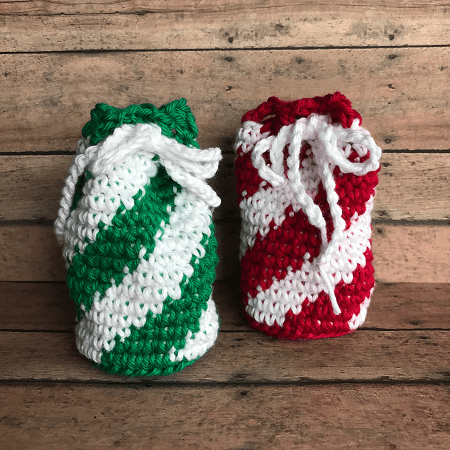 Get the Pattern here
8. Easy Crochet Candy Canes Pattern by Repeat Crafter Me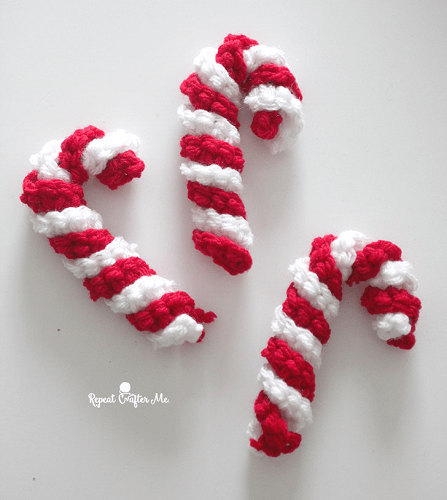 Get the Pattern here
9. Crochet Candy Cane Wreath Pattern by Highland Hickory Dsgns
Decorate your home, office, church, social hall, etc. with this gorgeous Candy Cane Wreath! This pattern is very versatile. You can dress it up any way you choose, or leave it plain and it still looks stunning.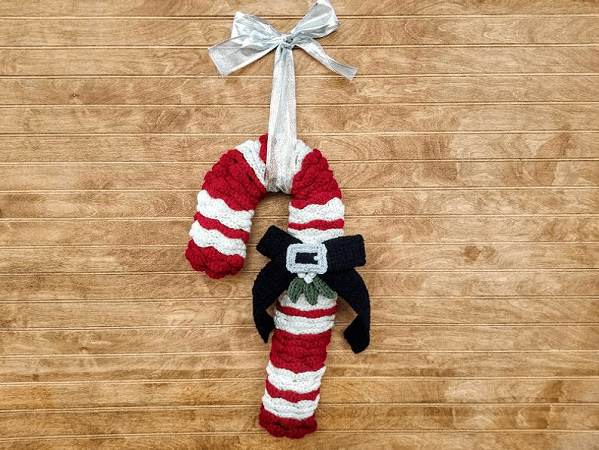 Get the Pattern by Highland Hickory Dsgns here
10. Christmas Basket Free Crochet Candy Cane Pattern by E'Claire Makery
Want to add some fun packaging to your holiday gifts this season? This candy cane inspired tapestry crochet gift basket is perfect for putting all of those fun handmade gifts you'll be making this holiday season for your loved ones.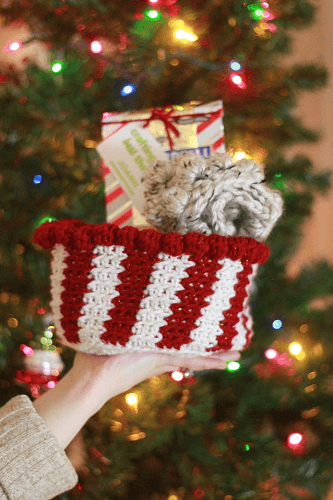 Get the Pattern here
11. Candy Cane Hat and Pants Newborn to Child Set Crochet Pattern by BrianaKdesigns
How adorable is this candy cane hat and pants set? This outfit would be perfect for holiday parties and photo shoots.
This pattern requires some previous crochet experience. It uses single crochet, double crochet, single crochet decrease, puff stitch, carrying yarn on back of work, and front post triple crochet. There are instructions for sizes newborn to child.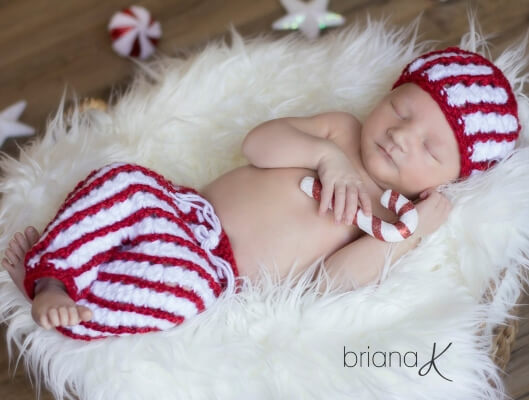 Find this Pattern by BrianaKdesigns Here
12. Dog Scarf Crochet Candy Cane Pattern by Golden Lucy Crafts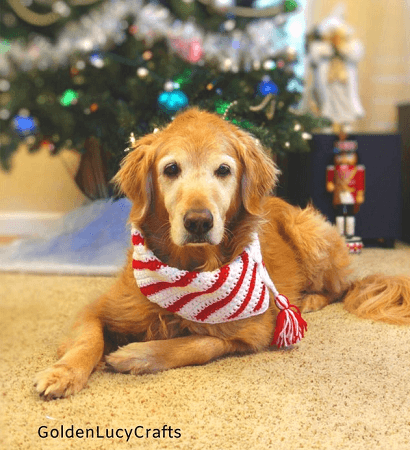 Get the Pattern by Golden Lucy Crafts here
13. Crochet Candy Cane Ornament Pattern by Spin A Yarn Studio
You will love how these Vintage Candy Cane Ornaments look in non-traditional colors, like pink and mint. This pattern incorporates the tapestry crochet technique and there is some color changing involved, but they are not difficult and they work up very quickly!

Aside from all the color possibilities, you can also customize these by crocheting around the outside in one solid color or in alternating colors to get two very different looks.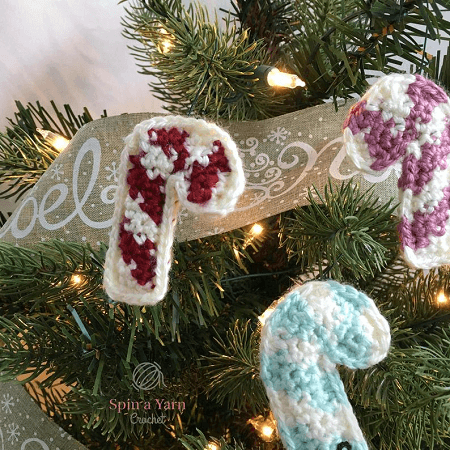 Get the Pattern by Spin A Yarn Studio here
14. Crochet Candy Cane Pet Sweater Pattern by Featherby And Friends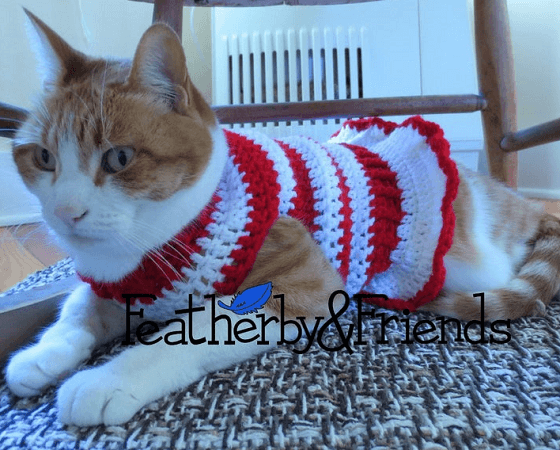 Get the Pattern by Featherby And Friends here
15. Crochet Candy Cane Potholder Pattern by Hoooker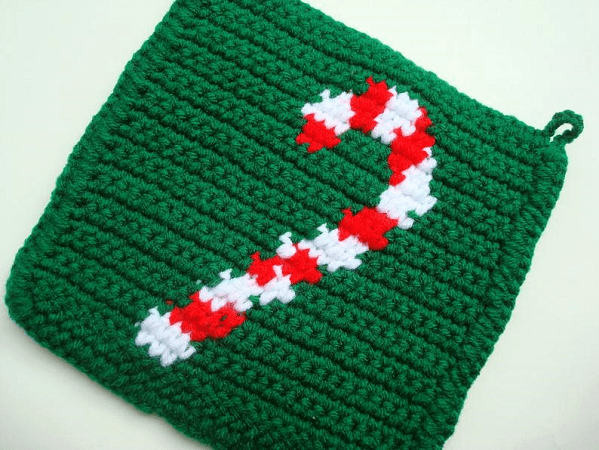 Get the Pattern by Hoooker here
16. Crochet Candy Cane Stripes Beanie Pattern by CozyNorthWoods
This hat uses the classic candy cane twist and a fun fluffy pom pom. Everyone can get in the holiday spirit when they wear this beanie.
To make this candy cane crochet pattern, you need to know the mini corner-to-corner crochet stitch. The pattern is for sizes 0-3 months, 3-6 months, 6-12 months, toddler, child/pre-teen, teen/adult, and adult large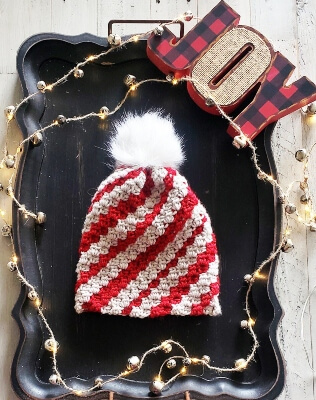 Find the Pattern by CozyNorthWoods Here
17. Pixel Square Candy Cane Crochet Pattern by Repeat Crafter Me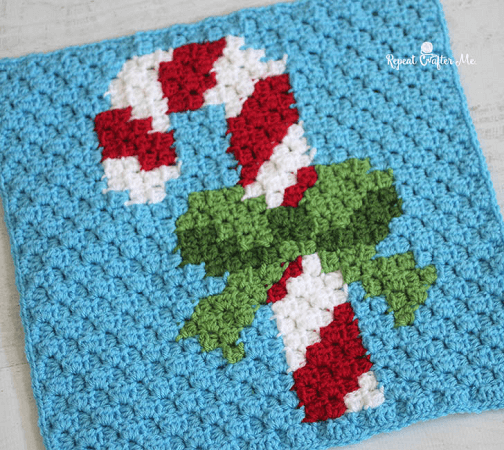 Get the Pattern here
18. Crochet Candy Cane Mug Cozy Pattern by The Stitchin Mommy
This Candy Cane Striped Mug Cozy takes less than 2 hours to make and can be made with any yarn in your stash! You can swap the candy cane colors for school colors to make a varsity mug cozy or change it out for the colors of the rainbow for something more bright and cheerful!
Or you can check out these crochet mug patterns for more ideas.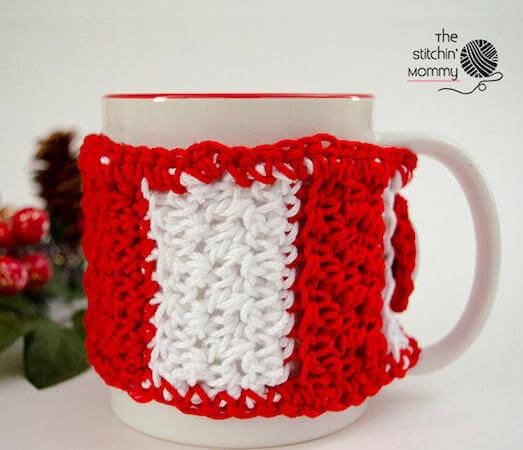 Get the Pattern by The Stitchin Mommy here
19. Giant Candy Cane Crochet Pattern by Jayda In Stitches
Got a giant sweet tooth? Satisfy your sweet cravings and desire for adorable decor by making this Giant Crochet Candy Cane!
It's a quick, fun way to add some festive delight to any room, and works magic as a neck pillow! It's a great addition to a child or teen's bedroom and it's a cute soft toy for little ones.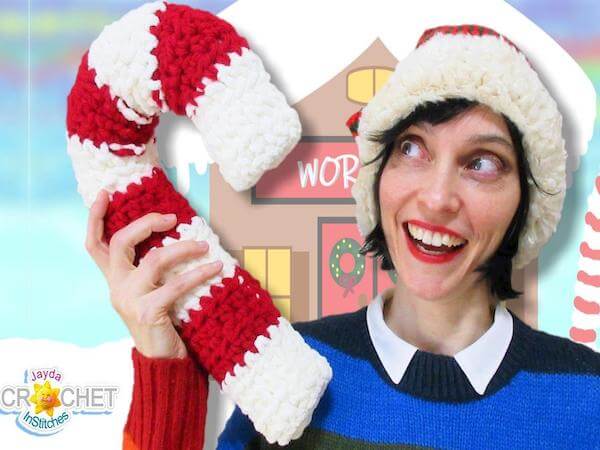 Get the Pattern by Jayda In Stitches here
20. Candy Cane Boot Cuffs Crochet Pattern by DelafieldQuiltShop
You do not have to go out and buy special boots for your holiday parties. Instead, add a pair of these crochet candy cane boot cuffs. These cuffs are perfect for adding holiday cheer to your outfit.
The downloadable PDF pattern will walk you through each step. It is an easy pattern that works up quickly. You will need to know double crochet, single crochet, slip stitch, single crochet two together, and chain stitch.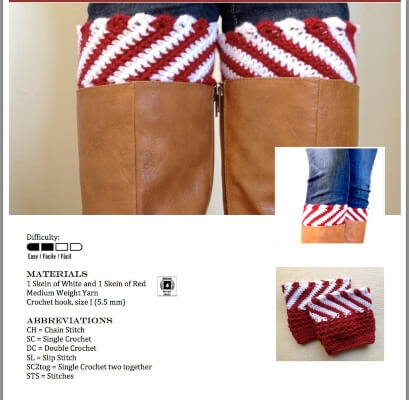 Find the Pattern by DelafieldQuiltShop Here
21. Free Crochet Candy Cane Pattern from Planet June
If you enjoy pipe cleaner crafts and crocheting, mix the two and make these crochet Christmas candy canes. This free pattern is perfect for making a bunch of Christmas tree ornaments.
To make these easy crochet candy canes you will need an E US/3.5 mm crochet hook, small amounts of worsted weight yarn in white and red, a white 12″ (30 cm) pipe cleaner, and a yarn needle.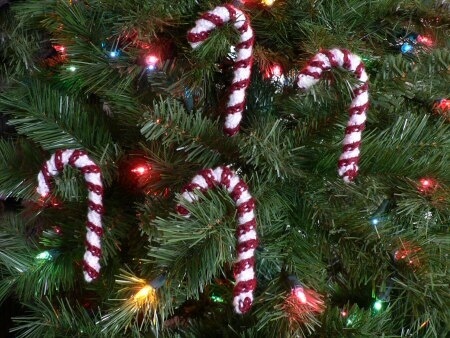 Find the Pattern from Planet June Here
22. Peppermint Swirl Christmas Tree Skirt Crochet Pattern by CraftingFriendsDesig
It can be hard to find the perfect crochet christmas tree skirt. Look no farther than this amazing crochet candy cane pattern.
This tree skirt is made in sections. There are 8 sections in total. Once you have all the pieces completed, they are joined together using a fun and simple technique. This skirt lays flat and has 1 section left open, so you can put it around the tree. Once the skirt is in place, you can tie it shut.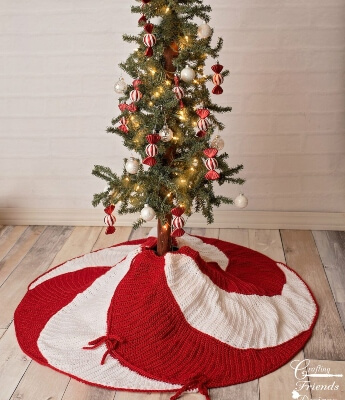 Find the Pattern by CraftingFriendsDesig Here
23. Crochet Candy Cane Blanket Pattern by Nancysaid
Make this thick and quick crochet blanket to add some fun decor to your home. It is perfect for snuggling under during the holidays and keeping warm. The blanket is luxurious, soft, and comfortable.
The blanket pattern is worked in a puffed stitch using worsted (aran) weight yarn. This is an easy pattern that is simple to memorize and really relaxing to make.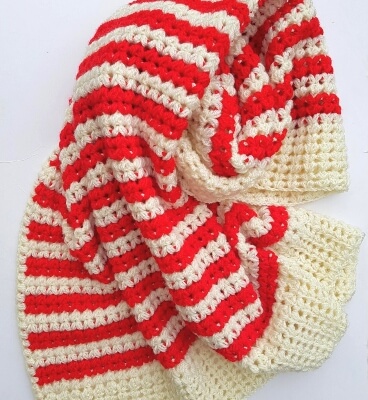 Find the Pattern by nancysaid Here
24. Crochet Christmas Candy Cane Appliques by Raffamusa Designs
Are you looking for some crochet candy cane appliques? Appliques are perfect for adding to handmade cards, packages, and other crochet projects.
With this free crochet candy cane pattern, you can use up your stash yarn and make a bunch of these in no time at all. The pattern uses chain, double crochet, increase, slip stitch, stitch, and yarn over.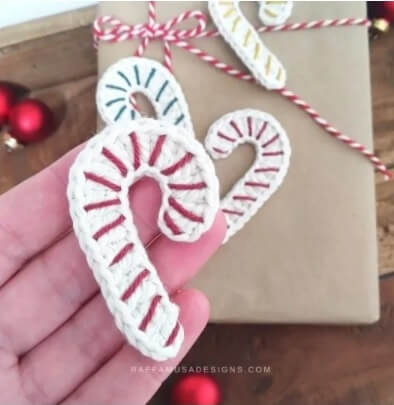 Find the Pattern by Raffamusa Designs Here
25. Crochet Candy Cane Leg Warmers Pattern by MonieMaeBoutique
Keep warm this winter with these crochet leg warmers. These things are stylish and fun. Make them in red and white for a whimsical Christmas design or use a solid colour for those who do not like to stand out in the crowd.
The pattern is written for a child and toddler. Other sizes can be made using measurements. The pattern is easily adjusted to any size.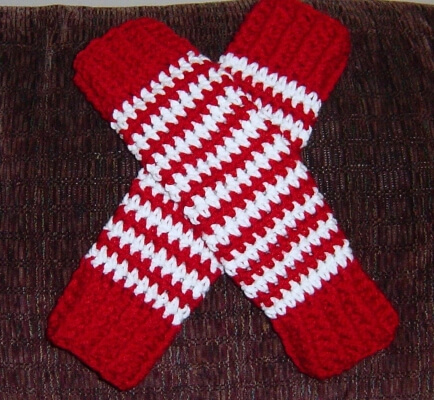 Find the Pattern by MonieMaeBoutique Here
26. Christmas Stocking Crochet Pattern by Emma Varnam
Your Christmas decor is not complete until you hang up the Christmas stockings. Here is a cute crochet candy cane stocking that is perfect for hanging on the mantle.
This pattern is suitable for an advanced to intermediate level crocheter. The stocking is worked in the round in amigurumi style. Then the heel is created by working in rows.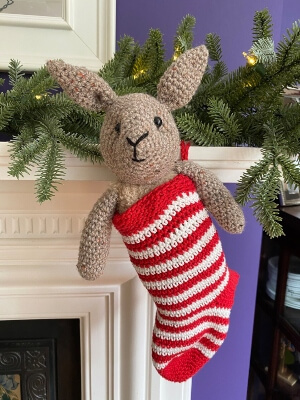 Find the Patten by emmavarnam Here
27. Christmas Crochet Candy Cane Pattern

Thanks to Yarnspirations, we have this crochet candy cane pattern you can use to hang on your tree, make a garland, or even as a gift topper!
They have a huge array of different Christmas decors that so easy to make. Perfect if you want to make one while counting down the days 'til Christmas, right?

With only a few stitches needed, this Christmas crochet candy cane pattern is quick to finish and you can make as much as you want. Create a few ones and hang them on your tree!

About the Yarn for the Candy Cane Crochet Pattern

Candy canes usually comes in Harvest Red and White colors, but you can always stray away from the usual and use your own Christmas color palette this year.
Caron Simply Soft Yarn is perfect for this crochet candy cane pattern! It's a popular worsted yarn that comes in lots of colors, you can easily find a yarn that will match your Christmas color palette!

It is 100% acrylic and soft to touch, perfect for home decors and can even be used for fashion pieces. There's no need to worry about the candy cane getting a little dirty, the yarn is machine washable and dryable.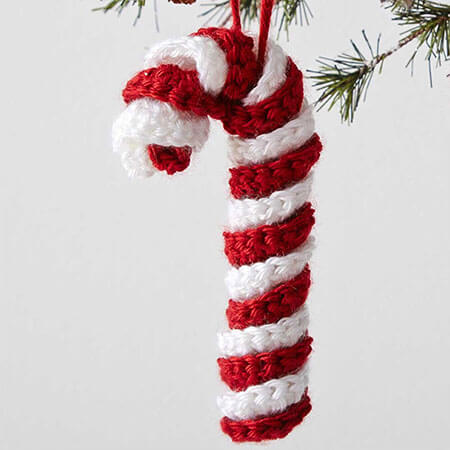 About the Crochet Christmas Candy Cane Pattern

Not only is this crochet candy cane pattern quick and easy to follow, it's also for FREE! With only a few simple stitches needed to make this ornament, it's perfect for beginners.
You will have your tree covered in candy canes in just a few hours, a perfect last minute design for your garland or your tree! To create the crochet candy cane ornament, you only need to create two coils in different colors.
Weave the ends of each coil and twist them around each other to create the candy cane. If you prefer, you can use a bobby pin or a pipe cleaner to make the curved form of the iconic candy cane.
First you have to straighten out the wire then poke it through the whole candy cane coil and create the curve. After you're satisfied with the shape of your candy cane, you can adjust the coils to get your desired look.

However, if a bobby pin or a pipe cleaner is not available, you can instead use one of the yarn colors to create the curve. Slightly bend the twisted coil from the top and using one of the yarn, pull the strands to create a knot for the hanging loop. A little hair spray can help if you want to stiffen the candy cane ornament.

Stitches Used

Chain Stitch – Chain stitch tutorial
Double Crochet Stitch – Learn to Double crochet
Single Crochet stitch – Guide on Single crochet

So easy to follow and a great pattern for beginners! It's the best ornament for those quick last minute changes.
Get the Crochet Candy Cane Pattern HERE
LET'S KICK THE SEASON OFF WITH A COUPLE OF QUICK, SATISFYING PROJECTS. THE WHOLE FAMILY WILL; ENJOY THESE CROCHET CANDY CANE PATTERNS!
Encourage other crocheters to add a touch of these iconic red and white candies to their homes by posting your finished work on our Facebook Page.
Check out our Christmas Snowflake Patterns, Crochet Christmas Ornament Patterns, and more Christmas Crochet Patterns for more crochet ideas you can use to decorate your tree!
Here are our Favourite Crochet Christmas Pattern Lists
Start making your Crochet Candy Cane now.
Are you ready to make your Christmas tree pop? Gather your materials and have fun making lots of candy cane ornaments from these Crochet Candy Cane Patterns!