If you think your beanie looks a little unappealing, maybe you can fix it by adding a fluffy crochet pompom?
The usual pompoms we know are usually made strands of yarn tied at the center. But did you know that you can also make a pompom by crocheting the yarn?
Just like the ordinary yarn pompom, a crochet pompom is also fluffy! It will surely add another level of cuteness and charm to any project you make!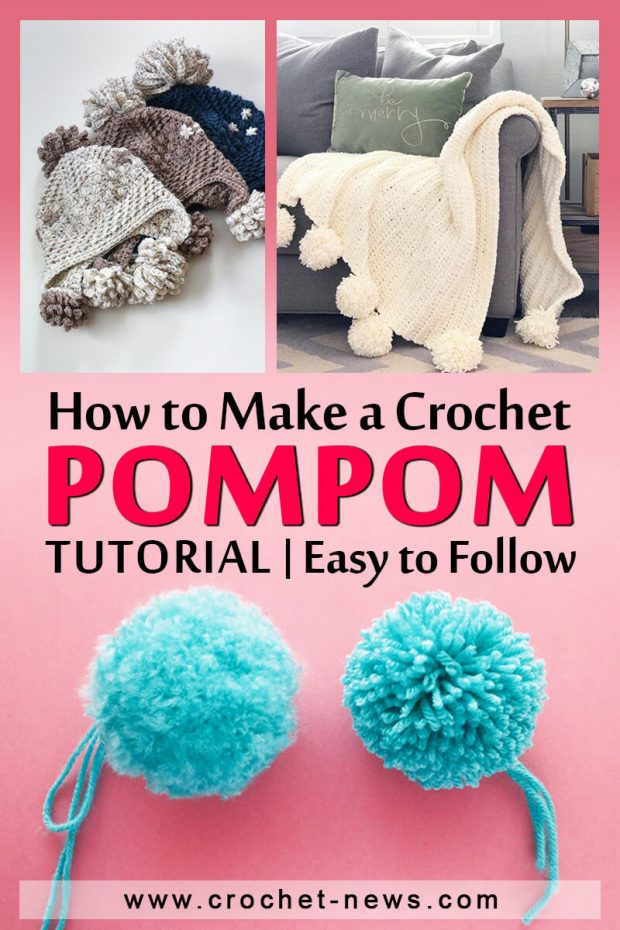 If you want to make your own crochet pompom for your beanie, your blanket, or even for your scarf, learn the steps on how to crochet pom pom through this article!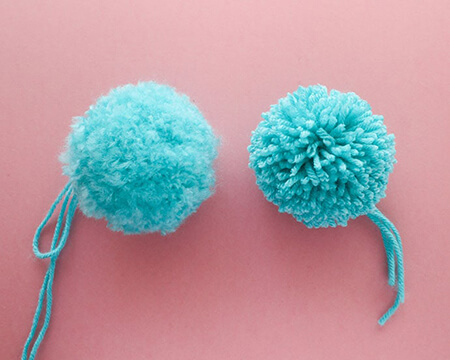 How to Make a Crochet Pom pom
Unlike the regular yarn pompoms, making a crochet pompom involves more than just tying the middle of the yarn and cutting the loops.
In fact, there are few crochets stitches you need to know to be able to make one.
To make a crochet pompom, we'll be needing a few materials.
Materials
Yarn
Crochet Hook
Scissors
Tapestry needle
Steps to Crochet Pompom
First Layer:
Start by making a magic ring.
Row 1:
Make 12 single crochet into the loop. Slip stitch into the first single crochet to join the ends.
Row 2:
Chain 4, then make one treble crochet on the same stitch where you did the chain 4. Work around the circle and make 24 treble crochets or two treble crochets on top of every single crochet from the previous row.
When you are done making the 24 treble crochets, slip stitch into the fourth chain from the beginning of the row.
Row 3:
Back loops:
* Slip stitch into the back loop of the first stitch. Chain 9, then slip stitch into the same back loop * Repeat this process until you have worked on all the back loops from the previous row.
Front Loops:
* Slip stitch into the front loop of the first stitch. Chain 9, then slip stitch into the same front loop * Repeat this process until you have worked on all the back loops from the previous row.
Put the hook through the whole thing and slip stitch. Cut off the yarn but make sure to leave a long tail since you'll be sewing it.
There you have your first layer! Now we'll work on the second layer.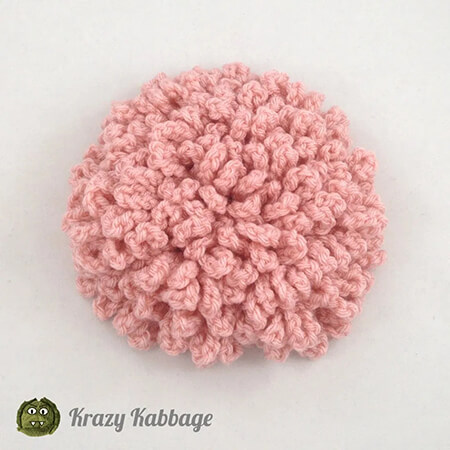 Second layer:
The second layer will almost exactly like the first layer, only you'll be using double crochet instead of treble crochet for the second row.
For this layer, you use a different colored yarn to add variety to your crochet pompom.
Third Layer:
You'll work on this layer exactly like the previous layers, but you'll be using half double crochet instead of the treble crochet for the second row.
Sew the layers together:
To complete the pompom, layer the pieces and sew the layers together. Feel free to sew them tighter so the pompom will look fuller.
And *poof* now you have your own crochet pompom! It may look a little different from the usual yarn pompom but it adds the same effect.
Crochet Pompom Video Tutorial
We found a video that demonstrates how to make a crochet pompom. Just a note though, British terms are used in this video.
Crochet Pompoms Projects
Now that we know how to make a crochet pompom, let's go over some projects where you can use the crochet pompoms.
Free Easter Bunny Sweater Pattern
For crocheters who are a big fan of bunnies, you'll surely love The Free Easter Bunny Sweater Crochet Pattern! It's a bunny poncho complete with long bunny ears and of course, a crochet pompom for the bunny's tail.
It's a perfect costume for Easter egg hunting events, or even when you just feel like being a silly bunny.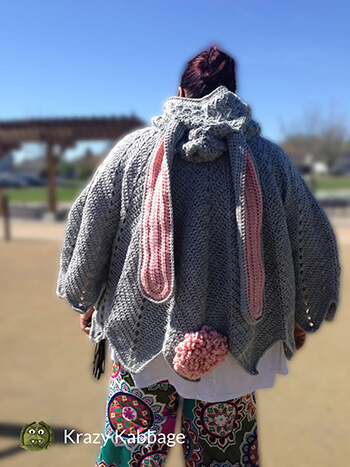 Earflap Winter Hat with Pompoms Pattern
We had to include these earflap hats in the list not only because of how gorgeous they look but also because of those pompoms! The colors they used for the pompoms works well with the colors of the hats.
Although they probably used a different pattern for the crochet pompoms, you can opt to use the pattern we learned in this article.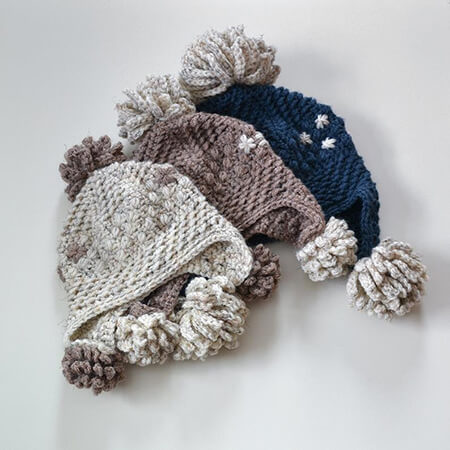 Rainbow Wall Hanging Crochet Pattern
Another crochet pompom project you can make is this Rainbow Wall Hanging. It has a unique boho vibe because of the loose yarn in the ends.
The added fluffy crochet pompom adds a touch of softness on this wall hanger.
A regular yarn pompom made using a pompom maker is used in this pattern, but you can replace it with a crochet pompom instead.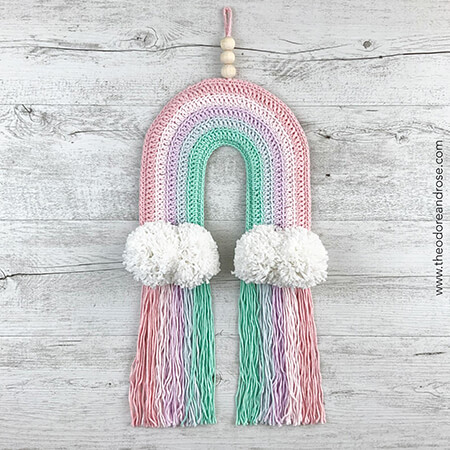 The Pennon Shawl Crochet Pattern
To prepare for the colder days, you can also work on this Pennon Shawl with big fluffy pompoms. It's not only comfy and warm to wear, but it is also fashionable!
This pattern comes in three different sizes: toddler, child, and adult. No matter what size you wear, we're sure you'll love the fluffy crochet pompom attached to the shawl!
Customize your shawl by using the crochet pompom we learned in this article for a more one-of-a-kind shawl.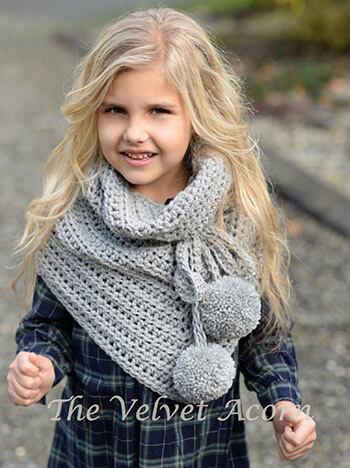 Crochet Pom Pom Blanket Pattern
Blankets are one of the most common crochet projects that crocheters love to make. So we have to include one in this list!
Aside from its pretty stitch details, we included this Crochet Pom Pom Blanket to the list because of the fluffy pompoms you can add to its edges!
Change it up a little by making a crochet pompom instead of using a pompom maker to create a regular pompom.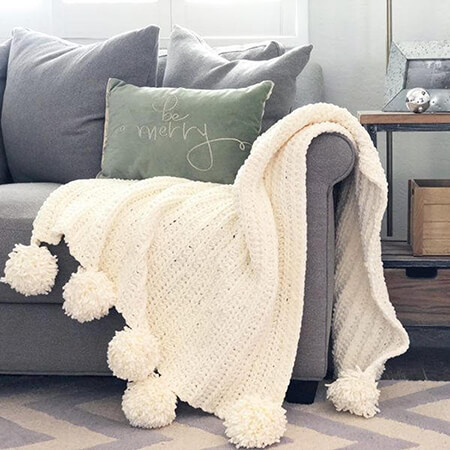 Show Us Your Crochet Pompom Projects!
Were you able to follow along with the pattern and make your own pompom crochet? With your impressive crochet skills, we're sure you're able to make the perfect pompom!
Let us know which crochet pompom projects you decided to make! Feel free to post your finished works on our Facebook page so other crocheters will be inspired to make their own.
If you love working with a lot of colors, we have rainbow hat patterns for you! One of the patterns uses a pompom, maybe you can use this crochet pompom instead?
In what other projects are you planning to use the crochet pompom?