Why not add a splash of color to your wardrobe with these crochet rainbow hat pattern and crochet swirl hat patterns? They are such cheerful accessories that not only children or teens will love!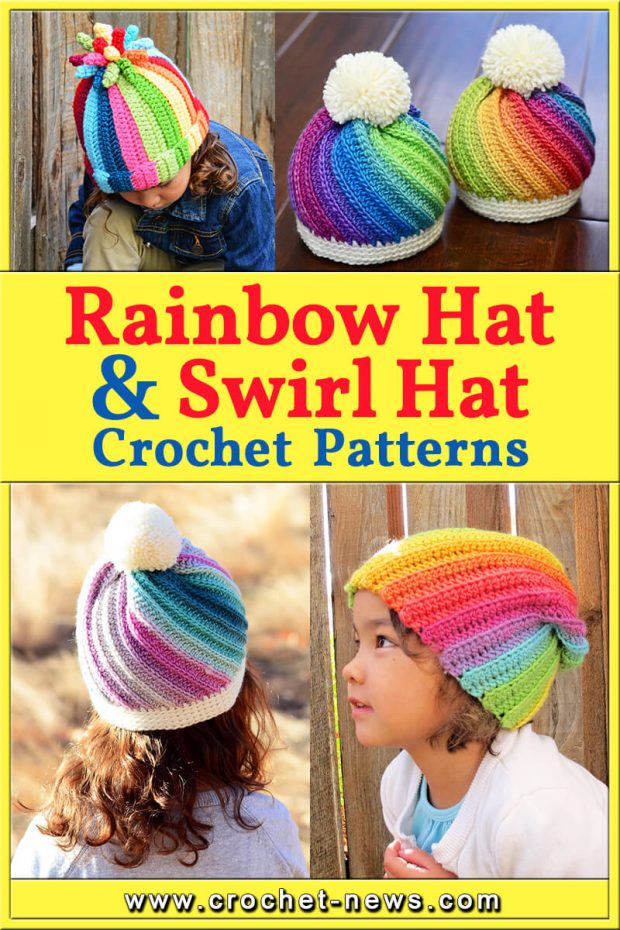 10 Crochet Rainbow And Swirl Hat Patterns
These would be excellent hats to wear at Pride, or you could switch up colors for a patriotic or holiday-esque take. Purple, orange and black would work for a Halloween hat, etc.

If old bright colors are not your thing then try subtle pastels. Decorate these hats with fluffy pompoms or other details such as buttons and badges.
1. Crochet Rainbow Hat Granny Stripes Pattern by Yarnspirations
Kids love the energy of a chipper hat to make them giggle. For a toque that brings smiles, make this striped project in your favorite colors. Next season, change-up the stripe colors and surprise them with a completely new look they'll love!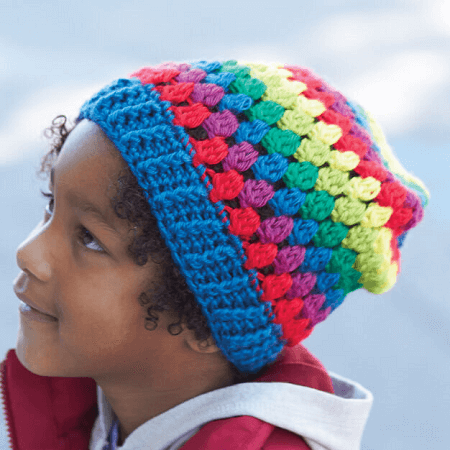 Get the Pattern here

2. Crochet Rainbow Earflap Hat Pattern by The Pattern Paradise
This Crochet Rainbow Earflap Hat is a cute basic earflap hat perfect for girls or boys and great for using up scraps. A cheery and bright crochet hat that's perfect for everyone, plus the earflaps added for extra warmth is sure to make this a favorite!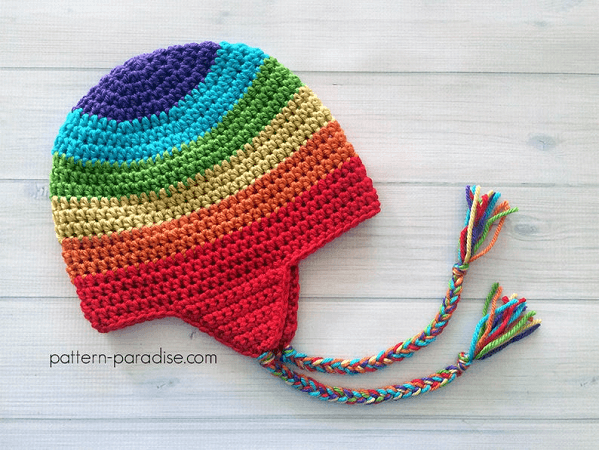 Get the Pattern by The Pattern Paradise here

3. Hippie Crochet Hat Pattern by It Was Yarn
This Hippie Crochet Hat is a great stash-busting hat. The color combinations are endless! This colorful hat is ideal for autumn or spring. Choose your favorite colors and in a short time, you can wear a beanie that spreads a good mood!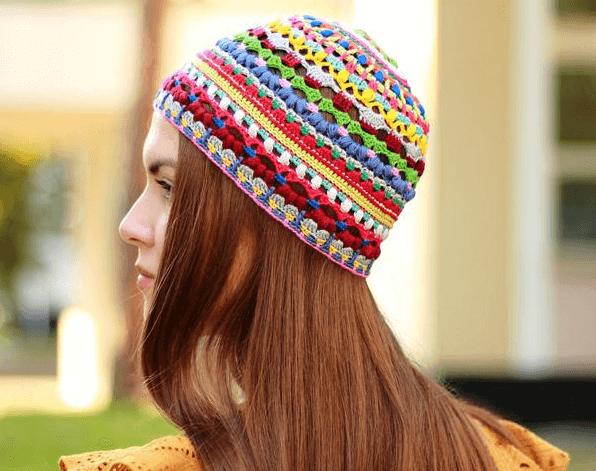 Get the Pattern by It Was Yarn here

4. Northern Lights Beanie Crochet Pattern by This Crochet
It's chunky, it's cozy and it has an awesome splash of color. Plus it has a huge pom pom! It won't take long before you are in love with crocheting this Northern Lights Beanie.

This crochet pattern is such a fun way to play with color! It uses a simple twist on standard stitches to create a rainbow striping effect.
Get the Pattern here

5. Lollipop Rainbow Swirl Hat Crochet Pattern by The Hat And I
This Lollipop Rainbow Swirl Hat is easy and fun to make for anyone! Self-striping yarn makes for a colorful hat, but it will look equally amazing using single colors as well.

Or, pick a few colors & mix it up however you like! Wear it slouchy, or fold up the brim for a fitted winter hat.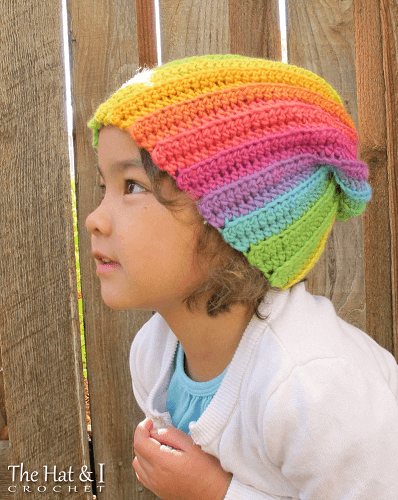 Get the Pattern by The Hat And I here

6. Crochet Chasing Rainbows Hat Pattern by Yarnspirations
Sometimes a bit of fun is all the encouragement kids need to wear their hats every day. Keep them cozy by crafting it in shades they love, or take the guesswork out and complete it as shown. This hat definitely earns you hugs and kisses in return!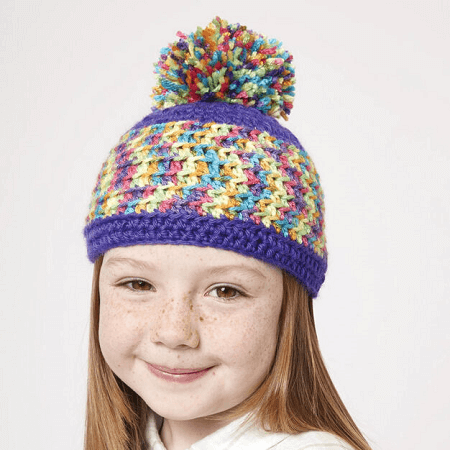 Get the Pattern here

7. Crochet Rainbow Hat Pattern by The Hat And I
So while I was browsing online a few weeks ago, I ran into the cutest image. It was a girl about 4 or five years old wearing a crocheted rainbow hat. She looked so damned cute and instantly I wanted to make one for my three-year-old boy Roman.
So I rushed on over to Etsy.com and searched for rainbow-colored hats, and to my surprise, two patterns popped up. The first one was the tutti-frutti rainbow crochet hat pattern and the second was the crochet swirl hat pattern.
I think you already know what I did. I just had to make them both for him. It Was so difficult I just couldn't choose one over the other because they were just so stunning.
Just as the name suggests, this hat is a bit playful with frilly parts sticking out of the top like a bunch of bananas. But don't let that cloud your judgment the tutti-frutti hat is beautiful. With its rainbow colors, it will look dashing on anyone, and it actually doesn't require a lot of materials to make.
Crochet Rainbow Hat Pattern Materials
Medium (4) weight yarn
Size I-9 (5.5mm) crochet hook
Tapestry needle
Detailed Tutorial And PDF
The tutorials and PDF for making the tutti-frutti crochet rainbow hat pattern are very detailed and explained in easy to understand simple English. Now although the pattern is rated for the more intermediate crocheter the tutorials directions make up for that.
They are rich in illustrations and pictures which will guide you every step of the way. So even if you are a beginner after a few tries, you will get the hang of the pattern. I happened to knock out this hat in a day, and in my experience, I found that it was quite easy to make.
And the pattern doesn't limit you to just what is in the instructions. You can try adding your own personal touches to it to spice it up. You can incorporate other designs or change up the colors.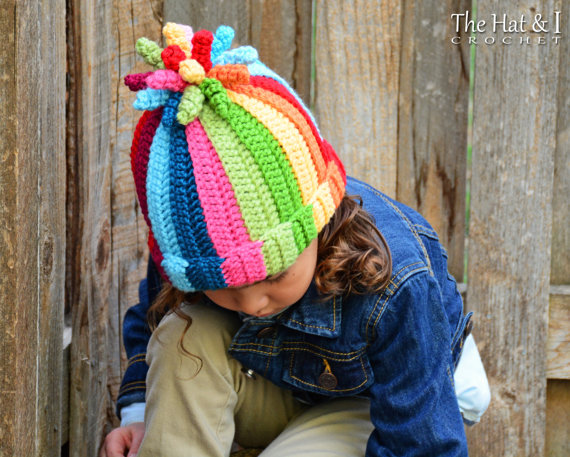 Tutti Frutti Rainbow Hat Crochet Pattern

8. Crochet Swirl Hat Pattern by The Hat And I
So next we have the crochet swirl hat pattern and also as the name suggests this hats main feature is its twist top topped off by a bunny tail style top. The pattern produces a very stunning hat that will look cute on anyone.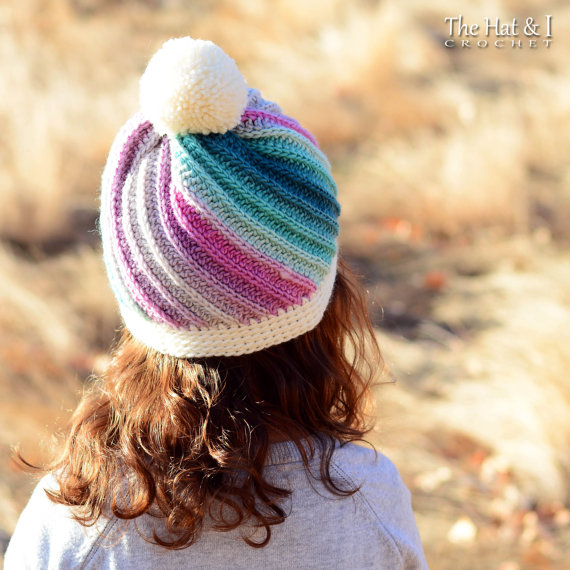 Crochet Swirl Hat Pattern Materials
Medium (4) weight yarn – Knit Picks Chroma Worsted showed
Size I-9 (5.5mm) crochet hook
Tapestry needle
Clover pompom maker – Large (3 3/8″)
Detailed PDF And Tutorial With Images
Also, like the tutti-frutti crochet rainbow hat pattern, the crochet swirl hat pattern has quite extensive and detailed tutorials and PDF. The instructions are given in easy to understand and simple English with explanations for the more technical crocheting terms.
The PDF also includes a lot of diagrams and pictures that explain every part of making the twist top crochet rainbow hat. This pattern is also considered for the more advanced crocheter, but since the instructions were so detailed, I believe that even a beginner can make the hat.
If you follow the instructions to the letter, then you will end up with a gorgeous twist top crochet rainbow hat. I knocked out this hat in a day also; the pattern was quite easy to follow.
I think the only part that a beginner may have difficulty with is how to make the pom pom for the hat top. Other than that the whole pattern was very straightforward.
Make Your Own Unique Crochet Swirl Hat
The crochet swirl hat pattern doesn't limit you also, and you can add your personal touch to it to make it just right. Especially the colors, you can play around with them to produce different types of crochet swirl hats to fit your fancy.
Crochet Rainbow Hat And Swirl Sizing
So now that you know how both are made what things do they have in common? Well, both the tutti frutti crochet rainbow hat and the swirl crochet hat patterns come in different sizes. So no one gets to miss out on these amazing hats.
The main sizes that each pattern comes in include:
0-6mo
6-12mo
Toddler
Child
Adult
Crochet Different Colors For Different Outfits
Since they are crochet rainbow hat patterns, they are stretchable, so they fit quite snuggly with anyone. So not only are they just so cute, but they will also keep you warm and toasty.
It is perfect for a cold winter night or when you want to keep the cold at bay watching a movie and still keep it colorful. They are also perfect for finishing off an ensemble when you want to add some color to an outfit.
If you want to stand out in a crowd, then the crochet rainbow hat pattern is the thing for you. They are just too beautiful to ignore, and in turn, people won't be able to ignore you too.
So to conclude, the crochet rainbow hat pattern is one you didn't know you needed until now. They are fun to make, they look good, and they keep the cold from nipping at you.
So whether you want to give them as gifts to family and friends or for your son or even for yourself the the crochet swirl hat pattern is just right.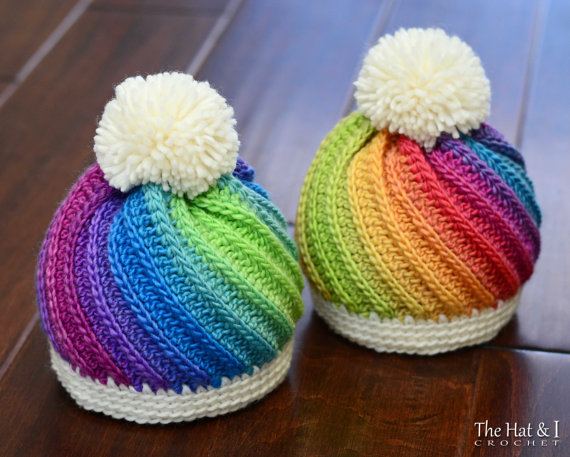 9. Rainbow Slouchy Hat Crochet Pattern by Crochet Cauldron
Whether your showing support for the LGBTQ community or you just love rainbows, this Rainbow Slouchy Hat is a show-stopper! It is designed to fit an adult with a 21-23 inch head circumference.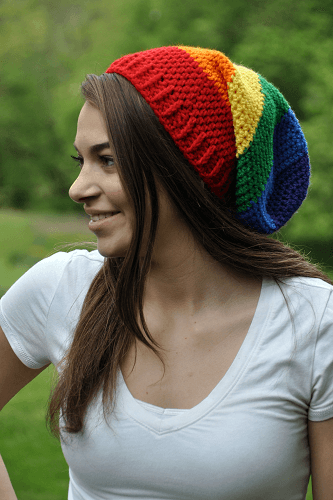 Get the Pattern here

10. Crochet Rainbow Beanie Pattern by Crochet With Carrie
For this easy crochet rainbow beanie, you will need a weight 4 yarn in the main color and a few scraps of yarn in any other colors of your choosing. Size 5mm crochet hook is needed as well as an understanding of the front post double crochet (fpdc) and the back post double crochet (bpdc) stitches.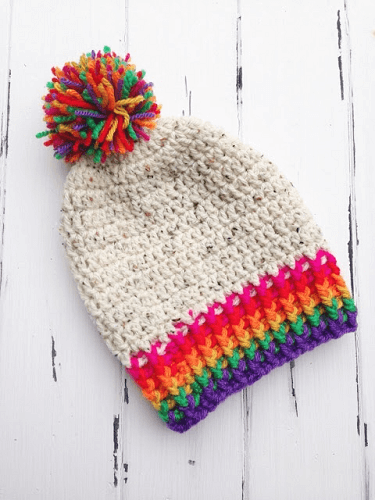 Get the Pattern here
We hope these crochet rainbow hat patterns and crochet swirl hat patterns were just what you're looking for!
We would love to see what colors you come up with. For more rainbow patterns, don't miss our list of Rainbow Blanket Patterns and Rainbow Crochet Patterns. Don't forget to share them with us by posting some pictures on our Facebook Page.

Looking for more hat patterns? Check out our huge collection of Crochet Hat Patterns that are all trendy and stylish!

No doubt, you will definitely enjoy wearing these crochet rainbow hats and crochet swirl hats throughout the months!