A rainbow crochet blanket, the ultimate colorful home accessory, come rain or shine. These bright and happy rainbow crochet blanket patterns will add cheer to your day.
Make one for a new baby, as a lap blanket, or to give to a friend who needs a boost.
30 Crochet Rainbow Blanket Pattern
Whether you're a fan of striped design or something with granny squares, your new rainbow crochet blanket is waiting to be made!
You can even customize the colors you choose to make just the rainbow blanket your heart desires.
Learn the crochet changing colors technique here.

1. Rainbow Through The Storm Crochet Blanket Pattern by Melly Elly Crafts
This bright and happy crochet rainbow blanket pattern is a pleasure to make with. The bright colors really pop against the graphite background.
You can also change which colors you use, white and rainbow colors would look great or how about using different shades of a contrasting color such as a range of blues, or greens, or pinks and purples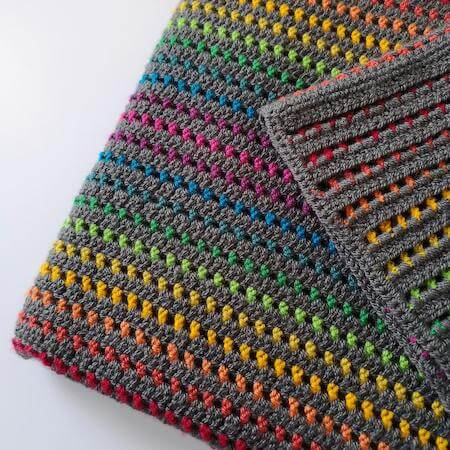 Get the Pattern by Melly Elly Crafts here

2. Over The Rainbobble Crochet Blanket Pattern by Melu Crochet
Add some bobbles to your rainbow! This cheerful blanket has been designed to be simple and relaxing to make, but look amazing! The bobbly texture adds a 3D element that is tactile and sensory.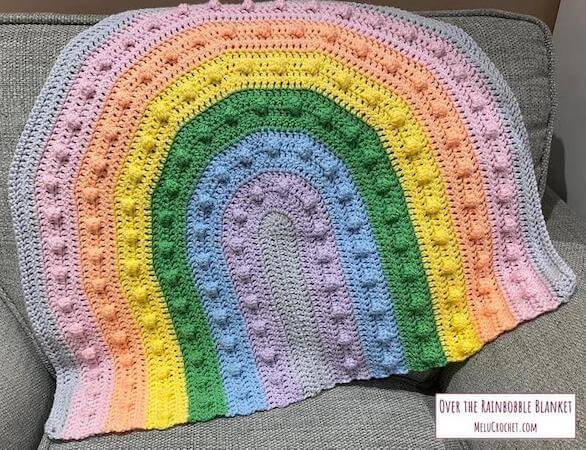 Get the Pattern by Melu Crochet here

3. Chasing Rainbow Baby Blanket Crochet Pattern by Red Heart
Give your child this bright and cheerful crochet rainbow blanket, and set the stage for many happy moments. It's fun to stitch with stripes of delicious fruity color.
To make it easy, simply craft it as designed, or let your child select shades that excite them. It's a satisfying project that will be treasured throughout their childhood and beyond.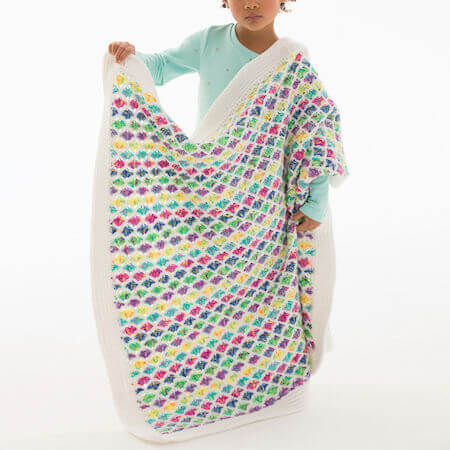 Get the Pattern here

4. Rainbow Galaxy Blanket Crochet Pattern by Of Mars
This blanket is fun to make & creates a stunning continuous spiral pattern. It is made using a serious of spiral squares sewn together in a funky fashion to make a swirly, unique blanket.
The blanket can be made in as many or as few colors as you want. Use your own unique color combinations to make it your own!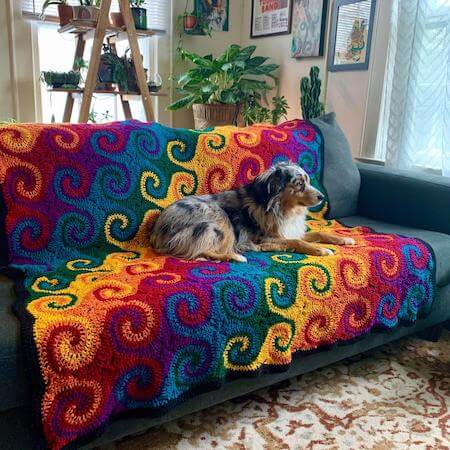 Get the Pattern by Of Mars here

6. Ripples Rainbow Baby Blanket Crochet Pattern by Jonna Martinez Crochet
This lovely blanket is vibrant in color and sure to please any generation. Crochet this timeless heirloom to wrap that special baby in. 9 different colors are used to create this rainbow look but you can come up with your own colors or even make this blanket in one color.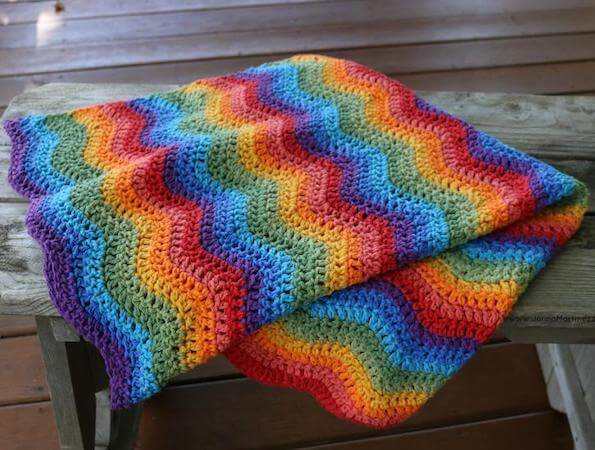 Get the Pattern by Jonna Martinez Crochet here

7. Chunky Ripple Rainbow Baby Blanket Crochet Pattern by Truly Crochet
Crochet this Chunky Ripple Rainbow Baby Blanket Crochet Pattern, this is such a fun and vibrant baby blanket crochet to make!
You may notice in the pictures that the ripples really pop out at you and there's a little secret to this that you may or may not know – Back loops!

Going into the back loop only when crocheting this gives the effect that these ripple stitches are raised, it's just so dreamy and gorgeous!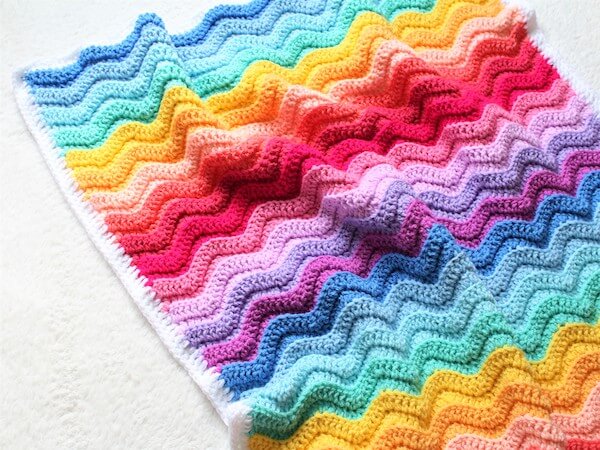 Get the Pattern here

8. Rainbow Of Stars Blanket Crochet Pattern by Sew Sew Baby Store
This crochet star blanket is inspired by the love of all things rainbow and stars – hence the colors and design. Using Stylecraft yarn, this Rainbow Of Star Blanket Crochet Pattern is quick and easy to make.

The finished baby star blanket crochet pattern measures approximately 38 inches by 54 inches but you can, of course, make this any size you wish by simply making fewer or more squares.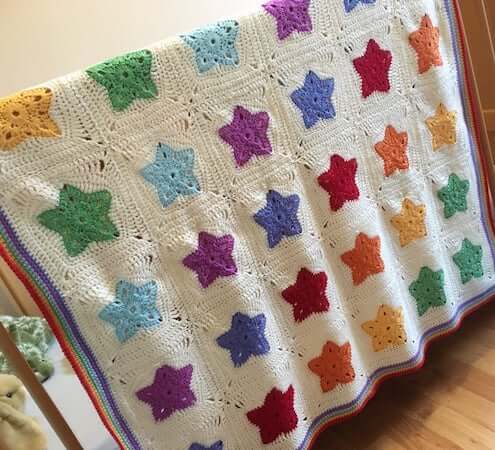 Get the Pattern by Sew Sew Baby Store here

9. Rainbow Ripples Blanket Crochet Pattern by Little Duck Crochet
If you love rainbows, ripples and gorgeous texture, then this blanket is a must! This blanket is such fun to make and looks stunning once complete, it would make the perfect gift for any new baby or rainbow lover alike.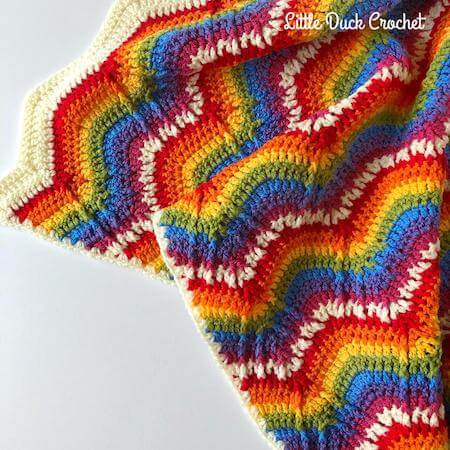 Get the Pattern by Little Duck Crochet here

10. Rainbow Sherbet Blanket Crochet Pattern by Fiber Flux
Are you ready to crochet the happiest blanket ever? This Rainbow Sherbet Baby Blanket is bursting with rainbow goodness and not only is it fun to make, it also makes a gorgeous gift too!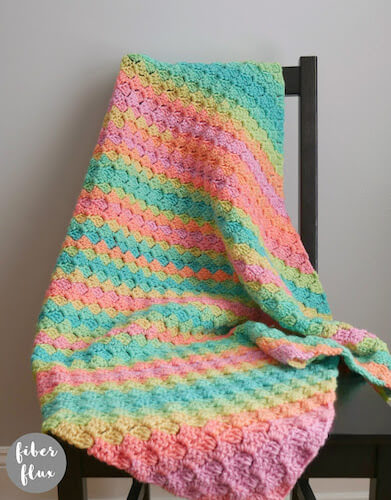 Get the Pattern here

11. Rainbow Splash Blanket Crochet Pattern by Han Jan Crochet
This Rainbow Splash Blanket is a great beginners overlay mosaic crochet blanket pattern for anyone wanting a perfect gift for a special new baby, child or grown up! Perfect for yarn stash busting, this easy to adapt blanket has a simple 4 row repeat, optional tassels and endless ombre crochet colour possibilities to really make it unique.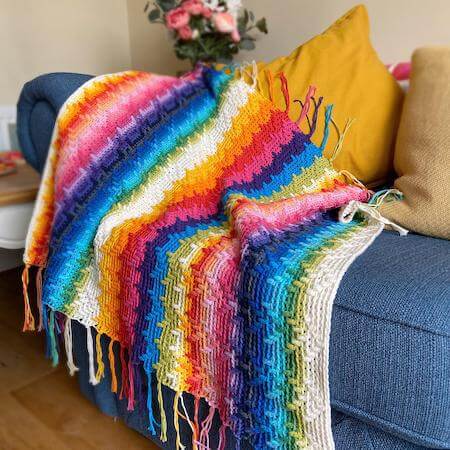 Get the Pattern by Han Jan Crochet here

12. Easy Rainbow Baby Blanket Crochet Pattern by Make And Do Crew
Crochet a blanket that radiates from the center outward by combining self-striping yarn and a melodic, relaxing stitch. Experiment with solid-colored or chunkier yarn to personalize your own unique prism.

This simple combination of double crochet and chain stitches are exceptionally easy and fast to work because you don't have to look for the exact stitch to place your hook into.
Pattern can be worked to crochet a baby blanket or a larger afghan depending on your preference.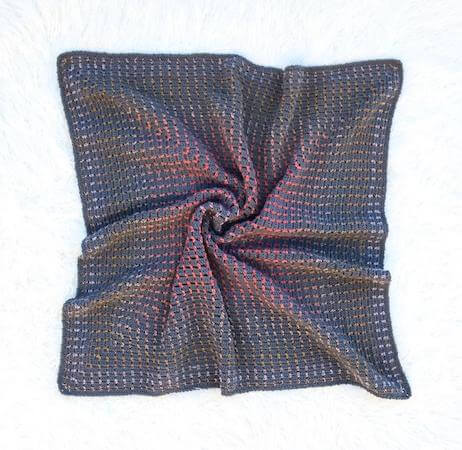 Get the Pattern by Make And Do Crew here

13. Striped Rainbow Baby Blanket Crochet Pattern by Sigoni Macaroni
Who doesn't love a colorful crochet blanket? This Striped Rainbow Baby Blanket is a fun and free crochet baby blanket pattern using the block stitch. It's a beginner friendly pattern only using single and double crochet stitches.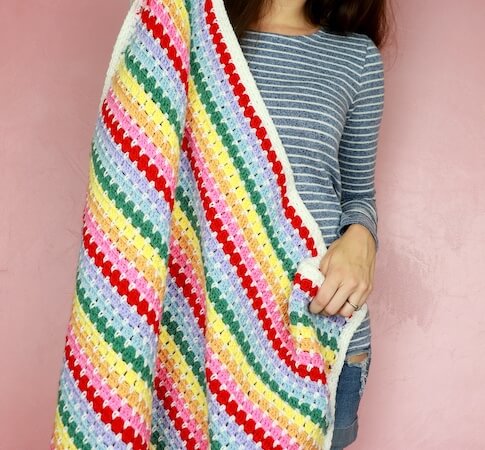 Get the Pattern here

14. Modern Bobble Rainbow Blanket Crochet Pattern by Melu Crochet
This cozy warm bobble blanket is ideal for adding modern texture color and style to your home. The finished blanket measures approx 69cm x 80cm, ideal for a baby blanket or lap blanket.
Instructions are given to allow you to re-size your blanket – go large with a sofa throw or bedcover.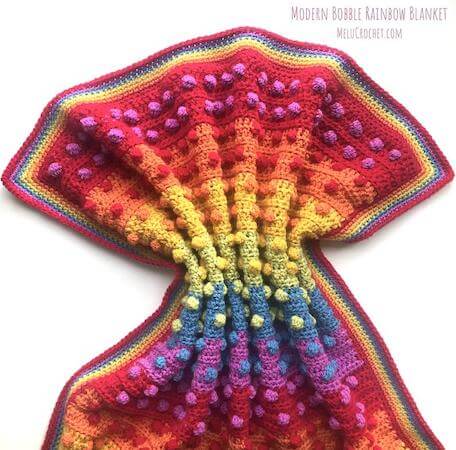 Get the Pattern by Melu Crochet here

15. Free Rainbow Ruffle Blanket Crochet Pattern by Dada's Place
This Rainbow Ruffle crochet blanket is super warm, soft, cuddly, and so easy to make! The pattern is unbelievably simple, the entire blanket is crocheted in double crochet. The ruffle is added at the end, in front loops between two different colors.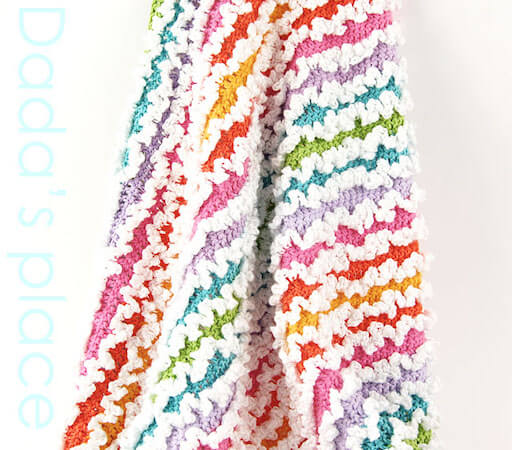 Get the Pattern here

16. Larksfoot Rainbow Blanket Crochet Pattern by Haakmaarraak NL
This Big Larksfoot Rainbow Blanket means business: this blanket measures 180 x 205cm (71 x 81in): perfect to wrap around yourself once (or twice), or to huddle under together!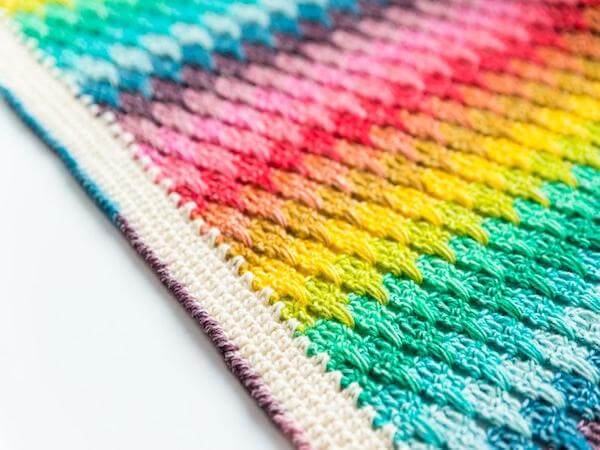 Get the Pattern by Haakmaarraak NL here

17. Lion Rainbow Baby Blanket Crochet Pattern by Dada's Place
This super cute and colorful little lion baby blanket would be a wonderful present for your precious baby, or a perfect baby shower gift! This rainbow crochet blanket will put a smile on your baby's face. And a little lion's army will keep your baby warm and safe.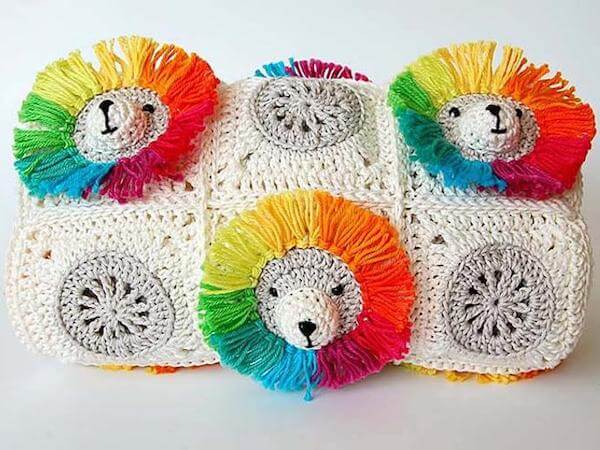 Get the Pattern by Dada's Place here

18. Fading Rainbow C2C Crochet Blanket Pattern by Yarnspirations
Created using the popular corner-to-corner technique, this crochet blankie features double crochet blocks of stitches.
This easy pattern has you beginning in one corner, increasing stitches until you reach the widest 2 points, then decreasing to the opposite corner to complete the project.

A gorgeous rainbow of colors is on-trend and comes to life in the sumptuous textures of velvet yarns. The easy-to-memorize pattern is perfect for the multitasker, so you can even crochet while watching TV!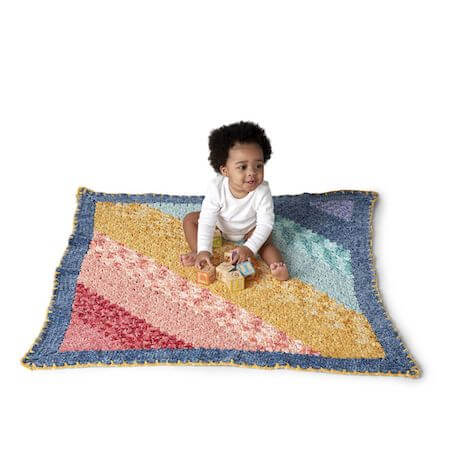 Get the Pattern here

19. Rainbow Waves Throw Crochet Pattern by Red Heart
Somewhere over the rainbow and on your project list is this cheerful crochet throw that adds a happy vibe to any space! Inspired by the colors of a rainbow, make this project as is, or swap out shades for a different combination you enjoy
. Bursting with lively personality, this 59″ x 85″ blanket is perfect for cuddling in the kids' room, rec room, family room and more!
Get the Pattern here

20. Crochet Rainbow Baby Blanket Pattern by Highland Hickory Designs
This Rainbow Baby Blanket would make a beautiful baby shower gift or as a blanket for your own child.
The center portion of the blanket consists of puff stitches, which makes this blanket thick and warm. The simple rainbow border is made up of double crochets and works up very quickly.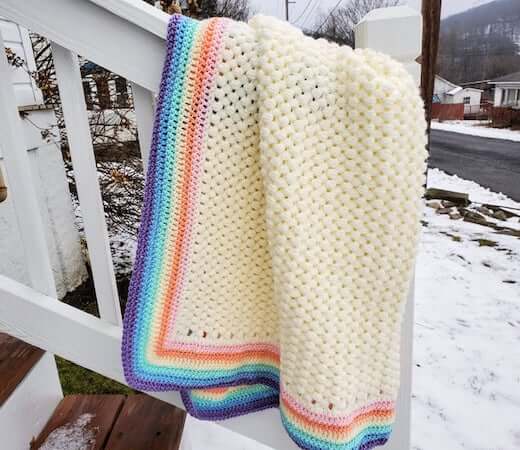 Get the Patten by Highland Hickory Designs here

21. Rainbow Stripe Blanket Crochet Pattern by Left In Knots
This Rainbow Stripe Blanket is a new and fun way to use the classic moss stitch. Whether you use this blanket as a Rainbow Baby blanket or you just want a bit of color; the Rainbow Stripe Blanket is sure to fit your needs.
The easy stitch and simple construction means that this blanket can be made by beginners and experts alike.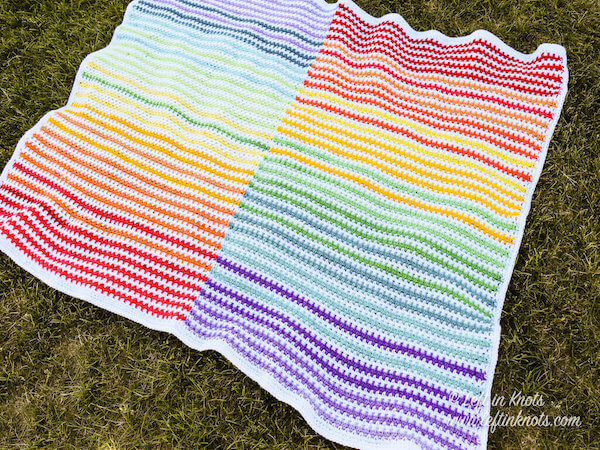 Get the Pattern here

22. Rainbow Granny Square Blanket Crochet Pattern by Haak Maar Raak
This colorful Rainbow Granny Square Blanket is the perfect pattern to learn how to crochet. If you can crochet a double crochet and a chain, you've got all the tools in your arsenal to get started on this stunning blanket!

You can easily modify this pattern to your own colour preferences and size as it's join-as-you-go. That means that you crochet the blocks together while working on the blanket, instead of at the end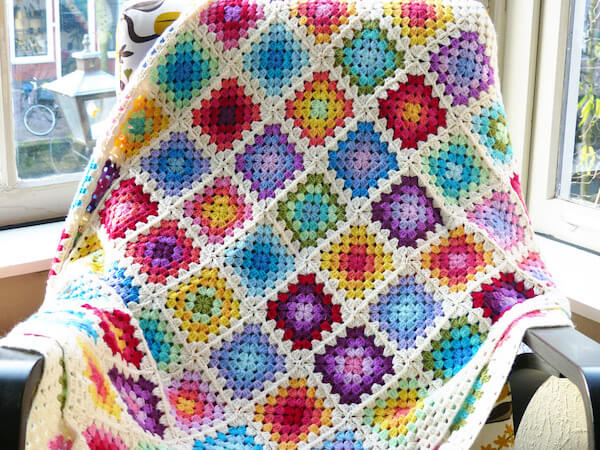 Get the Pattern here

23. Rainbow Unicorn Blanket Crochet Pattern by Crafting Happiness
This magical unicorn blanket it's full of color and will brighten even the darkest room. It has hooves for mittens and a fluffy full mane in rainbow colors and your kids will absolutely love it.

This is your chance to go wild with color and use your scrap yarn lying around your home. You can use the same colors as featured or make your own color combination. The options are unlimited.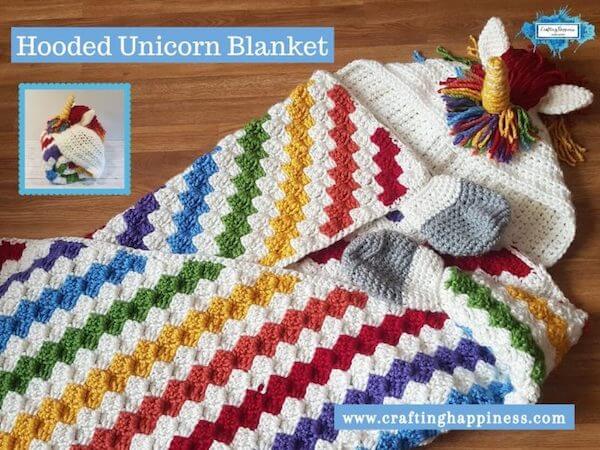 Get the Pattern here

24. Rainbow Crochet Blanket Pattern by Little Doolally
A wonderful bright and modern blanket with a hint of a vintage rainbow. The blanket is most suitable for beginners looking for a challenge and comes with multiples to make it what ever size you wish.
It's a great project to make for your chair, settee or bed or to give as a wonderful thoughtful gift.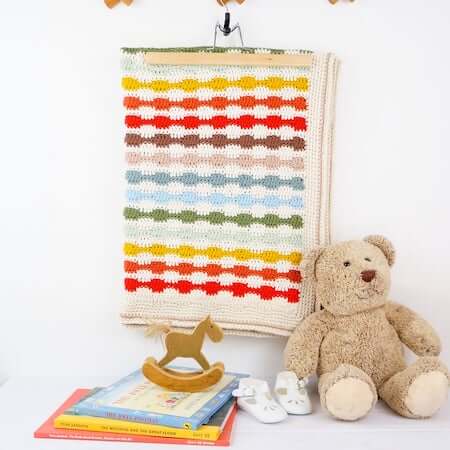 Get the Pattern by Little Doolally here

25. Rainbow Sampler Blanket Crochet Pattern by Haakmaarraak NL
This Rainbow Sampler Blanket is as colorful as it is exciting! With over 13 different stitch types, this sampler afghan is perfect for the ambitious beginner who wants to learn new stitches and create a rainbow blanket in the process.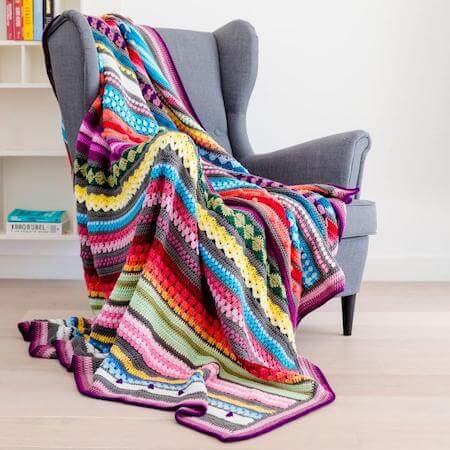 Get the Pattern by Haakmaarraak NL here

26. Rainbow Starlight Blanket Crochet Pattern by KAME Crochet Patterns
Say hello to the amazing Rainbow Starlight Blanket! It is a gorgeously textured, eight-point star blanket which can be made as a baby/toddler blanket or a nice and snuggly lap blanket.

The pattern itself is using a lot of different stitches to save you from getting bored of repetitive rows and also, they help to give a nice, textured but modern look to the finished product.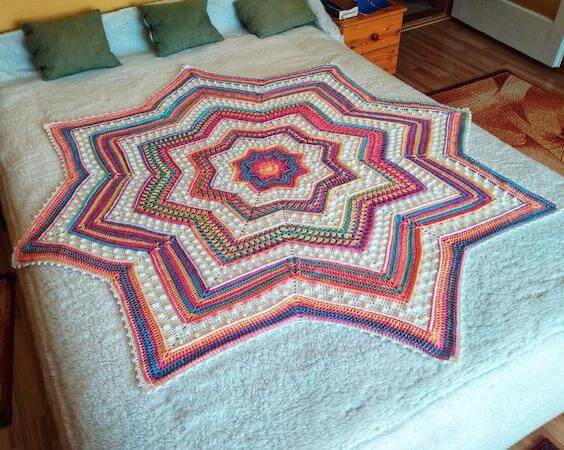 Get the Pattern by KAME Crochet Patterns here

27. Sunny Rainbow Blanket Crochet Pattern by Kerry Jayne Designs
This bright Sunny blanket is so thick and springy it can double up as a baby playmat too! It's simply bursting with sunshine in beautiful primary shades making it a great teaching aid for your baby, taking him/her through the whole rainbow color spectrum.
A happy sun shines from the center and is finished off with a delightful sun ray border.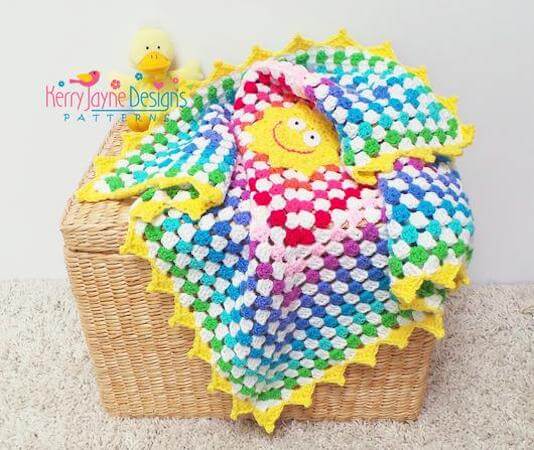 Get the Pattern here

28. Rainbow Dash Baby Blanket Crochet Pattern by Beatrice Ryan Designs
This Rainbow Dash Baby Blanket is an adorable baby blanket that is bright and cheery. It can be made using one or more colors to get the effect you desire.
With the easy stitching technique, the front of the blanket has a fun colored texture and the back is equally as beautiful in a smooth stripe!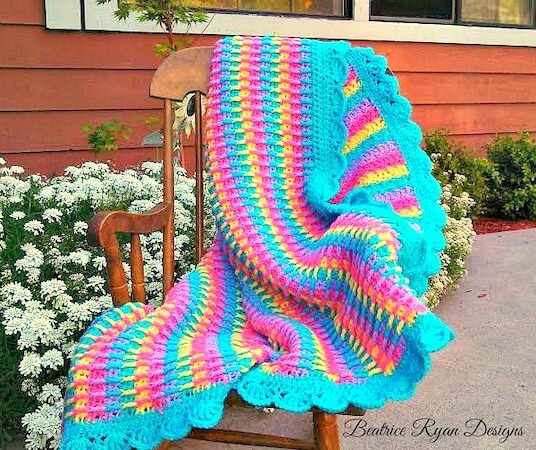 Get the Pattern here

29. Color Whirl Blanket Crochet Pattern by Alyse Crochet
This Color Whirl Blanket is a beautiful, vivid blanket inspired by the color wheel! This blanket features a lacy center motif, swirling colors and a delicate petal edging for a truly stunning finished project!

Hate changing colors and weaving in tons of ends? Never fear! This blanket uses a unique join-as-you-go construction for a quick and easy project without sewing or color changes!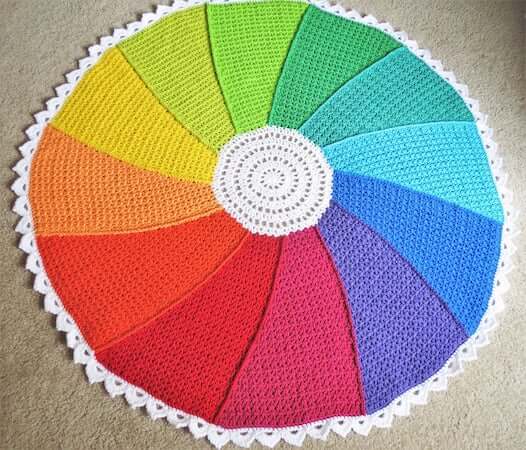 Get the Pattern by Alyse Crochet here

30. Over The Rainbow Crochet Blanket Pattern by Yarnspirations
Crocheted from the bottom edge, around, and back down to the bottom edge, a rainbow of colors form right before your eyes on this bold crochet throw!
Designed in a selection of shades, this easy pattern will teach you surface slip stitch, working in the back loop, pompoms, single crochet and double crochet techniques.

Surface crochet details are added in to accentuate the colorful arcs, while a pompom-cloud trim further enhances the cheerful tone of this fantastical blanket. It's sure to become a focal point in any space!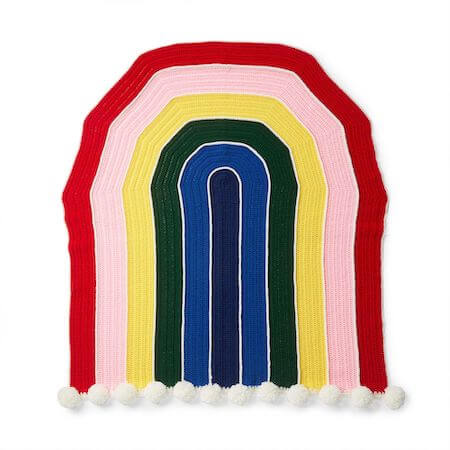 RAINBOW CROCHET BLANKETS ARE GUARANTEED TO MAKE YOU HAPPY – HOW CAN YOU NOT BE CHEERY AS YOU WORK WITH SUCH BRIGHT AND FUN COLORS?
Gift your new handmade heirloom to anyone who needs a few extra rainbow in their life! And please do share them with us, too. Post your finished blankets on our Facebook Page!
Craving for more rainbow-themed projects? Check out this collection of crochet rainbow patterns to create garments, blankets and accessories of every kind.

Prepare to raid your yarn stash and go wild with your color choices with your favorite rainbow crochet blanket!