Try out one of these crochet rainbow patterns the next time a rainy day rolls around and you'll fare just fine, whatever the weather.
We present a colorful array of rainbow-themed makes that are so adorable, by the time wet season ends your house and your wardrobe will be a festival of cheerful shades!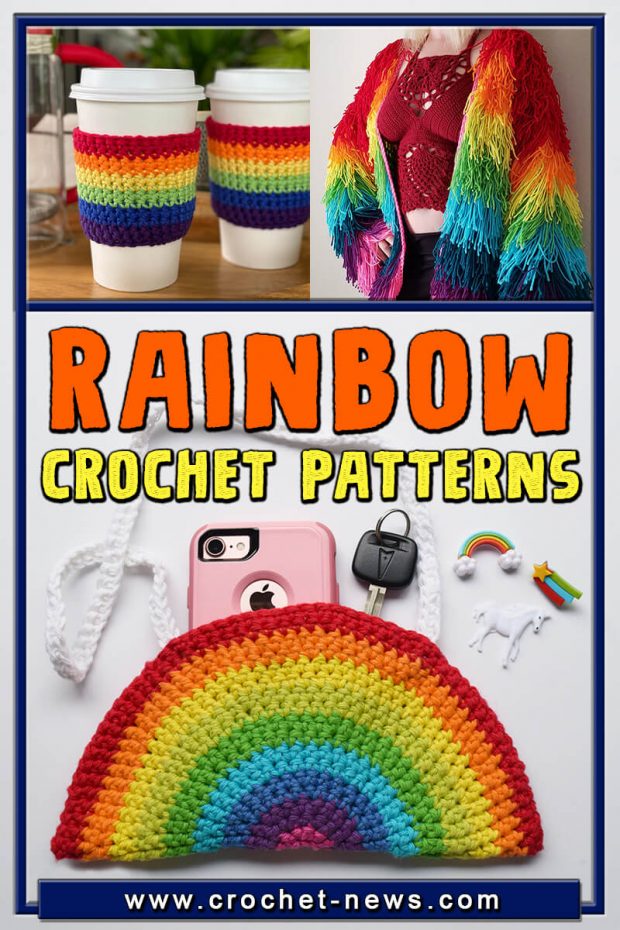 The rainbow symbol itself is great for appliqués, garlands, and decor, but the colors of the rainbow can be used in all types of different ways to create garments, blankets and accessories of every kind.
Prepare to raid your yarn stash and go wild with your color choices.
Learn the crochet changing colors technique here.

1. Crochet Rainbow Pillow Pattern by A Crafty Concept
This Crafty Rainbow Pillow is super cute and a great pattern for beginners! Catch a rainbow every day with this snuggly crochet rainbow pillow.
It's a joy to stitch up as shown, or imagine tones that show off your perfect rainbow. It's a colorful addition to the nursery or playroom.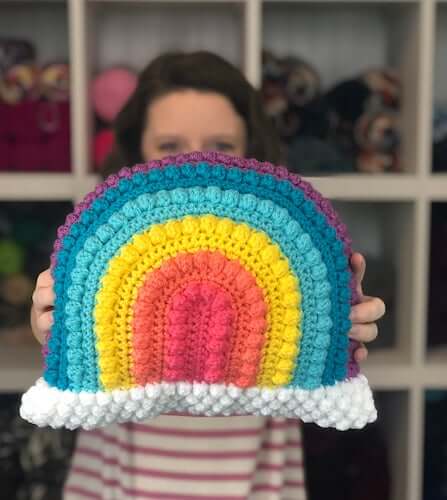 Get the Pattern by A Crafty Concept here

2. Crochet Rainbow Halter Top Pattern by Crochet Garden
This crochet girls halter pattern will channel her inner rainbow heart and bring on the sunshine! Large eyelets make up the band beneath the underarms. Perfect for rainbow baby photoshoots, to rainbow birthday parties, to a day out at the beach, this halter top will be a staple in her closet!

With so many sizes girls 3 mos to size 10, sisters can chase their own rainbows! Also great for stash busting with all those beautiful color remnants!
Check out more halter top patterns here.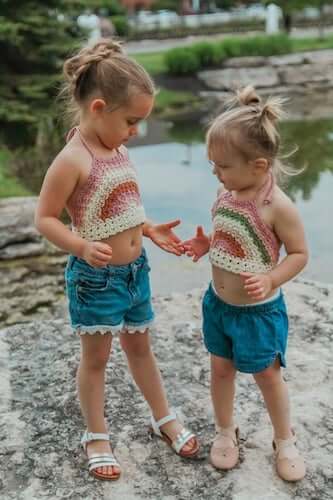 Get the Pattern by Crochet Garden here

3. Basket Free Crochet Rainbow Pattern by My Poppet Makes
Hooked up in plump t-shirt yarn, this vibrant crochet rainbow basket is a super-quick project that packs a punch! Big enough to house toys, shoes or more yarn, this basket is a lovely way to add some brightness to your home while being useful.
Discover more quick crochet projects here.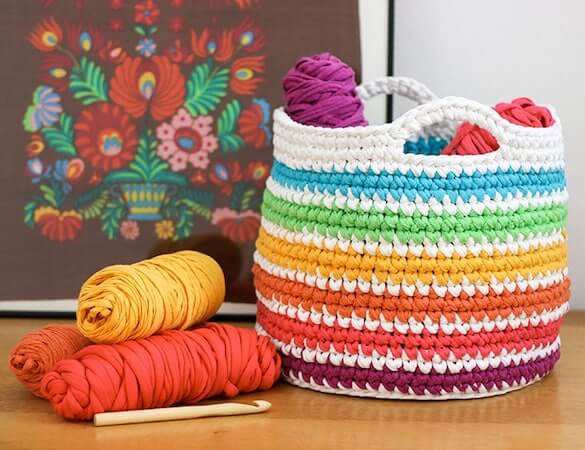 Get the Pattern here

4. Easy Crochet Rainbow Bunting Pattern by Robynne And Rach
Bunting is a fabulous way to cheer up your home and what could be more cheerful than this string of tassle tastic rainbow bunting?
This pattern is easy enough for a beginner to master and can be made in any colourway that matches your décor or occasion. It also makes for a great stash busting project.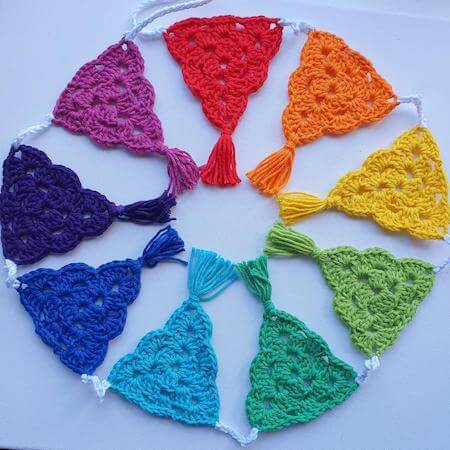 Get the Pattern by Robynne And Rach here

5. Rainbow Puff Hexagon Crochet Pattern by Crafty CC
Whether you're just looking for a portable, palm-sized project to give you a bit of a boost, or a blanket-sized bonanza, this Rainbow Puff Hexagon Crochet Pattern has you covered.
This gorgeous burst of color is beautiful in either design and would make a stunning blanket.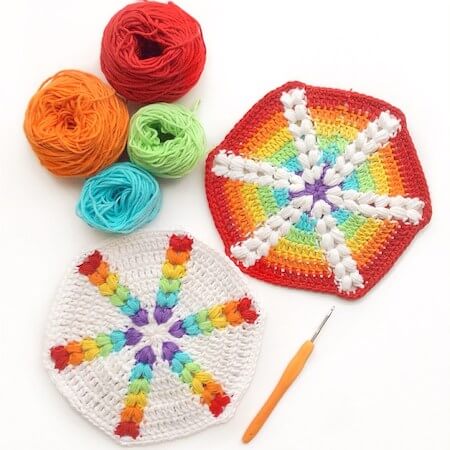 Get the Pattern here

6. Rainbow Crochet Pattern by Ana Mae Design
This Rainbow Crochet Pattern is the perfect accessory for your favorite girl. Making inventory for summer markets? This stash buster is quick and cute.
You will need a basic understanding of crochet, a crochet hook, a darning needle and your favorite worsted weight yarn!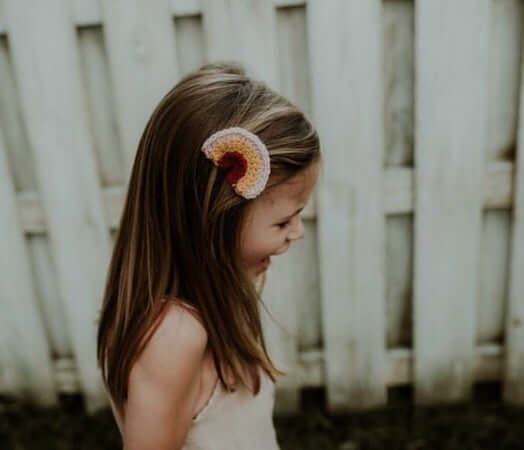 Get the Pattern by Ana Mae Design here

7. Rainbow Crochet Smiles Sweater Pattern by Dora Does
This Rainbow Crochet Smiles Striped Sweater is a top down raglan jumper with a gentle v-neck. Made with simple stitches, it is close fitting with a chevron burst of rainbow color.

This easy crochet rainbow pattern is a great for beginners looking to try their first garment. It uses simple stitches all the way through and has no seaming.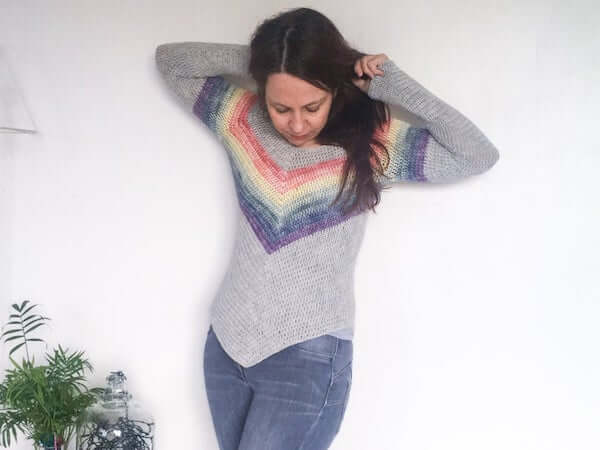 Get the Pattern by Dora Does here

8. Free Crochet Rainbow Pattern by Gathered
Everybody loves a rainbow, so hook up your own splash of colour with this free crochet rainbow pattern. Here you can see how this rainbow pattern makes a fantastic appliqué, but you could use this free rainbow crochet pattern for all sorts of purposes – it would make a fantastic card embellishment of a window decoration!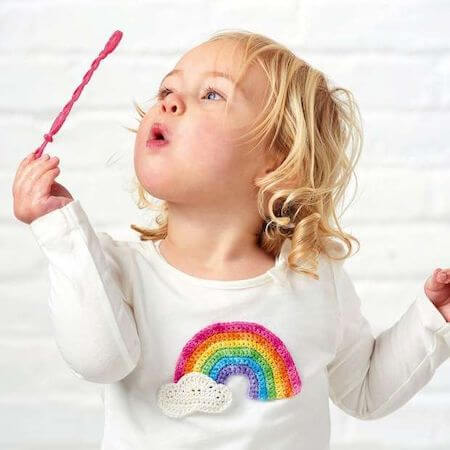 Get the Pattern here

9. Crochet Little Rainbow Wall Hanging Pattern by Little Gems Craft Shop
During these challenging times, what better way to spread some happiness than to place a rainbow in your window.
This crochet pattern gives instructions to create a small rainbow wall hanging measuring approximately 18cm width x 10cm height (without tassels) using DK/aran yarn.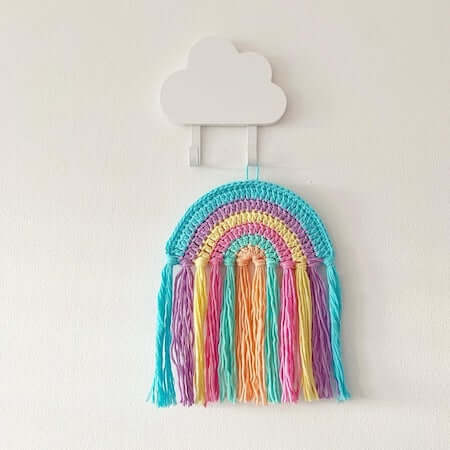 Get the Pattern by Little Gems Craft Shop here

10. Crochet Rainbow Rope Placemats Pattern by Lottie And Albert
Tactile and modern, these rainbow mats are an easy way to work with rope in crochet. Use neutral yarns for a calm, scandi look, or jazz up your design with fun rainbow brights.
Don't need any more placemats? Use your rope rainbows as trivets, or as a gorgeous wall-hanging instead.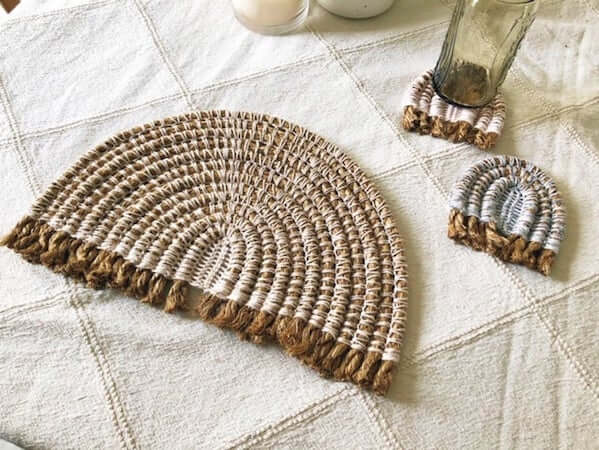 Get the Pattern by Lottie And Albert here

11. Plushy Rainbow Crochet Pattern by The Cookie Snob
The colored section of the rainbow is worked all in one piece (with color changes) and the clouds are crocheted directly onto it. So there's only one tiny bit of sewing involved in this project.

And, as an added bonus, you don't need to worry about weaving in the ends from the color changes because you can just tuck them inside with all the stuffing (score!).
There is face added to this plushy, but you're welcome to leave it expressionless for more of a minimalist approach.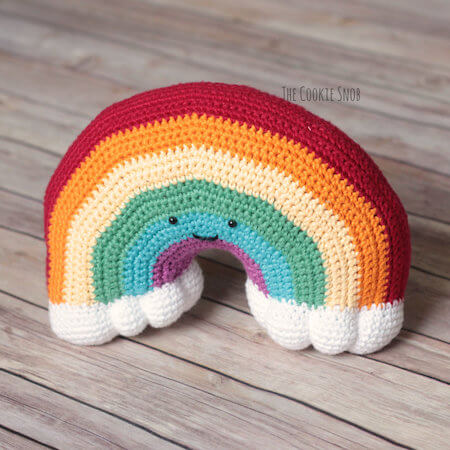 Get the Pattern here

12. Over The Rainbow Crochet Blanket Pattern by Red Heart
Crocheted from the bottom edge, around, and back down to the bottom edge, a rainbow of colors form right before your eyes on this bold crochet throw!
Designed in a selection of shades, this easy pattern will teach you surface slip stitch, working in the back loop, pompoms, single crochet and double crochet techniques.

Surface crochet details are added in to accentuate the colorful arcs, while a pompom-cloud trim further enhances the cheerful tone of this fantastical blanket. It's sure to become a focal point in any space!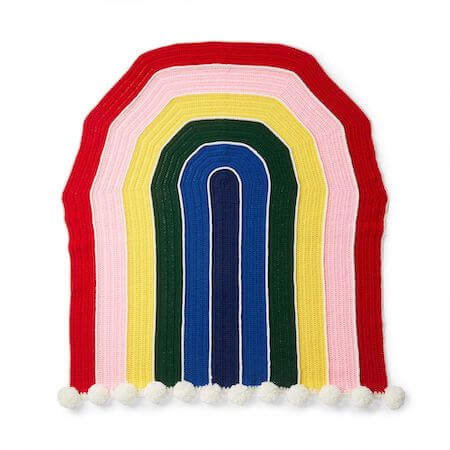 13. Crochet Rainbow Hat Pattern by The Pattern Paradise
This Crochet Rainbow Earflap Hat is a cute basic earflap hat perfect for girls or boys and great for using up scraps.
A cheery and bright crochet hat that's perfect for everyone, plus the earflaps added for extra warmth is sure to make this a favorite!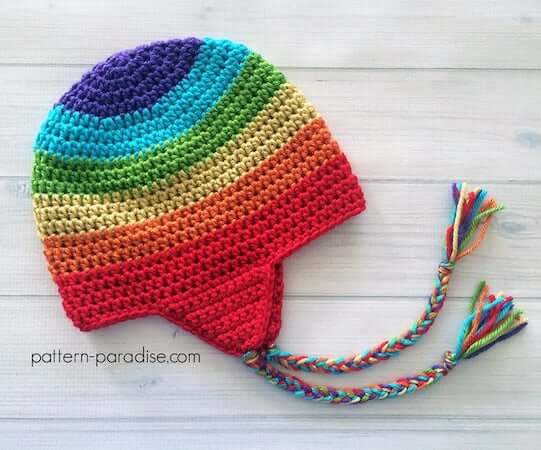 Get the Pattern by The Pattern Paradise here

14. Crochet Rainbow Baby Rattle Pattern by A Crafty Concept
This adorable Rainbow Baby Rattle is a great beginner amigurumi crochet project as well as an excellent way to use up your yarn scraps!
These little cuties work up in just an hour (maybe two), use very little yarn and would make a great, gender-neutral baby gift!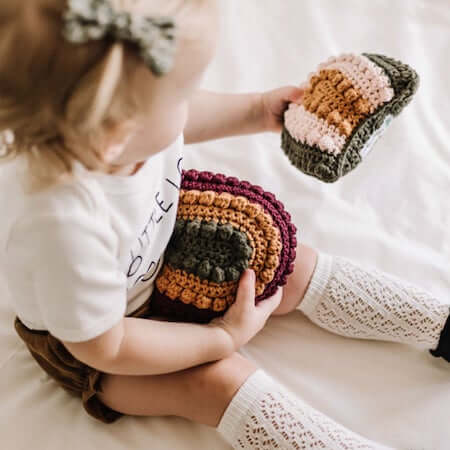 Get the Pattern by A Crafty Concept here

15. Daze Washcloth Free Crochet Rainbow Pattern by Simply Collectible Crochet
Rainbows are another delightful inspiration for crochet dishcloths. After all, how can you not feel joy when you see rainbow colors? Practice changing colors and creating a semi-circle with this adorable pattern.
This Cute Rainbow Daze Dishcloth can also be used as a crochet washcloth or whimsical coaster. It's super easy to crochet and you can finish one in about 15 minutes!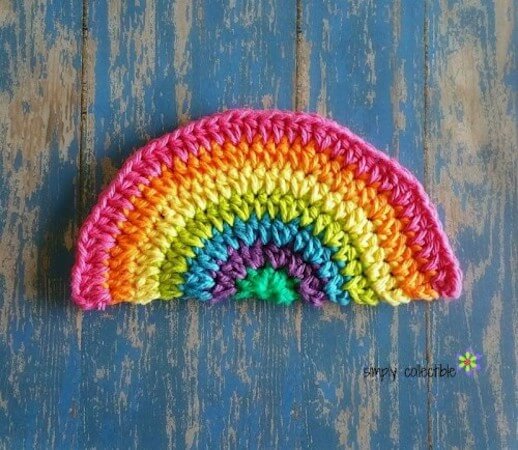 Get the Pattern here

16. Crochet Rainbow Keychain Pattern by The Ville Crochet
Make some cool Rainbow Keychains to attach to everything you own. It is boho, modern and fun addition to any keys or bag. Whip them up in one solid color or use some colorful ones to brighten up anyone's day!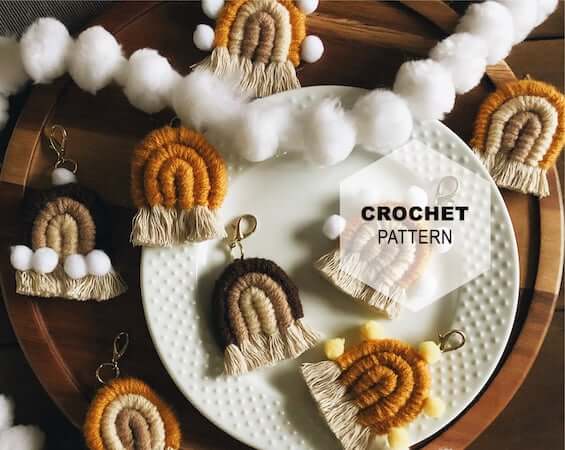 Get the Pattern by The Ville Crochet here

17. Crochet Rainbow Stacking Toy Pattern by Zoe Patterns
This Rainbow Stacking Crochet Toy is recommended since the birth of the baby up to toddlerhood. This educational crochet baby toy supports baby's development: increases fine motor skills, cognitive development of spatial relations, and hand-eye coordination.
The toy is built so that the rings fit the tower perfectly – a ring of a particular color will only fit over the part of the tower which has the same color.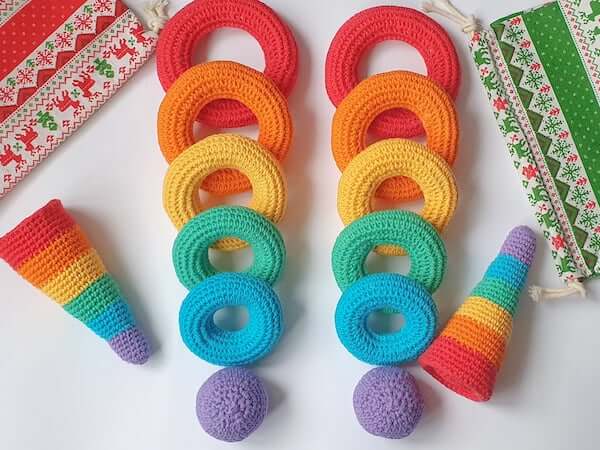 Get the Pattern by Zoe Patterns here

18. Rustic Rainbow Boho Vest Crochet Pattern by Knot Mama Made
Let your little one's boho soul shine through with this Rustic Rainbow Boho Vest! Lightweight and soft, this vest can be paired with denim shorts and a t shirt or worn at the beach. Color combos are endless and you can create one for every outfit!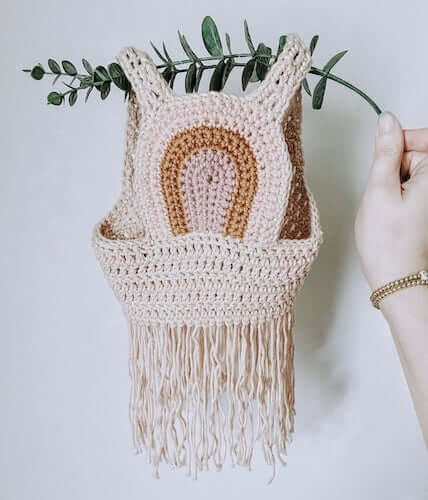 Get the Pattern by Knot Mama Made here

19. Crochet Rainbow Showers Pattern by Lisa Hooper
If you're looking for a rainbow to hang in your window, then how about this perfect pastel project? This sweet little rainbow has the cutest face and just look at those little raindrops!
Get the Pattern here

20. Crochet Rainbow Earrings Pattern by A Crafty Concept
This Crochet Rainbow Earrings Pattern is super easy, full of personality, and complements any outfit! These easy DIY rainbow earrings can be made in any color combination. You can go for the traditional primary colors or a subtle combination that matches your outfit!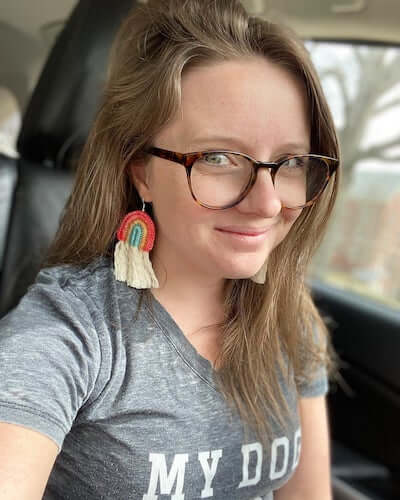 Get the Pattern by A Crafty Concept here

21. Crochet Rainbow Fringe Festival Jacket Pattern by Mokie See Mokie Do
The perfect punch of color for any music festival! Rock the rainbow with this eye-catching shaggy overcoat. Will keep you warm while still comfortably breathable. The pattern is fairly easy, however it is time-consuming to attach all the fringe.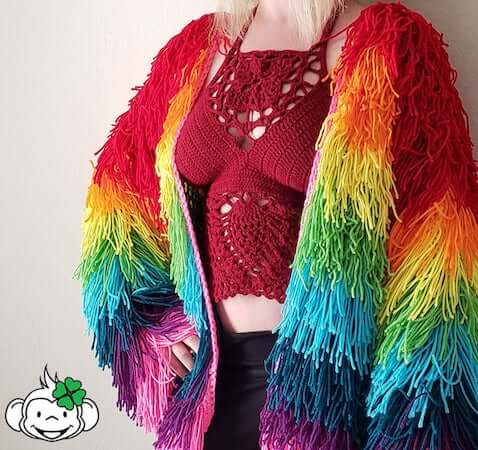 Get the Pattern by Mokie See Mokie Do here

22. Crochet Rainbow Tunnel Wall Hanging Pattern by Yarnspirations
This simple crochet wall-hanging is a delight to create for a nursery or kid's room. Stitching in 4 gentle shades of cotton yarn, this inviting project features a rainbow effect with a tunnel-like shape, plus a sweet embroidered smile and safety eyes.

There's nothing complicated about this pattern that has you working in single crochet and easy increases throughout. Finished with a playful fringe, it's an inspired gift to welcome a baby or to add a cheerful vibe to any room.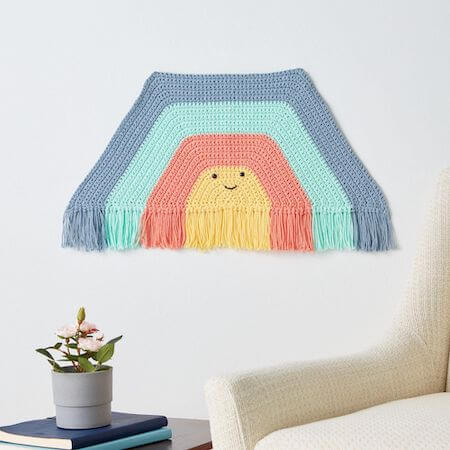 Get the Pattern here

23. Crochet Rainbow Pattern by TCDDIY
This Crochet Rainbow Pattern is for a fun rainbow crochet top and bottom set. This bundle is the perfect set for spring/summer. The top is a fun and fast work up with the most beautiful bell sleeves that'll make you want to dance the night away.

The matching bottoms is a flattering cut that elongates the legs and has corset ties along the side for added detail. These pieces can be made to wear as individual pieces or worn together as a matching set.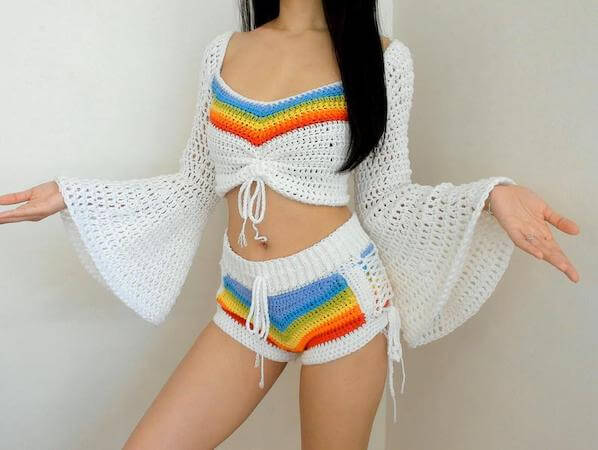 Get the Pattern by TCDDIY here

24. Rainbow Birthday Cake Crochet Pattern by Yarn Blossom Boutique
Make someone's birthday special with their very own long-lasting crochet cake. This one has rainbow stripes that bring pops of color to the celebration. Add the smiley face for extra cuteness or leave it off for a more sophisticated design.
Get the Pattern here

25. Rainbow Crop Top Free Crochet Pattern by The Lavender Chair
Rainbow patterns are a popular choice for bohemian style and other clothing worn at music festivals. The crop top is a staple of those types of events, and crochet is also popular in that fashion arena, so a rainbow crochet crop top is a perfect choice.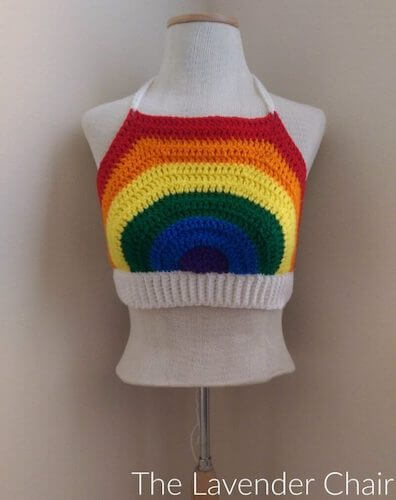 Get the Pattern here

26. Free Crochet Rainbow Flag Pencil Topper Pattern by Gathered
Let your rainbow flag fly and show your support for Pride with this simple pencil topper crochet pattern!

Although this Crochet Rainbow Flag is designed as a pen or pencil topper to show your support in the office or workspace, it's such a simple pattern you can easily adapt it for other uses too – why not pop it on your car aerial to show your support when you go to the shops, or make a load of them and thread them through some cord to turn them into pride bunting!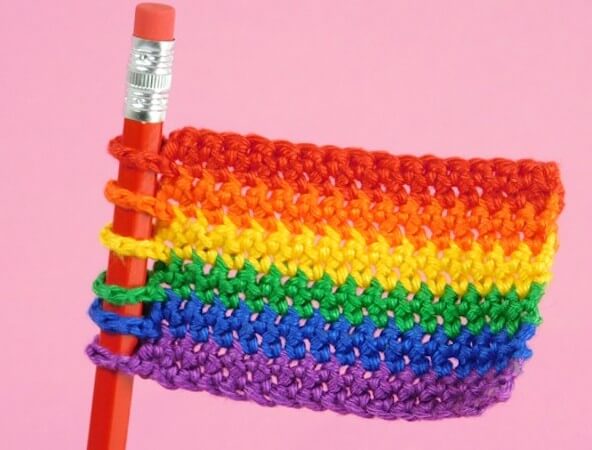 Get the Pattern here

27. Crochet Rainbow Flowers Applique Pattern by Annie Design Crochet
Make some cheerful little Crochet Rainbow Flowers to hang on your front window. You could string them together to make a garland or attach them to a bag. They would look fabulous decorating a straw bag for Summer.

All you will need is some small scraps of yarn to make these crochet applique flowers, and you will be whipping up a bunch of them to share in no time!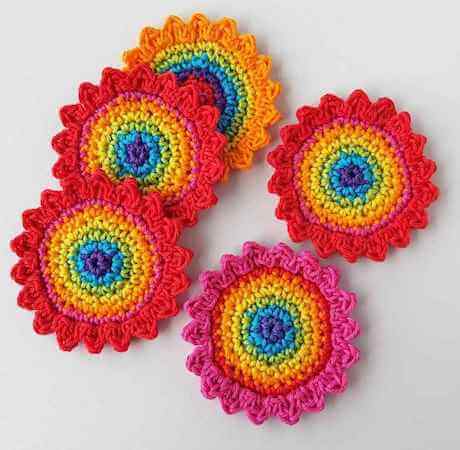 Get the Pattern here

28. Crochet Rainbow Snake Pattern by Golden Lucy Crafts
Rainbow is mostly everyone's favorite, so this time try this Crochet Rainbow Snake Pattern. This can be used as amigurumi or decorative accessory or whatever the way you want.

You just need a worsted weight yarn in different colors (the leftover threads from other projects are also applicable) and H sized crochet hook.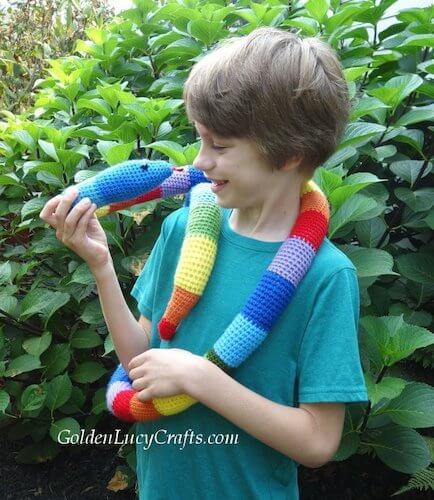 Get the Pattern by Golden Lucy Crafts here

29. Crochet Rainbow Mug Cozy Pattern by Hooked By Angel
Crochet this Rainbow Mug Hug Cozy for yourself or to gift to someone you love. It is like gifting a reusable hug! The recipient can cozy up this season with a colorful coffee cup that shows their LGBTQ pride.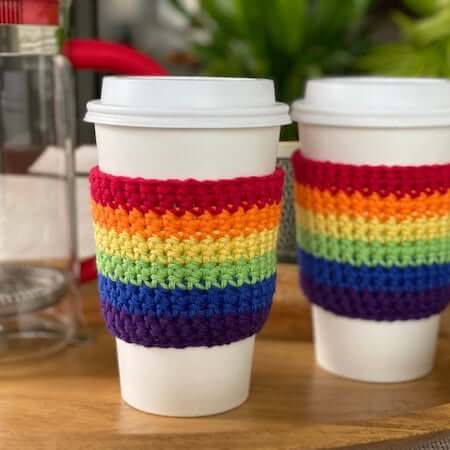 Get the Pattern by Hooked By Angel here

30. Pocket Full Of Rainbows Crochet Pattern by Blackstone Designs
This Pocket Full of Rainbows is the perfect pouch for carrying small items like cell phone and keys or it can be used by children for collecting fun finds along the beach or nature trails.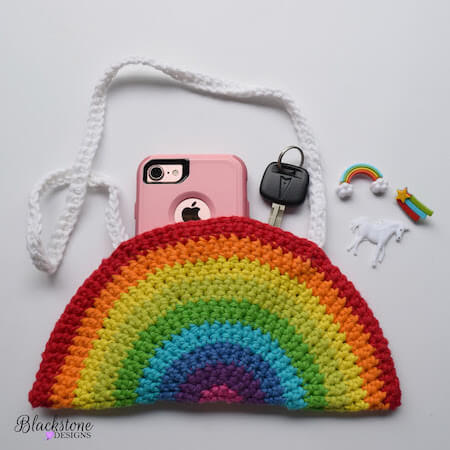 Get the Pattern here
ADD A LITTLE JOY, COLOR, AND HOPE TO YOUR DAY WITH THIS COLLECTION OF RADIANT CROCHET RAINBOW PATTERNS.
Seeing rainbows definitely brings joy to everyone so for more rainbow patterns, be sure to check our Rainbow Blankets and Rainbow hats.
We would love to see them! If you make one (or many), please share it on our Facebook Page so we can see those rainbows come to life!

Looking for more crochet patterns for spring? Check out these: Crochet Flower Patterns, Crochet Bunny Patterns, Boho Crochet Top Patterns, Crochet Easter Egg Patterns, and more!