Whether you're looking for last-minute gift ideas or want a way to use those extra yarn lying around, short and sweet quick crochet projects are a great way to get your creative juices flowing. With these quick easy crochet patterns, you can create a new accessory, home decor item, or even a winter necessity in very little time!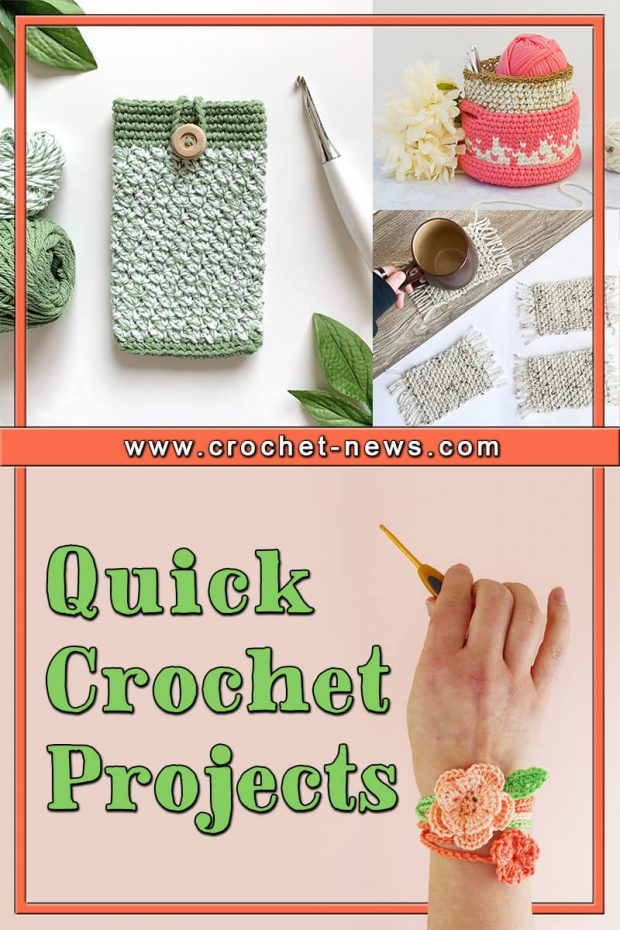 These quick crochet pieces can be made in less than a day, and many take just a couple of hours. Whether you need Christmas and housewarming gift ideas, something to make all the special people in your life, or a speedy refresher project for yourself, below are the best patterns to work on.

1. One Hour Chunky Beanie Free Crochet Pattern by For The Frills
Learn how to crochet a beanie in just one hour. This Arctic Ice Beanie is a chunky, cosy and super easy crochet beanie pattern! it is such a quick and satisfying project!

This is an one hour beanie crochet pattern but if you're an experienced crocheter you could probably finish the adult women's in 45 minutes or the child's in 30 minutes!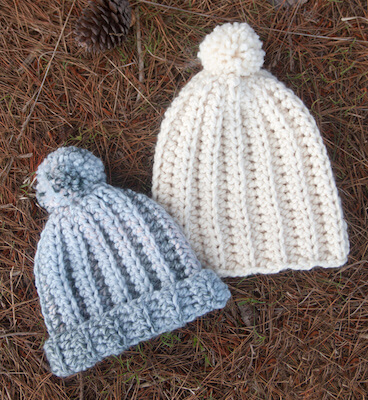 Get the Pattern here

2. Phone Pouch Quick Easy Crochet Project by Sylemn
This is a quick easy beginner-friendly crochet pattern that is not only fun to make, but useful too! It serves as a protective cover for your mobile device, or as a handy bag for small items. This cute yet simple design features a strap that loops around a button to keep the content of the pouch safe from falling out.

It can also be customized by changing yarn colors or using a fancy button to create a unique look. This cozy is the perfect project to make as a thank you or appreciation gift, a birthday present, or for selling at craft fairs!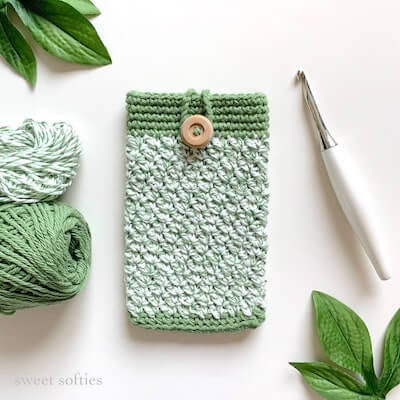 Get the Pattern by Sylemn here

3. Manchester Quick Crochet Cowl Pattern by Make And Do Crew
This Manchester Quick Crochet Cowl Pattern uses a simple, drapey stitch and chunky yarn to make a show stopping oversized scarf. Cloak yourself in layers of soft snuggles with this simple and modern crochet cowl. The open weave creates irresistible drape, while the shear volume of fabric ensures that your neck stays cozy warm.

This statement piece adds style to a simple leggings and denim shirt outfit, or softens more professional or out-on-the-town attire. The skills needed to whip up with quick project are appropriate for a confident beginner and include half double crochet, double crochet, decreasing and working in the round.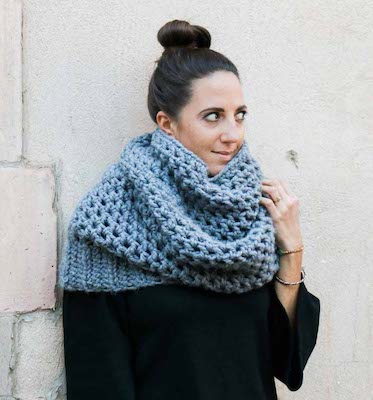 Get the Pattern here

4. Quick And Easy Double Thick Crochet Pot Holder Pattern by Sarah Maker
These easy, double-thick crochet potholders are a quick crochet projects you'll love to crochet, over and over again. This free pattern uses a simple combination of basic crochet stitches, so it's easy to learn and quick to make. And, since the potholders are made out of cotton yarn, they're durable and machine washable.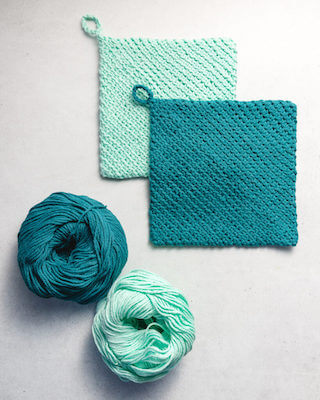 5. Adjustable Quick Crochet Socks Pattern by Crochet Spot Patterns
Tired of making socks with tiny single crochet stitches? This pattern uses double crochet stitches to work up quicker. No need to worry about the spaces created from taller stitches, each stitch is linked together to create a solid fabric.

This sock pattern is crocheted from the toe up to the leg in one piece so you can try it on as you go. It is extremely adjustable, since it can be crocheted with any weight of yarn for any foot size you can imagine, from babies to adults, it's all possible!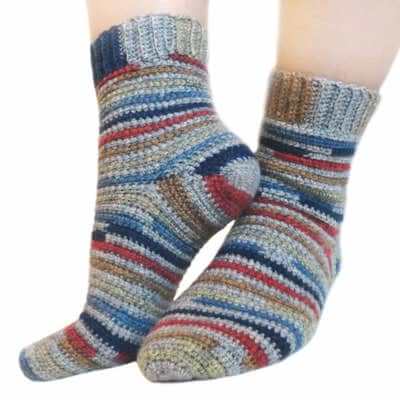 Get the Pattern by Crochet Spot Patterns here

6. Crochet Super Quick Dish Scrubbies Pattern by Crochet Glenda
This super quick pattern will sure become your favorite pattern for making dish scrubbies. These can be made in minutes. If you like to do craft shows, then this is a must have pattern for you. These dish scrubbies measure 4 inches in diameter when finished.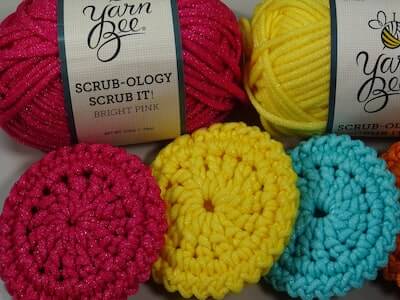 Get the Pattern by Crochet Glenda here

7. Quick Crochet Top Knot Scrunchie Pattern by White Owl Crochet Co
This is a great pattern if you are starting to crochet because you will get used to holding a crochet hook and yarn while practicing double crochets.
A great way to use all the yarn stash and/or also made a quick gift. You can make one in as fast as 20 to 40 minutes!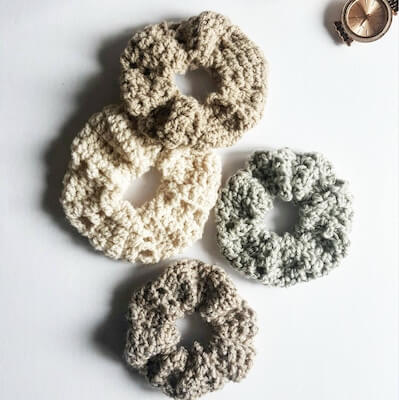 Get the Pattern by White Owl Crochet Co here

8. Elizabeth Stitch Boot Cuff Crochet Pattern by Dabbles And Babbles
These boot cuffs are very quick to make, taking only an hour or two. They are the perfect accessory to go with a pair of jeans and your favorite boots.

If you're still looking for the perfect holiday gift ideas these crochet boot cuffs can be customized to each and every person on your list whether they're friends, family, or colleagues.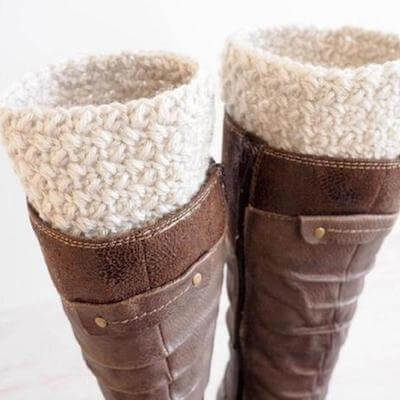 Get the Pattern here

9. Quick Crochet Mug Rugs Pattern by Made With Hooks
Don't these mug rugs look super cute and stylish? This quick crochet project is super easy to make so definitely beginner friendly.

They're also really quick to make so you can finish them in just one hour, isn't that nice? You only need 1 skein of medium weight tweed yarn. This whole pattern is made with a 5mm (H) hook.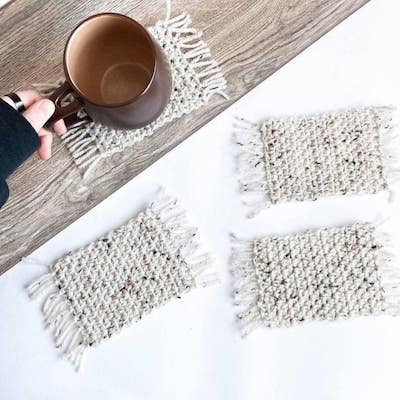 Get the Pattern by Made With Hooks here

10. 10 Minute Beginner Crochet Coffee Sleeve Pattern by The Jessica Life
This practical coffee cozy is designed for beginners. Once you get the hang of it, you should be able to craft one in about 10 to 15 minutes. These trendy little cup sweaters make a great alternative to a recyclable coffee cozy, plus it's a terrific gift idea when paired with a gift card to a favorite takeout coffee shop.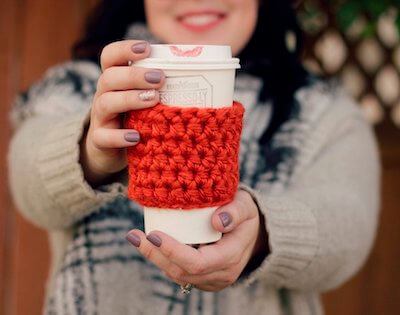 Get the Pattern here

11. Quick Crochet Floral Wrist Wraps Pattern by Irene Strange
Bring color and flowers with you everywhere with this very quick and simple project – three separate wraps layer up together to create a sweet floral wrist accessory, perfect for summer parties and festivals (or for kids to dress up with).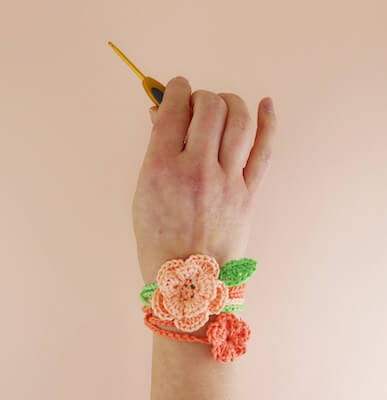 Get the Pattern by Irene Strange here

12. Quick Crochet Slippers Pattern by Little John's Yarn
If you are looking for a fast and easy crochet slipper to make, you have come to the right spot! These crochet slippers use the cluster stitch, which makes each cluster look like a jewel.

They look so polished with the sophisticated, but they couldn't be simpler. This pattern for crochet slippers is worked in all single crochet & cluster stitches! These are the perfect crochet slipper socks to create.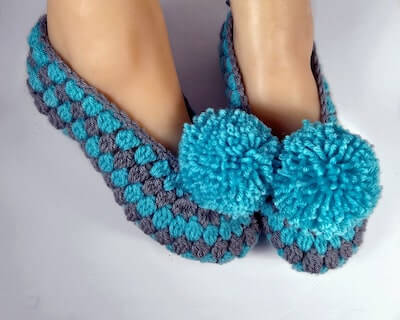 Get the Pattern by Little John's Yarn here

13. Quick Lattice Crochet Cardigan Pattern by Kathy's Crochet Closet
Here is an easy crochet pattern for a Quick Lattice Cardigan. It's done with worsted weight yarn (size 4) and a large crochet hook (size P) and can be finished in a day.

The cardigan can be made in size small, medium, large and extra-large. It makes a great layer over a tank, a t-shirt or a dress. Perfect for spring and summer!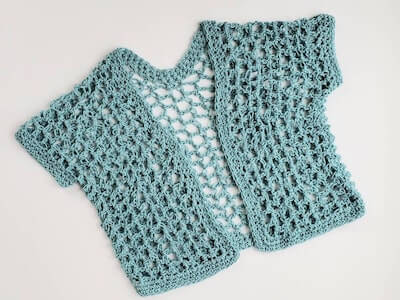 Get the Pattern by Kathy's Crochet Closet here

14. Quick Puff Stitch Crochet Mittens Pattern by Han Jan Crochet
This Puff Stitch Crochet Mittens are packed full of stitch texture, luxury and style. The crochet fingerless gloves can be made with just one skein of yarn so a great yarn stash buster project to make in an evening with your favorite TV show on.

Made to fit an average adult size hand with plenty of stretch for comfort. Perfect as a quick crochet gift or as a treat for yourself.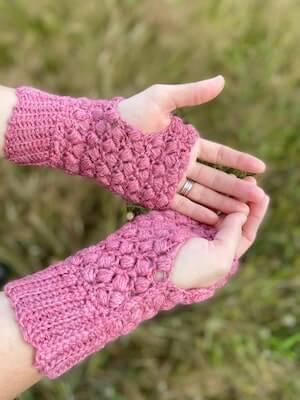 Get the Pattern by Han Jan Crochet here

15. Quick Cochet Nesting Baskets Pattern by Left In Knots
These Crochet Nesting Baskets are made with a bulky, jersey-knit tube yarn. The bulky yarn makes these crocheted baskets work up quickly so they would make an awesome last-minute housewarming or even baby nursery gift!

Just pack them with a candle or some small baby essentials and they double as a gift basket as well! You will love making these quick crochet projects with a combination of two colors (and a bit of hemp) but they would also be just as fabulous in one solid color if you are really hustling to get a gift made quickly!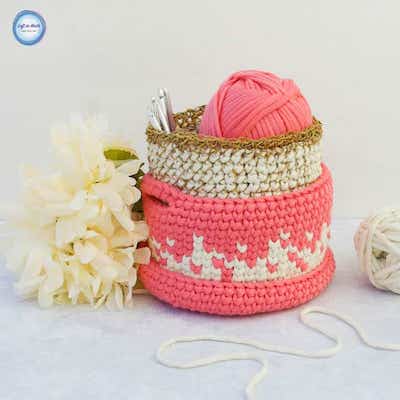 Get the Pattern here

16. 5 Minute Jersey Tee Crochet Bracelet Pattern by B.hooked Crochet
This 5 Minute Jersey Tee Crochet Bracelet, as the name implies, works up in only 5 minutes (or less) and uses only 2-3 yards of t-shirt yarn. It's a perfect way to use up those extra scraps of t-shirt yarn while creating a stylish little accessory in the process.
Check out our roundup of crochet bracelet patterns for more intricate designs to choose from.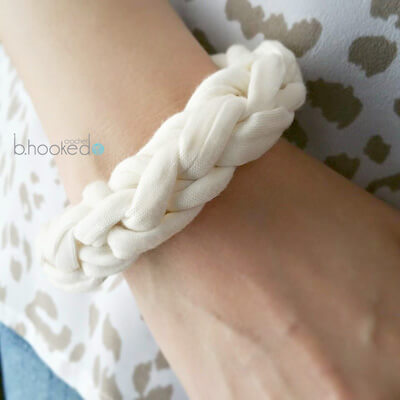 Get the Pattern here

17. Presto 4.5 Hour Afghan Quick Crochet Pattern by Make And Do Crew
In less than five hours, you can whip up a chunky throw that's equal parts whimsy and luxury. Using very basic chain and double crochet stitches, you'll breeze through the body of the afghan in about three and a half hours and then add some pizazz with squishy tassels.
This pattern is appropriate for confident beginners and anyone who likes to finish an entire afghan in a day!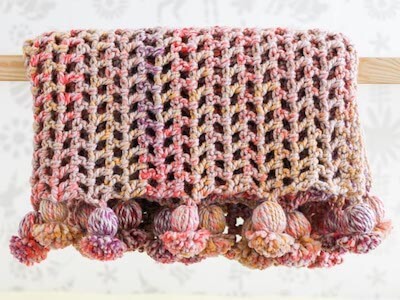 Get the Pattern here

18. Easy Crochet Plant Hanger Pattern by Joy Of Motion Crochet
You're going to love this pattern for this Crochet Plant Hanger. It's a great crochet idea for a quick crochet project and it's also a great project that needs less than one skein.

To crochet this easy plant hanger, you're not going to need a lot of time, yarn or extra materials.
Also see: Crochet Hanging Plants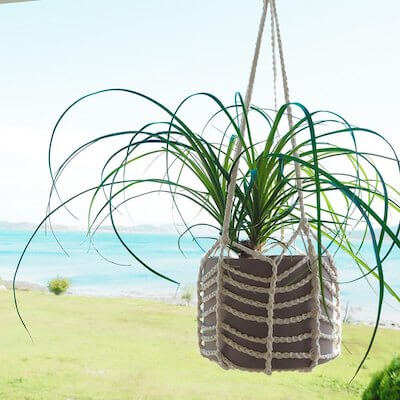 Get the Pattern by Joy Of Motion Crochet here

19. Quick Easy Crochet Rug Pattern by Jen Dwyer
This pretty and functional mat is great for the bathroom, dorm room, kitchen, nursery, or anywhere you want to brighten up a room!

This quick crochet projects are great for beginners. If you're new to crochet or consider yourself a beginner, this is a good project to start with. It's easy to follow and the stitch pattern is a basic circle, a good skill to know for a crocheter. Plus, we use jumbo yarn and a big hook, so it goes by pretty fast.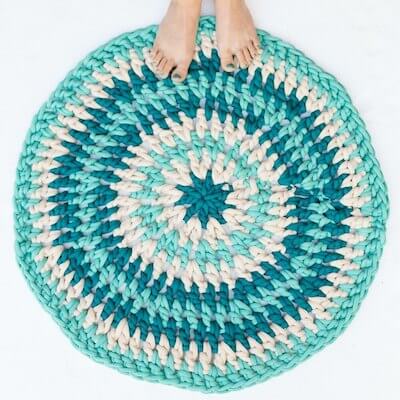 Get the Pattern by Jen Dwyer here

20. Lotte Lace Bookmark Crochet Pattern by Veronika Cromwell
Quick and satisfying crochet project for a lacy crochet corner bookmark, the Lotte Lace Bookmark. Make one for yourself or as a quick gift for friends, family or a teacher's gift.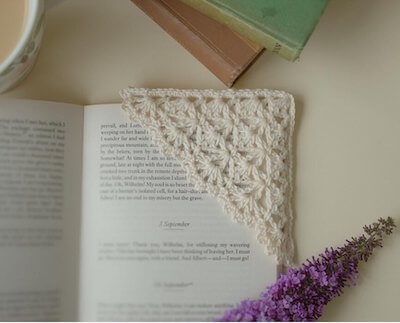 Get the Pattern by Veronika Cromwell here

21. Quick Crochet Ice Cream Cone Keychain Pattern by The Friendly Red Fox
These Ice Cream Cone Keychains are so fun and quick to make! Perfect pool side project, don't you think?
These little crochet keychains would be so cute on a little back pack or bag, too! Or leave off the chain and you have a cute pretend ice cream cone!
They are about 3 inches tall. They would be a great gift, or perfect to sell at a craft fair or just for yourself. Either way, you will have so much fun, you won't stop until you have made one in every color!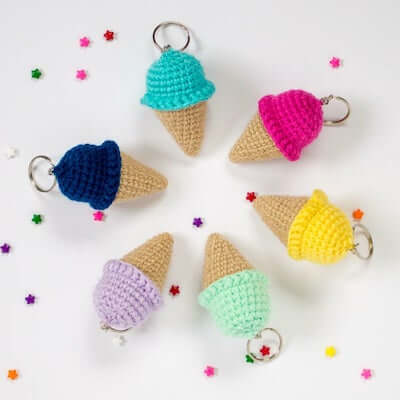 Get the Pattern here
EACH ONE OF THESE QUICK CROCHET PROJECTS CROCHET UP SUPE FAST WHILE STILL STAYING THOUGHTFUL AND CUTE. TALK ABOUT A WIN-WIN!
Feel free to tag us when you finished one of these quick crochet projects on Facebook – we'd love to see 'em!

We're all for quick crochet projects, especially when there's a holiday deadline looming. Don't panic – you can still have that handmade holiday or birthday and do some stash busting while you're here! Here are more great last-minute quick crochet projects you can make:
Whether you are on a budget and want to make a quick and quirky gift or wish to indulge in a special treat for yourself, these quick crochet projects is a collection you simpy won't be able to resist!