Crochet fashion is in full swing, and we've covered everything from scarves to cardigans to dresses. Of course, we couldn't pass over the essential item that holds everything together – the belt.

Whether it's used as a bold statement piece or a last finishing touch, belts are versatile and can be created at a small cost. Check out these crochet belt patterns to make this weekend!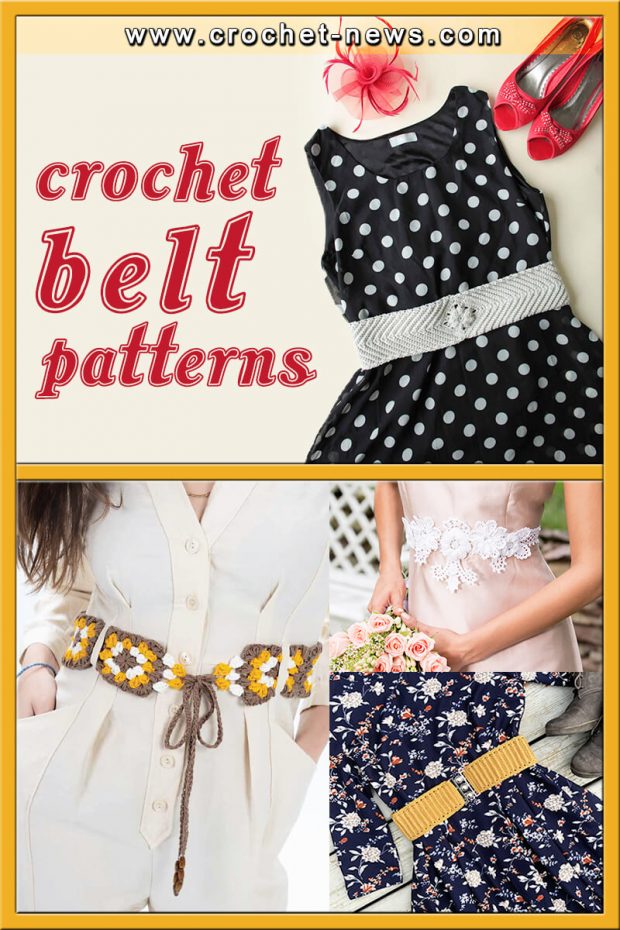 From keeping your pants up to making bold fashion statements, belts have been part of our wardrobes for thousands of years.
Now, there are more choices than ever when it comes to belts. Don't miss out on any of these ideas to make your own!
25 Crochet Belt Patterns

1. Bridal Crochet Belt Pattern by Yarnspirations
Crochet a lovely spray of frilled flowers, leaves, and scrolls to complement an elegant wedding gown or other formal gown. Crystal beads add just the right amount of glitz to this stunning accessory.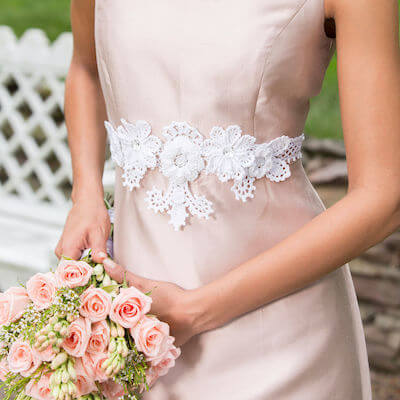 2. Easy Lace Belt Crochet Pattern by Fiber Flux
This Crochet Easy Lace Belt is a fun and quick crochet project that can be worn throughout the year. Wear just one belt or layer two for a unique and pretty look! Choose your favorite yarn colors and add a fashionable accent to plain outfits.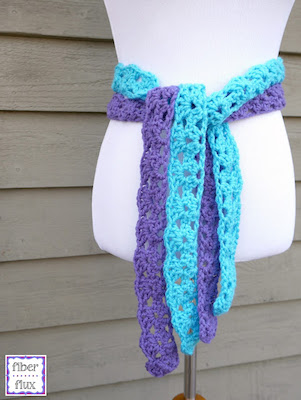 Get the Pattern here

3. Simple Crochet Belt Free Pattern by Amelia Makes
This pattern creates a very simple and easy belt with a tapered end and a belt loop to keep the end secure. The belt length is very easily customized based on your own measurements and where you want to wear it.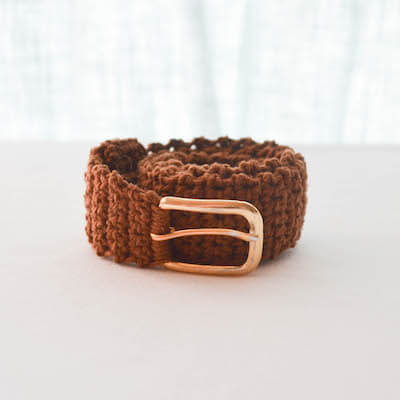 Get the Pattern here

4. Crochet Wrap Waist Belt Pattern by Stone Sparrow Threads
This waist belt, inspired by cottage core, adds flattering layers to your 'woodland' ensemble. This belt provides the benefit of bringing your tops together in a corset style without the discomfort associated with corsets.
If you're short on time, this pattern is a quick afternoon project that would make a great gift!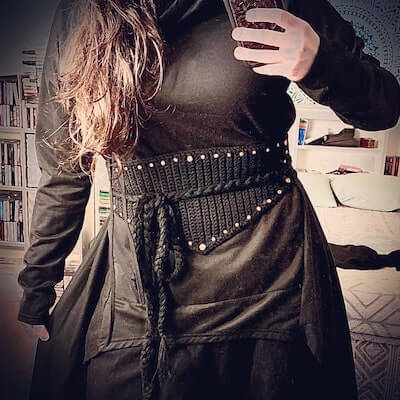 Get the Pattern by Stone Sparrow Threads here

5. Crochet Adjustable Belt Pattern by Crochet Spot Patterns
Here's a set of three crochet belt patterns perfect for beginners. These belts are easily adjustable, allowing you to make the belt as wide and long as you want. Make them in any colors and sizes!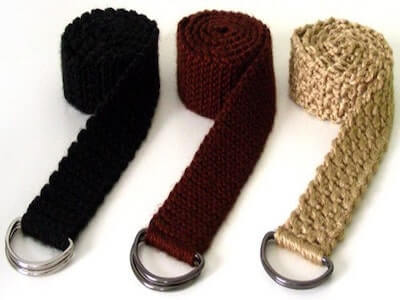 Get the Pattern by Crochet Spot Patterns here

6. Clamshell Lace Crochet Corset Belt Pattern by Salty Pearl Crochet
Adding this beautiful Crochet Lace Crochet Corset Belt to a favorite maxi dress or tunic will help pull together your look and flatter your figure.
The best part about wearing this crochet corset belt is that it doesn't cinch tight enough to draw in your waist; instead, it gathers the fabric at your waistline to create a visual break.
Also see: Crochet Corset Patterns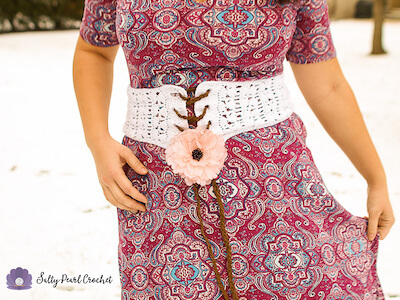 Get the Pattern here

7. Tie Belt Crochet Pattern by Outstanding Crochet
Miss 70s? In love with Boho Chic or Hippie Style? This tie belt with tassels is for a person like you, who prefers life in many colors!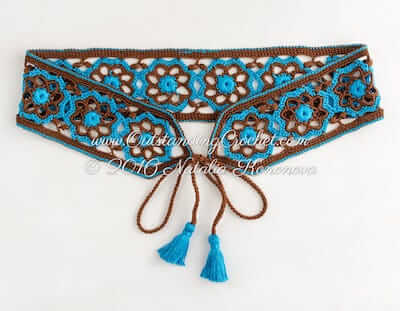 Get the Pattern by Outstanding Crochet here

8. Crochet Braided Belt Pattern by Two Of Wands Shop
This belt comes together quickly and looks like a sailor's rope made using a crochet 4 way woven braid. It is easily adjustable for different lengths and can be made narrower or wider by adding more crochet strands.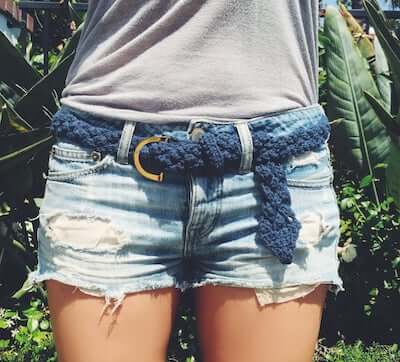 Get the Pattern by Two Of Wands Shop here

9. Charleston Crochet Belt Free Pattern by Joy Of Motion Crochet
This Charleston Belt is a quick crochet accessory make. It is made up of a small flowery square and straps worked in opposite directions around 2 sides of the square at a time.
It takes texture to another level with popcorn stitch and simple, yet effective basic single crochet stitch worked through back loop only.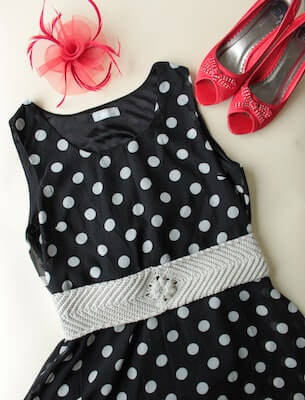 Get the Pattern here

10. Crochet Ruffled Hip Belt Pattern by Red Heart
With this crocheted belt, you can transform a plain outfit from dull to lively. This one is adorned with cowrie shells, but you could use beads or other craft store findings instead.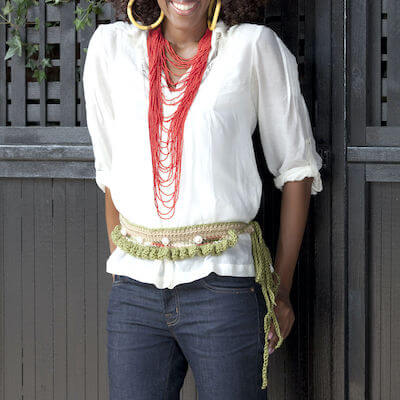 11. Crochet Accent Belts Pattern by Crochet Spot Patterns
Whether worn with a dress or over a shirt, adding belts to your outfit has become fashionable. With so many crochet stitches at our disposal, what better way to experiment than with something wearable?
Make them in your favorite colors, and these three belts will go with any outfit.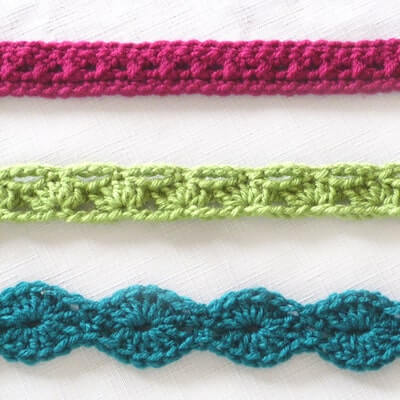 Get the Pattern by Crochet Spot Patterns here

12. Boho Easy Crochet Belt Pattern by Yay Crochet Patterns
Enjoy this fun and easy original crochet Boho Belt crochet pattern. This easy crochet belt pattern can be crocheted quickly with any color yarn.
Use up your favorite scrap yarn and accent your favorite outfit, or make this funky handmade gift for a friend!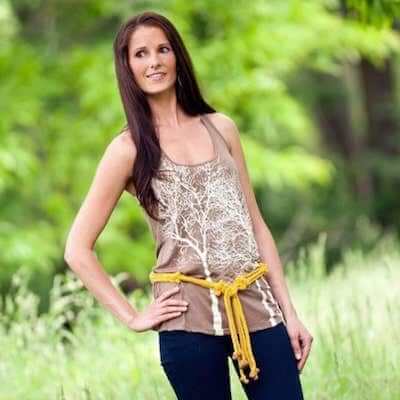 Get the Pattern by Yay Crochet Patterns here

13. Crochet Utility Belt Pattern by Speckless
This hip pack/utility belt/fanny pack is ideal for carrying your essentials while remaining hands-free. It has two pockets: one rectangle (6″ x 3.5″) and one circle (6″ x 3.5″). (5.5″ diameter).
This bead stitch hip pack is very adjustable for any body type thanks to the corset tie closure, and the pattern includes instructions for making the belt wider or shorter.
Get the Pattern by Speckless here

14. Buffalo Belt Crochet Pattern by Interweave
This tapestry crochet belt consists of stripes and triangles in contrasting colors. Make it in a range of sizes to wear around the waist or hips.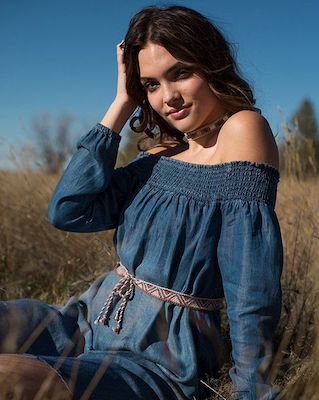 Get the Pattern here

15. Crochet Basketweave Belt Pattern by Joy Prescott
This belt has a lovely texture thanks to the basketweave stitch, which is made up of a series of front and back post double crochets. This fashionable belt is made with cotton thread and has a long fringe tipped with beads. An excellent addition to any wardrobe!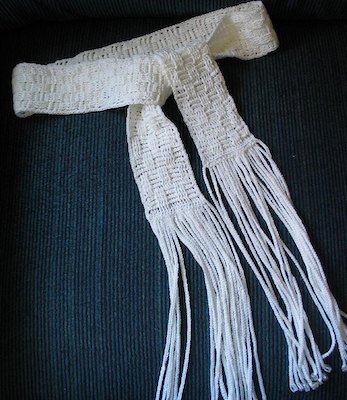 Get the Pattern by Joy Prescott here

16. Crochet Waist Belt Pattern by Yarn And Chai
Fashion is the name of the game with this simple pattern. Wear it over a dress or cardigan for a pop of color and style!
Get the Pattern here

17. Granny Puff Belt Crochet Pattern by Susy Knotsosquare
Show the love for granny squares with this Granny Puff Belt. Feel free to experiment with different colors to give the belt a unique look and feel. Using pastels, for example, would give the belt a more summery feel. Instead of beads you could also attach pom poms or tassels to the end of the ties.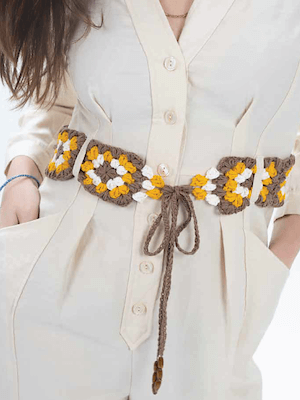 Get the Pattern here

18. Crochet Posy Belt Pattern by Lion Brand
Add a touch of femininity to any ensemble with a floral belt. All eyes on you with this Posy Crochet Belt, that's for sure! You'll love the versatility of this belt and how it will wear with anything from jeans and a t-shirt to a sundress.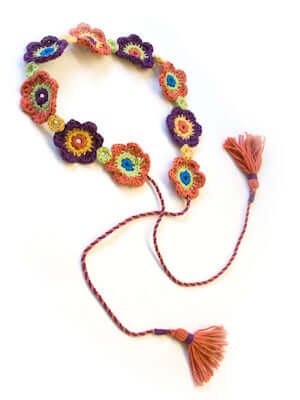 Get the Pattern here

19. Sailor's Knot Crochet Belt Pattern by Ashlee Marie
With two basic crochet stitches, this Nautical Sailor's Knot Belt is as easy to make as it is fashionable to wear. This would be the perfect crochet pattern for a beginner: stress-free but such a great design idea to add to your style.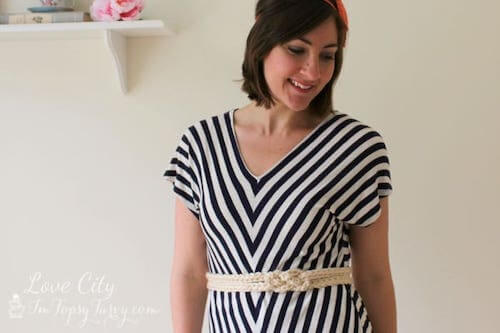 Get the Pattern here

20. Tunisian Crochet Belt Pattern by Red Heart
The example show above is embellished with a cross stitch design, but I think it would look cute just plain, or worked in a variegated yarn. This belt is perfect for beginners in crochet will introduce you to the world of Tunisian Crochet!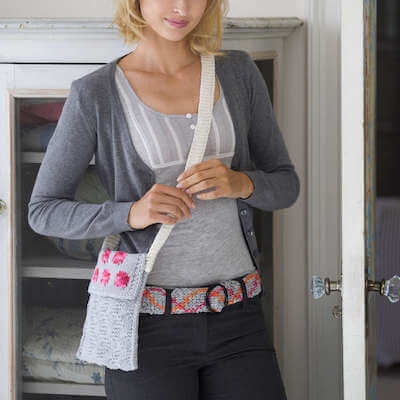 Get the Pattern here

21. Crochet Pixie Pocket Belt Pattern by Morale Fiber
These Pixie Pocket Belts feature utility belt style pockets in whimsical colors and shapes and a tatted fabric fringe skirt — they are great for scrap-busting, upcycling, showing off special yarns, learning new shaping and textural techniques or practicing your favorites.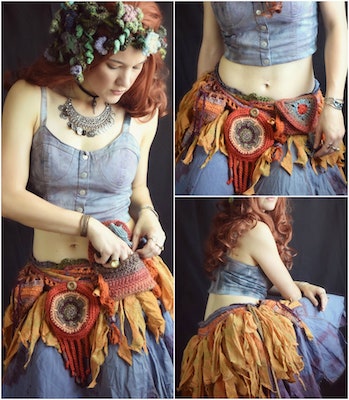 Get the Pattern by Morale Fiber here

22. Single Crochet Belt Pattern by Crochican Bf Store
Crochet a simple and fancy belt using single crochet stitches—customizable with any color. Perfect for dressing up a plain dress, you can make this belt in an afternoon and wear it that evening.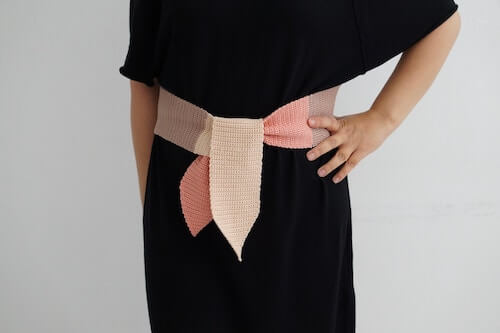 Get the Pattern by Crochican Bf Store here

23. Crochet Enchanted Corset Belt Pattern by Earth Tricks
This Enchanted Corset Belt can be worn in a number of different ways! It comes with a narrow and wide belt option, as well as detachable skirt stays and pockets. I love how this piece screams life and personality!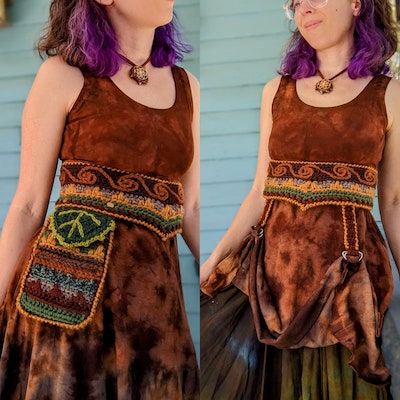 Get the Pattern by Earth Tricks here

24. Breeze Raffia Belt Crochet Pattern by Victoria Bee Design
Crochet a simple summer accessory with this Breeze Raffia Belt. You could say it's a breeze to make as you can have it finished in an evening, or even better while sitting in the afternoon sun!

All you need is an old belt buckle along with some raffia yarn. It's a great simple project to get to grips with raffia (or a good way to use up letfovers from another raffia project).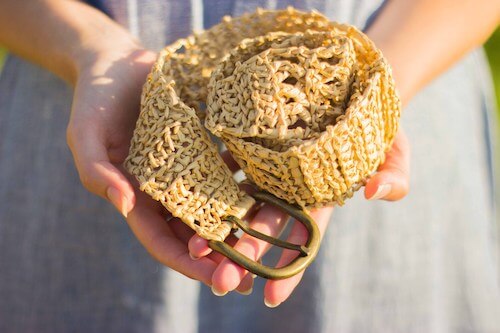 Get the Pattern by Victoria Bee Design here

25. Sassy Crochet Belt Pattern by Pink Plumeria Maui
This Sassy Crochet Belt is a free pattern using DK weight yarn to create a fun accessory. It is designed to sit comfortably at your waist, providing a gentle hug that highlights your curves. It's great to wear with everything from your skinny jeans to a sixties-style mini dress!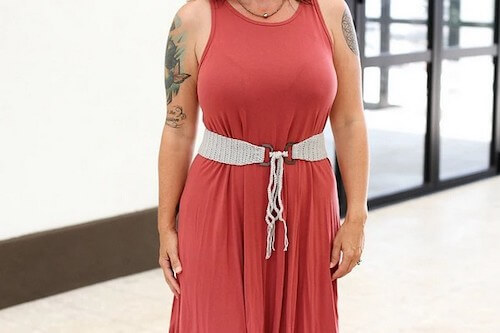 Get the Pattern here
THESE CROCHET BELT PATTERNS WILL ADD SOME ORIGINALITY TO YOUR OUTFIT AND ARE BUDGET-FRIENDLY ENOUGH, THAT YOU CAN MAKE A DOZEN OF THEM!
You are welcome to share your crocheted belts on our Facebook Page. We'd love to see them!

For more easy crochet wearables, you may also want to check out patterns for scarves and cowls, headbands and ear warmers, and mittens and hats. When it comes to our wardrobe, do we really ever have enough handmade items? Never!

For now, let's start with something different and make a crochet belt for you and for a friend today!