Prepare for cold winter months with these 21 Crochet Mittens. These cute winter accessories will work perfectly for him and her, they work up fast and give a little extra comfort to everyday adventures.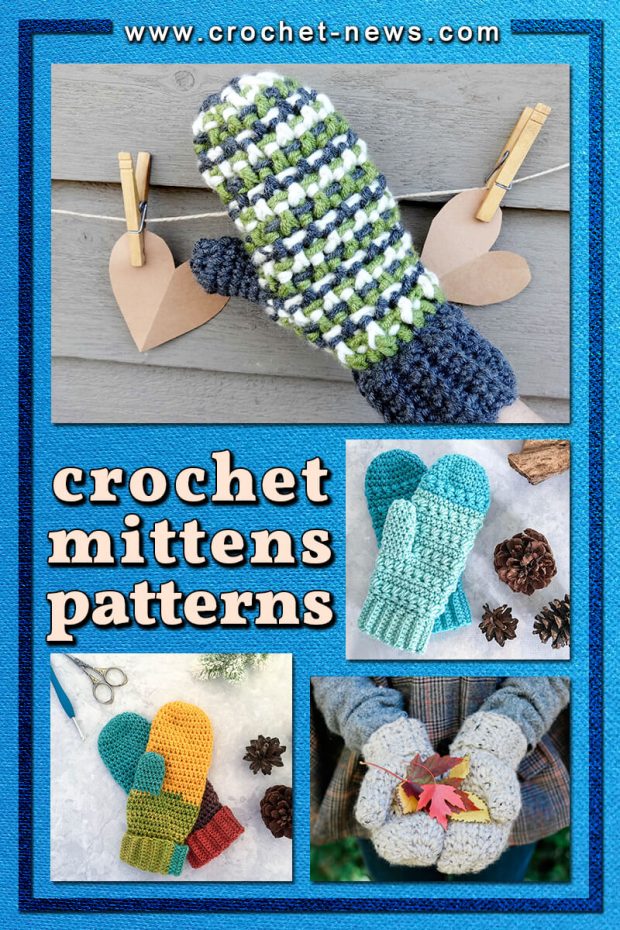 Mittens can seem complicated, but these patterns below will have you reaching for your crochet hooks and the most snuggly yarn you have in your stash! Customize them by color and size, and enjoy!

1. Cabled Mittens Crochet Pattern by All About Ami
These Cabled Mittens are gorgeous and elegant with a beautiful ribbed cuff, and you will enjoy learning the technique of how to crochet cables!

A pair only takes a few nights to crochet, so you can make a whole batch of mittens in all the colors. Who doesn't love one skein projects?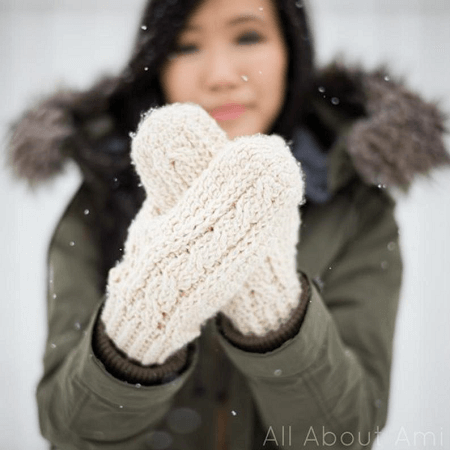 Get the Pattern by All About Ami here

2. Snowday Crochet Mittens Pattern by Red Heart
Did someone say snow day? Give children the perfect crochet mittens to help them enjoy a playful day in warmth and comfort.

Make them fun and functional in 3 sizes, using whatever colors your kids prefer. Or, complete them in one of the 2 colorways shown. It's a wonderful project that helps make memories!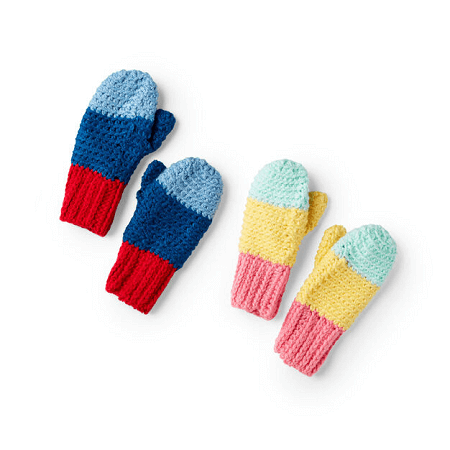 Get the Pattern here

3. Snow Drops Mittens Crochet Pattern by Left In Knots
This beautifully textured, modern pair of Snow Drops Mittens will keep you toasty warm in the cold winter weather.

This is a perfect pattern for someone looking to learn basic mitten construction and is appropriate for intermediate level crocheters.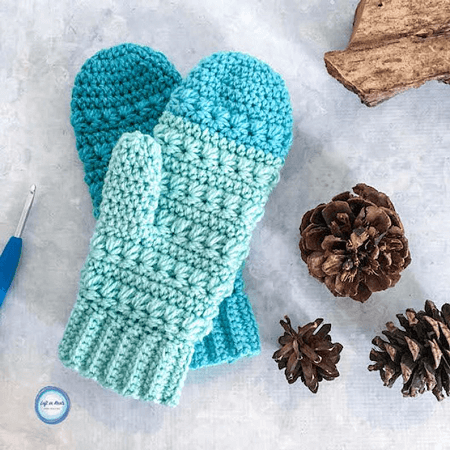 Get the Pattern by Left In Knots here

4. Knit Look Crochet Mittens Pattern by Mon Petit Violon
This crochet mittens pattern uses a knit-looking stitch to create a timeless mitten style that's great for personalizing and gift-giving. Personalize them with buttons, leather, or even dye! They work up pretty fast and you will fall in love with the texture!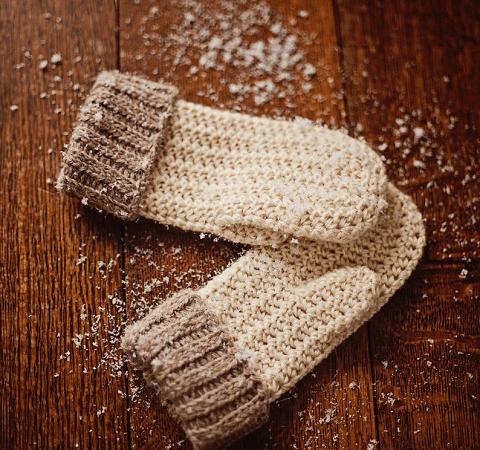 Get the Pattern by Mon Petit Violon here

5. Crochet Fair Isle Mittens Pattern by Yarnspirations
Get ready for winter fun with these lively crochet mittens featuring cool winter tones for a classic look that stands the test of time.

Stitched in the round, we're sure you'll reach for these mittens first for warmth and comfort. The pattern features Fair Isle colorwork, ribbed edges, and the split single crochet technique.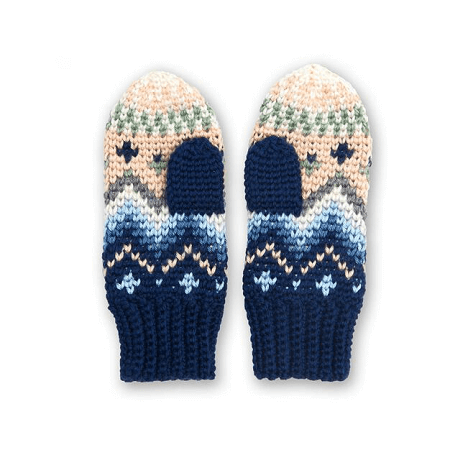 Get the Pattern here

6. Crochet Versatile Mittens Pattern by Han Jan Crochet
Get set for a chilly winter with these versatile and on-trend mitts! Made from soft 4ply yarn, the soft ribbing and texture stitch body are just the thing.

They are practical too – a toggle holds back the finger cover when you need your fingers free and then it pops over when you want to be warm all over.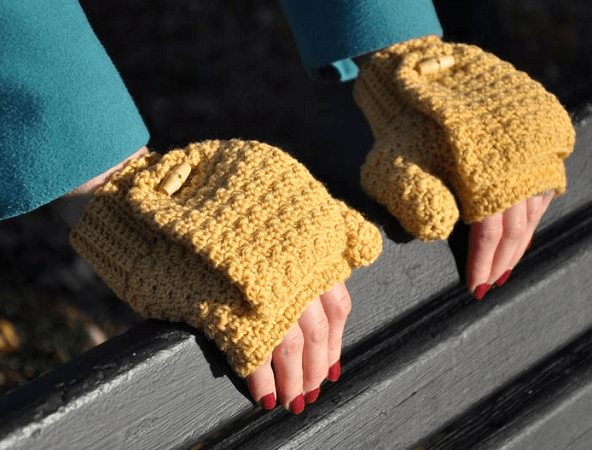 Get the Pattern by Han Jan Crochet here

7. Winter Mountain Mittens Crochet Pattern by Nomad Stitches
If colorwork is your favorite, these Winter Mountain Mittens are the perfect way to practice Fair Isle crochet. The technique used in these mittens makes crochet fabric look like it's been knitted.

The mittens come in one medium size, but it can be easily adjusted by changing the gauge with a larger or smaller hook.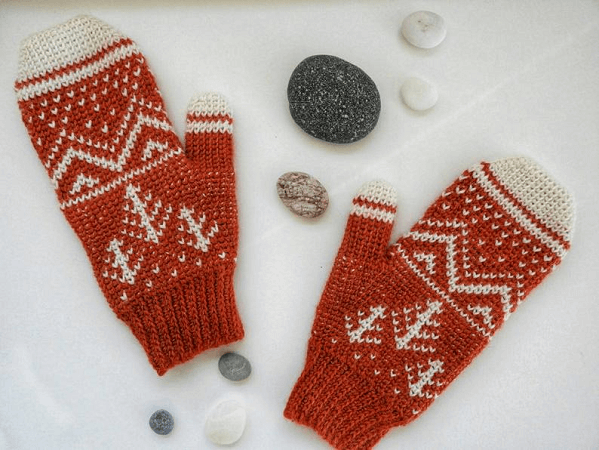 Get the Pattern by Nomad Stitches here

8. Chunky Crochet Mittens Pattern by Make And Do Crew
These simple Chunky Crochet Mittens look knit and can be worked up in about three hours! The pattern uses the Waistcoat stitch, which mimics the look of knit stockinette stitch incredibly well.

Whether you're headed to the backcountry or just back to the coffee shop, these chunky mittens will keep your hands toasty warm like the mitts your grandma used to make.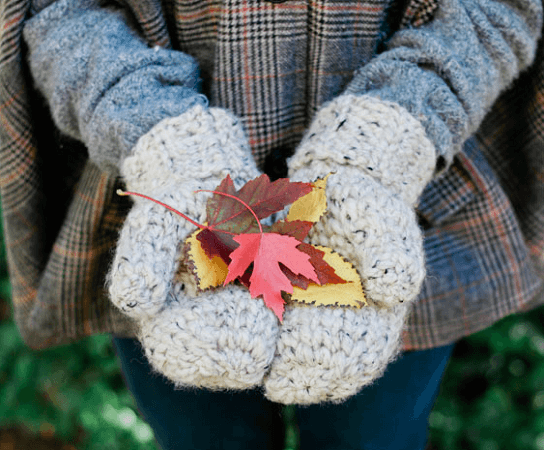 Get the Pattern here

9. Micro Plaid Crochet Mittens Pattern by Hug A Hooker
These Micro Plaid Mittens use simple single crochet stitches arranged in a specific sequence to create a classic plaid print! Each color is worked in its own round (no tapestry stitches!) and dropped and picked up at the end of each round.

It is a fun pattern to work up as you see the plaid pattern take form! Keep it traditional, or mix the colors up! It's entirely up to you!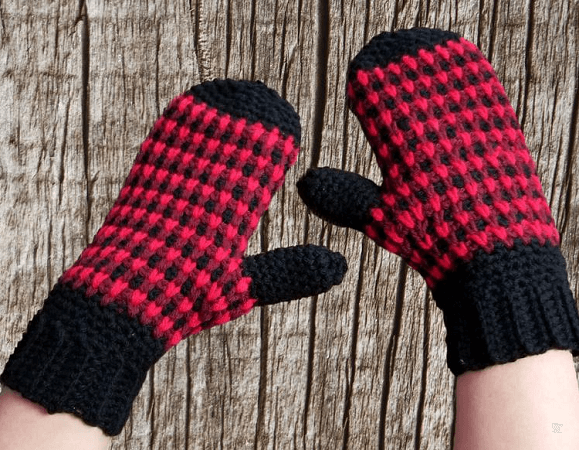 Get the Pattern by Hug A Hooker here

10. Crochet Owl Mittens Pattern by Crochet Milie
These Crochet Owl Mittens are fun and work up pretty fast making it ideal as a quick project for a gift or selling the finished items. An intermediate crocheter or even a dedicated beginner will master this stitch in no time at all.

Need to learn this stitch? Crochet crocodile stitch tutorial here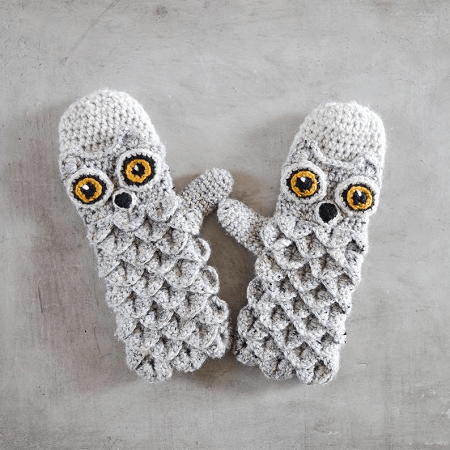 Get the Pattern by Crochet Milie here

11. Tulip Crochet Fingerless Mittens Pattern by Nomad Stitches
These beautiful Tulip Fingerless Mittens use stitches and color choices to create the illusion of flowers in two different areas of the design.

Set against a neutral background, these mittens are feminine and classy. They include a thumbhole in the design.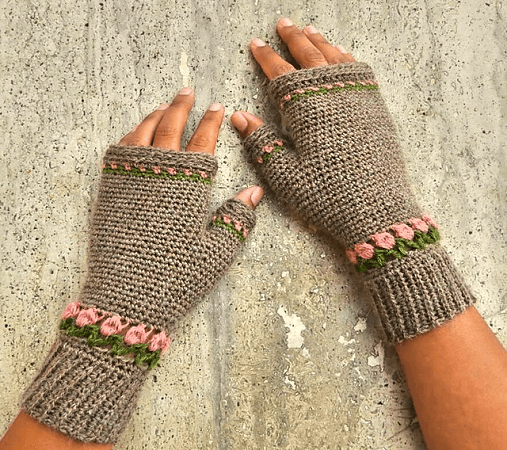 Get the Pattern here

12. Heart Mittens Crochet Pattern by Teal And Finch
These adorable Heart Mittens are perfect for Valentine's Day or just for fun all winter long! This pattern includes directions for child and adult sizes.

The pattern is created with the beginner in mind. Technically, it's more of an intermediate pattern with an introduction to color stranding.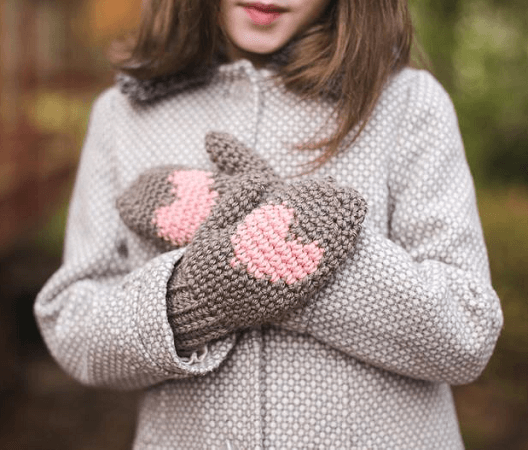 Get the Pattern by Teal And Finch here

13. Crochet Unicorn Mittens Pattern by Ekay G
Little ones can keep their hands and fingers warm while inspiring their creativity with these Crochet Unicorn Mittens! Make them in sizes ranging from toddler to teen!

The pattern is made with a bulky weight yarn (5) and works up pretty quickly. The waistcoat stitch gives it a nice knit look while also providing extra warmth and thickness.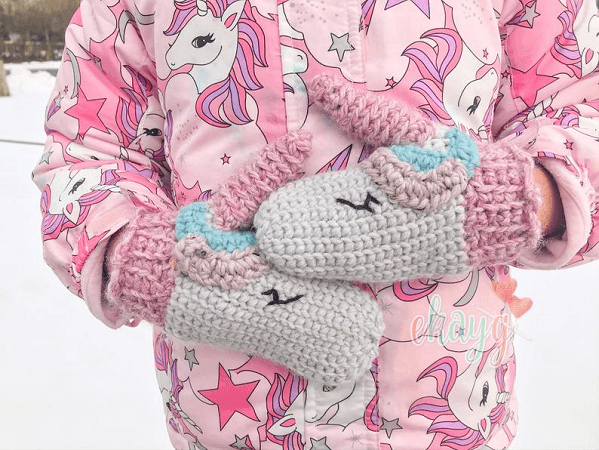 Get the Pattern by Ekay G here

14. Pom Pom Crochet Baby Mittens Pattern by Croby Patterns
Make a pair of these Pom Pom Crochet Baby Mittens so you will always have an extra pair in case you need a new one, or if you need a super sweet gift for a baby shower, or just because you like to have more than just one option when it comes to crochet mittens.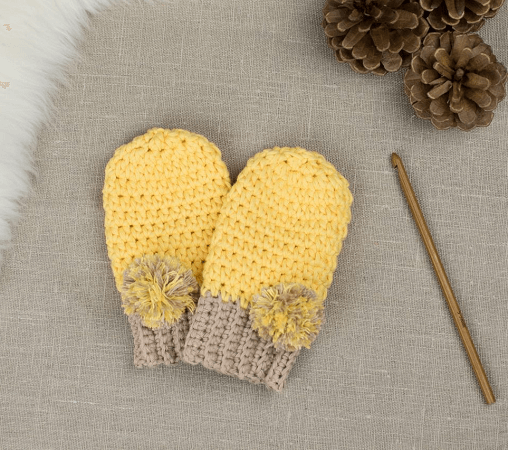 Get the Pattern here

15. Crochet Helena Mittens Pattern by Naturally Nora Crochet
These Helena Mittens are designed with a roomy, comfy fit, cinching to a secure ribbed wrist band to keep the cold out. The ribbed wrist band is versatile-it can be worn folded up or down to create different looks and fits.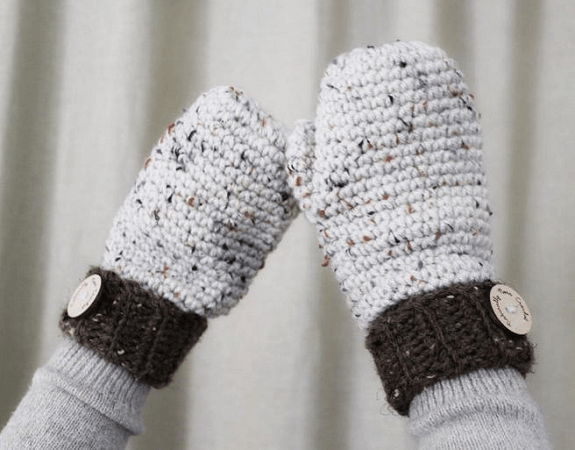 Get the Pattern by Naturally Nora Crochet here

16. Cable Crochet Mittens Pattern by Darling Jadore
A classic crocheted body with a knit-looking fold-over cuff, these Cable Crochet Mittens make a big statement with the beautiful three cables of various sizes on the front flowing down.

A larger center cable is flanked by two smaller crocheted cables, which lay in harmony to create visual interest and texture for this elegant mittens design.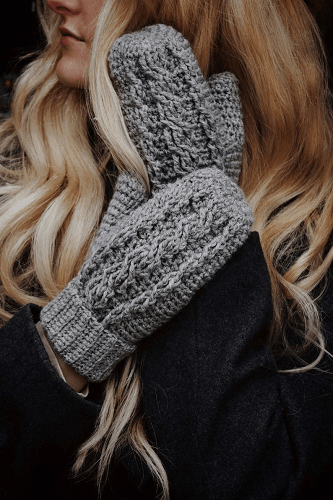 Get the Pattern by Darling Jadore here

17. Crochet Fox Mittens Pattern by Yarnspirations
Make this adorable Crochet Fox Mittens Pattern for the whole family to keep smiles plentiful during drab winter months. It's so much fun to work on, why not share this pattern with a friend?

If you're especially crafty, you can adapt the pattern to make cats and puppy dogs, too!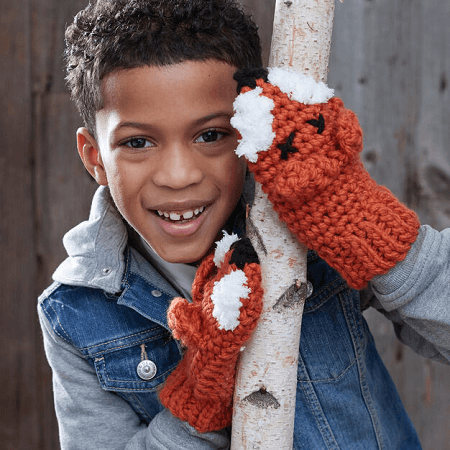 Get the Pattern here

18. Sleigh Ride Mittens Free Crochet Pattern by Fiber Flux
These Sleigh Ride Mittens are lofty, colorful, and quick to work up. Chunky yarn in fun colors makes these mittens super warm too!

The cuff is ribbed and the main part of the mitten is worked up in an all-over colorful woven stitch pattern. Part of the fun is selecting the colors!
Get the Pattern here

19. Crochet Color Block Mittens Pattern by Whistle And Ivy
Colorblock crochet patterns are a great way to use up some of that scrap yarn without it looking like a "scrap" project.

These cozy and trendy mittens are made easily with 3 blocks of bright color and will keep your hand nice and cozy this winter!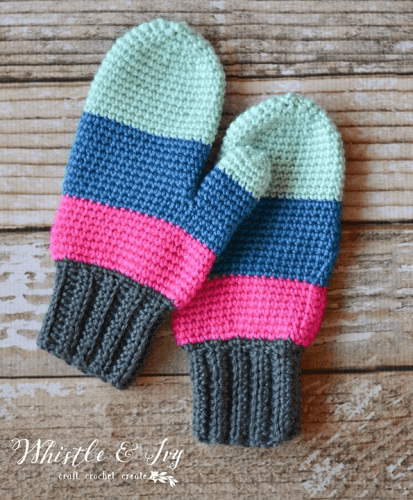 Get the Pattern here

20. Chroma Mittens Crochet Pattern by Left In Knots
These simple yet modern Chroma Crochet Mittens will keep you toasty warm in the cold winter weather. This is a perfect pattern for someone looking to learn basic mitten construction.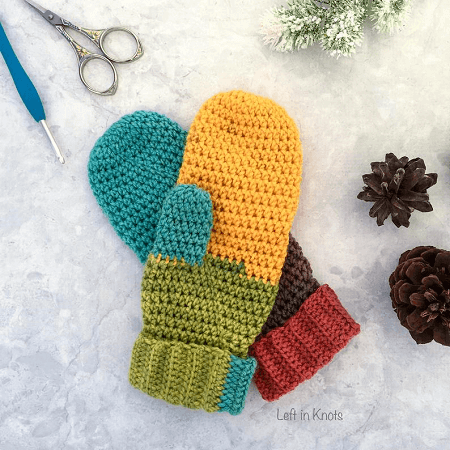 Get the Pattern by Left In Knots here

21. Wavy Shells Free Crochet Mitten Pattern by Highland Hickory Designs
These Wavy Shells Mittens are very easy. The only stitches you need to know are single crochet and double crochet.

You even have the choice to work in the round (for those of you who prefer a seamless look) or to finish off every row. They make excellent gifts and you can make them in every color!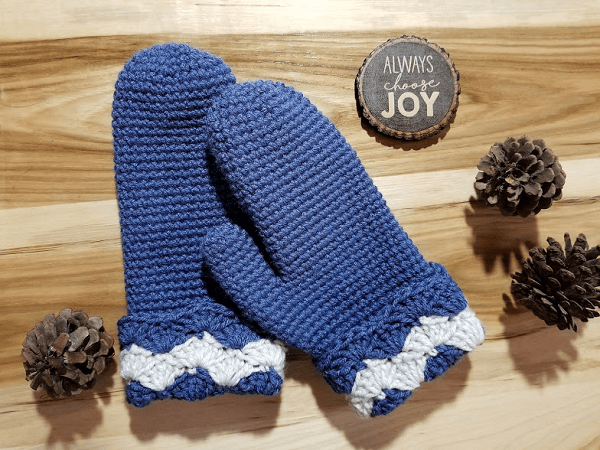 Get the Pattern here
Keep your hands and fingers feeling toasty during the bitter winter months by working up one (or all!) of these easy crochet mittens patterns!
When you're done making some pair, please do share them on our Facebook Page! Now, brew some coffee, pull on your new mittens, and head outside to catch the sunrise!

If you are thinking of winter, then also check out our collection of crochet patterns for hats, cardigans, sweaters, scarves, and legwarmers to get you all covered this winter season.

There is truly something here for everyone, so whether you want to load up your own winter closet with some crochet mittens or use a crochet mittens pattern to make gifts for your friends, this is a collection to bookmark!