We've gathered here 15 cozy crochet winter scarf patterns that you can whip up quickly, just in time for impending winter.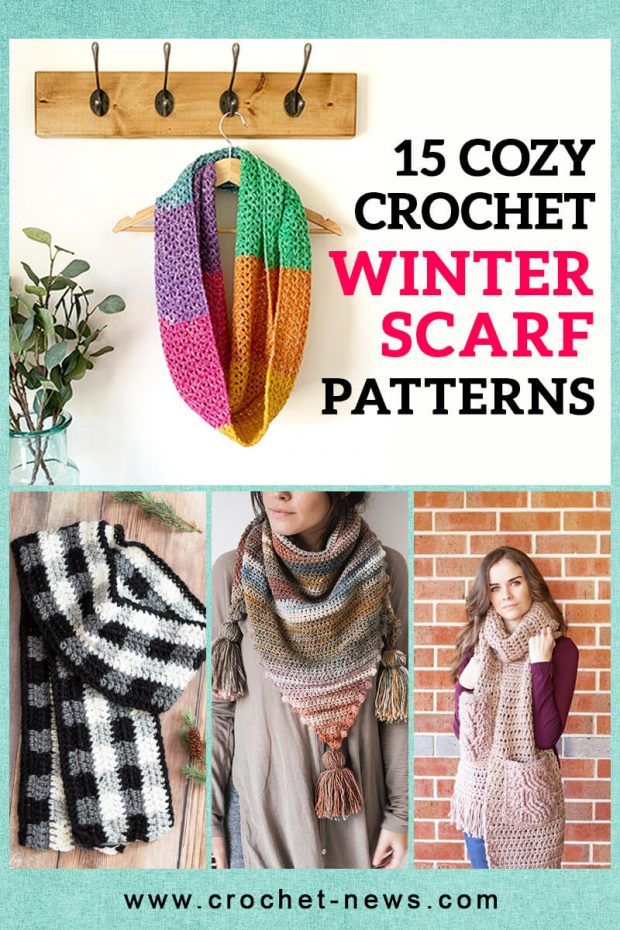 The temperatures out there are getting colder and colder so many of us are taking to bundling up! What better way to do that but with a warm and cozy winter scarf?

Rock any of these crochet winter scarf patterns with winter boots and a toasty coat and you'll look like you've stepped right out of a catalog!

Best of all, it's way less expensive to learn how to crochet a scarf than it is to buy one ready-made at the store.

1. Free Luxurious Winter Scarf Crochet Pattern by Kirsten Holloway Designs
Texture reigns supreme in this exquisite crochet winter scarf pattern!

Puff stitches add the majority of the bulk and texture with delicate chains adding geometric interest to the scarf. Delicate scallops, picots, and tassels finish out this designer piece–it was born for a night out on the town!

Whether you're caroling, Christmas present shopping, or enjoying dinner with friends, this unique crochet scarf is sure to catch the eyes of all who see it!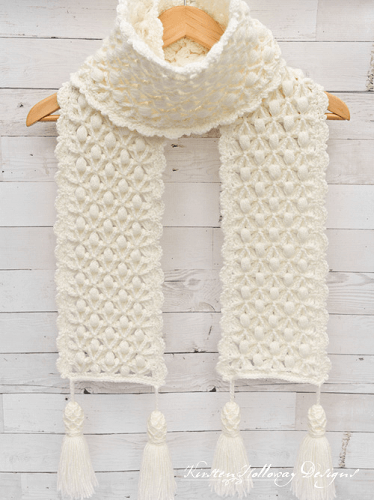 Get the Pattern here

2. Warm Winter Scarf Crochet Pattern by Simple Things By Tia
This Warm Winter Scarf is scrumptious! The delicious blend of chocolate and cherry-colored yarns along with the squishy, soft texture created by the up and down stitch combine to create a magical wrap that is simply divine to wear.

Add to that the fact that it is so easy and relaxing to crochet, and you have an awesome project for those long winter nights.

The finished wrap is 24"x76" so it's big enough to drape around you in a stylish way or simply wrap up in for warmth like those big blanket scarves that are so in fashion now. But this wrap is a classic.

No matter what fashion is you will be enjoying this one for years to come!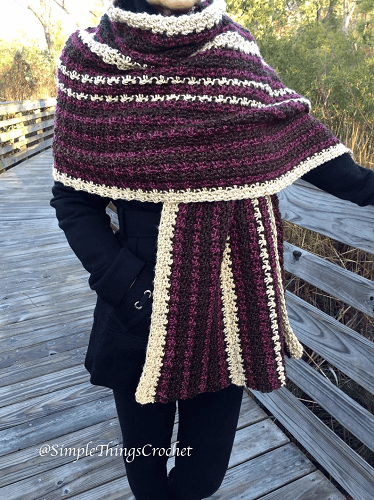 Get the Pattern by Simple Things By Tia here

3. Chunky Tassel Crochet Scarf Pattern by Persia Lou
Make your own stylish, chunky, tasseled super scarf with this free crochet scarf pattern. It is a lot of fun to wear and will definitely keep you (or whoever you make it for) warm!

You will love the look of the ribbed stitch paired with lots and lots of tassels. It is super easy to do and creates a nice, stretchy fabric.

This finished scarf is just over 76 inches long and about 10 inches wide, but if you want an even longer or wider scarf, the pattern is easy to adapt.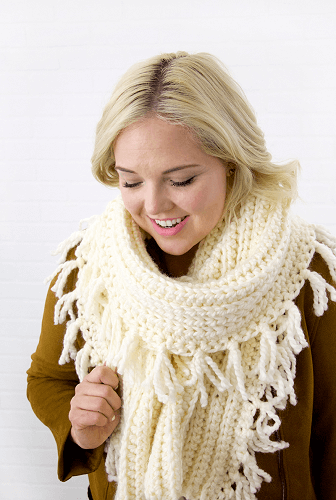 Get the Pattern here

4. Nordic Crochet Super Scarf Pattern by Make And Do Crew
Whether you live in the North Pole or just want to jump on the super scarf trend, this Nordic Crochet Super Scarf Pattern will keep you feeling warm, but lookin' hot all winter long.

This stylish, modern take on a traditional nordic pattern is worked in a corner to corner crochet with bulky yarn. This chunky, oversized scarf is the perfect DIY winter statement piece!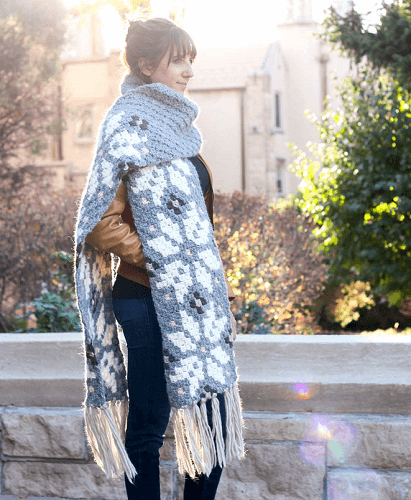 Get the Pattern here

5. Winter Wishes Scarf Crochet Pattern by Sweet Potato 3 Patterns
This Winter Wishes Scarf Crochet Pattern is an eye-catching piece full of lots of texture and warmth.

Made in a worsted weight yarn, the scarf brings comfort to those wearing it and easy of placement with a simple one-button closure that keeps it in place.

The button closure also makes the scarf a quicker project because it doesn't have to be as long as a traditional scarf, so it works up more quickly.

Choose to make the scarf in a solid color or use a lovely self-striping yarn for a completely different look!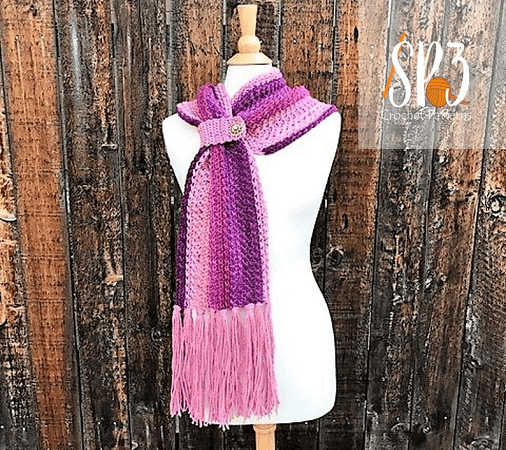 Get the Pattern by Sweet Potato 3 Patterns here

6. Crochet Wavy Shells Pocket Scarf Pattern by Highland Hickory Dsgns
This Wavy Shells Pocket Scarf is such a fun and easy project!

Whether you are just learning to crochet and would like to practice some basic stitches or you are a skilled novice and just want a thick and wide scarf, this project is for you!

The only stitches you need to know are the single crochet and double crochet. The scarf measures 104″ Length x 8″ Width when the pockets are not folded and stitched. No stitching required!

Each pocket is 7.5″ deep, which is perfect for holding cell phones, keys, or just for warming your hands!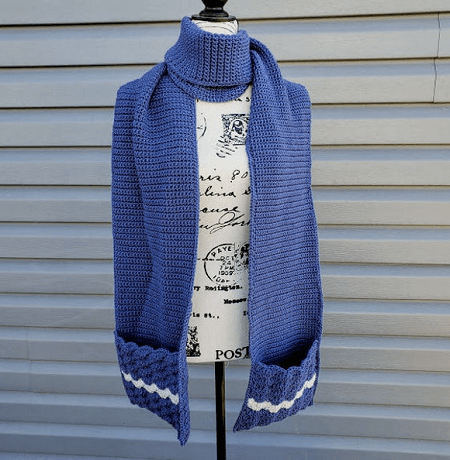 Get the Pattern by Highland Hickory Dsgns here

7. Crochet Buffalo Plaid Scarf Pattern by Whistle And Ivy
This crochet buffalo plaid scarf is a classic look for fall, winter, or the holidays! Perfect for both men and women, this simple scarf uses The Plaid Technique for changing colors and achieves the look of buffalo plaid.

It's also a super easy pattern to modify; if you don't want to use bulky yarn, you can make this scarf with worsted yarn simply and easily.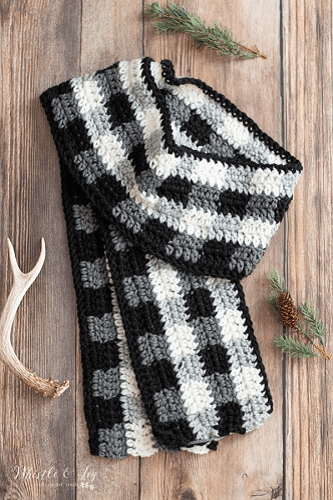 Get the Pattern here

8. Crochet Triangle Winter Scarf Pattern by Mama In A Stitch
An easy, American landscape inspired triangle scarf that can be made as small or large as you'd like. Take the basic granny triangle and make a trendy scarf, wrap, or shawl for cool weather.

This scarf measures approximately 57 inches across and 27 inches from the middle top to the bottom point of the triangle, however, you can easily make it larger or smaller.

You should be comfortable with double crochet stitches to make one!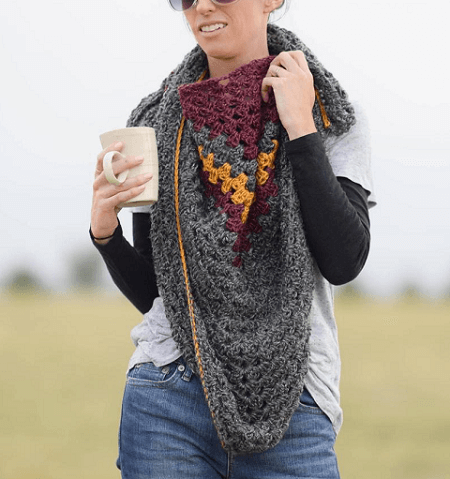 Get the Pattern by Mama In A Stitch here

9. Snuggle Puff Winter Scarf Crochet Pattern by Meg Made With Love
This Snuggle Puff Winter Scarf Crochet Pattern is a simple triangle scarf design, featuring puff stitch edges and XL tassels on each corner. Certain to keep you snug during cooler months!

You will love how the little puffs line the edges of the entire scarf, it's the perfect, yet simple detail. And a bit larger puff so it'd be more pronounced since the rest of the scarf is made of half double crochets.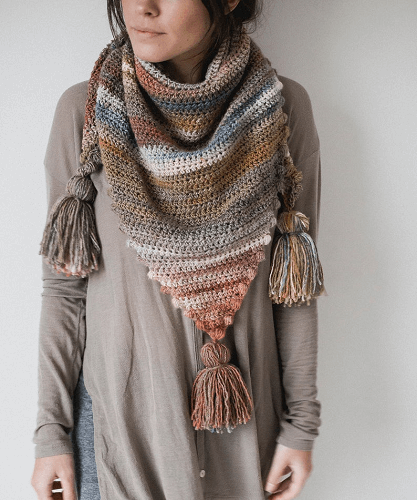 Get the Pattern by Meg Made With Love here

10. Oversized Scarf Crochet Pattern by Hopeful Honey
Wind this oversized scarf around and around to stay warm as possible. Or let it hang down and stuff your hands into the roomy, cozy pockets.

This free crochet pattern is very versatile, especially when worked int he suggested neutral color palette. It is the perfect winter crochet accessory!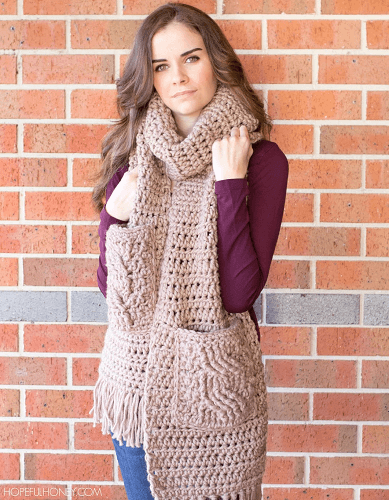 Get the Pattern here

11. Winter Warmer Scarf Crochet Pattern by Jellybean Junction UK
Designed to be made using a single cake of yarn, this simple scarf will keep you cozy on a cold day. Perfect as a gift for yourself or someone you love!

Make it in fun colors to dress up a basic outfit or make it in a neutral color to match everything!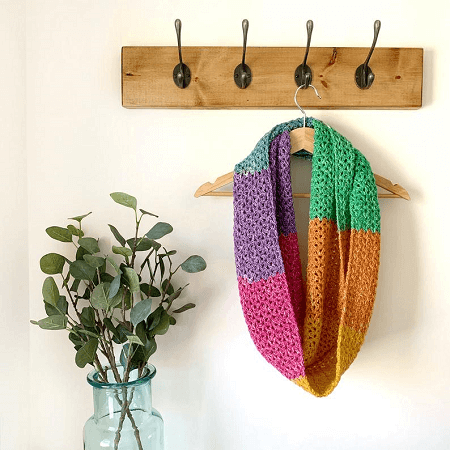 Get the Pattern by Jellybean Junction UK here

12. Aurora Borealis Crochet Scarf Pattern by Yarnspirations
Get all of the mystical beauty of the Northern Lights when you work up the Aurora Borealis Crochet Scarf.

This gorgeous colorful pattern will really have heads turning! The bulky yarn makes it insanely warm, especially if you live anywhere that you can see the Aurora Borealis in real life.

The variegated yarn gives this crochet scarf the illusion of moving colors, of which we honestly can't get enough. Anyone would love to receive this lovely gift for the holidays or just because it's winter.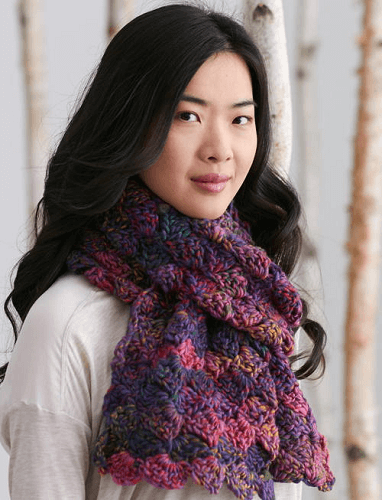 Get the Pattern here

13. Crochet Bulky Winter Scarf Pattern by Sigoni Macaroni
This cozy Crochet Bulky Winter Scarf is a fast and easy crochet pattern that you are going to love making and love wearing even more!

This isn't your traditional triangle shawl, so you can also call it a blanket scarf. Either way, you're going to want to wrap yourself up in this cozy rectangular blanket shawl the moment you're finished making it.

The techniques you will need to know are half double crochet, chain, and working in the third loop of the half double crochet.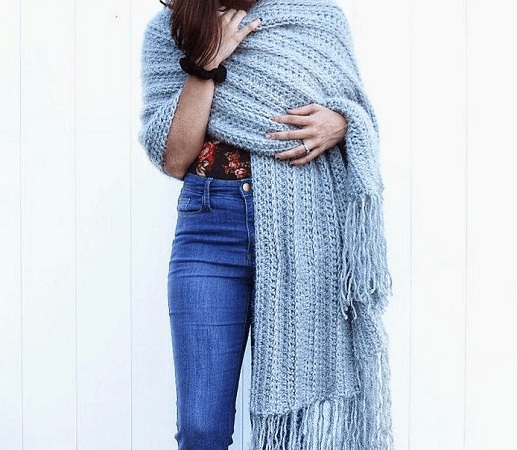 Get the Pattern by Sigoni Macaroni here

14. Luna Chevron Scarf Crochet Pattern by Rescued Paw Designs
This Luna Chevron Scarf Crochet Pattern is quick to work up using a simple stitch repeat!

Crochet chevron patterns tend to use extremely bright colors but sometimes you want to incorporate your favorite pattern into a more subtle hue. This scarf does just that!
To make this scarf a little easier to work up, simply hold two strands together at the same time. When you do this is makes it a little bulkier, which in turn makes it work up just a little bit faster.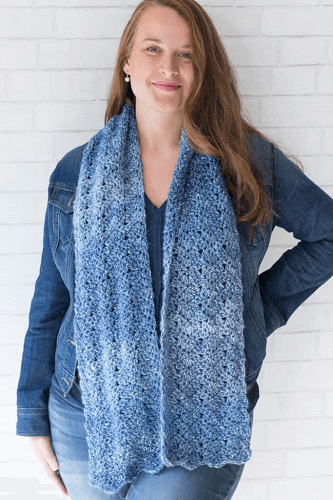 Get the Pattern here

15. Snow Country Super Scarf Crochet Pattern by Kirsten Holloway Designs
This crochet super scarf is sure to keep you, your spouse, or even your older kids and teens warm whatever the weather throws at you!

Because it is just over 9 feet long, you can wrap the crochet super scarf multiple times, or even worn as a hooded scarf!
Get the Pattern here
There's nothing like a crochet winter scarf to really cozy up a winter ensemble.
We would love to see a picture when you're done crocheting your own scarves, so please feel free to come by our Facebook Page and show off your projects!

Each of these scarf patterns is cold-weather-ready and will look so cute with a matching ear warmers, boot cuffs, gloves, and winter ponchos, too! We have everything you will need to layer up each winter and keep out the chill!

Book a one-way ticket to the North Pole, because my friend, you are definitely cold weather ready with these crochet winter scarf patterns!