See all the things you can crochet with Bernat Blanket Yarn with these Bernat Blanket Yarn Crochet Patterns below. Crochet gorgeous fashions you'll want to wear every day, cozy home decor and beautiful baby items using this award-winning yarn and discover what the fuss is all about!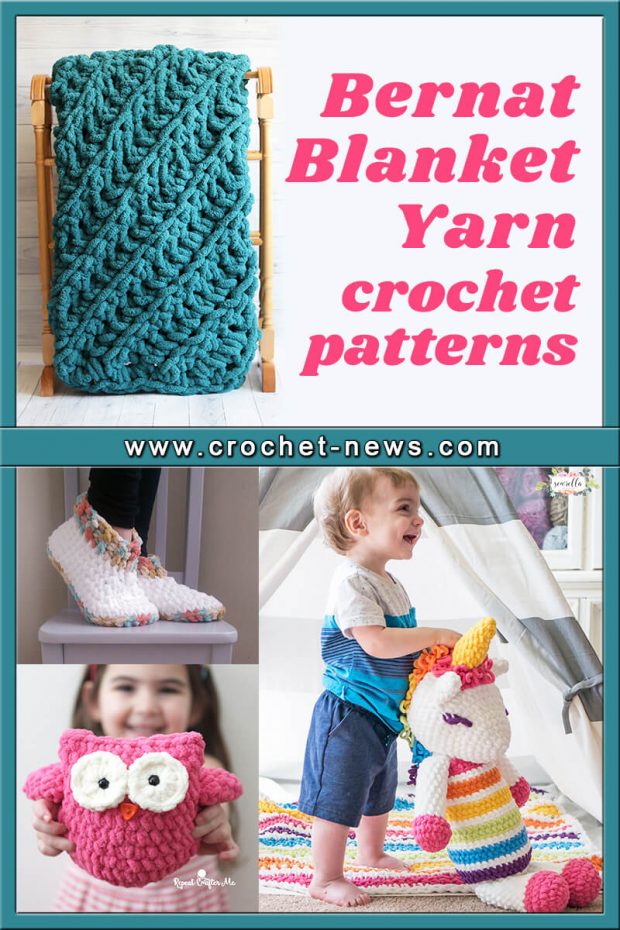 If you're not familiar with Bernat Blanket Yarn, it is a super soft, cozy, bulky, chenille texture yarn. Great not only for blankets but also accessories such as hats, scarves, slippers, home decor projects, and more.
21 Crochet Bernat Blanket Patterns
Indulge in all things warm and cozy with these Bernat Blanket patterns that feels like you're crocheting with marshmallows!

1. Bernat Blanket Crochet Basket Pattern by Yarnspirations
This crochet basket pattern works up super-fast with Bernat Blanket Extra, a jumbo yarn. It's crocheted in the round using single crochet stitches from the bottom-up. A contrasting band across the top lends a decorative touch, while the handle openings add function.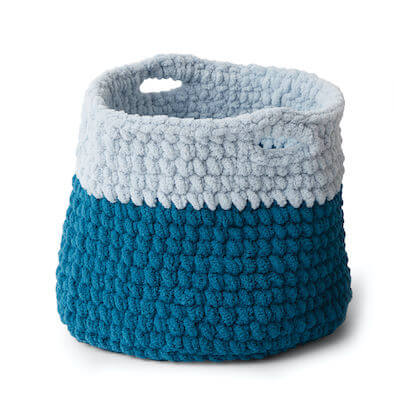 Get the Pattern here

2. Cloud 9 Slippers Bernat Blanket Yarn Crochet Pattern by The Lavender Chair
These Cloud 9 Slippers Crochet Pattern is made using Bernat blanket yarn and only take 10 quick rounds to make. It really feels as though you are walking on cloud 9 in these plush booties!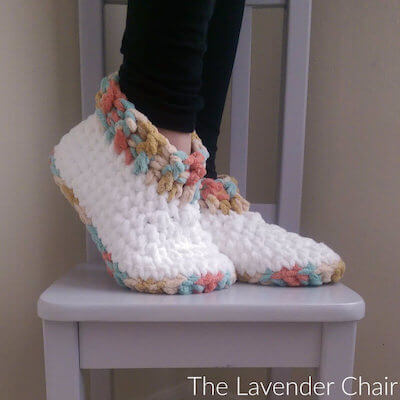 Get the Pattern here

3. Crochet Plush Owl Pattern by Repeat Crafter Me
Who doesn't dream of making their own stuffed animal toy? Got a little bit of Bernat Blanket yarn sitting around your house? With just a small amount of this soft, fluffy, and bulky yarn, you can make a cute little crochet plush owl. This wise old owl is a great design – make one in every color of the rainbow!
Also see: Crochet Owl Patterns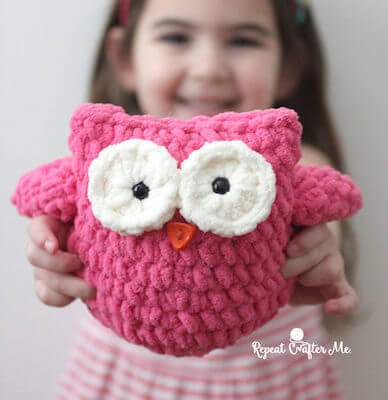 Get the Pattern here

4. Crochet Arnica Bobble Pillow Pattern by Hello Wildflower Co
This Arnica Bobble Pillow adds warmth, texture and major cozy factor to any space. It is crocheted in bobble stitch with fluffy chenille yarn. Deep pocket-­style back keeps a 14 x 14″ pillow insert snug inside.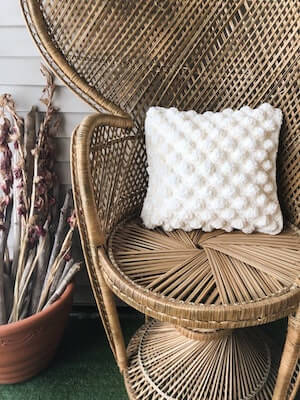 Get the Pattern by Hello Wildflower Co here

5. Crochet Bernat Blanket Yarn Slippers Pattern by A Crafty Concept
This Crochet Slipper Pattern makes super squishy crochet slippers! The design is really fun with the texture from the bobbles and works up super fast since they're made with Bernat Blanket Yarn.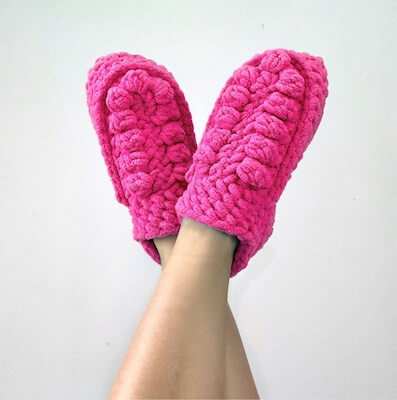 Get the Pattern by A Crafty Concept here

6. Bernat Blanket Crochet Scarf Pattern by Yarntuary
This pattern details how to make a regular scarf and an infinity scarf using only one ball of Bernat Blanket yarn. The best part is it takes only 2 hours to crochet, making it a perfect go-to handmade gift!
It looks fashionable hanging around the neck and is super comfy, warm and soft! It is also reversible; both sides are pretty!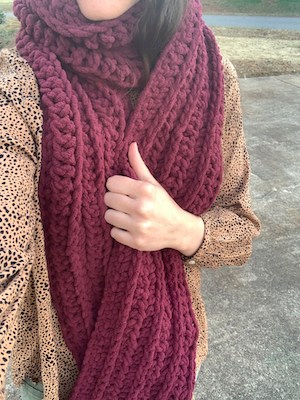 Get the Pattern by Yarntuary here

7. Bernat Crochet Pouf Pattern by Yarnspirations
Make six identical single crochet pieces and join them together with a simple slip stitch to form a plush ottoman. Keep the seams on the outside to add decorative ridges.

Using Bernat Blanket Extra yarn makes for a fast, satisfying project. Plus, when you're finished, you'll have somewhere to put up your feet!
Check out more Crochet Pouf Patterns here.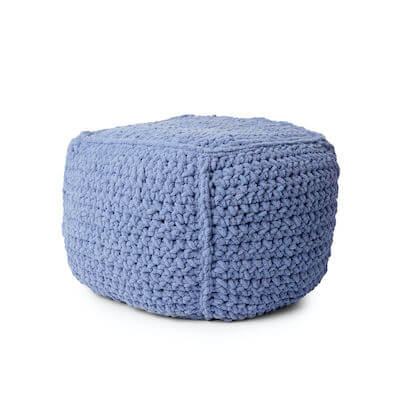 Get the Pattern here

8. Bernat Blanket Crochet Baby Blanket Pattern by Easy Crochet
The best chunky yarn to use for a baby blanket pattern is Bernat Blanket Yarn, a chenille-style yarn that makes some amazingly soft blankets! This simple design is perfect to crochet if you are new to crochet or would just like a super easy baby blanket project to make.

This crochet blanket pattern is straightforward and works up superfast! Mainly because of the simple crochet stitches it uses, which means it's a great beginner-friendly project which makes for a great toddler or newborn baby blanket.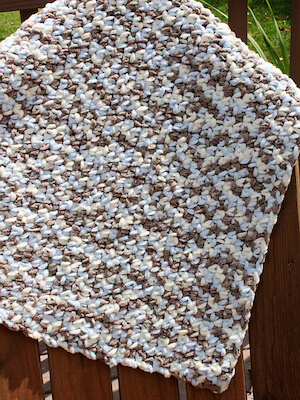 Get the Pattern here

9. Pocket Shawl Crochet Pattern by Crafting At The Poole
This easy and quick pocket shawl pattern only takes a few hours to stitch up and is super soft and squishy thanks to the Bernat Blanket yarn it's made in! The pattern is designed for an adult male but it easily adjustable to any size.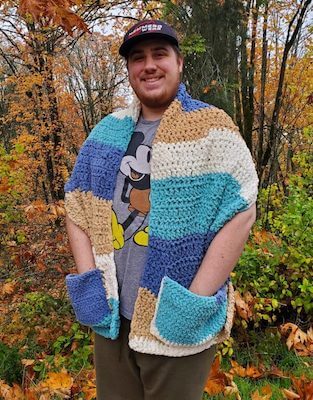 Get the Pattern here

10. Crochet Ice Cream Plush Pattern by Bee Mine Crochet
This oversized ice cream plush measures 16.5″ long and can be used as a super fun photo prop for little ones or a decorative throw pillow for a play room or bedroom.
The pattern is worked by joining rounds and uses Bernat Blanket yarn. Add this plush to your kid's play room and let them choose which flavors they want!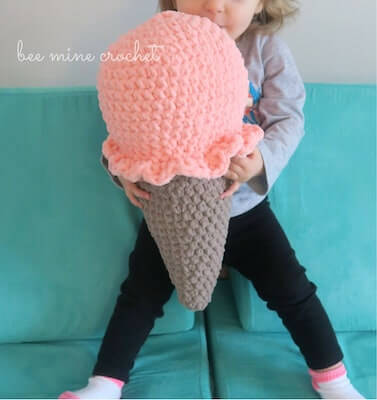 Get the Pattern by Bee Mine Crochet here

11. Lola, The Crochet Plush Unicorn Pattern by Sewrella
This crochet plushy unicorn is named Lola and she is the snuggliest, cuddliest, most squish-tastic friend ever! Bernat Blanket yarn got an unbelievable plushy feel with unmatched fuziness that makes for the absolute perfect cuddly crochet friend like Lola.

Lola is made by simple single crochet stitches and easy amigurumi techniques. She's ridiculously easy to make, even if it's your first time crocheting amigurumi.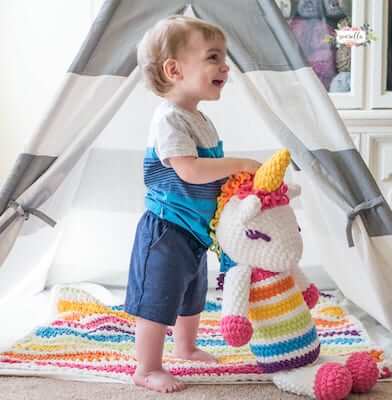 12. Bernat Blanket Crochet Sponge Pattern by Left In Knots
Bernat Blanket yarn's soft, chenille-like texture makes this crochet sponge super soft, very absorbent, washable and durable. Use this free bernat blanket patterns to make a reusable crochet sponge with scraps of Bernat Blanket yarn from your stash. These are a great eco-friendly money saving project that sell well at craft fairs.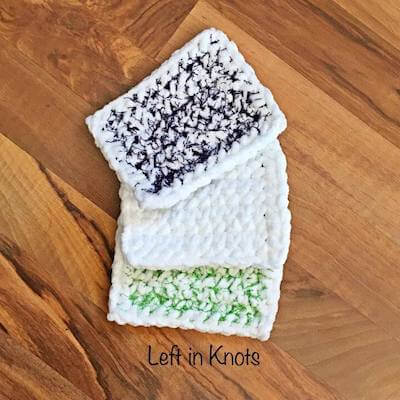 Get the Pattern here

13. Bernat Blanket Crochet Mushroom Stuffie Pattern by Moogly
Add a new snuggly friend to the family with this adorable Bernat Blanket Mushroom Stuffie. Created with the softness of Bernat Blanket, this free pattern is stitched almost entirely in the round and gives intermediate crocheters a chance to practice a variety of stitches. The stuffie is created in three separate pieces that join at the end through crochet or sewing.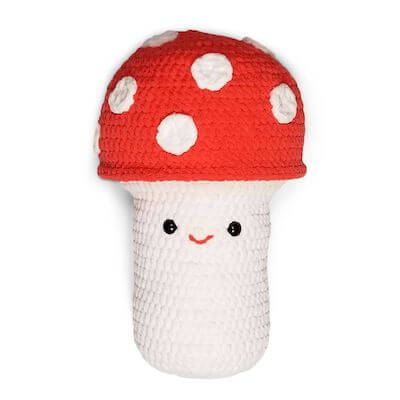 Get the Pattern here

14. Crochet Heart Pillow Pattern by Loops And Love Crochet
These Crochet Heart Pillows are fun to make and are so soft and squishy when they are finished. Perfect for a fun throw pillow for a chair or bed, or for a little one to rest their head on while reading!

This pattern includes instructions for two sizes of plush hearts. The smaller heart measures 8" wide x 7.5"tall. The larger heart is 11"wide x 10" tall.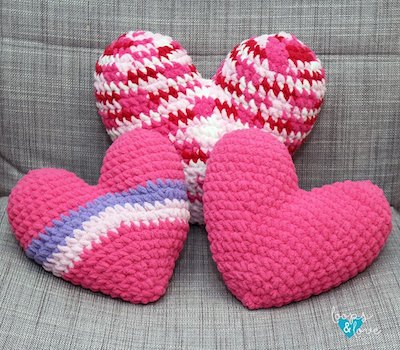 Get the Pattrn by Loops And Love Crochet here

15. Crochet Water Balloons Pattern by Left In Knots
These water balloons are a beginner friendly pattern and a great scrap buster! They are reusable, eco-friendly, latex-free, mess-free and a whole lot of fun.

No more spending time filling water balloons and picking up dangerous plastic scraps. Just soak these in a bucket of water and they work just like a sponge! This pattern calls for Bernat Blanket Yarn and a 9.0mm crochet hook.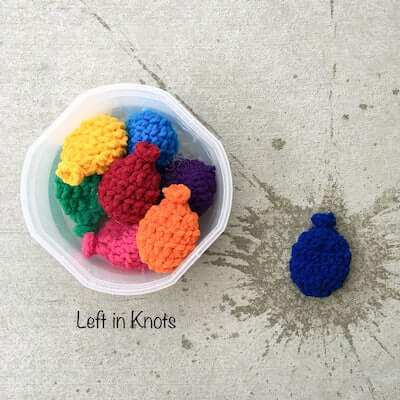 Get the Pattern by Left In Knots here

16. Bernat Crochet Rose Garland Pattern by Yarnspirations
Feast your eyes on this gorgeous garland, crafted using Bernat Baby Blanket. Crochet something cheerful with a graphic rose garland that features densely crocheted roses along a leafy vine. Practice a variety of stitches, like double crochet, half double crochet and more.

Choose colors that work for your party/décor theme. This fun and easy project is a playful craft that's perfect for decorating a party room or adding a fun accent to your home.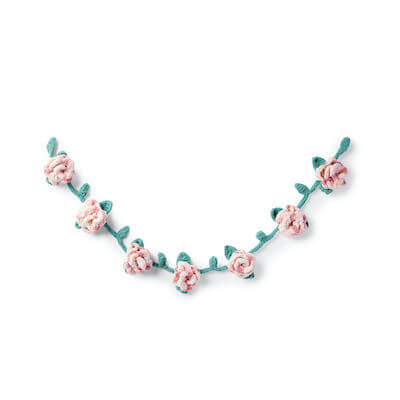 Get the Pattern here

17. Two Hour C2C Crochet Blanket Pattern by Rich Textures Crochet
This might be the fastest and coziest crochet blanket pattern you ever crochet! Worked as a corner to corner design and made with a jumbo weight Bernat Blanket yarn, this blanket works up in two hours or less!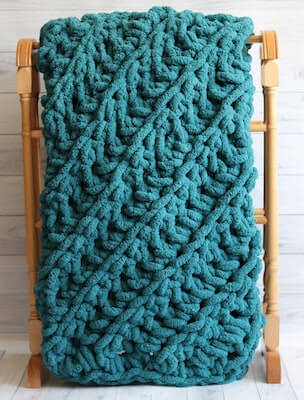 Get the Pattern by Rich Textures Crochet here

18. Bright And Bulky Bernat Blanket Patterns by Repeat Crafter Me
Super soft squares and bright vibrant colors! You won't be able to resist cuddling up with this Bright and Bulky Bernat Blanket. It works up so quickly that you could easily make a blanket in a few days! A great gender-neuatral baby gift or make a larger afghan for a fun pop of color in your home.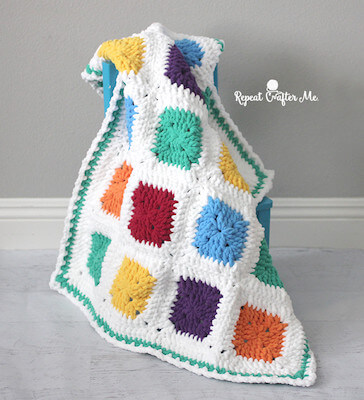 Get the Pattern here

19. Bulky And Quick Flower Rug Crochet Pattern by MJs Off The Hook
This bulky and quick flower rug is a fun cozy piece for your home! The soft squishiness of this rug is perfect to have under your feet when standing at a desk or counter.
Makes the perfect rug for your nursery, bedroom or home office. Made in Bernat Blanket yarn this rug will wash well and stay looking new!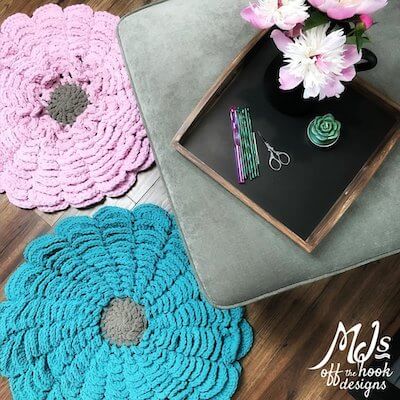 Get the Pattern by MJs Off The Hook here

20. Baby Bear Hat Crochet Bernat Blanket Yarn Pattern by Sweet Everly B
If you need a quick and incredibly soft hat, this bear hat crochet pattern is what you're looking for. The baby bear hat is crocheted with a plush Bernat Baby Blanket yarn that works up fast and comes in three sizes. The largest size only takes 9 rounds to complete!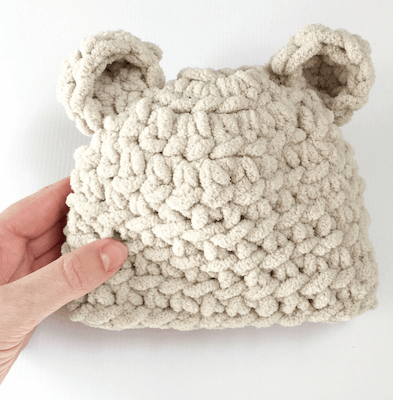 Get the Pattern here

21. Free Stuffed Flamingo Crochet Pattern by Blackstone Designs
Aren't Flamingos so darn cute?! If you're thinking to crochet one that can easily be made in one week, use a thicker yarn like Bernat Blanket that will yield a bigger finihsed piece with less stitch work! This soft and squishy friend will become a fast favorite.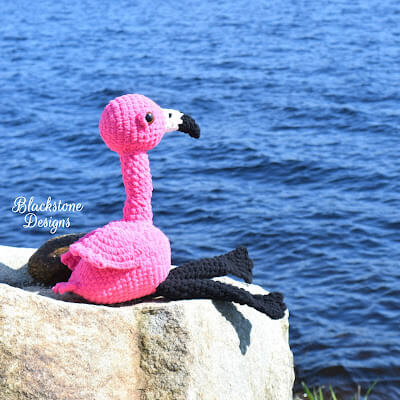 Get the Pattern here
THESE BERNAT BLANKET YARN CROCHET PATTERNS WORK UP QUICKLY SO YOU HAVE TIME TO EXPERIMENT WITH ALL OF THEM!
Share your experience in the comments below or post photos of your projects on our Facebook Page. We'd love to see what everyone is doing!

If you enjoyed this post and love working with bulky yarn, you might want to try these patterns, as well: Super Bulky Yarn Crochet Patterns and Chunky Crochet Blanket Patterns. You can also check out Easy Blanket Crochet Patterns, Crochet Striped Blanket Patterns, Temperature Blanket Crochet Patterns and a lot more.

If you love the concepts of slow weekends at home and fast crochet projects, make something cozy and sumptuous today with these Bernat Blanket yarn crochet patterns!