If you've learned a few basic crochet stitches and are ready to move on to your first proper project, these easy blanket crochet patterns will help you try your new crochet skills!
Sit in front of the TV and relax with these simple blanket patterns. You'll be shocked to see how much you get done!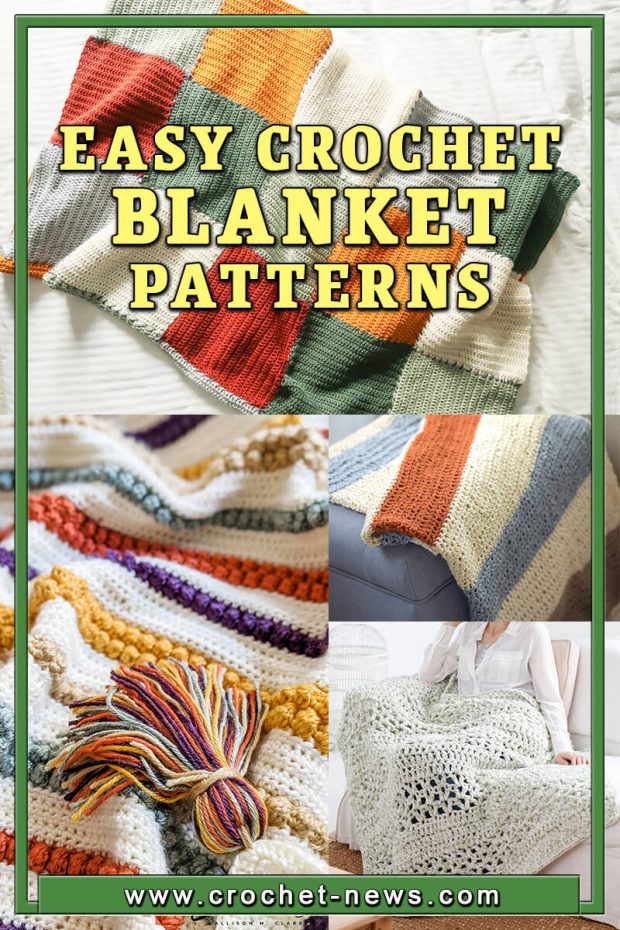 When you're just learning to crochet, the thought of completing a row can be stressful, let alone an entire crochet blanket. And though one may think that this crochet work seems like an enormous job, there are indeed a lot of crochet patterns that are beginner-friendly.
It's time to make that cozy blankets and snuggle yourself up with these easy crochet blanket patterns!

1. Everyday Throw Easy Blanket Crochet Pattern by Hooked On Homemade Happiness
This Everyday Throw Easy Blanket Crochet Pattern is an easy blanket with a simple 1 row repeat. It uses the Offset V Stitch. If you've ever used the V stitch then you know how simple it is. The only difference is with this version you place the v stitch in a dc instead of the ch space.

It gives an interesting and textured look. You wouldn't believe how fast this blanket works up! Because of the bulky yarn and the open stitch, it's a quick and mindless project. Perfect for a gift!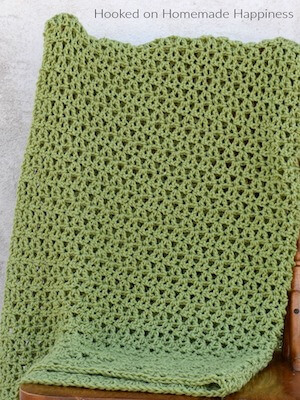 Get the Pattern here

2. Beginner Fall Throw Blanket Crochet Pattern by Mama In A Stitch
This beginner fall crocheted blanket is so simple and is perfect for beginner crocheters. The simple striping will help you to practice color changes and it uses super easy stitches. The rectangular shape keeps things easy peasy and makes it possible to keep track of those stitches.

If you're experienced you'll still appreciate it for it's simplicity and color pattern! The colors used in this blanket scream fall yet they are neutral enough to add warmth and charm to any room year round.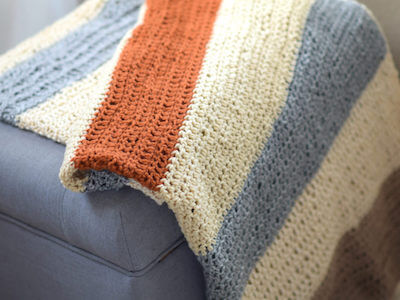 Get the Pattern here

3. Easy Blanket Crochet Pattern by Knitting With Chopsticks
Choose your own adventure with this customizable beginner crochet blanket pattern. This will guide you through the entire project, but this pattern is so flexible, you can switch things up with any yarn, any stitch, and any size you'd like.

It's a wonderful way to use up scrap yarn you have laying around, and can be worked in pieces at your leisure. There are endless color combinations!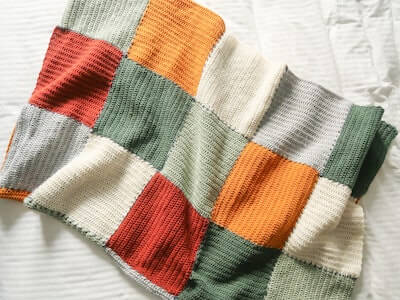 Get the Pattern by Knitting With Chopsticks here

4. Easy Crochet Chunky Blanket Pattern by Darling Jadore
Chunky, textured, and oh-so warm, The Fireside Throw is aptly named because it's the coziest blanket to snuggle up in on a cold evening by a roaring fire. A beginner-friendly pattern, it's a real delight to crochet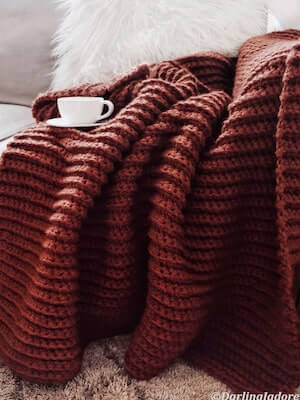 Get the Pattern by Darling Jadore here

5. Fast And Easy Beginner Crochet Blanket Pattern by Sirins Crochet
If you are looking for a cozy and simple blanket for your baby and if you are a beginner, this tutorial is perfect for you. Use bigger crochet hooks so you can finish it easily.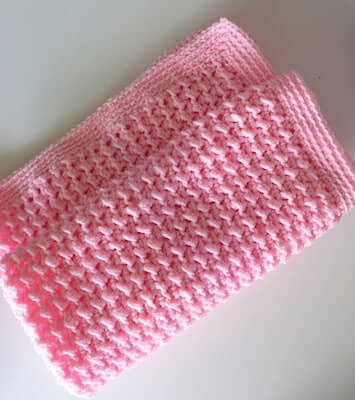 Get the Pattern by Sirins Crochet here

6. One Day Quick and Easy Crochet Blanket Pattern by Make & Do Crew
If you are a beginner, you will love this one day crochet blanket designed using simple stitches. You can make it for your home or as a baby shower gift.
Made with a bulky yarn this blanket will calm and soothe you like a weighted blanket. It is a quick crochet project that can be made in just one day.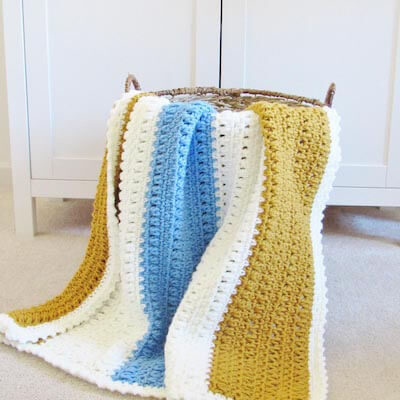 Get the Pattern here

7. Easy Scallop Shell Crochet Baby Blanket Pattern by Annie Design Crochet
You are going to love this easy, beginner friendly crochet pattern. A Scallop Shell Crochet Baby Blanket that is a riot of gorgeous colour and easy and fun to make!

This blanket uses only very simple stitches – the double crochet stitch and chain. You will create a striped blanket that has great appeal because of the texture effect of the 3 double crochet scallops. It creates a wavy design through the pattern and each 'scallop' is like a small puff in the rows of crochet.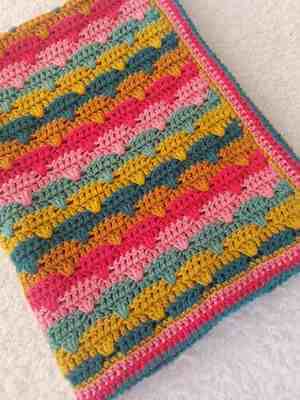 Get the Pattern here

8. Moon Shadow Crochet Blanket Easy Pattern by Only As Brave
This Moon Shadow Crochet Blanket Easy Pattern is a simple, modern blanket is crocheted using one simple stitch – the herringbone double crochet. When this stitch is repeated it gives a beautiful woven-look to the fabric.

The project uses a chunky yarn that stitches up quickly without creating a blanket that is too heavy or bulky. This is perfect for beginners or if you are looking for an easy and modern project.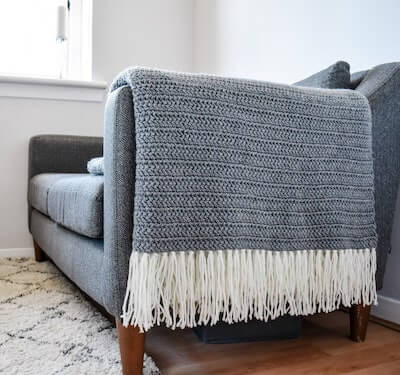 Get the Pattern by Only As Brave here

9. Peephole Chevron Easy Blanket Crochet Pattern by Sigoni Macaroni
This easy, Peephole Chevron Crochet Blanket is a unique variation of the chevron stitch with subtle waves and no decreasing!
This pattern uses double crochet stitches in the back loop only to create a beautiful texture. This lightweight baby blanket would be the perfect baby shower gift and you're going to love working on it.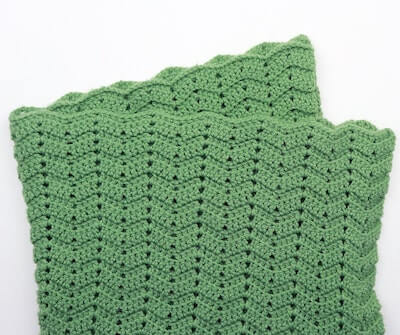 Get the Pattern by Sigoni Macaroni here

10. Super Quick and Easy Crochet Blanket Pattern by Red Heart
Surprise the family with a lush crochet blanket you complete so quickly, it's unbelievable! Simply hold 4 strands of yarn together and stitch them as one.

It's a satisfying beginner project using any shades of your choice, or keep it neutral as shown. Whether it's cuddled in the family room or layered in the bedroom, it's a welcome addition to any home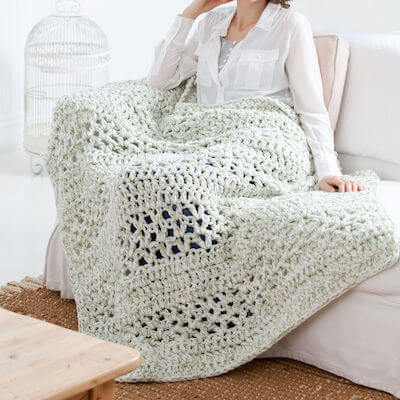 Get the Pattern here

11. Bobbles And Stripes Easy Blanket Crochet Pattern by Stitchery And Co
This Bobbles and Stripes Blanket is an easy blanket crochet pattern, perfect for enthusiastic beginners as it uses a variety of basic crochet stitches and easy color changes!

The blanket is finished with a simple border along all four sides, complemented by a jumbo multicolored tassel on each corner. The finished baby blanket featured in this pattern's photos measures 37.5" x 38.5."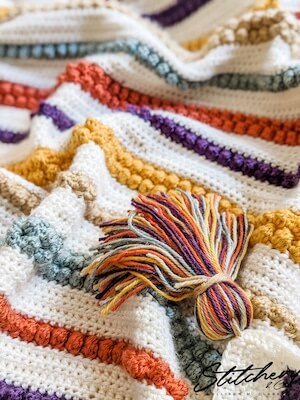 Get the Pattern by Stitchery And Co here

12. Beginner Crochet Campfire Blanket Pattern by Golden Fleece Design
This Campfire Blanket Crochet Throw is a great beginner-friendly blanket that is perfect for keeping warm on cool evenings. This pattern is accessible to new crocheters, but the resulting blanket is greater than the sum of its parts.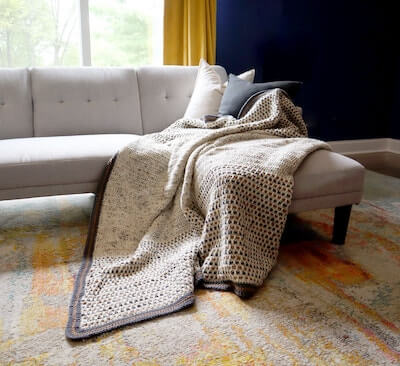 Get the Pattern by Golden Fleece Design here

13. Tunisian Double Trouble Easy Crochet Blanket Free Pattern by Rohn Strong
Test out those beginner tunisian crochet skills with this gorgeous and easy to stitch blanket! Worked in all over tunisian double stitch, this Tunisian Double Trouble Blanket is quick to stitch and simple to customize.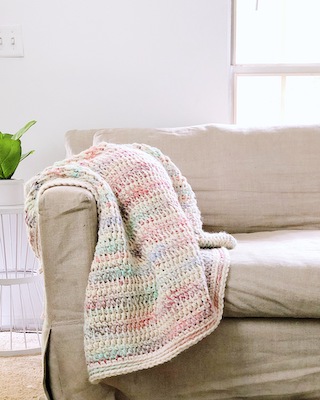 Get the Pattern here

14. Buttons And Braids Easy Crochet Blanket Pattern by The Hat And I
An easy blanket to make with lovely results! With just 3 stitches to know (ch, sl st, and sc), this one is designed for new crocheters. It's also perfect for experienced crocheters looking for a quick to memorize, easy project to take on the go.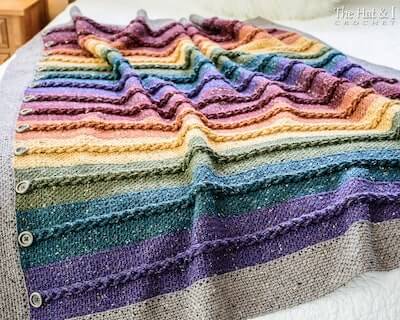 Get the Pattern by The Hat And I here

15. Easy Crochet Comfort Blanket Pattern by Nancy Said
Easy crochet pattern for a cozy adult blanket, crocheted in assorted scraps of bulky (chunky) yarn to create a woven look.
This is a stashbuster pattern to help you use up all those odd balls of chunky and worsted weight yarn. Easy stitches and a one-row pattern repeat make this a perfect project for all skill levels.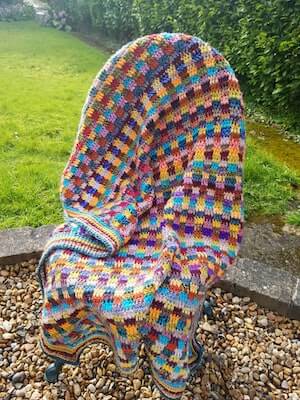 Get the Pattern by Nancy Said here

16. Color-Blocked Simple Crochet Blanket Pattern by Easy Crochet
This easy stitch color block pattern and Simple Color-Blocked Blanket Pattern Design is perfect for those who are new to crocheting and features a beginner stitch. The best thing about this simple beginner blanket is that it works up so fast and uses only single crochets throughout the entire design!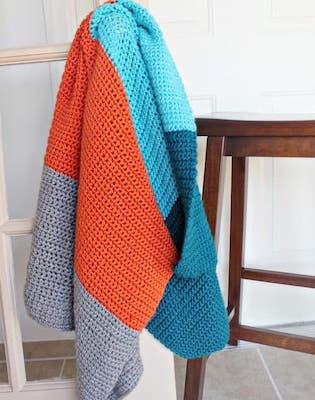 Get the Pattern here

17. Easy Crochet Baby Blanket Pattern by Knitting With Chopsticks
This baby blanket crochet pattern features the timeless basketweave stitch with the most beautiful bobble edging, making this such a stylish blanket—and so easy to create!
Available in 8 sizes, it is not just a baby blanket pattern. Use this pattern to crochet a beautiful, versatile, and simple blanket that will make a wonderful gift or a fabulous addition to your own blanket collection.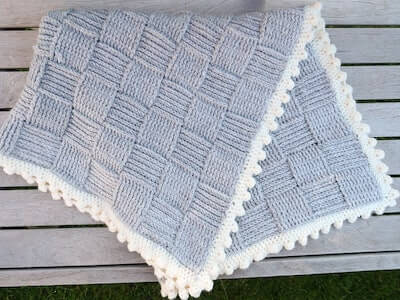 Get the Pattern by Knitting With Chopsticks here

18. Diamond Crochet Granny Blanket Pattern by Yarnspirations
Crochet a classic granny square motif with a modern update using a combination of bold colors and neutrals! This easy crochet blanket free pattern is striking with added tassels!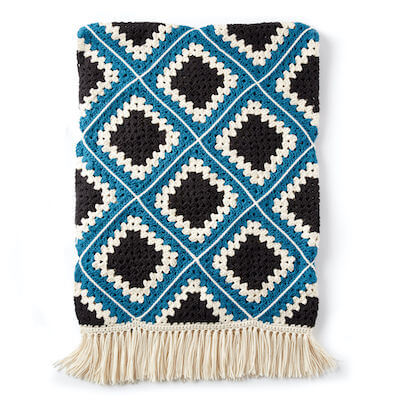 Get the Pattern here

19. Fast And Easy Crochet Blanket Pattern by Make & Do Crew
In less than five hours, you can whip up a chunky throw that's equal parts whimsy and luxury. Using very basic chain and double crochet stitches, you'll breeze through the body of the afghan in about three and a half hours and then add some pizazz with squishy tassels.

This pattern is appropriate for confident beginners and anyone who likes to finish an entire afghan in a day!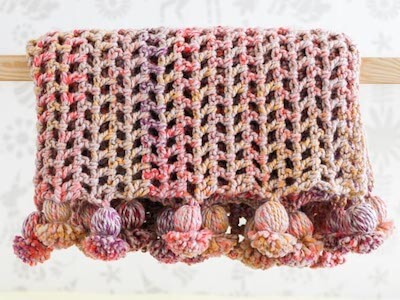 Get the Pattern here

20. Criss Cross Solid Granny Blanket Crochet Pattern by Hannah Cross
This Criss Cross Blanket is a deceptively easy solid granny square crochet blanket that uses beginner stitches and clever construction to create a fabulously delicate yet cosy look and feel. A great project if you're looking for a quick and easy make.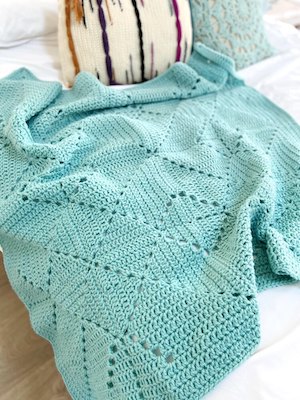 Get the Pattern by Hannah Cross here

21. Easy Primrose And Proper Blanket Crochet Pattern by Kirsten Holloway Designs
This Primrose and Proper Crochet Blanket Pattern is just the project to help you welcome in cool weather! Its lacy stitch design is feminine and delicate while providing just the right amount of warmth for chilly days. Even if you are a beginner this easy crochet blanket pattern is one you'll be able to figure out quickly.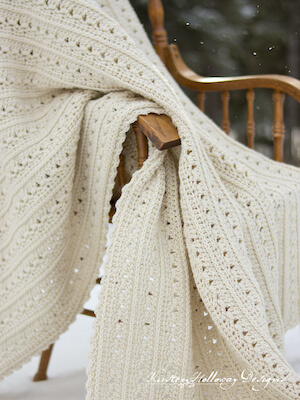 Get the Pattern here

22. Easy Chunky Crochet Blanket Pattern by I Can Crochet That
This blanket uses a chunky, soft yarn and works up very quickly. By alternating stitches in the front loop only and back loop only, it gives the blanket a waffle look texture.

The entire blanket is made using the same stitch pattern, so it's the perfect easy blanket to work on while sitting and watching your favorite movie or shows. It's one of those meditative stitches that doesn't take much brainpower.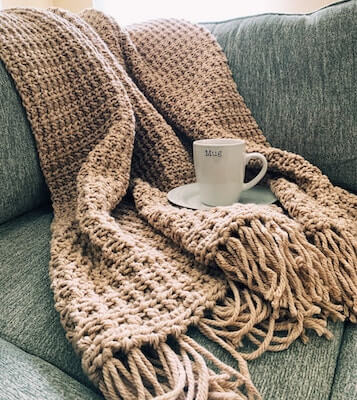 Get the Pattern here

23. Dessa Dot Easy Crochet Blanket Pattern by De Brosse NYC
This Dessa Dot Blanket packs a fun little punch with perfectly spaced, extra chunky bobbles. It is a relatively lightweight piece that flows with an effortless drape, and is versatile enough for both adults + little ones.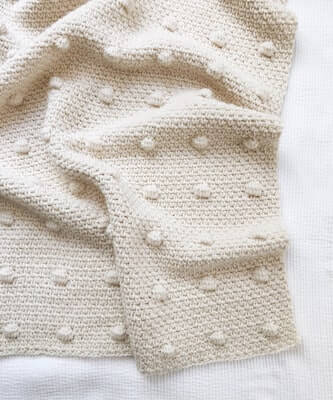 Get the Pattern by De Brosse NYC here

24. Easy Waffle Stitch Crochet Blanket Pattern by Stitching Together
This gorgeous and squishy waffle stitch crochet blanket will keep you nice and cozy in any cold weather. The pattern instructions come in three different sizes from baby blanket, small throw, and blanket size.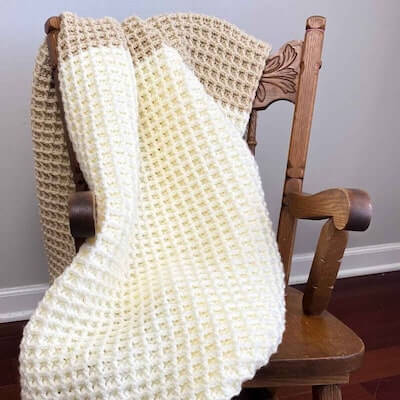 Get the Pattern by Stitching Togethe here

25. Easy Go Round Crochet Baby Blanket Pattern by Red Heart
For this simple project, we delight baby with the comfort of a cozy crochet blanket to brighten up the nursery! You'll start in the middle and stitch granny clusters as you work your way out to create this blanket.

It's a great little project to practice crocheting in the round, double crochet, chain spaces and more. Keep it dynamic as shown, or select a different self-striping shade to stimulate baby's senses. Either way, it's a thoughtful gift for the new mom.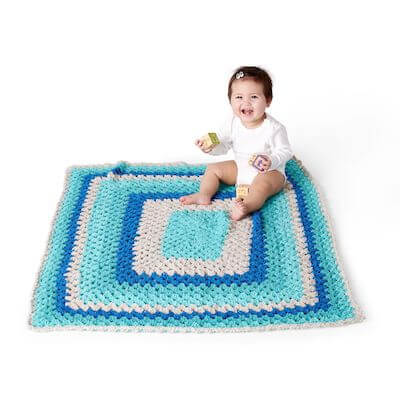 Get the Pattern here
CALLING ALL NOVICE CROCHETERS, THESE EASY BLANKET CROCHET PATTERNS WILL DO THE TRICK!
Choose from striped blankets to simple one-color designs. From chevron blankets to color-blocked throws, you can crochet a blanket that you are sure to love! When you're done, share your finished projects on our Facebook Page for everyone to see.
Ready for some more crochet coziness? We have a great collection of crochet blanket patterns that keeps you and your hooks warm and toasty. You can find all our crochet blanket pattern round-ups here.
With this list of easy crochet blanket patterns, you will surely find one you can crochet today!