Looking to expand your crochet horizons? Below are fun, unique and easy crochet stitches for blankets that are sure to provide inspiration for your next crochet project. Whether you're planning for a quick baby blanket or a large throw, these crochet stitches for blankets have you covered!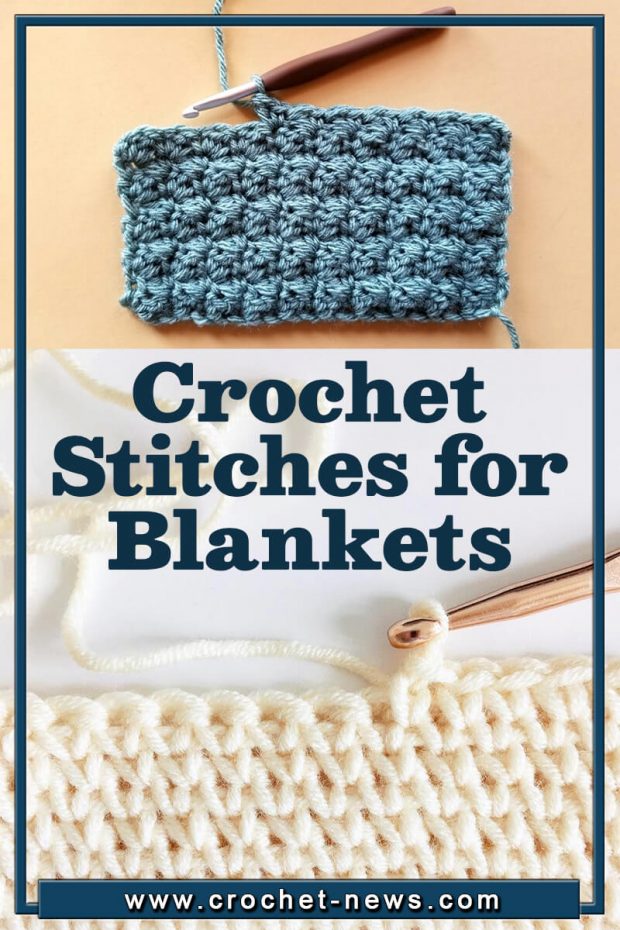 30 Best Crochet Stitch for Blankets
They range from beginner-friendly to more complex – you'll get a lot of practice in and will eventually master the styles you love best, for more intricate and difficult projects down the road.

1. Crochet Shell Stitch Tutorial
The Crochet Shell Stitch is one of the stitches you can use to add decorative designs to your work. You could take any version of the shell stitch and work it in rows to make a lovely textured blanket of any size.

But you also can go beyond that, combining colors and working the shell stitch in unique ways, to make even more impressive crochet blankets.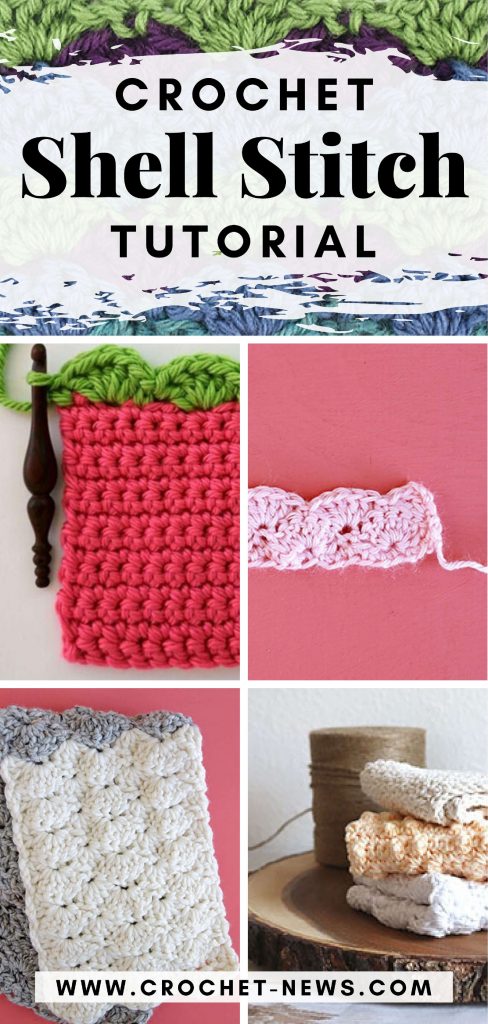 2. Waistcoat Crochet Stitch Tutorial
The Crochet Waistcoat Stitch (also known as the Knit Stitch) is a super sturdy, lovely looking crochet stitch. Because this stitch creates a dense finished product it is ideal to keep you warm so it works great for blankets, mittens, and beanies!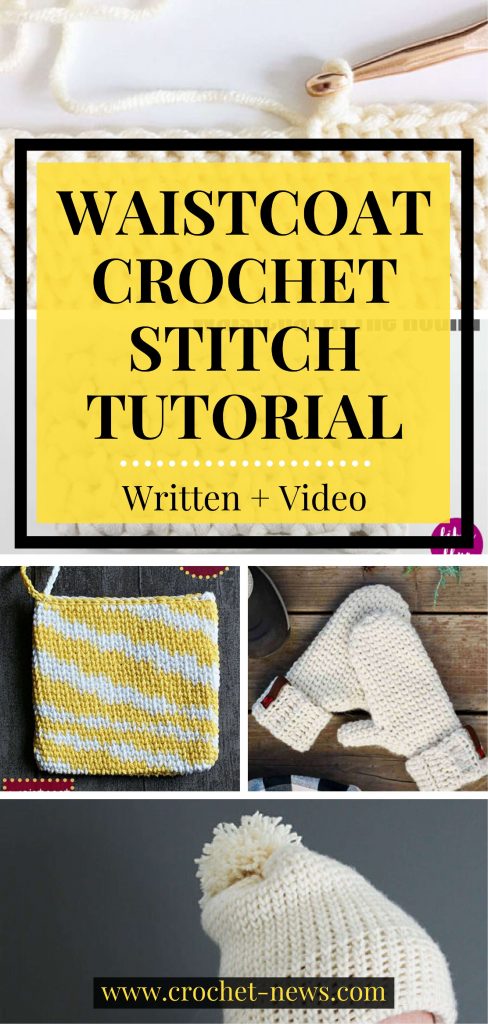 3. Herringbone Crochet Stitch Tutorial
The Herringbone Crochet Stitch, also called the Herringbone Double Crochet Stitch, is worked using–you guessed it! –the double crochet stitch. It creates a nice, modern look for many kinds of projects making it a great option if you're looking for something that isn't so old-fashioned. This crochet stitch looks more delicate without being lacy.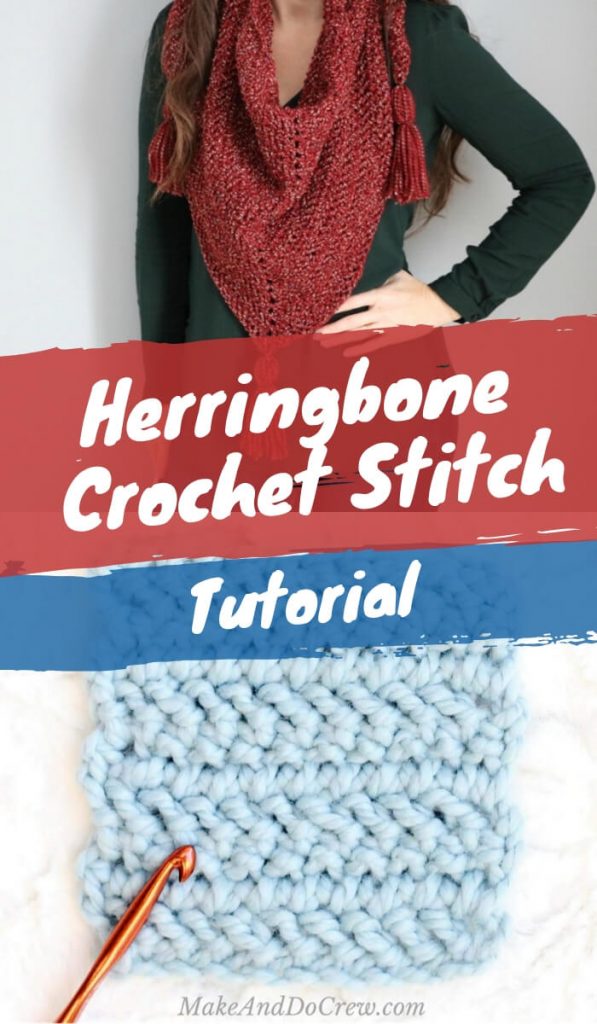 4. Cluster Crochet Stitch Tutorial
The Cluster Stitch is one of the easiest stitches to learn, as the stitch basically just incorporates the double crochet technique, which means that cluster stitch only takes a tiny bit of practise to master!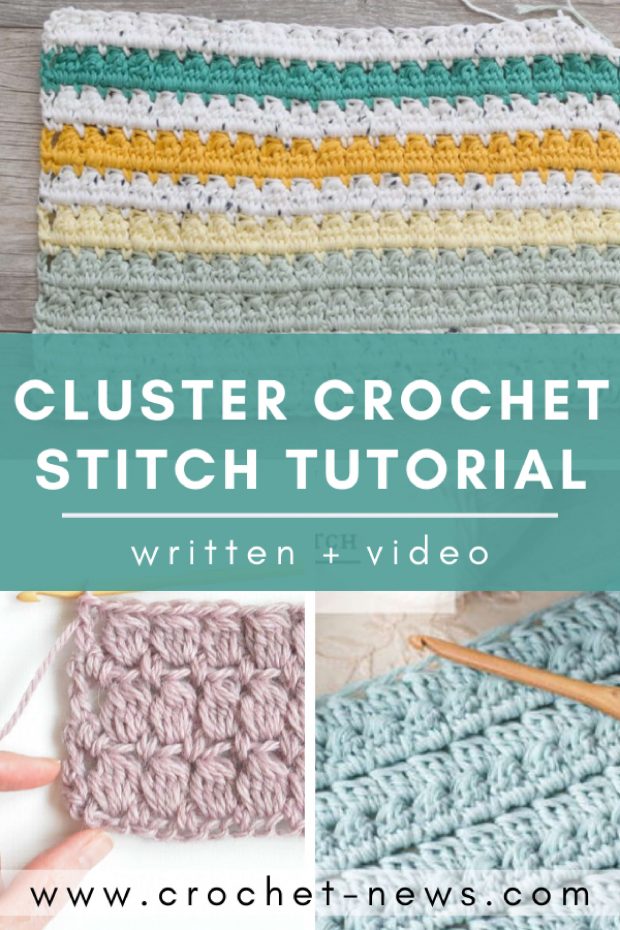 Due to the fact that this is such a basic stitch you'd obviously assume it has a simple appearance/texture, which in a sense is true, but it's far from plain and actually rather quite a pretty stitch, which makes it a great stitch to crochet blankets and scarves with!

5. Moss Crochet Stitch
If you're looking for a stitch that creates a flat fabric that's flowy but sturdy, you should definitely try the Moss Crochet Stitch (also known as the Granite Stitch)! It's a versatile stitch you can use in any project. Plus, it creates a fabric that's super fast to finish and easy to crochet.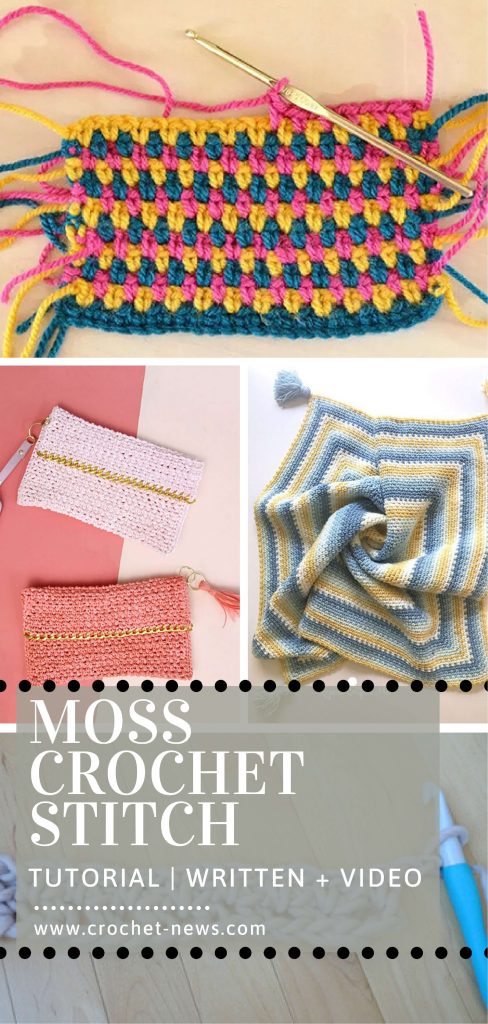 6. Basket Weave Crochet Stitch Tutorial
This Basket Weave Stitch is another crochet stitch that looks knit and makes an elegant fabric for blankets and afghans. It creates stunning results with a densely textured finish.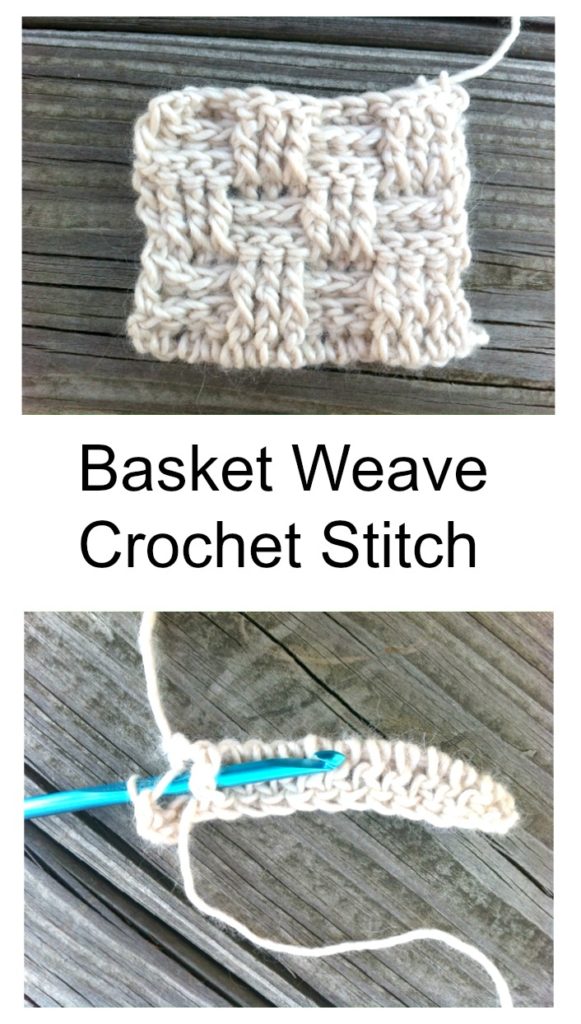 7. Crochet Block Stitch Tutorial
This Crochet Block Stitch is one of the best stitches to learn. It is simple enough for a beginner yet creates a finished product that looks expertly crafted.
The finished project looks very modern with its geometric squares–try using modern colors as well to make an ultra-fashionable blanket.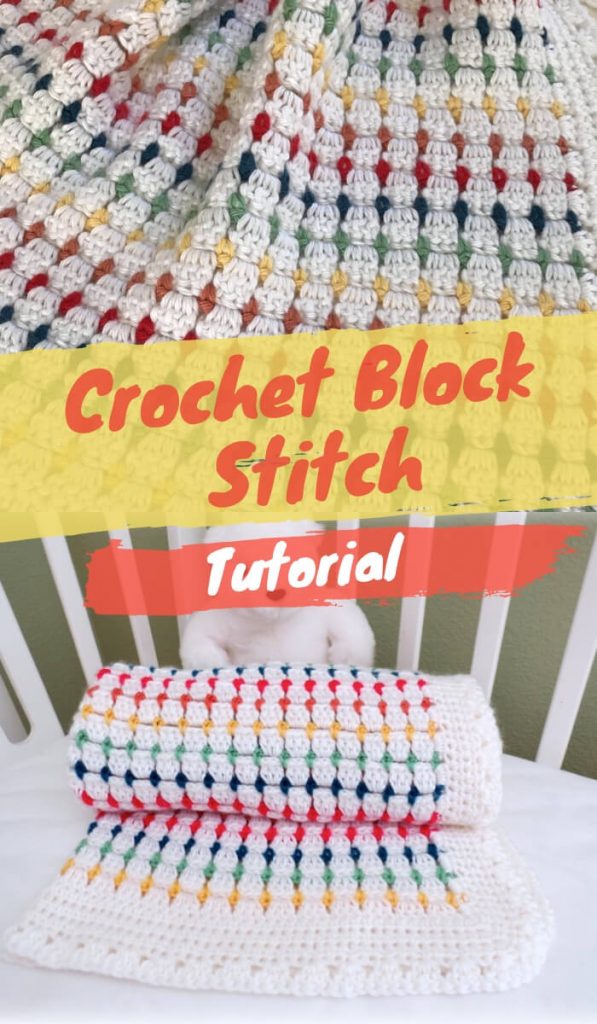 8. Classic Granny Square Stitch Tutorial
The Granny Square is a classic crochet pattern. It is often one of the first items a person learns to make when first learning how to crochet. From blankets and apparel accessories, granny squares are versatile and add color and style to your home and wardrobe.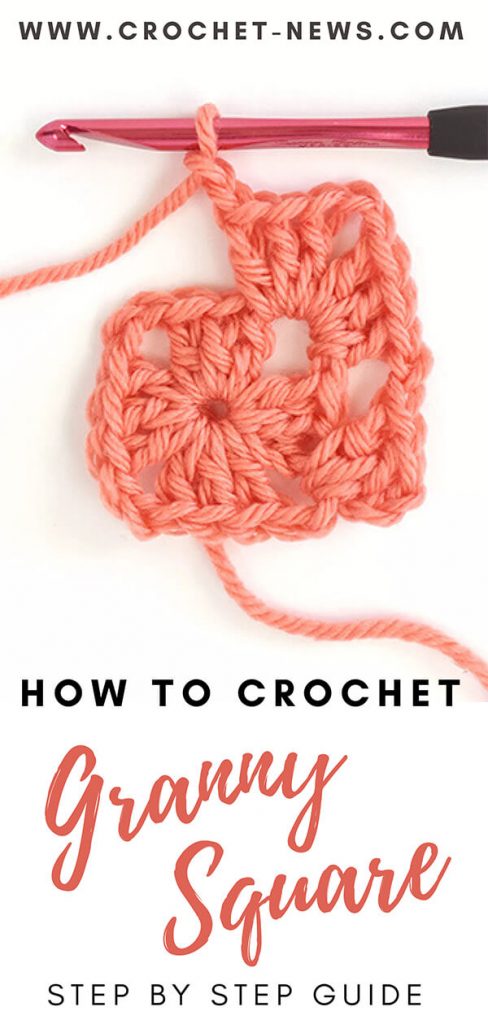 9. Larksfoot Crochet Stitch Tutorial
Thinking of using up the stash yarn you've been wanting to get off for the longest time? Use them in learning and making something functional using the Larksfoot Stitch!
By using this stitch in your next blanket project, you will not have to waste your time thinking if your work is boring or not. This stitch creates an eye-catching pattern that stands out more when you use different colored yarns in each row.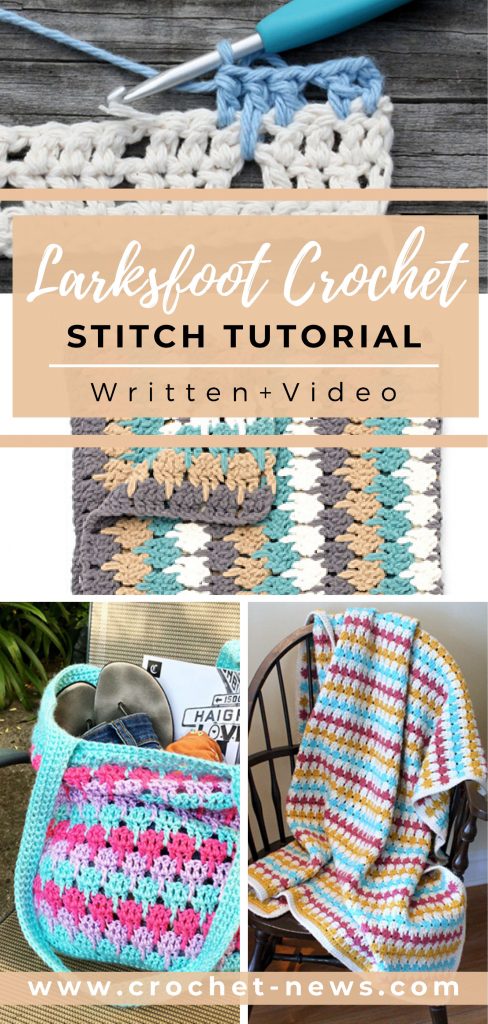 10. Linen Stitch Crochet Tutorial
The Crochet Linen Stitch is excellent for working up a quick and easy chunky baby blanket and it is so much prettier than just regular old single crochet stitches.
Even more, this stitch is completely versatile as it works with any weight yarn and hook size that you want to play around with.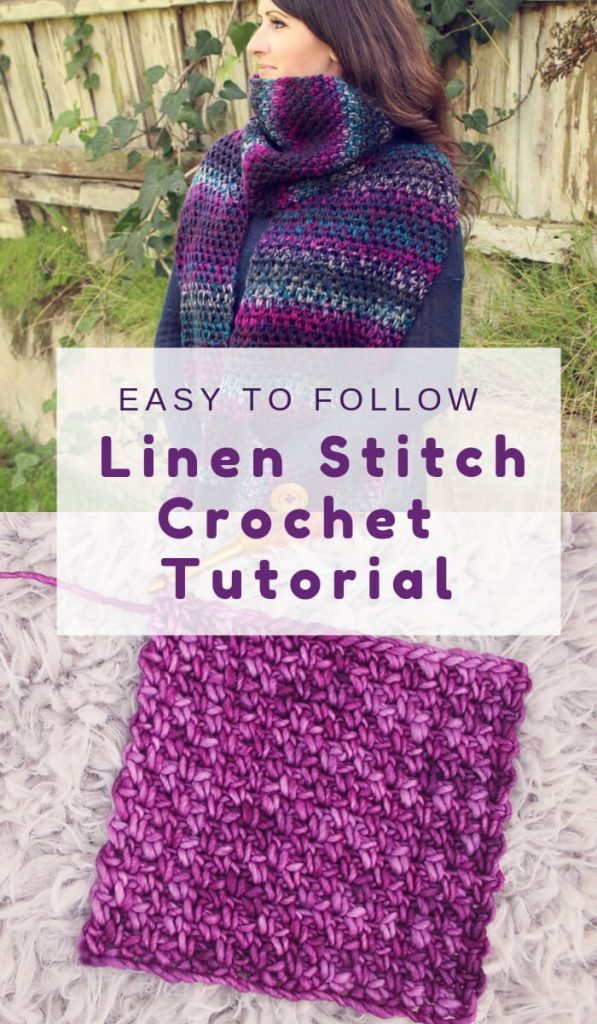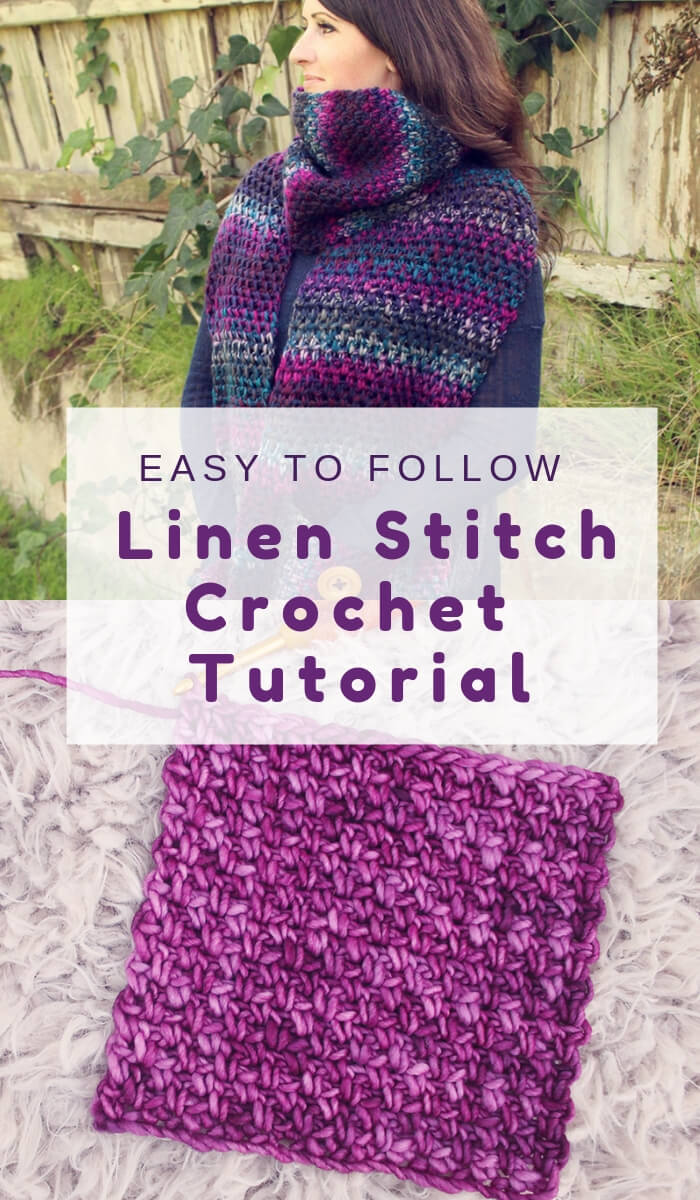 11. Elizabeth Crochet Stitch Tutorial
The Elizabeth Crochet Stitch, sometimes called the "mini bean" stitch, is fun and easy to learn! All you need to know is a couple of basic techniques and you can learn this stitch.

It creates a beautiful criss-cross pattern that looks amazing for just about any type of project! From dishcloths to blankets, the Elizabeth stitch makes your crochet projects really stand out.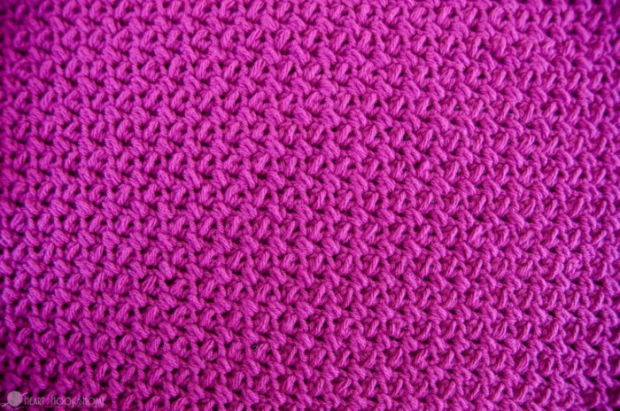 12. Crochet Bean Stitch Tutorial
The Bean Stitch is crocheted at an angle and very much resembles a puff stitch. It has a 3-D texture, is not flat, but rather more dense with lots of texture. Its amazing texture and fluffiness provide a great foundation for a blanket, hat, scarf, or even a washcloth.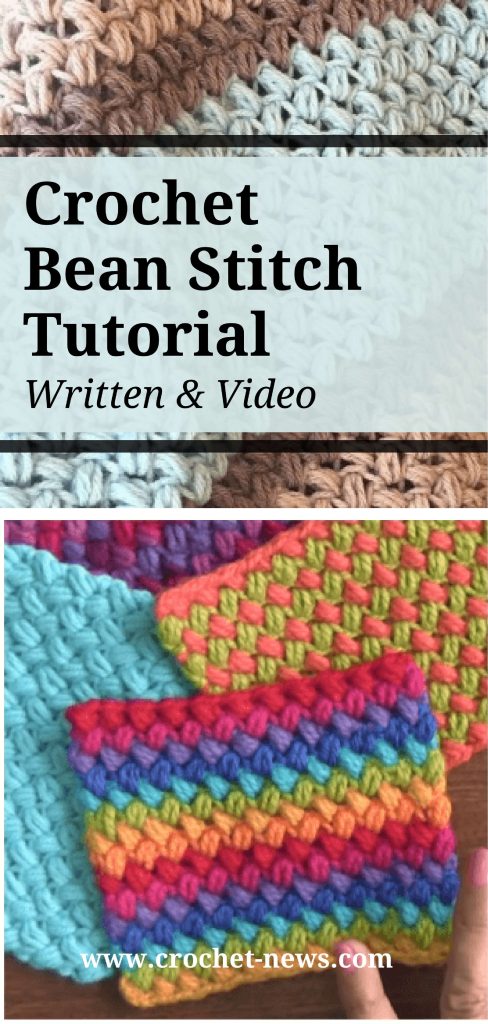 13. Crochet Box Stitch Tutorial
The Crochet Box Stitch makes the cutest crochet baby blanket. It is also used when you want waves or ripples of color, such as a mermaid or fish blanket. This is such a pretty stitch and adds another dimension to all crochet patterns.



14. Crochet Cluster Bobble Stitch
The Crochet Cluster Bobble Stitch creates a fabric that is both warm and a little lacy at the same time! Its warmth is given by the repeating bobble pattern, and its airiness is from the arches that groups the bobbles.

Emphasize the bobbles by making rows in different colors! With fabric not as dense as the bobble and cluster stitch, you'll definitely feel both the warmth and coziness you need in your blanket.

15. Crochet Iris Stitch Tutorial
The repeating pattern of this Crochet Iris Stitch is perfect for scarves, blankets, hats, and sweaters. But if you want something more pleasing to the eye, you can switch it up a bit by mixing it with other stitches. Aside from this, you can also add variation by working the stitch in stripes.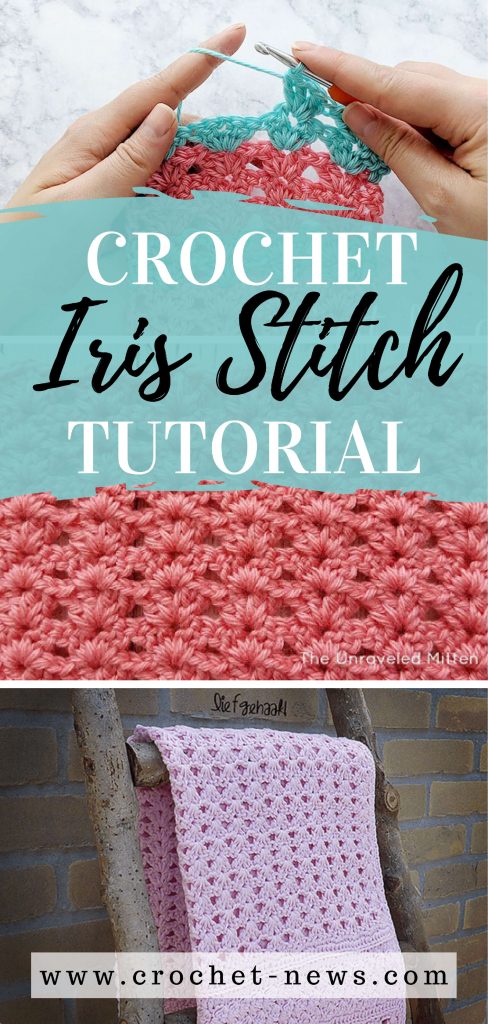 16. Suzette Crochet Stitch Tutorial
The Suzette Stitch uses only single crochet and double crochet stitch. Really easy to do, and perfect for beginners!
It creates a nice and graceful texture that's perfect for anything! Scarves, afghans, bags, apparels, and even blankets. With its two stitch repeat pattern, it makes a sturdy and beautiful fabric that will surely add a nice touch to anything you make.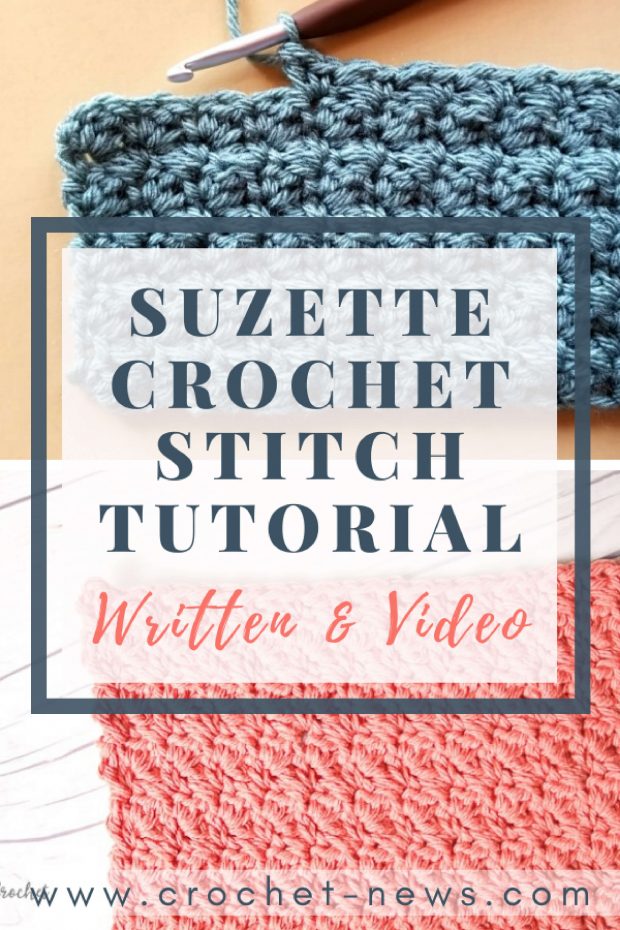 17. Waffle Crochet Stitch Tutorial
The Waffle Stitch is a beautiful deeply textured crochet stitch pattern. It has deep square dips that give it the texture of a breakfast waffle. This stitch creates beautiful blankets, pillows, and washcloths.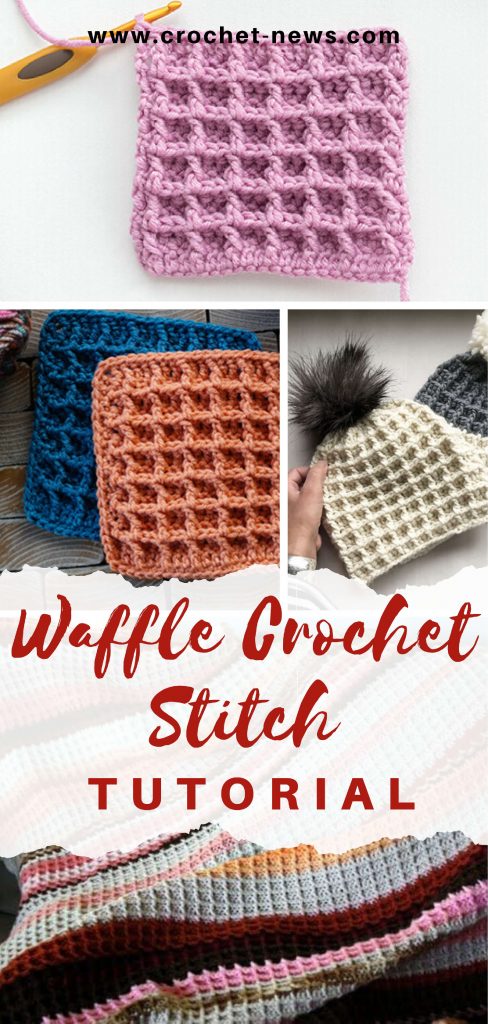 18. Tunisian Crochet Stitches
The Tunisian Crochet Stitch is perfect if you're planning to make rectangular-shaped projects fabrics. Since it also creates bulky fabrics, you can use this stitch when you're making blankets or scarves for winter.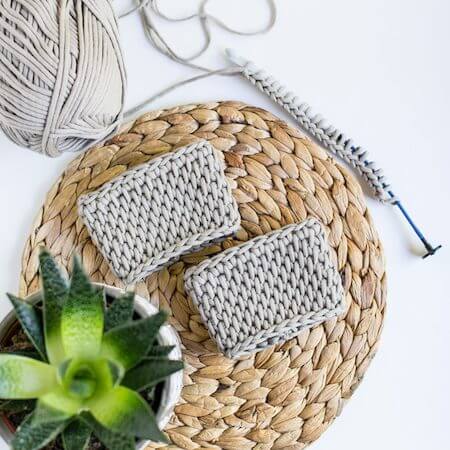 Corner to Corner (or C2C) Crochet is a great technique for creating colorful pieces. The fabric is made up of squares worked in diagonal rows, starting in one corner and finishing in the opposite corner.

The square construction also makes it great for creating charted designs like blankets, which results in some eye-popping geometric patterns.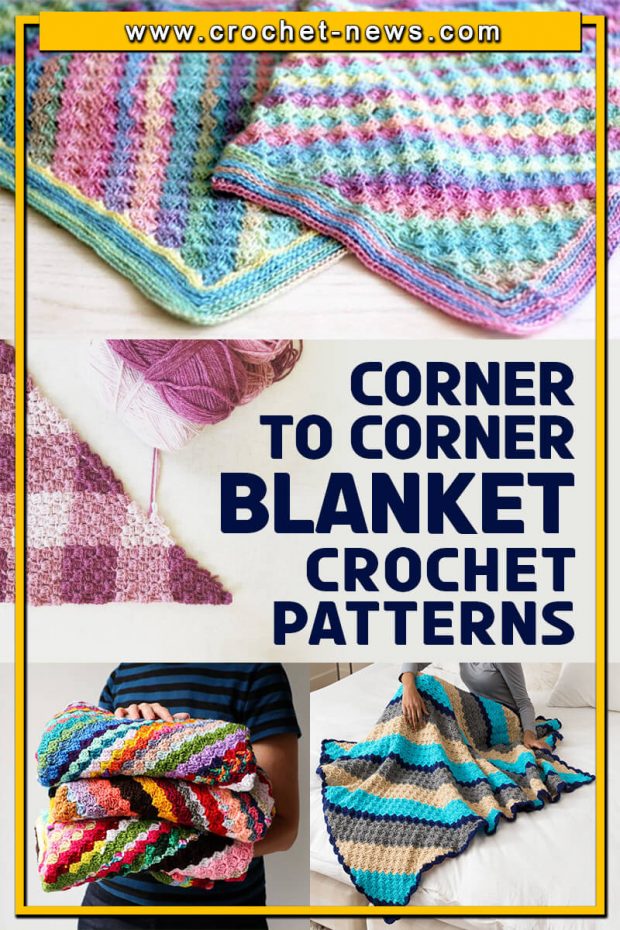 20. Griddle Stitch from Make And Do Crew
This Crochet Griddle Stitch is beautiful, richly-textured, and surprisingly easy to learn. As a series of alternating single and double crochets, the griddle stitch requires very little mental math or focus, making it a perfect beginner crochet stitch to learn after you've figured out the basics of crochet.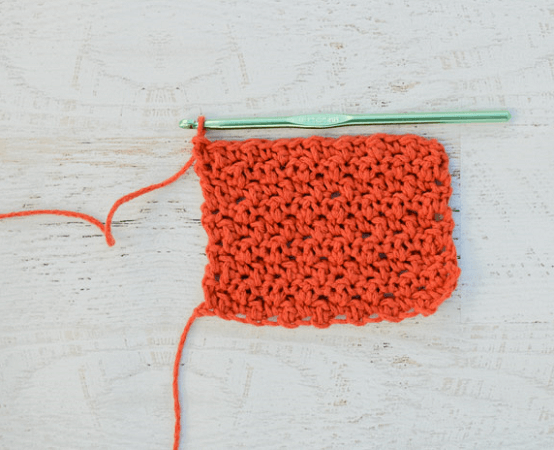 21. Wattle Stitch from Mama In A Stitch
This Crochet Wattle Stitch is quite simple and it creates a beautiful texture that I especially like for baby blankets. It would also work wonderfully on anything from scarves to dishcloths.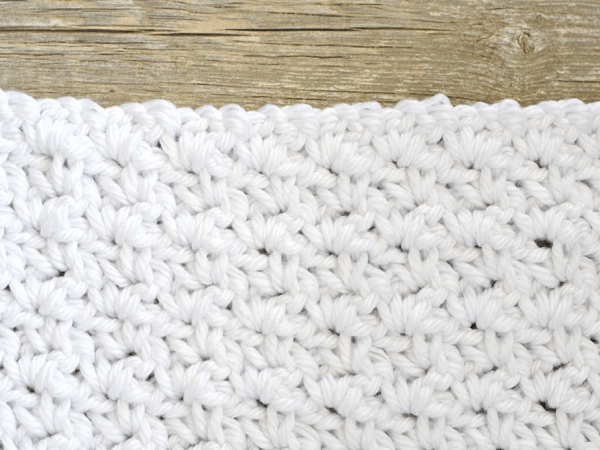 The waffle stitch is a dense, modern looking stitch. Once you have performed a few stitch repeats, there's no need to refer to a pattern, making it a perfect stitch to do while watching your favorite TV show.

22. Textured Wave Stitch from B Hooked Crochet
The Textured Wave Crochet Stitch is a great way to bring a little extra texture to your projects. It isn't a reversible stitch so it's best suited for projects where only one side will show.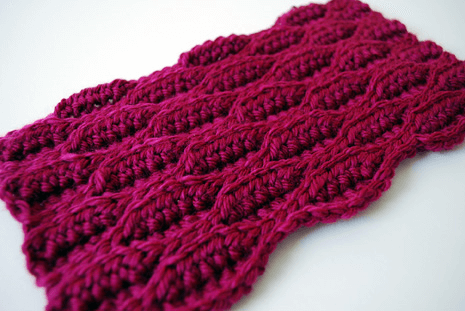 23. Crochet V Puff Stitch
The V Stitch is a pretty crochet stitch that works up quickly. It's a great stitch to know for working on big projects like afghans and blankets. But it's also useful for crocheting many other types of projects.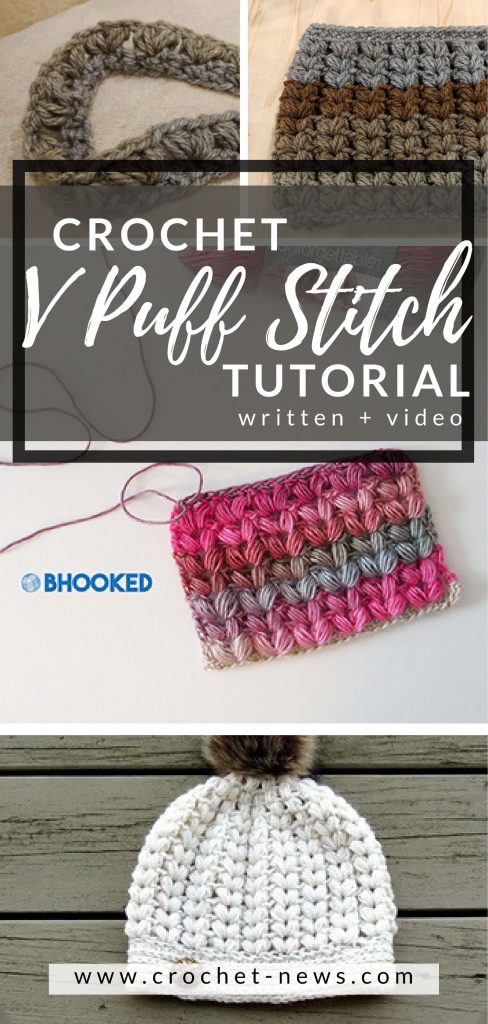 24. Crochet Diamond Lace Stitch
The Crochet Diamond Stitch is quite an easy stitch to learn and follow and takes only a minimum amount of practice to master. In other words, it won't be long before you're crocheting lovely blankets, textured scarves, and unique headbands featuring this beautiful stitch!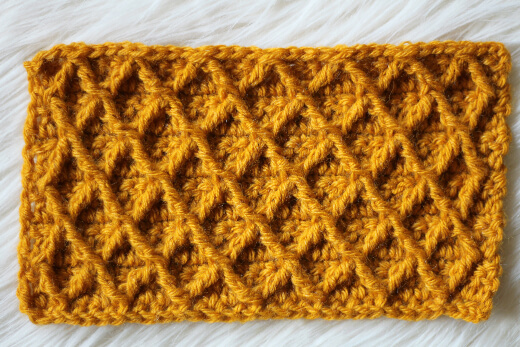 25. Side Saddle Stitch from Make And Do Crew
The Side Saddle Crochet Stitch has a lovely, repetitive look that is both airy and substantial at the same time. The side saddle crochet stitch is simply a combination of single crochets, double crochets and chains, yet it looks so unique.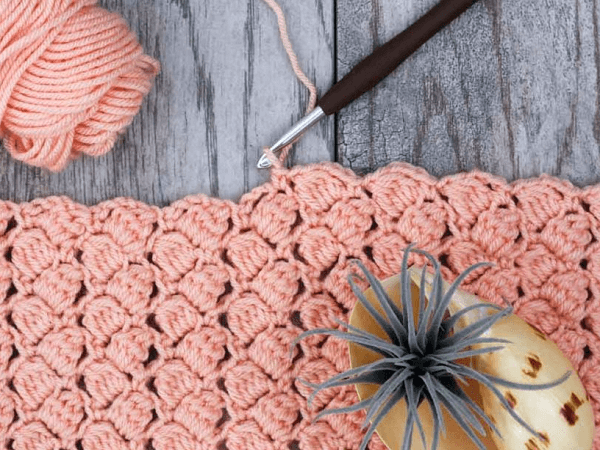 26. Overlapping Post Stitch from Moogly
The Overlapping Stitch is an interesting stitch that creates a chevron type of pattern. The back of the project will have some slight ridging and the front has a lovely, raised pattern.
Once you get the hang of creating the stitches, you can use a small hook to crochet a purse. Or use a large hook to create a blanket.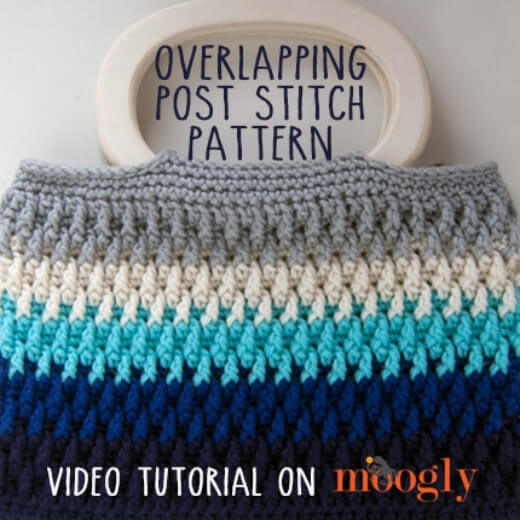 27. Lemon Peel Stitch
The Lemon Peel Stitch combines single crochet and double crochet. The finished design creates a texture that resembles a lemon rind. To create the stitch, simply alternate between the stitches across each row.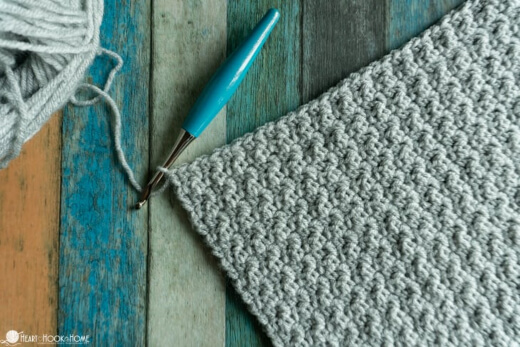 28. Grit Stitch from Moogly
There are a couple of different stitch patterns that are called the grit stitch. The grit stitch produces a project that is reversible and looks the same on both sides. It has a nice subtle texture.
The grit stitch is great for blankets, washcloths, and place mats. Pretty much any reversible project.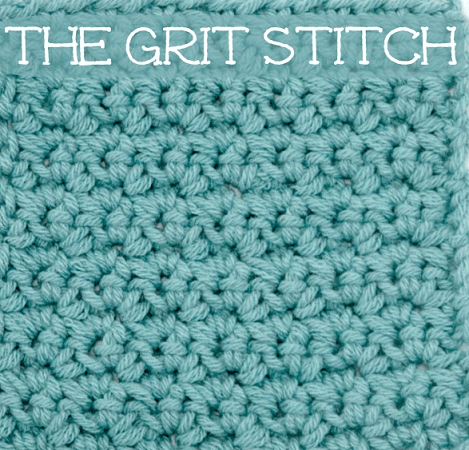 29. Plaid Stitch from DIY Everywhere
The Plaid Crochet Stitch is much easier than it looks, and whips up in a flash! It consists of unique interlocking double crochets. Use the plaid stitch to make hats, scarves, blankets, pillows, or other accessories for the home or for wearing around town – everyone will ask you where you got such a unique piece!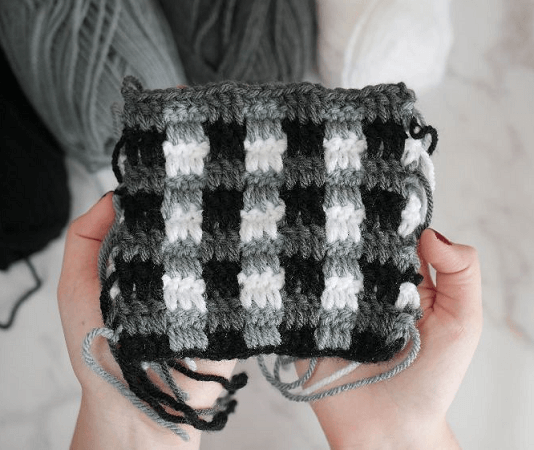 30. Crossed Half Double Crochet Stitch
The cross half double crochet stitch is a simple stitch pattern. It is taller than a single crochet stitch and smaller than a double crochet stitch.
The stitch creates a loose fabric. It is a basic stitch that a beginner should learn. Half double crochet is often used when making hats and stuffed animals.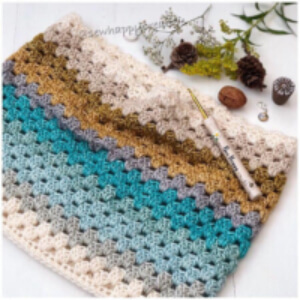 Crochet Stitches For Blankets Frequently Asked Questions
Am I skilled enough to make a crochet blanket?
Definitely! Once you're comfortable with the basic crochet stitches, you're ready to make a cozy blanket to keep you warm all winter.
What's the perfect crochet stitch for blanket?
Most importantly, the stitch needs to not have holes for toes and fingers to get stuck in. It also needs to be easy to repeat so you can make any size you want. It needs to be pretty on both sides, even if they aren't exactly the same. Lastly, texture is always welcome in crochet blanket stitches.
What is the easiest crochet stitch for blanket?
Single crochet stitch is the simplest crochet stitch to learn for a blanket. This stitch isn't fancy, but it gets the job done and is great for practicing your craft, getting into the habit of even stitches, and practicing your tension. I like the single crochet stitch because of its simplicity, clean lines, and relaxing, no-worry nature.
What is the best crochet stitch for baby blanket?
If you're looking for the best crochet stitch for a baby blanket, the half double crochet stitch is the way to go. The stitch produces quick and easy rows, allowing you to crochet a blanket in no time!
Which crochet stitch uses the least amount of yarn for a blanket?
Try using a V-stitch, filet stitch, or trellis stitch instead of a basic single, double, or treble crochet. These stitches all have spacing that allow for the project to progress without using a ton of yarn.
Below are our compilation of different types of crochet stitches for you to explore:
IF YOU MAKE A LOT OF BLANKETS, YOU DO NOT WANT THEM ALL TO LOOK THE SAME. CHANGE UP YOUR PATTERN AND TRY SOME OF THESE CROCHET STITCHES FOR BLANKETS.
There are so many gorgeous crochet stitches. It is almost impossible to memorise them all. We hope you find a new stitch that you want to try. And once you master that one, come back and try another one.
Check out our Modern Crochet Blanket Patterns, and Crochet Baby Boy Blanket Patterns so you can start using the stitches you have learned.
Different crochet stitches create different patterns. So, if you are looking for crochet stitches for blankets, shawl or mittens, we are sure our list has you covered.