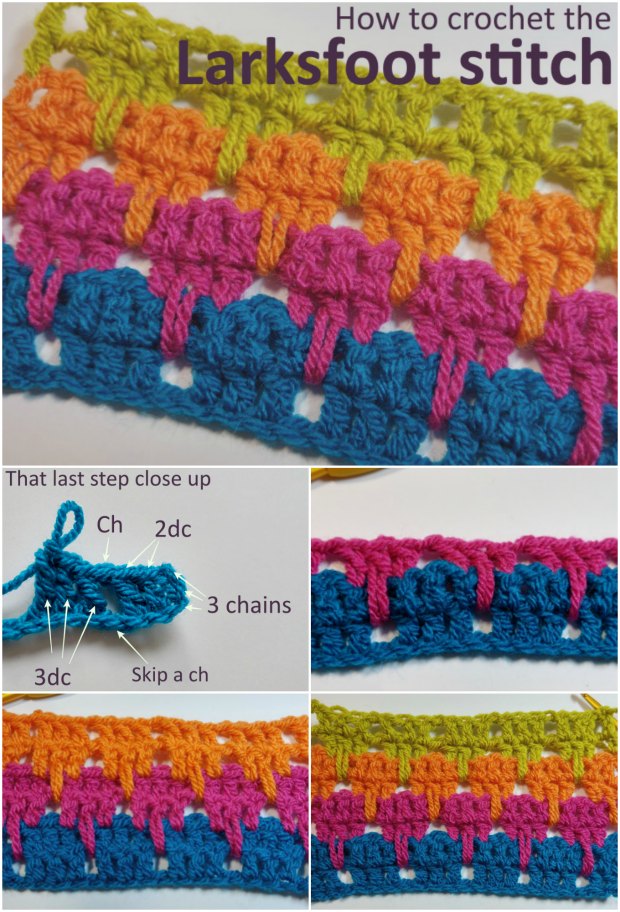 Larksfoot Crochet Stitch
The larksfoot stitch is a crochet stitch for the advanced. Have you noticed the larksfoot stitch all popping up in patterns lately? This crochet stitch is hugely popular at the moment, and I think you'll see why.
We're not sure what a Lark's foot actually looks like, but the stitch certainly is pretty. It's ideal for working up in colored rows, although you could still use it in a single color, but it would loose some of the impact.
This crochet stitch is a very versatile stitch, useful for making blankets and afghans, hats, mittens and other wearables. The stitch likely got its name it looks very much like a bird's foot, with its long central toe.
Larksfoot Stitch Materials
Any brand of DK-weight yarn or heavier in different colors.
A hook size that corresponds to the gauge of the yarn you use.
The Larksfoot Stitch Is So Versatile
The larksfoot crochet stitch is a perhaps the most versatile stitch I have worked with in recent weeks. It can be used to make warm blankets, Afghans, cute sweaters, hats, scarfs, mittens and pretty much any wearables you can think of. As mentioned, the larksfoot crochet stitch likely got its name from a bird of the same name.
Want to create some magic and kick some life into your crocheting? Well, this is how you do it. The stitch can be brought to life using bright, contrasting yarn colors.
DK-weight yarn or heavier should do. Despite this being an advanced level pattern requiring some serious crocheting skills, once you get the basics down and going, you'll get the hang of it, soon enough. Grab some spare yarn and a hook and work up this small swatch. But be warned — it's addictive!
Get the larksfoot stitch tutorial here