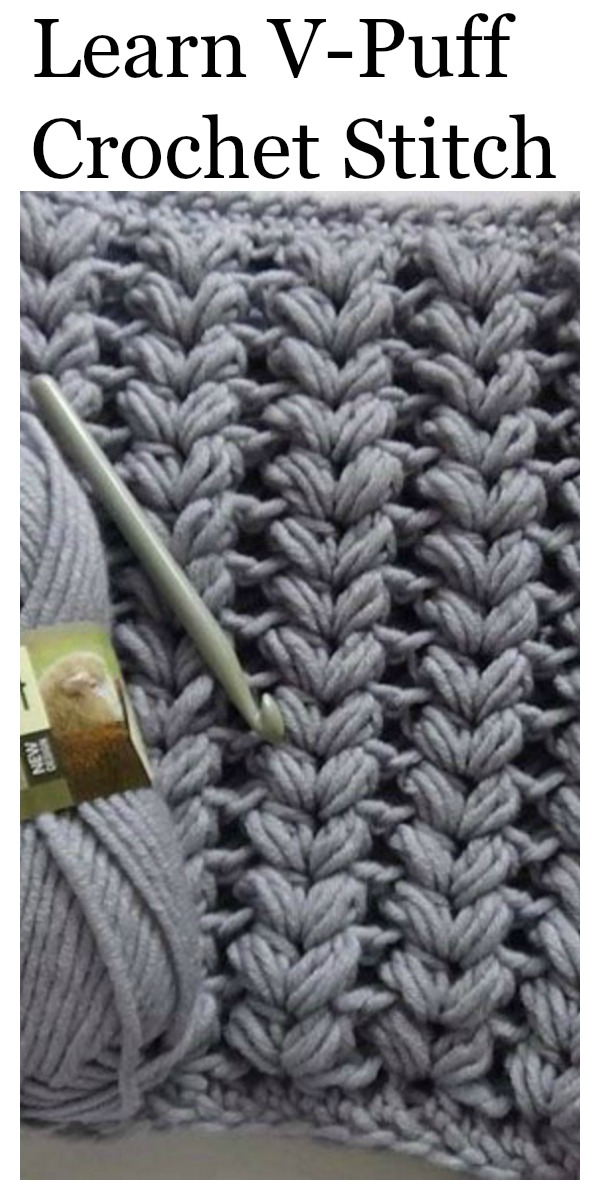 Crochet V Puff Stitch Tutorial
Here is something new you can try out, the puff crochet stitch. If you have already tried it out before then you know that the crochet V puff stitch is probably one of most versatile crochet stitches ever.
Applicable in almost any design it's almost a crime to call yourself a crocheter and not know the crochet V puff stitch.
Honestly, I think the V puff crochet stitch should be one of the basic stitches. And That it should be included in all beginners' syllabuses. If you think I'm wrong then I recommend that you try it out and you will see what I mean.
To add to that, the pattern is absolutely stunning both visually and textually. The way the V puffs interlock is absolutely stunning.
Crochet V Puff Stitch Great For Beginners
The puff crochet stitch pattern or the V puff as some would call it is easy to make. You do not require to be a guru at crocheting in order to attempt this pattern. Just a little patience, and some yarn. In any design, the crochet V puff crochet stitch will look absolutely amazing.
The tutorial unfortunately only shows you how to make a simple scarf using the crochet V puff stitch. But as you watch it, it quickly unfolds to you that this pattern was made to accommodate everything.
Any design, any shape you want your product to be in the crochet V puff stitch can reproduce it without messing up the overall design.
If you follow the tutorial you will get to learn the various ways that the V puff crochet stitch pattern can be implemented. Also shown how it works to produce the most stunning pieces. Even a beginner at this stage can knock out a few pieces with this astounding pattern.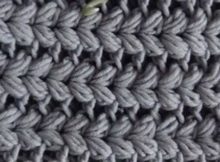 In whatever design you chose to use the V puff crochet stitch pattern you will definitely get your desired results. And, the beauty of it all is that the v-puff doesn't limit your creativity in any way whatsoever.
The V puff crochet stitch pattern is what you may call a master stitch pattern that is capable of designing absolutely anything.
So, you can use any color that you wish or even incorporate other design patterns into the V puff. Try adding some lace to your creations using the V puff crochet pattern and watch your fingers do magic.
You can even add some beadwork or rind stones to make your pattern that much more magical.
Sweaters And Cardigans Look Amazing And Are Warm In This Stitch
With so many uses it's a wonder why not every crocheter knows about this pattern but, I'm pretty sure you have seen it somewhere. Either on a sweater, a stunning cardigan or one of your grandma's tablecloths, the V puff crochet stitch will look amazing.
Try everything that you can think of making by crocheting and then watch as you bring forth works of art with your own two hands.
I cannot stop stressing the versatility of this pattern because it is its greatest strength followed by its warmth. If you want a pattern that will keep surprising you then the v-puff crochet pattern is just thing. All I can say is have fun, and don't get too addicted!
This video tutorial will show you how to crochet the V puff stitch. Also how to create a scarf out of it.
Crochet V Puff Stitch Loop Tutorial Video For Beginners
Thanks to Mari Annet for the featured photo
Learn More Crochet Stitches Here