Don't you just love working with thick fabric? Working on this kind of yarn is one of the comfiest activities during the winter season.
Speaking of winter, how prepared are you for the cold spell? If you haven't prepped the items you'll be needing to keep yourself warm, this V Puff Stitch Crochet Tutorial is perfect for you!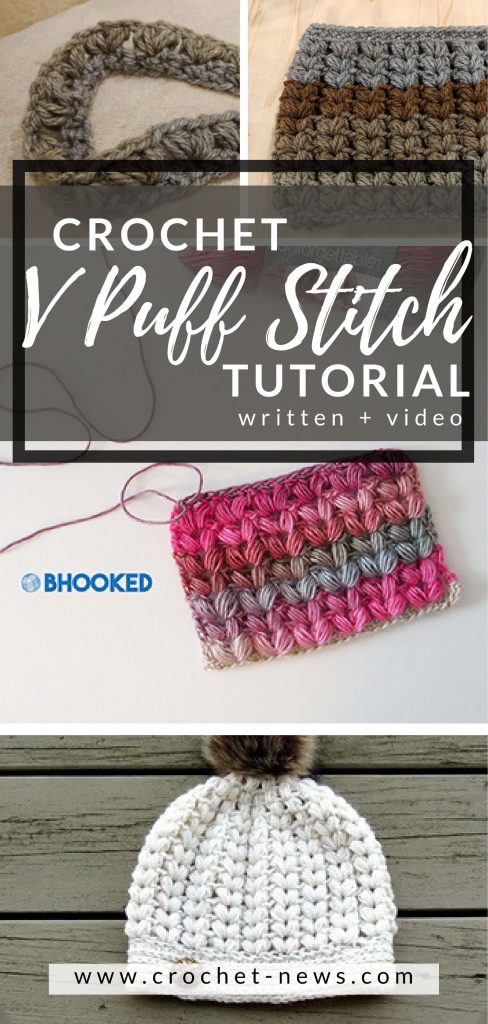 Crochet V Puff Stitch Tutorial
If you have heard of the Crochet Puff Stitch, you'll surely have a great time learning how to make the Crochet V Puff Stitch. The two stitches are worked in a similar way, the main difference is that V Puff Stitch creates a V shape.
This stitch creates a thick and warm fabric perfect for the cold days. It's the perfect stitch to use for winter apparel.
With this stitch, not only will get the comfort we all need during the cold season, but you can also stay stylish! It creates a nice texture that will look good with anything you wear.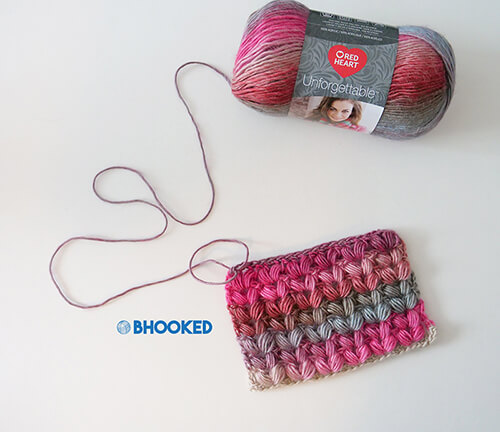 Surely, with all the loops you'll be using in this pattern you'll produce a fabric warm enough for winter. However, if you it to be a little thinner and more drapey, you can opt to use fewer loops.
Are you ready for another fun crochet stitch tutorial? We prepared a written tutorial and linked a video tutorial that you can follow!
Puff V Stitch Crochet Tutorial
Just like the other stitches, the V Puff Stitch can be worked flat or in the round. The instructions provided in this tutorial are for working this stitch in flat. Are you ready to get stitching?
To get started on this stitch, you only need to know these stitches:
chain, double crochet, and, puff, single crochet.
Crochet V Puff Stitch Instructions
Row 1: Crochet a foundation row (multiple of 4 plus 10 stitches).
Row 2: In the second chain from your hook, work a single crochet stitch. Continue working across the foundation row with a single crochet stitch in each chain stitch.
Row 3: Crochet 3 chain stitches. * Skip 3 stitches and in the very next stitch work the following puff stitch, chain 1, puff stitch in the same stitch *. Continue working this until you reach the last 4 stitches of the row. Skip the next 3 stitches and work a double crochet stitch in the last stitch.
Row 4: Crochet 3 chain stitches, then turn your work. Then in the spaces created by each chain 1 stitch of the previous row, work the following (puff stitch, chain 1, puff stitch). In the last chain, work a double crochet stitch.
Repeat Row 4 until you reach your desired length.
Crochet V Puff Stitch Video Tutorial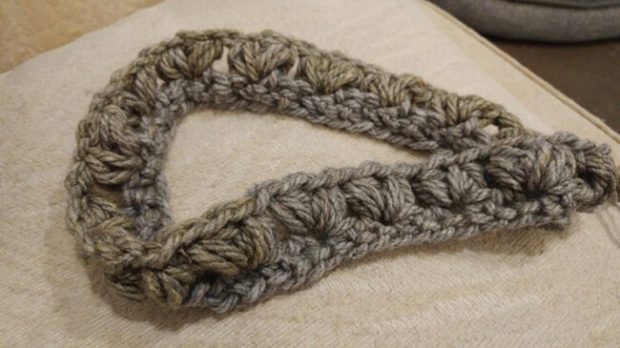 Patterns that the V Puff Crochet Stitch
Winter apparels have to be extra warm especially in the colder areas, that's why the V Puff Stitch is perfect if you're working on winter projects!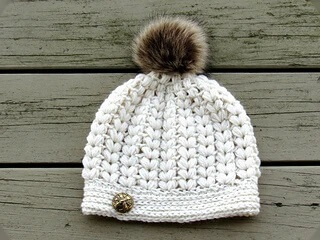 With this stitch, you can create a thick, warm, and fluffy fabric you can use for hats, scarves, and blankets. The fabric will also be reversible so you won't have to determine which is the right side and the wrong side.
The V-shaped puffs will definitely look great on hats and beanies! Not only will it be warm and fluffy, it will look stylish too.
If you want extra thick but soft scarf? Try using yarns that are thick and fluffy! Add extra fluff by making a scarf using the Crochet V Puff Stitch. In just a few hours you'll have a scarf that's squishy and will also serve its purpose, to keep you warm.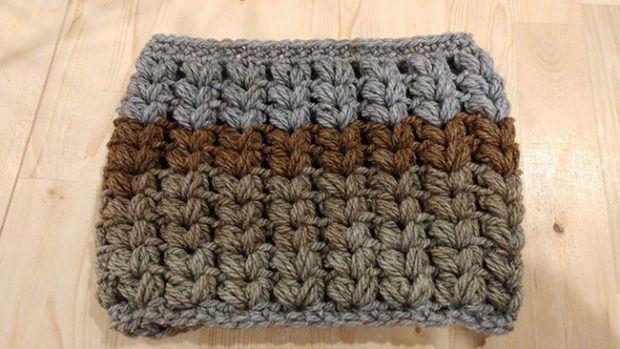 Share Your Works With Us
With all the items you can make using this stitch, have you decided on what to work on first?
Keep us updated on your progress! Share with us your works by posting them on our Facebook Page.
Excited to learn more stitches? You can check more of our crochet stitch tutorials here.
We're excited to see what you're working on, and we hope you had fun learning this stitch by following this Crochet V Puff Stitch Tutorial!