Skip the expensive store-bought doll clothing and instead use your stash to stitch up these crochet doll clothes patterns.
One of the best parts of playing with dolls is dressing them up in pretty new clothes. If you've browsed clothing for dolls, you probably know that even the tiniest clothing can be expensive.
Why spend all the money when you can stitch totally unique apparel for dolls? For most of these patterns, you can even use yarn you already have in your stash, saving you even more.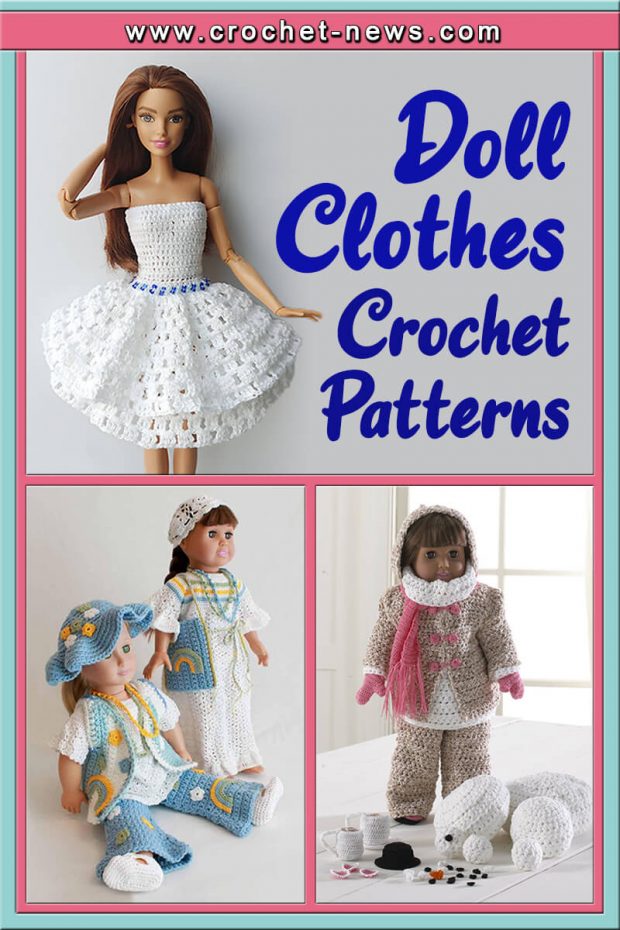 20 Doll Clothes Crochet Patterns
These enchanting pieces range from classic to chic and include everything from tops and pants to dresses, skirts, and coats. Adorable accessories (hats, headbands, purses, mitts, and socks) complete this cutest-ever wardrobe. Before long, you can make a whole new wardrobe for your dolls!

1. Walking The Dog For Dolls Crochet Pattern by Red Heart
Here's a whimsical project to dress up your doll. This imaginative set turns any doll into a dog-walking adventurer, complete with cute crochet dog, coat and accessories!
It's a fun pattern featuring shades as shown, or select colors that inspire your creativity. This project has lots of play value, so craft it for a child, or add it to your collection.
Get the Pattern here

2. Crochet Doll Dress Pattern by Fluffy Tummy
The clothing set contains a coat, dress, beret, purse and removable hair wig pattern for 10″ Amigurumi doll. You could also use this set to dress your own dolls, when you adjust hook size to fit your doll.
Get the Pattern by Fluffy Tummy here

3. Crochet Doll Summer Clothes Pattern by Crochet Garden
This little ensemble is perfect for a stroll in the garden to afternoon tea. She can gather flowers or carry bread for the birds. She can even help her mommy find an Easter egg.
This crochet doll dress opens all the way down in back for easy quick changing. Velcro can be substituted for sew-on snaps. Hat and basket can be adorned with flowers.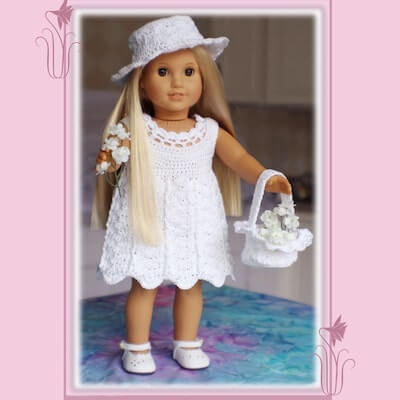 Get the Pattern by Crochet Garden here

4. Winter Crochet Doll Clothes Pattern by Maggie's Crochet
Dress up your doll in this unbelievably comfy looking outfit so that she can stay warm during the winter! Aside from the warm sweater, coat, pants, shoes, mittens, and scarf, this pattern includes designs for cups of hot chocolate with marshmallows and cookie and a snowman will eyes, nose, mouth, and hat.

This pattern can be made to match the doll owner's winter jacket so that they can stay warm together in style!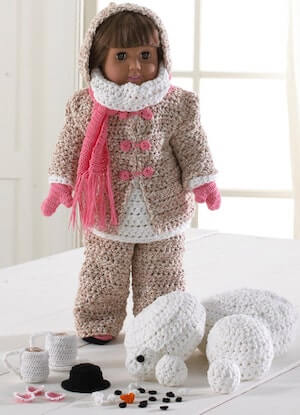 Get the Pattern by Maggie's Crochet here

5. Summertime Frills Doll Crochet Dress Clothes Pattern by Yarnspirations
All dolled up in a cute ruffled skirt that's paired with a classic tee, your 18″ doll is all set for her next summer party. These crochet doll clothes feature fresh tones, but explore the colors you prefer.
A coordinating bag is added for a nicely accessorized look. Try this fun pattern to spice up your collection of handmade originals.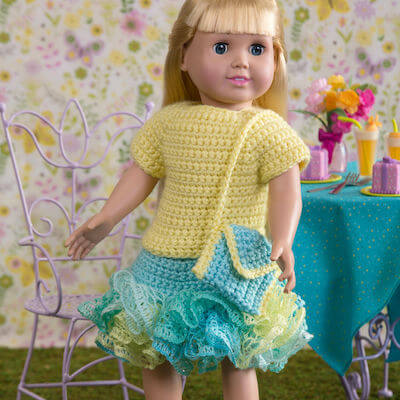 Get the Pattern here

6. Ripples & Ridges Crochet Doll Outfit Pattern by The Yarn Dolls
Get your doll ready for some sunshine with this outfit! Set includes pattern for dress, top, and headband. Designed for 18″ American Girl type dolls, the dress and top both button in the back for easy dressing. The headband also buttons and is adjustable for the best fit.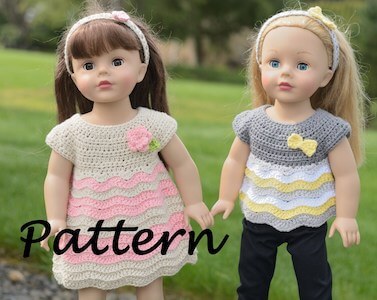 Get the Pattern by The Yarn Dolls here

7. Doctor Scrubs Crochet Doll Clothes Pattern by Adoring Doll Clothes
Perfect for pretend play, this 18″ doll doctor/nurse surgical scrubs outfit is just what the doctor ordered! Your American Girl will look official in emergency!
This set includes the traditional V-neck top and pants. In addition, this set comes with matching booties and cap, and a face mask!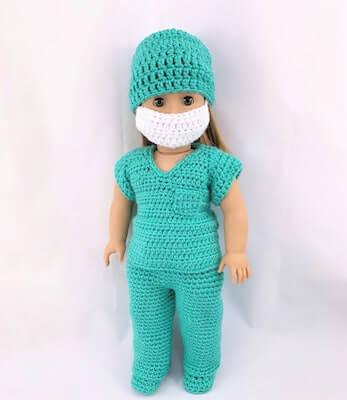 Get the Pattern by Adoring Doll Clothes here

8. Party Crochet Doll Dress Pattern by Yarnspirations
This doll crochet dress pattern is ready to celebrate in her crochet party dress, furry shrug, evening bag and dress shoes. Featuring dazzling shades, any 18″ doll looks chic and ready to impress!
Stitch all the pieces in favorite shades to put a smile on a doll lover's face. It's a wonderful gift that stimulates hours of fun and imaginative play.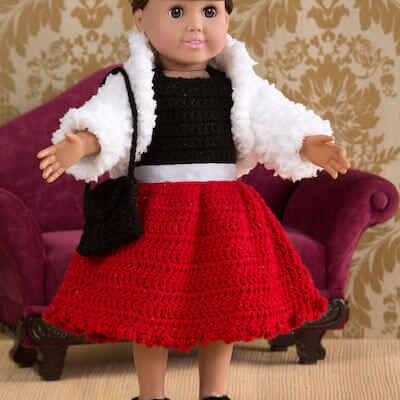 Get the Pattern here

9. Bedtime Crochet Doll Clothes Pattern by Maggie's Crochet
All little girls love looking cute and stylish- even when they are sleeping! Make this bedtime set for your little girl's dollies and have them match. The cute accessories will have you little girl so excited for sleepy time.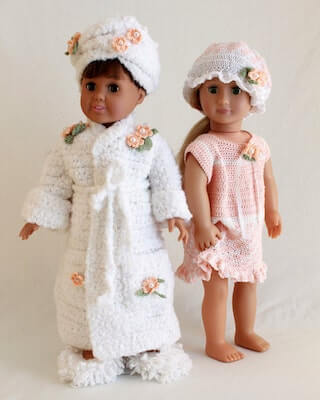 Get the Pattern by Maggie's Crochet here

10. Aloha Hula Doll Clothes Crochet Pattern by Red Heart
Dress your 18″ doll in a "grass" skirt and floral accessories for a fantasy vacation to the islands of ocean breezes and romantic escapades! It won't take long to crochet this fun outfit in any shades that inspire you.
Let your child participate by selecting colors she prefers. It's a project that will earn you lots of hugs in return!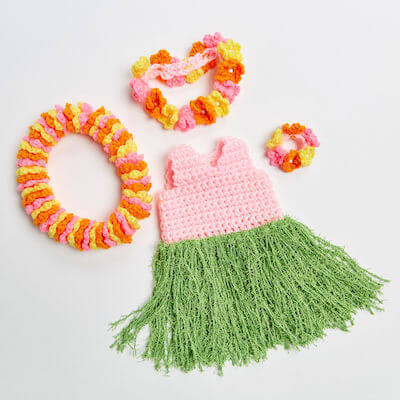 Get the Pattern here

11. Crochet Doll Dress For American Girl Doll Pattern by 1 Annie Potter Presents
American Girl Doll clothes can be very expensive. It can be hard to help your girl keep her favorite doll stylish on a budget. Luckily for you, you know how to crochet and can follow this pattern to make totally unique dresses for your doll.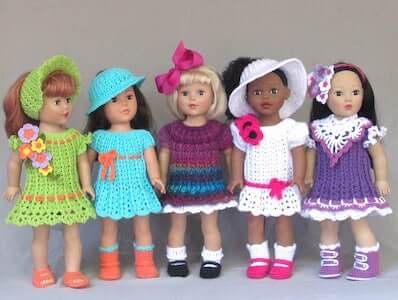 Get the Pattern by 1 Annie Potter Presents here

12. Easy Crochet Doll Clothes Pattern by Idea Ivana
This cute set includes a colorful onesie, a granny stitch hat, and matching doll slippers. The outfit is worked with bulky yarn and a mid-sized hook, so it works up quickly to create a beautiful finished project.
This easy crochet doll clothes is for 12-inch dolls, but it includes instructions for adjusting the size to fit Barbies, American Girls, and all other types of dolls.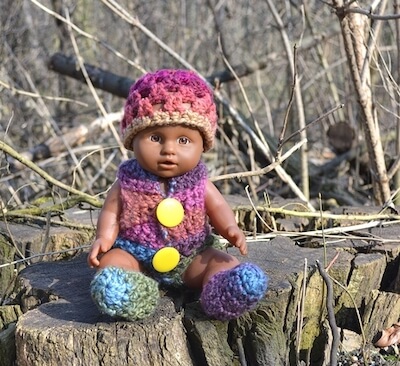 Get the Pattern here

13. Summer Waves Easy Crochet Doll Clothes Pattern by Jennifer Renaud
What little girl wouldn't love this set for their doll? Christmas will sneak up on us before you know it and this set would make a great gift.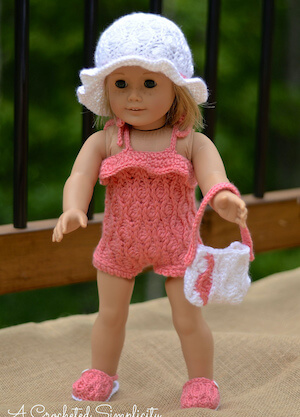 Get the Pattern here

14. Crochet Doll Snowball Sweater Pattern by Little Abbee
Looking for a cozy winter sweater to add to your doll's wardrobe? This sweater uses special stitches that give the sweater a fun texture. It is crocheted from the top down with the hood and sleeves added after the body is crocheted.

Features a ribbed texture around the sleeves, bottom, sides, and the hood. You can choose to crochet either long or short sleeves, the pattern includes instructions for both.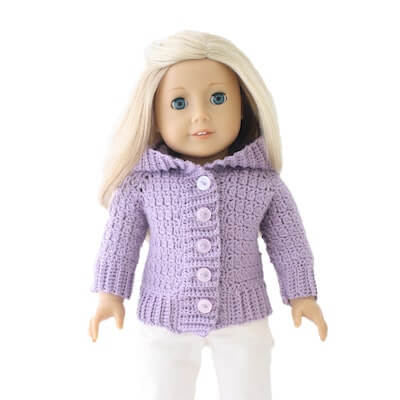 Get the Pattern by Little Abbee here

15. Doll Crochet Dress Pattern by Crochet Garden
This summergirl 18″ doll crochet dress set pattern will make little hearts sing! A knit-like headband with a darling bow start off this crochet pattern set.
The dress starts with a lace yoke and works from the top down, allowing you to adjust length to your doll and your tension. A little crochet bag pattern compliments this set. It is adorned with a crochet bow bringing the whole set together.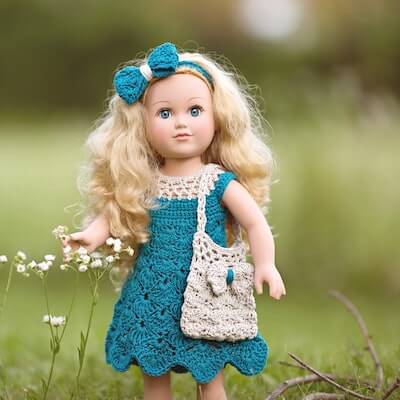 Get the Pattern by Crochet Garden here

16. Pajama Crochet Doll Clothes Pattern by Blackstone Designs
This Plaid Pajamas Set for 18" dolls comes with crochet instructions to make a long sleeve or short sleeve shirt, shorts or pants, fuzzy slippers, and a robe.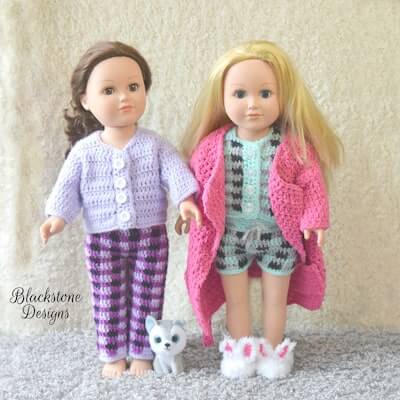 Get the Pattern by Blackstone Designs here

17. Crochet Barbie Doll Clothes Pattern by Dolls Crochet
Barbie clothes can be expensive, but they are a necessity for any child that loves their dolls. The tiny pieces of clothing are easily lost by children and often need to be replaced.
To save yourself some money and many trips to the toy store, here is a pattern for crochet Barbie evening dresses you can make yourself!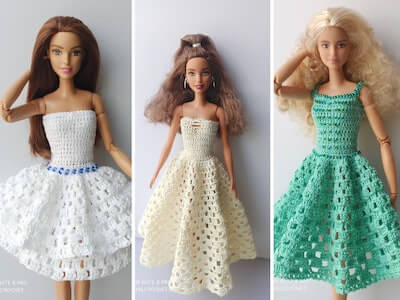 Get the Pattern by Dolls Crochet here

18. Crochet Hippie Doll Clothes Pattern by Maggie's Crochet
Even though the once popular Hippie movement has died out, the fashion statements from this era have not. Recreate the laid-back, natural style of Hippie's with this outfit for any 18 inch doll.

This pattern has instructions for all the well-known Hippie items, designed with lots of flowers and rainbows on them, including a pair of bell bottom jeans, a blouse, a vest, a floppy hat, a dress, a lace hat, necklaces, sandals and a bag.
This outfit is quick and easy to make too! Your little girl will have even more fun playing with her doll dressed in this retro, funky outfit.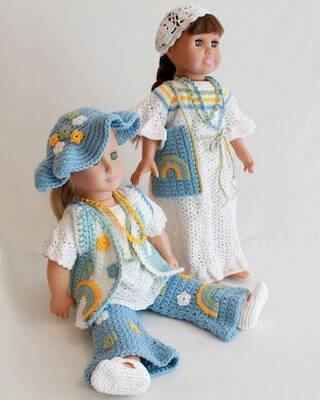 Get the Pattern by Maggie's Crochet here

19. Doll Boho Butterfly Clothes Crochet Pattern by Jennifer Renaud
Little girls and butterflies, both flutter around carefree. Keep in mind that this set of boho butterfly clothes for dolls is so cute you'll probably have your kids begging for a bigger version of their own to wear when they see it!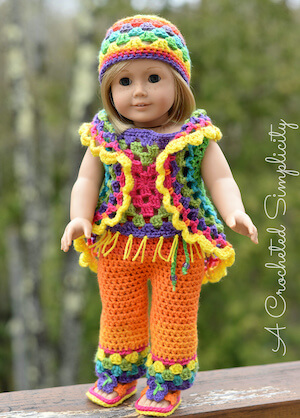 Get the Pattern here

20. Crochet Doll Halter Playsuit Pattern by Little Abbee
This Playsuit ties around the neck, and buttons on both sides. It makes for much easier dressing. Features a really fun textured ribbing at the top of the Playsuit. These are really fun to crochet in different colors, and they work up pretty fast!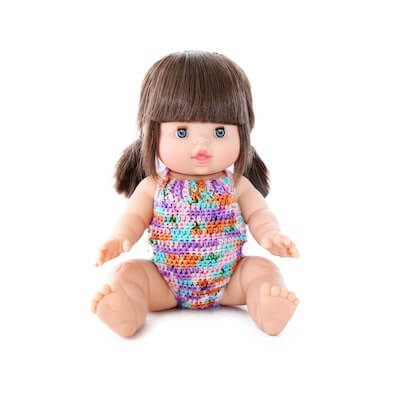 Get the Pattern by Little Abbee here
GIVE YOUR DOLLS THE DESIGNER LOOK FOR LESS WITH THESE CROCHET DOLL CLOTHES PATTERNS!
Once finished, please have a moment to share your works on our Facebook Page. Can't get enough? Check our vast collection of crochet toy patterns you can make on your next free time!
If you're up for doll patterns, check out these Disney Princesses, Mermaid Dolls and Fairy patterns.
Dress a doll in beautiful frocks and gorgeous garments made with love with these crochet doll clothes patterns. Make them all!