These Crochet Mermaid Doll Patterns will absolutely help feed the cravings for all things mermaid in your life! These under the sea fantasy creatures are always beautiful and colorful – what's not to love?
These mermaid dolls are sure to add sweetness to your life and home. They're a definite must make. All you have to do is decide which one to start with!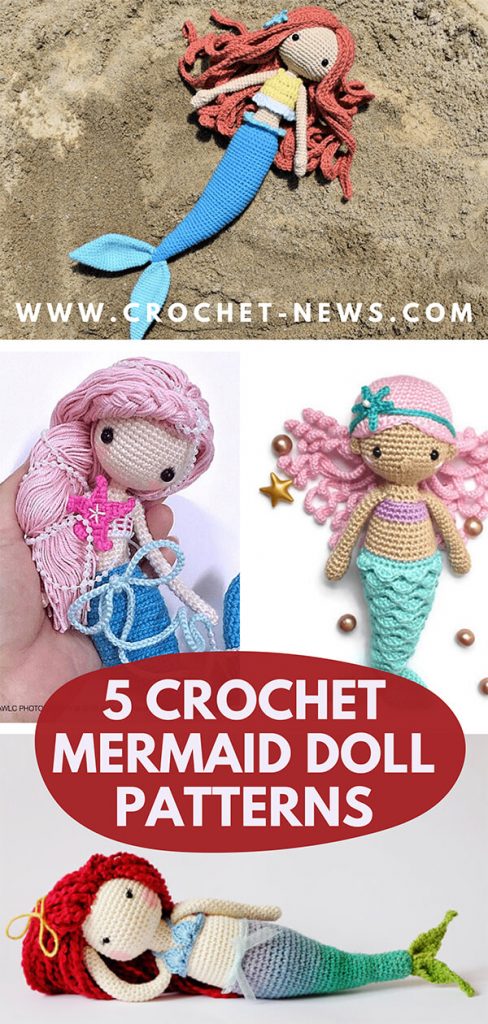 1. Nerea Mermaid Crochet Pattern by BB Adorables
Nerea, The Mermaid is very soft and sits perfectly in the hands. She has long and magnificent curly hair.
If crocheted with a 3.00 mm hook, your finished mermaid should measure 33 cm / 13 inches. The measurements will change depending on the hook and yarn you use.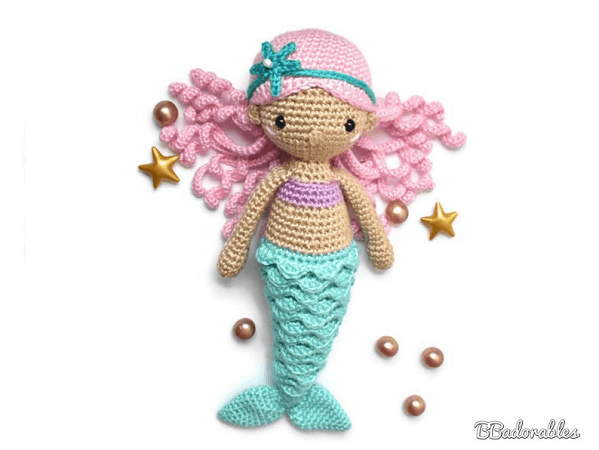 Get the Pattern by BB Adorables here

2. Ragdoll Free Crochet Mermaid Doll Pattern by Spin A Yarn Crochet
The Ragdoll Mermaid is a unique amigurumi made in the ragdoll-style; separate pieces worked in flat rows and joined together to give it that charming and distinctive 2-D appearance.
If you're looking for a little whimsy in your life, look no further! She is soft and snugly, perfect for cuddling and great yarn busters.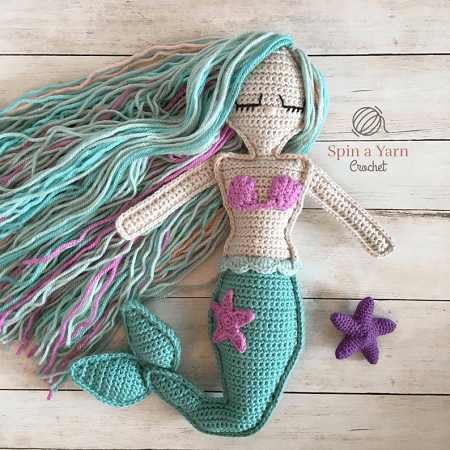 Get the Pattern here

3. Crochet Mermaid Doll Pattern by Lydiawlc MW
This pretty Crochet Mermaid Doll makes a lovely gift for anyone who loves magical fantasy and sea creatures.
The pattern can easily be customized with different yarn colors, embellishments, and appliques to create a unique mermaid.
The pattern also includes instructions to make this mermaid a little girl with legs rather than a fabulous tail.
This mermaid is not meant to be a doll for small children as she has lots of small parts. But she's the perfect "collectible" for an older mermaid fan!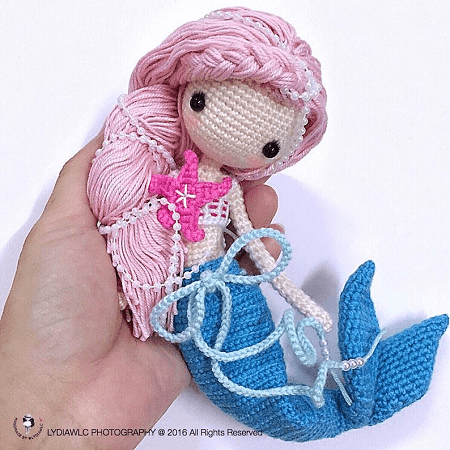 Get the Pattern by Lydiawlc MW here

4. Marci, The Mermaid Doll Amigurumi Pattern by Sleep Sheep Patterns
Marci the Mermaid is crocheted from the tip of her tail to the top of her head as one piece, even the arms are joined to the body. Her shirt is removable and the fins are sewn on separately.
You will need to know basic to intermediate crochet and amigurumi skills, a basic understanding of crocheting in the round, making a magic circle, how to change yarn colors, and making an invisible single crochet decrease.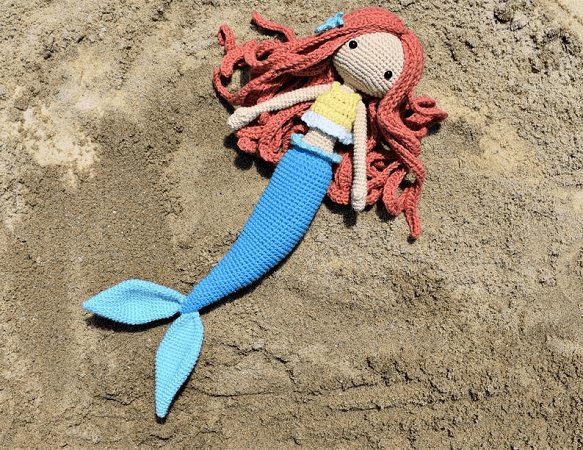 Get the Pattern by Sleepy Sheep Patterns here

5. Crochet Mermaid Doll Pattern by Kornflake Stew
This crochet mermaid doll pattern is a nice amigurumi pattern for beginners initial trial considering it was my first ones too. But it's considerably easier if you have been crocheting amigurumi before.
So what will you need to start weaving this myth into reality?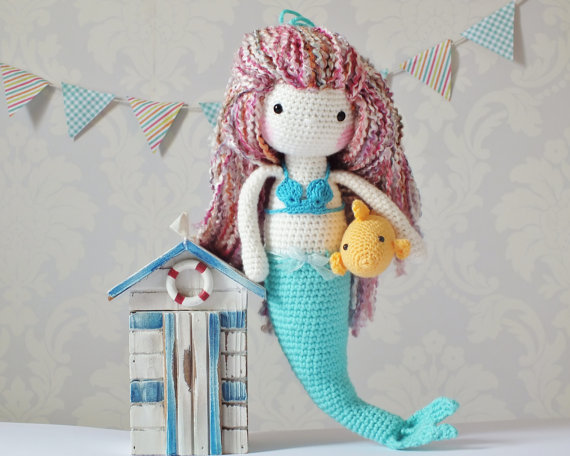 See our tips and tricks on attaching a crochet doll head.

Crochet Mermaid Doll Pattern Materials
Approx 50g of Aran weight yarn in a skin tone (I used stylecraft special Aran cream)
About 50g of Aran weight yarn for the tail & fins (stylecraft special Aran – Aspen)
Approx 50g of chunky/bulky weight yarn for the hair (I used Lion brand thick n quick)
A small amount of d.k/worsted weight yarn for the fish approx 20g (stylecraft special d.k – Saffron)
Small amount of d.k yarn for the bikini top
Black cotton/embroidery thread for the eyelashes
Pink or red crayon for the cheeks
3mm crochet hook
Tapestry needle
Sewing needle
9mm safety eyes
6mm safety eyes for the fish
Toy stuffing
20 inches of ribbon
Easy To Follow PDF And Tutorial for this Crochet Mermaid Doll Pattern
A lot goes into the crocheting of an amigurumi doll because it takes more love than your regular crocheting. You have to pay keen attention to little details to make it just right.
Luckily for us, there are some well-explained tutorials and PDF with illustrations and pictures. If you follow the instructions to the stitch, then you will end up with the most stunning amigurumi mermaid doll.
I promise you all the effort will be worth it when you set your eyes on your creation. And double the joy when you present the doll as a gift to your daughter. She will be swooning all over you.
You can use this doll as a decorative piece around the home because it is simply breathtaking to look at. Try laying a few out at a Caribbean themed party at your house. They are bound to be the talk pieces of the night. Give them out as takeaways from the party, and you will have them coming back for more.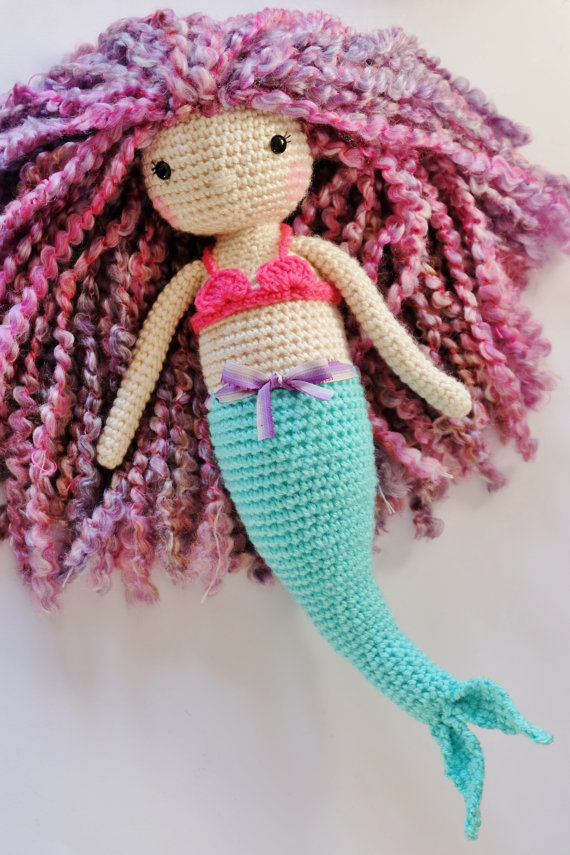 Add Your Own Personal Touch
You can add a personal touch to the crochet mermaid doll pattern in a variety of ways. Try making them in different colors to make them unique. Incorporate other patterns or try sowing in your own signature to make them more personalized. Whoever receives one will remember you always because it stands out too much.
So to conclude, the crochet mermaid doll pattern is a must-have for anyone who considers themselves a real crocheter. It is a versatile pattern that will leave you stealing hearts like a siren of the deep.
So get the crochet mermaid doll pattern now and get making those mermaids. And don't limit yourself you can do amazing things with this pattern almost mythical.
Crochet Mermaid Doll Pattern Here
More Magical Crochet Mermaid Patterns