Are you looking for crochet elf slippers to wear during the holidays? If so, you will love all the patterns we are sharing with you. These crochet elf shoes and slippers are perfect for getting into the holiday spirit, and they will keep your feet warm and toasty.
Below are 11 crochet elf shoe patterns that are sure to bring a smile to your face. We have included patterns for everyone in your family, from newborns to adults. Most of the patterns listed are beginner-friendly.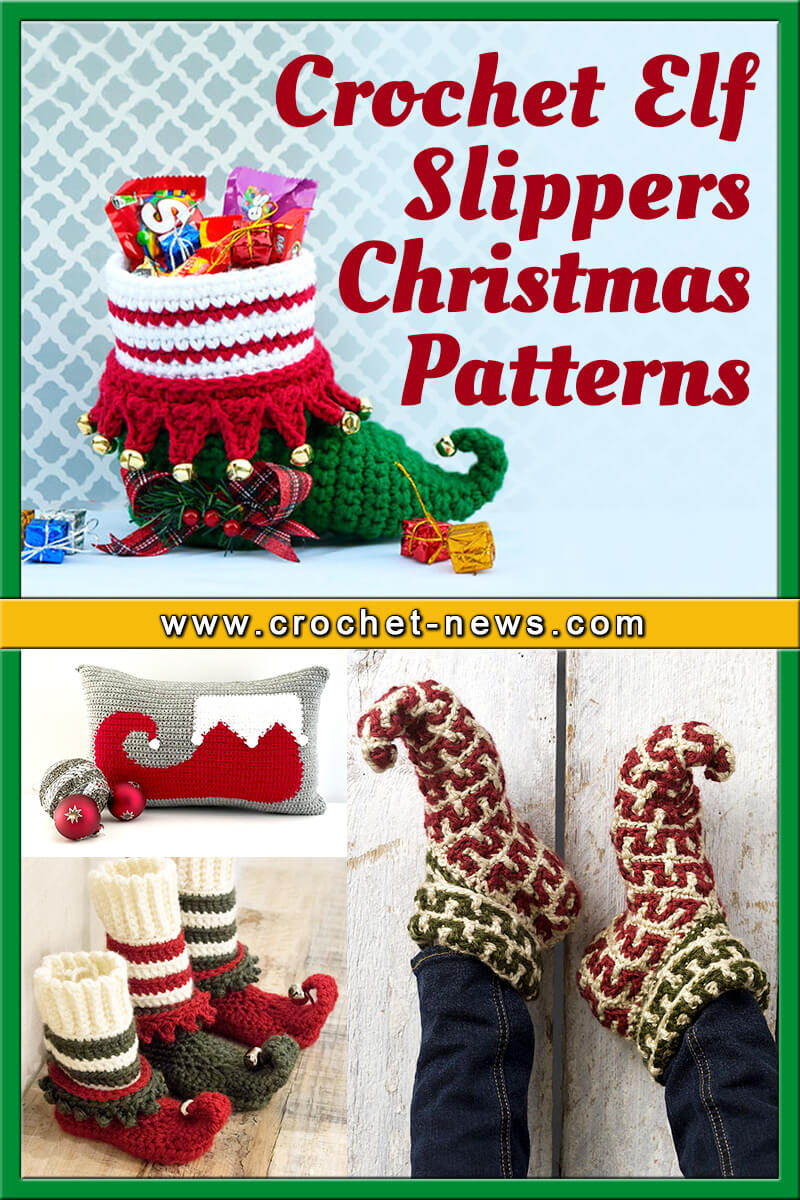 So why not crochet some of these kooky and fun crochet elf slippers    
1. Christmas Elf Slippers Shoes Crochet Pattern
These Elf Shoes will keep your toes warm in those colder Christmas months. Do you have any holiday family traditions, like wearing silly hats, or ugly Christmas sweaters? Maybe there's still time to crochet these fun Elf Slippers for your family members and introduce a new fun tradition for the holiday season.
Celebrate the holidays with a little elfin cheer! These whimsical slippers can be made in any size from petite women's sizes to the largest daddy elf sizes. Made with extra-bulky yarn or a doubled strand of worsted-weight. Pattern includes two styles of slippers—curly-toed slippers and pompom toe slippers.
Size:
Instructions included for making slippers to fit any size from petite women's (teen) to large men size.
Materials:
Worsted-weight yarn in fun bright festive colors (we love Red Heart Super Saver available in 132 different colors)
size K hook.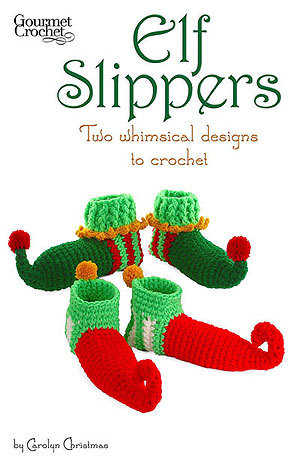 2. Crochet Elf Shoes Pattern by HandHeartandSole
With this crochet elf shoes pattern, you can make shoes for every member of your family. These slippers are tall and perfect for keeping warm on those cold winter nights.
The pattern includes 11 sizes from newborn to adult US men's 13. The pdf download has 6 pages of step-by-step instructions. It is an intermediate to advanced level pattern. There are links to videos to help you with the more advanced stitches.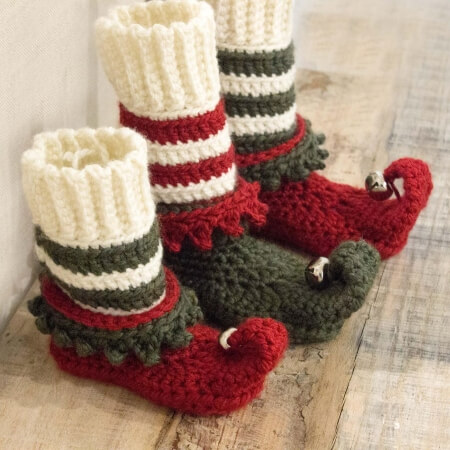 Find the Pattern by HandHeartandSole HERE
3. Elf Slippers Crochet Pattern by Kj Hay
This crochet elf slippers pattern uses a fun two-tone geometric pattern. The slippers are designed to stretch around the foot and fit snugly.
The pattern includes instructions for men's, women's, and children's sizes. It uses chain, double crochet, and single crochet.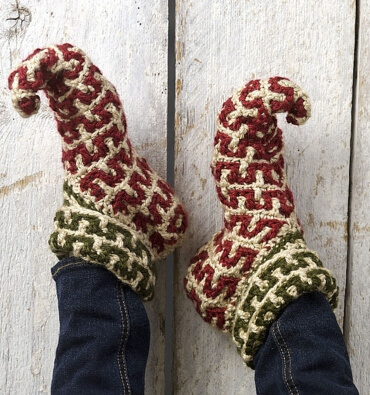 Find this Pattern by Kj Hay HERE
4. Curly Toes Elf Slipper Crochet Pattern by HookedoPatterns
Create a pair of these fun curly toed slipper shoes for each member of your family. There are sizes from toddler all the way up to men's largest standard size. Choose whatever festive colours you prefer and add bells or pom poms to make elf shoes.
Photographs have been used throughout the pattern to help make the instructions easy to understand. Adult sizes are made using a 6 mm hook. Junior sizes are made using a 4 mm hook.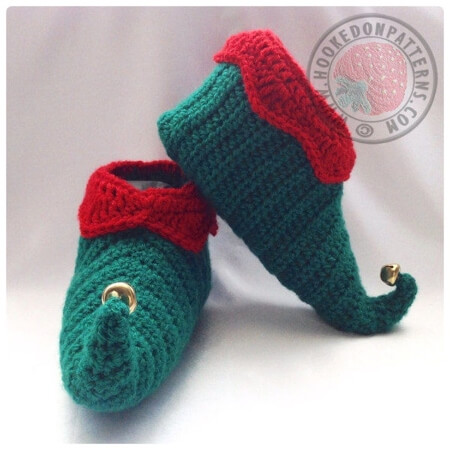 Find the Pattern by HookedoPatterns HERE
5. Christmas Pillow Crochet Elf Shoes Pattern by SeacliffeCottage
Make this chic pillow cover to add to your holiday decor. It would look stunning in a room that is decorated in classic silver and red.
There are written instructions and a graph. The graph is the primary source of instruction. To make this elf slippers crochet pattern, you will need crochet knowledge. The pattern uses single crochet, slip stitch, chain stitch, bobble stitch, and intarsia crochet.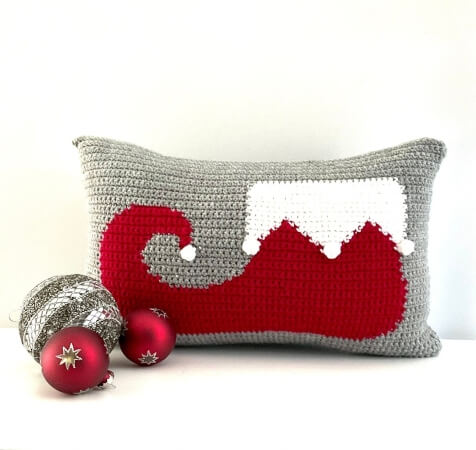 Find the Pattern by SeacliffeCottage HERE
6. Crochet Elf Shoes Bootie & Hat Set Pattern by TurquisePattern
These elf booties can be worn by themselves or make the included hat too! Kids will love wearing this Christmas elf inspired set around the house and to holiday functions.
The crochet elf shoes pattern is for sizes 0-6 months, 6-12 months, 1-2 years, 3-4 years, 5-6 years, and 7-8 years. This is an advanced beginner level pattern. There are easy-to-follow directions and pictures.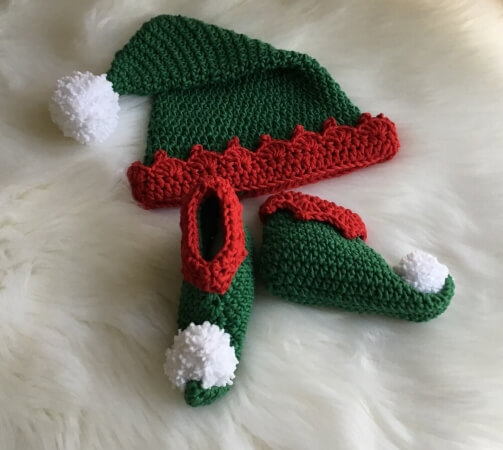 Find the Pattern by TurquisePattern HERE
7. Crochet Elf Shoe Basket Pattern by BlackstoneDesigns
Decorate for the holidays with this adorable elf shoe basket. Or use it as an adorable gift basket. The pattern is very easy, and the gauge is not important. The completed basket measures approximately 8 inches x 7 inches with a 6 inch diameter opening.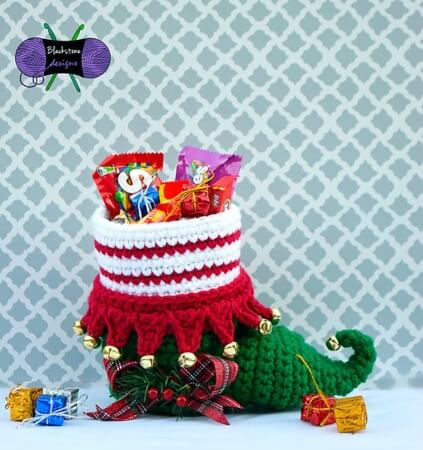 Find the Pattern by BlackstoneDesigns HERE
8. Youth and Adult Elf Slippers Crochet Pattern from Pink Mambo
Here is a free pattern for bright and cheerful crochet elf shoes. These curly-toed shoes are fun to make and wear. The pattern can be custom fitted to any size. You get to choose between a ribbed button cuff or a cuff with button loops.
This pattern is intended for intermediate to advanced level crocheters. It uses chain, double crochet, increase, loop, round, single crochet, slip, slip stitch, spaces, and stitches.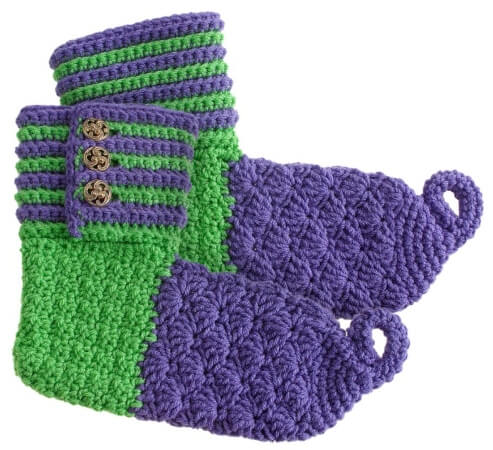 Find the Pattern from Pink Mambo HERE
9. Aladdin Crochet Elf Slippers Pattern by MythandYarnShop
Enter a world of fun and fantasy with these crochet elf shoes. These slippers will surely help you get into the holiday spirit.
This digital pattern includes easy-to-follow instructions and step-by-step colour photos. The crochet elf slippers for adults pattern includes sizes 4-6, 7-9, and 10-12.
See more crochet slipper patterns here.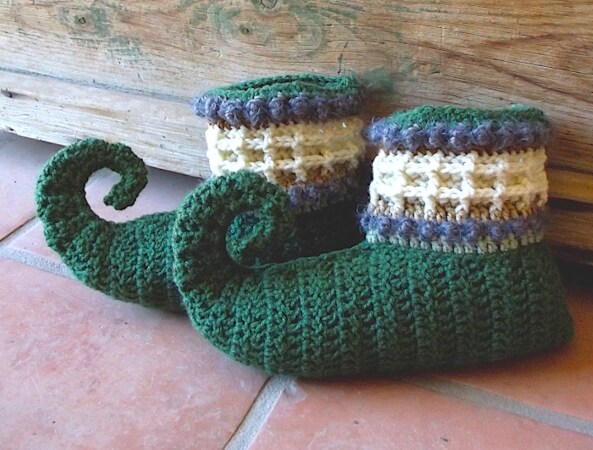 Find the Pattern by MythandYarnShop HERE
10. Christmas Elf Baby Hat and Shoe Set by HeartspunByWendy
Crochet this hat and shoe set for your baby or grandbaby. The shoes are easy to get on and off thanks to the tie in the back.
The crochet pattern is easy to understand and there are detailed photos. Due to the shaping of the shoes, we would recommend this crochet elf shoes pattern for an advanced beginner to intermediate level crocheter.
The pattern can be used to make sizes newborn, 0-3 months, 3-6 months, and 6-12 months.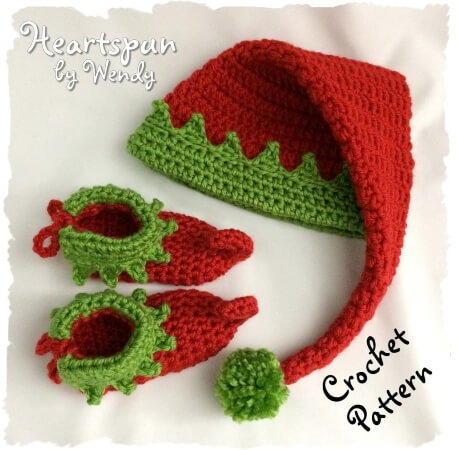 Find the Pattern by HeartspunByWendy HERE
11. Elf Legs Scarf Crochet Pattern by HeidiYatesPatterns
How cute is this elf legs scarf? When you wear this amusing winter accessory, everyone you meet will know you love Christmas.
The pattern calls for worsted weight yarn in red, white, and lime green. The finished crochet elf shoes scarf measures 5 inches at its widest point. You can adjust the length by adding or subtracting rows.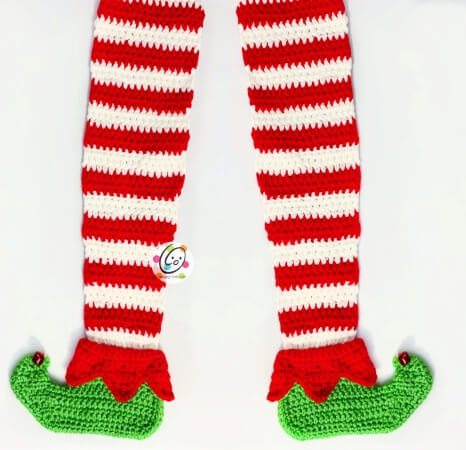 Find the Patten by HeidiYatesPatterns HERE
ARE YOU LOOKING FOR A FUN WAY TO ADD SOME WHIMSY TO THE HOLIDAYS? IF SO, YOU WILL LOVE MAKING THESE CROCHET ELF SLIPPERS.
Slippers do not have to be plain and boring. And during the cold months, they are a must. So why not be creative and celebrate the holidays while wearing some crochet elf slippers?
Here are our Favourite Crochet Christmas Pattern Lists