Looking for adorable crochet hats to keep heads warm and celebrate the Christmas season? Look no further than these 10 Crochet Christmas Tree Hat Patterns!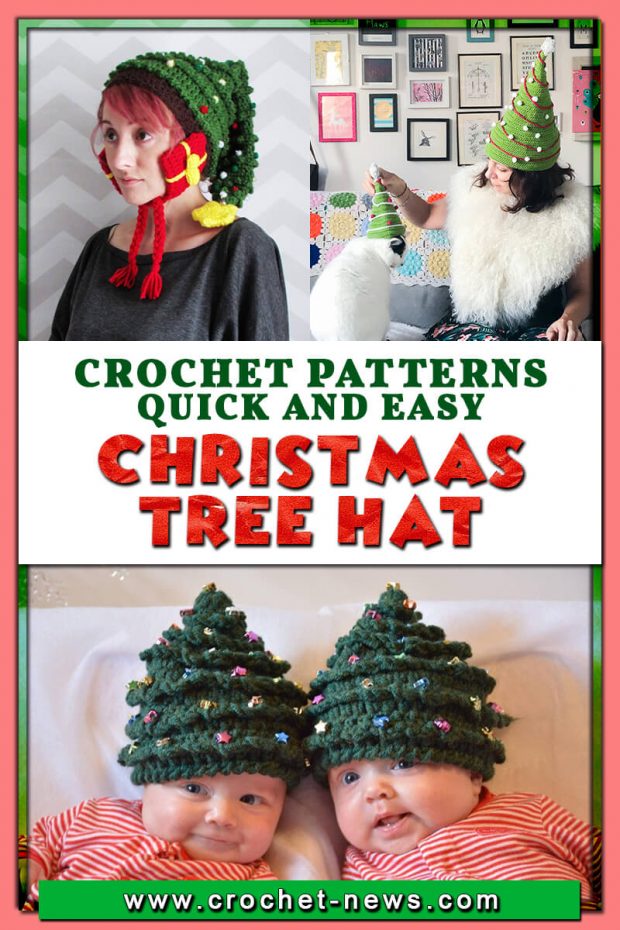 Who hasn't ever wanted to wear a Christmas tree on their head? It's definitely an attention-getter and you'll receive lots of comments at any holiday party you wear these hats to. From yourself to your kids, from your friends to your pets – there's something here for everyone!

1. Christmas Tree Hat Pattern by Jocelyn Sass
This quick and easy Christmas Tree Hat Pattern by Jocelyn Sass is for you, can be made in less than 2 hours.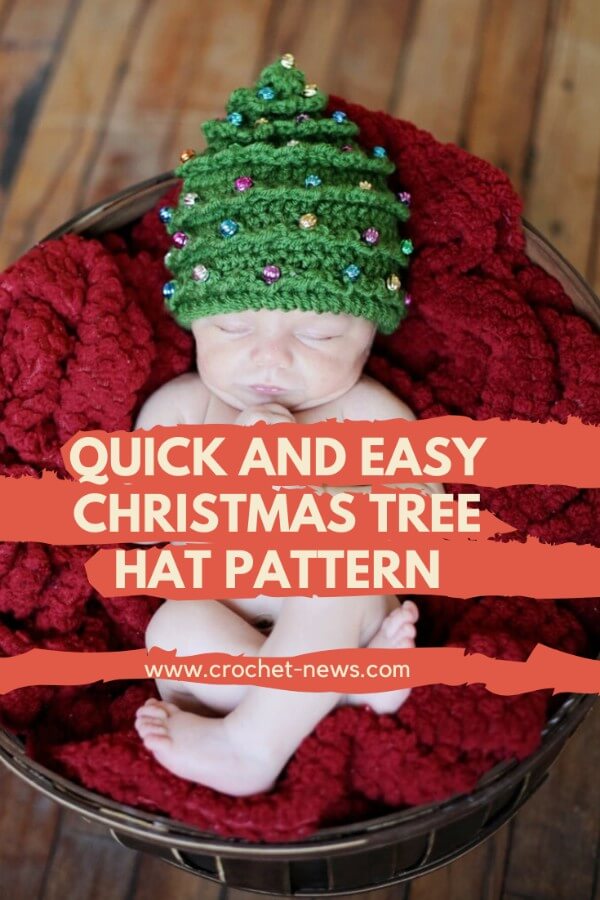 Are you looking for a last minute gift? Don't know what to wear to your annual holidays family picture?

Are you in the Christmas rush bandwagon too?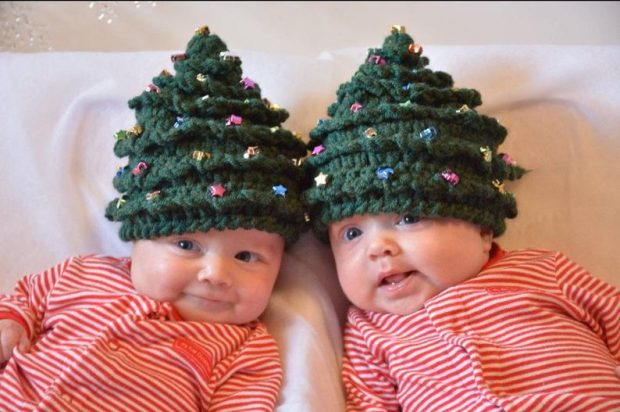 EASY CHRISTMAS TREE HAT PATTERN FOR BABIES AND ADULTS
December is a new month. And a new month means a new concept for the trendy baby monthly milestone pictures. This pattern will make a perfect concept for your baby's photoshoot.
Not to mention, this adorable crochet pattern is also great to let your baby join in on the festive mood of the holidays. Don't have a baby of your own? This can be a great gift for your friend's newborn too.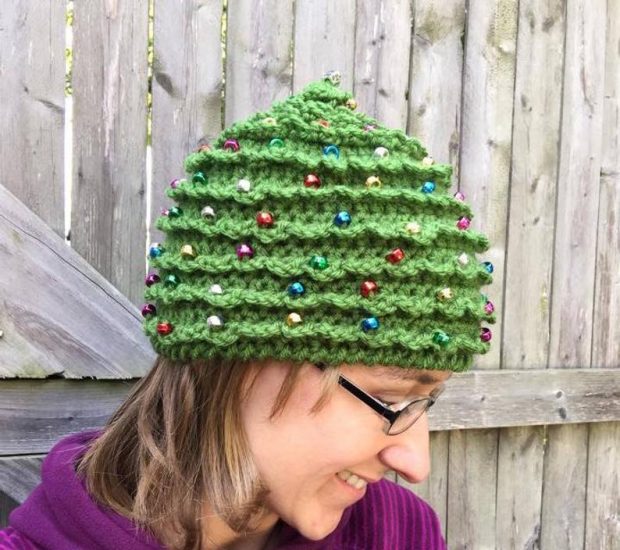 QUICK AND EASY CHRISTMAS TREE HAT PATTERN FOR THE FAMILY
If you think only babies can look adorable, you can too! Especially since this hat will bring out your Christmas cheer because it's fun to make and a more unique version than the usual Santa Claus Hat.

Make your annual holiday photos unique:

What ugly Christmas sweaters? Don on this hat instead.

Worried about having too many family members? Don't worry about it. You can make a hat within 2 hours. One reviewer even made 5 hats in one weekend!

ABOUT THE BEADED CHRISTMAS TREE HAT PATTERN
This Christmas Tree Hat Pattern is only a one PDF file download. It is a well written pattern suitable for crochet beginners who want to show off their newly acquired talent this holiday season.

STITCHES AND TECHNIQUES FOR THIS QUICK AND EASY PATTERN
You must be familiar with basic crochet stitches and techniques. Learn to crochet here.

Not only does this pattern include an easy beading technique, but also a tutorial for reverse single crochet stitch. Here's an additional video tutorial:
CHRISTMAS TREE HAT CROCHET PATTERN FINISHED SIZES
It comes in 5 different sizes from 0 years old to small adult size.
Newborn 14" circumference
6 months 16-1/2" circumference
12 months 17-1/4" circumference
2-3 years 19-1/2" circumference
4 years to small adult 22" circumference
I know that by now, you're rushing to know where to get this pattern. To get started on this Christmas Tree Hat Pattern, click the button below:

2. Crochet Christmas Tree Hat Pattern by Hello Happy
Make a huge Christmas Tree Hat with present ear flaps with this crochet pattern! It's almost 20 inches long, and it has bells so you can jingle all the way. Show off your fun-loving holiday spirit with this creative crochet hat!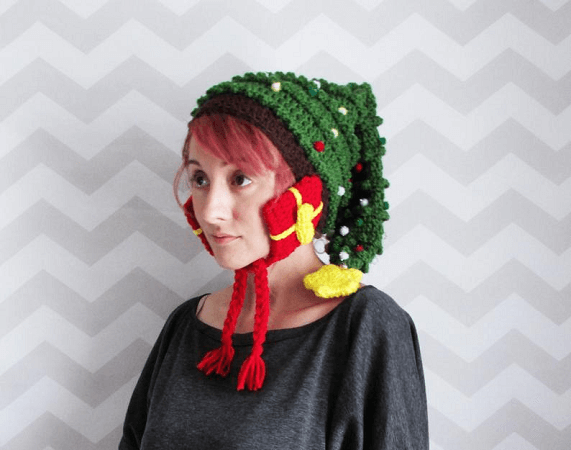 Get the Pattern by Hello Happy here

3. Christmas Tree Crochet Hat Pattern by Lizzzie
Everyone needs a little Christmas on their head! With this pattern, you can make a hat to fit anyone, there are instructions to make six different sizes, from newborn all the way to adult.
Get the Pattern by Lizzzie here

4. Free Crochet Christmas Tree Hat Pattern by Dream A Little Bigger
This pattern can be sized up or down using a larger or smaller hook. For child-sized hats, go up in hook size to an H. Use a size H hook for regular adult size and an I hook for larger heads.

You can also add lights completely around the hat, but know that the wires do take away from the stretch the hat has just a little bit. Since this hat is a triangle shape, the stretch helps it fit over heads. Feel free to go all Griswold and add more!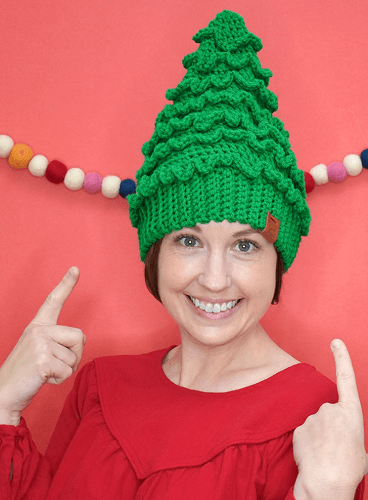 Get the Pattern here

5. Crochet Christmas Tree Hat Free Pattern by Dora Does
This free-standing, fun Christmas Tree Hat can be decorated to match your home and could even double up for a real thing (for those of us short on space!) or simply add to your festive decor when it's not keeping your noggin warm!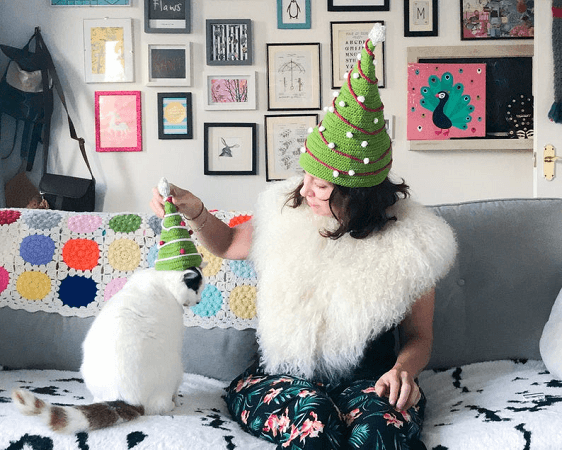 Get the Pattern here

6. Christmas Tree Hat Crochet Pattern by Crochet Spot Patterns
Are you ready to get into the Christmas spirit? This hat can be crocheted in 5 different sizes from babies to adults so that everyone in the family can have a fun hat. The hat is crocheted in one piece from the top down, then the tree trims are crocheted direct onto the hat so that no sewing is required.

The trims are crocheted with colorful beads, which are used as ornaments. The star is then crocheted separately, and then sewn onto the top of the hat.
Get the Pattern by Crochet Spot Patterns here

7. Christmas Tree Hat Free Crochet Pattern by Make It Sew Crochet
This pattern is super versatile as you can decorate the base however you'd like. You could add crochet bits or just hit up the dollar store and attach some mini-tree goodies for the perfect crazy Christmas look.
Get the Pattern here

8. Christmas Tree Dog Hat Crochet Pattern by Posh Pooch Designs
Let's get real: you can't make an awesome Christmas hat for yourself and leave your best buddy hanging! No! Make something spectacular for your favorite pet to wear as well! That way you will certainly have a very merry Christmas!

This Crochet Christmas Tree Hat for dogs has comfy ear holes and a worked in tie to keep the hat securely in place, for your active pets!

10 more Crochet Dog Hats here.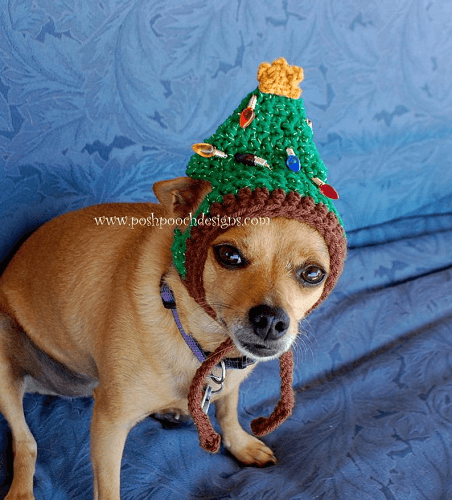 Get the Pattern by Posh Pooch Designs here

9. Christmas Tree Hat Crochet Pattern by Oombawka Designs
The hat is very easy to crochet, it has a tiny bit of texture with the small puff stitches. It is crocheted from the top-down in continuous rounds.

It works up very quickly because of the super bulky yarn and it stand on it's own without you needing to reinforce it (so long as the decorations you add are not too heavy!).
Get the Pattern here

10. Christmas Trees Crochet Hat Pattern by Joy Of Motion Crochet
This Christmas Trees Crochet Hat is truly a great holiday crochet project! The lovely simple Christmas tree design makes this hat easy to wear. But it achieves the goal of reminding you of the Holidays, right?

It's an easy pattern because it's mostly single crochet stitches with color changes. The pattern comes in 7 sizes from 12-18 months to adult sizes. It's definitely a great fun Christmas themed hat pattern for the whole family.
Get the Pattern here
It's not too late to whip up one of these Crochet Christmas Tree Hat Patterns!
You want more? Here are our Favourite Crochet Christmas Pattern Lists