This Christmas, add your own personal touch to your decorations by making your own crochet Christmas wreath. To help you prepare for this year's Christmas season, we listed our favorite crochet Christmas wreath patterns that you can make on your own or with your kids.
Each pattern is so stunning, you'll definitely want to make one for every door in your house! Make sure to make some crochet Christmas stockings to go along side them.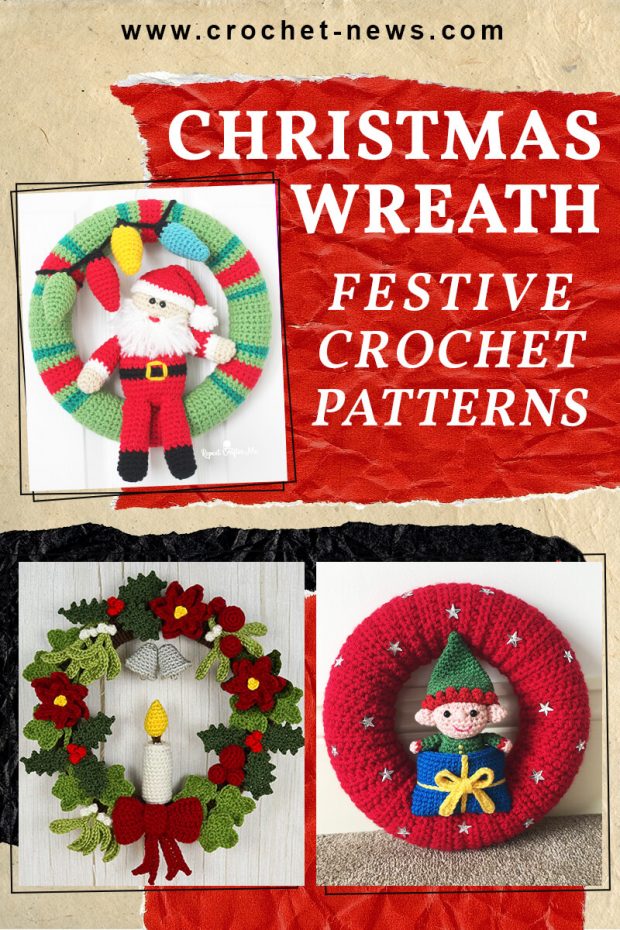 41 Crochet Christmas Wreath Patterns to make your house brim with festive energy
Letting your kids help in making the decors for your lovely home is a great way to make new memories with them. It will surely be an experience they will never forget.
Are you ready to discover new crochet Christmas wreath patterns for your decoration this Christmas?
1. Crochet Christmas Wreath Pattern by Wow Bag Shop Design
It's time to start handmade decorations to create a cozy Christmas feel at your home! This wreath will be a never fading, always favorite Christmas decoration.

This Crochet Christmas Wreath Pattern has a simple design that beginners should have an easy time following. Though designed as Christmas decor, you could also change up the color and attach different decorations to be a wreath for other holidays.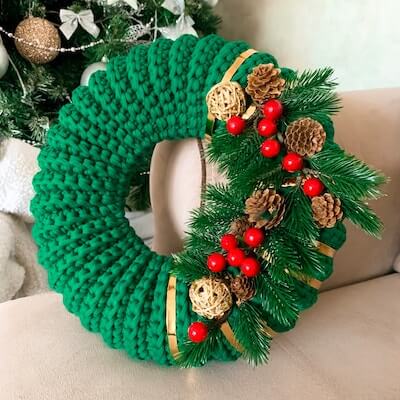 Get the Pattern by Wow Bag Shop Design here
2. Nutcracker Toy Soldier Crochet Christmas Wreath By Yarnovations Shop
With all the details needed for this crochet Christmas wreath pattern, it is understandable why it's intended for intermediate crocheters. Although, if you really want to improve your skills, this would be a great practice.
Unlike the other simple looking crochet wreath covers we will see in the other patterns on this list, the stitch used in this one is more intricate. To some, it may look familiar since we have covered the crocodile crochet stitch in one of our articles. 
The wreath cover alone has a lot of details already, so it's great that they didn't fill the whole wreath with too many details. Instead, they added a toy soldier, poinsettias, a bugle, and pine cones.
Feel free to position these additional details however you like, or you can even skip them if you want. Also, all the instructions on how to make these objects are included in the pattern.
3. Mini Poinsettia and Holly Decoration Crochet Wreath Pattern By Pippa Patterns Crochet
Poinsettias always remind us that Christmas is around the corner. So why not incorporate it in our home decors too? Instead of using real poinsettia plants, why not make a crochet one? Unlike the real plant, this crocheted decor will last longer and will not wilt.
We found a crochet Christmas wreath that uses poinsettias as its main decoration. To fill the gaps between each flower, they also included a pattern for the holly decoration.
The combination of the colors used added the undeniable charm this crochet wreath has. To achieve the perfect shade of the colors, you can use DMC Petra yarns.
We love how you can use the items you'll make in this pattern in so many ways! Since they are created as separate pieces, you can add them to your existing garlands or on your tree. 
Also see: Crochet Poinsettia Patterns
4. Free Santa Crochet Christmas Wreath Pattern By Repeat Crafter Me
This free crochet Christmas wreath pattern will surely be a big hit to the kids because it's centered around their favorite Christmas symbol. We all know the only person they're looking forward to seeing every Christmas is Santa, right?
To make the crochet Christmas wreath, you have to make its three main parts: the wreath cover, the Santa doll, and the colorful lights. The patterns on how to make the wreath cover and lights are included in the pattern.
The wreath cover is just a strip of crochet fabric made in alternating colors or in a solid color. After you have finished making the strip, you just have to wrap it around the wreath and stitch it together.
On the other hand, the Christmas lights and the Santa details are amigurumi. Made using bright and fun yarn colors, they are designed to catch the attention of the little ones.
5. Braided Wreath Crochet Christmas Wreath Pattern By The Pattern Paradise
This wreath definitely stands out from the rest because of its braided design. Unlike the other patterns in the list that uses other materials for the wreath, this uses three crocheted tubes that are braided together to create the base of the wreath.
Included in the pattern are instructions on how to make the flowers and leaves. These can be used to add some decoration to the braided wreath.
The flowers are composed of separate flower petals arranged by putting the small petals on top of the large ones. Finish it off by adding the crocheted yellow center and sewing in some beads.
When positioning the flowers on the wreath, make sure they will cover the area where you joined the braided wreath. You can use the leaves to fill the gaps between the flowers.
6. Crochet Santa and Christmas Tree Wreath Pattern By Teddywings
We are in love with the designer's different take on this Santa and Christmas tree crochet wreath pattern! Instead of using amigurumi for the Santa and the tree, they incorporated the design on the wreath itself.
In other wreaths, you'll just have to wind the yarn around the styrofoam to create the design you want. Luckily, this crochet Christmas wreath pattern went the extra mile and used a crochet version.
Aside from the stitch used, going with a variegated yarn definitely helped add more dimension to the tree design of this wreath. You can also add a little bit of sparkle to it by gluing tiny little beads.
Although they did not include the whole face of Santa in their design, you can still easily recognize it because of its details. The red hat, the white curly hair, and that long beard definitely scream Santa Claus.
If you're planning to work on this crochet Christmas wreath pattern, here's a list of some of the yarns you'll need: Red Heart Super Saver in Aran, Red Heart Super Saver in Cherry Red, and Loops and Threads Charisma Yarn in White
7. Crochet Christmas Decor Set By Planet June
If you like making custom designs instead of just copying what's on the pattern, then you will surely love this crochet Christmas decor set! The pattern you will receive includes instructions on how to make each object in the set. 
Each of the eight decorations can be used in multiple ways. Since you'll be making each item separately, you can mix and match them to create a different design.
Add the decorations to your garland, or maybe make a gift topper! Why not take an old wreath and turn it into a new one by adding these new decors?
8. Free Crochet Christmas Wreath Gift Topper Pattern By Picot Pals
Personalize your gifts by using this free tiny crochet Christmas wreath as a gift topper! Adding this wreath is definitely an easy and less expensive way to make a gift more special.
This wreath is so easy to make! You just have to make 24 leaves using the Red Heart Super Saver yarn in the color Tea Leaf then you can assemble them to form the wreath.
They will provide the pattern for the leaves as well as detailed images on how to assemble the leaves so you can surely make it on your own. You can even add tiny pompoms to make it look more stunning! Using this wreath is a great way to add a personal touch to your gifts especially if you used kraft papers to wrap them!
9. Free Mini Wreath Ornament By Planet June
Although this crochet Christmas wreath is a lot smaller than the other wreaths on the list, it makes up for its small size with its realistic look. Since it is 3 inches across, making this mini wreath will be a breeze!
As you work on the wreath, you'll notice that your works are automatically curling into a spiral. There's nothing to worry though, it is designed to look like that.
The wreath is composed of two spirals twisted together. So as you work on the wreath, you'll notice that it's automatically curling into a spiral. There's nothing to worry though, as it is intended to curl that way.
To make it look more realistic, it is recommended to use two shades of green for the wreath. You can also use other colors for the wreath if you want it to look more unique.
Complete the look of this free crochet wreath by adding a lovely ribbon made by crocheting 36 chain stitches. You can use a bright red color for the ribbon or any color that will not blend with the wreath you made.
10. Christmas Cupcakes, Candies, and Lollipop Wreath Pattern By Natalie Spot
Does Christmas remind you of all the yummy treats you get to eat during the holidays? If yes, then we think you should check out this Christmas Cupcakes, Candies, and Lollipop wreath pattern!
Instead of filling it with the usual Christmas decors, the designer used yummy treats! Definitely a unique Christmas wreath that will catch the attention of anyone who has a sweet tooth.
Not only is this pattern so easy to make, but you can also customize it! Feel free to use other colors that you prefer to make the wreath more personal.
11. Teddy Bear Crochet Christmas Wreath By Lisa Kingsley
Do you have little kids in your home? Include their interests in this year's Christmas decoration by making this Teddy Bear Christmas Wreath!
This playful wreath perfectly captured the color of the lovely teddy bear and the colors of Christmas. The teddy bear is made separately so you can use it on the wreath, or maybe give it to a little kid.
To add more details to the wreath, you can also make the snowflakes and the candy cane that the bear can hold. Indeed, it will be a beary merry Christmas with this adorable teddy bear crochet Christmas wreath.
Here's a list of the yarns you'll need for this project: Red Heart Super Saver in Mistletoe, Cafe latte, white, and Red heart with love solids as an alternative to Red Heart with Wool.
12. Poinsettia Free Christmas Wreath Patterns By Yarntwist
Easily add a homey look to your Christmas decorations with this free crochet wreath pattern from Yarntwist. This beginner-friendly pattern is perfect if you want to make an easy yet stunning Christmas decor.
Since it is intended for beginners, the pattern is so easy to follow. In fact, you just have to learn how to make leaves in different sizes and colors to complete the wreath.
After you have completed the needed number of leaves, you will sew them together to make the poinsettias. Using red, light green, and dark green yarns for the leaves will help add some variation to the poinsettias.
Depending on the size of your wreath, you'll probably have a few gaps in between the poinsettias. You can use gold-colored ribbons to match the design and to add a homey vibe.
13. Snowman Winter Crochet Wreath Pattern By Lisa Kingsley
We don't have to stick to the usual red, white, and green colors of Christmas in making our Christmas decors. Why not go for a chilly winter theme and use different shades of blue?
If you're planning to go with a winter-themed Christmas this year, this snowman winter crochet Christmas wreath will be a perfect addition to your decor.
Hang this adorable snowman wreath on your front door and let it be the first one to greet your lovely guests.
Using red heart yarn colors will definitely give not only the snowman but also the wreath its winter feel.
To achieve the exact look you will need the following yarn colors: Red Heart Multi  Icelandic, Red Heart Super Saver White, Red Heart Super Saver Turqua, Red Heart Super Saver Pumpkin.
14. Crochet Santa Wreath Pattern By Teddywings
Ohh, Looks like we have another Santa-themed crochet Christmas wreath on the list!
If you think this is similar to another pattern in the list, that's because it's from the same designer! Although, unlike the previous pattern, we get to see the whole face of Santa in this one.
The tiny details definitely completed the overall look of this wreath! To add some dimension, the designer used the fluffy Bernat Pipsqueak Yarn in Whitey White. 
As for the other details, you will be using Vanna's Choice Yarn and the ever-popular Red Heart Super Saver.
15. Elf in a Present Sleeping Bag Crochet Christmas Wreath Pattern By LauLovesCrochet
We have all these Santa-themed crochet Christmas wreaths, but how about their little helpers? Luckily we found this crochet Christmas wreath that features Santa's little helper!
We absolutely adore this one because you can make different decorations using just one pattern! If you want to make a toy for your child or to hang on the tree, you can just make the elf and his little sleeping bag.
However, if you want a hanging decoration for your walls or your doors, you can attach the elf itself to the wreath. You also have the option to only attach the sleeping bag on the wreath so you can remove the elf. Aside from the elf and the sleeping bag, you can also customize the design on your wreath.
Use sparkly stars for an added twinkle or you can also make your own custom design like how the designer added tiny Christmas lights to the wreath in one of their examples.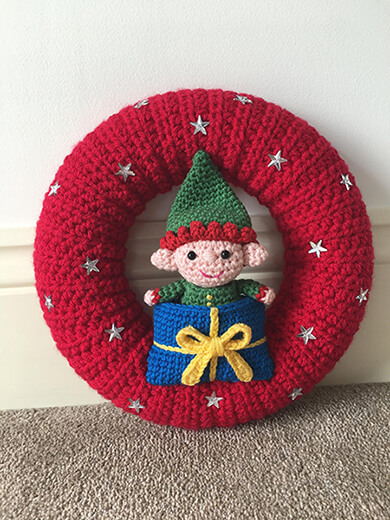 Get this Crochet Christmas Wreath Pattern By LauLovesCrochet Here

16. Crochet Merry Christmas Wreath Pattern by Yarnspirations
Jolly Santas, festive gifts, and stockings come together to adorn this perfect Christmas wreath. Lily Sugar'n Cream gives you all the color inspirations you need, whether you complete it as shown, or create your own interpretation. This project requires a few other craft supplies to complete, so make a list and let's get rolling!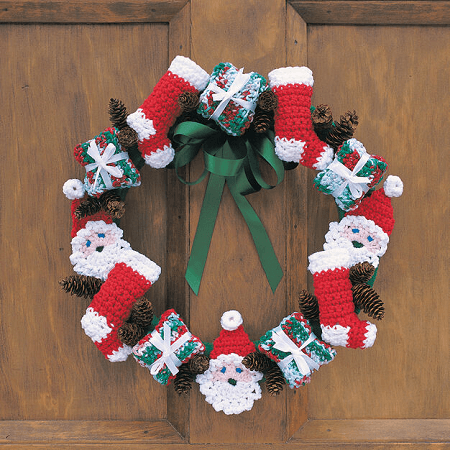 Get the Pattern here

17. Crochet Snowflake Wreath Pattern by Han Jan Crochet
Add to your crochet Christmas decor with this stylish and simple Snowflake Crochet Wreath. Perfect to decorate doors or walls, this innovative festive crochet pattern is much easier than it looks and is a joy to create.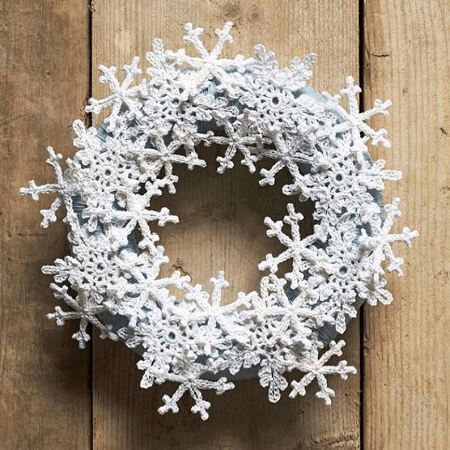 Get the Pattern by Han Jan Crochet here

18. Crochet Snowball Wreath Pattern by Repeat Crafter Me
If you are dreaming of a white Christmas, work up a Crochet Snowball Wreath and you are halfway there. Instead of visions of sugarplums dancing through your head, you will have visions of snowballs!

This pretty Christmas wreath is a great way to make your house a little more festive. The blue and white design is winter-friendly and modern, while the snowman and his poinsettia-adorned hat are reminiscent of Frosty the Snowman and keep the design classic.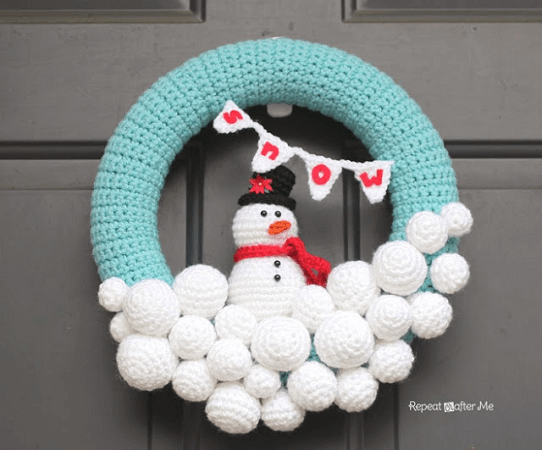 Get the Pattern here

19. Crochet Festive Wreath Pattern by Hannah Cross
Forget five gold rings, you'll only need one ring this Christmas and it's our woodsy wreath. It's resplendent with poinsettias, pine cones, toad stools and mistletoe. The fun shapes in a limited palette make for a stylish project.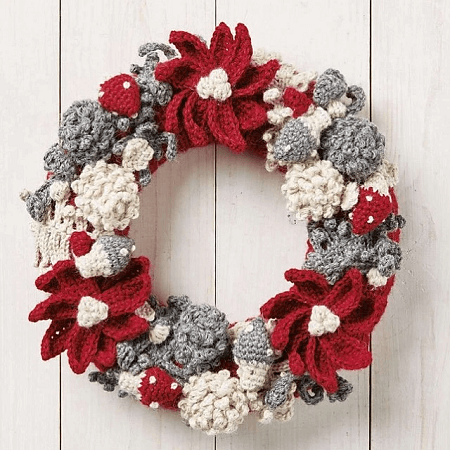 Get the Pattern here

20. Granny Christmas Wreath Crochet Pattern by Squibblybups
This crochet pattern is for a retro Granny Christmas Wreath in the style of a granny square with cheerful pom-poms. The wreath in the photo has a 30cm (12 inch) diameter and was made with worsted yarn, but this pattern can be used with a different size of wreath base and a different weight of yarn, and the instructions explain how.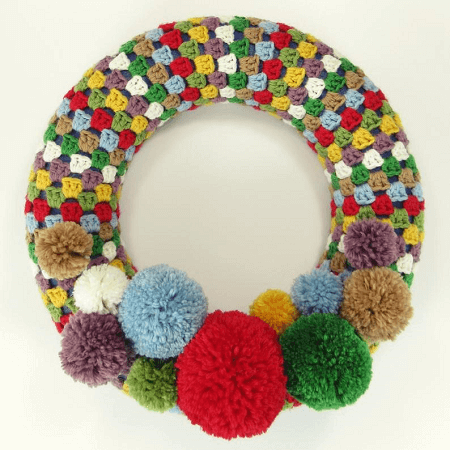 Get the Pattern by Squibblybups here

21. Crochet Plaid Wreath Pattern by Whistle And Ivy
This simple wreath is made with the plaid technique, a fun and versatile stitch technique. This wreath is perfect for your holiday or Christmas front door, and brings touch of rustic to your home.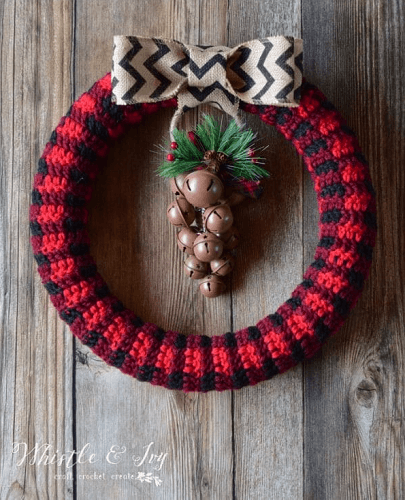 Get the Pattern here

22. Crochet Christmas Wreath With Flowers And Hearts Pattern by Annie Design Crochet
This wreath is designed with beautiful crochet hearts and flowers that you could leave in place all year round. It would be a gorgeous Valentine's day Crochet Decoration as well!

The sweet crochet hearts are attached together and filled with cotton wool, to make them puffy and gorgeous! The pretty flowers are strewn among them, with a bed of leaves.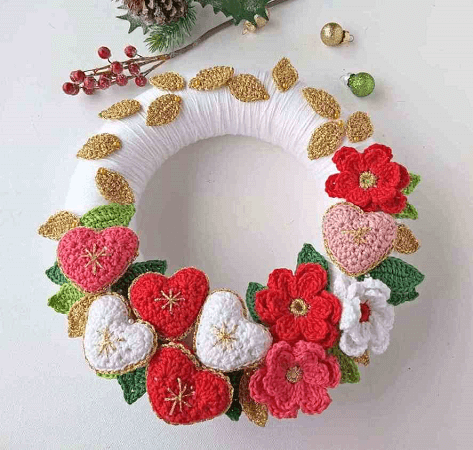 Get the Pattern here

23. Crochet Christmas Wreath Pattern by Irene Strange
With its simple colorway of purple and cream, this festive make is perfect for those who like a more understated Christmas look. You just need two balls of yarn for this celebratory ring, which looks really effective as a wall hanging or table decor.

However, if you wanted to jazz it up a bit, simply use additional colours rather than sticking to the cream and purple shown here.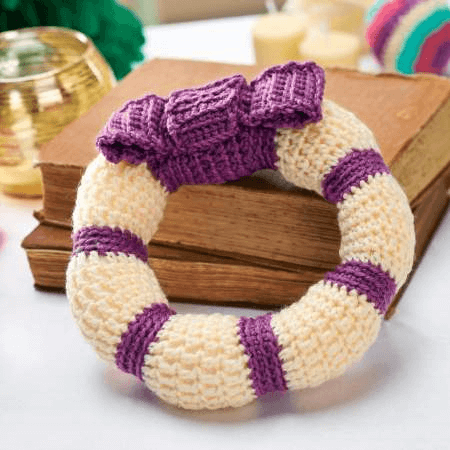 Get the Pattern here

24. Christmas Tree Wreath Crochet Pattern by Hook And Marvellous
This is a pattern for a colourful Christmas wreath. It is ideal for using up any leftover bits of yarn, but also it is great if you have a particular colour scheme in mind.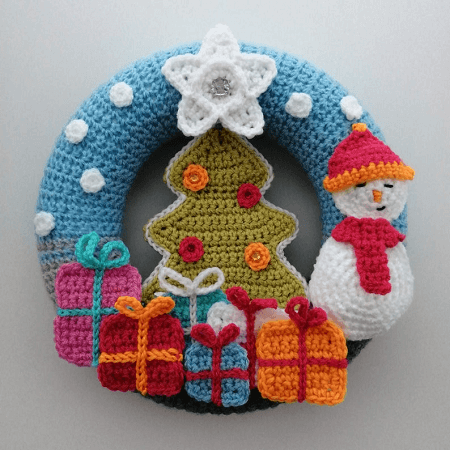 Get the Pattern by Hook And Marvellous here

25. Crochet Holiday Wreath Pattern by Yarnspirations
Nothing is as welcoming as this festive wreath during the holiday season. Beautifully accented with Poinsettias, this version starts with your creative spirit. Add a personal touch with alternative adornments that make it special for you.
Get the Pattern here

26. Bethlehem Nativity Wreath Crochet Pattern by Lau Loves Crochet
This pattern includes the instructions to make Mary, Joseph and all of the other decorations to attach to the wreath, as well as how to make the wreath cover itself (and to easily adjust the sizing of it for whatever sized wreath base or weight yarn you are using).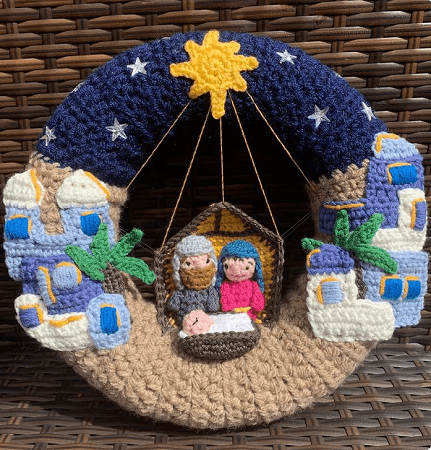 Get the Pattern by Lau Loves Crochet here

27. Circle Of Snowmen Crochet Wreath Pattern by Repeat Crafter Me
Here is an easy pattern and a fun project for the meantime in between larger, more demanding projects. Undeniably, you will get a lovely Christmas or winter decoration to hang on your door. What's more, you don't have to spend any extra money to have a new eye-catching wreath.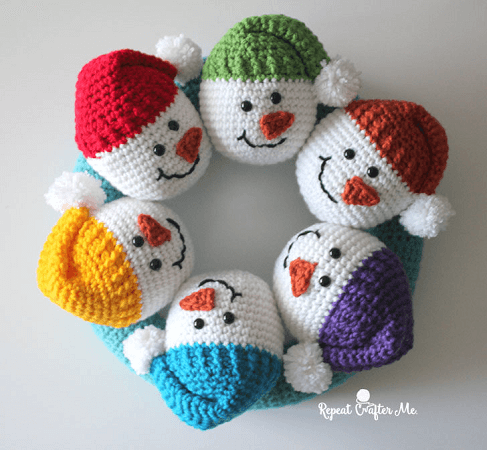 Get the Pattern here

28. Easy Crochet Wreath Ornament Pattern by Skip To My Lou
Whip up this crochet wreath ornament in a matter of minutes. These little wreaths would also make great package toppers. How about adding a photograph to the middle for a meaningful handmade ornament.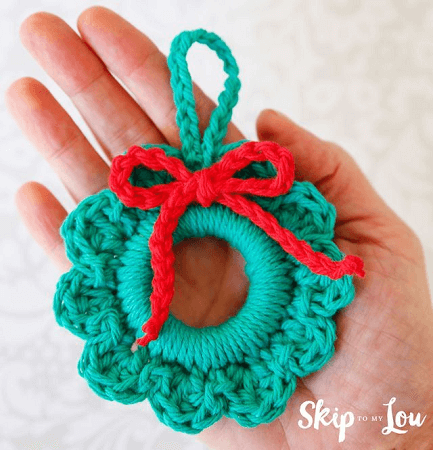 Get the Pattern here

29. Crochet Country Winter Wreath Pattern by The Loopy Lamb
Add this classic, modern country holiday wreath to your holiday decor this year. The pattern has a simple repeat and is acccessible for beginners.

A string of lights is added and concealed in the wreath to give it a beautiful glow at night. Instructions for adding the lights is included as well as step-by-step photo tutorial for creating the bow.
Get the Pattern by The Loopy Lamb here

30. Crochet Circle Santa Wreath Pattern by Highland Hickory Designs
This Crochet Circle Santa Wreath Pattern is an easy and super quick project that you could make in just a few evenings or one day if you have the time.

This wreath is not recommended to use as an outdoor decoration. It will not hold up well in extreme weather. But wouldn't this look adorable in your home, office, classroom, or church? We think so!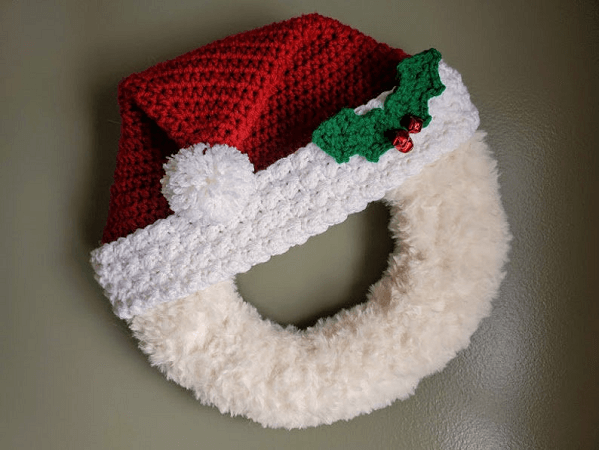 Get the Pattern by Highland Hickory Designs here

31. I Got My Elf Stuck Christmas Wreath Crochet Patter by Stringy Ding Ding
This wreath is so cute and funny! Seriously, what an original idea! If you want to make your friends and family members smile, you certainly know what to do now!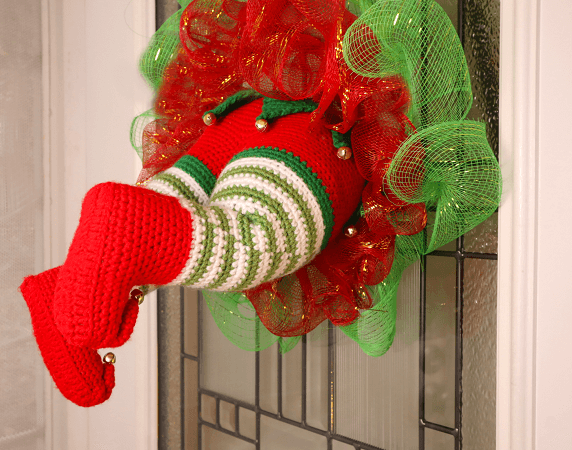 Get the Pattern here

32. Bow And Holly Christmas Wreath Crochet Pattern by Lau Loves Crochet
This pattern includes instructions on how to make the large bow, the holly, and the wreath cover (and how to easily adjust the sizing to cover any sized wreath base).

Chunky yarn in colors of your choice for both the wreath cover and the bow – The pattern will explain how to make the wreath cover the correct size in any yarn.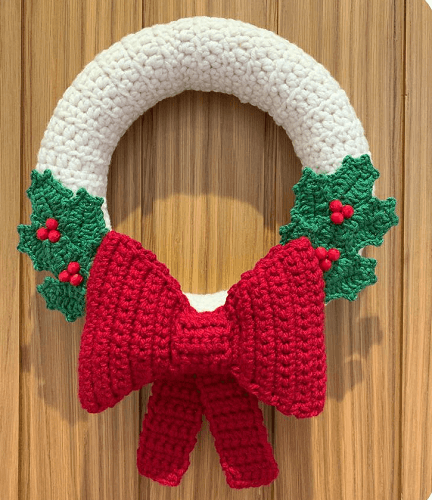 Get the Pattern by Lau Loves Crochet here

33. Crochet Christmas Holly Wreath Pattern by Highland Hickory Designs
This Christmas Holly Wreath would make a great gift this holiday season or you can make it for yourself. It would make a wonderful teacher's gift, classroom decoration, office decoration, gift for your boss or you could hang it in your home!

Created in the style of the mesh wreaths, this crocheted version works up quicker than you think and is very easy to make.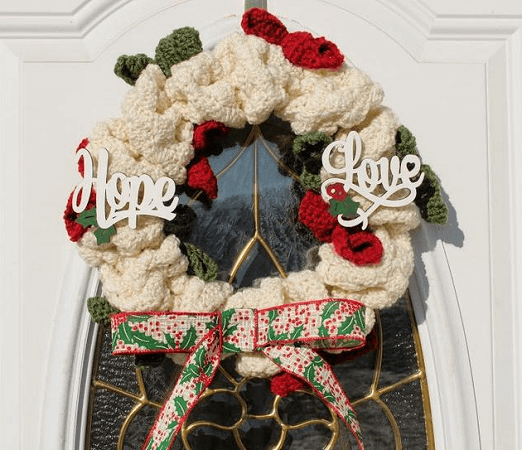 Get the Pattern by Highland Hickory Designs here

34. Christmas Wreath Dishcloth Crochet Pattern by Red Heart
This wreath-inspired scrubby is sure to add a holiday mood to any kitchen or bathroom! Make a few to give as gifts this year.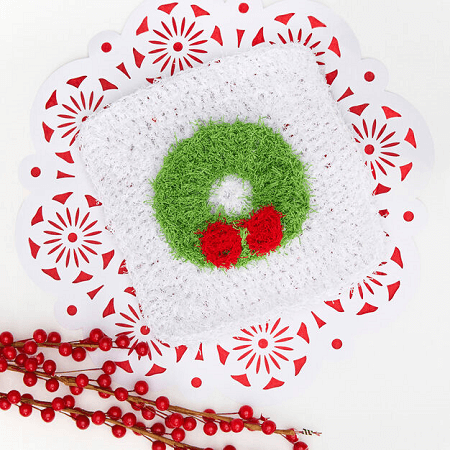 Get the Pattern here

35. Crochet Christmas Wreath Pattern by R Nata
Create your own adorable Christmas wreath in just a few day! The pattern include instructions to make Santa, Reindeer, Bell, Heart, Gingerbread, Candies, Leaves, beads and wreath. A great way to make one for yourself, and sell some to your friends!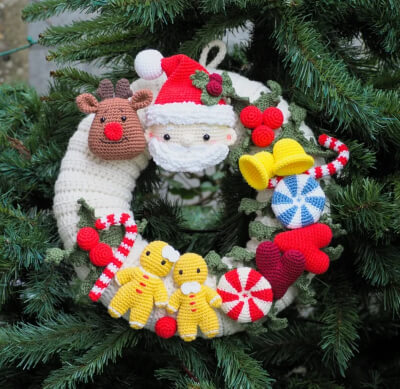 Get the Pattern by R Nata here

36. Christmas Wreath Crochet Pattern by Jasmine Art Works
Make a festive Christmas Wreath – simple, easy, and fast! Use a standard 14.25-inch wire wreath from the dollar store and in a few hours, this adorable wreath is made! Makes the perfect handmade gift for the holidays.

The ways to decorate it are limitless! Great for holiday gift-giving. Included are bonus instructions to make the candy canes and ornaments.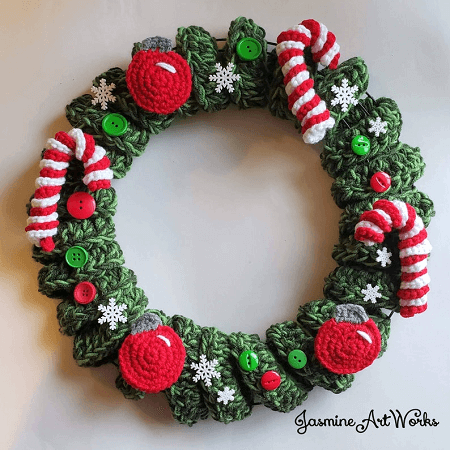 Get the Pattern by Jasmine Art Works here

37. Peppermint Candy Wreath Crochet Pattern by Divine Debris
Traditionally, we think of candy canes or peppermint candies for Christmas candy. These peppermint candies are cute and include both red and white, and green and white peppermints.

You will like how they are all different sizes. It gives them a balanced effect when all of them are placed together. They are also stuffed with the same stuffing you use for amigurumi, which adds a layer of texture.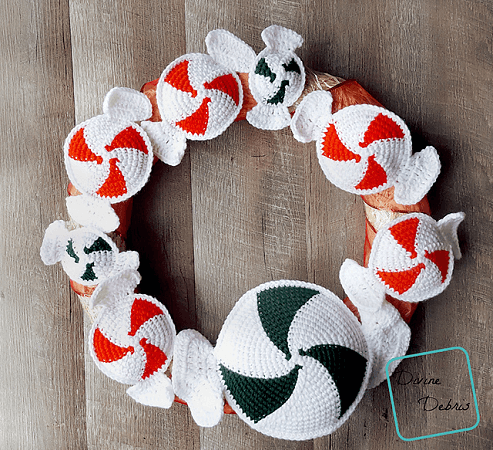 38. Crochet Candy Cane Wreath Pattern by Highland Hickory Designs
Decorate your home, office, church, social hall, etc. with this gorgeous Candy Cane Wreath! This pattern is very versatile. You can dress it up any way you choose, or leave it plain and it still looks stunning.

This pattern is incredibly easy and uses only easy stitches — single crochet, half double crochet, and double crochet. It works up quickly too, which is great if you're trying to get more than one finished before Christmas!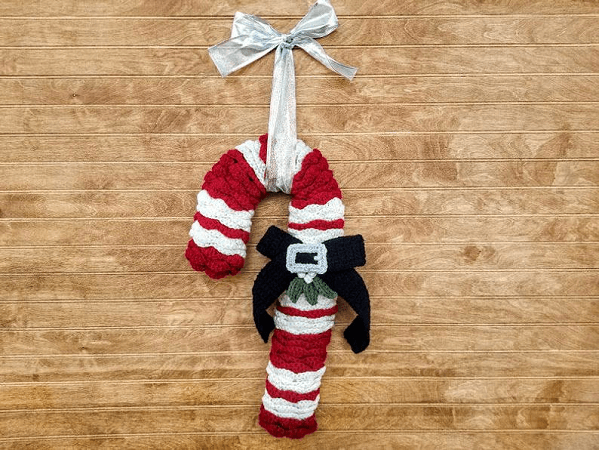 Get the Pattern by Highland Hickory Designs here

39. Holiday Christmas Wreath Crochet Pattern by De Brosse NYC
Add a festive element to any room this holiday season with a wreath. The loops bring a fun + carefree vibe, complemented by clean lines for a chic finish.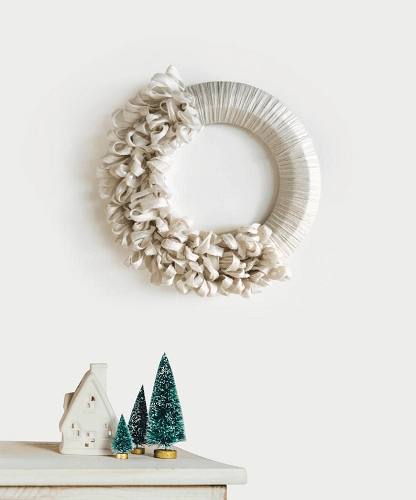 Get the Pattern by De Brosse NYC here

40. Crochet Christmas Wreath Throw Pattern by Red Heart
Showcase your crochet abilities with this wonderful throw! Your family will love having this festive throw as part of their holiday decorating tradition.

This traditional throw uses granny squares to create an image onto your afghan. This would make a great gift for those you know who love holidays or treat your own home with some updated holiday decor.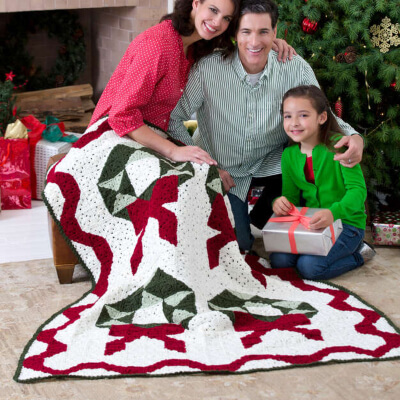 41. Grinch Wreath Christmas Crochet Pattern By Love to be in Stitches
Have your kids watched the movie about how the Grinch stole Christmas? It's a Christmas staple movie that you, yourself, must have watched when you were young. 

If your kids loved this movie, why not make a Grinch wreath crochet pattern with them? We're sure they will enjoy making it with you. So prepare your materials, and start working on this crochet Christmas wreath pattern!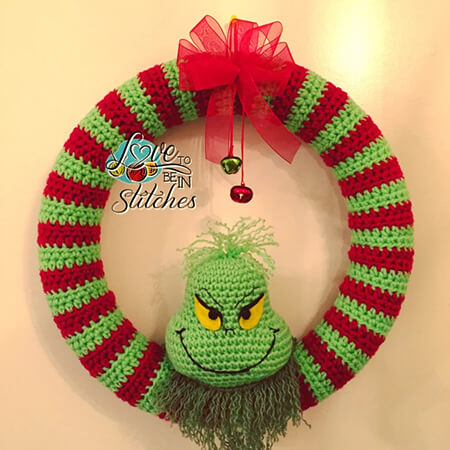 Get the Pattern Here
Add Your Own Touch To Your Christmas Decorations with one or many of these Crochet Christmas Wreath Patterns!
So which crochet Christmas wreath have you decided to make for your home? We know no matter what pattern you choose, it will turn out a lot better than expected because of all the effort you'll put into it.
Encourage other crocheters to add a touch of Christmas to their homes by posting your finished work on our Facebook page. We're sure a lot of them will be inspired to add their own personal touch to their Christmas decorations.
If you're looking for other ornaments to add to your tree – or even add to your new wreath – you can find more patterns Christmas ornament patterns here.
Here are our Favourite Crochet Christmas Pattern Lists
Aside from making your own crochet Christmas wreath, what are your other plans to add your personal touch to this year's Christmas?