Because the Christmas season screams DIY, we rounded up a few of our favorite Crochet Christmas Garland Patterns. Make and hang these around your tree, over your staircase railing, mantel, or doorway.
Even though you've decked your halls with fun crochet snowflake patterns, crafted Christmas door decorations and crochet wreaths, strewn Christmas lights all around your front porch, it's a Christmas garland or two that will really put the finishing touch to your home.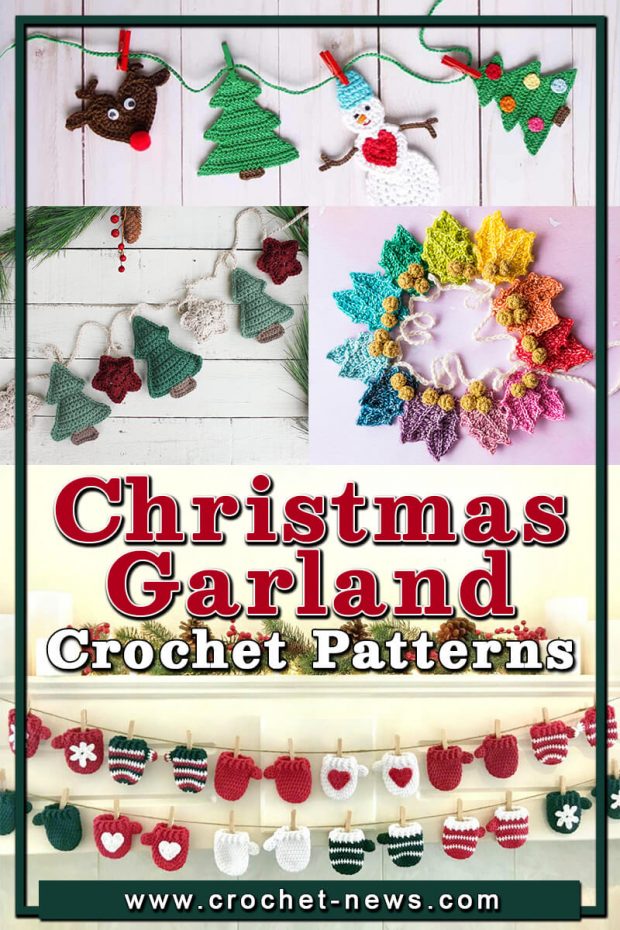 These beauties are one of the all-time easiest ways to add some cheer to your home during the month of December. Both classic and new, holiday garlands are a greatly to decorate for the season.
Whatever you choose, remember to have fun with these best crochet Christmas garland ideas, and personalize them however you see fit!
25 Festive Crochet Christmas Garland Patterns Below

1. Christmas Tree Garland Crochet Pattern by Red Heart
Add a personal touch to your holiday home with the warmth of this handmade crochet garland. This clever garland features red popcorn berries on a background with picot edges. It's simple to stitch, so make it timeless in red and green, or decorate your tree with a palette of different colors.
If you enjoy crocheting, it's a fun project that reflects your holiday spirit!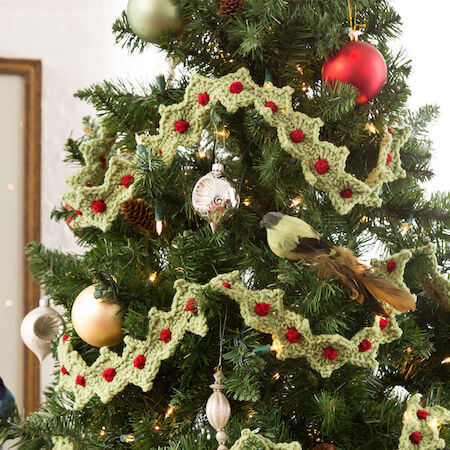 Get the Pattern here

2. Crochet Christmas Tree Garland Pattern by Lilleliis
This Christmas Tree Garland Crochet Pattern is so versatile and gives a lot of space for creativity. You will get tree instructions with 3 different ideas of assembling.
The garland can be used as a decoration on walls, shelves etc. The tree motif can be used separately as a tree ornament or in gift wrapping. Let your imagination guide you!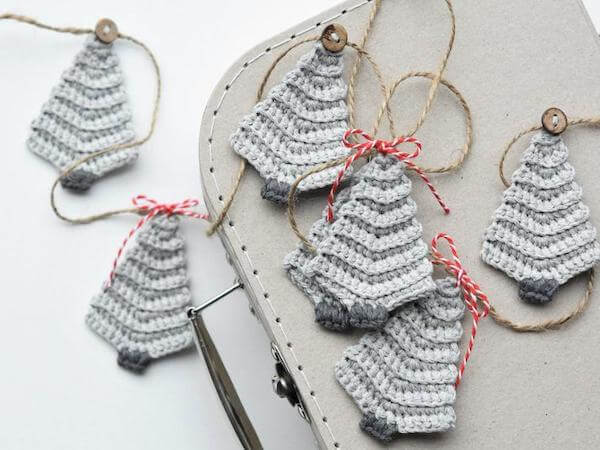 Get the Pattern by Lilleliis here

3. Crochet Mittens Christmas Garland Pattern by Crochet To Play
Need a quick crochet project for the Christmas season? This mitten garland works up easily and makes darling little mittens you can personalize with color, stripes, a heart, and a snowflake.
Tuck something inside each one and use as an advent calendar or make just a few as gift toppers or tree ornaments.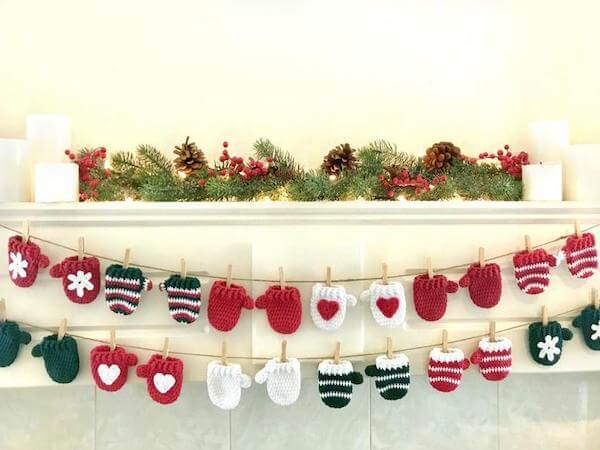 Get the Pattern by Crochet To Play here

4. Retro Ornament Crochet Christmas Garland Pattern by Persia Lou
Crocheted Retro Christmas Ornament Garland teams up with colorful wooden beads to make a very merry garland. Whether you want these groovy retro ornaments to hang separately on your tree or as part of a garland on your mantel. you know they'll look outta sight.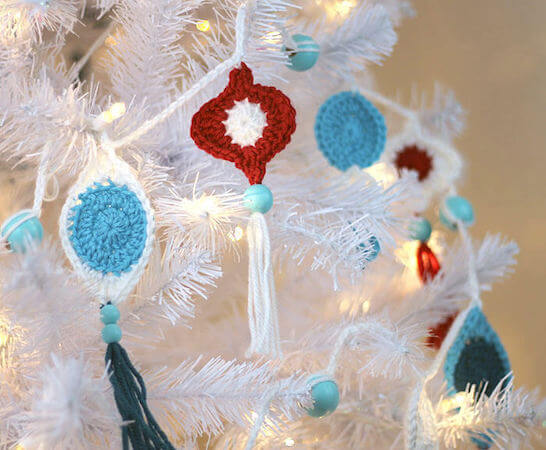 Get the Pattern here

5. Christmas Light Garland Crochet Pattern by Crochet Spot Patterns
Crochet this fun garland of Christmas lights to wrap around your Christmas tree or hang it along a window or fireplace mantel with the Christmas stockings. There's nothing like cute lights that don't need electricity!
Each bulb is crocheted separately and then crocheted together to form a "wire" of lights. Feel free to make as many light bulbs as you want to make the garland as long or sort as desired.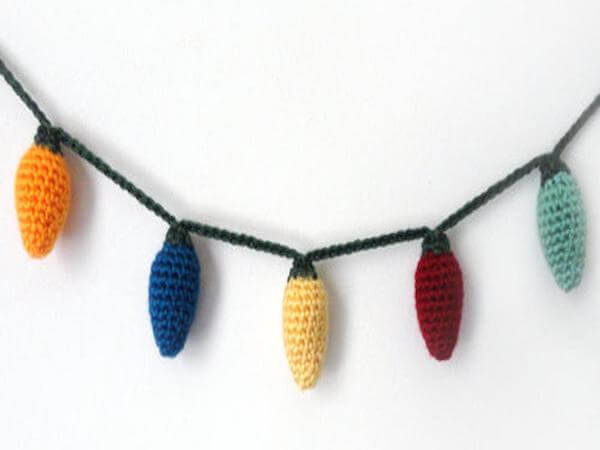 Get the Pattern by Crochet Spot Patterns here

6. Crochet Rainbow Holly Garland Pattern by Haakmaarraak NL
This Rainbow Holly Garland is the perfect addition to your Christmas decorations! You can hang it on your mantle, you can decorate your Christmas tree with it, you can even use the holly as an ornament if you'd like.
The great thing about this is that you won't need lots of yarn, and it's whipped up in no time!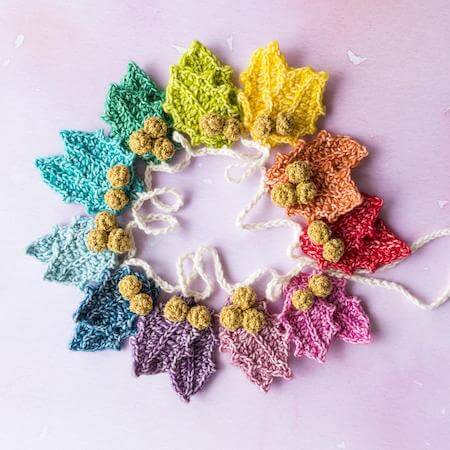 Get the Pattern by Haakmaarraak NL here

7. Paper Chain Crochet Christmas Garland Pattern by My Poppet Makes
Combine the nostalgia of decorating with Paper Chains for Christmas, with the longevity of yarn with a Crocheted Paper Chain Garland that can be used over and over.
This Crochet Paper Chain is nice and squishy so it's easy to store, you can even wash it if it gets a bit dusty!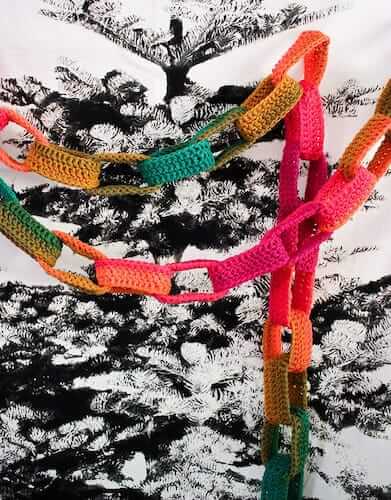 Get the Pattern here

8. Mini Stockings Crochet Christmas Garland Pattern by Melly Elly Crafts
This is a crochet pattern for cute mini stockings which can be used as individual decorations or strung together as a garland. Stockings can be filled with a little treat!
The pattern includes instructions to make both plain and stripy mini stockings and instructions for how to string your mini stockings together to create an advent calendar garland.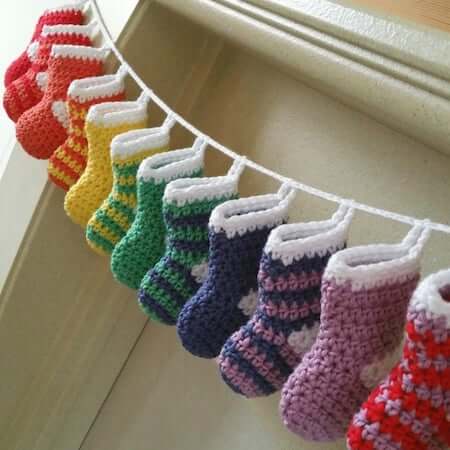 Get the Pattern by Melly Elly Crafts here

9. Holiday Ripple Crochet Christmas Tree Garland Pattern by Yarnspirations
The centerpiece of a holiday home is the Christmas tree, so bring it to life with this warm crochet garland. Using any 2 shades, stitch a few rows of simple ripples to garnish your tree.
This clever project can be customized with neons, pastels, classic shades, or any color that matches your decorations. The possibilities are endless, so add a personal touch that has meaning to you!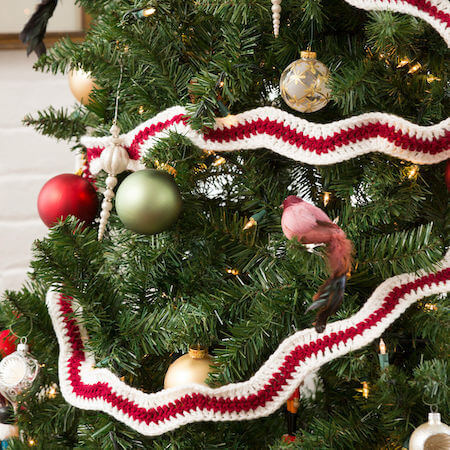 Get the Pattern here

10. Snowflakes Crochet Christmas Garland Pattern by Red Heart
Make a string of fluffy little snowflakes and complete this crochet garland to adorn the family tree. Make it divine in white, or explore a bevy of color possibilities, thanks to an extensive selection of available shades.
It's such a fun decoration, why stop at the tree? String your snowflakes across the mantle, window, table edge and more!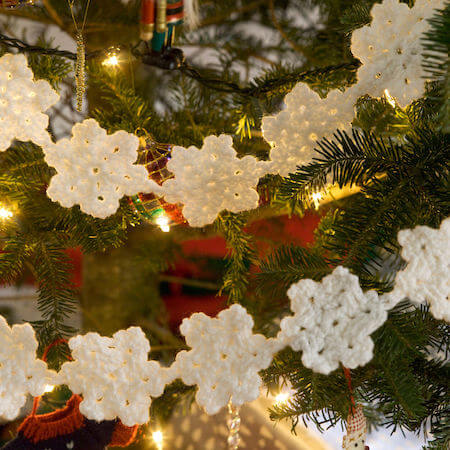 Get the Pattern here

11. Crochet Christmas Tree And Star Garland Pattern by The Knotted Nest Shop
This Christmas Tree and Star Crochet Garland will have your home ready for Christmas in no time! Fast and easy to make, the 2D style pieces (two flat panels, stuffed and joined together) can be made into a garland for a festive addition to your fireplace, used as place setting decor, or strung individually to use as ornaments!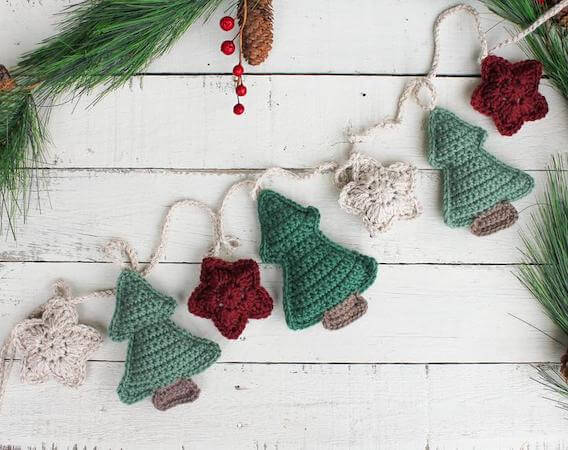 Get the Pattern by The Knotted Nest Shop here

12. Crochet Christmas Star Ornament Pattern by Lilla Bjorn Crochet
These stars are ideal as hanging ornaments for a wall, decorations for a Christmas tree, or motifs for a garland. They can be also used as cute additional ornaments attached to Christmas gifts. Your friends and relatives will for sure appreciate them!
The stars can be hung above the baby's bed or become a nice decoration for a nursery. You can make a one-sided star or crochet two stars, join them together, and stuff to get a 3D hanging ornament.
You can add cloves and cinnamon along with the stuffing or any other herbs or spices that remind you of Christmas.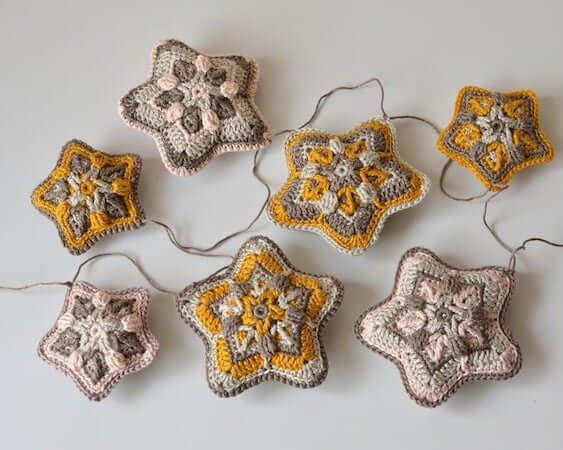 Get the Pattern by Lilla Bjorn Crochet here

13. Super Simple Star Garland Crochet Pattern by Cro Create
You've popped up your tree, hung your stockings yet the room is still looking a little bit bare. It just needs that something extra right? This is the perfect something extra to adorn your walls this Christmas.

This pattern is not only perfect for Christmas, made in hues of green, red or even gold. It also lends itself to looking fabulous all year round. Put on your tree or on your walls.
Gift the garland for a new baby or for a childs room to decorate their walls. The possibilities are endless!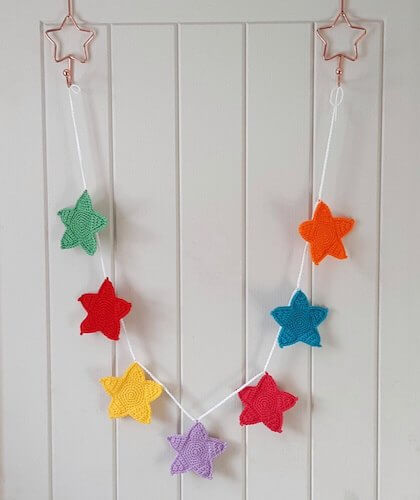 Get the Pattern by Cro Create here

14. Crochet Buffalo Plaid Triangle Garland Pattern by Whistle And Ivy
Learn how to make this trendy Buffalo Plaid Crochet Triangle Garland, perfect for a holiday mantle, your rustic cabin decor or even a lumberjack baby shower. So many ways to use this cute crochet buffalo plaid garland!

Add a splash of buffalo plaid to your holiday or rustic cabin decor! This garland would also be a perfect addition to a baby's lumberjack themed nursery.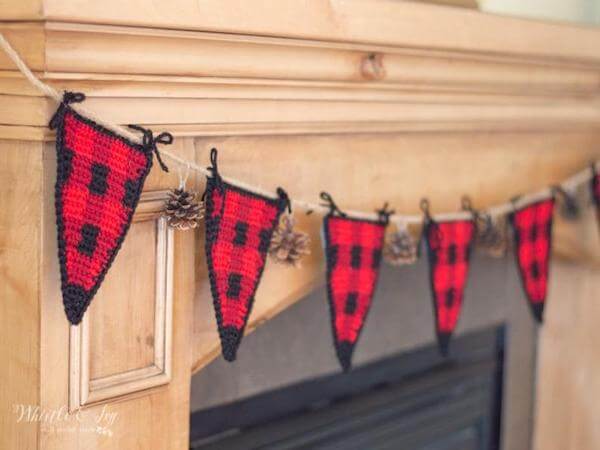 Get the Pattern by Whistle And Ivy here

15. Crochet Popcorn Garland Pattern by The Farmhouse Nook
Stitch a creative take on the traditional Popcorn Garland that will stay fresh year after year! You can make this garland as long or short as you want. The simplicity and ease make it a great holiday (or any day) decor choice!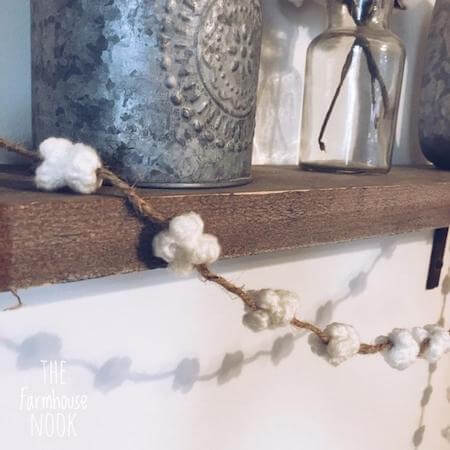 Get the Pattern by The Farmhouse Nook here

16. Circle Crochet Holiday Garland Pattern by Make And Takes
Why not make a fun Circle Crochet Garland for this winter season? It's a simple project you can crochet in a day! These crochet circles are so cute, they are just begging to be strung together in a line for a Holiday Crochet Garland!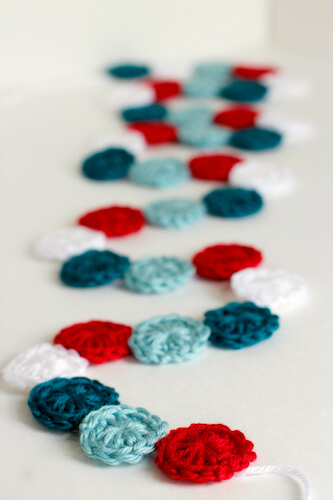 Get the Pattern here

17. Snowman Crochet Christmas Garland Pattern by Red Heart
Brighten your home during the long winter with these happy crocheted snowmen. They are shown in a rainbow of hat and scarf colors that will certainly add a happy note to a wintry day.
You can hang them up and display them in your dining room, kitchen, or hallway, guests are sure to be impressed with this crazy cute pattern.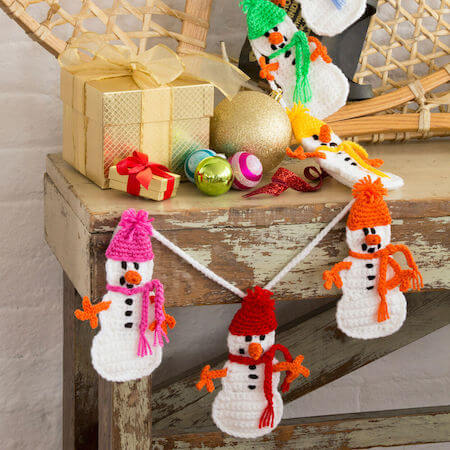 Get the Pattern here

18. Free Holiday Crochet Garland Pattern by Homemade Heather
Crochet a pretty garland of Christmas ornaments to decorate a tree, wreath, or mantle. A touch of hand embroidery is the perfect accent. Every single design is so gorgeous, you are seriously going to want to make them all!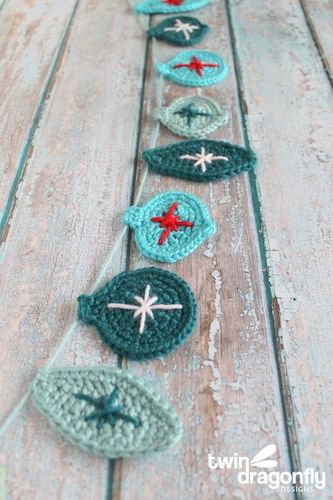 Get the Pattern here

19. Crochet Christmas Garland Pattern by Hoooked Yarn
Love a DIY for Christmas? This fantastic Christmas garland is a great DIY Christmas decoration to make yourself. Hang the crochet garland in the Christmas tree, on the wall or on the mantelpiece and enjoy the Christmas spirit it will bring you!

The design for this Christmas garland has beautiful detail such as the ginger bread man and is a great ornament to get in the mood for a great Christmas.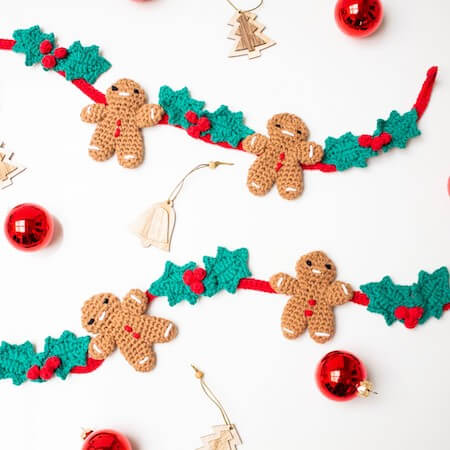 Get the Pattern here

20. Free Crochet Christmas Garland Pattern by Golden Lucy Crafts
This crochet Christmas garland is made using various crochet appliques and has a little bit of everything – Santa, reindeer, Christmas trees, snowman, and even a unicorn!
You don't need to be limited by the designs used. Feel free to use any other of your favorite Christmas themed appliqués!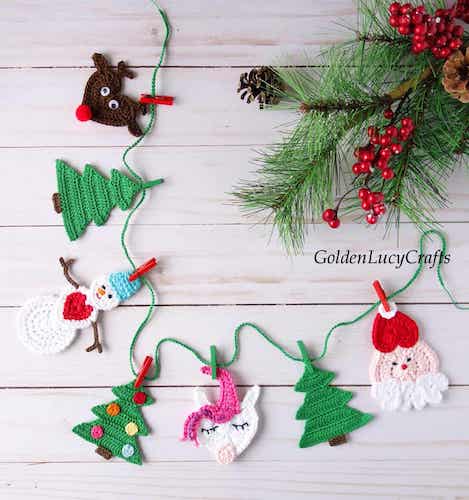 Get the Pattern here

21. Countdown Crochet Christmas Garland Pattern by Felted Button
This Christmas Countdown Garland consists of twenty-four cozy mittens and elf hats filled with treats or family activity ideas makes a delightful advent countdown to Christmas day. Not up for making twenty-four?
Make and decorate them individually with buttons, felt, embroidery, or other embellishments for use as ornaments on your tree or around your home.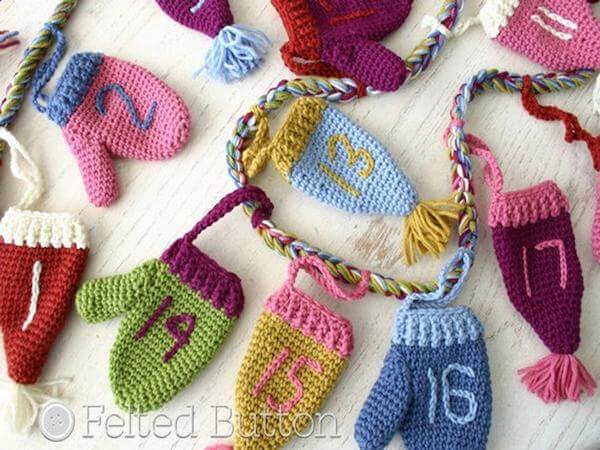 Get the Pattern by Felted Button here

22. Gingerbread House Ornament Crochet Pattern by Lilleliis
Crochet Gingerbread House Ornament is something to spice up your Christmas with. Use it for decorating the tree and presents. Or make a garland to decorate your home for the holidays.

Quick and easy to make little ornament is decorated with white (yarn) sugar glaze. The roof can be embroidered in two different ways, to imitate the snow or stone roof.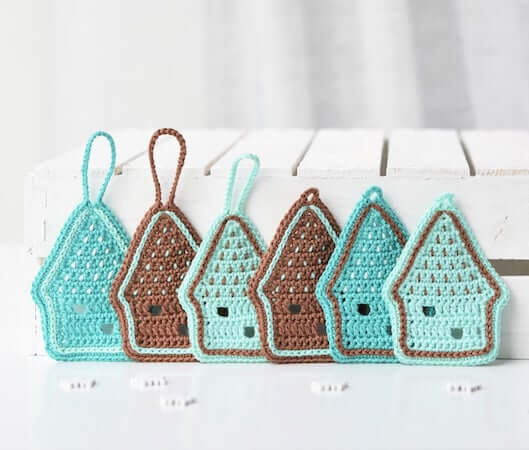 Get the Pattern by Lilleliis here

23. Crochet Christmas Tree Garland Pattern by The Mayfield Makery
Featuring a beautiful chain of small festive Christmas trees, this crochet bunting pattern is the perfect decoration to place in your home, either over your fireplace or by your windows this Christmas. Create them in your favorite color!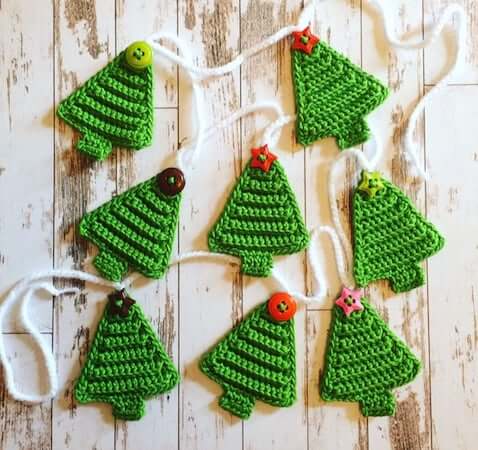 Get the Pattern by The Mayfield Makery here

24. Santa Christmas Crochet Garland Pattern by Kerry Jayne Designs
This Santa may be used as applique, and would be perfect sewn onto Christmas stockings, sacks, scarves and hats, in fact anything!
The Santa garland is crocheted in a chunky yarn with a large hook, it is quick and easy to make and is just so cute! It can be made in most yarn weights, in cotton or acrylic.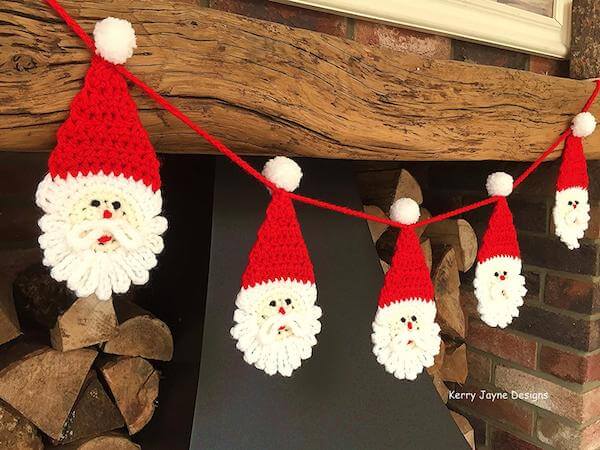 Get the Pattern by Kerry Jayne Designs here

25. Holiday Lights Garland Crochet Pattern by Yarnspirations
Easily create a string of festive lights that make energetic décor pieces for the holidays. Choose colors that fit your style and complete a set that looks stunning anywhere.
Display it across a window, mantle or anywhere else to spread some cheer!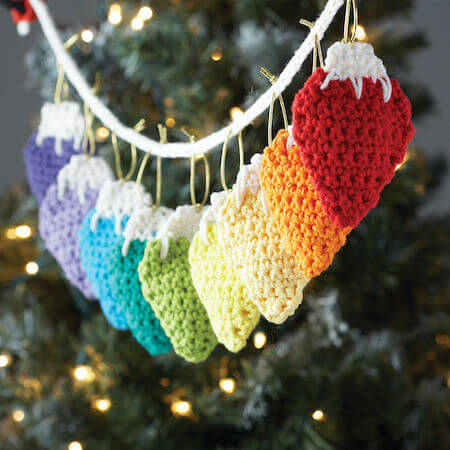 Get the Pattern here
MAKE THEM FOR YOUR OWN HOME OR GIVE THEM AS GIFTS – CROCHET CHRISTMAS GARLANDS RE A GREAT PROJECT THIS WINTER!
Encourage other crocheters to add a touch of Christmas to their homes by posting your finished work on our Facebook Page. We're sure a lot of them will be inspired to add their own personal touch to their Christmas decorations.

And with Christmas right around the corner, a crocheters Christmas to-do keeps growing.
Whether your to-do list includes decor for the home or a gift for someone in the family, our collection of Crochet Christmas Trees, Crochet Snowman, Crochet Christmas Doilies and many more will surely have you covered!
These crochet Christmas garland patterns above are all wonderful, you might find it hard to know which to go for!