Here's a collection of 36 of our favorite crochet snowman patterns to freshen up your homes Christmas decor. Whether you want something warm and practical, or a Christmas amigurumi toy, we think you'll find something here that you'll be tempted to start soon!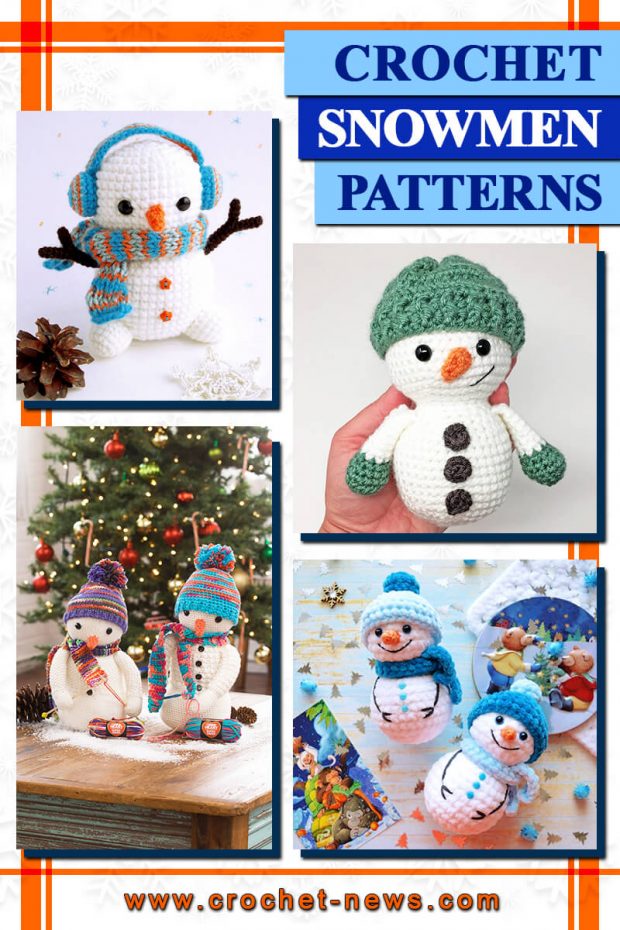 36 Crochet Snowman Patterns to freshen up your homes Christams decor.
Snowmen decorations bring a chill, can you feel it in the air? Brrr, it's cold out there! Do you have snow where you are yet?

With winter starting to get a grip now in most places. It's time to make a start on your winter projects if you haven't already.

While snow isn't necessarily common everywhere. You can't beat a fun and festive wintery snowman project to keep you warm on the inside while it's cold on the outside!

1. Crochet Snowman with Snowballs Wreath Pattern by Repeat Crafter Me
This is a pattern for a Snowball Wreath, he is sure to bring a smile to your guests' faces when they see this cutie hanging on your front door.

The nice thing is that this wreath can be used for the whole winter season instead of just the holiday season.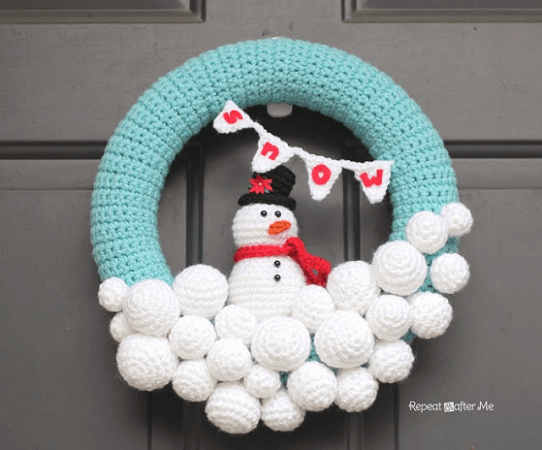 Get the Pattern here
2. Snowman Amigurumi Crochet Pattern by Grace And Yarn
Create your own mini amigurumi snowman with this easy to follow pattern! The finished products are about 6 inches tall and work up quite quickly.

The snowman amigurumi crochet pattern is worked in the round with the body and head as one piece. You will want to be familiar with working in a magic circle and sewing of parts.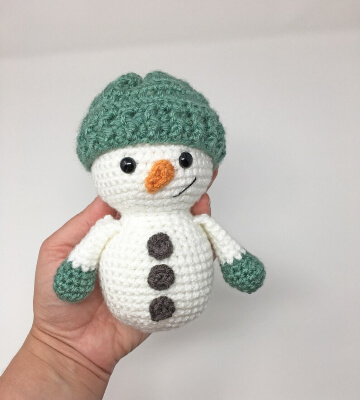 Get the Pattern by Grace And Yarn here

3. Mug Hug Free Snowman Crochet Pattern by Yarnspirations
Cozy up with a hot cocoa or other warm beverage! This mood-lifting, crocheted snow mug cozy is a great gift idea!
Make it with an easy-care yarn so it can be washed and will still look great for a long time!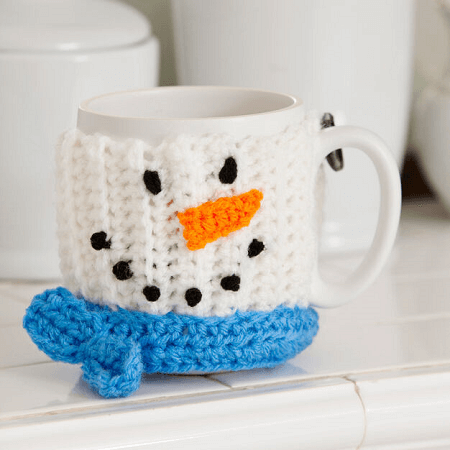 Get the Pattern here

4. Frozen Snowman Crochet Pattern by Krawka
This Frozen Snowman Crochet Pattern creates a real-life Olaf that kids and kids at heart will both love! This snowman amigurumi crochet pattern creates an exact realistic Olaf, as seen in the movies.

This snowman crochet pattern is fun and challenging for any crocheter, and it will make the perfect gift for that Frozen fan in your life.

Whether it's a little boy or girl who can't stop singing the songs or an adult who is a child at heart, this little snowman crochet will be a forever favorite!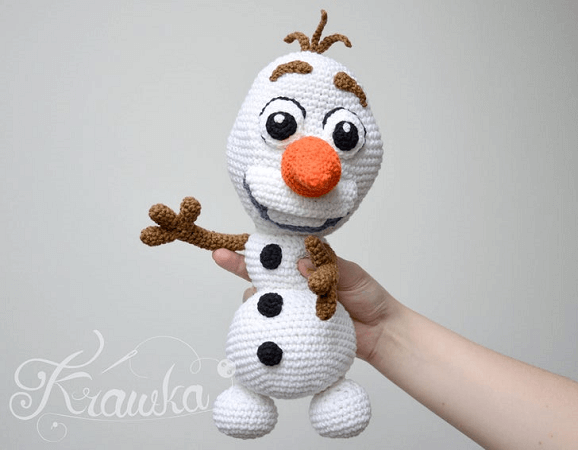 Get the Pattern by Krawka here

5. Crochet Snowman Pillow Pattern by TLB Patterns
This Crochet Snowman Pillow Pattern, featuring a buffalo plaid-clad Snowman, is an adorable accent to your holiday home decor. This crochet snowman pattern uses the intarsia crochet technique.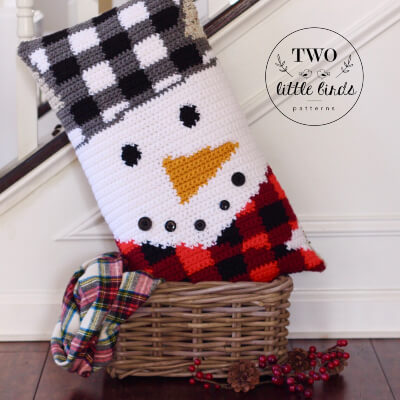 Get the Pattern by TLB Patterns here

6. Free Snowman Crochet Pattern by Amigurumi Today
Christmas crochet is an exciting activity, it's a time to create holiday home decor and unique gifts. Use this Free Snowman Crochet Pattern to make lovely souvenirs for your friends and family!

Every child (and not only a child) needs a friend to talk to, to share secrets, and play with. Make such a friend with your hands full of love.
Crochet a snowman to be a best friend for your little one not only during the winter.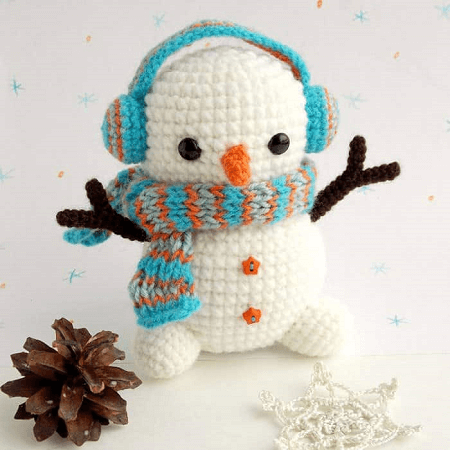 Get the Pattern here

7. Crocheting Snowman Crochet Pattern by Red Heart
Winter is coming, and it's time to select your first project of the season! How about this satisfying crochet snowman?

He's adorable in gentle tones of Red Heart Super Saver yarn, or introduce festive shades and display him during the holidays.

Choose favorite colors and he comes to life as your child's new toy. Enjoy the work on this crafter's favorite pattern!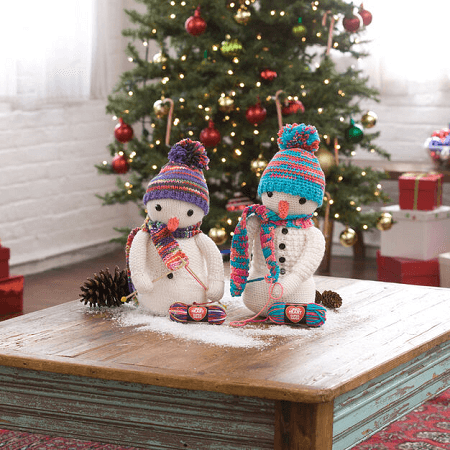 Get the Pattern here

8. Crochet Snowman With Christmas Tree Pattern by Knit A Miracle
Please meet Kevin, the Snowman, and his special Christmas Tree! Have you bought your Christmas tree for the season? Kevin has a special Christmas tree also for you!

Kevin is approximately 18 cm from head to toe (7″) and approximately 20 cm (7.8″) with the hat on. The Christmas tree is 23 cm (9″) tall.

They are made of soft cotton yarn, good humor, and love. You can use any other yarn you find suitable – Kevin and his Christmas tree can come taller or smaller but still a lot of fun to crochet and become friends with.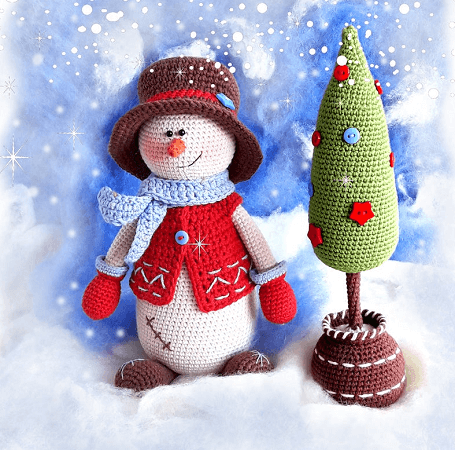 Get the Pattern by Knit A Miracle here

9. Applique Crochet Snowman Pattern by Nella's Cottage
Welcome the chilly weather with this insanely cute Applique Crochet Snowman. It's quick and easy to work up and can be used for so many different things.

Add this applique to accessories including hats, scarves, and bags, or turn this mini Frosty into an ornament for your tree. He would even make a pretty cute gift topper to any of your holiday gifts this year.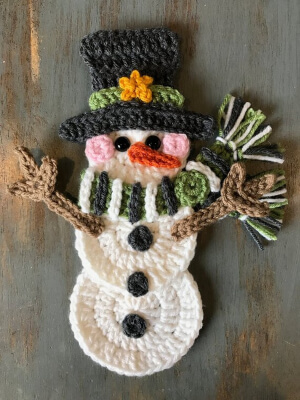 Get this crochet snowman pattern here

10. Tiny Baby Free Snowman Crochet Pattern by Sweet Softies
This Tiny Baby Snowman measures approximately 9 cm, just perfect for a Christmas Tree ornament.

This is a cute, quick handmade Christmas gift for a friend or a winter decoration to highlight the holiday spirit. In his hat and scarf, he looks so cozy and warm – it's a wonder he doesn't melt!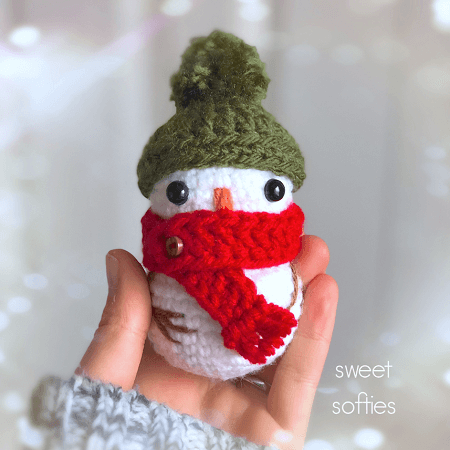 Get the Pattern here

11. Crochet Melting Snowman Pattern by Highland Hickory Dsgns
This Crochet Melting Snowman Pattern can be a winter themed decoration – simply display him on a table top.

The crochet snowman can be a holiday gift or hostess gift. Or he could be a child's lovey! But please note that if you do decide to make a child's lovey, that you use safety eyes or embroidery instead of the buttons shown on the example.

This crochet snowman pattern uses only easy stitches: single crochet, half double crochet and double crochet.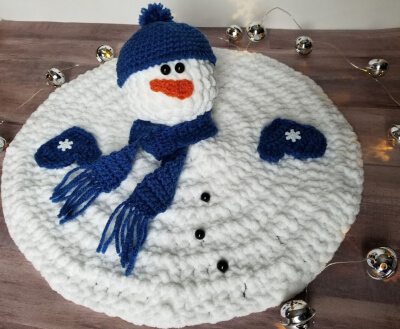 Get the Pattern by Highland Hickory Dsgns here
12. Amigurumi Snowman Crochet Pattern by ELGungorToys
If you are looking for a unique snowman gift idea, this amigurumi snowman will surely bring a smile to your giftee's face. And the best part is, the head turns!
The eyes, nose, and the white part of the face are sewn. The other parts are knitted in. You can use DK or light worsted weight yarn. You will also need a 1.75 mm crochet hook. Completed, this crochet snowman measures approximately 13.7 inches (35 cm) tall.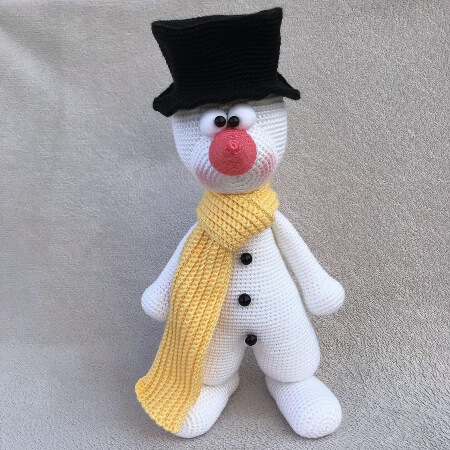 Find the Pattern by ELGungorToys HERE


13. Baubles Free Snowman Crochet Pattern by Hooked On Patterns
Crochet some adorable Snowman Baubles for your Christmas tree, or as little festive gifts!

These baubles are quick to make, only use a small amount of yarn, and can be made with any weight or type of yarn you like. Use any color for the hats and make lots of these for the holidays!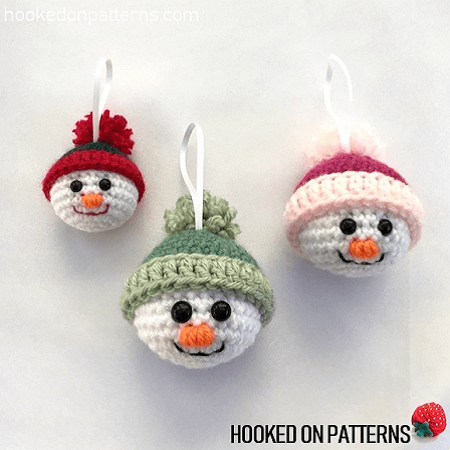 Get the Pattern here

14. Cozy Free Snowman Crochet Pattern by Spin A Yarn Crochet
Can you imagine a cozier snowman? With his buffalo plaid trapper hat, fur vest, and warm scarf, this Cozy Snowman is absolutely ready to tackle this winter season!

The crochet snowman pattern is a unique amigurumi made in the ragdoll-style; separate pieces worked in flat rows and joined together to give it that charming and distinctive 2-D appearance.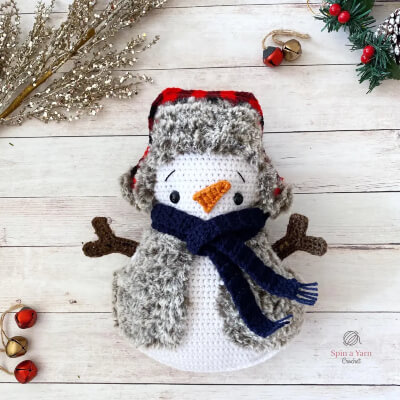 Get this snowman amigurumi crochet pattern here

15. Crochet Newborn Snowman Photo Prop Pattern by AMK Crochet
This Crochet Newborn Snowman Photo Prop Pattern gives you the instructions so that you can make a newborn snowman hat, cocoon, and scarf.

Warm and fuzzy bulky weight yarn to keep baby adorably comfortable for their first photoshoot! A perfect addition to any photo session.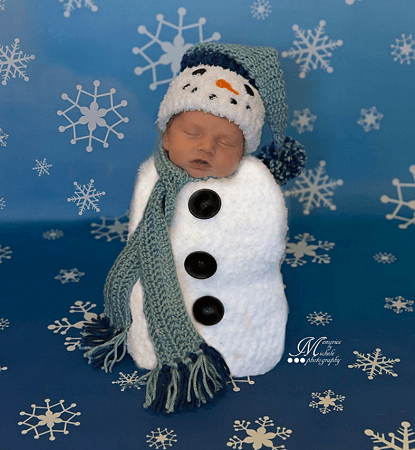 Get the Pattern by AMK Crochet here

16. Snowman Amigurumi Crochet Pattern by Amigurumi Space
This Snowman Amigurumi Crochet Pattern is a great project if you want to surprise with a gift or Christmas decor of your home made all by yourself!

These little crochet snowman are soft, fluffy, and oh so lovable! At 16 cm tall, they'll look great sitting around your home during the winter season.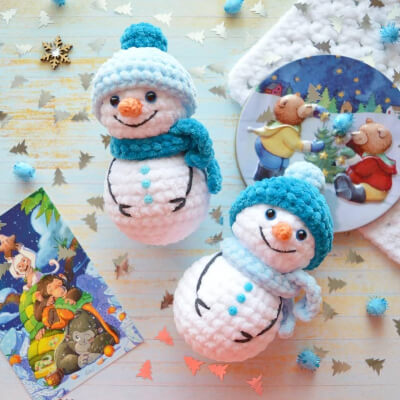 Get the Pattern here

17. Light Me Up Snowman Hat Crochet Pattern by Nana's Crafty Home
This Light Me Up Snowman Hat is a free crochet pattern for the most adorable snowman hat! So easy you will be able to make him up in just a couple of hours!

The hat is sized to adult but can be easily resized to fit anyone — make one for the whole family!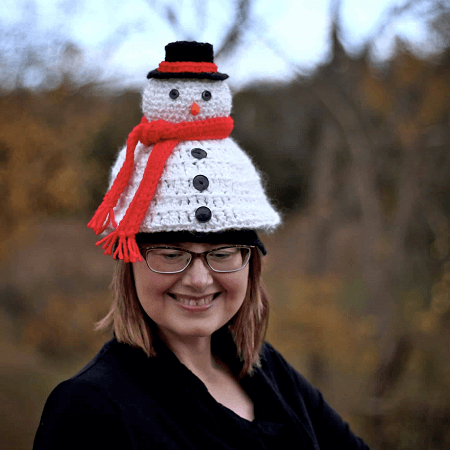 Get the free snowman crochet pattern here

18. Cuddle Sized Snowman Crochet Pattern by Storyland Amis
Meet Roly the Snowman! Have you ever seen such a cuddly, huggable snowman? He may look cold, but he has a warm and friendly heart and can't wait to be your friend!

You can make Roly crochet snowman with a stocking cap or with an earflap hat – instructions for both are included! And of course, the color options are endless!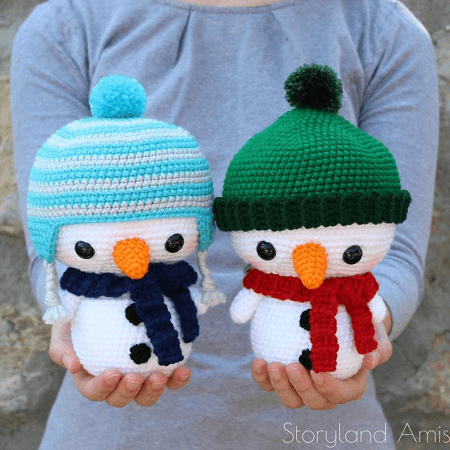 Get the Pattern by Storyland Amis here
19. Snow Globe Crochet Pattern by CCsWhimsicalCrochet
How cute is this snowman snow globe? This would be a perfect addition to your table or mantle.
The pattern includes instructions to make the snowman and directions for completing the snow globe. It is easy to read and has a lot of helpful pictures.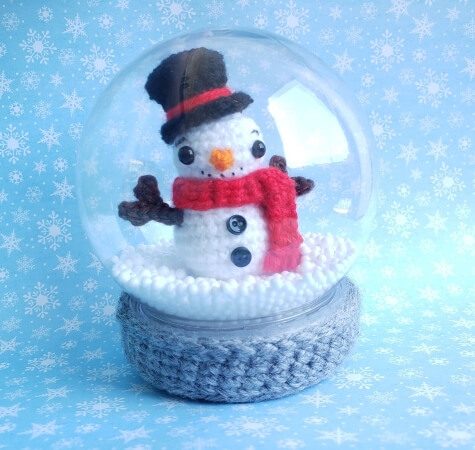 Find the Pattern by CCsWhimsicalCrochet HERE
20. Crochet Snowman Gnome Pattern by PamPinostore
Do you decorate your home with gnomes? Now you can make your own adorable Gnome to add to your holiday decor.
The Gnome Snowman crochet pattern contains numerous photographs of the process. To make this amigurumi snowman pattern you only need basic crochet skills. It is a great project for beginners.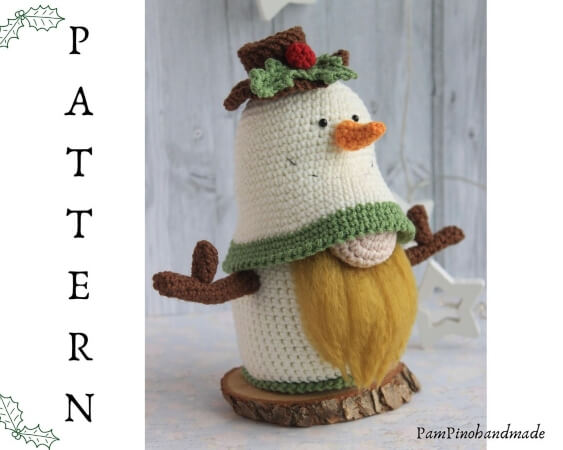 Find this Pattern by PamPinostore HERE
21. Crochet Snowman Gift Sack by Sarah Zimmerman
Here is a free snowman crochet pattern for a gift sack. You can use this sack instead of a traditional stocking.
This is an easy pattern that is suitable for beginners. You will need an H/8 or 5 mm hook and bulky/chunky weight yarn.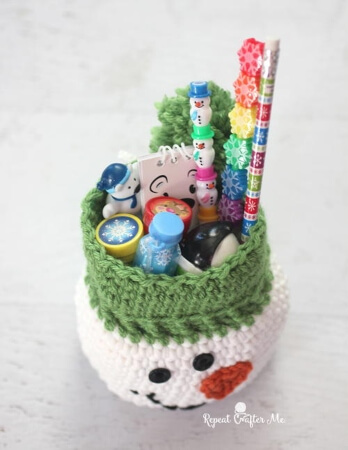 Find the Pattern by Sarah Zimmerman HERE
22. Christmas Tree Wreath Crochet Pattern by HookAndMarvellous
If you have a lot of scrap yarn, this pattern is perfect. This wreath is super cute and is waiting to hang on your door or wall.
The crochet snowman pattern is 12 pages long and includes photos and handy hints. The main stitch used is double crochet (UK terms). There are a few sections that use half treble crochet.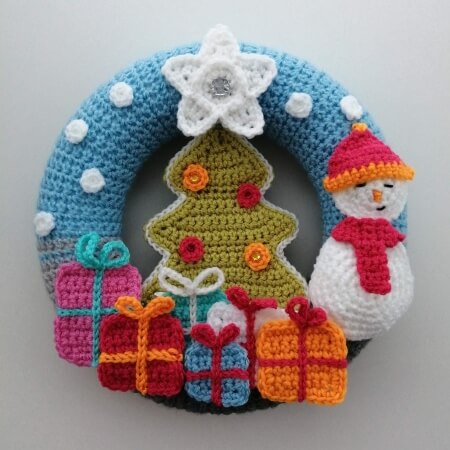 Find the Pattern by HookAndMarvellous HERE
23. Wall Hanger Snowman Crochet Pattern by PnJHandmades
This is an interesting snowman wall hanging. You can add as many snowmen as you like.
To make this crochet snowmen pattern you will need to know single crochet, skip, chain, slip stitch, and beginning. The pattern is very easy to read thanks to the spacing and bold row numbers.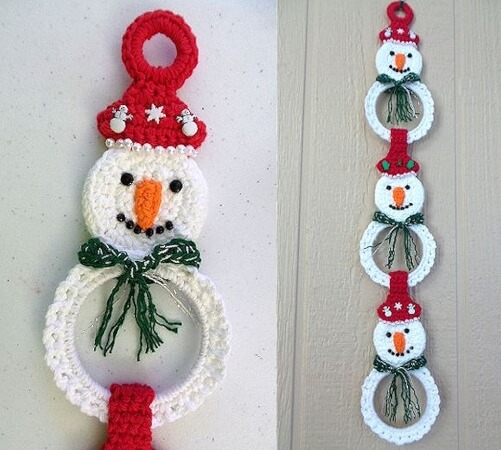 Find the Pattern by PnJHandmades HERE
24. Snowman – Christmas – Wreath Tree Afghan Crochet Pattern by GreatPatterns
Crochet this blanket as a gift or keep it for yourself. The blanket is made using 3 different Christmas designs.
The pattern is a graph that is easy to follow. Finished, the blanket measures 44 inches x 60 inches.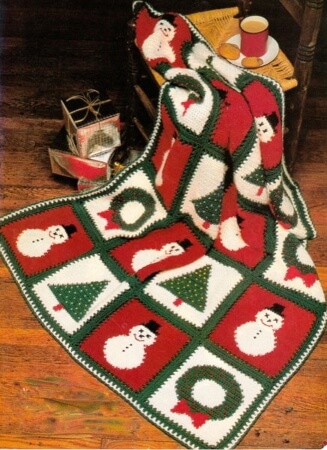 Find the Pattern by GreatPatterns HERE
25. Free Snowman Crochet Pattern by Amigurumi Today
Little kids will absolutely love the bright colours of this amigurumi snowman.
We would recommend this free snowman crochet pattern for an intermediate level crocheter. The pattern is written and there are no photos.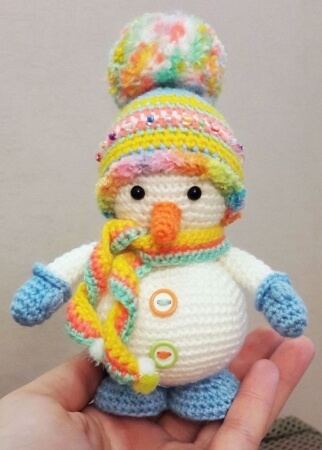 Find the Pattern by Amigurumi Today HERE
26. Snowman Crochet Tutorial by Teddywings
If you love Frosty the Snowman you will enjoy making Freezy the Snowman. This is a great pattern for those who enjoy decorating in Whimsical Christmas decor.
This pattern can be completed by an intermediate level crocheter or a confident beginner. Once completed, Freeze measures approximately 13 inches tall and 8 inches wide.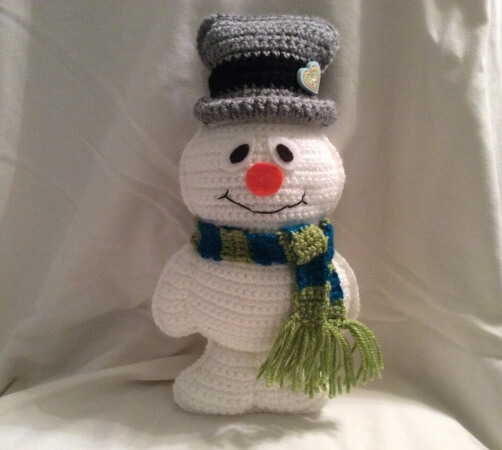 Find the Pattern by Teddywings HERE
27. Cute Snowman Christmas Decoration by HavvaDesigns
Here is another adorable snowman amigurumi crochet pattern. How could a snowman get any cuter? The hat, scarf, and shoe colours can easily be changed to match your decor.
The crochet snowman pattern is suitable for beginners. It has plenty of pictures to help you along the way. Finished, the cute snowman measures approximately 7.09 (18 cm) inches high.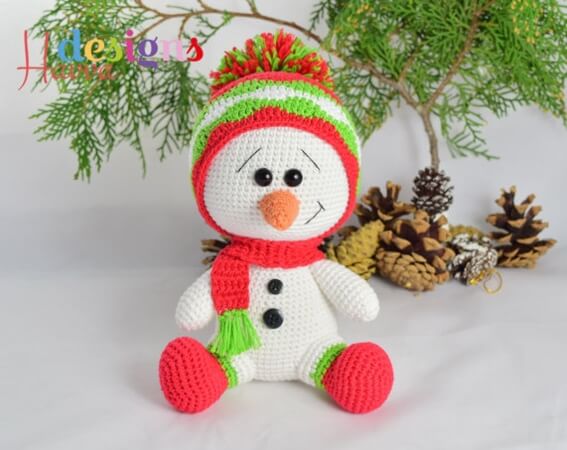 Find the Pattern by HavvaDesigns HERE
28. C2C Snowman Scarf Pattern by WindingRoadCrochet
This corner to corner crochet snowman scarf pattern can be used to make gifts for adults and kids.
This pdf download includes a written pattern for the scarf. This is not a graph pattern. All the colour changes are made at the end of the rows.
You will need to know how to chain, single crochet, half double crochet, double crochet, slip stitch, and how to make a magic circle.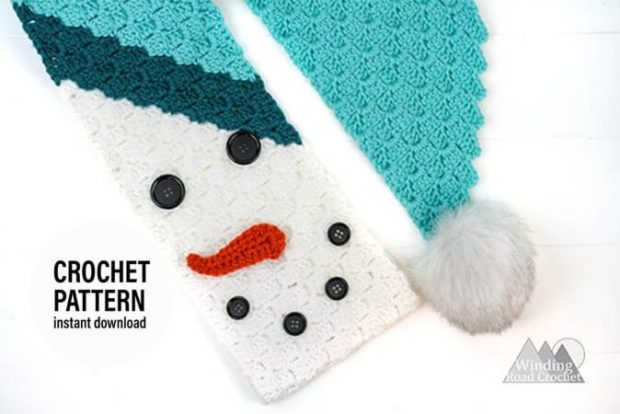 Find the Patten by WindingRoadCrochet HERE
29. Snowman Kitchen Towel by ACrochetedSimplicity
Add some snowman decor to your kitchen with this whimsical snowman kitchen towel. The seller also has a gingerbread towel and Santa towel.
These towels work up quickly. So, you can make a few of them in no time at all. Hang them on your tree or give them away as gifts.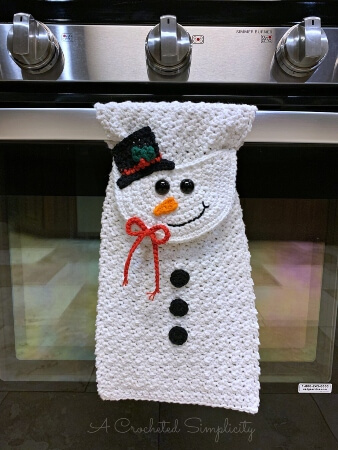 Find the Pattern by ACrochetedSimplicity HERE
30. Snowman Gazing at Snowflakes Potholder Crochet Pattern by WhiskersAndWool
Families always seem to gather in the kitchen during Christmas festivities. Use this potholder to make the room a little more festive.
This potholder can be used for its intended purpose or hang it on the wall. There is no doubt you will get several compliments on how cute it is.
The potholder is made using worsted weight 100% cotton yarn. The front and back pieces are crocheted together for double thickness. The finished size is 8.25 inches wide and 8 inches high (not including the ring).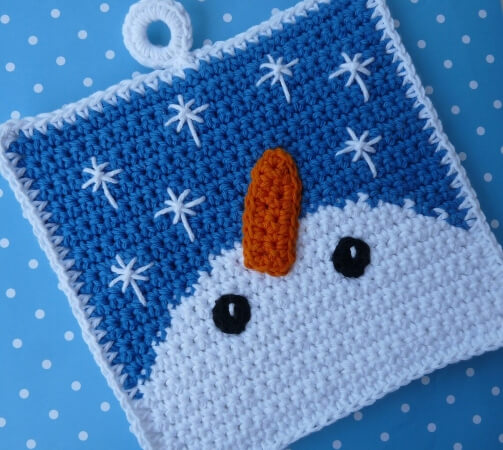 Find the Pattern by WhiskersAndWool HERE
31. Crochet Snowman Granny Squares Blanket by Erangi Udeshika
Make this snowman crochet blanket using a mixture of granny squares. This gives you the ability to make the blanket larger or smaller to fit your specific needs.
To make this blanket, you can use your favourite weight yarn and a G/6 or 4 mm crochet hook.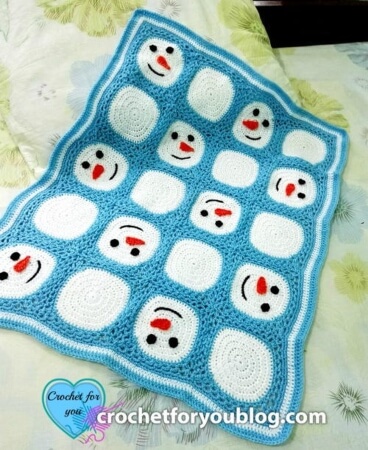 Find the Pattern by Erangi Udeshika HERE
32. Snowman Crochet Pattern Christmas Ornament by HandmadeRE
Create a colourful collection of these snowman Christmas ornaments using this snowman crochet pattern. Make one for each member of your family or give them away as gifts. You can also use them to decorate gift packages.
These crochet snowmen Christmas ornaments work up quickly. The pattern is easy enough for a beginner that knows chain, magic ring, single crochet, crochet 2 single crochet in one stitch, slip stitch, and turning chain.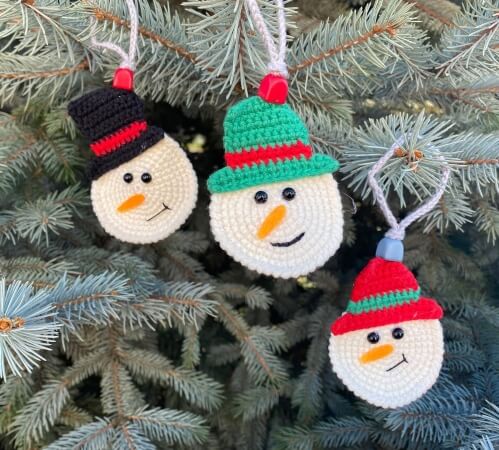 Find the Pattern by HandmadeRE HERE
33. Amigurumi Snowman Crochet Pattern by PamPinostore
You cannot go wrong with this soft, fluffy snowman. This little fella will certainly make everyone smile.
This pattern uses a 2.5 mm (D) crochet hook and Alize softy plush yarn. The pattern is very detailed and contains helpful pictures.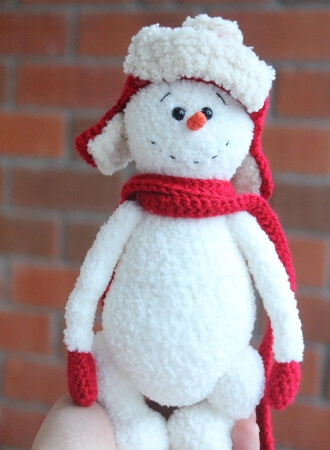 Find the Pattern by PamPinostore HERE
34. Snowman Afghan Pillow Crochet Pattern by Maggiescrochet
This snowman crochet pattern includes both the Afghan and the matching pillow. The finished afghan would make a great lap throw.
Completed is measures approximately 70 inches long and 44 inches wide. The pillow measures approximately 16 inches long and 12 inches wide.
It is an intermediate level pattern that uses several yarn colours and crochet stitches. The blocks are all made separately and sewn together at the end.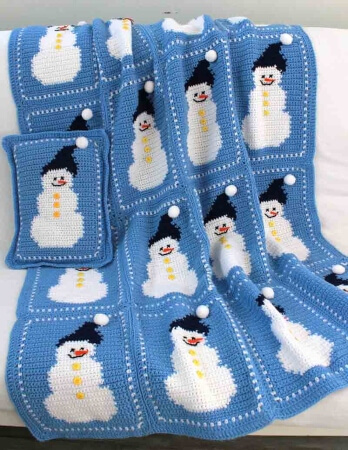 Find the Pattern by Maggiescrochet HERE
35. Crochet Snowman Applique Pattern by Joanita Theron
Are you looking for a snowman applique pattern? Here is a free pattern that you can crochet in as little as an hour.
The applique measures approximately 5.9 inches (15 cm) tall. It is perfect for holiday cards, gift bags, sweaters, pillows and blankets.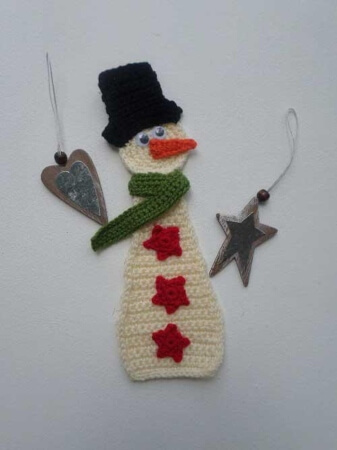 Find the Pattern by Joanita Theron HERE
36. Melly Teddy Ragdoll Snowman MandMCrochetStore
Ragdolls are always a childhood favourite. And this snowman ragdoll will definitely become a regular holiday visitor at your home.
The snowman amigurumi pattern is a cross between a blanket and a soft toy. It is perfect for cuddling. The ragdoll measures approximately 18 inches (46 cm) in length. You only need to know the basics of crochet to complete this snowman.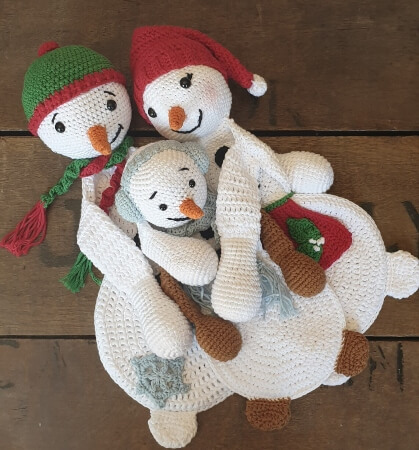 Find the Pattern by MandMCrochetStore HERE
And the best part of these crochet snowman? They don't melt!
When you're done making your projects featuring this motif, feel free to post your finished snowmen on our Facebook Page so all can see!

And with Christmas right around the corner, a crocheters Christmas To-Do keeps growing. Whether your to-do-list includes home decor or gifts, our collection of Christmas Crochet Patterns will surely have you covered.

Here are our Favourite Crochet Christmas Pattern Lists
For now, let's get our hooks busy with our favorite crochet snowman patterns!