These 33 crochet angel patterns will supply you with a few heavenly friends at all times!

We see angels mostly during the holiday season as Christmas ornaments and tree toppers, but they're such a popular and well-known symbol that they can be around all year.
And these crochet angels could be a perfect option for giving as a gift to friends and family.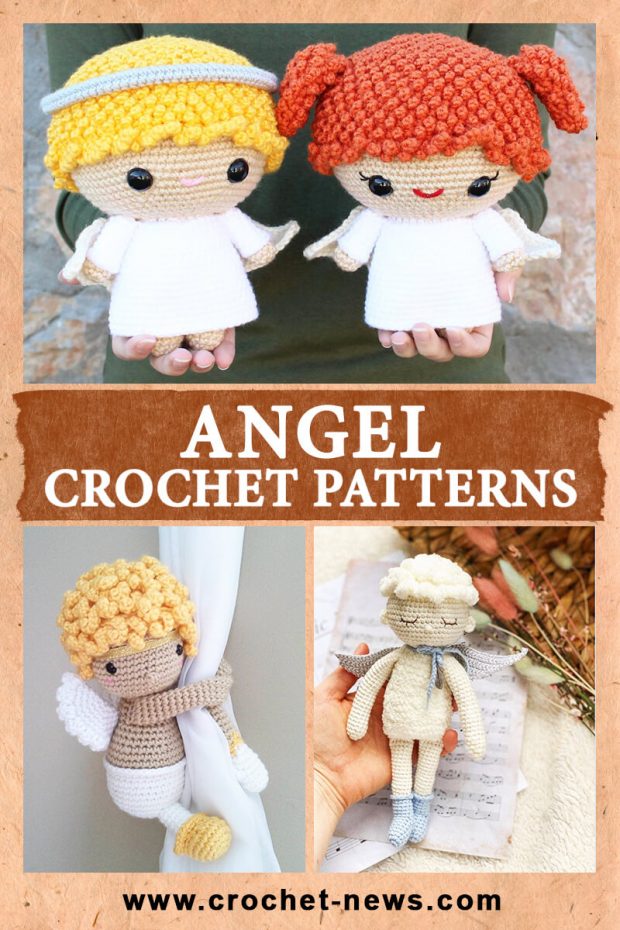 These crochet angel are just perfect for either of those celebrations to add some hopeful symbolism to your home interior.
This list includes stuffed angel toy, crochet angel ornaments, crochet angel wings, amigurumi angel and more!
33 Sweet Crochet Angel Patterns to make for Christmas or just for your home decor

1. Crochet Angel Pattern by Repeat Crafter Me
This darling Crochet Angel Pattern shares her calming Christmas spirit with all who behold her. Pretty braided locks cascade down her back and set her apart from other crochet angel patterns.

Whether perched on your dining table as the centerpiece, nestled in the ring of an Advent Wreath or snuggled by a grateful child, this crochet amigurumi angel is sure to add an elegant touch to your holiday decor.

Hook this little haloed beauty, and let her bring peace and joy to your heart this holiday season and all year 'round!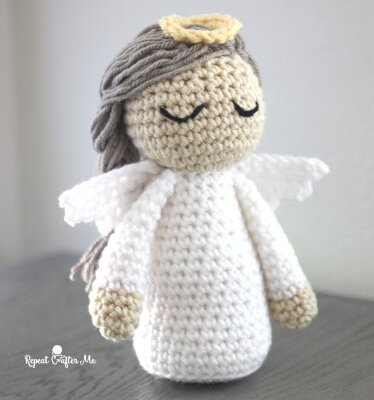 Get the Crochet Angel Pattern here

2. Christmas Crochet Angel Pattern by R Nata
Create your adorable Christmas Angel in just a few hours! She has two large wings and a beautiful yellow-bow. This angel crochet pattern makes for a lovely gift or decor in the home.

You can customize her in a variety of ways by changing her hair and dress colors or styles. You may also add embellishments, such as beads in her dress, flower appliques in her hair, and more!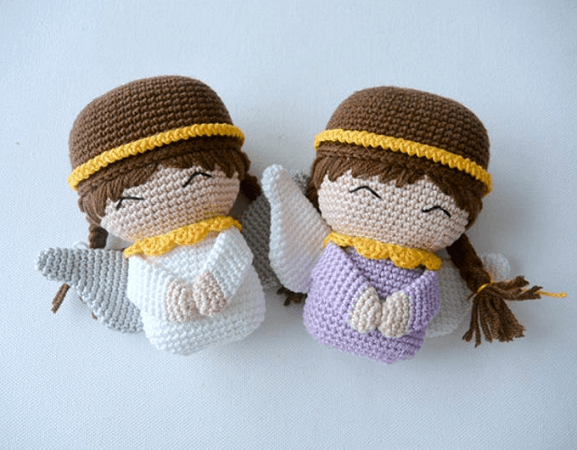 Get the angel crochet pattern by R Nata here

3. Crochet Angel Ornament Pattern by Crochet Or Patterns
This is a simple crocheted Christmas ornament, a little lacy angel ornament. It is really quick to make, so it would be easy to make up a bunch for gifts or craft fairs!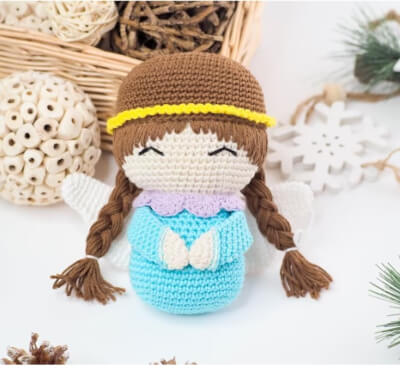 Get the Pattern by Crochet Or Patterns here

4. Gorgeous Crochet Amigurumi Angel Pattern by Galamigurumis
This crochet angel pattern is just simply gorgeous. This amigurumi angel is on a blog in Spanish, but use the auto-translate in your browser to convert.

Be ready to go and create your own little piece of Heaven on Earth with this cherub. We think this is an intermediate crochet amigurumi angel but well worth the work to create it!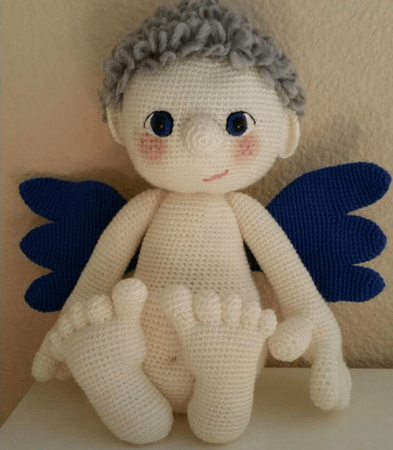 Get the crochet amigurumi angel pattern here

5. Little Angel Bookmark Crochet Pattern by Suzetta Williams
Enjoy making this free crochet angel pattern from Suzie's Stuff. The angel itself is 2.75 inches, with a bookmark tail that brings the total size to 13 inches.

This is a great gift for the bookworms in the family. Suzie also has a version without the bookmark tail that can be used to create an crochet angel ornament.

This angel crochet pattern is designed to be made with size 3 crochet thread and a size E (3.5 mm) crochet hook. Notably, you could adapt any angel pattern to a larger design by using thicker yarn and larger crochet hooks.

Looking for more bookmark patterns? Check out these Crochet Bookmark Patterns.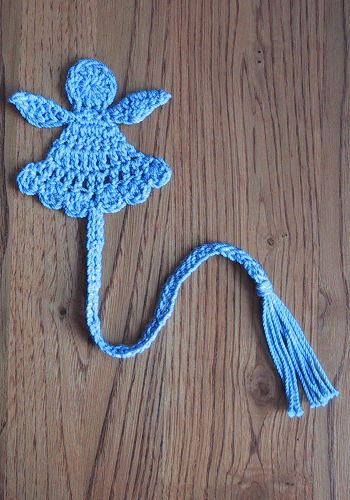 Get this free crochet angel pattern here

6. Angel Crochet Blanket Pattern by Owl B Hooked
This filet crochet baby blanket features a subtle, peek-a-boo angel design with no need for several color changes or ends to weave in. Or add all the color your heart desires!

Simple, modern, and unique, it makes for a special newborn baby, christening gift, or 1st birthday gift. The size allows it to be used as a security or snuggle blanket through toddlerhood as well!
Check more crochet baby blankets for your little one here.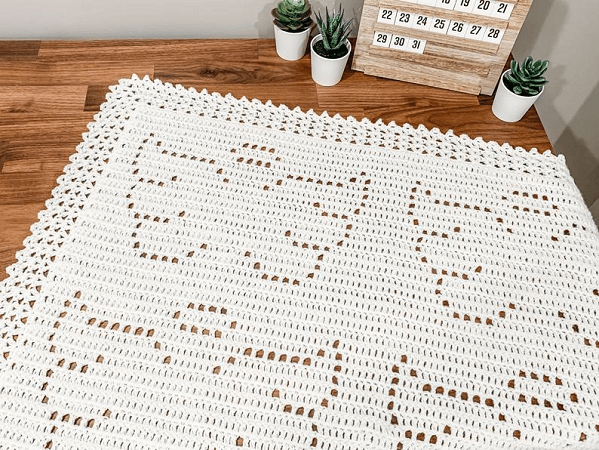 Get the Patten by Owl B Hooked here

7. Lace Crochet Angel Pattern by Petals To Picots
This sweet Lace Angel Crochet Pattern is perfect to work up for the holidays or any time you feel that heavenly inspiration. And don't be intimidated by the delicate design – this crochet angel pattern is easier to work up than it looks!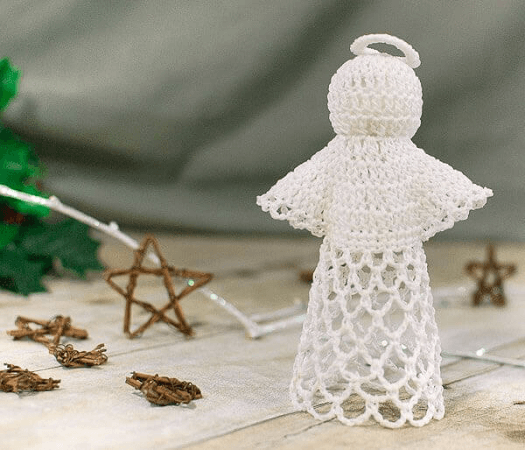 Get the Pattern here

8. Tree Topper Crochet Angel Pattern by Stella's Yarn Universe
Make this Tree Topper Crochet Angel – she will add the finishing touch of Christmas magic to your tree! This is a fun angel crochet pattern to put you in a festive mood. You can be playful and creative with her face, hair, and dress.

You will need to know how to make a magic ring, how to single crochet (double crochet in British terms), and how to make invisible decreases.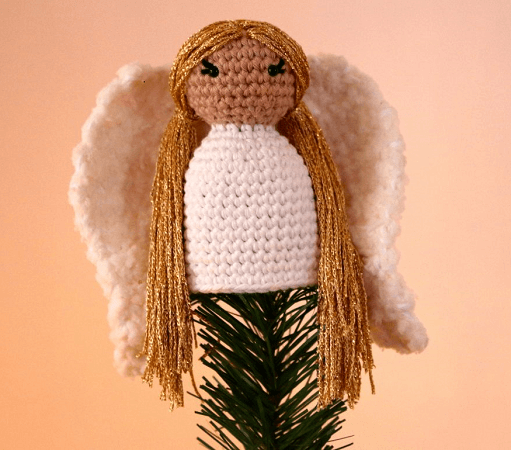 Get the Pattern here

9. Crochet Angel Applique Pattern by Nella's Cottage
This darling Crochet Angel Applique is just waiting for you to add her to your collection of Angelic things!

Add her to all your favorite projects that you can think of to add an applique to. Perfect for squares, t-shirts, blankets, pillows, or anything else you can think of!

This applique works up to be about 7″ tall with 3.75mm hook. You will have so much fun changing her hair color and dress for different things!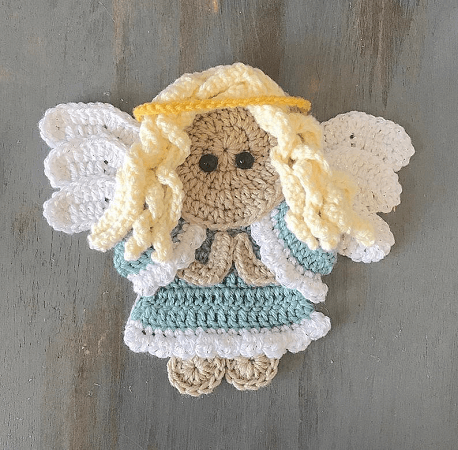 Get the Pattern by Nella's Cottage here

10. Crochet Granny Square Angel Christmas Ornament Pattern by Sewrella
This easy beginner-friendly angel Christmas ornament is so simple to make! It consists of easy-to-make granny squares, simple stitches, and is so much fun for the holiday season – great for adding to a tree or decorating a present!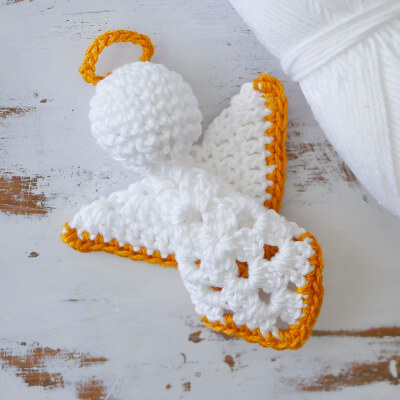 Get the Pattern here

11. Pixie Doll Amigurumi Angel Crochet Pattern by Sweet Softies
This Pixie Doll Amigurumi Angel Crochet is an adorable, little doll that is quick and easy to crochet. This sweet and heavenly girl wears a white dress and has two feathery wings.

She makes a perfect guardian angel toy or play companion for kids. She can also be a wonderful Christmas holiday gift for someone you recognize as an angel in your life.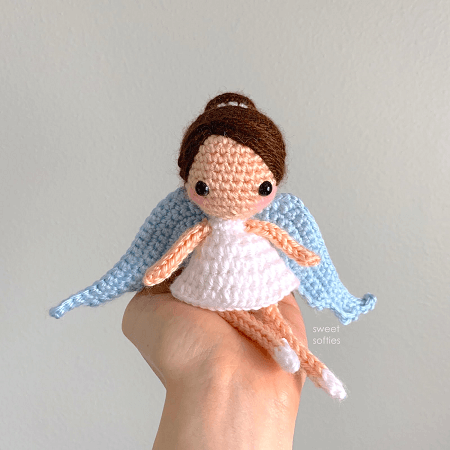 Get the Pattern by Sweet Softies here

12. Mini Amigurumi Angel Crochet Pattern by Loops And Love Crochet
This Mini Amigurumi Angel Crochet Pattern is only about 4.5 inches tall, making her the perfect size for a holiday ornament, stocking-stuffer, or gift for someone special.

When made in white and silver, she makes a beautiful angel, but if you change the colors and leave off the halo and/or wings, this little doll also makes a really sweet mini fairy or princess! This little angel even includes instructions for two different hairstyles!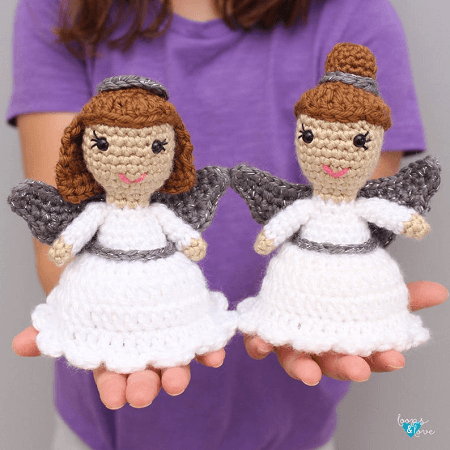 Get the Pattern by Loops And Love Crochet here

13. Dishcloth Angel Crochet Pattern by Yarn Genie Mysteries
This 9-inch tall cotton Angel Dishcloth Crochet Pattern has scrubber bumps on the dress and hem to assist with dishwashing. It works up quickly and makes a nice Christmas gift or stocking stuffer!

This is the perfect dishcloth to break out for the holidays or even for any time of the year. It can even be used as a hot pad for all those holiday casseroles!

For more dishcloth patterns, check out these Crochet Dishcloth Patterns.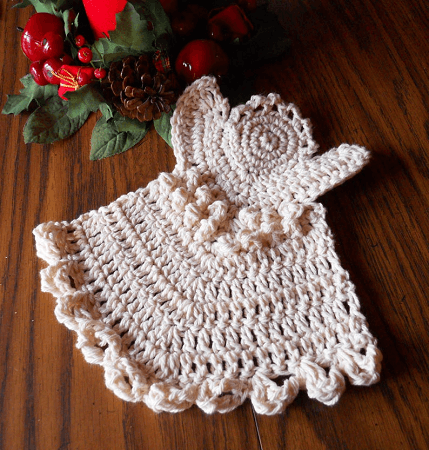 Get the Pattern by Yarn Genie Mysteries here

14. Lovely Amigurumi Angel Crochet Pattern by Amigurumi Today
A cute little angel made with your warm hands is a perfect gift for Christmas or New Year. The finished crochet amigurumi angel is just about 11 cm (4.3″) tall if you use similar supplies.

This lovely crochet amigurumi angel can be a great addition to your home decor or great handmade gift. It's an easy project that won't take much of your time.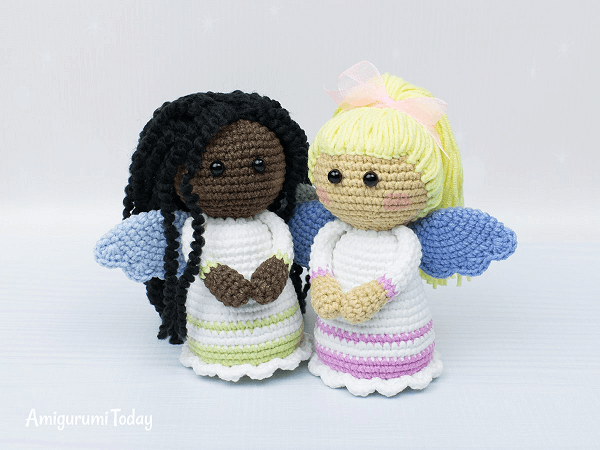 Get the Pattern here

15. The Littlest Angel Christmas Ornaments Crochet Pattern by Bella Crochet
These Littlest Angel Christmas Ornaments have a lovely design! You will love the details of their feathery wings and dresses. And how cute is the fact that they're holding a little Christmas wreath or carol songbook?

These little dolls will surely fill your home with the spirit of Christmas. They'll grace your trees as lovely ornaments or will make a spectacular centerpiece on your dinner table!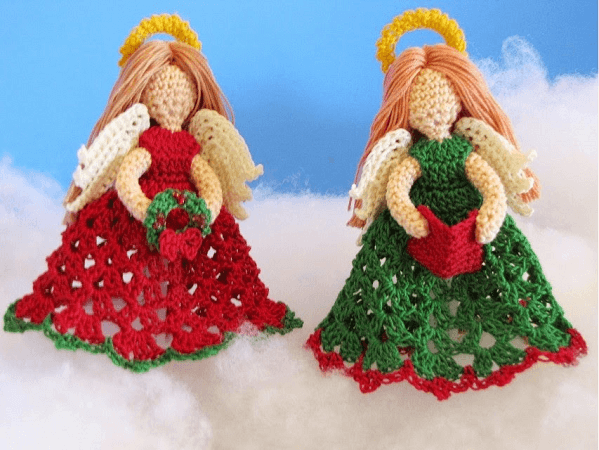 Get the Pattern here

16. Emma, The Angel Crochet Pattern by Bunnies And Yarn
If you intend to bring a holy angel to your home or to kids' nurseries, then this angel crochet pattern would be an ideal solution to do so.

Emma is a mini stuffed angel that can also be used as a perfect shelf, accent table, and bookcase decors and will make your decided place look heavenly. The finished doll is about 11″ (28 cm.) tall when you use DK weight yarn (light/3) and a 3.00 mm. crochet hook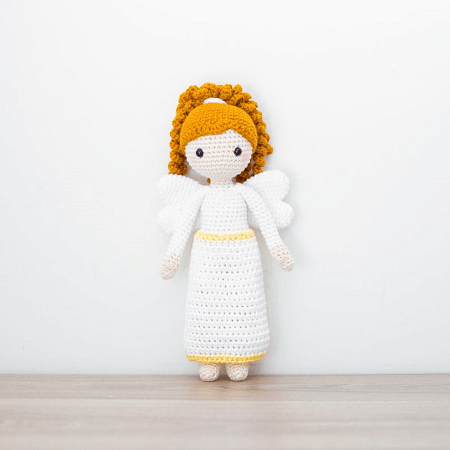 Get the Pattern by Bunnies And Yarn here

17. Crochet Angel Christmas Ornament Pattern by Crochet For You
This simple shaped and rustic feel Angel Christmas Ornament can be made in an hour. And you need a basic embroidery skill to make hair.

This simply is a must have for your Christmas tree. It will also be a perfect accessory to complete a rustic tree or wreath.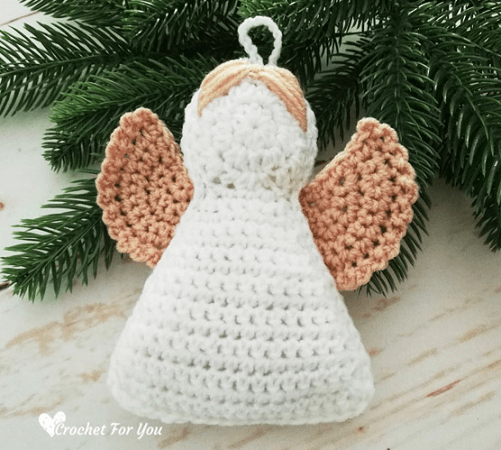 Get the Pattern here

18. Angel Wings Barefoot Sandals Crochet Pattern by Life In Small Spaces
These Angel Wings Barefoot Sandals are great for a wedding on the beach or lakeside. Sturdy for activities like beach volleyball and dancing, and for activities like yoga, beach volleyball, and dancing.
Make a few pairs with your favorite colors! (Check out more fun Crochet Barefoot Sandals Patterns here)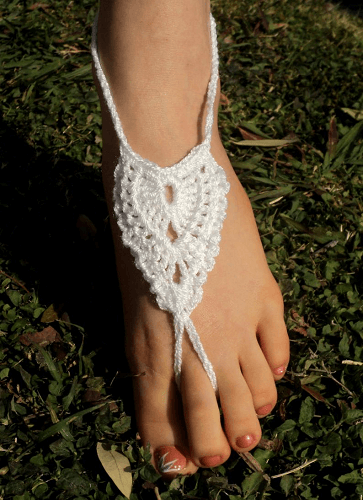 Get the Pattern by Life In Small Spaces here

19. Suncatcher Angel Crochet Pattern by Crochet 4 Us
This Angel Suncatcher is ideal to decorate the window and to harmonize the room. It is a new style and can also serve as a dreamcatcher in the nursery.

Naturally, you can also use this beautiful crochet angel without a frame in a single version – as a keychain, as a bookmark, as an applique, as Christmas decoration, etc.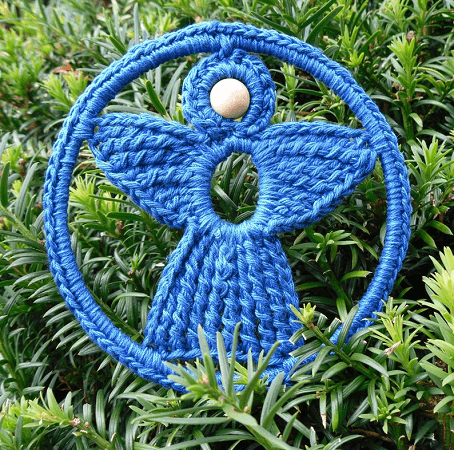 Get the Pattern by Crochet 4 Us here

20. Tiny Angel Wings Crochet Pattern by Simply Collectible
Classic crochet angels are not the only option that you have; you can also make crochet angel wings. Make a set (or several) of these adorable Tiny Angel Wings that are 2.5″ long with this full photo tutorial and written pattern.

These are small wings that work great as a pair of crochet earrings. They can also be hung like Christmas ornaments or sewing on to the backs of baby's shirts as appliques.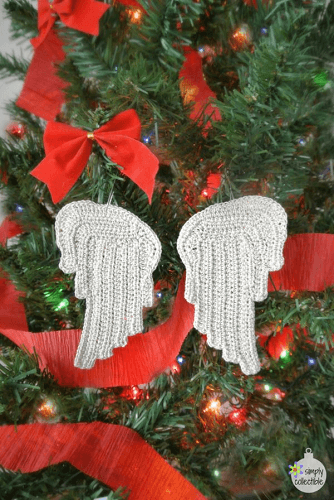 Get the Pattern here

21. Little Angel Crochet Pattern by Sedef Bay
Are you looking for a simple and cute pattern to make it into a lovely gift at Christmas or for any other occasion for your loved ones or maybe for yourself? If that's so, this Little Angel Crochet Pattern is the perfect pattern for you!

This little angel doll can be done within 1-2 hours. Use any cotton or acrylic yarn with a hook smaller than that specified on the thread label and give it a special personality as you wish.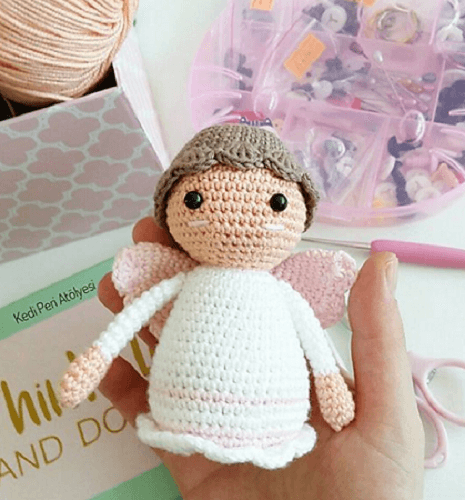 Get the Pattern here

22. Baby Lovey Angel Crochet Pattern by DAC Crochet
This Angel Baby Lovey is a precious security blanket for a newborn baby; as well as children of all ages!

Its white head is generously stuffed with fiberfill and embellished with a gold halo and embroidered sleepy eyes. Other features include arms with fingers that touch towards a center red heart; and also legs with toes.

This adorable lovey measures approximately 18" diameter at the widest point and approximately 13" tall from the top of head to toes.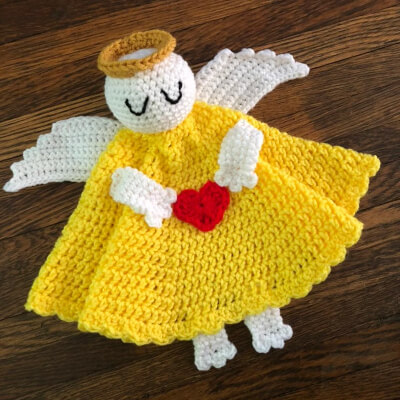 Get the Pattern by DAC Crochet here

23. Christmas Angel Doll Amigurumi Pattern by Crown Country Crochet
This Christmas Angel Doll Amigurumi Pattern is inspired by traditional Christmas Angel figures. Create multiple variations of her using different colors!

Create your very own three-dimensional angel doll! Doll's frame is constructed with pipe cleaners for sturdiness and pose-able limbs.

This is an intermediate pattern and you should have knowledge of basic crochet stitches, color changes, working in the round, basic embroidery, and sewing.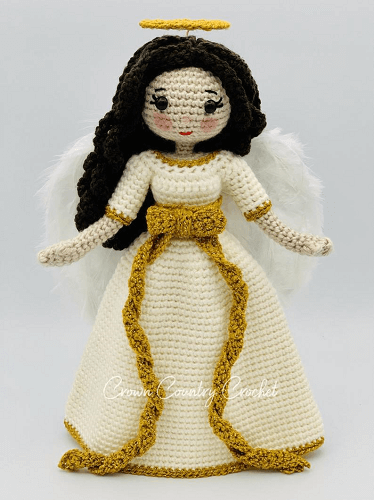 Get the Pattern by Crown Country Crochet here

24. Angel Wings Afghan Crochet Pattern by Stephanie Pokorny
Wrap someone you love in the wings of an angel with this Angel Wings Afghan Crochet Pattern! You will love this simple all double crochet afghan. The whole afghan is made with one stitch, making it easy to set down.
Use the heart motif as a space to add a name or special word to you or a loved one!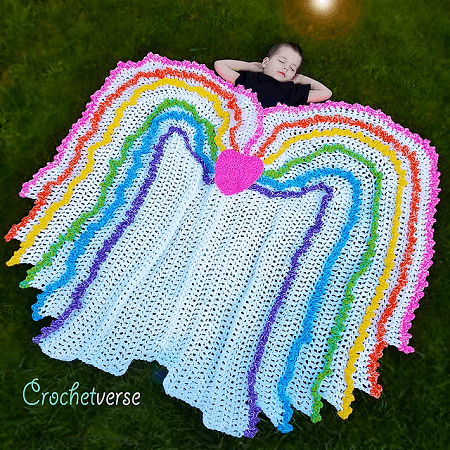 Get the Pattern here

25. Crochet Angel Doll Pattern by Enjoy Toys Designs
This cute Guardian Angel will be a great gift for Easter, Christmas, or Baptism. He has soft hair and tummy, and magic silver wings. Isn't he perfect?

The height of the finished toy is about 20- 24 cm (7-9 inches) when made with half cotton yarn and softy yarn.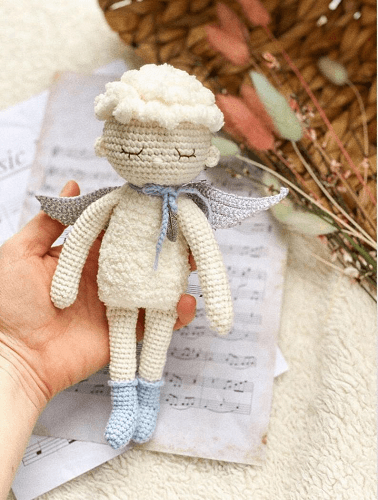 Get the Pattern by Enjoy Toys Designs here

26. Amigurumi Angel Ornaments Pattern by Yarnspirations
This sweet Amigurumi Angel is quick to crochet and can be used at Christmas or anytime you need a little heavenly spirit. Perfect as an ornament or as a package tie-on, you'll love how this Angel reflects your love of crochet!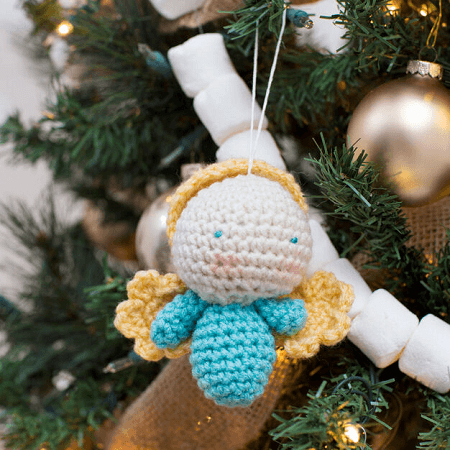 Get the Pattern here

27. Guardian Angel Curtain Tie Back Crochet Pattern by BB Adorables
This Guardian Angel Curtain Tie Back a cute home decorator, nursery room gift, or as a toy for your baby pram, baby gym center, car seat, or of your home.

The height of the Guardian Angel in the sitting position is 19 cm (7'5 inches) using a 3.00 mm hook and the arms' length is 20 cm (8 inches) but whatever hook sizes you use, the Guardian Angel will turn out great!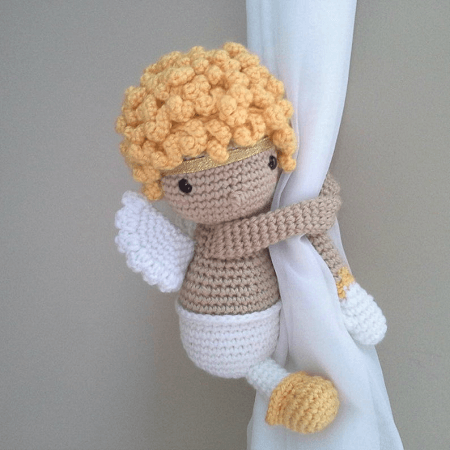 Get the Pattern by BB Adorables here

28. Beautiful Free Crochet Angel Pattern by Cynthia Banessa
Who said an angel is only to hang around for Christmas. This Beautiful Free Crochet Angel Pattern is a cute little pattern to make and have throughout the year! If you can crochet a triangle you can easily make this angel crochet pattern.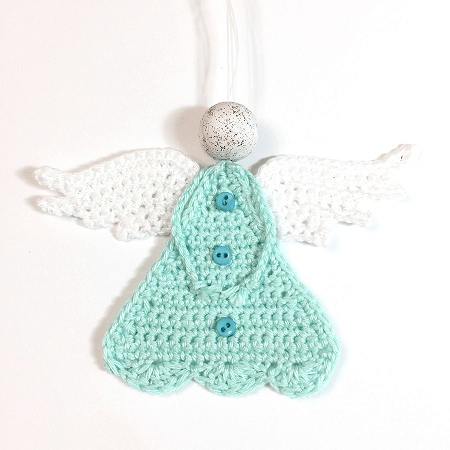 Get the Pattern here

29. Crochet Standing Angel Pattern by Loops And Love Crochet
Meet Angelica, the angel amigurumi! With her pretty little boots, sparkly wings, and cheerful face, Angelica is the perfect project for your winter or holiday crocheting.

This free crochet angel pattern is worked up in pieces and then sewn together at the end. Because her legs are sewn on separately, she can be placed in a sitting or standing position (if leaned against something).

Angelica measures 12 inches tall and is great for cuddling, decorating, or gift giving!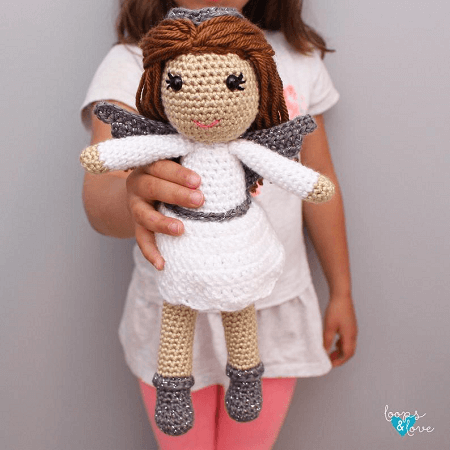 Get the Pattern here

30. Cuddle Sized Angels Crochet Pattern by Storyland Amis
Meet Gabriel and Noelle, the Cuddle-Sized Angels! Gabriel and Noelle may be twins, but they are just about as different from each other as they can be!

Gabriel is light and fair and has a gentle temperament. Noelle, on the other hand, has firey red hair and a personality to match! Even so, they get along with each other famously! The finished crochet amigurumi angel measures 7.5 in. (19 cm.) tall.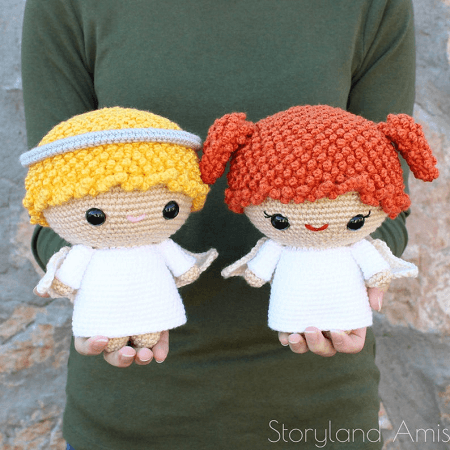 Get the Pattern by Storyland Amis here

31. Little Angel Christmas Ornament Crochet Pattern by Viktoria Gogolak
This is a very classic crochet angel pattern, designed with a white cotton thread as a lacy Christmas ornament. This crochet angel is worked with a size US 7 steel/1.5 mm crochet hook and is just over three inches tall.

This size is great for a Christmas tree ornament but you could also make a whole set of these to string together for a holiday bunting.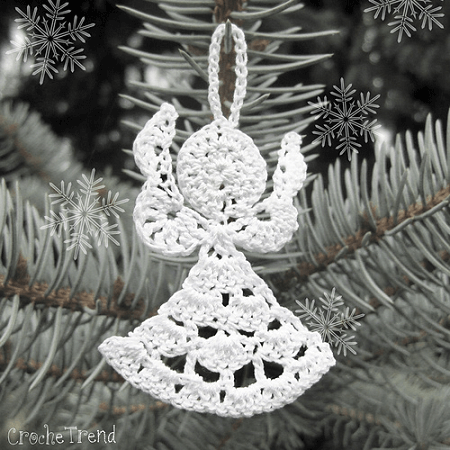 Get the Pattern here

32. Amigurumi Angel Crochet Pattern by Dinegurumi
This beautiful Amigurumi Angel Crochet is perfect as a gift, centerpiece, or desk companion. It's also a perfect gift for a family member or loved one who is going through some tough times.

If you use the prespecified material the figure will be 25 cm tall. Don't you love its golden locks and fantastic wings?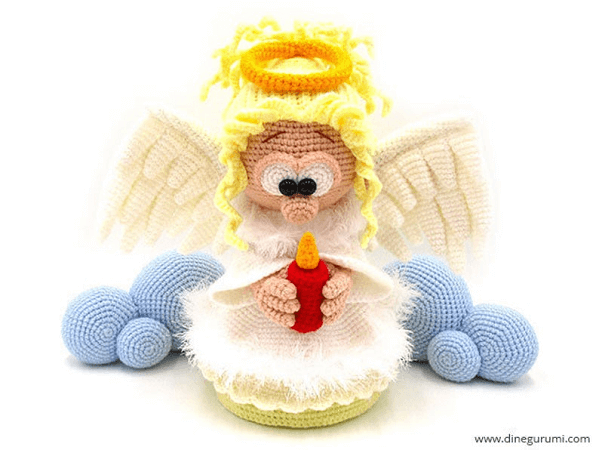 Get the Pattern by Dinegurumi here

33. Free Crochet Angel Pattern by Grace And Yarn
Meet Anna the Angel, she measures about 7 inches tall and works up quickly. For this pattern you will want to be familiar with changing colors, working in a magic circle, and using invisible decreases.

Anna has a few more parts to sew than the other crochet angel patterns in this series but she's definitely worth the extra steps!

Feel free to change the colors to your liking or even to resemble the little girl you'd like to make her for! Exclude the bun in her hair and eyelashes for a great boy version too!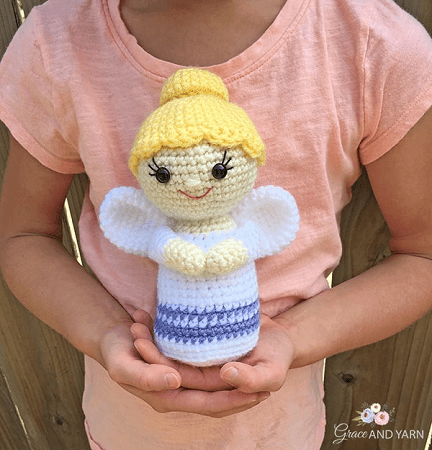 Get this Crochet Angel Pattern here
Do whip these crochet angel patterns to make mini sacred personages that are sure to be loved dearly by all!
Make your own crochet angels during the holiday season or give them away as meaningful gifts.
When you're done, be sure to also share your crocheted angels with us on our Facebook Page. We'd love to see them!

If you're not sure where to start but are ready to dive in with holiday crafting, we have lots of Christmas Crochet Patterns collection that can help!
Here are our Favourite Crochet Christmas Pattern Lists
It's time to hear that little voice on your shoulder urging you to pick up your crochet hooks and start whipping up your favorite crochet angel pattern!