'Tis the season to have fun with the gingerbread man and he's not running away! Celebrate the little guy with some adorable Crochet Gingerbread Man Patterns!
If you have a shortage of ingredients and instead of sugar, flour, eggs, honey, etc., and just wool in the house, then whip yourself a gingerbread man!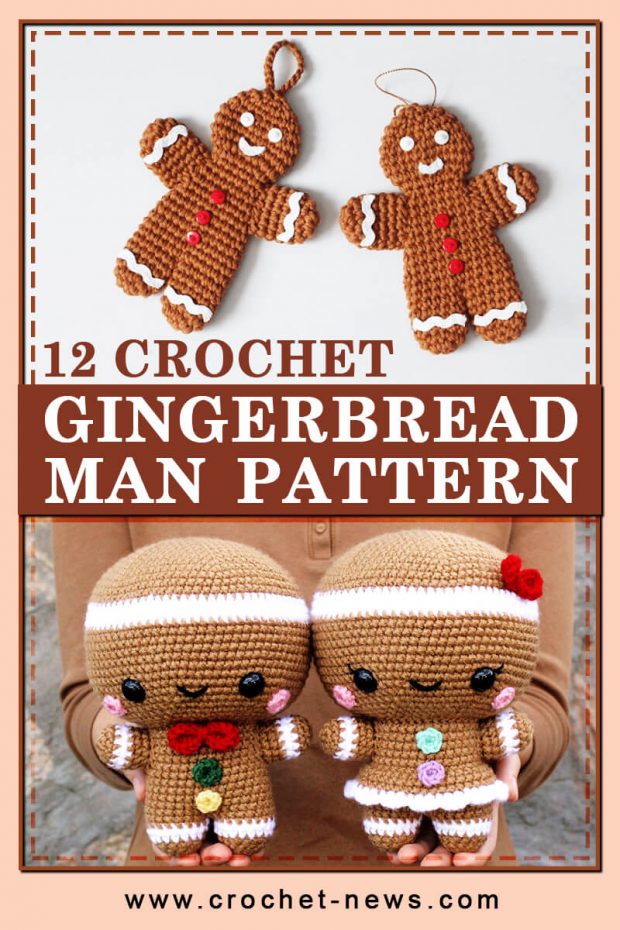 1. Crochet Gingerbread Man Pattern by Repeat Crafter Me
This Crochet Gingerbread Man is made sturdy so he could be used for more decor like on a wreath, strung as garland, tree ornament, dinner table place holders, etc.

Plus, you can add more embellishments (like a bow) to your gingerbread man and make him a gingerbread woman!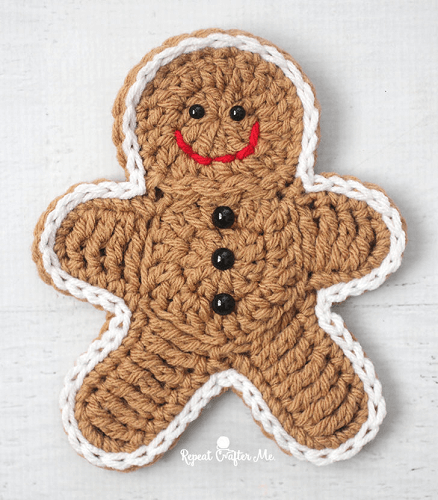 Get the Pattern here

2. Cuddle-Sized Gingerbread Twins Crochet Pattern by Storyland Amis
Meet Sugar and Spice the Gingerbread Twins! They're the sweetest cuddly pair and just right for Christmas time.

You definitely won't want to make just one, so thankfully for you, both patterns are included in one!
Get the Pattern by Storyland Amis here

3. Crochet Gingerbread Couple Pattern by Baby Eco Toys
This is an excellent pattern for a lovely gingerbread couple! The pattern is very well written, the instructions are clear and there are many step-by-step photos to show all the important steps.

The toys measure approximately 17-18 cm (6-7″).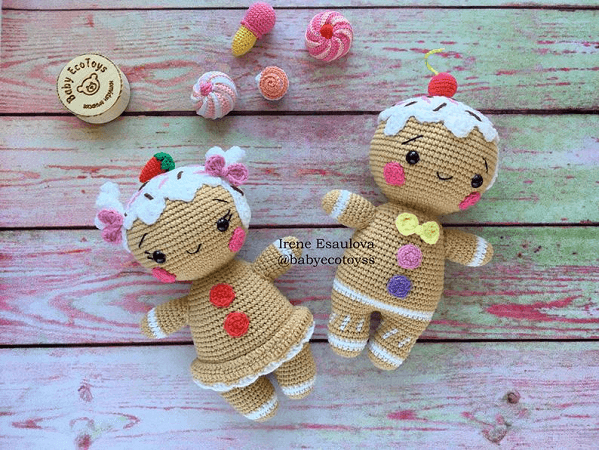 Get the Pattern by Baby Eco Toys here

4. Crochet Gingerbread Man Ornament Pattern by I Heart Gantsilyo
This crochet gingerbread man is flat just like a real gingerbread man cookie! It's also very easy to make and requires minimal sewing because it is crocheted continuously from joining the two legs to making the body and head.

It can be an additional ornament on your Christmas tree or just hang it anywhere in the house for your little ones to see or you can simply tie it onto the top of your wrapped store-bought gift, that way you have something handmade to give!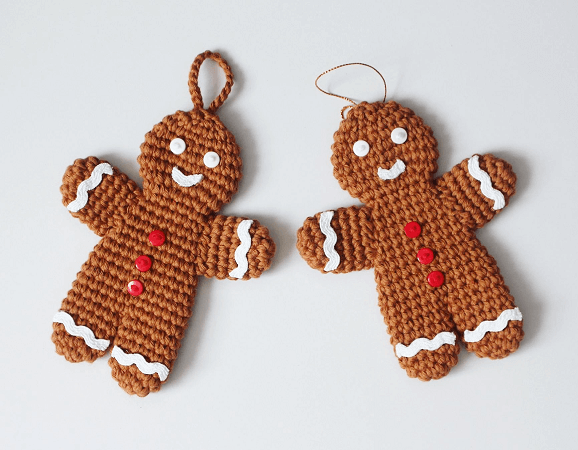 Get the Pattern here

5. Gingerbread Man Cup Cozy Crochet Pattern by Okie Girl Bling N Things
This Gingerbread Man Cup Cozy will add style and comfort to your daily cup of tea, Joe, or hot chocolate. Keep your hands comfy while you sip. This is a great stocking stuffer, housewarming gift, or office-mate gift!

The pattern is easy to work up that you could make several for your holiday office party and feel festive wherever you go!
Get the Pattern by Okie Girl Bling N Things here

6. Snap, The Gingerbread Boy Amigurumi Pattern by Grace And Yarn
You will have fun making Snap, the Gingerbread Boy! He works up fast and makes a great Christmas present or stocking stuffer. He measures 13 inches when using the specified yarn and hook.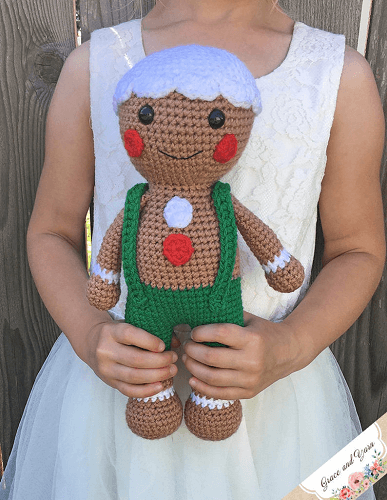 Get the Pattern here

7. Free Gingerbread Man Crochet Pattern by Red Ted Art
Make a sweet crochet gingerbread man! This amigurumi toy is the perfect way to add a cute handmade touch to your Christmas decor. It would make a lovely unique gift or stocking stuffer!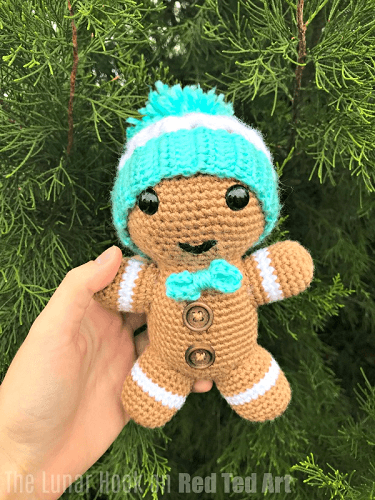 Get the Pattern here

8. Gingerbread Man Curtain Tie Back Crochet Pattern by Cosy Patterns
Crochet curtain tie-backs don't have to be boring. Whip up n adorable Gingerbread Man Curtain Tie Back just in time for the holidays!

The finished size will be around 18 cm (7") tall, using worsted weight yarn and a 3.00 mm or a 3.25mm crochet hook or around 13 cm (4″) tall, using double knit yarn and a 2.00mm or a 2.50mm crochet hook.
Get the Pattern by Cosy Patterns here

9. Gingerbread Man Kitchen Towel Crochet Pattern by A Crocheted Simplicity
This festive Gingerbread Man Kitchen Towel brings the holiday spirit into your kitchen, along with the lovely aroma of Christmas cookies.

To help it look lovely and neat, this towel can be hung securely on the oven door handle to prevent it from falling down. Enjoy and have fun making it!
Get the Pattern here

10. Crochet Gingerbread Girl Dress Pattern by Repeat Crafter Me
This Crochet Gingerbread Girl Dress would be so fabulous looking to dress up your little girls for the Christmas season.

Whip it up in a brown and white yarn for the coming holiday or change the color for any other occasion.

This adorable gingerbread girl dress is designed to fit a toddler. It's a cute little dress fro Christmas celebrations and photo shoots with Santa. The pattern also includes instructions for a cute bow!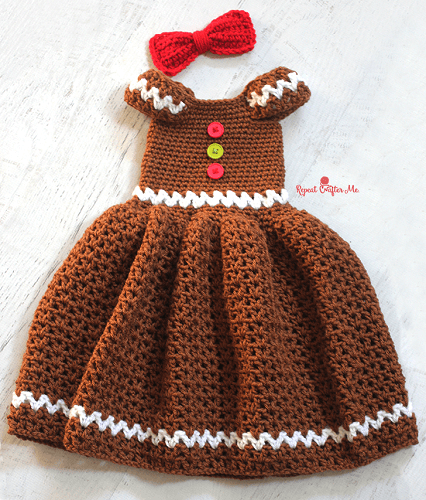 Get the Pattern here

11. Amigurumi Crochet Gingerbread Man Pattern by Supergurumi
This little Amigurumi Crochet Gingerbread Man can be crocheted relatively quickly and is perfect as a decorative figurine, gift, or key chain.

It is crocheted with slip stitches, single crochet stitches, half double crochet stitches, double crochet stitches, and treble crochet stitches in spiral rounds and is easy to crochet.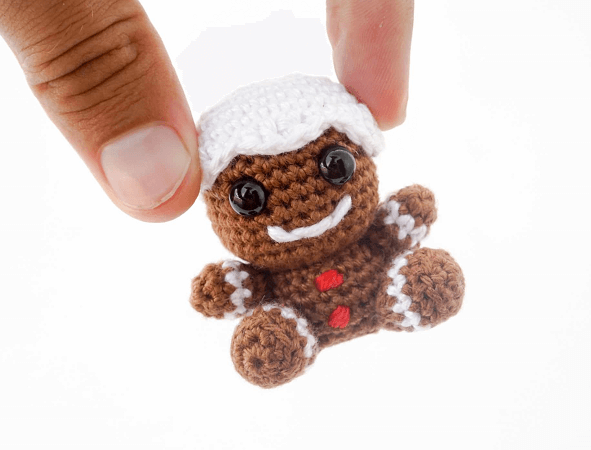 Get the Pattern here

12. Gingerbread Man Coin Purse Crochet Pattern by Lau Loves Crochet
This Gingerbread Man Coin Purse is perfect for Christmas parties, holding coins, and one of the best ways to spread Christmas cheers!

Who wouldn't want crochet gingerbread man coin purse they can carry around with them all throughout the holidays?

This is an easy pattern that you can start on now (to get ahead on your Christmas crochet projects) or wait until the last minute to whip up this purse!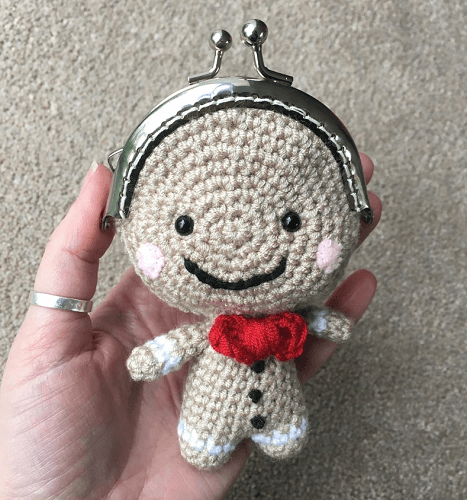 Get the Pattern by Lau Loves Crochet here
We hope you will have fun whipping up these crochet gingerbread man patterns – we're pretty sure you will!
We would love to see your versions and how you choose to decorate yours. If you make one, share a picture on our Facebook Page!

These are not all, you have to check out our list of Crochet Christmas Patterns – there's a whole lot to make and do!

So this festive season, let your creativity go wild with these 12 crochet gingerbread man patterns!