Crochet Christmas slippers are the perfect way to keep your feet warm during the winter holidays. Most Santa boots work up quickly and make the ideal Christmas gift.
So, if you are looking for a fun, whimsical gift idea or want to make yourself a pair of slippers, check out the Santa boot patterns we have listed below. We have included boots for people of all ages.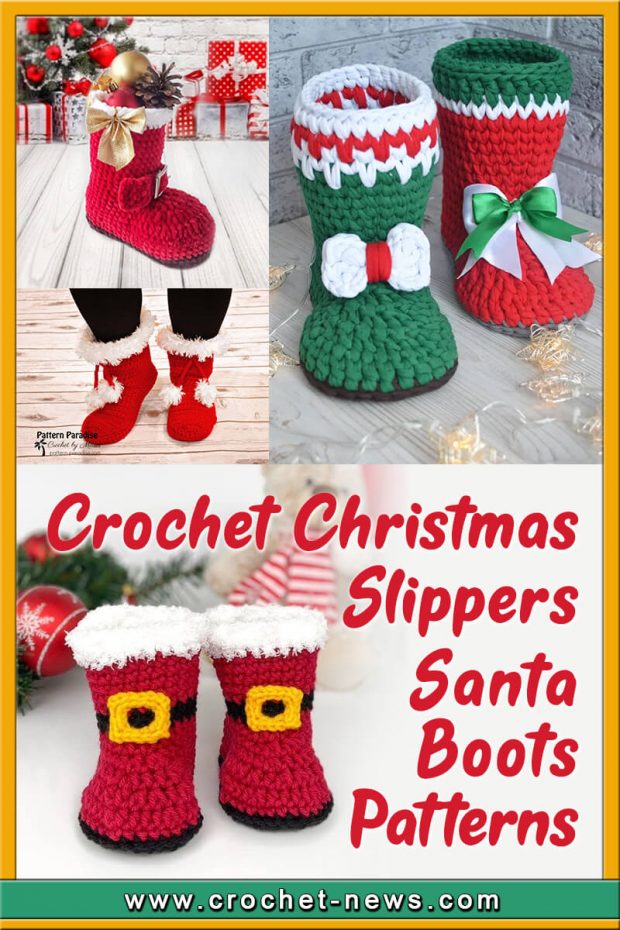 Below are 11 crochet Santa boot patterns.
1. Crochet Toddler Santa Boot Pattern by AlenasDesign
These crochet Santa boots are ideal for keeping your child's feet warm. Or you can make them for a Christmas photo shoot. Use the classic red and white for Christmas. Use other colour combinations for other times of the year.
The pattern includes US toddler sizes 5, 6-7, 8, and 9-10. This is an easy to intermediate level pattern that includes written instructions along with a photo tutorial. The patterns include sizes, materials, gauges, finished measurements, stitch abbreviations, stitch counts, and pictures.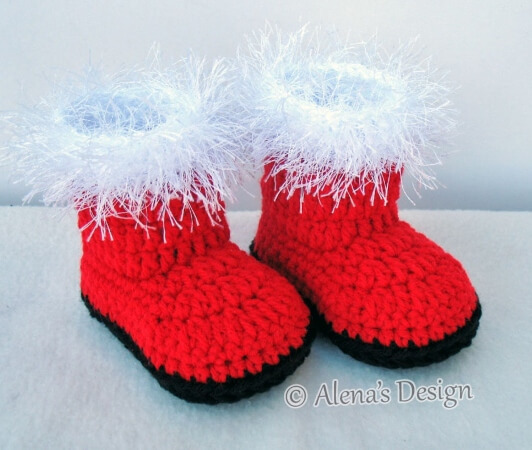 Find the Pattern by AlenasDesign HERE
2. Free Santa Crochet Christmas Slippers Pattern from Pattern Paradise
These Santa slippers have a thick, soft, cushy double sole. It fits like a short boot and has fur trim around the top.
To complete this crochet Santa boot pattern, you will need to know chain, half double crochet, single crochet, slip stitch, and stitch. For the fur trim, you will need a US K/6.50 mm hook. The slipper uses a US I/5.50 mm hook.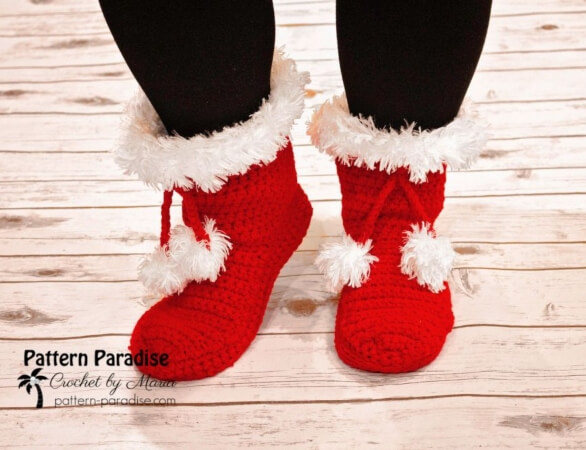 Find this Pattern from Pattern Paradise HERE
3. Crochet Santa Boot Basket Pattern by PatternCrochetToys
Here is a pattern to make a cute Santa boot you can use as a holiday decoration or as a gift. You can decorate the boot with snowflakes, bells, stars, etc., or leave it as it is.
This how to make Santa boots tutorial is an intermediate level pattern. It is intended for those who already have basic crochet knowledge. You will need to know magic ring, invisible decrease, invisible increase, and how to sew details together.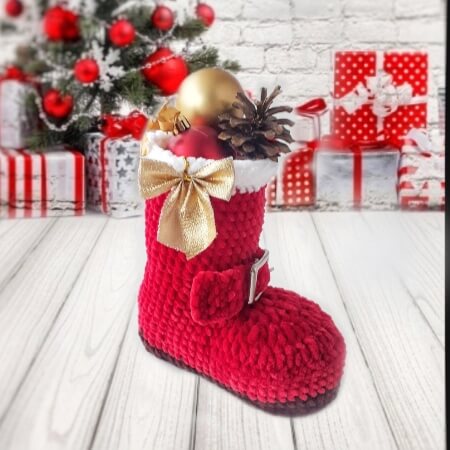 Find the Pattern by PatternCrochetToys HERE
4. Santa Claus Crochet Christmas Boots Pattern by ValkyriesAccessories
Use these Santa boots as wine bags, gift bags, or just sit them around your home. They will add a touch of whimsy to whatever they are used for.
This crochet Santa boots pattern is suitable for advanced beginners who have the knowledge of crocheting in spirals, chain, single crochet, double crochet, single crochet increase and invisible decrease.
The finished boot measures approximately 8.5 inches (21 cm) long, 4 inches (10 cm) wide x 7 inches (17 cm) high.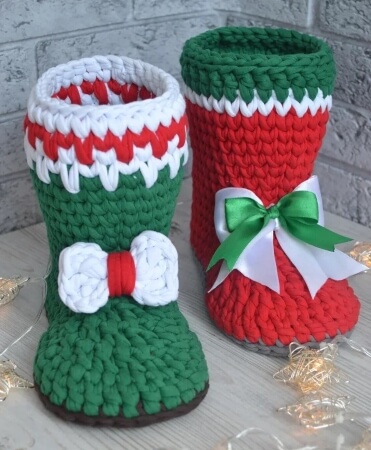 Find the Pattern by ValkyriesAccessories HERE
5. Santa Baby Hat & Boot Set Crochet Pattern by TurquoisePattern
This Santa baby boot and hat collection make the perfect gift set. The little crochet Christmas boots are so cute!
The pattern is for sizes 0-6 months and 6-12 months. It is an easy pattern that requires basic crochet knowledge. The pattern is detailed with easy-to-follow directions. There are a lot of pictures to help you through the process.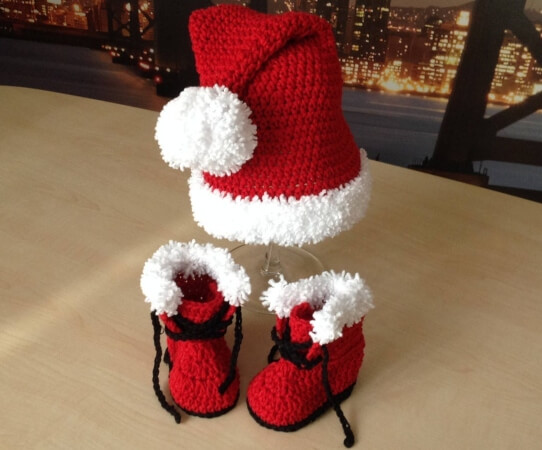 Find the Pattern by TurquoisePattern HERE
6. Santa Baby Booties Crochet Pattern by JoToTheWorldCreation
You can use this pattern to crochet Santa boots for babies or as Christmas decorations. Fill them with small candy canes and use them as place settings.
The pattern includes step-by-step instructions and a photo tutorial. They work up quickly and use less than a quarter of a skein of yarn. The finished boots will fit a 3-9 month old baby.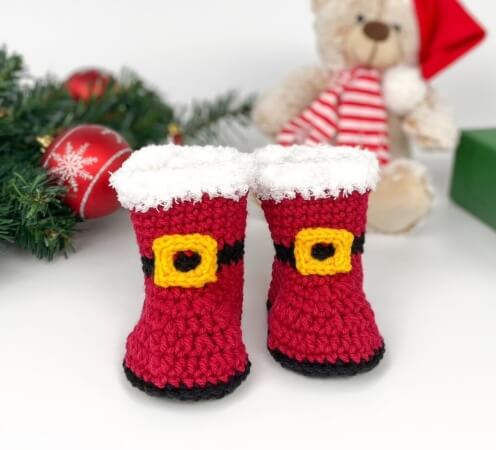 Find the Pattern by JoToTheWorldCreation HERE
7. Crochet Christmas Stocking Pattern by BySLAVI
Make a bunch of these Santa boot stockings in several colours. They can be used as toys or Christmas tree ornaments.
The pattern contains written instructions, diagrams, pictures, and detailed instructions. The size of the finished product is 2 inches x 3 inches x 3 inches.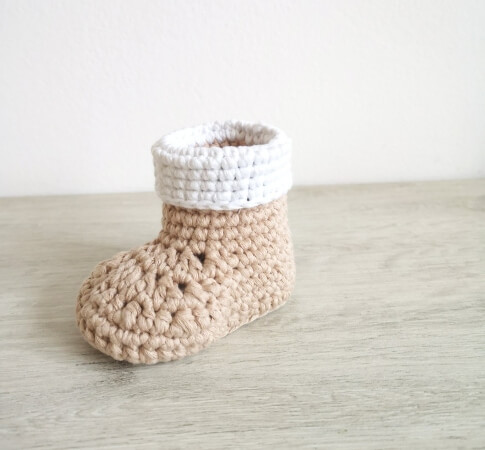 Find the Pattern by BySLAVI HERE
8. Crochet Baby Santa Boot Pattern by Ieckaleigh
Make these crochet Santa boots for your baby or a friend's baby. They are so cute and will also help keep their feet warm and toasty.
This is an easy pattern that works up quickly. The directions include 4 size variations. You will need to know chain stitch, half double crochet, double crochet, single crochet, and slip stitch.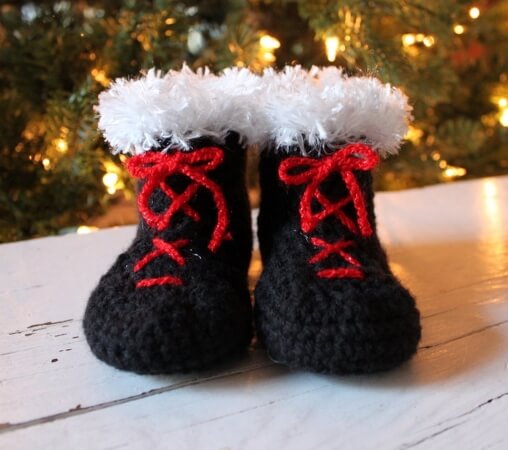 Find the Pattern by Ieckaleigh HERE
9. Crochet Baby Santa Boots from Crochet Kingdom
Here is a free crochet Santa boots pattern. This tutorial is for a 0–3 month old baby, but if you are an advanced to intermediate crocheter you can make them in any size.
This is a video tutorial. There are no written instructions.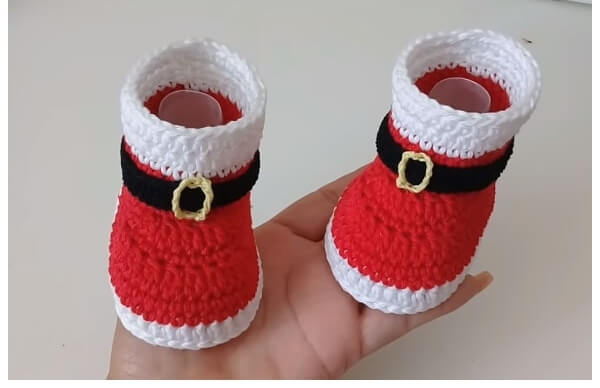 Find the Pattern from Crochet Kingdom HERE
10. Baby Santa Boots Crochet Pattern by ElodyKnitsforKids
Make these festive little booties for all the babies in your life. Everyone will love how cute and soft these crochet Santa boots are.
When downloading the crochet Christmas slippers pattern, you can choose either English or Dutch. There are 7 pages of detailed row-by-row instructions and pictures. There are instructions for sizes newborn to 12 months.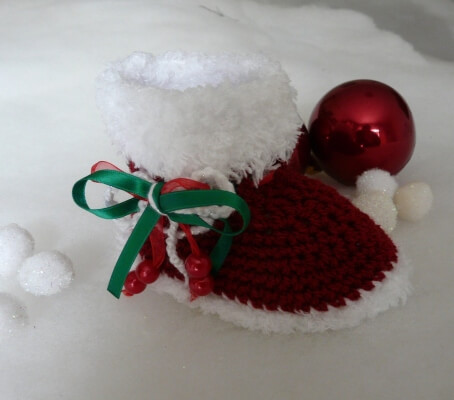 Find the Pattern by ElodyKnitsforKids HERE
11. Crochet Santa Boots Pattern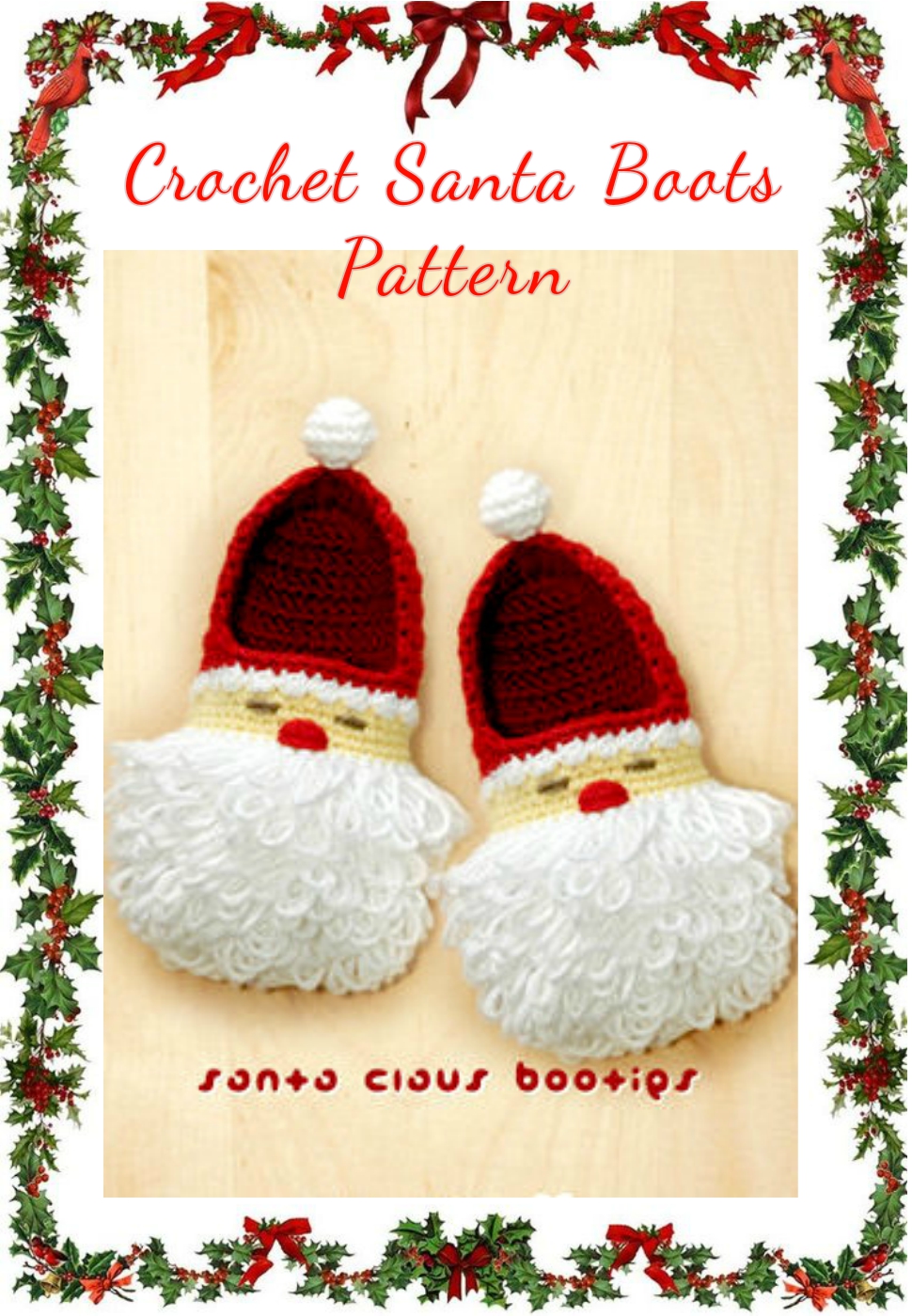 There are 12 days of Christmas, and on the first day, I got crochet Santa boots. The cutest little festive booties you will ever lay your eyes on.
Long story short I didn't take them off for the remaining 11 days. They are stunning, to say the least.
It's like having tiny Santa's on your feet. They are not only beautiful to look at, but they will also keep your feet nice and toasty during those cold winter nights.
And trust me the crochet Santa boots will definitely get you in the festive mood when Christmas comes around again.
So what materials do you need to create these crochet christmas boots?
MATERIALS FOR CROCHET SANTA BOOT PATTERN
Worsted weight yarn in red. The creator used Lion Brand Vanna's Choice.
Bulky weight yarn in white.
Worsted weight yarn in yellow
Light worsted weight yarn in grey or black
Size H Crochet Hook
HOW TO MAKE SANTA BOOTS TUTORIAL AND PDF
The beauty of it all is not even the cute Crochet Santa boots that you will make; it's the fact that the crochet Santa boot pattern is as easy as one two three.
The pdf's and the tutorials are instructive and easy to follow, written in simple English. Coupled with illustrations, so you are guaranteed to get the results that you expect.
With six pages of detailed instructions, abbreviation and symbol key and chart symbol diagrams there is no way you can go wrong.
CROCHET SANTA BOOTS ARE PERFECT PRE-CHRISTMAS PRESENT
With Christmas a few months away you have more than enough time to become an expert Santa's little helper.
You can give the crochet Santa boots out as a present to your kids and your better half for this Christmas. Try out different Christmas colors to give them a unique feel.
You will drive your family absolutely nuts with the crochet Christmas boots. Try laying them out as decorative pieces this Christmas or hang them up instead of the usual Christmas stockings.
When you hold that annual Christmas party, they are bound to be the talk pieces of the night. The crochet Santa boots are just the thing to set the mood this coming festive season.
VARIOUS SIZES FOR CROCHET SANTA BOOT PATTERN – Everyone Can Join In On The Fun
The crochet Santa boots pattern also comes in specifications for various sizes, so no one gets left out of the fun.
It also comes with a set of festive crochet patterns which includes crochet elf boots which I'm sure your kids will love.
It is a nice way to bring the family together. You can involve them in the process of making the crochet Santa boots, a sure way to spend time with them doing an activity that they will love.
MAKE THESE ADORABLE CROCHET SANTA BOOTS IN TIME FOR THE HOLIDAYS
So to conclude, the crochet Santa boots pattern is the pattern for the season. It is the season when the pine trees fill our homes, nutmegs in our cups and mistletoes hanging overhead.
It is the season of enchantment, and the crochet Santa boots are the magic that brings it all together. So what are you waiting for?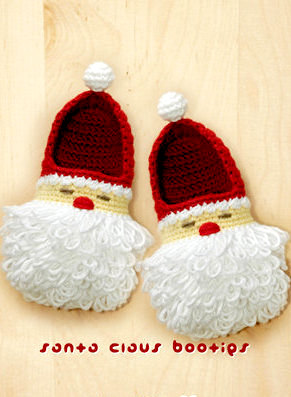 Get The Santa Boots Crochet Pattern Here
ARE YOU FEELING FESTIVE AND ARE READY TO GET CREATIVE? WORK UP SOME OF THESE WHIMSICAL CROCHET SANTA BOOTS.
If you love Christmas as much as we do, we are positive you will love our list of fabulous slippers. And there is no better time to start making these wonderful crochet Santa boots than right now.
Check out our round up of Crochet Slipper Patterns for more options to choose from.
Crochet Santa Boots Pattern
Here are our Favourite Crochet Christmas Pattern Lists
Go get this crochet Santa boot pattern now, and you will be ready with the Christmas spirit when the time comes around again.