Give your feet some warmth and cushion with these Easy Crochet Slipper Patterns For Beginners! Ready to fight off chilly toes?
The weather might be warming up for most of us, but that doesn't always stop the chill from creeping into our feet!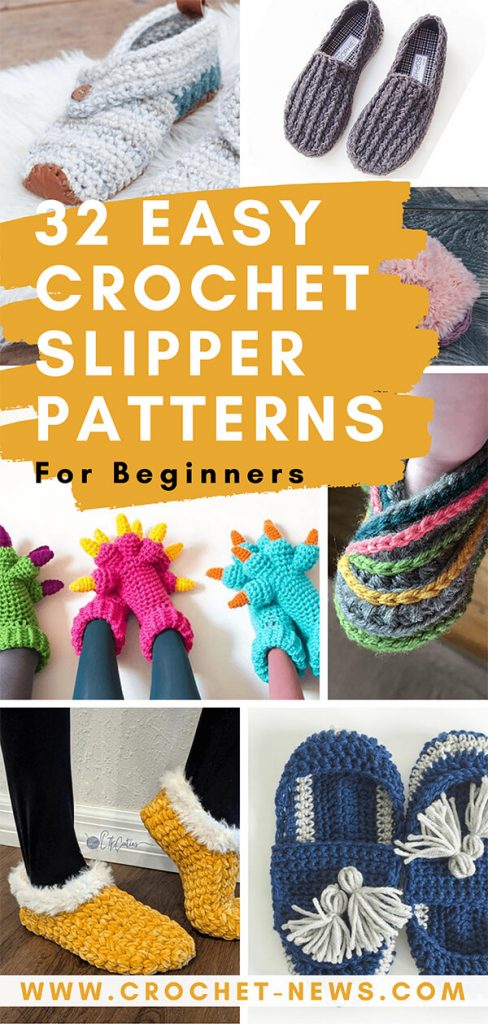 If you find yourself with frequently chilled toes, a crochet slippers pattern might be just what you need! Plus, crocheted slippers aren't just for winter. They're great for wearing on hardwood floors year-round to give your feet a bit of cushion.
1. Cool Crochet Slippers Pattern by Crochet Milie
A sneaker that never goes out of style, these cool converse-style slippers are a must-have and a wintertime staple!
These cool crochet slippers are soft, cozy, and made in breathable worsted weight yarn – they just right for spring, and summer too! Wear these to ward off a mild chill or just to look pretty!
If you love Converse, you will definitely adore these slippers. They look just like your favorite shoes, but they're soft and perfect for lounging around the house.
Get the Pattern by Crochet Milie here

2. Simple Crochet Slippers Pattern by Teez Topperz
These Simple Slippers are a super quick and easy slipper pattern. The pattern includes instructions for ladies' sizes 6, 7, 8, and 9.
You will require roughly 90 to 110 yards bulky 5 weight yarn and a 9mm/N crochet hook. It's time to use all your bulky yarn scraps to create these cute little slippers.
If you can HDC and SC you are gonna fly through this pattern and probably end up with lots of pairs!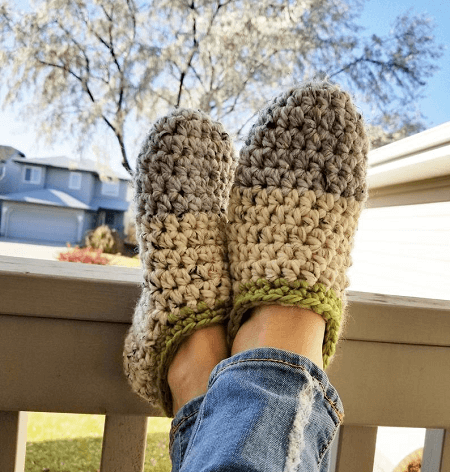 Get the Pattern by Teez Topperz here

3. Free Crochet Slipper Pattern by Crochet Dreamz
Who said slippers worked in the round need to be boring? Try these easy to work shell slippers and you will be amazed.
This Free Crochet Slipper Pattern is made with worsted weight yarn and includes sizes Small, Medium, and Large.
This is an easy slipper pattern that is worked in one piece. Once you make one, everyone in your family would want one too!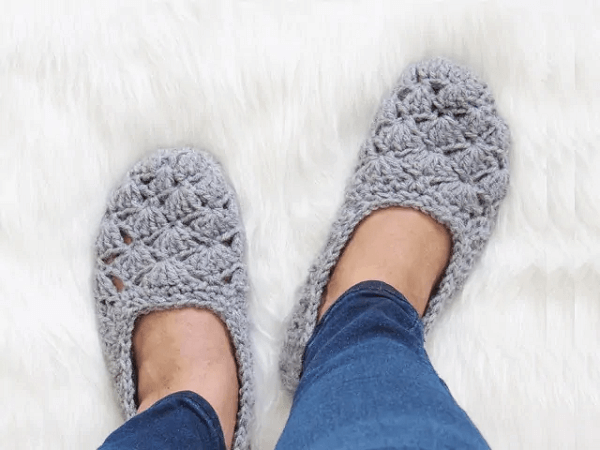 Get the Pattern here

4. Crochet Woman's Slipper Pattern by Crochet Baby Boutique
These open toe slippers are great for home, when traveling or for your special spa day. The stuffing inside the 2 layered sole makes them comfortable to walk in.
This Crochet Woman's Slipper Pattern comes in 4 sizes, Small ( US sizes 5-6), Medium (US sizes 7-8), Large(US sizes 9-10), Extra Large (US sizes 11-12) requires worsted weight cotton yarn and an F(3.75mm) hook.
Want to pamper your feet after a long day at work? Soak your feet then slip into these cozy crocheted slippers!
Get the Pattern by Crochet Baby Boutique here

5. Crochet Velvet Ballet Pom Pom Slippers Pattern by MJ's Off The Hook Designs
These cozy soft ballet style pom pom slippers are made in Bernat Velvet. The velvet makes them so luxurious! Plus they are a quick crochet project to make for gifts. Who wouldn't love a pair?
The pattern includes child sizes 9/10 up to 4/5 and Adult sizes from 4/5 up to 12/13.
If you don't like the pom poms or want a simpler design, you can leave them off. That said, the poms are really what make this pattern particularly unique.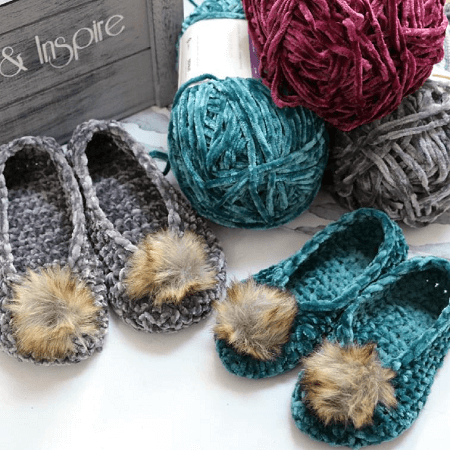 Get the Pattern by MJ's Off The Hook Designs here

6. Tassel Slip-on Slippers Crochet Pattern by Dabbles And Babbles
If you like tassels more than pom-poms then these crochet slippers might be your jam!
These slippers are a perfect combination of boho and modern style. They're worked up in single crochet so not only are they fast to crochet, but they're also an easy one.
The sample used navy to give these tassel slippers a little colonial vibe, but you can use any color you'd like. This crochet slipper pattern will soon be your go-to project for crochet footwear!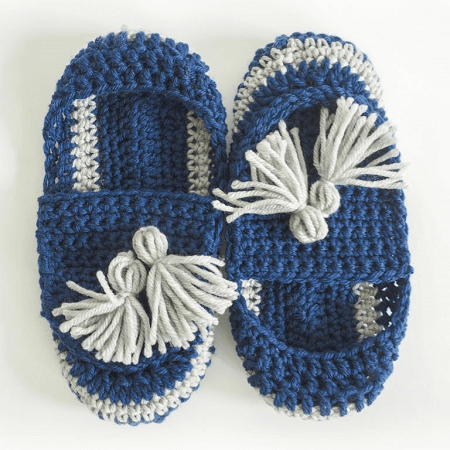 Get the Pattern here

7. Free Crochet Slippers Pattern by Make And Do Crew
This Free Crochet Slippers Pattern will satisfy the modern minimalist in you while also making you feel like a gift giving hero.
They're speedy to work up in chunky yarn and require only basic crochet skills including working in the round, single crochet, and slip stitches.
While the leather soles on these slippers are optional, they really help with the grippy-ness on hardwood floors.
Make a pair for yourself and then outfit the feet of every other cool lady in your life!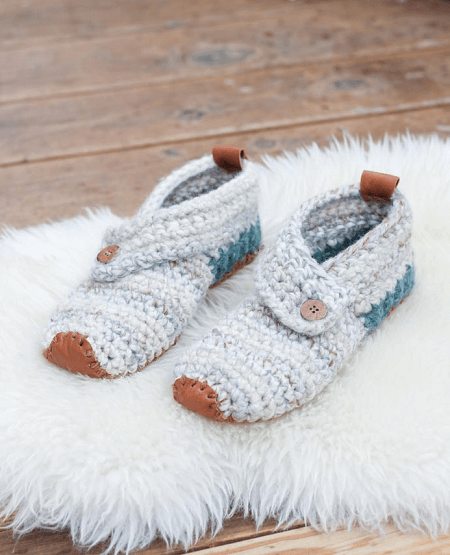 Get the Pattern here

8. Crochet Granny Square Slippers Pattern by Purl Soho
These funky granny square slippers are made up of six equally sized granny squares. How beautifully simple!
You can make these granny square slippers in bright and unexpected color combinations and adjusting the size is so easy that you can make a pair for you and your man.
Don't wear your slippers alone if you can help it!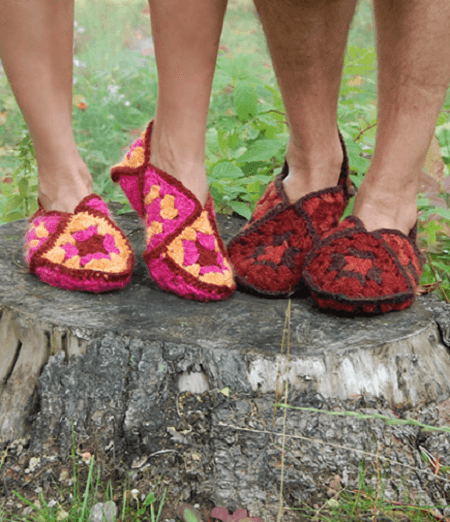 Get the Pattern here

9. Easy Chunky Slippers Crochet Pattern by Crochet Milie
Here's an easy crochet slippers pattern to warm up your man's chilly feet. They are made in Super Bulky weight yarn so you can whip up a pair in no time!
These chunky slippers come right up to the ankle, to keep those feet extra warm and toasty – and to make sure they stay on!
The pattern includes men sizes 7-14. So be sure to make a pair for that lucky guy!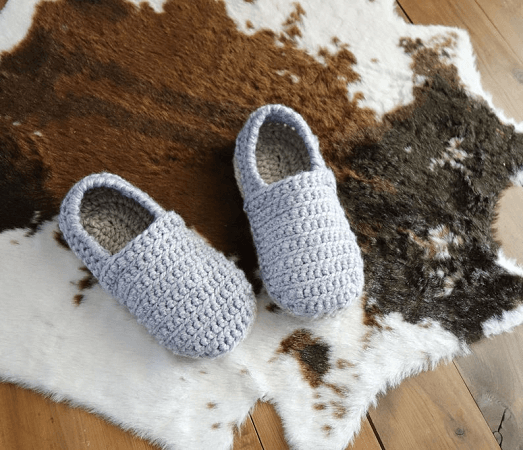 Get the Pattern by Crochet Milie here

10. Baby Kimono Slippers Crochet Pattern by Matilda's Meadow
Make these cute Baby Kimono Slippers Crochet Pattern with just a little worsted or Aran weight yarn.
These little slippers are unique and guaranteed to keep baby's feet cozy and warm, even in the coldest of winters. They also stay on really well, so no lost shoes, or cold toes!
Make them in multiple colors – this is a great unisex design – a truly gender-neutral pattern that you can make in any color you like!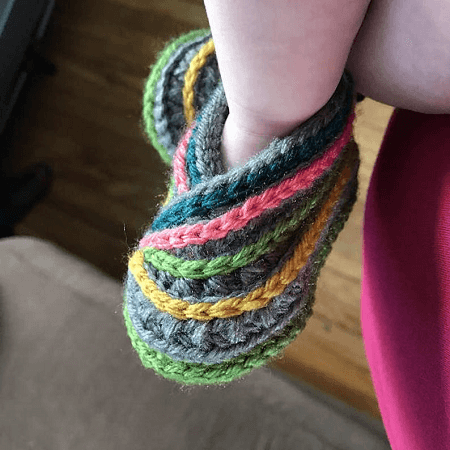 Get the Pattern by Matilda's Meadow here

11. Easy Boho Slippers Crochet Pattern by A Crafty Concept
This Easy Boho Slippers Crochet Pattern makes super squishy crochet slippers!
The design is really fun with the texture from the bobbles and works up super fast since they're made with Bernat Blanket Yarn.
The pattern includes 9 sizes: Toddler, Child S-XL, Adult S-L, and Men's. It works up so quickly and is a great last-minute gift. Make a pair for the whole family!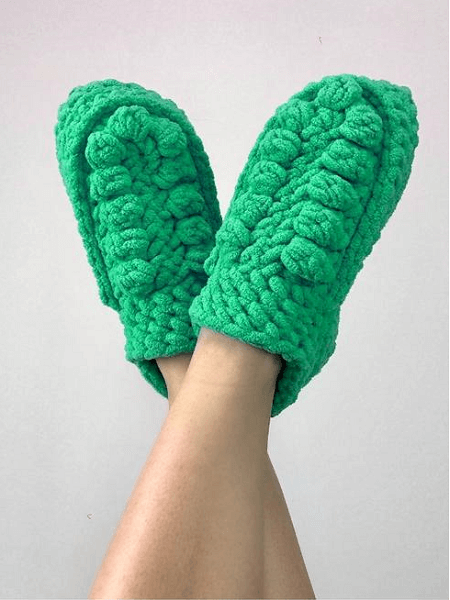 Get the Pattern by A Crafty Concept here

12. Women's Boat Slippers Crochet Pattern by Whistle And Ivy
These crochet women's boat slippers look a bit like crochet Sperrys! You will love making them and love wearing them.
They feature a double sole for extra comfort, and the ties are both decorative and to keep the slippers cozy and in place.
Timeless and trendy, these boat slippers are comfy and great to wear all year-round!
Get the Pattern here

13. Pointy Crochet Slippers Pattern by Jessica Venture
Instead of small crochet poms, you can decorate your crochet slippers with one big large furry pom pom.
They hint at the cheeky romance of fuzzy bedroom slippers. Unlike most other crochet slippers, these have pointy toes, which give them a unique edge.
They're made with t-shirt yarn, which is soft on the soles. If you are a beginner crocheter, then this is a good choice for a slippers pattern.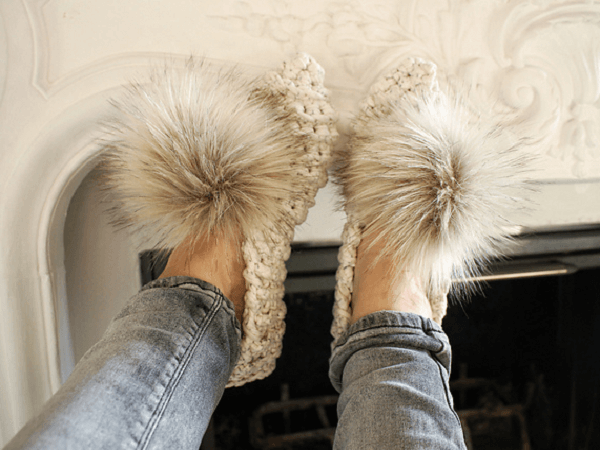 Get the Pattern here

14. Basic Slippers For Men Crochet Pattern PDF Pattern Design
These basic slippers make perfect gifts for the guys. They are chunky, warm, cozy, worked in toe-up, and in one piece.
The crochet pattern comes in three sizes: S, M, and L. The small size shout fit US men's shoe size 9-10. The medium version sizes 11-12. And finally, the large size should fit men's shoe size 13-14.
These crocheted loafer/slippers are modern, stylish, and casual comfort to wear on days when he's working from home or on a day off. He will love these!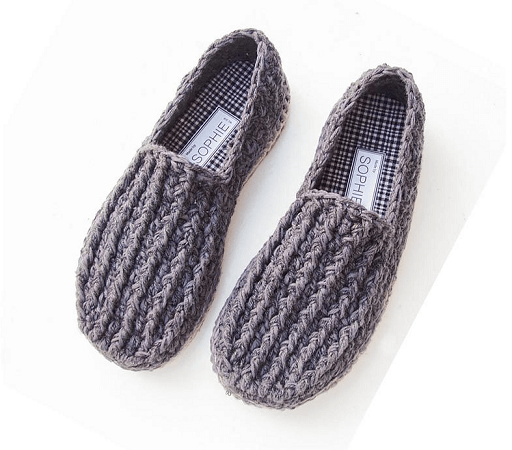 Get the Pattern by PDF Pattern Design here

15. Mary Jane Slipper Crochet Pattern by The Little House By The Sea
These Mary Jane Slippers are so cute you'll want to wear them out of the house!
Each slipper is made in one piece, so there are no seams, and they are made in double crochet stitches,
Pick a stylish button for the perfect accent to these handmade crochet slippers. They're great for any season, and if they get dirty just throw them in the wash!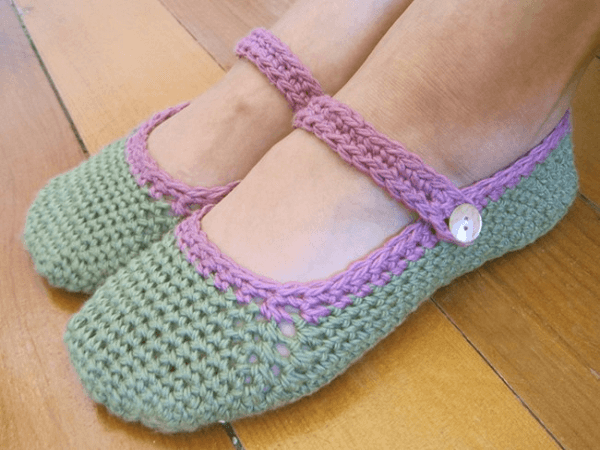 Get the Pattern here

16. Rainbow Striped Slippers Crochet Pattern by Red Handled Scissors
Make a cozy pair of warm slippers with this quick and easy Rainbow Striped Slippers Crochet Pattern!
They look adorable in rainbow colors, but you could choose to crochet them using one solid color or as many colors as you wish.
The pattern makes one pair of crocheted slippers in US women's size 7-8 US men's size 5-6. Instructions are included for lengthening or shortening the pattern for other adult shoe sizes.
The slippers are designed to be wide enough to accommodate thick socks, and they will stretch slightly with wear.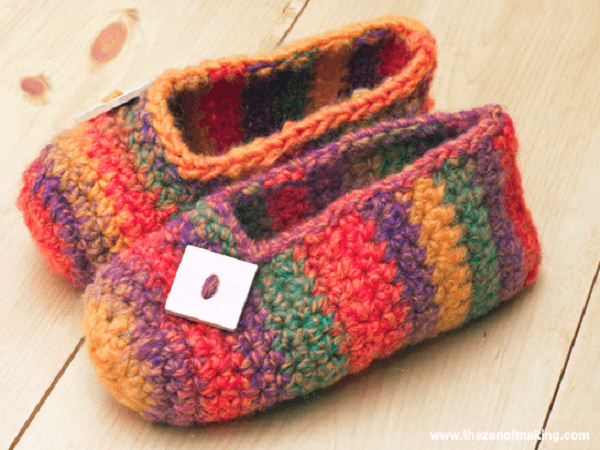 Get the Pattern here

17. Cloud 9 Slippers Crochet Pattern by The Lavender Chair
These Cloud 9 Slippers Crochet Pattern is made using Bernat blanket yarn and only take 10 quick rounds to make.
It really feels as though you are walking on cloud 9 in these plush slippers!
This pair would make wonderful gifts for pretty much anyone. After all, who doesn't want something comfy for their feet?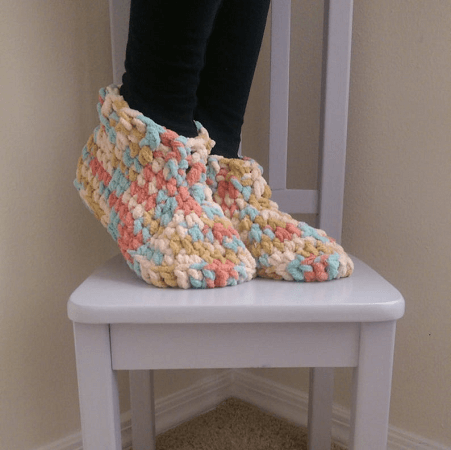 Get the Pattern by The Lavender Chair here

18. Crochet Slippers Pattern For Beginner by Knitz N Purlz
Looking for a mindless and quick crochet pattern that you can whip up in a matter of hours?
These crochet slippers pattern from Knitz N Purlz is easy enough to crochet while watching your favorite movie and interesting enough not to fall asleep on row 5.
A perfect for beginners and a great project if you want to get familiar with t-shirt yarn. Check out 20+ T-Shirt Yarn Patterns that will make you say WOW.
Oh-so-cute slippers with faux fur yarn on top will keep your feet warm and toes toasty! Using t-shirt yarn for a sole will make your slippers durable and will keep its shape even after easy wash.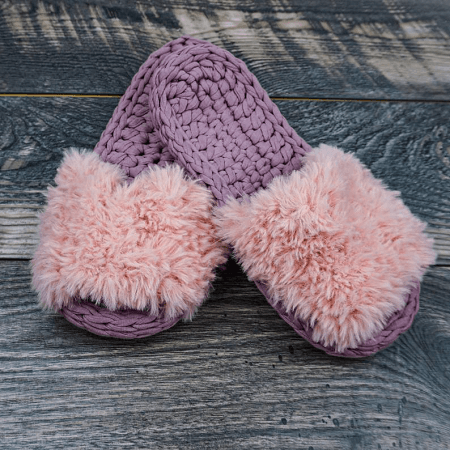 Get the Pattern by Knitz N Purlz here

19. Clog Slippers Crochet Pattern by PDF Pattern Design
When it's freezing outside and inside, and slippers only, are not warm enough, put chunky socks on and insert your feet into these over-sized, comfy clog slippers.
The slippers are well-fitted, with instructions for how to shape right/left slipper. It would be a fast project once you've got the hang of it.
Try different yarns and hooks, and achieve countless sizes, from Baby- to Giant-feet!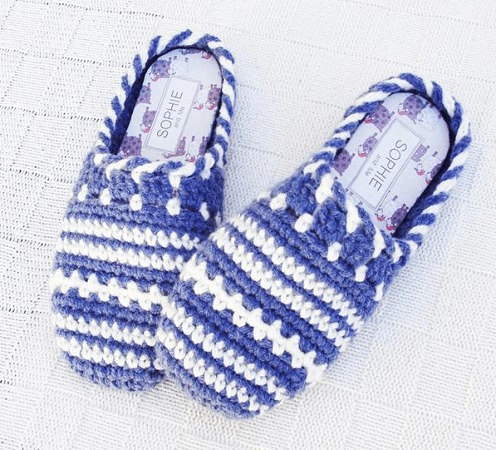 Get the Pattern by PDF Pattern Design here

20. Meadow Slippers Crochet Pattern by LTK Cuties
A basic slipper pattern is updated with a fun furry accent around the ankle.
The pattern is written for a women's size 7 but it gives notes on how to adjust to make wider or longer making sure to measure heel before ending.
Make yourself a pair of these crochet comfy slippers, slip them on, and stay warm while you crochet everyone else a pair for Xmas gifts.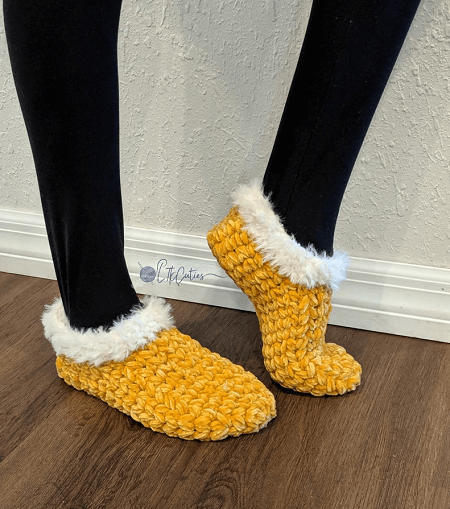 Get the Pattern by LTK Cuties here

21. Crochet House Slippers Pattern by Sewrella
Now you can crochet yourself the perfect house slippers that are cute and functional. These slippers are one size fits most, they will stretch a bit and will fit US women's shoe size 7-11.
These crochet slippers are so stylish you will be thrilled to wear them around the house constantly – you will only take them off to put on real shoes!
The bow on top makes these look like chic flats from the store. This is the perfect accessory!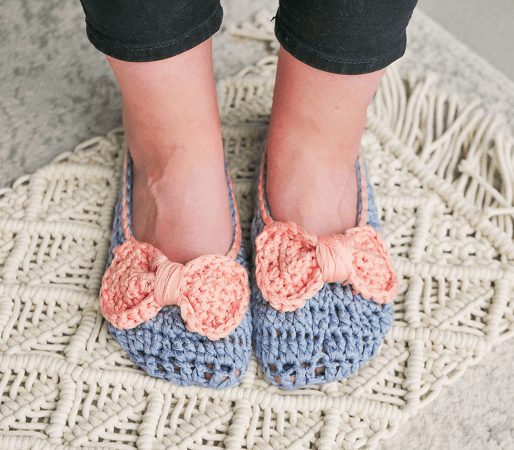 Get the Pattern here

22. Crochet Slippers Pattern by The Merry Thought
You'll be up to your ankles in softly-textured stitches with these moccasin-style slippers!
They are worked in a simple rope stitch to create a comfortable fabric that gently hugs your feet. And with two layers at the toes, they're the ideal chill chasers for cooler weather!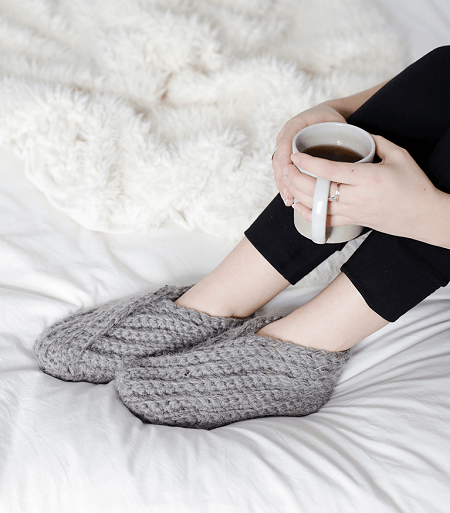 Get the Pattern here

23. Ballet Slippers Free Crochet Pattern by Heart Hook Home
Ballet slippers are an ideal source of inspiration for a summertime crochet slippers design. This pair works up so quickly!
This Ballet Slippers Free Crochet Pattern will show you exactly how to get the shaping right for a feminine slipper, using chains to create an openwork design detail that also helps with achieving the right fit.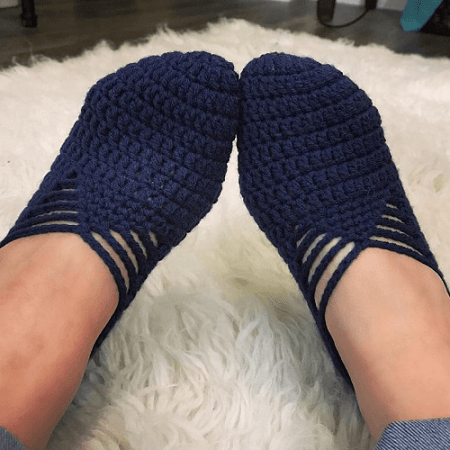 Get the Pattern here

24. Bunny House Slippers Crochet Pattern by Two Girls Patterns
Get ready for spring and summer with these adorable bunny slippers! Their double sole and extra toe reinforcement make them super sturdy, comfy, and durable!
These lovely crochet women's bunny house slippers will not only keep toes warm and snug but will look cute as well.
The bunnies come with bunny ears(of course!), bows, and a cute pom pom tail at its back.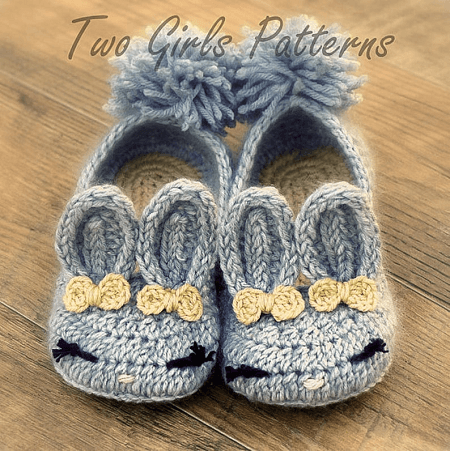 Get the Pattern by Two Girls Patterns here

25. Adult Slippers Crochet Pattern by Loops And Things Wpg
This slippers crochet pattern includes instructions for different styles: Straight Crochet Slippers with Side Button, Straight Crochet Slippers in Padraig Style (laces), Sueded Sole Slippers with Side Button, and Sueded Sole Slippers in Padraig Style (laces).
Whatever style you choose to make, you'll love wearing them out and about, and around your home.
They look great with leggings and jeans and they will be a welcome sight at the end of a long day on your feet.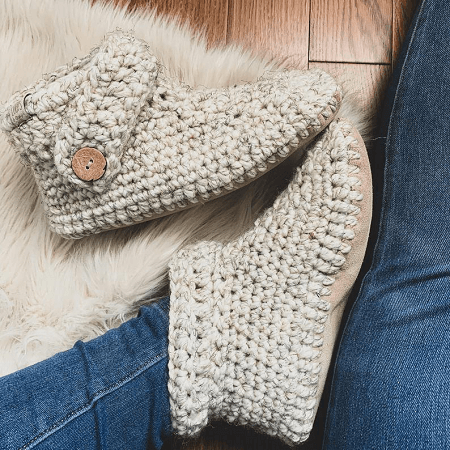 Get the Pattern by Loops And Things Wpg here

26. Free Crochet Slipper Pattern by Petals To Picots
These crochet slippers are super cute and will keep your feet warm and cozy. The low cut front and side design give the slippers a stylish ballerina-flat look, while the higher heel helps them stay put.
The pattern works up quickly and easily and consists of basic crochet stitches with increases and decreases.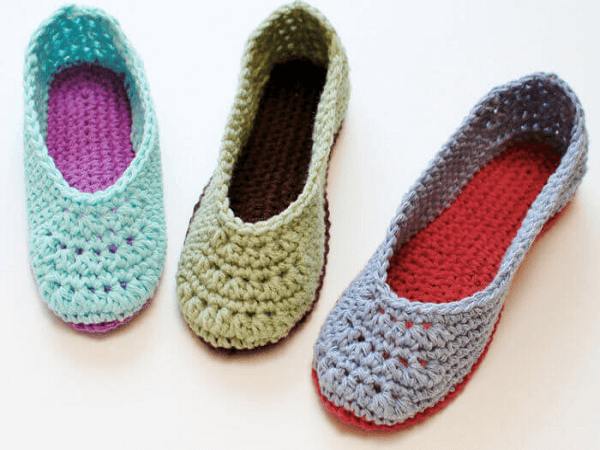 Get the Pattern here

27. Monster Slippers Crochet Pattern by Knits For Life
Crochet your own slippers with this fun crochet pattern for kid's slippers and adult slippers (both women's slippers and men's slippers) in the style of amigurumi crochet patterns.
They are perfect for DIY crafts, make them for your monster costume, Bigfoot afficionado, or Dragon-lover, or chicken maven.
These monster slippers are made using a bulky #5 yarn and a large hook so they work up quickly enough to make them for all your friends and family!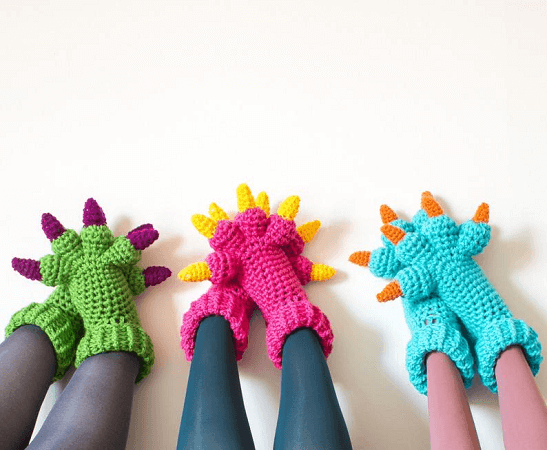 Get the Pattern by Knits For Life here

28. Twisted Slippers Crochet Pattern by Magic 4 Kids
These beautifully twisted slippers have rope soles and a charming upper part – suitable for all women who love comfort and elegance at the same time.
With this great tutorial, you can assemble your one-piece slippers to the sole or continue working a shoe on the sole's border edge.
You could make these slippers in any color, you could decorate it in many ways and you could make it for yourself or as gifts for your family members or friends.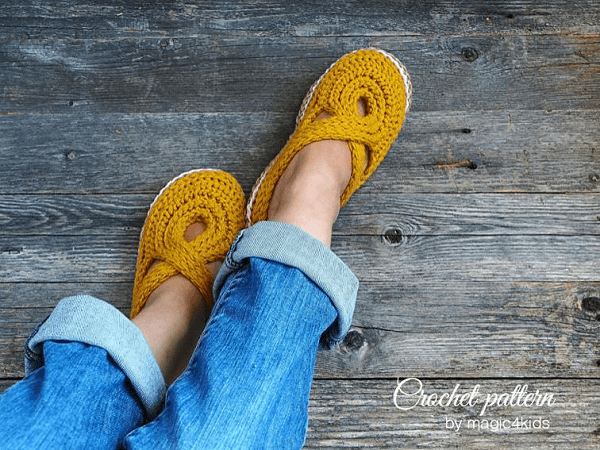 Get the Pattern by Magic 4 Kids here

29. Crochet Slippers Pattern With Flip Flops Sole by Make And Do Crew
These crocheted slippers with flip flop soles let in a lovely breeze with each step, thanks to the slightly open weave and breathable cotton yarn.
The flip flop sole makes these a little more substantial than regular crocheted slippers and perfectly grippy to scoot around your house.
These even work well as crocheted shoes to wear outside. They might just be the most comfortable pair of shoes you've ever worn!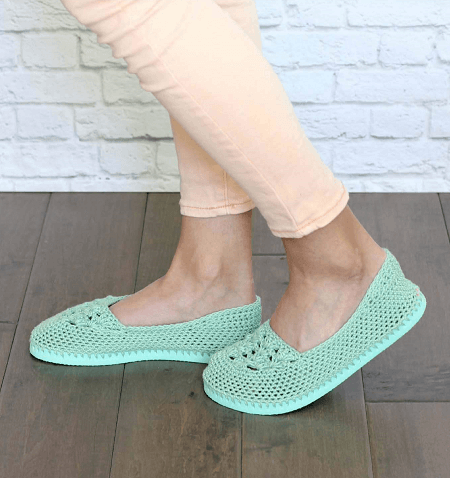 Get the Pattern here

30. Simply Felted Slippers Crochet Pattern by Knot Sew Cute
Simply Felted Slippers are thus named because they are super simple to make and work up surprisingly fast holding 2 strands of wool.
If you haven't ever learned how to felt crochet then now is a perfect time. Felting eliminates the open holes in crochet work, which means that these crochet slippers will be extra warm.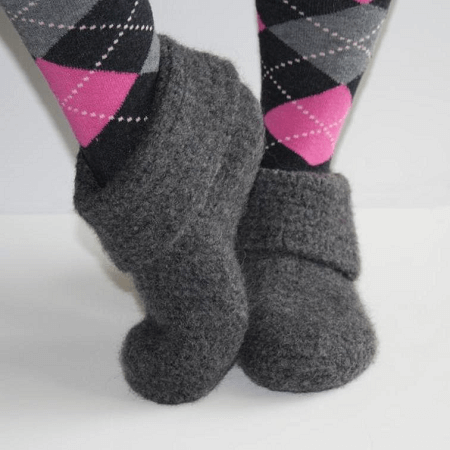 Get the Pattern by Knot Sew Cute here

31. Simple Living Slippers Crochet Pattern by Holland Designs
Ah, the simple life! These cozy slippers will help you experience just that!
This super easy crochet pattern works up in no time at all – using bulky weight yarn and crochet hook size H (5.0 mm). Ankle trim is done with DK or light worsted weight yarn and a smaller hook of choice.
The pattern makes any size of ladies – you customize the length of the sole to get the perfect fit.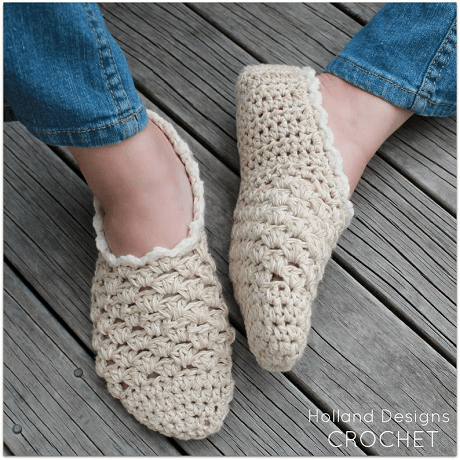 Get the Pattern by Holland Designs here

Nothing beats the feeling of curling up on the couch in your comfiest clothing and accessories and enjoying a lazy day at home.
If you love making fancy foot flair, you might also enjoy our collection of patterns for Crochet Socks or Leg Warmers.

All these patterns will surely open a whole bag of treats for you to crochet the best warm, cozy, and stylish footwear of your life!
Don't forget to share your finished projects on our Facebook Page. We always love seeing your works!
Work up one of these easy crochet slipper patterns for beginners and keep your feet warm and cozy all year long!