A cancer diagnosis creates a whirlwind of emotions and fears – and when chemo robs someone of their hair, making a crochet chemo caps can be a wonderful expression of love and support.

While some of these patterns have cancer patients in mind, others are regular caps that happen to be perfect during chemo!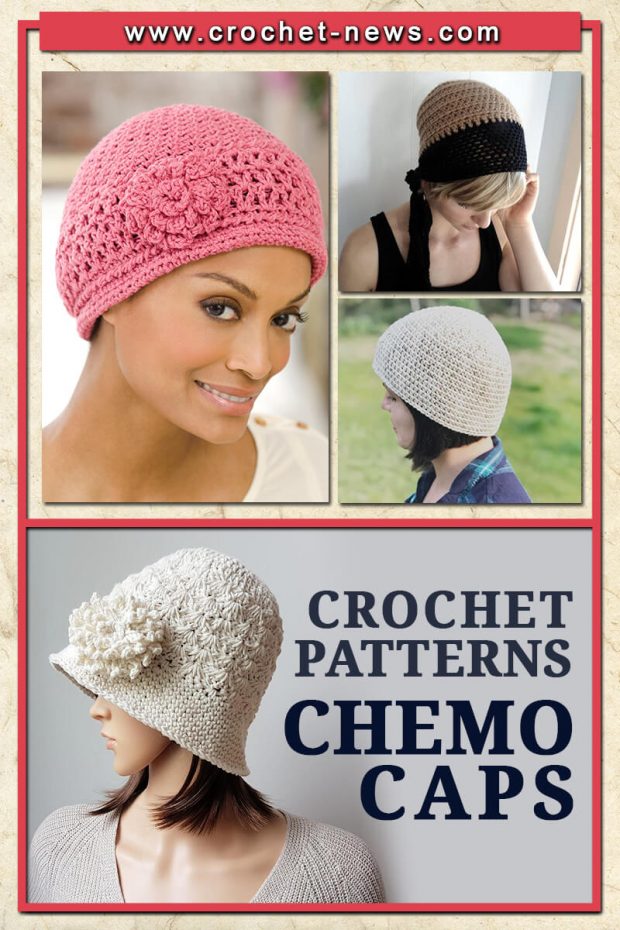 10 Chemo Caps Crochet Patterns
If you or someone you know is undergoing chemotherapy, make a new hat or two for both fashion and function. These hats help people with their hair loss to embrace a new sort of style.
In that way, crochet chemo caps can be both comforting and empowering.
1. Cotton Crochet Chemo Caps Pattern by Christa Co Design
Spring is here or coming soon. Either way, this Cotton Crochet Chemo Caps will be useful for those who need it in warmer climates. These basic hats are so easy to jazz up with stripes, buttons, or fancier edges if you want.
The combination of simple stitches with the light printing of this colorway is just simply pretty.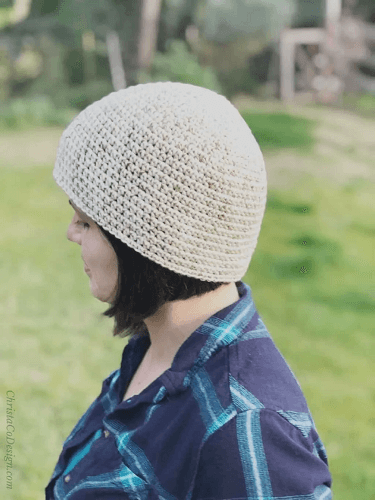 Get the Pattern here

2. Dreaded Crochet Hat with Hair Pattern by Stitch 11
This Dreaded crochet chemo hat pattern is sure to add a bit of fun instead of the usual chemo hat. It's basically a regular crocheted beanie with chain stitch dreads using a 6mm crochet hook. The pattern makes it easy for different styles and sizes.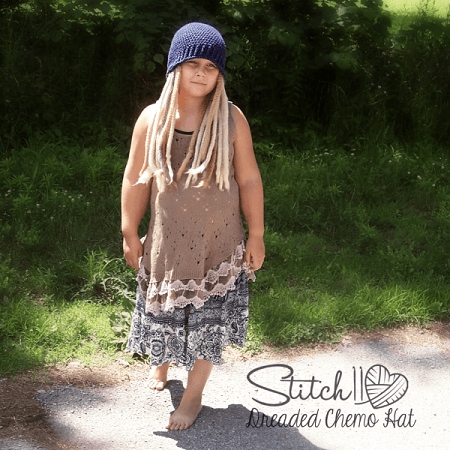 Get the Pattern here

3. Crochet Chemo Caps Pattern by Crystalized Design
This crochet chemo caps is designed for those in chemotherapy treatment, though it's a great hat for all. This virtually seamless hat is fitted yet stretchable with 2 appliqués to choose from.

Though this hat is made for adults, the smaller version fits most children/teens. This piece is virtually seamless so if the hat spins on the head, no seam will be easily seen.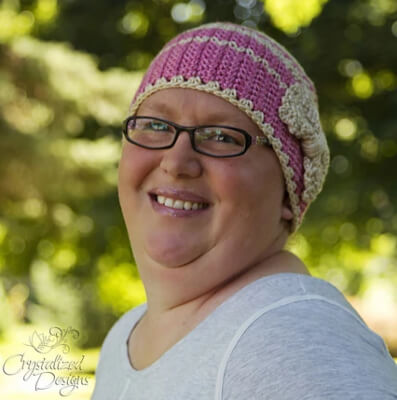 Get the Pattern by Crystalized Design here

4. Easy Crochet Chemo Cap Pattern by Salty Pearl Crochet
Not only would this Easy Crochet Chemo Cap serve you well on a camping or hiking trip, but it would also make an excellent piece to donate to charitable organizations that provide chemo cap hats for cancer patients. You'll love how simple this pattern is to make!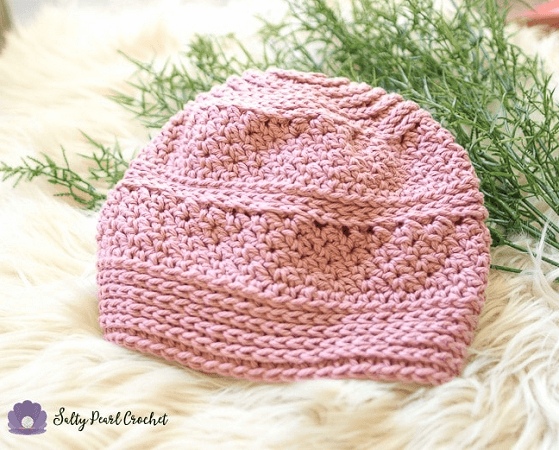 Get the Pattern here

5. Crochet Hat With Hair Pattern by The Twisted Hatter
Warm-up with the squishy, soft texture of this hat. It is originally designed to use as a fun addition to a costume but it would be a lovely gift to our fellow cancer patients. Make it in any color possible!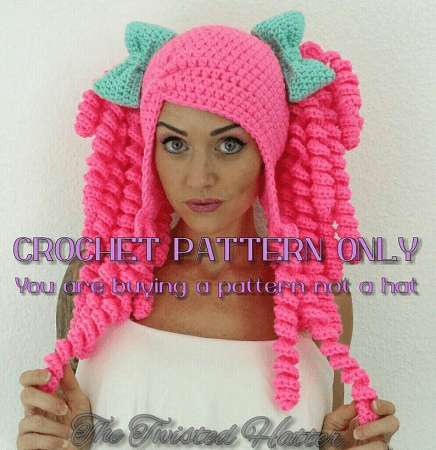 Get the Pattern by The Twisted Hatter here

6. Free Chemo Cap Pattern by Red Heart
This simple crochet hat is a pretty project that brings warmth and comfort to those in need. Stitch using cotton yarn to finish a thoughtful hat in any color you desire. It makes a meaningful donation item that comes from the heart. Why not double your efforts and work on this pattern with a friend?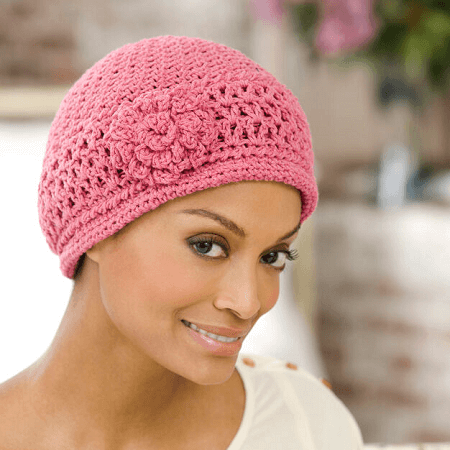 Get the Pattern here

7. Summer Chemo Cap Crochet Pattern by Oombawka Design
The Soft Cotton Sunhat Pattern has been designed as a summer chemo cap and is sized to reach the edge of the hairline. Making this design in cotton yarn makes the finished hat breathable and perfect for warmer weather.

The brim is soft enough that you can fold it up or even add a pin, or brooch (or button) to secure it on an angle at the front. A pattern for a carnation flower embellishment is included for those of you who would like a flower to add to the sunhat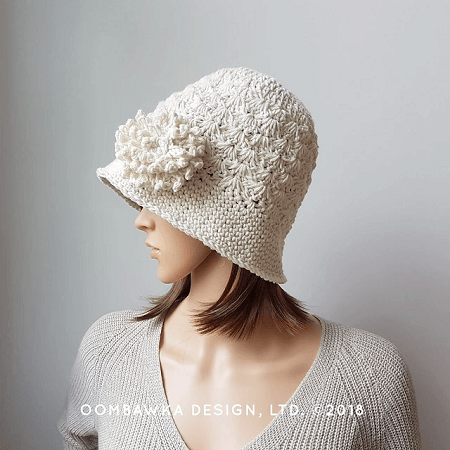 Get the Pattern here

8. Crochet Cloche Chemo Hat Pattern by Life In Small Spaces
You can wear the hat loose like a slouchy and knotted to the side. Or you can pull it tight and wrap the ends around your head turban style. If you a friend or a family battling cancer, this Crochet Cloche Chemo Hat is perfect for them.
Get the Pattern by Life In Small Spaces here

9. Chemo Hat Crochet Pattern by Ambassador Crochet
This chemo hat crochet pattern was created for the many people going through cancer. The design of the hat is slightly snug and not as stretchy as most crocheted hats, so that if you have already lost your hair it will not be too loose.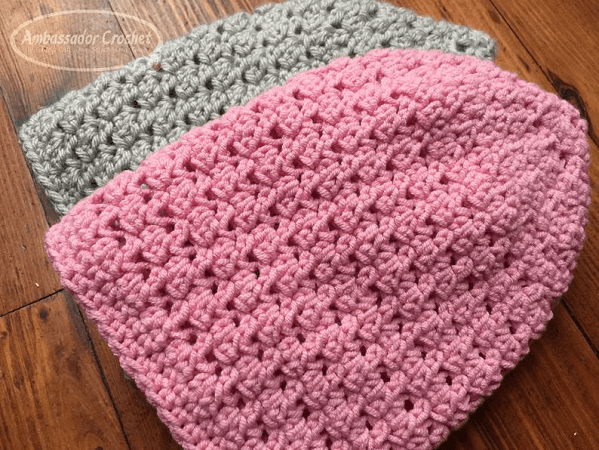 Get the Pattern by Ambassador Crochet here
10. Crochet Chemo Hat With Hair
Battling cancer can often take a toll on someone. We have all known someone who has struggled with it. The chemotherapy can often take a bigger toll than even cancer itself.
I know during that time all you could think about was what if it was your and how you would wish someone to raise your spirits. Well, the crochet chemo hat with hair was designed with that purpose in mind.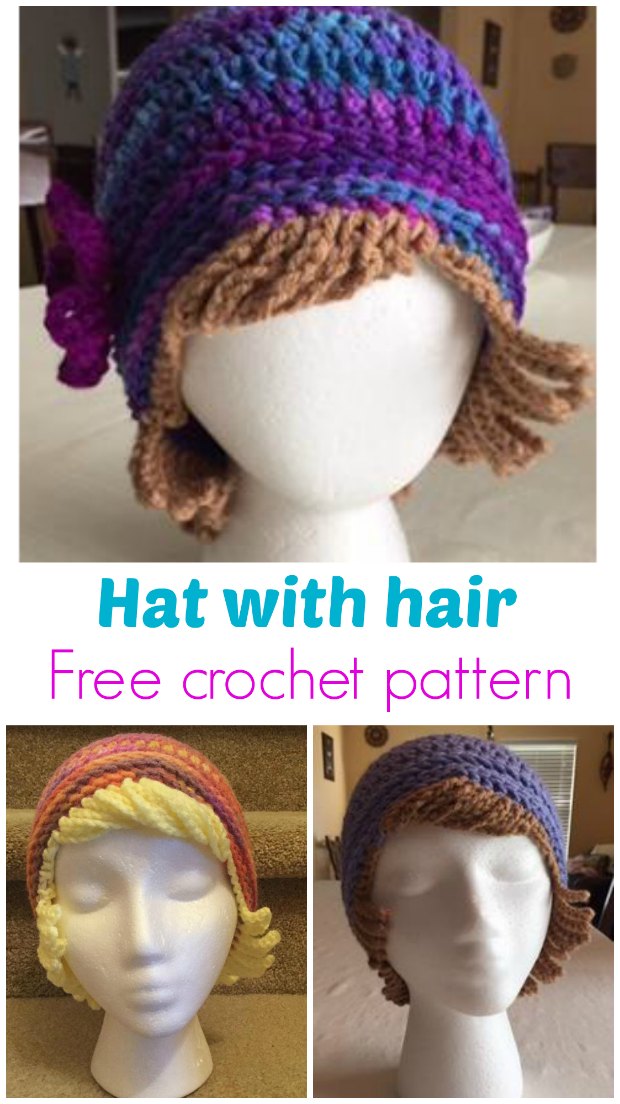 To bring a little sunshine to that person who is battling so hard because they deserve it. And, if it's you well, you are a champion and you deserve to treat yourself like one with this pattern. It's important to mention that this pattern is free, yes free so all you need to do is just to download it.
The crochet chemo hat with hair pattern doesn't need a ton of material to make. You can find all you need in your standard crocheting kit. Then all you need to add is a lot of love and a little patience. But, what exactly are the materials that you need?

Chemo Hat With Hair Materials
Size 4, Medium weight yarn/200 yards of DK weight
Size H and F Crochet Hooks
Sizing / Finished Measurements:
18-20 Inch and 20-22 Inch heads
Great Pattern For Beginners
The crochet chemo hat pattern is not technical at all. Easy to understand and explained in detail so you will end up with your beautiful hat at the end of it all. Even a beginner will be able to make the crochet chemo hat pattern.
If you follow the instructions to the letter there is no way that you can mess up. This is just one of those patterns that will soothe you as much as it is beautiful. It is almost like therapy for the soul, you won't notice the time pass.

So Many Possibilities From Hair To Hat Colors
With the crochet chemo hat with hair pattern, you won't have to hold your creativity back. It leaves you so much room for imagination it would be a crime if you do not make your crochet chemo hat unique.
Try out different colors and see how it totally changes the appearance of the crochet chemo hat.
Especially for the hair part, if you are making one for a friend or loved the one you can try and match the crocheted hair to the shade of their hair. I have a feeling they will adore you for it. You can add ribbons to the hat or embroidery or rind stones and beads to make it even more stunning.
If you live in an area that gets a little nippy then you could even try a thicker weighted yarn. With all these possibilities please feel free to add your own magic to the pattern.
The crochet chemo hat definitely is not for everyone but to the person, it is meant for it will mean so much. But that does not segregate anyone because you can still choose to make it without the hair and it will still look beautiful.
If you wanted a gift to give that friend or loved one going through a hard time and still managing a smile then the crochet chemo hat is the thing. Something that will tell them that you love them and that you want them to keep fighting. Give your love away with the crochet chemo hat with hair today.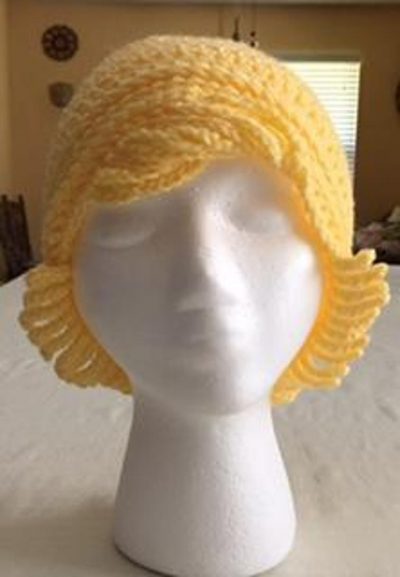 Get the completed hat here
Choose a crochet chemo hat pattern that will make your recipient smile at a time when getting through every day may feel very tough instead.
Every single person has a different sense of style, so be open to making chemo hats in many different colors– including both solids and stripes. When you're done making these beautiful pieces, be sure to share a pic on our Facebook Page. We'd be so glad if you do!

We have a huge collection of crochet hat patterns you might also want to try. Check them out!

For now, let us all consider making a crochet chemo hat today! Happy crocheting!