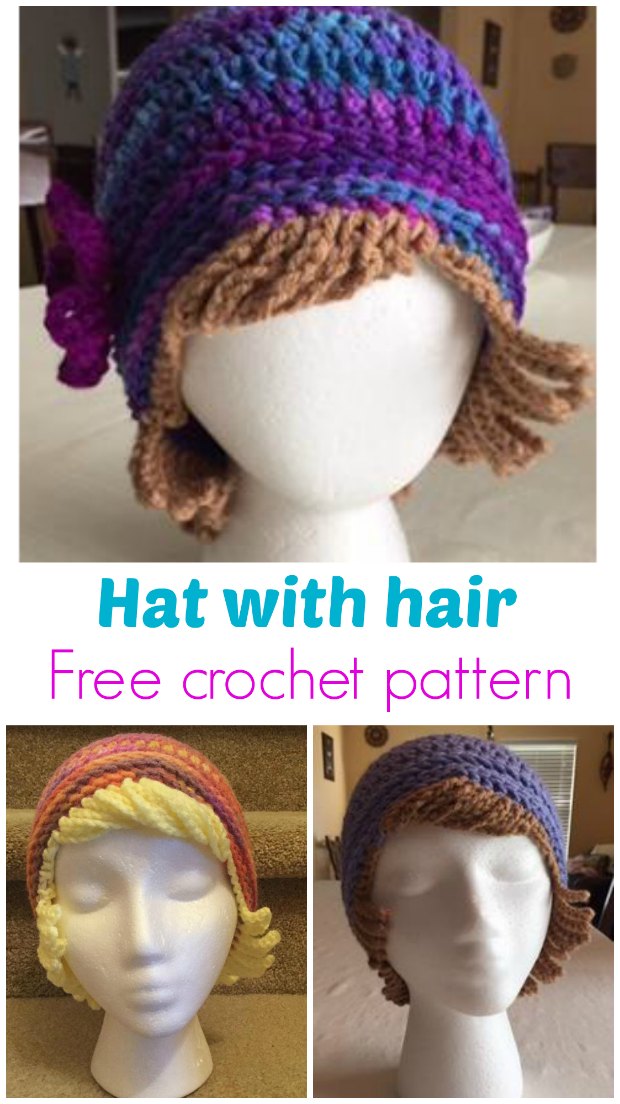 Crochet Chemo Hat With Hair
Battling cancer can often take a toll on someone. We have all known someone who has struggled with it. The chemotherapy can often take a bigger toll than even cancer itself.
I know during that time all you could think about was what if it was your and how you would wish someone to raise your spirits. Well, the crochet chemo hat with hair was designed with that purpose in mind.
To bring a little sunshine to that person who is battling so hard because they deserve it. And, if it's you well, you are a champion and you deserve to treat yourself like one with this pattern. It's important to mention that this pattern is free, yes free so all you need to do is just to download it.
The crochet chemo hat with hair pattern doesn't need a ton of material to make. You can find all you need in your standard crocheting kit. Then all you need to add is a lot of love and a little patience. But, what exactly are the materials that you need?

Chemo Hat With Hair Materials
Size 4, Medium weight yarn/200 yards of DK weight
Size H and F Crochet Hooks
Sizing / Finished Measurements:
18-20 Inch and 20-22 Inch heads
Great Pattern For Beginners
The crochet chemo hat pattern is not technical at all. Easy to understand and explained in detail so you will end up with your beautiful hat at the end of it all. Even a beginner will be able to make the crochet chemo hat pattern.
If you follow the instructions to the letter there is no way that you can mess up. This is just one of those patterns that will soothe you as much as it is beautiful. It is almost like therapy for the soul, you won't notice the time pass.

So Many Possibilities From Hair To Hat Colors
With the crochet chemo hat with hair pattern, you won't have to hold your creativity back. It leaves you so much room for imagination it would be a crime if you do not make your crochet chemo hat unique.
Try out different colors and see how it totally changes the appearance of the crochet chemo hat.
Especially for the hair part, if you are making one for a friend or loved the one you can try and match the crocheted hair to the shade of their hair. I have a feeling they will adore you for it. You can add ribbons to the hat or embroidery or rind stones and beads to make it even more stunning.
If you live in an area that gets a little nippy then you could even try a thicker weighted yarn. With all these possibilities please feel free to add your own magic to the pattern.
The crochet chemo hat definitely is not for everyone but to the person, it is meant for it will mean so much. But that does not segregate anyone because you can still choose to make it without the hair and it will still look beautiful.
If you wanted a gift to give that friend or loved one going through a hard time and still managing a smile then the crochet chemo hat is the thing. Something that will tell them that you love them and that you want them to keep fighting. Give your love away with the crochet chemo hat with hair today.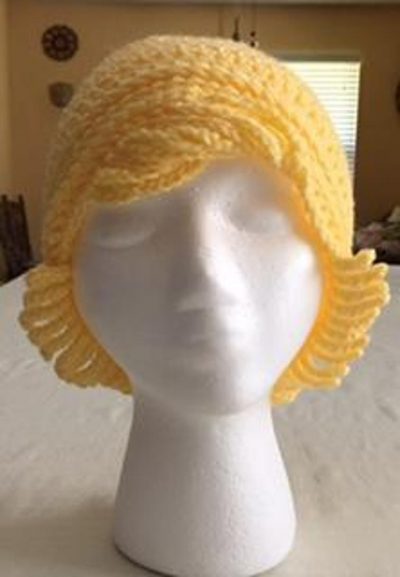 Get the free crochet Chemo Hat pattern here