Want a poinsettia that will last year after year? Crochet it! Whether you are trying to get ready for the holidays or simply love crocheting flowers that you can adorn on different projects, these Crochet Poinsettia Patterns are perfect for you.
This list gives options for making home decor, accessories, and more! You won't believe how easy it actually is to learn how to make one!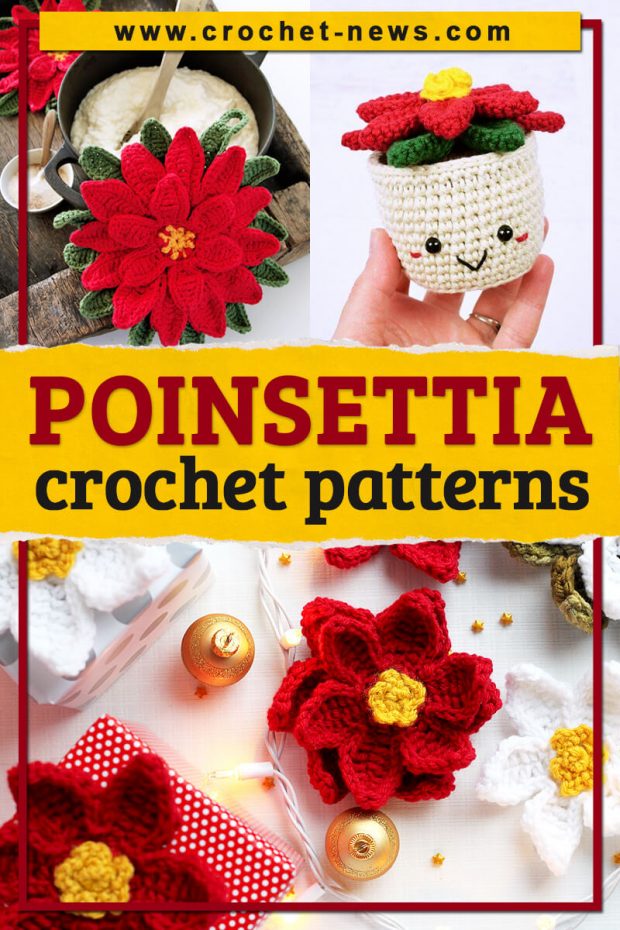 1. Crochet Christmas Poinsettia Pattern by Pippa Patterns Crochet
Poinsettias, also known as 'Christmas Star' or 'Christmas Flower', are a popular choice as decor or gift in Christmas time and can be either placed in a small pot or in a larger vase.
A perfect table or windowsill decoration! This crochet poinsettia flower looks adorable anywhere!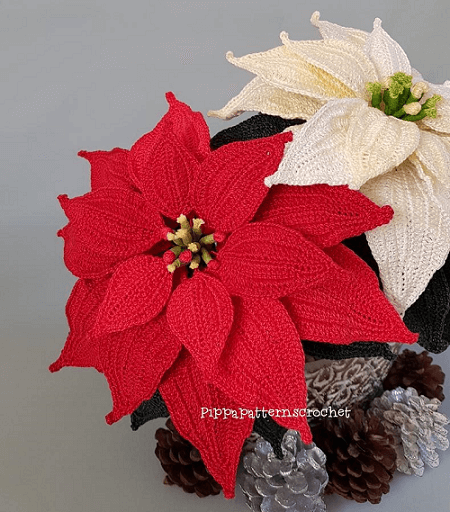 Get the Pattern by Pippa Patterns Crochet here

2. Crochet Poinsettia Coasters Pattern by Pattern Paradise
These pretty poinsettias add a bit of festive cheer to your holiday table. They are perfect as individual coasters, but if you join several together they would make a lovely table runner or placemat as well!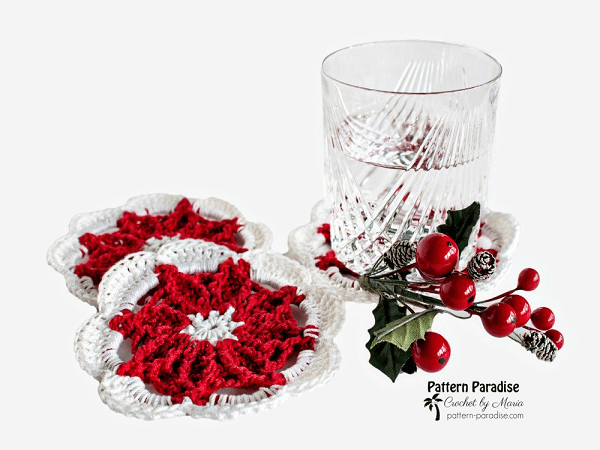 Get the Pattern here

3. Poinsettia Wine Cozy Crochet Pattern by Crochet 365 Knit Too
This Poinsettia Wine Cozy Pattern is an easy, elegant and fast project you can make as a hostess gift in this holiday season.
This is a total 'crochet while you watch tv' kinda project and a sure-fire way to make your holiday a little more joyful.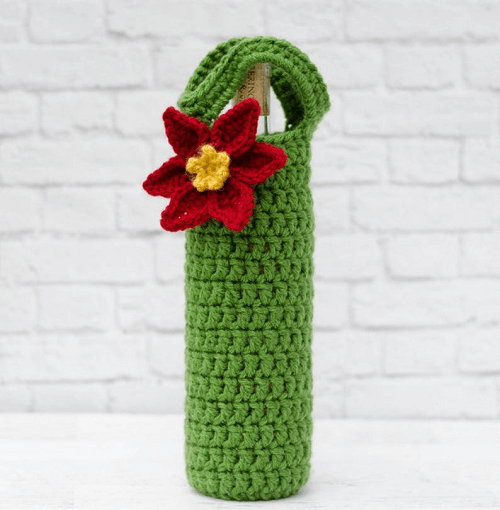 Get the Pattern by Crochet 365 Knit Too here

4. Crochet Poinsettia Applique Pattern by Happy Patty Crochet
This crochet flower is designed to be as versatile as possible, and to pretty much match everything with a flat bottom, wide shape, and lush petals, this Poinsettia is ideal for anything from table decor to a brooch.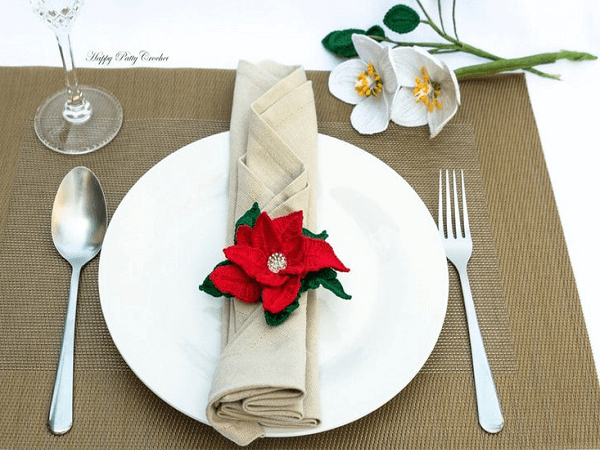 Get the Pattern by Happy Patty Crochet here
5. Poinsettia Blanket And Pillow Crochet Pattern by CD Creations Design
This beautiful dimensional poinsettia is set on a neutral background and framed by a white border is a warm addition to your holiday decor. Create both the lap blanket and pillow to enjoy this holiday season.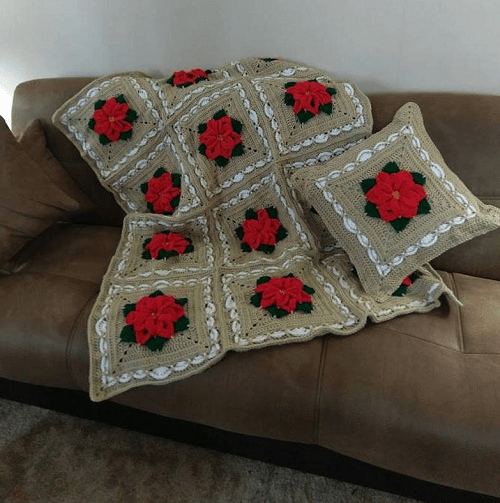 Get the Pattern by CD Creations Design here

6. Crochet Poinsettia Napkin Ring Pattern by Craft Passion
These crochet poinsettia napkin rings are easy to adapt into other embellishments.

You may add a brooch pin instead of the band of the napkin ring to make a poinsettia brooch, likewise, you can add a hairband and turn it into hair accessories.

Your guests will be so pleased to be invited over for an exquisite dinner during the festival.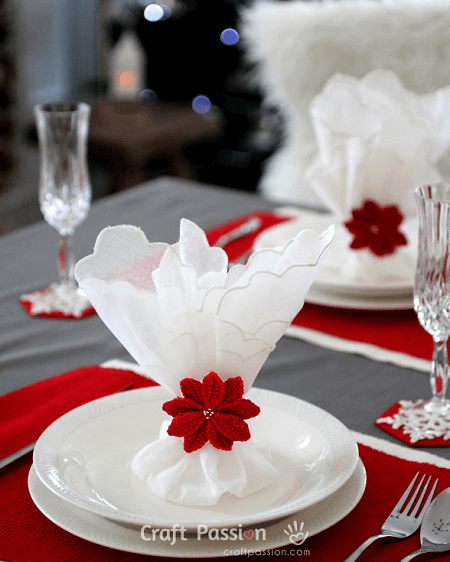 Get the Pattern here

7. Mini Crochet Poinsettia Pattern by Happy Patty Crochet
These little flowers are ideal as appliqués, with a flat back, you can easily attach any clip or clasp. They are guaranteed to enjoy any flat surface and will surely fit any accessory.

Almost anytime you shrink something cute, it gets even cuter, which is certainly true of these mini poinsettias!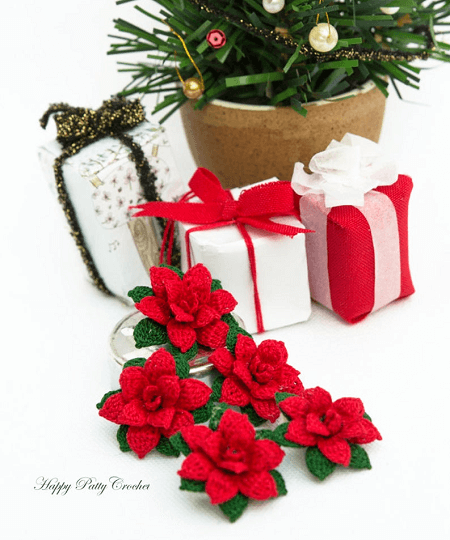 Get the Pattern by Happy Patty Crochet here

8. Crochet Poinsettia Towel Ring Pattern by Heartspun By Wendy
Add a festive touch to your kitchen during the holiday season with this poinsettia towel ring. This towel topper (more towel topper patterns) make excellent Christmas gifts as well as house warming gift!

The pattern could be made for Christmas or any time of the year – just change up your colors!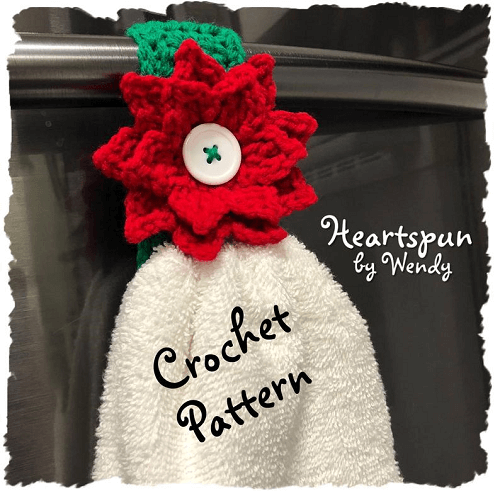 Get the Pattern by Heartspun By Wendy here

9. Crochet Poinsettia Topiary Pattern by Just Be Happy
As a table decoration or centerpiece, this crocheted poinsettia is always fresh and colorful. The colors and yarn choices are up to you to match your home decor year around instead of just a seasonal item.

Bring some holiday cheer to your home with this potted topiary covered in crocheted poinsettias.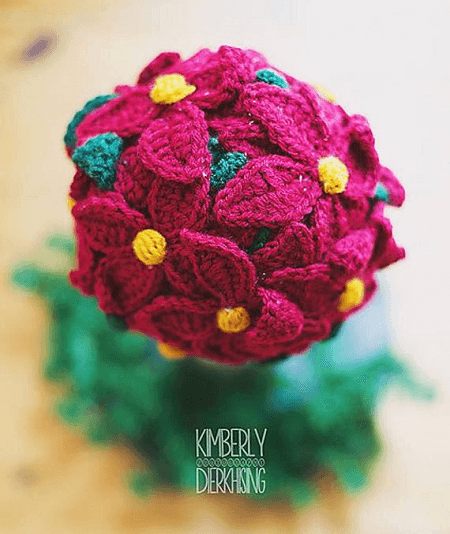 Get the Pattern by Just Be Happy here

10. Crochet Poinsettia Flower Pattern by Grateful Prayer Thankful Heart
Look how fun gift packages look topped with a festive poinsettia. Almost too cute to unwrap! It's a little like getting two gifts ~ what's inside the box and an ornament to boot. Make plenty of these flowers for the holiday season!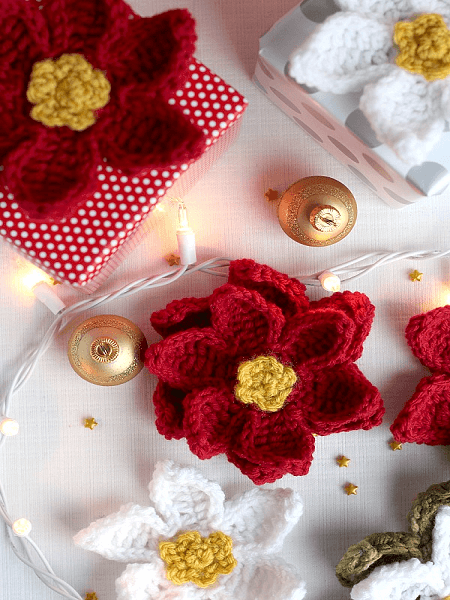 Get the Pattern here

11. Crochet Potted Poinsettia Pattern by Yarn Blossom Boutique
This beautiful potted poinsettia is the cutest! This would make a great, easy gift not just for the holiday season but for birthdays and anniversaries as well.

For those of you with no green thumb, this potted flower will always be there to brighten up your day, all year round!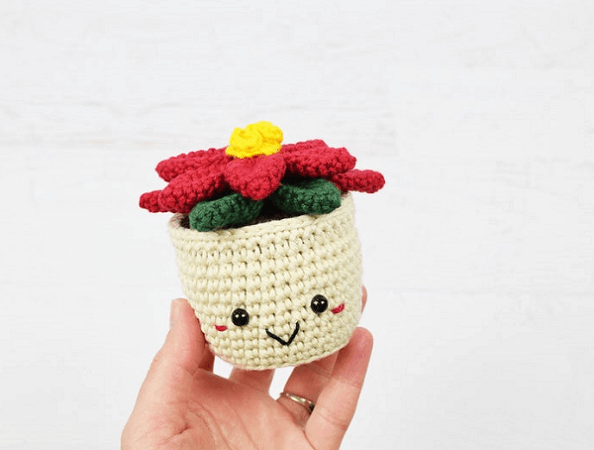 Get the Pattern by Yarn Blossom Boutique here

12. Crochet Poinsettia Granny Square Pattern by Sweet Sharna
This Crochet Poinsettia Granny Square will make Christmas warm and bright. So if you are planning to crochet a Christmas Blanket as a last-minute project, then this is the way to go.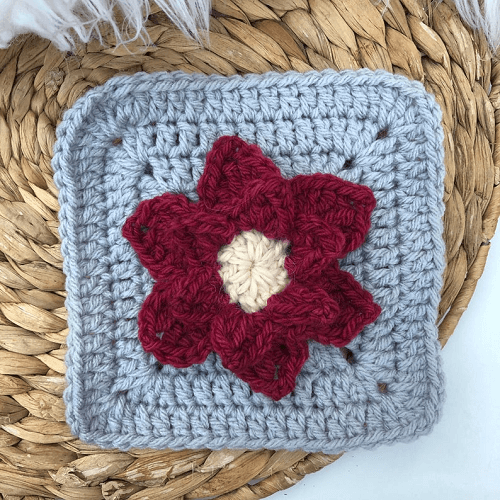 Get the Pattern by Sweet Sharna here

13. Crochet Upcycled Poinsettias Pattern by Highland Hickory Dsgns
Crochet the flowers that won't wilt after the holidays are over! Every year they will look just as great as the first year! These poinsettias are crocheted around a 1.5″ plastic ring that you can get on gallon-sized jugs. Any size relatively close to this will work as well.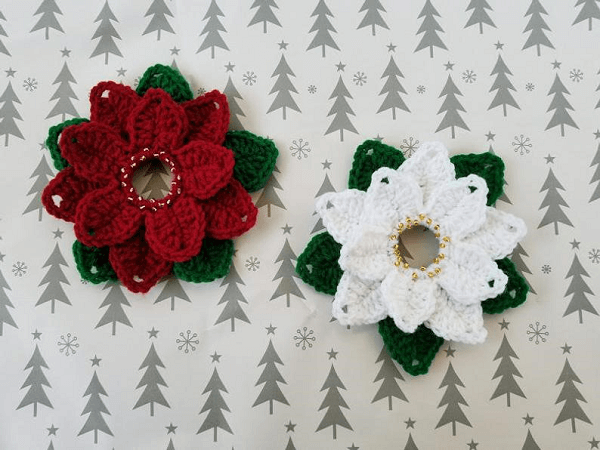 Get the Pattern by Highland Hickory Dsgns here

14. Crochet Poinsettia Pot Holder Pattern by Drops Design
This Poinsettia Pot Holder is an essential crochet project to stitch out for the Christmas season. But it looks adorable all year round! You can easily create a big batch of this in different colors and use it for different purposes.

Check out 27 more crochet pot holder patterns here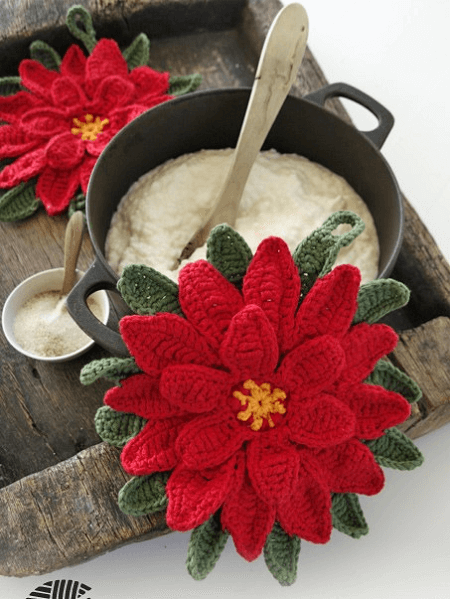 Get the Pattern here

15. Large Poinsettia Crochet Pattern by Naztazia
This crochet poinsettia flower is a cute addition to your Christmas outfit. While we might think of poinsettias as traditionally red, they come in several other colors, including white, pink, and orange.
This Christmas flower can be made as a decoration for your handbag, shawl, coat, scarf, and more.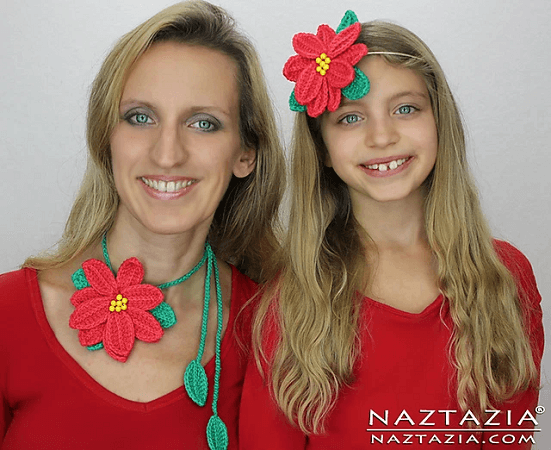 Get the Pattern here

16. Poinsettia Doily Crochet Pattern by Maggie's Crochet
This pretty doily is perfect to make for the winter season. The doily in this pattern has a simple, elegant pineapple design around the poinsettia. This is a stunning doily that will look gorgeous decorating a counter or a side table.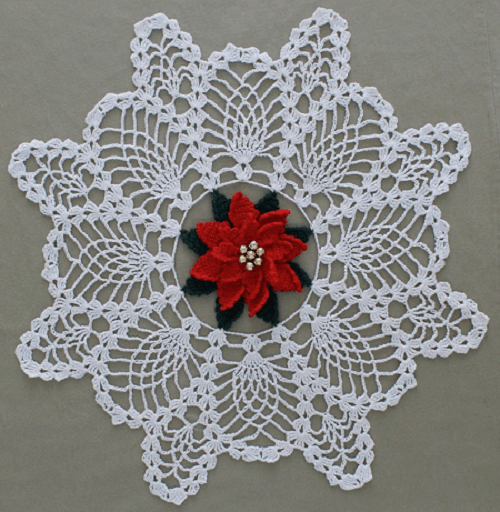 Get the Pattern by Maggie's Crochet here

17. Poinsettia Crochet Scrubby Pattern by Stitches Brew
Crochet a pretty and practical scrubby using a Dollar Store scrubby, cotton yarn and scrubby yarn. Make a lovely, quick and easy hostess gift, just add fancy soap for a bath scrubby.

Change the colors and make it a rose, water lily or poppy- a scrubby for all seasons.

More crochet scrubby patterns here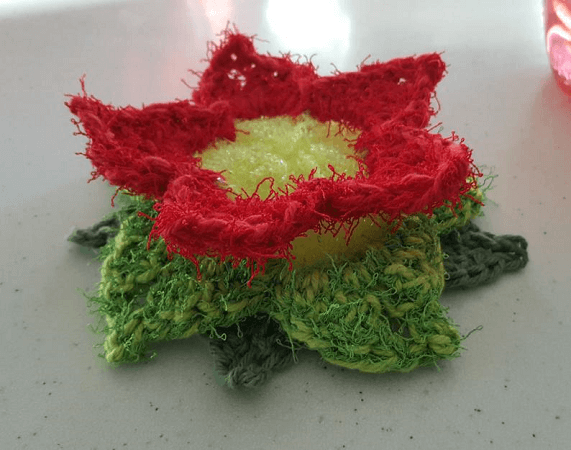 Get the Pattern by Stitches Brew here

18. Crochet Poinsettia Ornament Pattern by Lion Brand Yarn
This easy Crochet Poinsettia Ornament is a wonderful small project to add to your collection of homemade Christmas ornaments. You will love the beauty and simplicity of this crochet flower pattern.

Perfect for all your Christmas decorating, this ornament also makes a great gift topper. Experiment with the colors to really brighten your Christmas tree!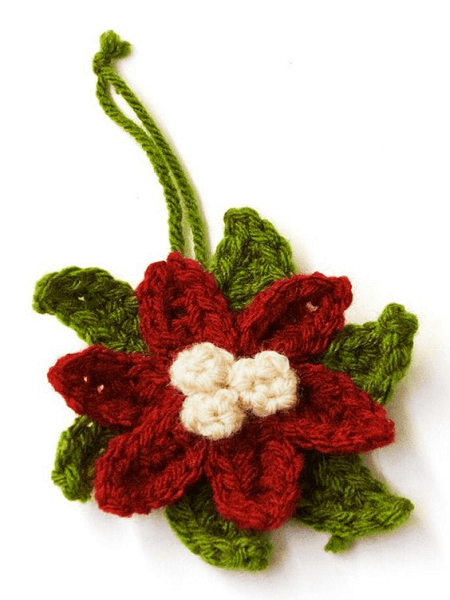 Get the Pattern here

19. Poinsettia Scarf Crochet Pattern by Donna's Crochet Designs
This scarf features double-layered Poinsettia Flowers on a green circle and leaf scarf. The flowers are made petal by petal, are then sewn together, layered and have beads sewn into each center. This Poinsettia Scarf is enough to get anyone in the Holiday spirit.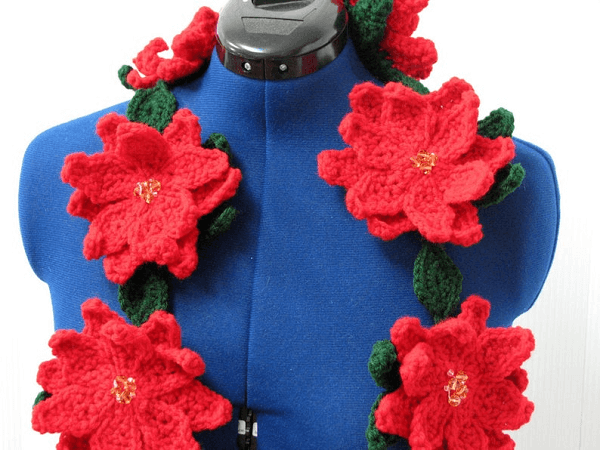 Get the Pattern by Donna's Crochet Designs here
Christmas is just around the corner. It's never too early to make your Holiday decorations!
So, pick up couple skeins of yarn, grab your crochet hook, get comfy on the sofa and watch a favorite Christmas movie while you make a bunch of poinsettias to brighten the season. Share pics on our Facebook Page when you're done!

Check out all of our Christmas Pattern Here
If you have no green thumb but love flowers, you may want to check our patterns for Lily, Orchid, Poppies, Pansy and crochet flower bouquets. They are easier to handle than real ones!
Have fun making your flowers with these Crochet Poinsettia Patterns!