You've been making a lot of different crochet items recently, but have you made one for your significant other? Well, it's not too late. Make something for them this Valentine's day!
This Realistic Flower Crochet Lily Pattern for Valentine's Day is a perfect gift!
Exerting extra effort in making your Valentine's Day gift this year is already a gift itself.
Take your special someone out for dinner and give them this flower! If you want to learn more about how to make this Lily Crochet Flower, keep on reading the article.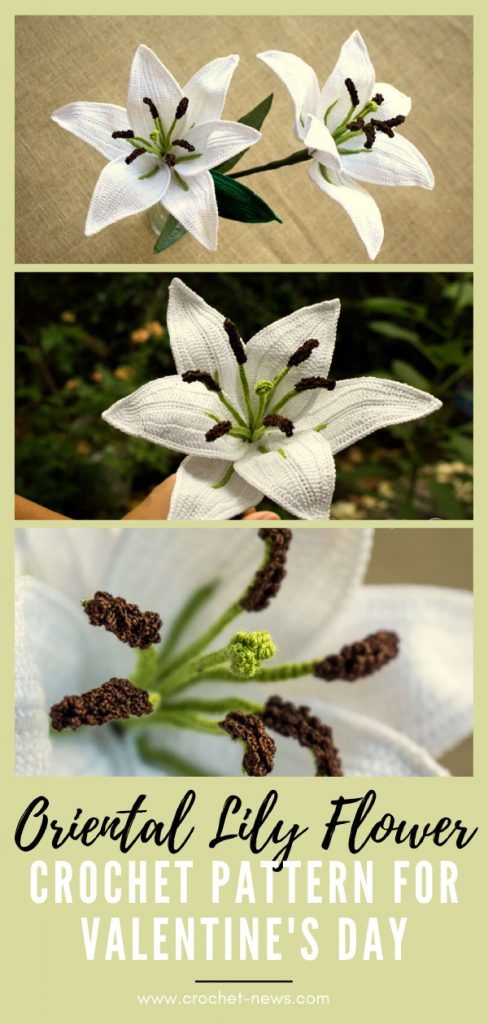 Lily Flower Crochet Pattern for Valentine's Day Gift
Divert from the usual route of giving red roses during Valentine's Day! For instance, why not make this Oriental Lily pattern by HappyPattyCrochet?
Receiving this Lily flower will definitely be the highlight of your significant other's day. Surely it will be a gesture your special someone will appreciate because of how much effort you put into making this flower.
Plan a candlelit dinner for two and express your love and appreciation for your partner. May this flower – that stays fresh and beautiful no matter how many days pass – symbolize your never ending love for them.
Are you ready shower your significant other with love and appreciation? Make this Oriental Lily. If you're up for the challenge you can also make a bouquet!
About the Yarn
Because of how realistic this flower looks, anyone who sees it will surely ask for another look! Such detailed patterns need thin fine yarns for the intricate details to be visible.
Most of the patterns made by HappyPattyCrochet are crafted using cotton thread size #20, #40 or Pearl cotton #8 yarn. It is highly advised to use the hooks appropriate for such thin yarns to get the desired look.
This flower pattern is known for its realistic looking flowers. For that reason, it is important to use a yarn that's soft and smooth that will definitely help in making the details stand out.
Purchase your yarns and start working on this Oriental Lily Flower Pattern!
About the Lily Crochet Pattern
You'll definitely keep your partner guessing whether your Valentine's Day gift for them is a real flower! That is, until they touch and feel it's texture.
Because of all the details needed to complete this pattern, it's targeted for intermediate crocheters. But do not worry, they have provided a lot of materials to guide you along the way. In fact, the pattern included a diagram of all the elements needed to make this crochet flower. 
If you haven't mastered reading crochet diagrams yet, this pattern has detailed instructions along with process photos you can refer to. In addition to that, the pattern has photo tutorials to help you when you assemble the elements and the flowers.
An important note though, use the hook size that best fits the yarn you're using. Using smaller hooks will result in a smaller flower.
Skill Level
Beginner-Intermediate
Finished size
8″ (20cm) wide, 4″ (10cm) high.
Make this year a memorable Valentine's Day by putting a bit more effort in your gift for your significant other by making this pattern.
If you're looking for other gifts perfect for Valentine's Day, feel free to check out more of the posted patterns you can make as gifts: Valentine Crochet Patterns and Crochet Heart Patterns
Plan your dinner date and don't forget to work on this Oriental Lily Flower Crochet Pattern for Valentine's Day you'll give as a gift!