You may not be a kid anymore, but that doesn't mean you can't still craft your heart out on February 14! That's why we're sharing our favorite valentine crochet patterns with you here.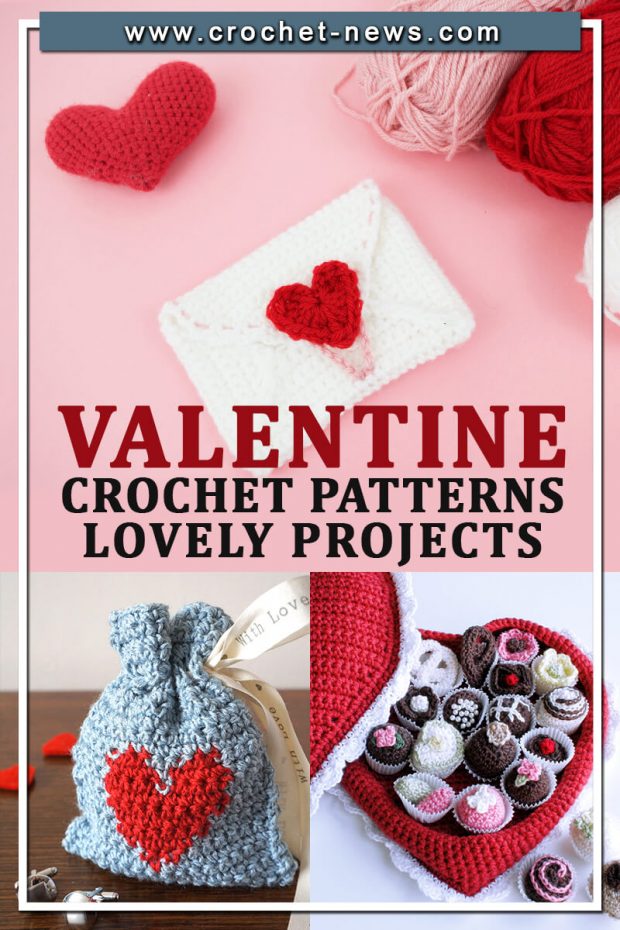 Whether you choose to keep them in your own house or give them away as Valentine's Day gifts from the heart, they're bound to make someone smile. These heartfelt gifts and decor are literally made with love.

After all, while pricey flowers and store-bought chocolates are certainly appreciated, Valentine's Day is all about showing your loved ones just how much you care about them – and nothing does that better than presenting them with a homemade gift or handmade holiday decor.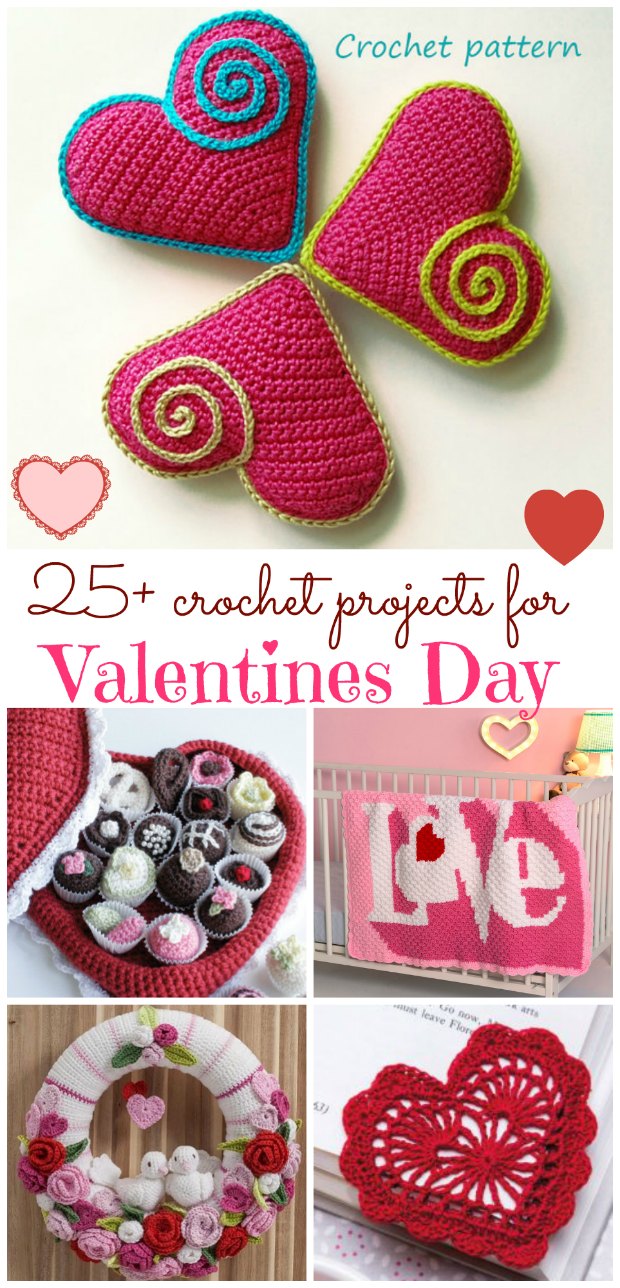 Your special someone will be so excited to receive a hand made gift. With your love and dedication put in will make this gift extra special and sentimental.
1. Tote Bag Crochet Valentine Pattern by Red Heart
Use this juicy crochet tote to carry your work-in-progress knit or crochet projects, books, crafting supplies, and more!
The shape makes it so much fun to work on, so let's stitch using the usual red color. Or, select whatever color you enjoy most. It's a themed project that also doubles as an original gift bag for Mother's Day, anniversaries, birthdays, and more!
Check out these Crochet Tote Bag Patterns for more ideas!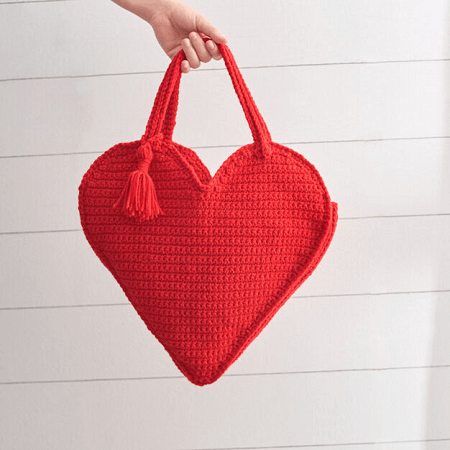 2. Free Puppy Amigurumi Valentine's Day Crochet by Craft Pasion
The cuteness of this puppy is going to melt everybody's heart. Crochet it and give it to your loved one on Valentine's day. Let him be the cupid of the most romantic day of the year!
This little cutie puppy amigurumi measures about 3″ tall, crochet with cyan and white yarns. You will need to know how to change the yarn colors while single crochet in the round.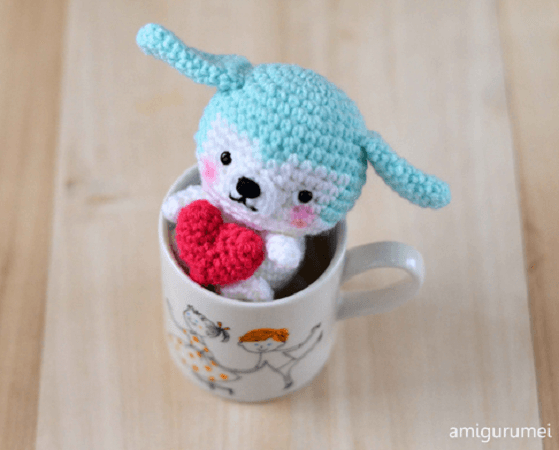 Get the Pattern here
3. Puppy Love Crochet Infinity Scarf Pattern by Whistle And Ivy
With Valentine's Day around the corner, it's the perfect time to share this heart motif infinity scarf crochet pattern. This is a great adult craft project allowing you to challenge your inner crochet skills.
This scarf pattern is the perfect length to keep you cozy during the frigid months, plus the little hearts are just so pretty!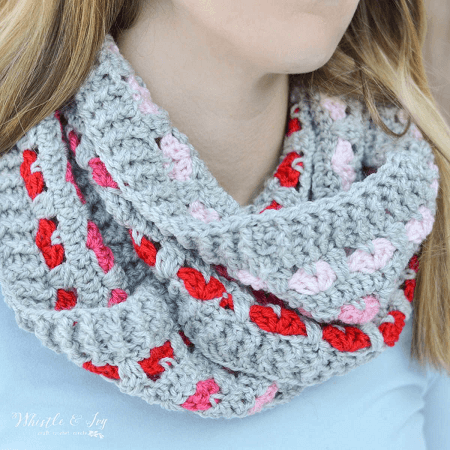 Get the Pattern here
4. Teddy Bear Valentine Crochet Pattern by R Nata
These cute teddy bears will make the perfect valentine's day crochet gift for that special someone. Use this step-by-step amigurumi pattern to create a soft crochet teddy bear holding a heart. Make someone's day with the little cute gift!
Get the Pattern by R Nata here
5. Crochet Valentine's Lily Doll Pattern by Yarnspirations
This Crochet Valentine Doll is so much fun and gives her love freely to kids of all ages! Give her as a thoughtful gift on Valentine's Day to that special little girl.
Lily Sugar'n Cream makes her affectionately yours in traditional shades, or craft her outfit to represent the colors of your love.
Are you a doll lover? Check out these Crochet Doll Patterns for more!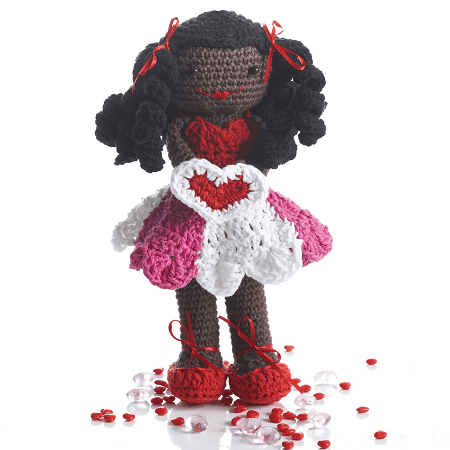 6. Valentine Crochet Puffy Love Hat Pattern by R Crafty Creations
This beautiful design will quickly become a favorite. The combination of the cable and puff stitches create a beautiful texture and the fair isle hearts, using the waistcoat stitch technique, blend so beautifully with the puff stitches!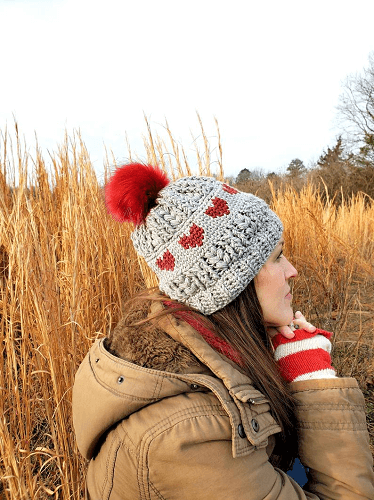 Get the Pattern by R Crafty Creations here
7. Love Note Valentine Crochet Pocket Pillow Pattern by Sewrella
This basic crochet pillow pattern is so easy and quick to work up! It is a simple amigurumi shape, made with bulky yarn. It only uses the most basic of stitches and is the perfect beginner project – just be sure you have some polyfill stuffing and a love note on hand!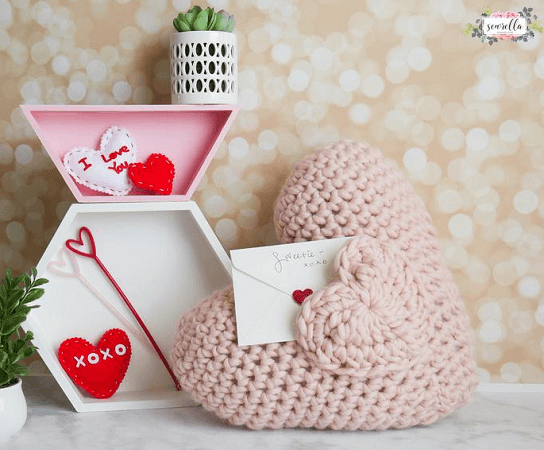 Get the Pattern by Sewrella here
8. Be My Valentine Crochet Throw Pattern by Red Heart
The cuddles come naturally when shared under this heartwarming crochet blanket. Stitch a blanket for anyone you adore in classic shades of red or share your feelings in other colors like pink or pastel for kids.
Featuring the universally accepted symbol of love and warm feelings, it's a wonderful gift for Valentine's Day, an engagement, wedding, or anniversary.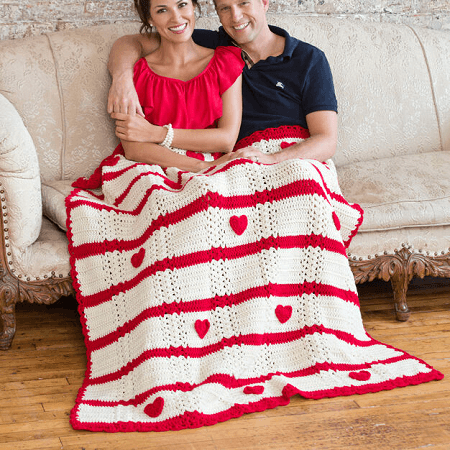 Get the Pattern here
9. Chocolate Valentine Crochet Pattern by Michele Wilcox
These adorable Valentine Chocolates are sweet to look at and will not wreck your diet. It is a festive and unique way to decorate your Valentine's Day home! It's an imaginative project you can display anywhere, or give as a heartfelt gift to be cherished forever.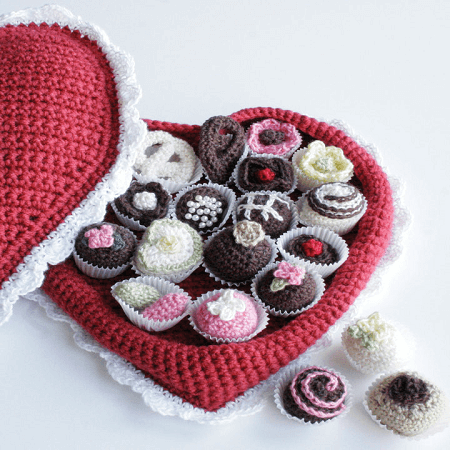 Get the Pattern here
10. Hedgehog Valentine Crochet Pattern by Crochet To Play
This hedgehog is sweet and round (and softer than the real thing!). He's the perfect Valentine's Day or year-round gift for a loved one. The hedgehog body is crocheted in the round and the spines are worked in rows and then added to the body.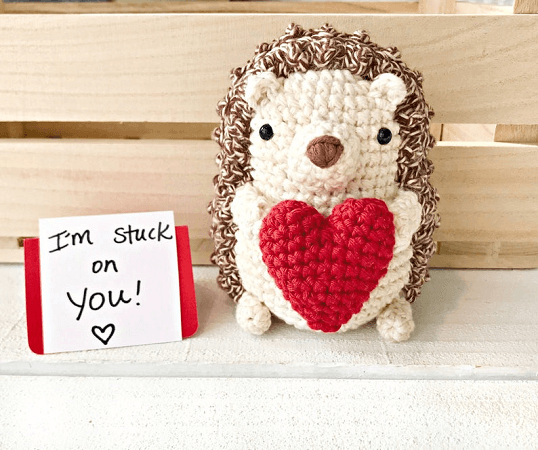 Get the Pattern by Crochet To Play here
11. Bookmark Crochet Valentine Pattern by Il Dikko
Do you want to surprise someone with a gift made all by yourself? But your time is somewhat limited? Then this bookmark is the right choice! This is extremely fun to make and you can even make a few for the entire family. It is the perfect gift for Valentine's Day, Christmas, or just because!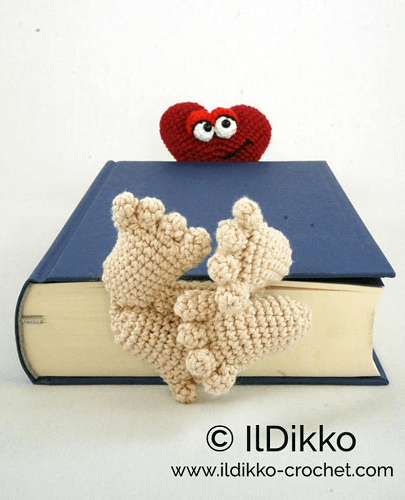 Get the Pattern by Il Dikko here
12. Heart Keychain for Valentine's Day Crochet Pattern by Gorbunova Dolls
This Crochet Heart Keychain is a small, relatively simple design that is fun to make and is an easy way to enjoy a pop of color. It makes a great keychain, bag charm, or a small favor for children.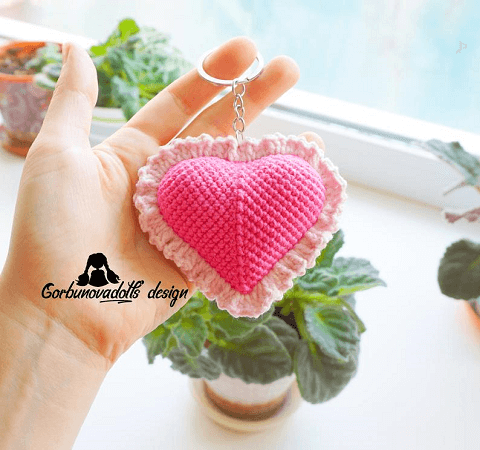 Get the Pattern by Gorbunova Dolls here
13. Valentine's Day Crochet Cat Pattern by Amigurumi Today
Looking for some amazing ways to say "I love you" or at least "Happy Valentine's Day"? Crochet this heart cat for your loved one with this Valentine's Day Crochet Cat Pattern.
The size of the finished Valentine's Day cat is about 10 cm (3.9″) without the tail if you use the same yarn and hook.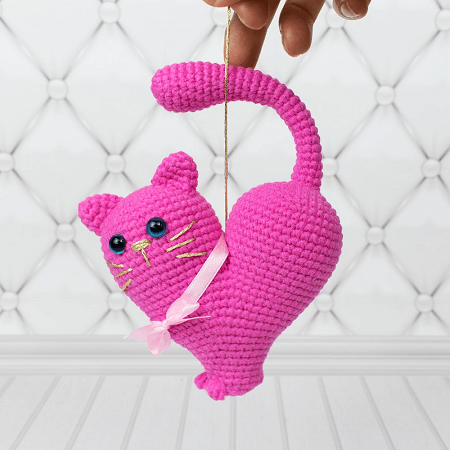 Get the Pattern here
14. Pudgy Heart Valentine Crochet Pattern by Bvoe 668
This sweet Pudgy Valentine Crochet is 10 1/2 inches tall, 12 inches wide from foot to foot, and 8 inches deep. She is stuffed with polyfill and is holding a small white heart which is made from soft fleece. You can sew any words of your choice onto the heart.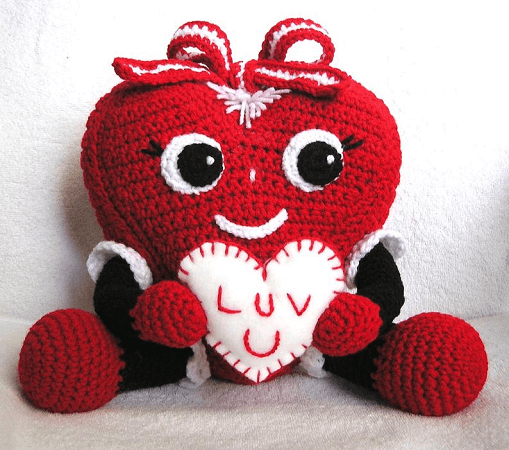 Get the Pattern by Bvoe 668 here
15. Stuff And Spill Box Valentine Crochet Pattern by Left In Knots
With this free crochet valentine pattern, you can make a fun and educational toy for your babies and toddlers to celebrate Valentine's Day. Perfect for encouraging pretend play and fine motor skills
The pattern features the instructions for the assembly of the mailbox, and the contents (an envelope and two different hearts), and how to decorate so that the items are non-toxic in case the kids happen to put anything in their mouth.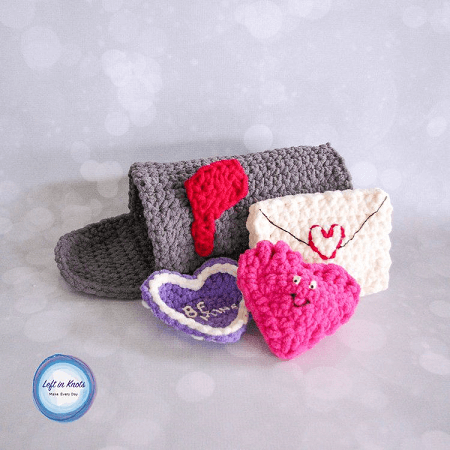 Get the Pattern here
16. Valentine Crochet Heart Doily Pattern by Cat Lady Crochet Shoppe
This charming crochet doily pattern is for thread crochet that will be a perfect part of your Valentine's Day decor. It features 6 lace-trimmed hearts in varying colors.
Each is made separately, then joined together as you go, forming a ring around a lacy, snowflake center. A second lace edging around each heart stands up for a stunning 3D effect!
Get the Pattern by Cat Lady Crochet Shoppe here
17. Valentine's Day Crochet Pattern by Lalylala
All you need is love (and this lovely crochet pattern) to make these cute amigurumi treats for your Valentines: Chocolate Truffle Aimee, Rose Flora, and Gift Box Felix.
The valentine's day crochet pattern is easy to follow and comes with very detailed instructions and a lot of step-by-step photos and tutorials and is also suitable for adventurous beginners.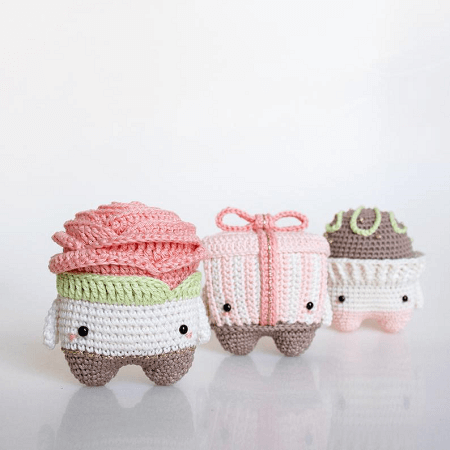 Get the Pattern by Lalylala here
18. Crochet Valentine's Heart Table Runner Pattern by Repeat Crafter Me
With Valentine's Day right around the corner, you might be looking for some cute but simple decor ideas. Look no further! Using the corner-to-corner crochet method, you can whip up a Valentine's Heart Table Runner in no time!
Plus you can make it as long or short as you'd like by adding or leaving off one or more hearts to the design. Whether you are planning a romantic dinner or take-out with the kids, this decor idea will brighten your table and put you in a festive mood!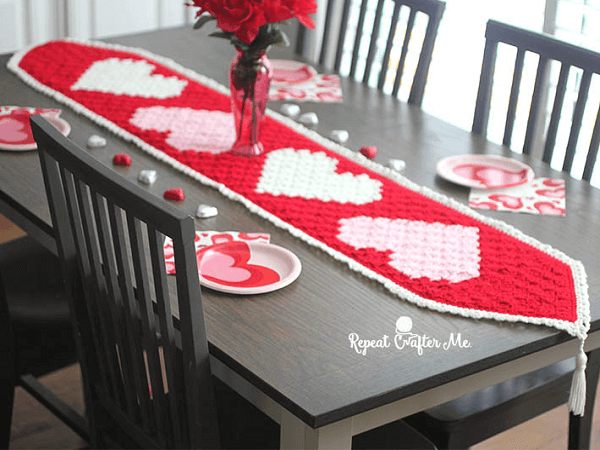 Get the Pattern here
19. Love Letter Envelope Valentine Crochet Pattern by Knot Bad Ami
Love is in the air and even with today's day and age of technology, nothing can beat the purity of a handwritten note coming from a loved one!
This Love Letter Envelope can hold a letter that is 5′' tall and 3.5'′ wide with a sincere touch of creativity! The design is up to you!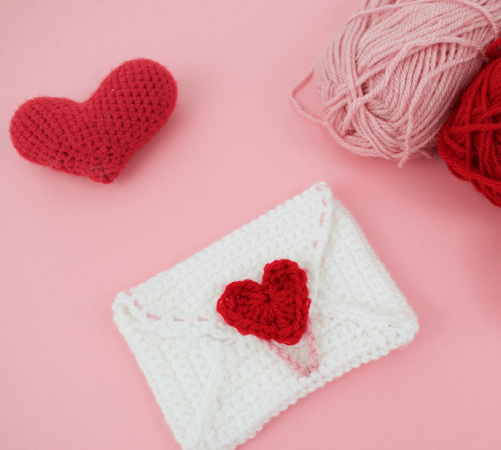 Get the Pattern here
20. Valentine's Day Crochet Gift Bag Pattern by Little Doolally
If you've bought your other-half a super special gift and the usual shop-bought wrapping paper just won't do, then why not have a go at making this cute little drawstring bag? It's a great little project if you're a beginner to intarsia crochet.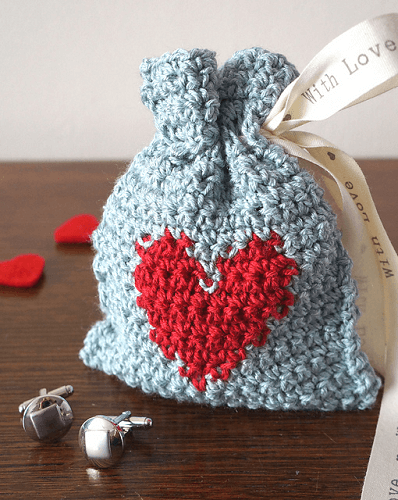 Get the Pattern here
21. Heart Arrow Valentine Crochet Pattern by Jill Watts
How fabulous are these arrows! You need to know your way around a crochet hook to make these so they're a bit too tricky for a beginner. They're a great stash buster project so add them to your list!
But you could use them to make a quiver full of heart arrows for Valentine's, or hang them above the crib in a woodland themed nursery, or attach one to the front of Valentine's card!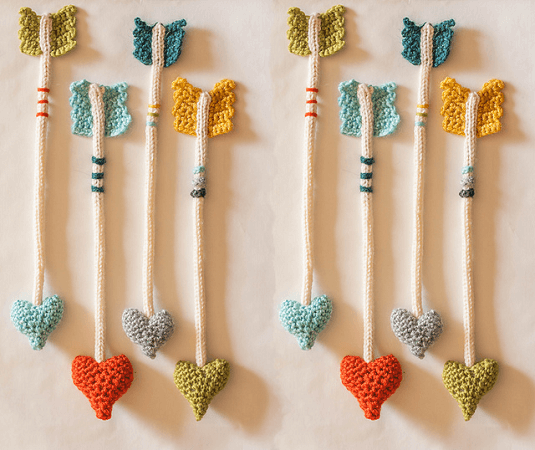 Get the Pattern by Jill Watts here
22. Crochet Tulip Pattern by My Cro Wonders
Tulips are gorgeous spring flowers, but they have a limited season so why not crochet some to display all year round?
This Crochet Tulip Flower Pattern is the perfect love flower to make a bouquet with. It can be worked up in just about any color with your own hands in just a brief amount of your time.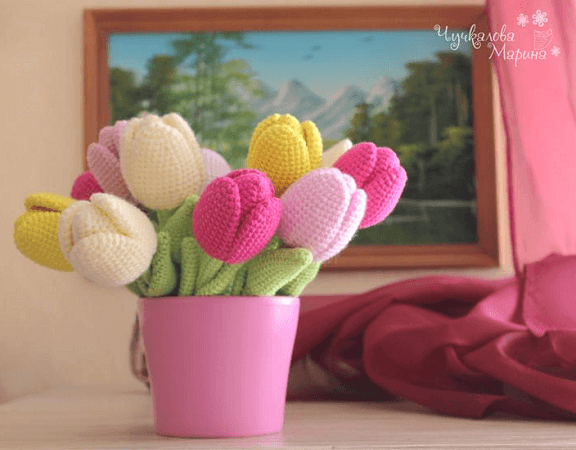 Get the Pattern by My Cro Wonders here
23. Valentine's Day Crochet Bunny Pattern by Anisbee Anisbee
This Valentine's Day Crochet Bunny is so cute and addictive, you cannot stop making them at once! Only a few centimeters high but such a huge heart – this amigurumi bunny has to be replicated in all colors and offered endlessly!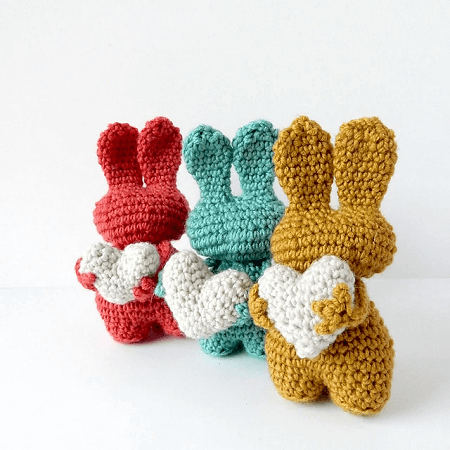 Get the Pattern here
24. Valentine Minis Set Crochet Pattern by Aradiya Toys
his crochet pattern contains a detailed description of how to create Mr. Cupid, Mrs. Chocolate Bar, Mr. Teddy Bear, and Mrs. Perfume, with a great number of step-by-step photos and a list of necessary materials.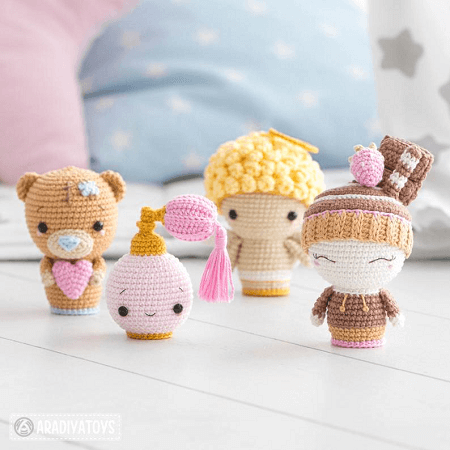 Get the Pattern by Aradiya Toys here
25. Kissing Dolls Amigurumi Crochet Valentine Pattern by Stuff The Body
This Kissing Dolls Amigurumi Pattern was prepared especially for those creative souls who would love to give a very personal and handmade gift for a wedding or bridal shower. This valentine crochet pattern is fast and fun to make because it is seamless – no sewing parts together!
They may be also made in different colors and then they will make a great present for Valentine's Day or any other special occasion.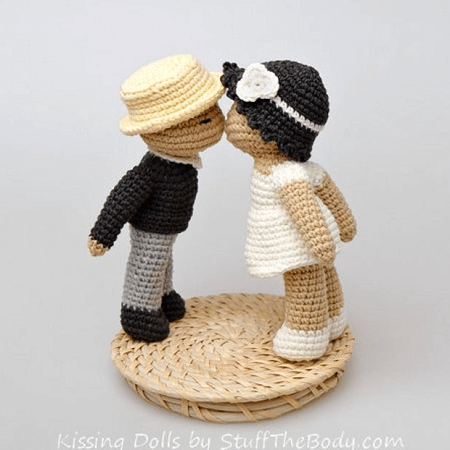 Get the Pattern by Stuff The Body here
26. Heart Strings Garland Crochet Pattern by Red Heart
This pattern will pull on your heartstrings since it's an inspired decorative element. Hearts are recognized as the symbol of love, so hang a crochet hearts garland in a window or open doorway, or attach it to a curtain rod or dowel. It's perfect for Valentine's Day, anniversaries, birthdays, and more!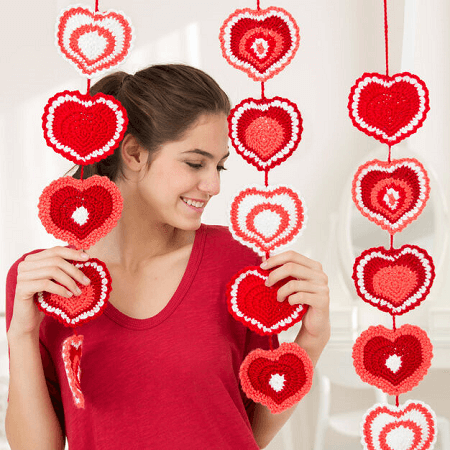 27. Valentine's Day Wreath Free Crochet Pattern by Highland Hickory Designs
This wreath is not just for Valentine's Day decoration. How about hanging one on a baby's room door or in a little girl's bedroom? How about your own bedroom? Or a decoration for an anniversary party. You can change the colors to customize the wreath if you wish.
There are no complicated stitches in this pattern. Just chains, single crochet, half double crochet, and double crochet.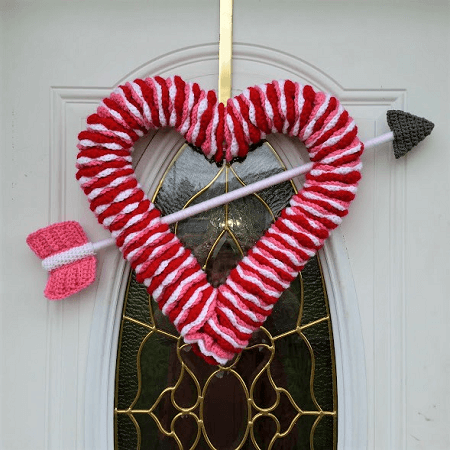 Get the Pattern here
Enjoy the holiday of love with these fun crochet valentine patterns!
Whether you're looking for a romantic idea that you can give as a Valentine's Day gift or one that you can use as festive decor, you'll find the perfect craft for you. Be sure to share your makes on our Facebook Page. We'd really love to see them!
Looking for more ideas to give for Valentine's Day? Make sure to check out our collection of patterns for crochet flowers and crochet teddy bears!
It's time to fall in love with these valentine crochet patterns by whipping up some!