Crochet one of these cute crochet teddy bear patterns and watch as it brings comforting cuddles for years to come!

Everyone should have a teddy bear at some stage of our lives. Instead of buying any store-bought ones, why not use those crochet skills to make a customized teddy bear stitched by you?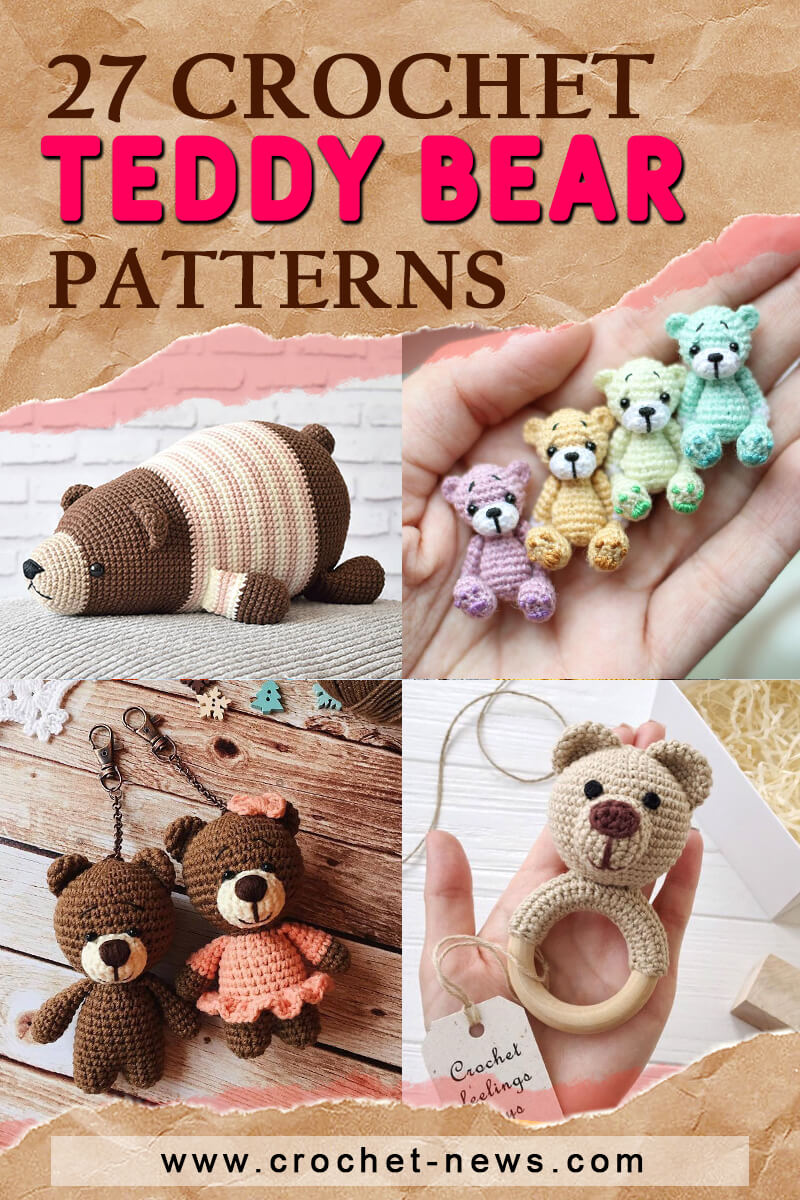 Favorite teddy bears are always special, but they feel extra special when they're handmade.

1. Crochet Sweetheart Teddy Bear Free Pattern by Tarturumies
You can find them all over the world bringing joy to families and children. In the GTA V and Call of Duty age, sometimes, the most joy can be found in a simple, traditional teddy bear. The crochet teddy bear is super-cute and is guaranteed to bring more warmth and love to your household.
I have to say it upfront, this crochet teddy bear is ooh, so sweet! You can crochet this teddy bear in any brand and color of nice soft yarn. Whether you make this bear for your own kids or as a gift for your neighbor's kids, it's all the same; it will be hugged and snuggled with as much passion.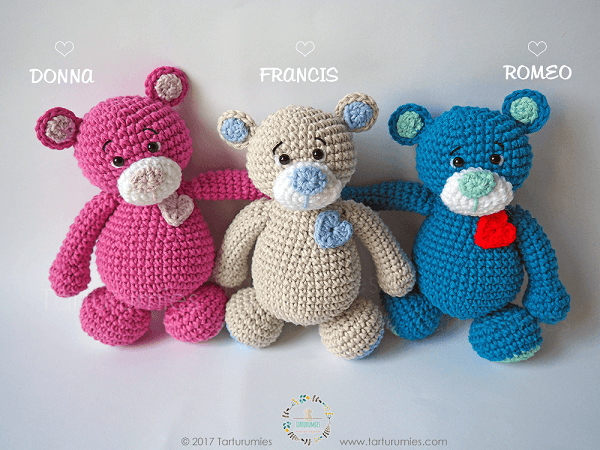 Crochet Sweetheart Teddy Bear Materials
Black thread to embroider eyebrows (to knit no. 8 or similar)
Tools Needed
Yarn Needle (for sew amigurumi parts)
Scissors
Perfect For Beginners To Practice Their Amigurumi Skills
The crochet teddy bear would be a lovely addition to your family. Why not crochet up a new member of your household? After all, the more the merrier, right? With this project, you might need some basic skills in crocheting.
Beginners are however welcome to try out this crochet project. No reservations on this one. Teddy bears wouldn't be as popular as they are if they were if the "how to" remained a secret affair. There's plenty of web resources and materials an amateur crocheter can use to put together this cute teddy bear.
Pick Your Favorite Color
The best part would perhaps be the fact that you can crochet this project in any color you prefer. The truth is different kids have different color preferences reflective of their varied personalities. Why not churn out a couple of these teddy bears in different colors and watch your kids and your sister's kids have their pick?
Another aspect about teddy bears that's simply breathtaking is the fact that you can go as big as you want. You will appreciate how huggable crochet teddy bears get as they get bigger.
Such A Rewarding Project
Now, wouldn't it be nice putting effort and love into a project like this? Picture this, your little ones snuggly tucked in, tightly holding onto their teddies and a general feeling of warmth, love, and comfort everywhere in the air. If that won't melt your heart, nothing can, you're as emotionless as they come.
You can never go wrong with a crochet teddy bear. The reason I'm saying this is, unlike a shawl or an Afghan, a teddy bear has a personal feel to it. It is not just another item you use to get warm or look chic and stylish.
The love affair with teddy bears does not seem to stop when we grow up. Teddies appeal to both adults and the young alike. It would certainly suck for you if you tried hugging and cuddling a grizzly bear, so go on and get started on this teddy bear project. Trust me, it's a lot more fun.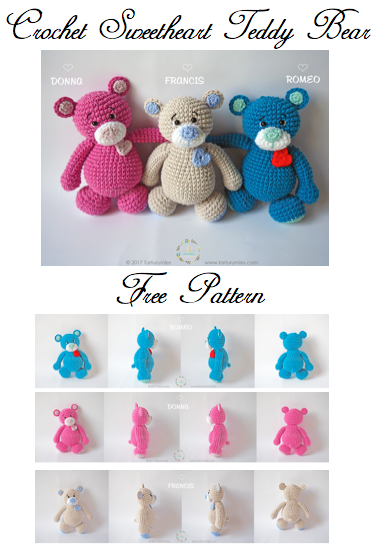 Get the pattern here

2. Teddy Bear Lovey Crochet Pattern by Tilly Some
This teddy bear lovey is perfect for all kids. It is a plush toy and security blanket all in one and you can make one in no time!
This the perfect cuddle buddy for your little one. Would also be the perfect baby shower gift for an expecting mother or newborn photo prop.
The finished lovey measures 39 cm (15 inches) diagonally across, with fine weight yarn (cotton and acrylic blend) and 2.5 mm hook.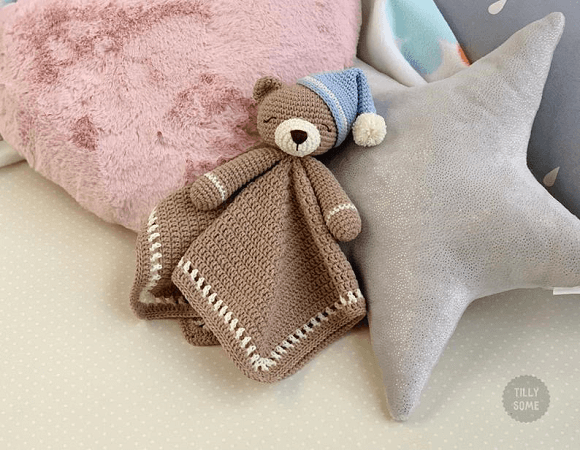 Get the Pattern by Tilly Some here

3. Lying Bear Crochet Pattern by Amigurum
Crochet your own lying bear with this easy to follow amigurumi pattern. To make this cute bear you will need 2.0 mm crochet hook and YarnArt Jeans yarn. The finished amigurumi bear is about 22 cm (8.7″) long.
This bear is an easy amigurumi pattern with a pear-shaped main body and stitched on limbs and accessories. It's a great little project for using up yarn ends that seem to accumulate all the time.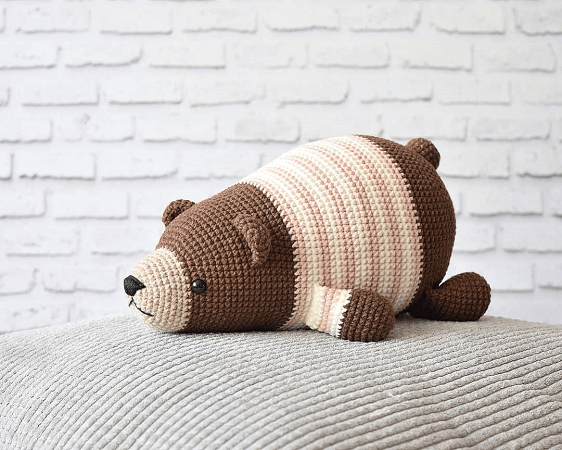 Get the Pattern here

4. Teddy Bear Rug Crochet Pattern by Tatyana Baby Toys
Looking for a great way to incorporate wildlife into your home decor?
This Teddy Bear Rug is perfect for a child's room or playroom and fun way to blend form and function, saving those little kiddo knees from hard floors and engaging their imagination in the process.
The size of the finished product is about 33 inches (84 cm).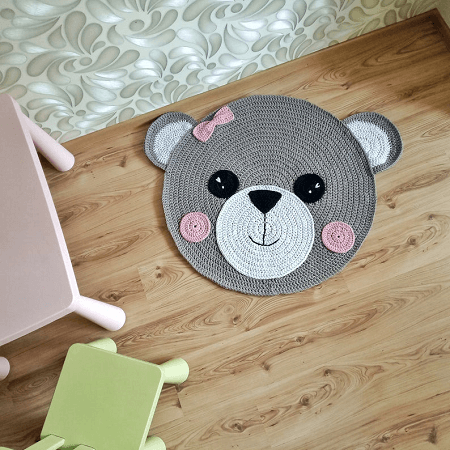 Get the Pattern by Tatyana Baby Toys here

5. Free Teddy Bear Crochet Pattern by Amigurumi Today
How precious is this crochet teddy bear? It incorporates so many cute details and it's fun to make. Crochet bear is a classic gift that can brighten any occasion.
The finished teddy bear is about 22 cm (8.7 tall) if you use the same yarn and hook. The pattern can also work well with the yarn of other weight, but the size of finished toy can be different.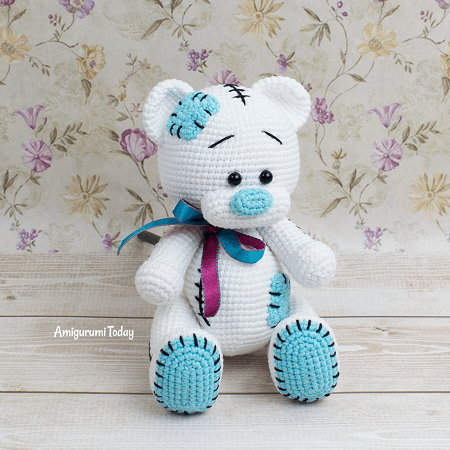 Get the Pattern here

6. Velvet Valentine Crochet Teddy Bear Pattern by Yarnspirations
This cute crochet teddy bear pattern is a perfect Valentine's Day gift idea for a loved one and works as a gift year-round, too. Bernat Velvet, a bulky weight yarn, makes for a plush finish.
Customize the bear by choosing your favorite colors from the classic Bernat Velvet shade range. The contrasting crochet heart accent adds a sweet touch.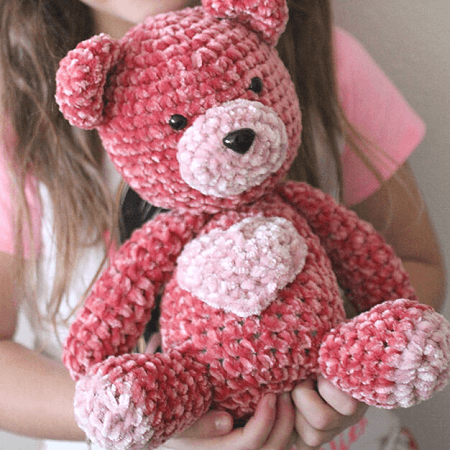 Get the Pattern here

7. Free Crochet Teddy Bear Pattern by Irina Kalach Sweet Toys
These cuddly teddy bears are the perfect gift for any occasion, especially as a baby shower gift! Measuring 32 cm high, this large teddy bear is perfect for the littles in your life!
You can use any yarn to make this bear, just make sure to use correct hook size with your yarn.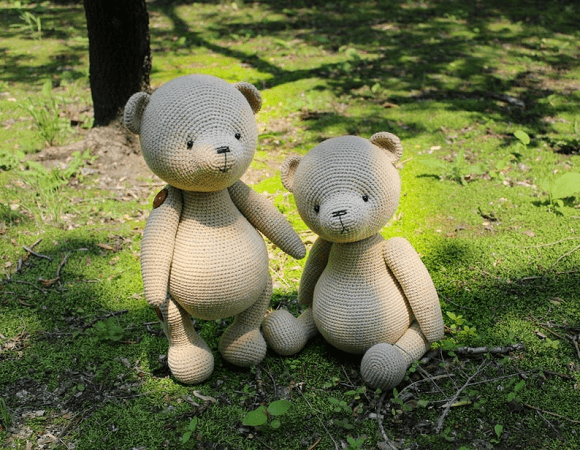 Get the Pattern by Irina Kalach Sweet Toys here

8. Bear Amigurumi Crochet Pattern by Little Fish Crocheteri
Isn't this bear amigurumi adorable with his jumper clothes? With this crochet pattern, you don't just crochet the bear, you also crochet a sweater for it to wear. You can get really creative with your own variations on this design.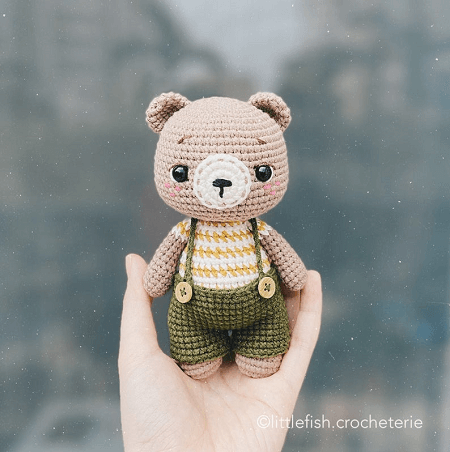 Get the Pattern by Little Fish Crocheteri here

9. Crochet Teddy Bear Hat Pattern by Bri Abby HMA
This crochet teddy bear hat pattern provides many options! You can make a mama, papa, or baby bear hat.
Top off your bear hat with a bow or top hat. Make them with or without ear flaps & then choose between twists or pom poms!
With these detailed instructions, even those with little crochet experience can find success in creating their own masterpieces!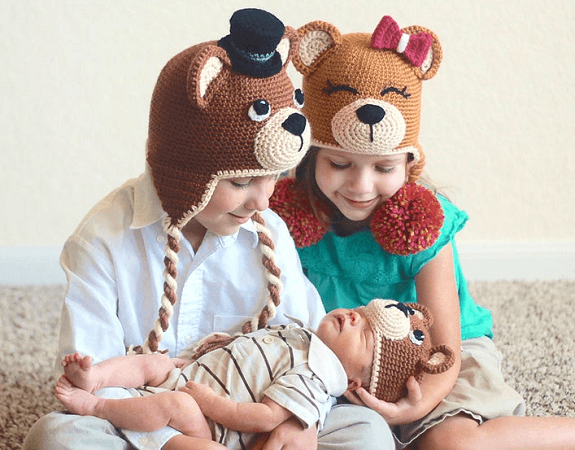 Get the Pattern by Bri Abby HMA here

10. Sleep Tight Teddy Bear Blanket Crochet Pattern by Sweet Potato 3 Patterns
This Sleep Tight Teddy Bear Blanket is a beautiful blanket full of texture and adorable teddy bears. The teddy bears are all snuggled and tucked in for the night with their sleepy eyes and paws just wrapped around the blanket.
The pattern also comes with a matching lovey and a stuffed teddy bear. These darling little teddy bears are ready to snuggle you to sleep and will make an adorable gift set.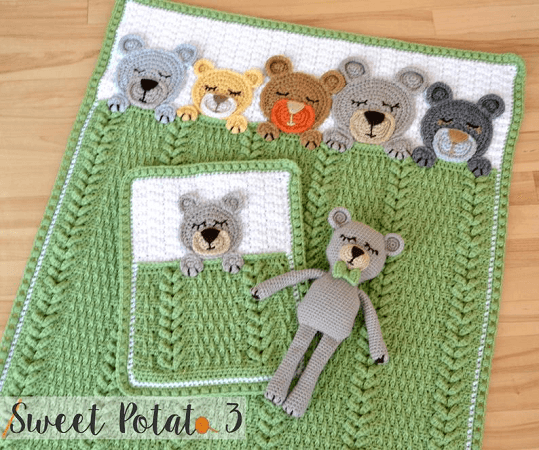 Get the Pattern by Sweet Potato 3 Patterns here

11. Crochet Teddy Bear Mobile Pattern by One And Two Company
Rain or shine, this precious teddy bear mobile will add some whimsy to your little one's room. It makes a beautiful, one of a kind baby shower gift!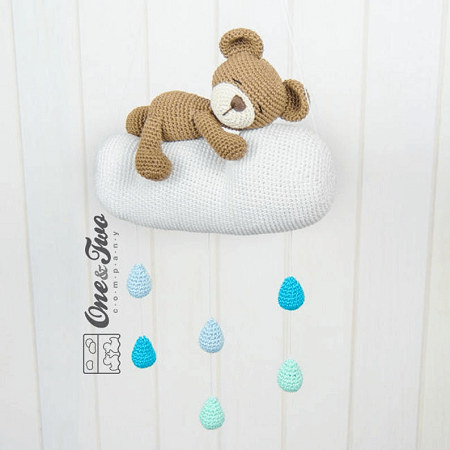 Get the Pattern by One And Two Company here

12. Millie Rose, The Teddy Bear Crochet Pattern by The Little Hook Crochet
Millie-Rose is a sweet little girl. She is always obliging and happy to lend a helping paw to anyone who needs it. She is a good listener and loves giving bear hugs, especially with her best friend Tuffy.
If Millie-Rose is made with Krea Deluxe Organic Cotton yarn (4-ply) and a 2.5 mm crochet hook, she will measure 7.5 inches or 19 cm tall from the top of her head to her feet.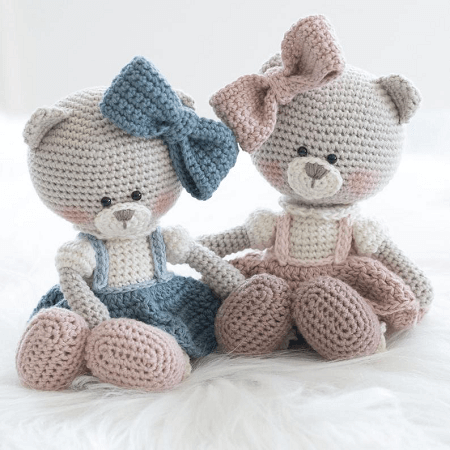 Get the Pattern by The Little Hook Crochet here

13. Teddy Bear Max Crochet Pattern by Anastasia Kirs
How precious is this teddy bear max when handheld? It incorporates so many great details from the laugh lines to the furrowed brow. The pattern includes 24 pages with more than 80 instructional photos.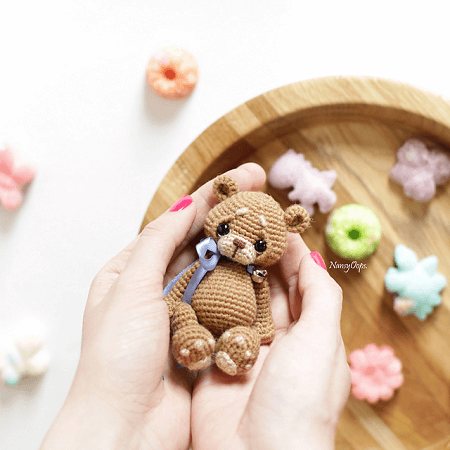 Get the Pattern here

14. Teddy Bear Organizer Crochet Pattern by One And Two Company
This teddy bear organizer is not only colorful, but it's also useful. The pockets are the perfect size for storing all sorts of treasures. Place it in your bedroom, in your car, in the bathroom, wherever you want!
It measures approximately 26 inches but you can make the pattern larger or smaller by changing the type of yarn and hook.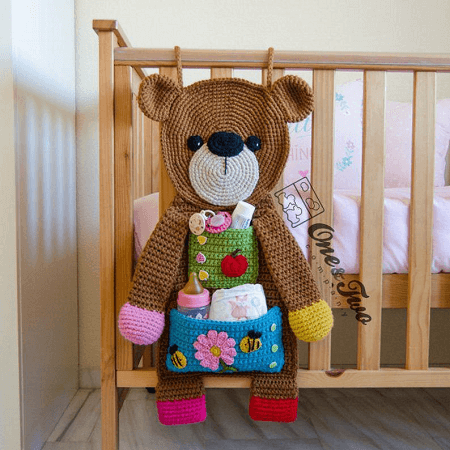 Get the Pattern by One And Two Company here

15. Crochet Plush Bear Pattern by My Toy Crochet
This Crochet Plush Bear is different from the rest because of the unique yarn choice. It's made with faux yarn that really looks like fur!
The toy measures approximately 30 cm/11.81 inches – just the right size for a cute little friend! Dress them up with lovely clothes and they're good to go!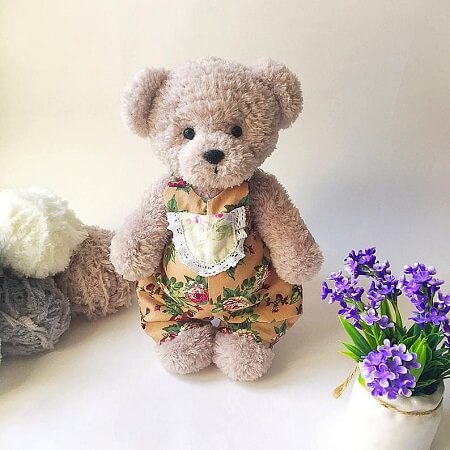 Get the Pattern by My Toy Crochet here

16. The Friendly Teddy Bear Crochet Pattern by Kali Dahle
This Friendly Teddy Bear is about 8 inches tall. The legs are made separately and then attached to form the body. The body will decrease and then increase into the head.
You will attach the snout, arms, and ears. Then you add the sweater edge detail. The options for the color choices with his little sweater are endless!
You will need to know how to use a magic circle, single crochet, how to increase and invisible decrease, half-double crochet, double and triple crochet.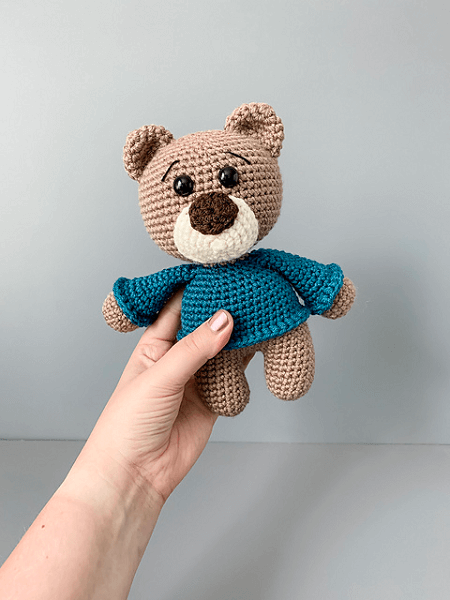 Get the Pattern here

17. Teddy Bear Applique Crochet Pattern by Fancy Infancy Crochet
This teddy bear applique is really something beary cute for you to crochet! You could use this for so many different projects.
It can be sewn on to blankets, hats. clothes, or simply use as home decor. The options are endless for this little cutie!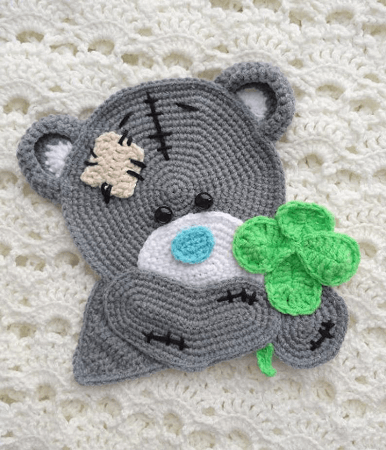 Get the Pattern by Fancy Infancy Crochet here

18. Crochet Teddy Bear Baby Rattle Pattern by Crochet Feelings Toys
Cute and soft teddy bear rattle – perfect for the smallest ones. This cutie will certainly bring a smile to any child's face.
It measures around 4.3 inches (11 cm) when finished. It's a simple beginner project that you can whip up in no time!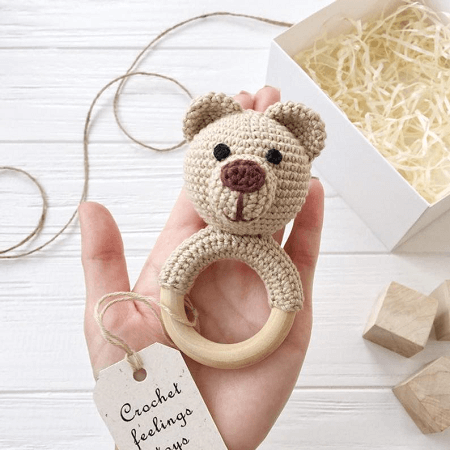 Get the Pattern by Crochet Feelings Toys here

19. Amigurumi Teddy Bear Pattern by Amiguroom Toys
This little amigurumi teddy bear will be a great keepsake gift. You can use it as an ornament, party favor, or zipper pull on a backpack, and cutest toy to play around!
The size of the finished toy is about 13 cm when made with YarnArt Jeans and a 2.5mm crochet hook.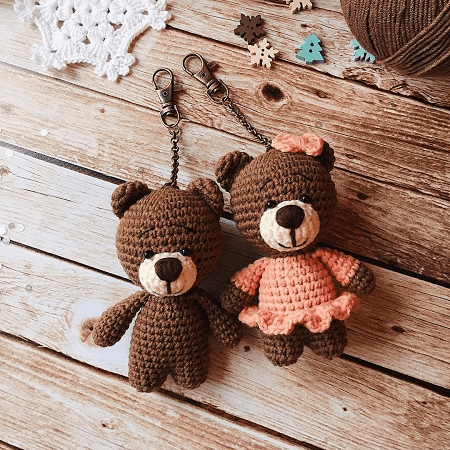 Get the Pattern here

20. Crochet Micro Teddy Bear Pattern by Nansy Oops
What about crocheting a tiny little teddy? These teddy bears will be a great addition to your collection of miniature figures, a gift for lovers of bears, and is perfect for a Dollhouse or a toy for doll.
The final size will depend on the yarn you use. To get the smallest size (16 mm [0.6 inches]), use embroidery thread.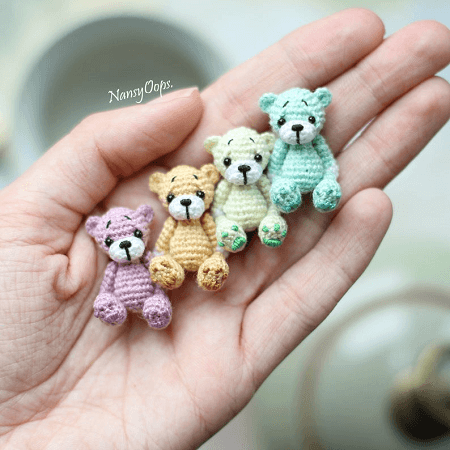 Get the Pattern by Nansy Oops here

21. Valentine's Teddy Bear Crochet Pattern by R Nata
These cute teddy bears will make the perfect Valentine's Day gift for that special someone. Use this step-by-step amigurumi pattern to create a soft crochet teddy bear holding a heart. Make someone's day with the little cute gift!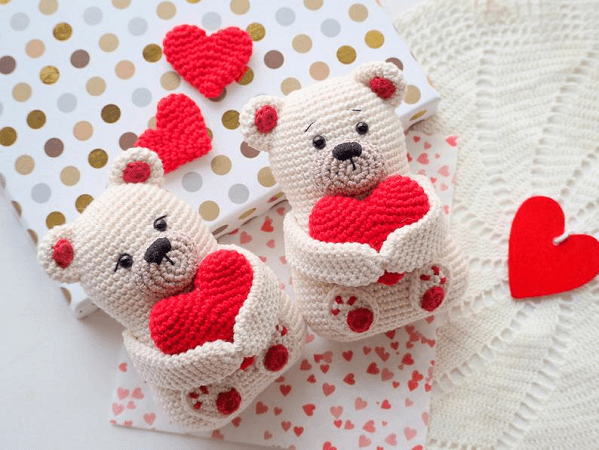 Get the Pattern by R Nata here

22. Sleepy Bear Crochet Pattern by Squirrel Picnic
This Sleepy Bear Crochet Pattern makes a classic sitting teddy with ultra-adorable drooping eyes just nodding off. A great cuddle buddy to your sleepyheads!
This bear pattern is unique in one key way: the head and body are crocheted together. With this pattern, you crochet the head, do around in the front loops only to create the neck, and then continue with the body.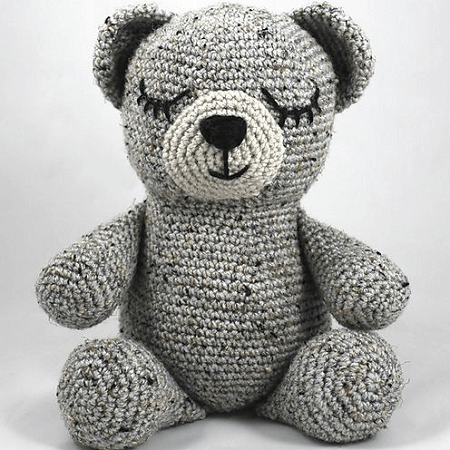 Get the Pattern here

23. Big Teddy Bear Amigurumi Pattern by Ira Rott Patterns
We love more fluffiness and these big teddy bears can fulfill that wish of maximum cuddling!
These amigurumi bears will measure approximately 31" (78.75 cm) tall. If you wish to make your bear smaller, just use a thinner yarn with a suitable size hook.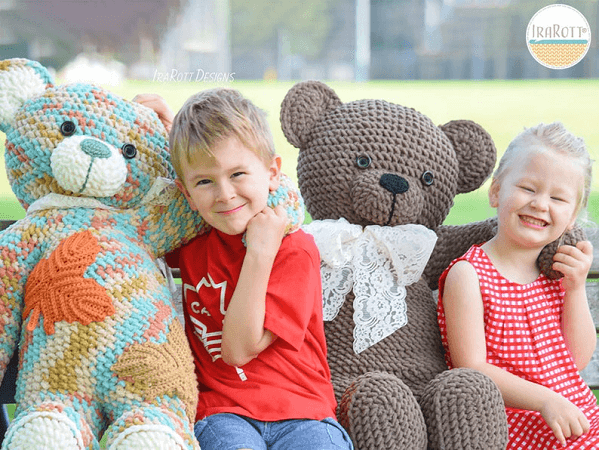 Get the Pattern by Ira Rott Patterns here

24. Crochet Teddy Bear Booties Pattern by Hopeful Honey Designs
These little teddy bear booties will keep even the tiniest tootsies warm! And the best part, they're easy and fun to crochet and remind you of a childhood full of teddy bear picnics!
The design of these incredibly cute little booties is unisex. So, they will look equally lovely on a little girl as a little boy.
You will only need a small amount of yarn so they are excellent scarp yarn project!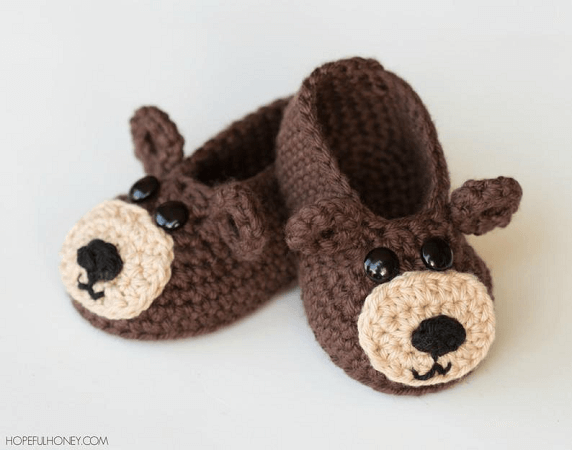 Get the Pattern by Hopeful Honey Designs here

25. Boco Bear Free Crochet Pattern by Craft Passion
This Boco Bear Amigurumi is a perfect cuddly soft plush toy in huggable size, 10″ (sit pose) & 12″ (stand/lying pose). It comes in one simple pattern that enables you to make 3 different poses on the bear.
It is crocheted from fuzzy yarn to give a soft and warm touch that you wouldn't want to leave them off!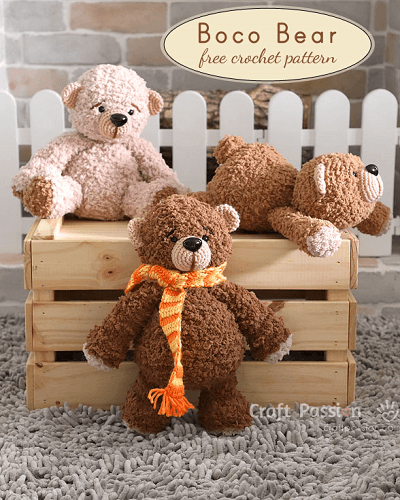 Get the Pattern here

26. Frankie, The Zombie Teddy Bear Crochet Pattern by Krawka
Frankie, the zombie teddy bear is a creepy-cute Halloween merger of a teddy bear and Frankenstein's monster.
You should know basic crochet stitches including chain, slip stitch, single crochet, decrease, increase, double crochet, half double crochet, and how to start with a magic ring in order to finish one.
Frankie, when finished, is 24 cm (9.4 inches) long.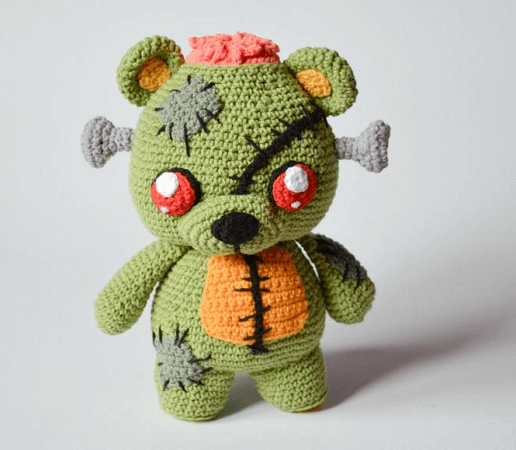 Get the Pattern by Krawka here

27. Teddy Bear In Pajamas Crochet Pattern by Happy Crochet Pattern
This Teddy Bear In Pajamas Crochet Pattern is easy to follow and the finished piece is just adorable! You will love that the arms and legs are crocheted onto the body and did not need to be sewn on.
Make him a pajama, a hat, or slippers to make him extra sweet!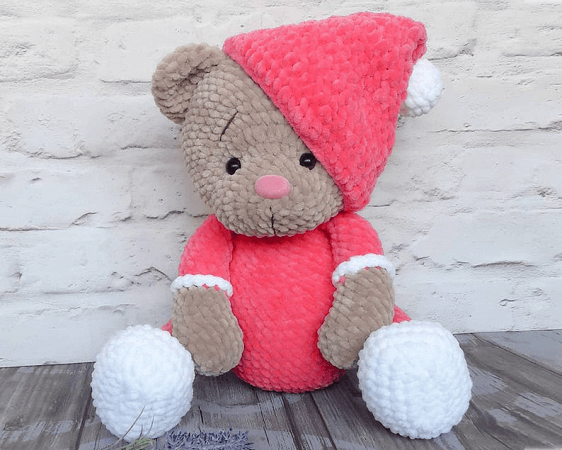 Get the Pattern by Happy Crochet Pattern here
Take advantage of the design process by incorporating your favorite colors. Teddy bears don't always have to be brown, you know!
Now you know how to crochet a teddy bear. Be sure to share your finished works with us on our Facebook Page. We can't wait to see what you create! You can also go here to see a roundup of all sorts of fun things to make in your free time. We have tons of it!
So, move ahead, grab the yarn of your favorite colors, and start whipping up some of these adorable crochet teddy bear patterns!