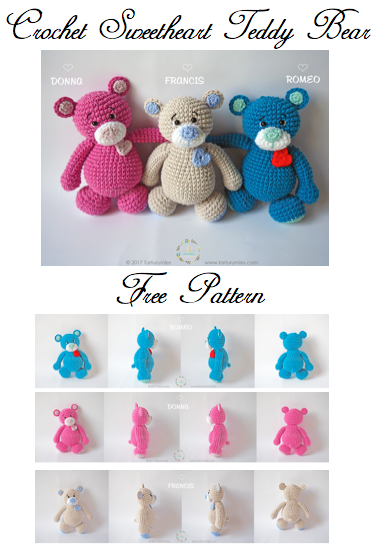 Crochet Teddy Bear
You can find them all over the world bringing joy to families and children. In the GTA V and Call of Duty age, sometimes, the most joy can be found in a simple, traditional teddy bear. The crochet teddy bear is super-cute and is guaranteed to bring more warmth and love to your household.
I have to say it upfront, this crochet teddy bear is ooh, so sweet! You can crochet this teddy bear in any brand and color of nice soft yarn. Whether you make this bear for your own kids or as a gift for your neighbor's kids, it's all the same; it will be hugged and snuggled with as much passion.
Crochet Teddy Bear Materials
Tools Needed

Perfect For Beginners To Practice Their Amigurumi Skills
The crochet teddy bear would be a lovely addition to your family. Why not crochet up a new member of your household? After all, the more the merrier, right? With this project, you might need some basic skills in crocheting.
Beginners are however welcome to try out this crochet project. No reservations on this one. Teddy bears wouldn't be as popular as they are if they were if the "how to" remained a secret affair. There's plenty of web resources and materials an amateur crocheter can use to put together this cute teddy bear.
Pick Your Favorite Color
The best part would perhaps be the fact that you can crochet this project in any color you prefer. The truth is different kids have different color preferences reflective of their varied personalities. Why not churn out a couple of these teddy bears in different colors and watch your kids and your sister's kids have their pick?
Another aspect about teddy bears that's simply breathtaking is the fact that you can go as big as you want. You will appreciate how huggable crochet teddy bears get as they get bigger.
Such A Rewarding Project
Now, wouldn't it be nice putting effort and love into a project like this? Picture this, your little ones snuggly tucked in, tightly holding onto their teddies and a general feeling of warmth, love, and comfort everywhere in the air. If that won't melt your heart, nothing can, you're as emotionless as they come.
You can never go wrong with a crochet teddy bear. The reason I'm saying this is, unlike a shawl or an Afghan, a teddy bear has a personal feel to it. It is not just another item you use to get warm or look chic and stylish.
The love affair with teddy bears does not seem to stop when we grow up. Teddies appeal to both adults and the young alike. It would certainly suck for you if you tried hugging and cuddling a grizzly bear, so go on and get started on this teddy bear project. Trust me, it's a lot more fun.
Get the free pattern here