There are many ways to crochet a flower, but crocheting tiny ones is a good place to start. Today, we've got a host of crochet tiny flowers patterns for you to enjoy – 15 of them, in fact. Let your yarn scraps bloom!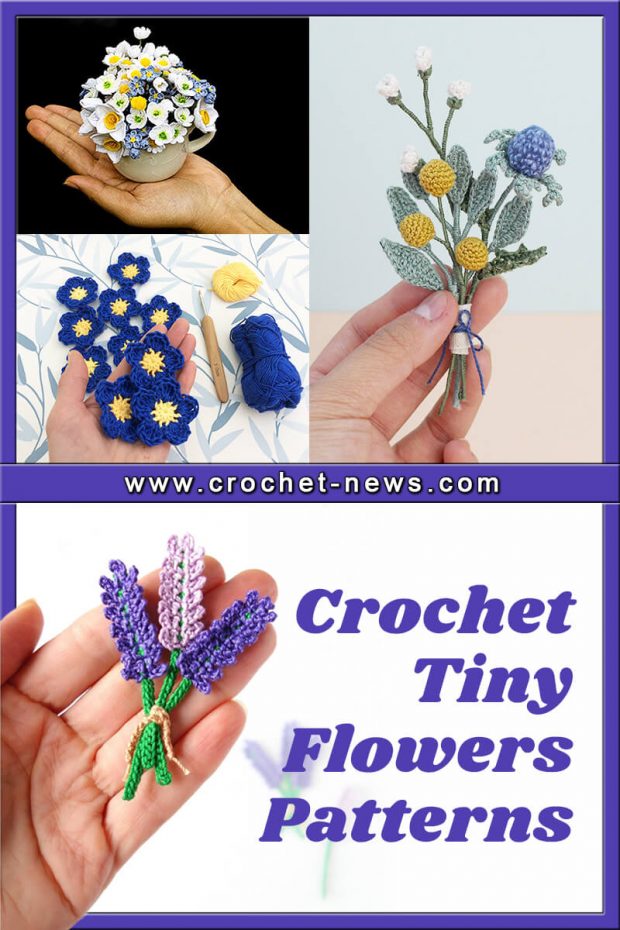 If you've noticed flowers starting to bloom, use your crochet hooks to grow some of your own inside. Featuring a variety of colors, these patterns capture the freshness and brightness of nature and will certainly make a statement in the home.

Stick these onto a clip, thread them onto a necklace or gift them to a mate who appreciates small things. Alternatively, you can attach them to a bag, hat, headband, or even a dress – you're surely add a stylish touch whatever you choose!

1. Tiny Crochet Flowers Pattern by Cut Out And Keep
These tiny flowers should be pretty simple for both beginner and expert crocheters. They only require one crochet round and look cute on just about everything! Coffee cozies, bags, pillows, blankets – you decide.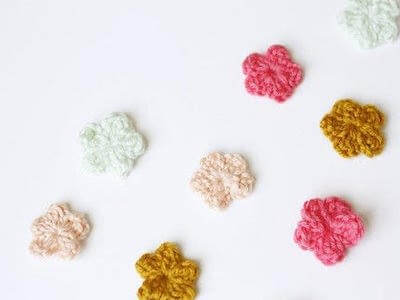 Get the Pattern here

2. Crochet Mini Flower Stem Pattern by Happy Patty Crochet
This Crochet Mini Flower Stem Pattern is absolutely gorgeous! This crochet mini flower pattern includes instructions for making Lily of the Valley, Miniature Daffodil, Mini Daisy, Anemone Hepatica & Forget-me-not flowers, and we love the way they're displayed in a stylish cup.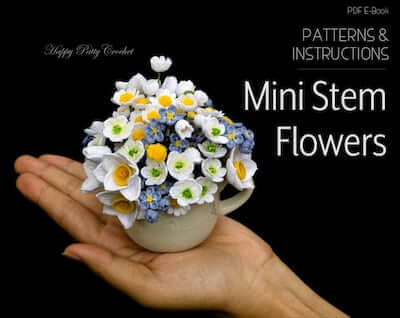 Get the Pattern by Happy Patty Crochet here

3. Teeny Tiny Crochet Flower Pattern by Sweet Bee Crochet
Chains and single crochet stitches are all it takes to crochet these adorable little flowers. Gauge doesn't matter with these sweet little makes and they are a wonderful stash buster idea!
Attach them to projects or create a little table display for a lovely reminder of spring time.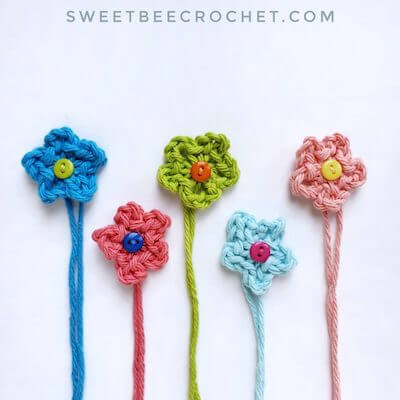 Get the Pattern here

4. Teeny Tiny Crochet Flower Buds Pattern by Mama In A Stitch
These tiny crochet flowers fit on the end of your finger. The flower itself is about a centimeter wide, and the little grey leaf or "greenery" underneath is about one inch long.
They would be cute on any headband, sweater, purse, or any little project that may need a flower for fun!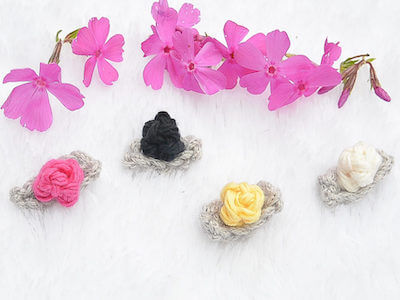 Get the Pattern here

5. Tiny Ruffle Crochet Small Flower Pattern by LM Crochet
This crochet tiny flowers pattern is for a tiny, ruffle flower. Because of the ruffles and size, this flower has an irregular shape, making each look slightly different.
The stitches for this flower are not difficult, but it is very small in crochet thread, about 1/2 inch finished. These little flowers are great for many different projects – barrettes, scrapbooks, bags, clothes, and many more.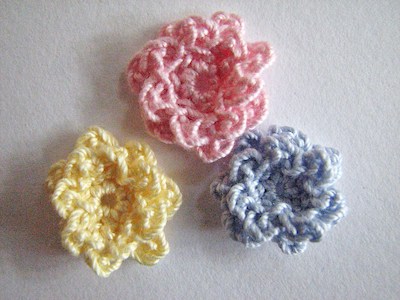 Get the Pattern by LM Crochet here

6. Crochet Tiny Petunia Flower Pattern by Weave Crochet
Practice your crochet skills by working on these teeny tiny crochet flowers. You can make these flowers in different sizes and colors according to your décor needs.

Use craft yarn or thread for making these flowers. Reuse pearls or beads from your sewing supplies to make these tiny flowers more enchanting for others.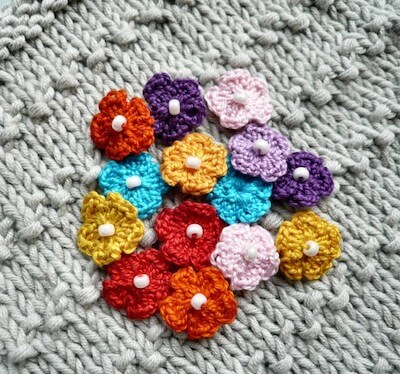 Get the Pattern here

7. Daisy Tiny Crochet Flower Pattern by Lala Nguyen
So fragile and yet so amazing! If you enjoy working on tiny details, this pattern will surely bring you so much joy. If you use the same thread and hook as this pattern, your daisy will be suitable for mini dollhouses.
See our compilation of Crochet Daisy Patterns here.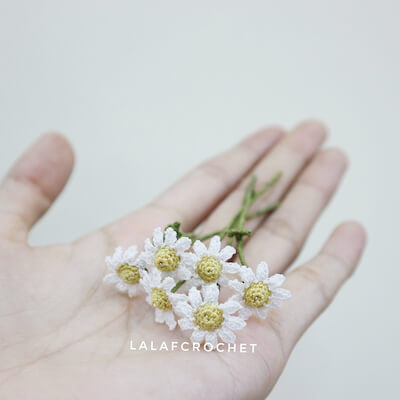 Get the Pattern here

8. Tiny Lavender Applique Crochet Small Flower Pattern by Golden Lucy Crafts
You can experiment with different yarn and hooks to make your Lavender applique in different sizes. Such applique is about 2-1/2" tall. It has a very delicate appearance.
It will look great on handmade cards or can be used for scrapbooking. Also, you can make a pin or just sew this cute small lavender bouquet on your clothes.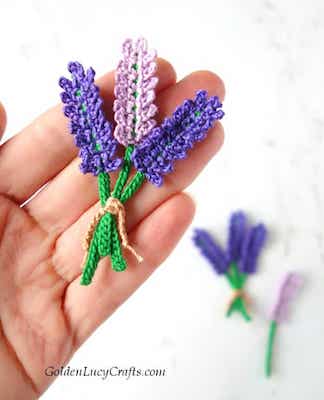 Get the Pattern here

9. Micro Crochet Poppy Jewelry Pattern by Steffi Glaves
This crochet pattern shows you how to make a dainty Little Poppy Jewellery Set – pendant, dangle drop earrings and ear studs.

The flower motif in this pattern is super tiny, measuring just 1cm across, and would make a gorgeous treat for yourself or a gift for someone else. This pattern can be easily scaled up for a brooch, charm or appliqué for other projects, by using 4 ply or double knitting yarn.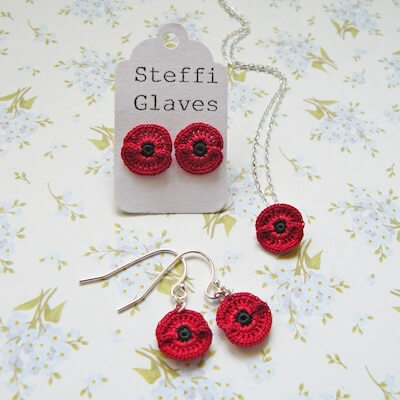 Get the Pattern by Steffi Glaves here

10. Crochet Mini Rose Flower Pattern by Happy Patty Crochet
These adorable small roses are perfect applique for anything from an earring and necklace, to a hairclip, bag or a hat. Crocheting several of this blossoms, would allow you to make a beautiful brooch or a stunning mini bouquet.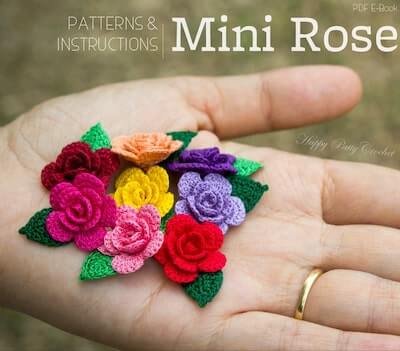 Get the Pattern by Happy Patty Crochet here

11. Crochet Tiny Forget Me Not Flower Pattern by Lynne Rowe
Here's a quick pattern for small crochet flowers that use up the tiniest scraps of yarn. Of course, you can make these little flowers in any color of your choosing.
They work great as appliqués on other projects. You can also spread them out on a table as decor for a party.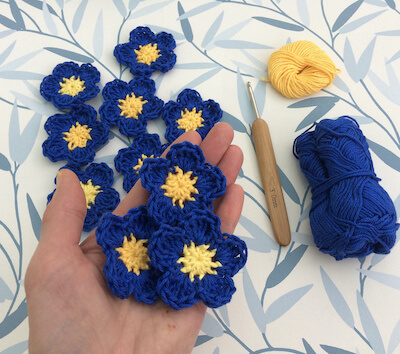 Get the Pattern here

12. Crochet Tiny Cherry Blossom Flowers Pattern by Make And Do Crew
Celebrate Spring with this easy crochet cherry blossom flower pattern. Each flower takes only a few minutes to crochet and can be used for decor, garland or an accent on another piece.

This Crochet Cherry Blossom Pattern is a perfect lightweight project that won't make you sweat up a storm while you're working on it. Since this is a very basic crochet flower pattern, you can change up the colors and yarn weight and use it for a lot of different projects.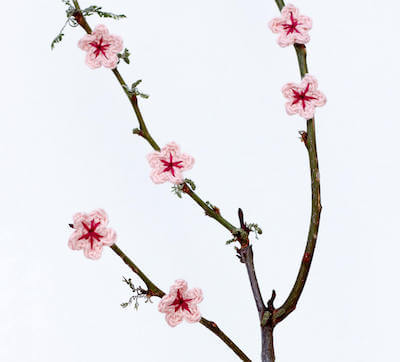 Get the Pattern here

13. Crochet Tiny Flowers Bouquet Pattern by Abby Sy
Create a tiny flower bouquet with these four patterns: Billy Balls Flower, Blue Thistle Flower, Eucalyptus Leaves, and Baby's Breath Flowers. Floral wire is required for you to create these adorable flowers.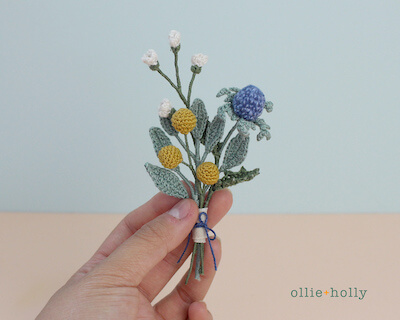 Get the Pattern here

14. Crochet Tiny Moth Orchid Pattern by Pippa Patterns Crochet
This tiny blossom (2″ wide) is ideal for indoor decoration, whether on a windowsill, table or a shelf. Use it as an adorable brooch or as any other creative project!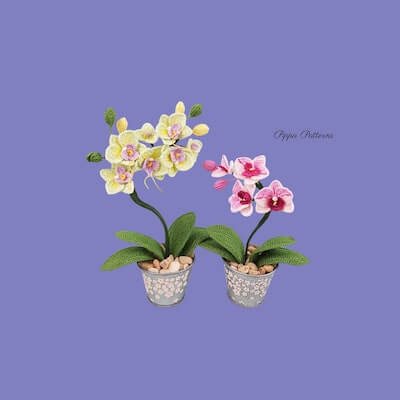 Get the Pattern by Pippa Patterns Crochet here

15. Crochet Tiny Calla Lily Flower Pattern by Vinamigurumi
Either alone in their tiny adorable vases or as separate/filler flowers in larger arrangements or bouquets, these tiny beautiful blossoms are extremely versatile.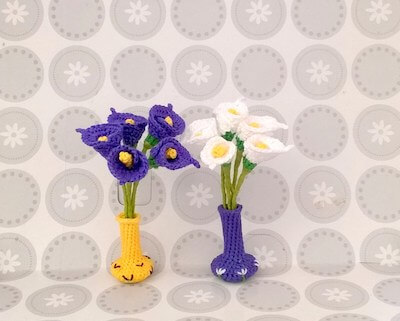 Get the Pattern by Vinamigurumi here
THE POSSIBILITIES ARE ENDLESS FOR THESE CROCHET TINY FLOWERS PATTERNS! WHAT WILL YOU MAKE WITH THEM?
Bite-sized patterns like these help you learn new techniques and skills without committing to something that'll eat up your time.
When you're done making them, remember to share your finished projects on our Facebook Page. Be proud to show off your stitches!
If you're looking for other lightweight crochet projects that won't overheat you, try these: Crochet Barefoot Sandals Patterns, Mug Rug Crochet Patterns, Crochet Head Wrap Patterns, Crochet Coaster Patterns, and Crochet Leaf Patterns.
Dig out your messy yarn stash and get to work on making a bunch of these adorably crochet tiny flowers today!