If you're stuck in a hair rut, then try one of these quick and easy crochet head wrap patterns to get you through quarantine. If there was ever a need for head wraps, the time is now.
Most people do not really style their head part because they do not think about putting an effort to style it. With head wraps, you can style your head and go as unique and creative as you want.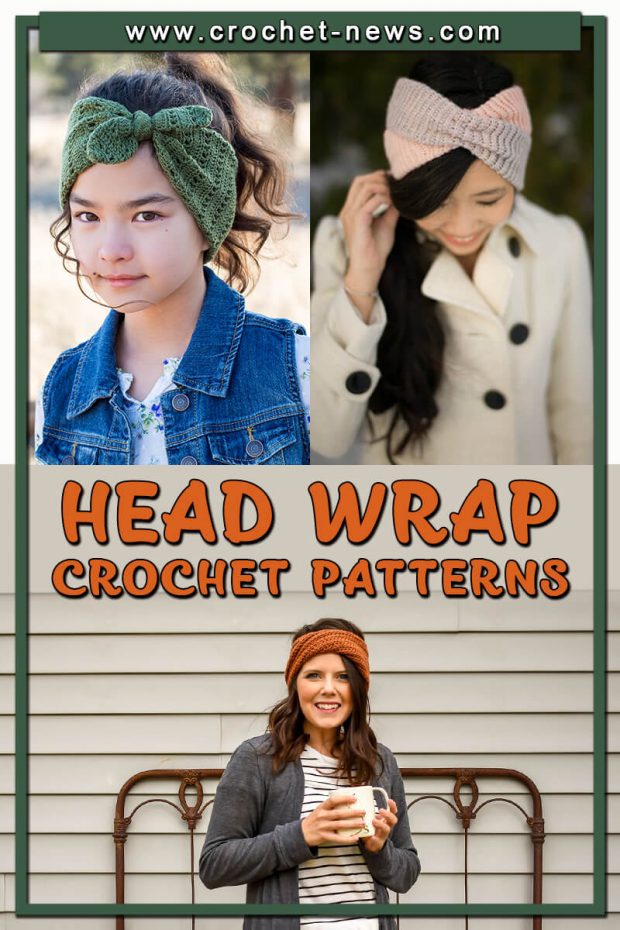 What we love most about the hair accessories are the stylish ways to wear them. From beautiful head warmers to head scarves, the options are plenty!

1. Velvet Crochet Head Wrap Pattern by E'Claire Makery
This Velvet Head Wrap is a stylish and cozy crochet ear warmer pattern that is super soft thanks to the velvet yarn. It makes a wonderful gift, can be made in under an hour, and is so easy to make!

This pattern is one of the easiest headbands that you'll ever make! The pattern starts out with a foundation double crochet, which helps give the whole thing a stretchy base so it doesn't fit unevenly.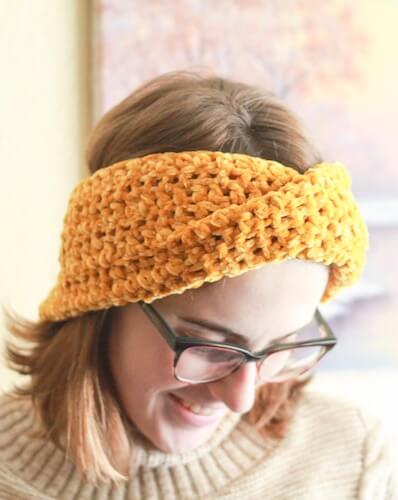 Get the Pattern here

2. Granny Stitch Crochet Kerchief Pattern by Crochet N Crafts
This Granny Stitch Crochet Kerchief Pattern can be worked up in any yarn and hook size. It's a simple one-row repeat making it super easy to adjust the size as needed from child to adult.

This granny kerchief is started at the bottom point and worked up making a few increases in each row to give you that triangle. It's tied at the back with tie strings for a comfortable fit.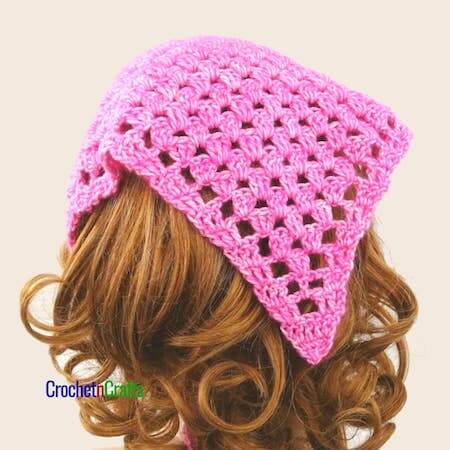 Get the Pattern here

3. Flower Crochet Head Scarf Pattern by Early Dawn Crafts
This Flower Head Scarf features cluster stitches in sets to look like flowers that have folded their petals. It is worked in a triangle from the bottom up. The ties are worked as one piece with the kerchief; being added on the edging round.

You could use any yarn of the same weight as the one suggested (DK). The kerchief should measure about (10'' from front to point – 19'' across front – ties 11'' long) when finished. It will fit either an adult or teen size head.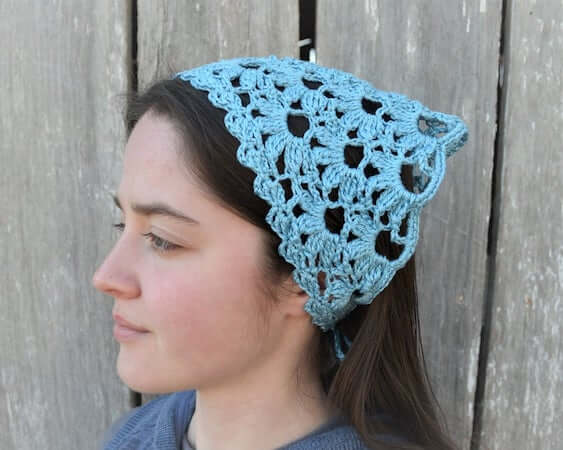 Get the Pattern by Early Dawn Crafts here

4. Alpine Twist Free Crochet Head Wrap Pattern by Nana's Crafty Home
This easy twist headband ear warmer is a free crochet pattern that works up so quickly – perfect for a last minute gift idea! This Alpine Twist Head Wrap is really easy and you can whip one of these up in less than one hour!
Made with the beautifully textured Alpine Crochet Stitch. Adding one row of edging adds just the right touch to the twist – so pretty and unique!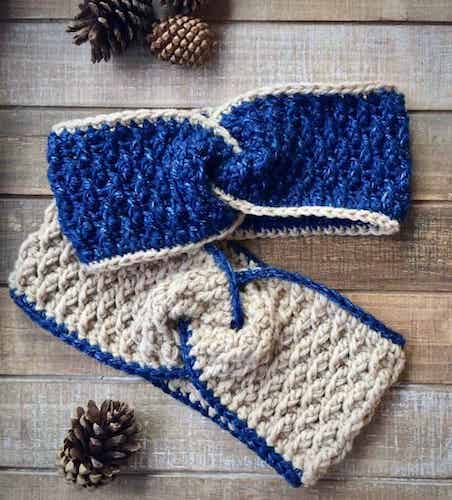 Get the Pattern here

5. Free Crochet Hair Scarf Pattern by The Loopy Lamb
Turn your bad hair day into a berry good hair day with the Berry Good Hair Day Crochet Hair Scarf. Available in two different sizes, this crochet hair scarf is a quick, fun and easy project.
Get multiple projects from a single hank of Hawthorn fingering yarn.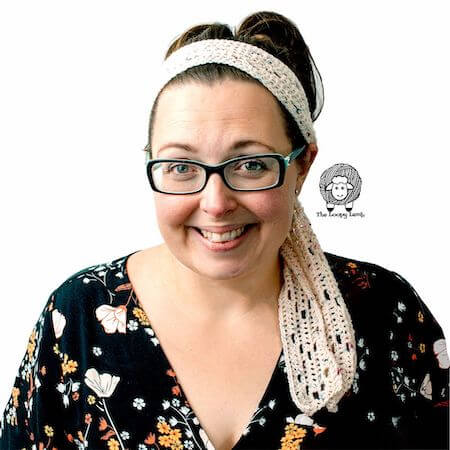 Get the Pattern here

6. Crochet Head Scarf Pattern by Kickin Crochet
This head scarf is designed to be able to wrap around the head once or twice, or be used as a thin scarf. the finished length is approximately 60" (without the tassles). It measures approximately 2.5-3.25" wide (depending on your yarn and stretch), and 6 rows in pattern is 2.5".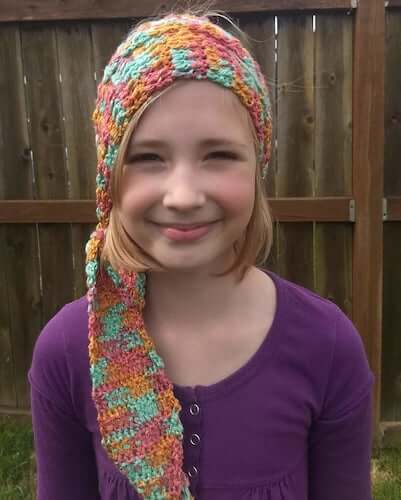 Get the Pattern by Kickin Crochet here

7. Sage Crochet Head Wrap Pattern by Tzigns
Make this lacy Sage Head Wrap with leaf details for the whole family! It comes in 3 sizes and 3 widths. A quick boho accessory that you can make in an hour! Plus it gets some extra style points from a cute little knot upfront.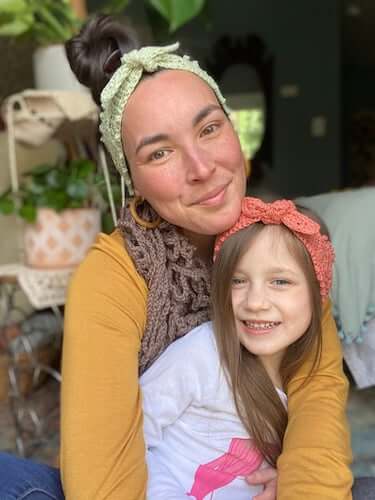 Get the Pattern by Tzigns here

8. Windy Day Crochet Head Scarf Pattern by Oombawka Design Crochet
This Windy Day Head Scarf is lightweight, soft and perfect for keeping those flyaway hairs under control. You can wear this with your hair up in a ponytail or messy bun, or with your hair down.
The design has a wider width main band that wraps securely around the head. The band has some extra length too to make it easier to tie to keep it in place at the back of the head.
You can even tie it once around the back of the head and once around your ponytail. Then you can easily tuck the tip of the triangle section into the tie to keep it in place.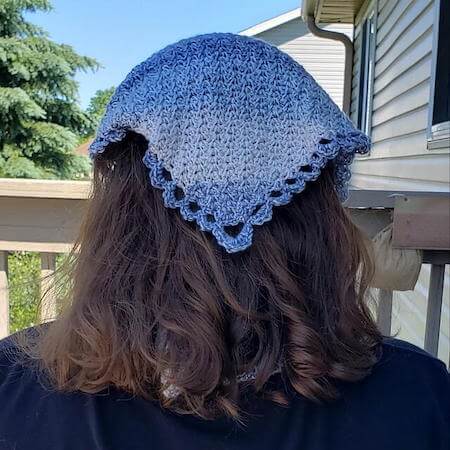 Get the Pattern here

9. Whimsy Crochet Head Wrap Pattern by Through The Loop YC
This Whimsy Head Wrap is the perfect accessory for a pretty and practical addition to your wardrobe.
This pattern is a quick and easy, can be adjusted for size, and also makes a great gift!
Get the Pattern by Through The Loop YC here

10. Top Knot Crochet Head Wrap Pattern by The Hat And I
Make this country chic Crochet Top Knot Head Wrap that's the perfect accessory to take you from Fall to Winter. this project is great for using up scrap yarn and you can easily alter this pattern to fit a child too.
It's the perfect pattern to create a matching accessory for you and your mini me!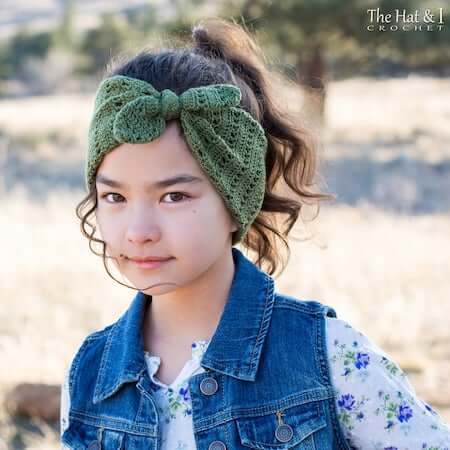 Get the Pattern by The Hat And I here

11. Crocodile Stitch Kerchief Crochet Pattern by Crochet Uncut
This kerchief is a popular type of head wrap that we don't see often enough in crochet. This one is worked using the unique crocodile stitch that is fun to play with and one that makes a great thick head wrap.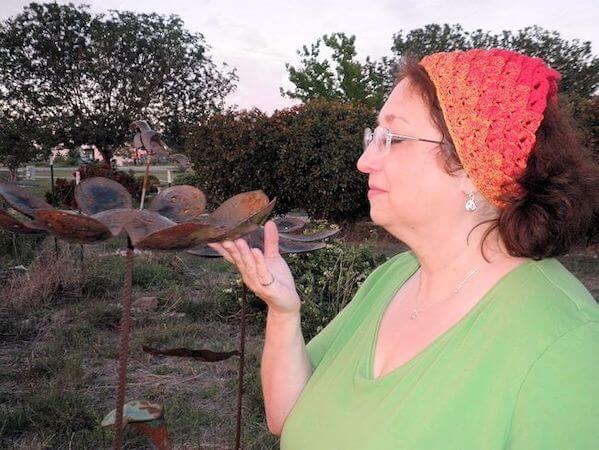 12. Crochet Method Head Wrap Crochet Pattern by Playin Hooky Designs
This Crochet Method Head Wrap is made as a continuous band (no buttons) and is stretchy enough that you don't have to worry about the fit. It's comfortable for everyone! If you want it to be fancy, you can add buttons, a bow, or glue on some sparkles.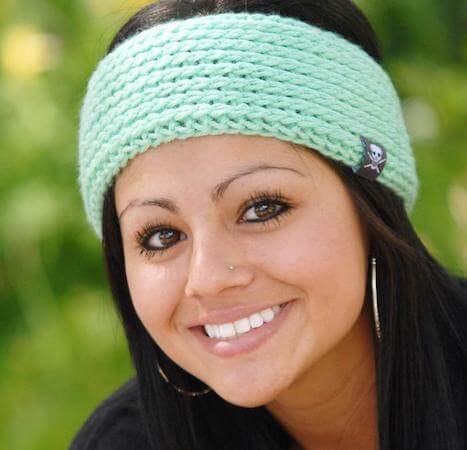 Get the Pattern by Playin Hooky Designs here

13. Everly Head Wrap Crochet Pattern by Mamachee
This Everly Head Wrap Crochet Pattern is worked up in a variety of jewel tones that offer a great pop of color to any outfit. The design is super cute, but it's also easy to crochet since it consists of half double crochet worked in the back loop only.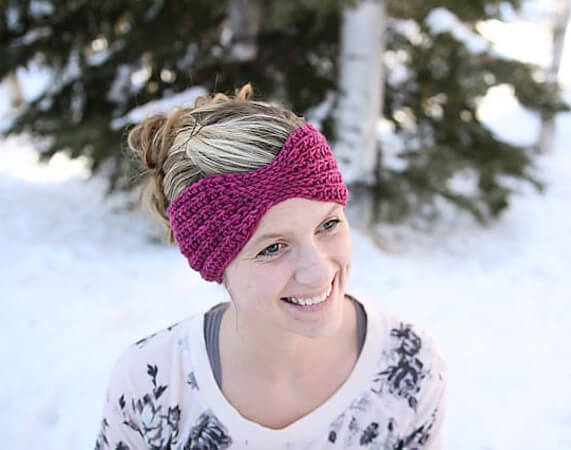 Get the Pattern here

14. Serene Reflections Head Wrap Crochet Pattern by Crystalized Design
This Serene Reflections Head Wrap is made in the round with no buttons to sew on or worry about! This stitch combination is perfect for 3 colors, enhancing multiple wardrobe options for anyone over the age of one.
Use subtle colors or bright colors, or even a rainbow of colors for an ocean of possibilities.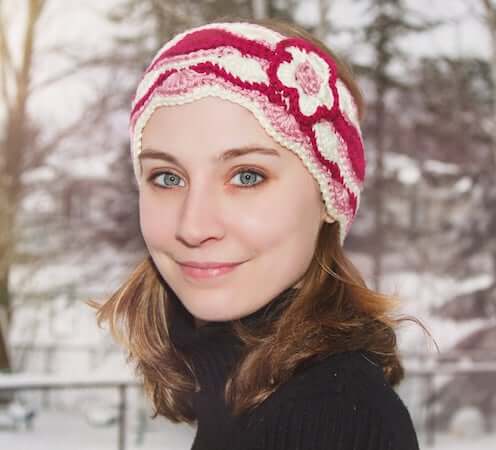 Get the Pattern by Crystalized Design here

15. Boho Beachy Head Wrap Free Crochet Pattern by Fiber Flux
This Beachy Boho Head Scarf is a lovely lightweight crochet accessory that is versatile too! It can be worn wrapped around the head for an elegant statement or around the neck to bring a little sparkle to an outfit.

Crocheted in delicate sparkly thread and finished off with long, fabulous beaded fringe, this will be at the top of your warm weather projects list!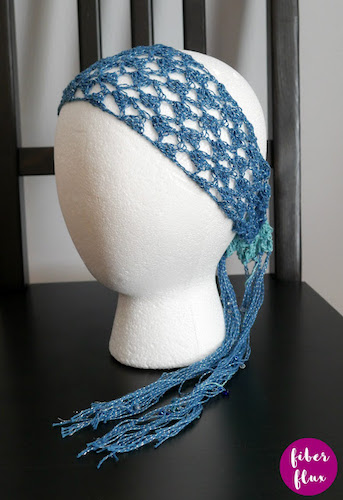 Get the Pattern here

16. Summer Picot Head Kerchief Crochet Pattern by Nicki's Homemade Crafts
This free pattern is called the Summer Picot Head Kerchief, because it is perfect for the summer as it is light weight, but it also has a pretty picot border around. And of course, one can use it in spring and fall, too.
It is designed in a way that it can be easily made bigger or smaller as one needs it to be.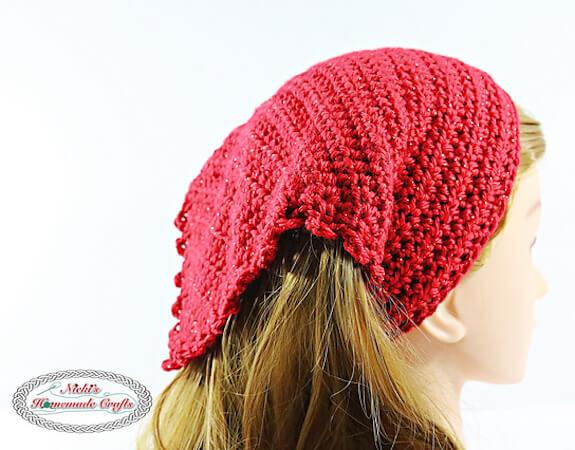 Get the Pattern here

17. Crochet Criss-Cross Head Wrap Pattern by All About Ami
Crochet this chic headwrap that crosses over and cinches in the middle for a stylish and warm look! As you can imagine, it is very warm since it is comprised of two layers with its tubular design!
The gradient yarn is so beautiful and very fun to work up as you see the colors blend from one to another.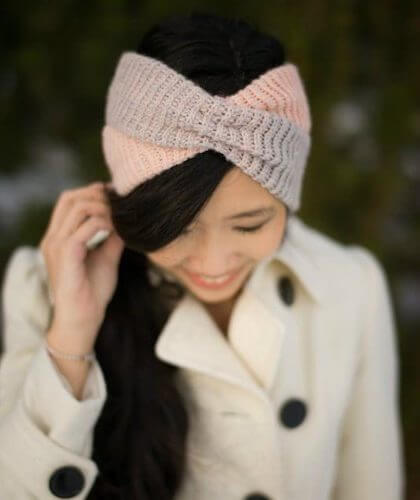 Get the Pattern by All About Ami here

18. Twist And Shout Free Crochet Head Wrap Pattern by Sweet Everly B
A simple free crochet headband pattern that will be your go-to for fall. This Twist and Shout Head Wrap is a basic design that creates a thick and warm headband perfect for fall and winter. You can make matching mommy and me sets with this free crochet pattern.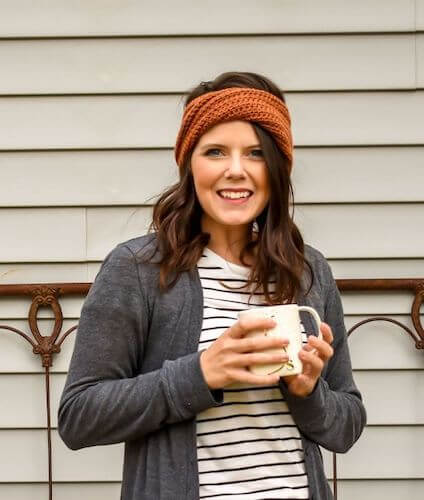 Get the Pattern here

19. Crochet Mix It Up Crochet Head Wrap Pattern by Robbins Nest Originals
Wider than typical headbands, this head warmer hugs your head like a cap. Using basic crochet and Tunisian stitches, this Mix-It-Up Head Wrap uses one skein of yarn and works up quickly.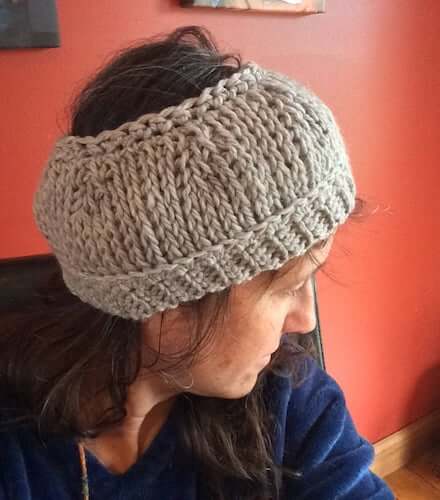 Get the Pattern by Robbins Nest Originals here

20. Crochet Head Wrap Pattern Autumn Breeze by The Hat And I
This Crochet Head Wrap is elegant, yet easy to make! A beautiful head wrap pattern for the ladies and sweet babies. The pattern comes in 5 different sizes, so you can tailor it to suit you.
The sizes are infant (0-6mo), baby (6-12mo), toddler, child and adult. We love this pattern and the earthy colors used, you'll feel one with nature wearing this headwrap.
The pattern is written in standard American terms with step-by-step, color-coded instructions and photos to help guide your hook to completion.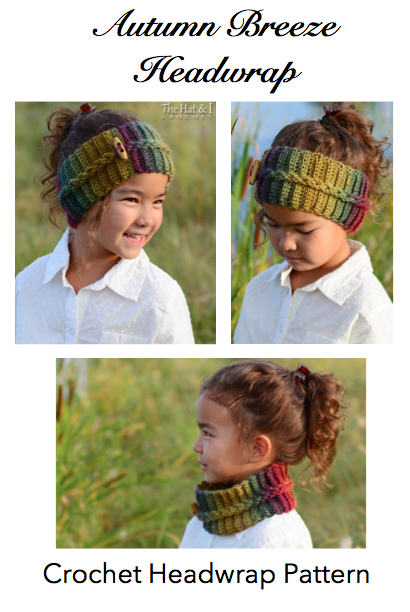 Materials:
Medium (4) weight yarn in Polo
Size I-9 (5.5mm) crochet hook
Tapestry needle
1 button – size 1 1/2″ (38mm)

CROCHET HEAD WRAPS ARE A MUST-HAVE IN YOUR CROCHET PATTERN LIBRARY!
When you make your own adorable versions, we'd love to see pictures! Be sure to share them on our Facebook Page. Opting to create your own accessories is a fun alternative that will surely provide you with something crafty and out-of-the-ordinary.
We have more crochet accessories here such as the Crochet Bandana Patterns, Crochet Bolero Patterns, Crochet Twisted Headbands, Crown Crochet Patterns, and Beanie Ombre Crochet Pattern to complete that outfit, or that room. Check them out, as well!
These crochet head wrap patterns are so quick and fun to make, and a perfect idea for a crochet stash buster. What are you waiting for?