If you're still using those boring old coasters you can find in just about everyone's homes, consider this your friendly reminder that there's a whole new world of options out there—and it may be time to up your game. Here's a collection of mug rug crochet patterns that you can make in no time flat!

For the uninitiated, mug rugs are exactly what they sound like: rugs for your mugs, also known as the cutest coasters you'll ever find. You see, while coasters are meant for your glasses and cups, a mug rug is slightly larger. It gives you room to place a couple cookies or crackers beside your drink.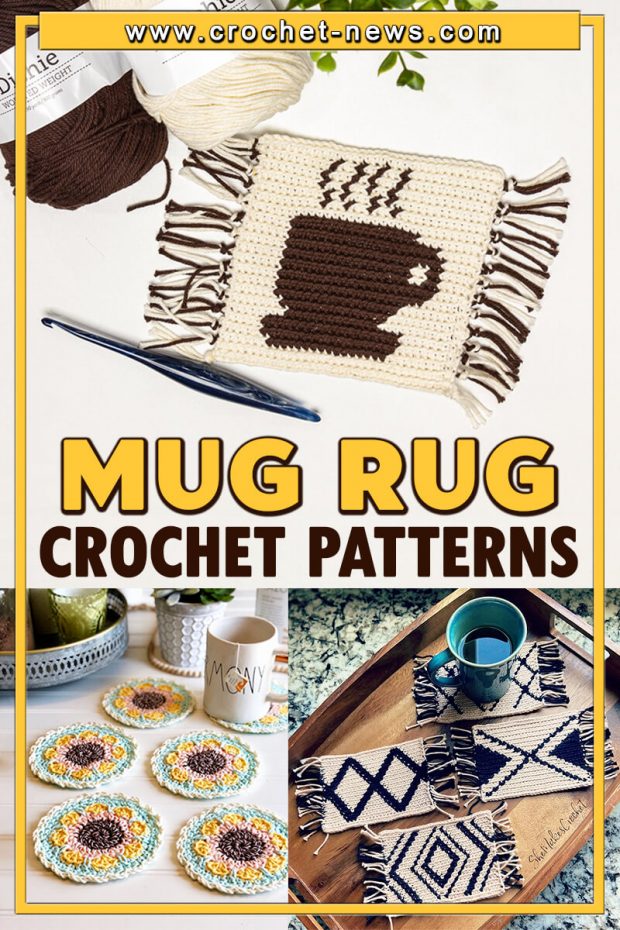 The patterns below are easy and addictive. Soon you'll be making mug rugs in many different color combinations. Take a look and find which one works for what you're looking for.

1. Caroline Mug Rug Crochet Pattern by Love And Stitch Designs
This Caroline Mug Rug would make the perfect house warming gift! The unique color work and fringe give the mug rug a very trendy and modern vibe. This pattern is beginner friendly and takes less than 2 hours to make a set of 4.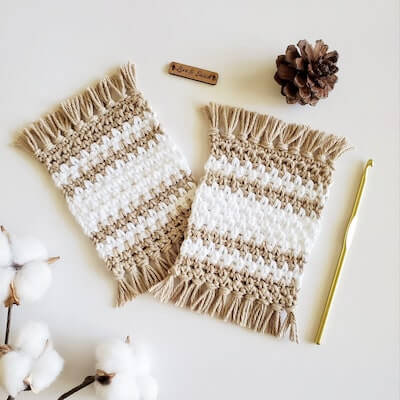 Get the Pattern by Love And Stitch Designs here

2. Modern Mug Rugs Crochet Pattern by She Makes Crochet
How can you not love something that looks like an adorable, tiny rug? You can use them however you want, but you definitely need one of these when you are enjoying a mug filled with a warm drink. This would be an excellent tapestry crochet project!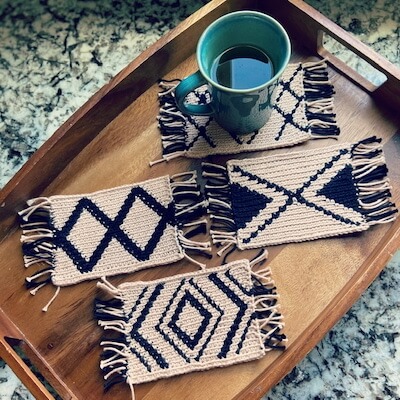 Get the Pattern here

3. Mosaic Mug Rug Crochet Pattern by MJ's Off The Hook Designs
This Mosaic Mug Rug Crochet Pattern is a perfect introduction to mosaic crochet. It's a small project, so it works up quickly and can build your confidence right away.

Choose colors to match your home decor. Use them as a crochet coaster or to place hot items. They are a handy item to have on hand, making perfect gifts or selling a set at craft markets.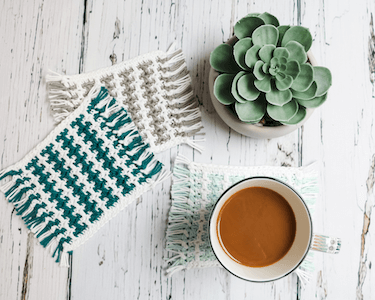 Get the Pattern here

4. Linen Stitch Mug Rug Crochet Pattern by Madame Stitch Crochet
These adorable mug rugs are a great addition to any room and protect surfaces from nasty water stains. The dense, flexible fabric of the linen stitch is absorbent without being too thick.

Make a matching set or whip up some in different colors and throw them around the house. A great project for using up scraps. They also make wonderful house-warming gifts and stocking stuffers.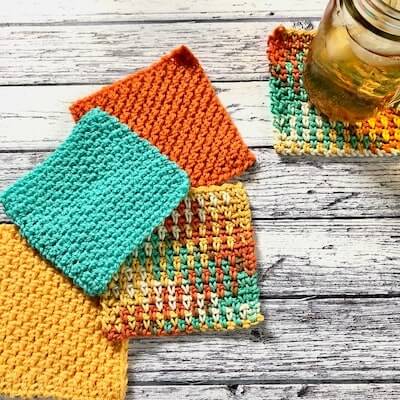 Get the Pattern by Madame Stitch Crochet here

5. Floral Mug Rug Crochet Pattern by Sweet Softies
Here's the pattern for a Floral Mug Rug, a lovely and quick-to-work up pattern. It can be used as a cup coaster, and it's the perfect last-minute gift, craft fair item, or instant gratification projects to whip up if you're looking to make something fast. With only four rounds and a small amount of yarn, it's definitely a crowd pleaser.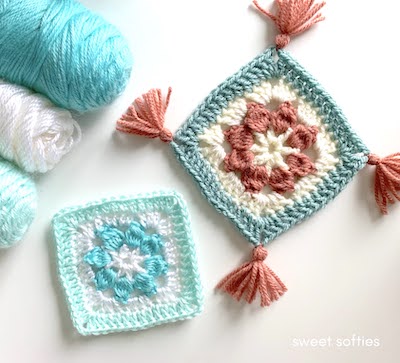 Get the Pattern here

6. Mosaic Crochet Christmas Mug Rugs Crochet Pattern by Beba Blanket Designs
It's never too early to start preparing Christmas gifts, is it? Set of easy & quick 6 mosaic crochet mug rugs could be a perfect small gift for your special ones.
Each design is different so each family member may have his/her own Christmas tree. It is such a great handmade gift idea for your beloved ones.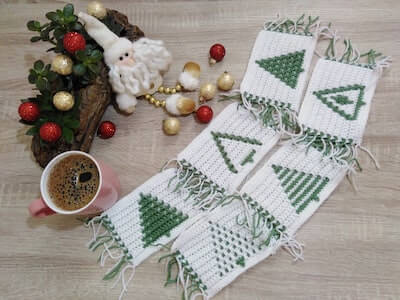 Get the Pattern by Beba Blanket Designs here

7. Snowflake Mug Rug Coasters Crochet Pattern by Red Heart
Protect surfaces while adding colorful personality to family gatherings with these fun crochet snowflake coasters. Modern shades update the usual snowflake motif for a new take.
Crochet a set to give as a hostess gift, or make a selection to brighten up your own dinner table.
For more Crochet Snowflake patterns, check them here.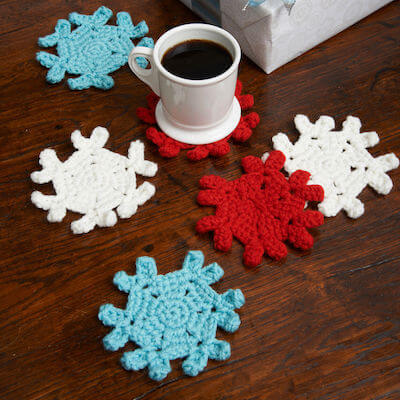 Get the Pattern here

8. Seaside Mug Rug Crochet Pattern by Desert Blossom Crafts
Looking for a quick & easy crochet mug rug pattern to make this summer? This Seaside Mug Rug features unique shell stitches reminiscent of the beach!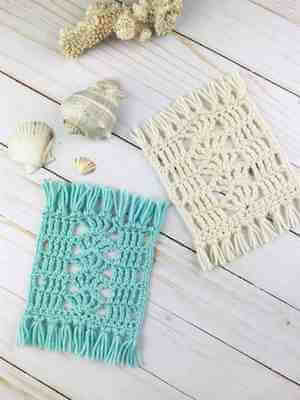 Get the Pattern here

9. Sunflower Mug Rug Crochet Pattern by Simply Eilene
Invite summer to your home with this Sunflower Mug Rug Crochet Pattern. These would brighten up your living room, or make a lovely housewarming gift.

Whether you are stuck inside due to hot temperatures outdoors or you are snuggled up on the couch in the chilly months of winter, crocheting these sunflowers may be just the project for whiling away the hours.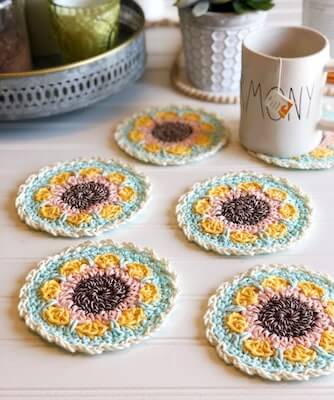 Get the Pattern by Simply Eilene here

10. Butterfly Mug Rug Crochet Pattern by Handmade By Raine
Summertime inspires to make colorful and joyful home decor pieces like this Butterfly Mug Rug. And since butterflies come in all possible colors, why not crochet this Butterfly Rug Mug in your favorite color palette!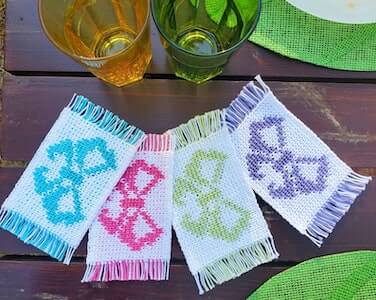 Get the Pattern by Handmade By Raine here

11. Mer-Mazing Mug Rug Crochet Pattern by Angel Bunny Creations
Introducing the Mer-Mazing Mug Rug! This is the perfect project to add a little bit of flare to your home decor. Make a few for yourself, or give as gifts! These will make "having to use a coaster" so much fun!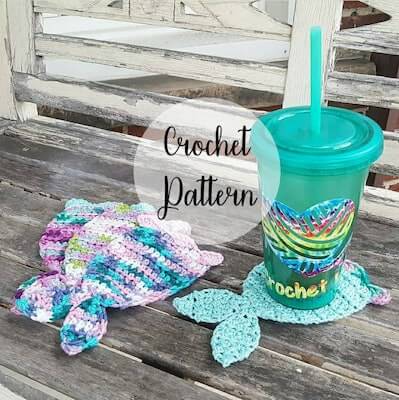 Get the Pattern by Angel Bunny Creations here

12. Crochet Coffee Mug Coaster Pattern by Repeat Crafter Me
Whip up some mug coasters that would be perfect for a hostess gift and would also work as an appliqué. Or keep them for yourself and use the next time you have company!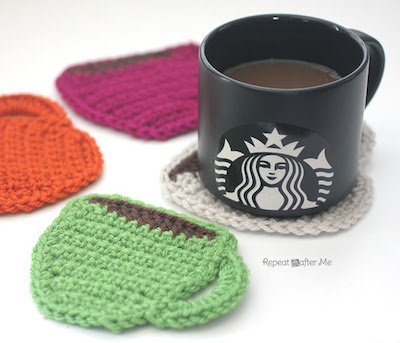 Get the Pattern here

13. Pumpkin Crochet Mug Rug Coaster Pattern by Briana K Designs
Fall is upon us and these Pumpkin Crochet Mug Rug Coasters will add some pumpkin-spice to your table! It's a great way to make your morning coffee a lot better!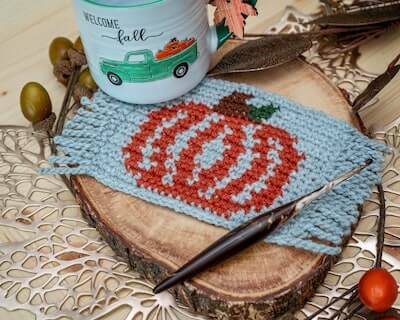 Get the Pattern by Briana K Designs here

14. Julep Mug Rug Coaster Crochet Pattern by Christina Ann Studios
Step up your outdoor dining experience with this one of a kind coaster. On cozy mornings you can use your Julep Coaster for a piping hot cup of coffee (or favorite house plant), or on hot summer days take your coaster outside for your icy beverages.

This pattern make for a great stash buster or project for your leftover yarn scraps. You can use 1-3 colors (or more!) to make this coaster. As long as your pieces of yarn are longer than 5-6″ you can use them for the fringe.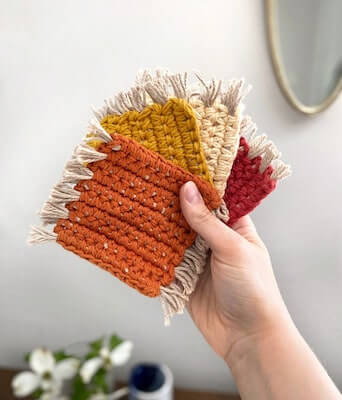 Get the Pattern by Christina Ann Studios here

15. It's Coffee Time Free Crochet Mug Rug Pattern by The Loopy Lamb
Looking for a fun and modern crochet mug rug pattern to spice up your decor or to give as a gift? This It's Coffee Time Crochet Mug Rug Pattern is a quick-to-make project that has zero ends to weave in!
This tapestry crochet project uses only two different colours, making it a great way to practice colourwork crochet with ease.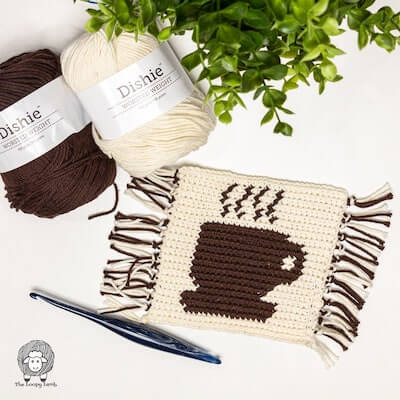 Get the Pattern here
ADD SOME PERSONALITY TO YOUR HOME AND PREVENT THOSE AWFUL RINGS ON YOUR TABLETOPS BY MAKING SOME OF THESE MUG RUG CROCHET PATTERNS!
Are you going to make these mug rugs, perhaps in some other color combinations? We'd love to see your work. Please post some pics on our Facebook Page! Also, check out this collection of crochet coaster patterns and crochet mug cozies.

If you're planning to make these as gifts for friends, family, and colleagues, personalize them with matching mug rug tags. These free mug rug tags download will add the extra special touch to your crocheted mug rugs without you having to shell out extra money.

Fact: snacks taste better when served on a handcrafted mug rug. Or at least, that's how you'll feel once you make these cute mug rug crochet patterns!