This selection of patterns for gingham crochet blankets will be a treat for all the fans of classic, timeless motifs. If you like to keep things simple, these minimalist designs will surely suit your taste.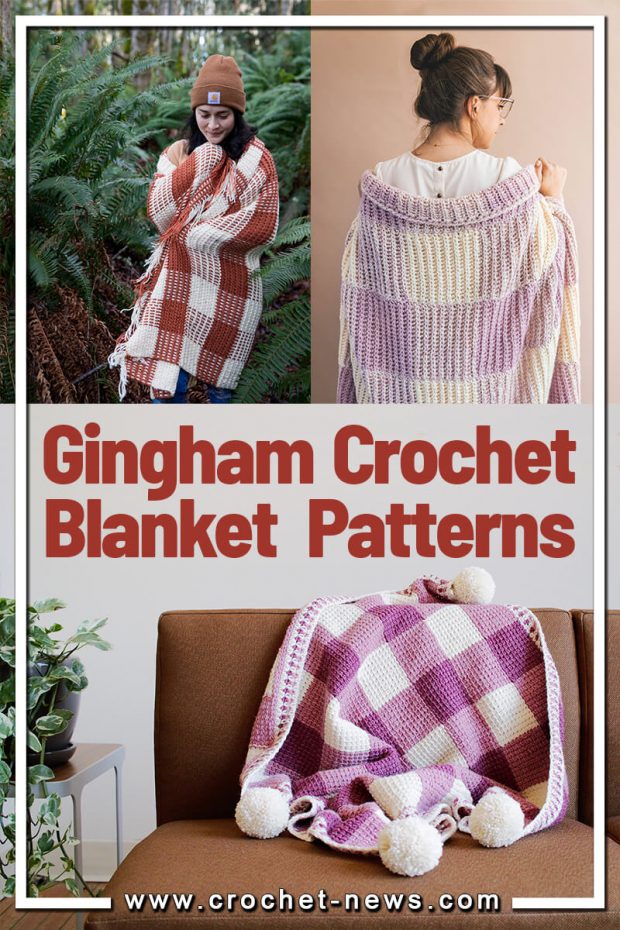 Never question the versatility of gingham. Equally suitable as dishcloth or on a couture gown, the checkered fabric happens to look rather lovely in crochet form, too. Cozy gingham blankets, here we come!

1. Gingham Crochet Baby Blanket Pattern by Sum Of Their Stories
This Gingham Crochet Blanket is a perfect blanket for a new baby with a gingham effect made from plain granny quiare blocks of color.
The main gingham center part of the crochet baby blanket is made up from 56 solid granny square. Make your squares bigger for a bigger blanket, or add an extra row to square it off. Make the border wider, or narrower, the choice is yours.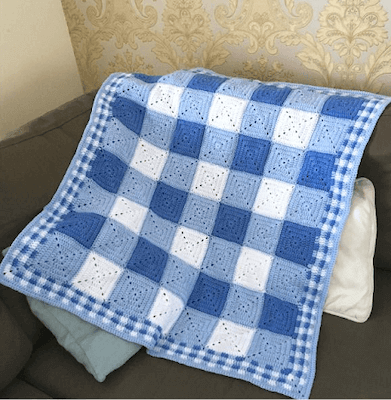 Get the Pattern here

2. Sweet Baby Gingham Crochet Blanket Pattern by TL Yarn Crafts
This Sweet Baby Gingham Crochet Blanket Patter is made using Tunisian crochet, a version of crochet that uses an extra-long hook. This pattern uses simple stitches and color changes and switches to traditional crochet for the border. The whole thing is finished off with 4 medium-sized pom poms.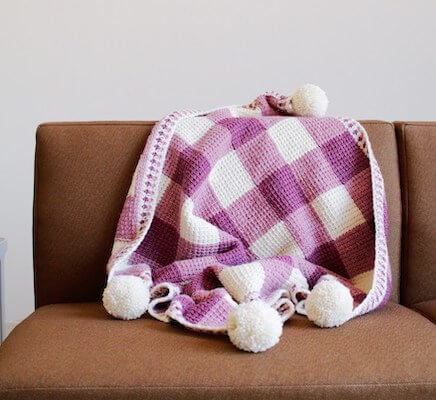 Get the Pattern here

3. Cheaters Gingham Blanket Crochet Pattern by Sigoni Macaroni
Have you ever wanted to make a gingham blanket, but struggled with the stitch? This Cheaters Gingham Blanket is a chunky, gingham style blanket that isn't worked up the traditional way.

If you've ever had trouble crocheting the gingham stitch, you're going to love making this blanket. You get the look of gingham without all of the extra yarn carrying.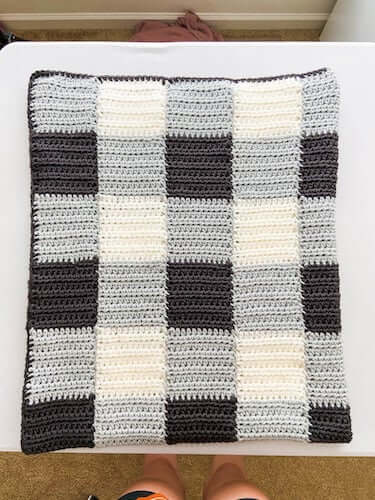 Get the Pattern by Sigoni Macaroni here

4. Granny Baby Blanket Gingham Crochet Pattern by Madame Stitch Crochet
This version of gingham employs colors that mimic the look of checked gingham. Three-round solid granny squares in three colors are sewn together with an invisible seam, and a simple single crochet border completes the look. What a cuddly warm addition to the nursery!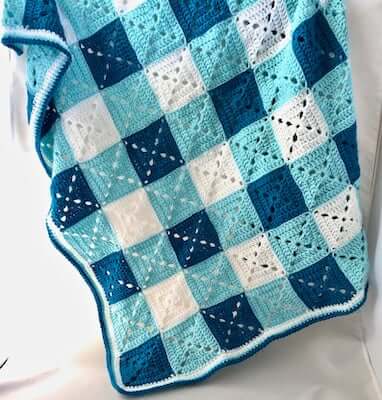 Get the Pattern by Madame Stitch Crochet here

5. Crystal Waves Gingham Blanket Crochet Pattern by Crochet Dreamz
What is better than a gingham blanket? A textured gingham blanket, that is. This blanket has been designed with the gorgeous Crystal Wave stitch.
There is no carrying yarn behind your work and the pattern tells you exactly how to work up this blanket easily without tangling your yarn or pulling your hair out.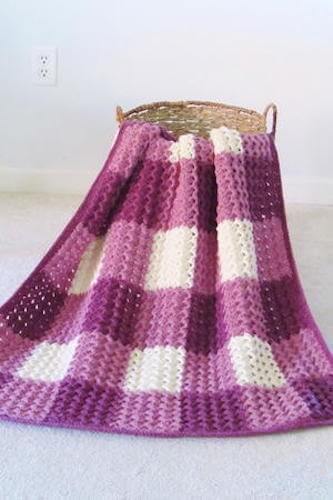 Get the Pattern here

6. Crochet Gingham Throw Blanket Pattern by Delia Creates
Part crochet, part weaving? That's right! This blanket is made up of a crocheted grid work base, and then yarn is woven through it to create a gingham pattern.
It's totally beginner friendly too. All you need to know is how to chain and double crochet, and then sew a running stitch.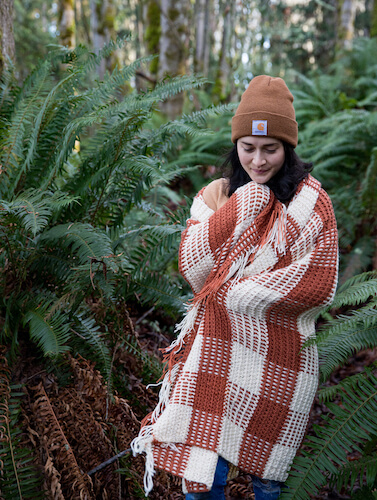 Get the Pattern here

7. The Homemaker Crochet Throw Pattern by Sewrella
The Homemaker Throw is the perfect feminine accessory for any couch that needs some snuggles. Made in soft blush gingham, this blanket is subtly retro with modern faux-knit stitching.
Homemakers fill their houses with love and warmth, and this Homemaker Throw is no different!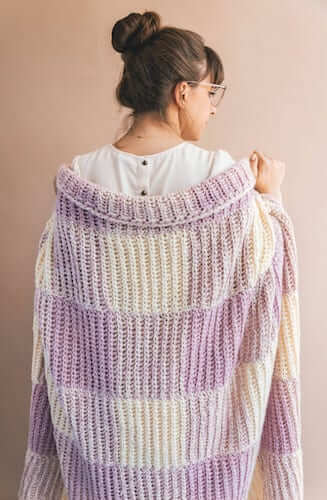 Get the Pattern here

8. Plaid Afghan Gingham Crochet Blanket Pattern by Yarnspirations
Make a gorgeous plaid afghan! This classic look works up quick and easy in super cozy chunky yarn. Make it in neutrals or add a pop of color to your home décor with this classic design.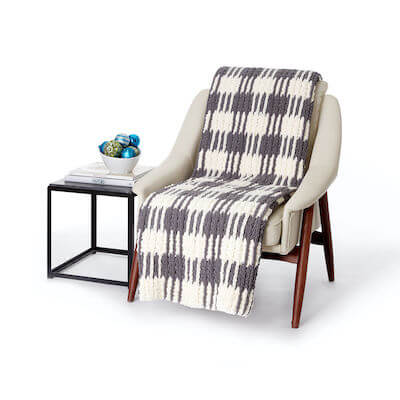 Get the Pattern here

9. Gingham And Daisies Crochet Blanket Pattern by Lullaby Lodge
This Gingham And Daisies Crochet Blanket is a cute baby blanket featuring a lovely gingham pattern dotted with daisies. What new baby wouldn't look gorgeous wrapped up in this? The finished measurement is approximately 75 x 75 cm.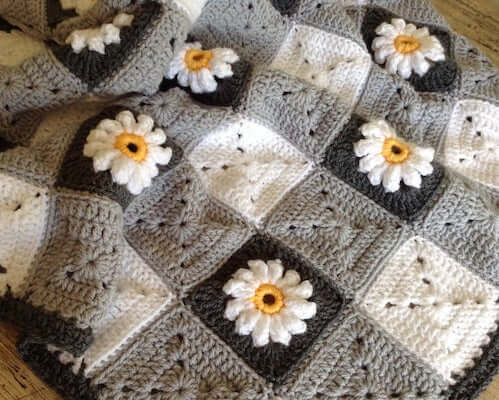 Get the Pattern by Lullaby Lodge here

10. Green Unisex Gingham Crochet Baby Blanket Pattern by The Loophole Fox
If you enjoy gingham crochet as much as we do, you're going to love this easy gender neutral gingham crochet baby blanket pattern. This is perfect for any season and any baby.

You can easily crochet this baby blanket for a little girl in pinks or a little boy in blues – or keep this crochet baby blanket gender neutral with unisex colors like yellow, orange, teal or green, or to fit the parent's nursery theme.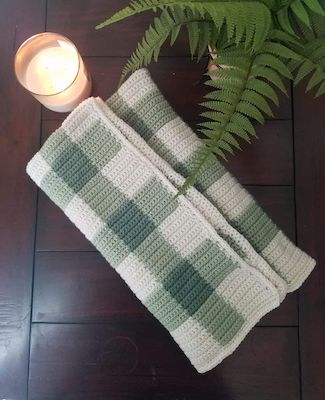 Get the Pattern here

11. Crochet Herringbone Half Gingham Blanket Pattern by Daisy Farm Crafts
This basic gingham pattern is a perfect example of a beautiful use of colors. Two shades of violet work perfectly with white, creating feminine, but not overly girly palette. It uses variation of half double crochet – easy, but powerful.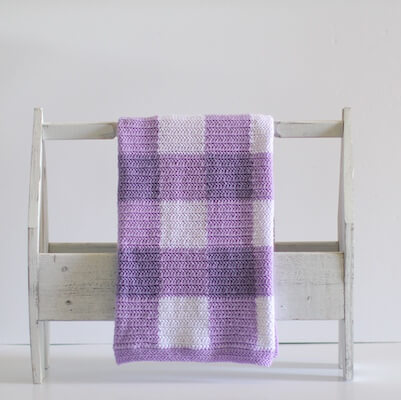 Get the Pattern here

12. Farmhouse Blanket Gingham Crochet Pattern by Yarn Blossom Boutique
This beautiful Farmhouse Gingham Blanket Crochet Pattern is a perfect project for beginners! This pattern also includes instructions are included to make the blanket larger or smaller.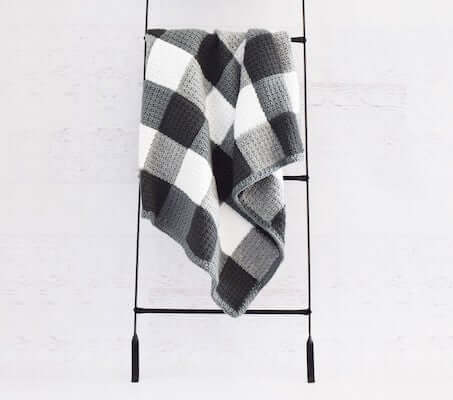 Get the Pattern by Yarn Blossom Boutique here

13. Crochet Gingham Pumpkin Blanket Pattern by Maria's Blue Crayon
This Gingham Pumpkin Blanket is perfect to throw on your sofa during the fall season. The granny squares give it a quilt look that is so inviting and cozy!

The squares are super quick and easy to make – perfect for on the go crocheting. Once the squares are finished, join them quickly by crocheting them together.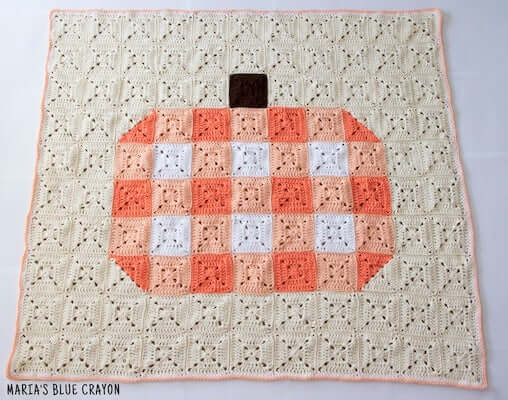 Get the Pattern by Maria's Blue Crayon here

14. Gingham Picnic Blanket Crochet Pattern by Blossom And Bailey UK
This Gingham Picnic Blanket is going to be your most practical crochet make this summer. Using tapestry crochet (with photo tutorials included for changing colour and carrying non-working yarn), the blanket is suitable for intermediate crocheters or adventurous beginners.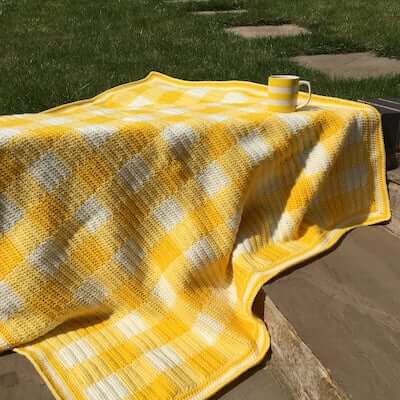 Get the Pattern by Blossom And Bailey UK here

15. Sweet And Classic Gingham Corner To Corner Crochet Baby Blanket Pattern by Karla's Making It
This Sweet and Classic Corner to Corner Baby Gingham Crochet Blanket Pattern will be a darling blanket to any room – use it as it is or as a throw blanket!
If you are a beginner and new to crocheting, you will love this Corner to Corner Blanket Gingham Crochet Pattern, because of its clear and comprehensible steps!

Whether it is a preparation for your own baby or your gift for an upcoming baby shower, this gingham blankets crochet pattern is pretty perfect for you!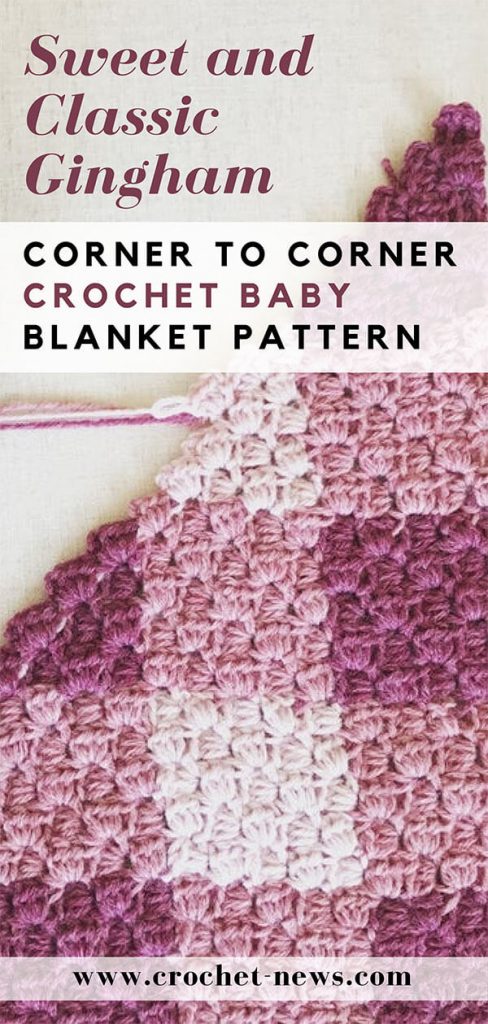 ABOUT THE BABY GINGHAM C2C CROCHET PATTERN BLANKET DESIGN
Karla Wren, the owner of Karla's Making It, was the one who designed this precious C2C baby blanket. She used three color shades of the flower named Heather which are Dark Rose Heather, Rose Heather, and Blush Heather.

Though the sample product was created for a baby girl, you can always choose the color/s of the baby blanket you will knit, depending on the gender of the baby you are giving it to.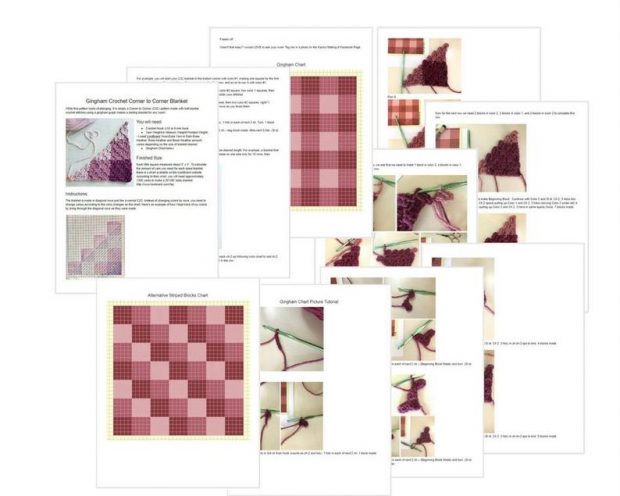 Once you've downloaded the pdf, you will get 10 pages of instructions. It provides 2 graphs and a picture tutorial that makes it easier to follow. The pattern also provides a Gingham chart as extra help in understanding the entire crochet.

If you are not familiar with a C2C graph, it is like a grid, and each box in the grid represents every stitch on your needle; therefore, it serves as your pattern.

MATERIALS NEEDED FOR GINGHAM C2C CROCHET PATTERN
The following are the only materials needed to create a Gingham Corner to Corner Blanket: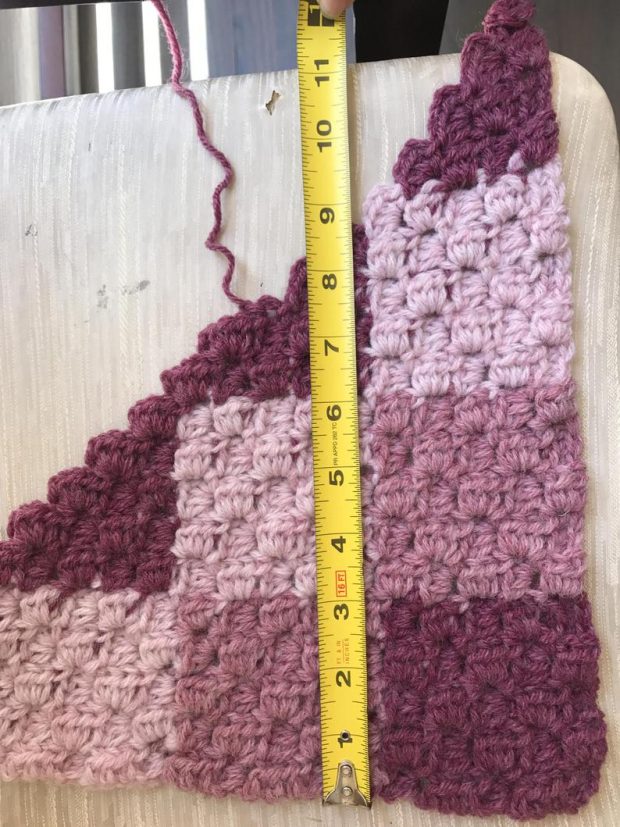 FINISHED SIZE OF THE BLANKET
Approximately 1300 yards are needed to make a 20×30 inch baby blanket. Each size of the blanket has its approximate amount of yarn.

WHAT YOU NEED TO KNOW BEFORE YOU START
What stitches will be used?
This corner to corner pattern is made with half-double crochet stitches. You just have to repeat the same stitch in the crochet over and over until you achieve the size you desire.
It looks hard to make…
This pattern is easier than how it actually looks. It may seem complicated, but it is absolutely not.


How long will this take me?
Since the pattern is so easy and there are only repetitions that you have to work on, you can definitely finish it over the weekend! No time will ever waste when you start crocheting the baby blanket. It is totally enjoyable and will not bore you at all!

WHY IS IT A PERFECT GIFT FOR BABIES?
Unlike any other material things, this crocheted blanket is something babies can use every day for years. It is washable, easy to bring, and most importantly— it is a baby's necessity.

These cute little babies will surely love the warmth this blanket is going to give them! Its warmth and coziness can also be felt by other babies (perhaps their siblings or cousins) when the baby who originally owns it grows up.

What are you waiting for? Make the babies feel your hugs through this Sweet and Classic Gingham Corner to Corner Crochet Baby Blanket Pattern, with the help of this beginner-friendly pattern!
THE GREAT THING ABOUT THESE GINGHAM CROCHET BLANKETS IS THAT THEY ARE VERY EASY TO MIX AND MATCH–SO PICK YOUR FAVORITE COLORS AND GET TO WORK!
When you finished your project, please share your creations on our Facebook Page. We'd love to see more gingham creations!

If you like a more stylish and unique pattern, check out these Yoyo Crochet Puff Blanket Pattern, Fire Blanket Crochet Pattern, Rainbow Crochet Pattern and many more.

Enjoy making these gingham crochet blanket patterns for your loved ones (or even better, keep it yourself!)!