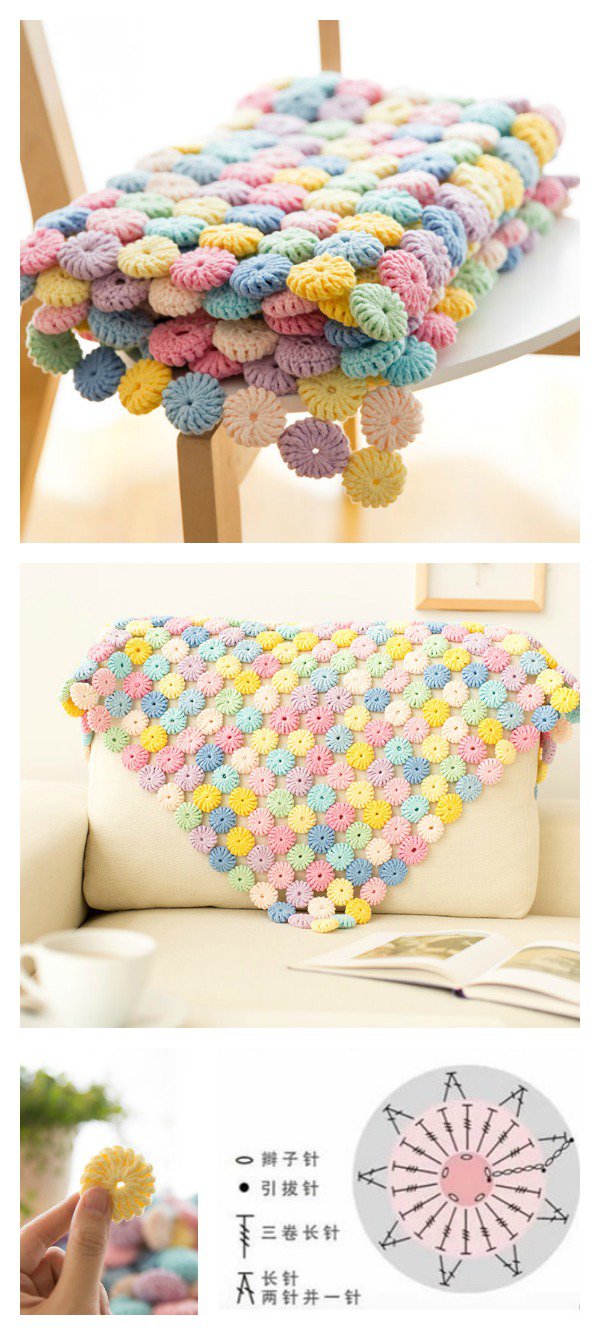 YoYo Crochet Puff Pattern Blanket
The yoyo crochet puff pattern is one pattern that I would definitely recommend that you have in your repertoire. It is a stunning and graceful design that will have your home brimming with color. I had so much fun making it and the satisfaction that you will get when you complete it will be equal to nothing.
It will take your breath away at first sight. How can a crochet pattern be so beautiful and so elegant at one go? Well, I can't answer that question for you. You just have to make it yourself and get the magical feeling then you will know why I heap so much praise on such a simple crocheting pattern.
If you wanted to lose yourself in a project to forget the stresses of the day, then, you have found just the thing. A warning though you might just keep on crocheting forever with this pattern. So what exactly do you need to bring the yoyo puff crochet pattern into your realm of existence?
YoYo Puff Crochet Pattern Materials
worsted weight yarn in all the colors you may desire
5mm or 5.5mm hook, whichever you prefer to work with

Yoyo Crochet Pattern

For Beginners

When it comes to the yoyo puff crochet pattern you don't really need to have any technical crochet knowledge. Just the basics and your good to go. So, if you're a beginner wanting to test your strengths then this is one pattern that will challenge you enough but still give you the freedom to make mistakes and learn accordingly.

I must say that the pattern and the tutorial itself are well structured. So you can really get into the flow with some ease. The tutorial is explained in layman language but you still have to be familiar with some crocheting terms to get on the train.

Again if you know the basics then you will definitely have an easy time with this pattern. The most challenging part will be maybe forming the yoyo puff but after you get the first puff down then its smooth sailing from there.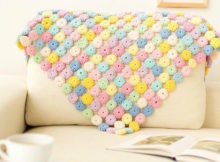 The Perfect Pattern Top Release Your Creativity
With the yoyo puff crochet pattern, you don't need to shy away from your creative side. With this pattern, you can let loose and let the magic of your imagination flow. Trust me that you will have a field day with this pattern especially with the colors. The more colors you can get on the yoyo crochet blanket pattern the more beautiful it looks.
But if you are a simple soul like me then even a plain white yoyo puff crochet blanket will look absolutely heavenly. You can also incorporate other patterns too. I told you, this pattern definitely lets you explore your creativity to the fullest. One idea is to add some lace crochet to the edges and will add an air of elegance to your yoyo puff blanket.
For more crochet blanket patterns, check out our Fire Blanket Crochet Pattern and Gingham Crochet Blanket Patterns.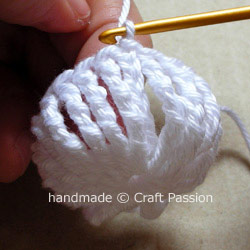 Makes A great Blanket To Leave On The Couch
So make your own yoyo puff crochet blanket and see a million ways that you can use it. Place in on your couch as a throw rug and watch your living room come to life. You can hang it on a bare wall as a decorative piece that will definitely get some tongues wagging. Give it out as a gift to a friend or a loved one and have them adore you for it. So you see, this is one pattern that you will definitely love having in your life.
With the free blanket yoyo puff crochet pattern and video tutorial you can follow the whole process step by step.