Know what's better than participating in the Fire Challenge and getting a terrible singe? The Fire Blanket Crochet pattern, that's what.
The fire crochet pattern is the perfect baby shower gift that can also be used as a baby birthday present. The pattern is both unique and stylish, and at the same time handmade with such passion and finesse that you can feel the love just by touching it.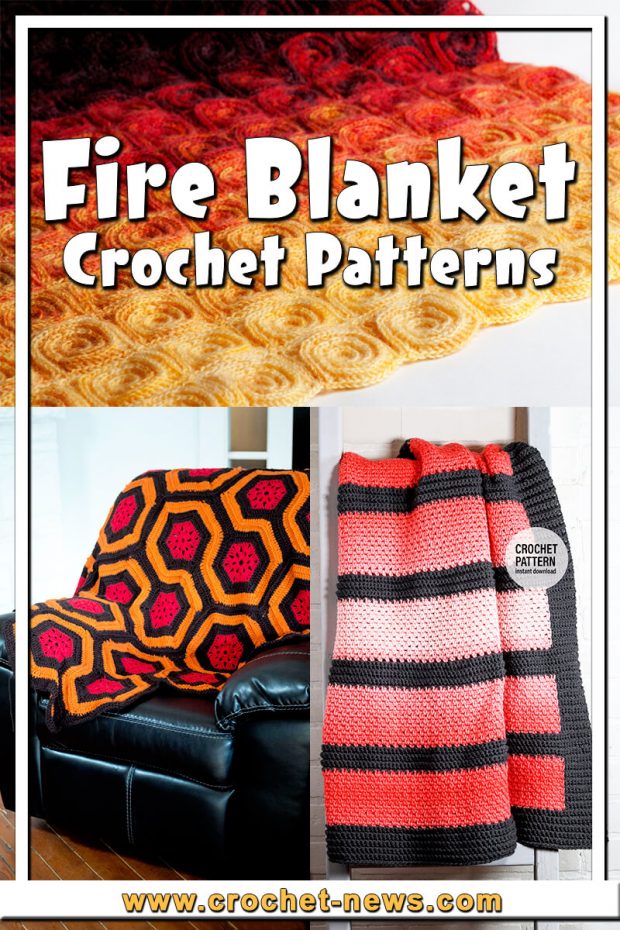 1. The Shining Crochet Fire Blanket from Kraftling
Do you know a Stephen King fan that loves The Shining? This would be a fun and unique gift to make for them. The fire crochet pattern is inspired by the carpet in the Overlook Hotel.
It will add a subtle accent to any home, and only true fans of the movie will understand the significance of this pattern.
This is an advanced beginner pattern. The pattern only includes one size. Finished, the blanket will measure approximately 5-1/4 feet long by 4-1/2 feet wide.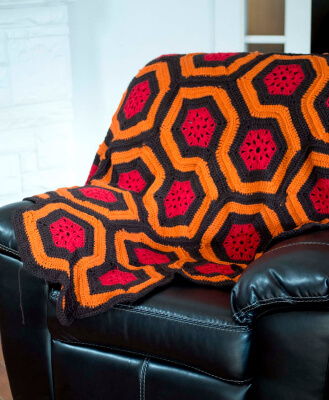 Get the Pattern from Kraftling HERE
2. Crochet Ombre Blanket Pattern by WindingRoadCrochet
Here is a gorgeous crochet fire inspired blanket. The pattern is easy to follow and includes a link to a video tutorial. To make the blanket you will need to know chain, single crochet, working in back loops only and slip stitch.
The fire blanket crochet pattern includes instructions for a small baby blanket, large baby blanket, small throw, large throw, twin, full, queen and king.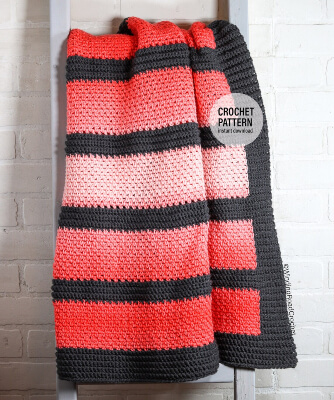 Get the Pattern by WindingRoadCrochet HERE
3. Crochet Baby Blanket Pattern by Amanda Crochets
This crochet fire blanket features a textured ombre effect. The pattern will create a 36" x 36" baby blanket. There are also adjustments so you can make a twin/full, queen, or king.
This is a beginner-friendly pattern. However, you will need to know basic crochet stitches: chain stitch, single crochet, half double crochet, double crochet, and slip stitch.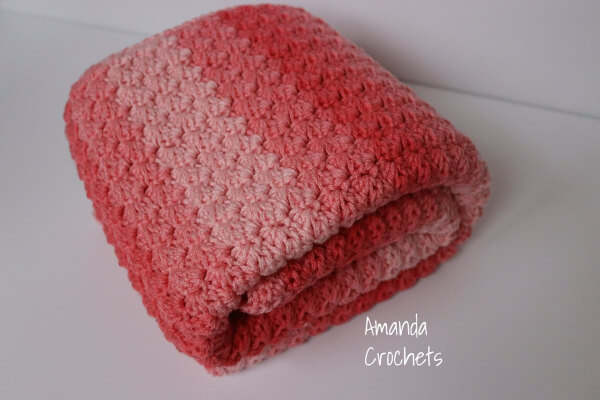 Get the Pattern by AmandaCrochets22 HERE
Check out more adorable Crochet Baby Blanket Patterns HERE.
4. Crochet Study of Fire and Ice Blanket
If you are looking for a free fire blanket crochet pattern, try this one. They have both right-handed and left-handed video tutorials. And there is a link to the actual pattern.
5. Mini C2C Fire Fighter Crochet Pattern by C2CPatternShop
Little boys love firemen, and they will love this blanket too. This fire fighter fire blanket crochet pattern is written as a graph and worked from corner to corner.
The finished size of this blanket is 60" x 78". Included with the download is an information page, colour illustration for reference, colour square pattern, and written instructions.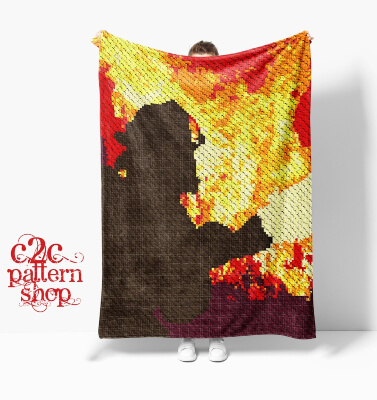 Get the Pattern by C2CPatternShop HERE
6. Fire Blanket Crochet Pattern
The crochet fire blanket pattern is an exceptionally wonderful piece to crochet for your home. It is both soft and cuddly.
The warm, lovely colors are just something else. The colors will get you in the "rugged-up-in-front-of-a-fire" kind of mood. Trust me you're going to have a blast with this blanket, a fantastic magazine and a glass of your favorite Merlot, Pinot or whatever it is you fancy.
Being relatively easy to assemble, you won't have a hard time crocheting the Fire blanket crochet pattern regardless of your level of experience.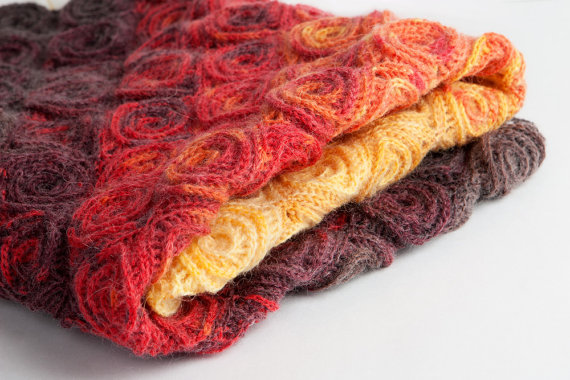 Fire Blanket Materials
Crochet hook in size D / 3.25mm
Fire Blanket Crochet Pattern Sizes
The Fire blanket can be made into various sizes which include:
Newborn size blanket which is 28 by 28 inches (320 gm, 1992 yards), a
Crib-sized fire blanket that is 36 by 36 inches which is seven skeins or 560 gm, 3486 yards.
Lastly, you can crochet the fire blanket in large size, 40 by 70 inches representing 14 skeins or 1130 gm, 6972 yards.
Other than being the perfect item for toddlers, and teenagers alike, this blanket can also be crocheted to a bigger size to accommodate the warming needs of adults.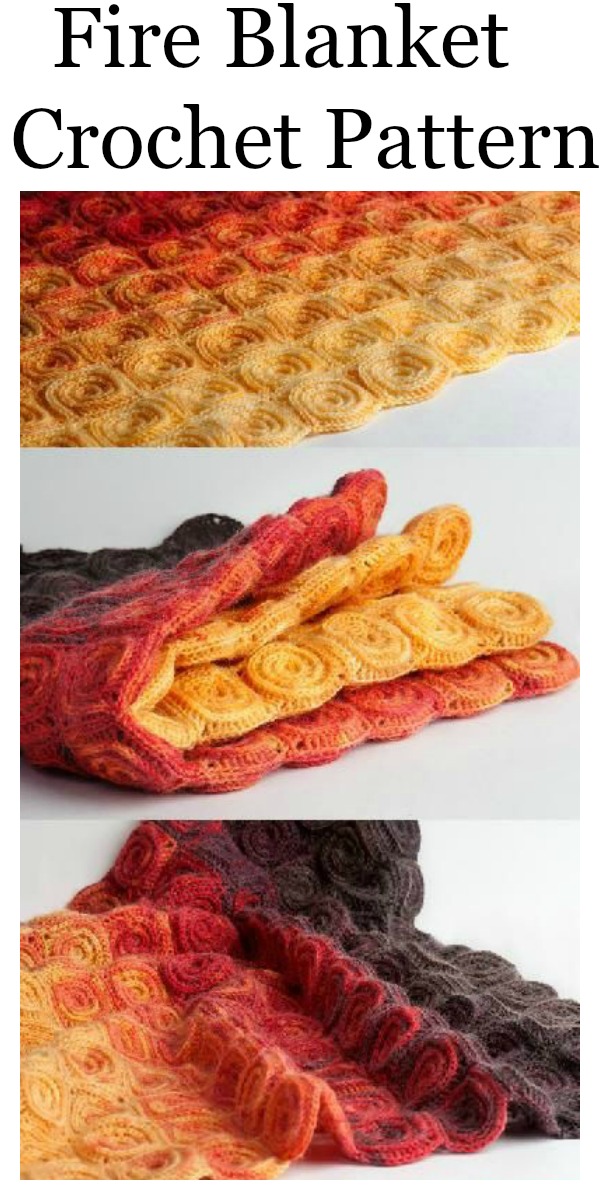 For more blanket patterns, don't miss our Crochet Queen Size Blanket Patterns, Gingham Crochet Blanket Patterns and Yoyo Crochet Puff Blanket Pattern.
These fire blanket crochet patterns are indeed a physical manifestation of crocheting excellence and good taste.
The fire blanket crochet pattern is a widely appreciated style that has been used to create a vast collection of breathtaking pieces. A fire blanket crochet pattern is a marvel of art.
The detailing and stitch work can be described as nothing less than immaculate.
The color schemes used will immediately get you feeling warm and toasty, yearning for nothing more than a quiet evening in front of an open fire.
We sincerely believe that this fire blanket crochet pattern is one item that your household cannot afford to do without.