You need a new comforter for your queen sized bed but with skyrocketing prices you can't afford to purchase one. You can actually make one quite cheaply, and it will be as pretty and warm as one you would have purchased.
Try making these crochet queen size blanket patterns and you will be making more before you know it!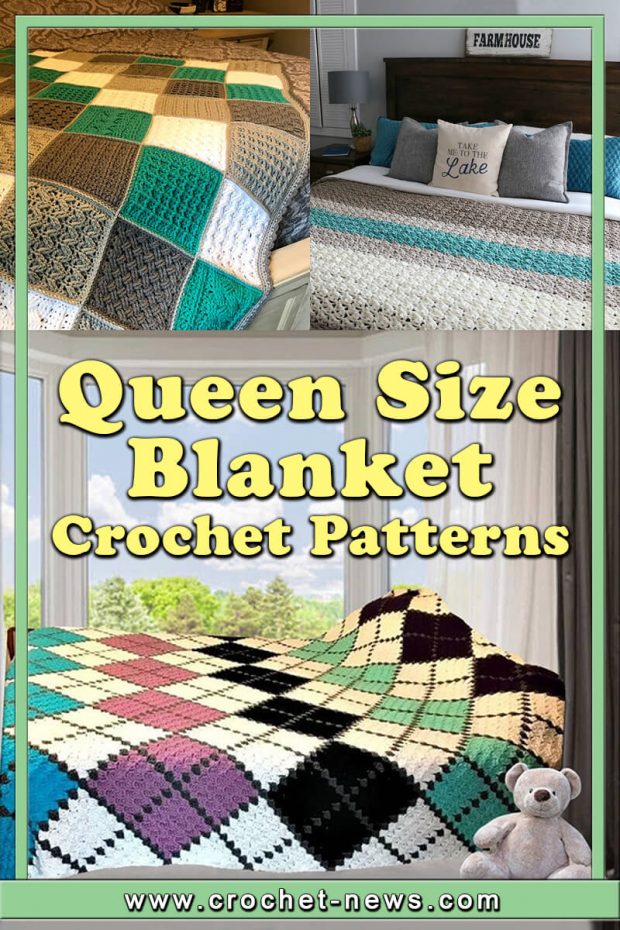 10 Queen Size Crochet Blanket Patterns
Homemade blankets are charming and sentimental. Some would argue that they are cozier and more loved than store-bought ones. Therefore it's no surprise that handmade crochet queen size blankets make great gifts.
And you can customize it to fit your decor, using colors and patterns that work with your bedroom.

1. Sampler Stitch Queen Size Blanket Crochet Pattern by Crochet Spot Patterns
Learn 4 new stitches with this sampler stitch blanket! The 4 stitches are all solid, no lace or mesh here. Crochet the stitches in the same order as in the sample photo or mix them up if you prefer.

Make it longer than the rest if you wish to make it really stand out. You can even crochet entire blankets with just one stitch, or any combination of these stitches that you like. Create your very own unique blanket in any size that you like from baby size to a king bed spread!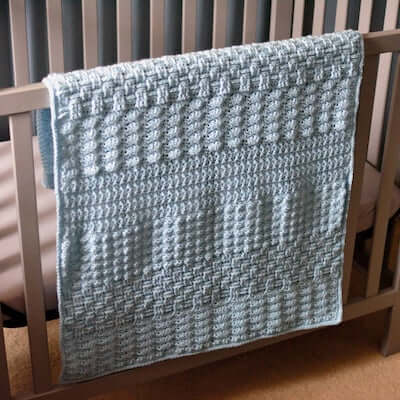 Get the Pattern by Crochet Spot Patterns here

2. Amore Blanket Crochet Pattern by Willow Knot Patterns
Full of rainbow love, this heart blanket has been designed with rows of colourful heart stitching finished off with a pretty lacy border. This blanket is reversible, either side makes a stunning display.
This eye-catching blanket is a beautiful gift for both boys and girls, from young to old. This pattern includes five sizes: Stroller, Cot, Single, Double, and Queen.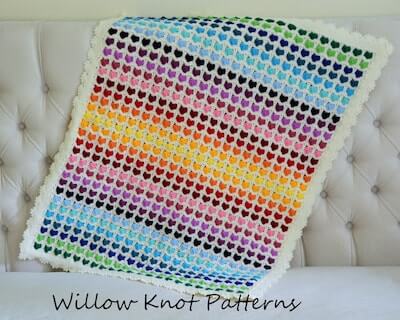 Get the Pattern by Willow Knot Patterns here

3. Victoria Afghan Crochet Pattern by Sincerely Pam
This cozy, chunky crochet blanket pattern is designed in six different sizes, from a small doll blanket to a bedspread for a queen-size bed. Make one for every member of the family. It's an easy pattern to create, and you can personalize it with colors.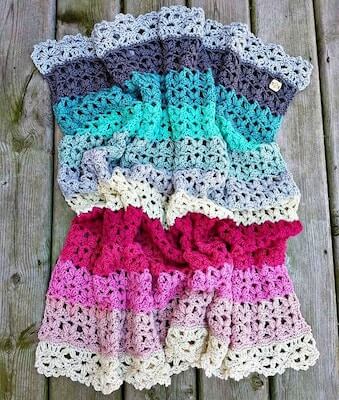 Get the Pattern here

4. Bulky King/Queen Size Blanket Crochet Pattern by MJ's Off The Hook Designs
This soft textured blanket is made using Bernat Blanket yarn. This blanket makes a beautiful comforter for a queen or king size bed. Also may be used as a warm cozy throw for the family room.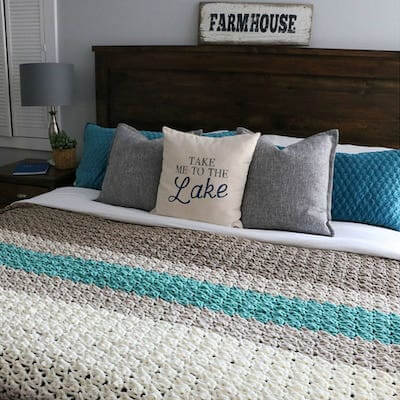 Get the Pattern here

5. Emerson Diamond Quilted Blanket Crochet Pattern by Lakeside Loops
This modern & plush crochet blanket design creates a quilt-look diamond pattern as it's worked up all in one solid piece (no joining, sewing, or ends to weave in).
With 5 sizes including a baby/stroller blanket size, crib blanket size, afghan or throw size, queen size, and king size you can crochet one for any part of your home.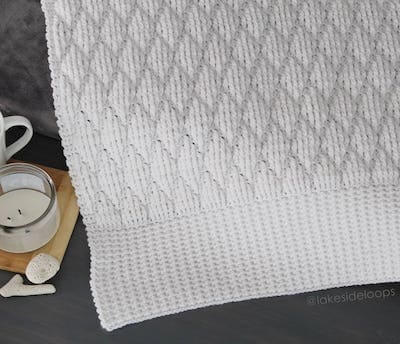 Get the Pattern by Lakeside Loops here

6. Argyle Queen Size Crochet Blanket Pattern by Crochet Couch
No matter how many colors you choose to use, this Argyle afghan is sure to be a favorite for many years to come! This one in 6 colors is just stunning and you could change the colors to match your own décor.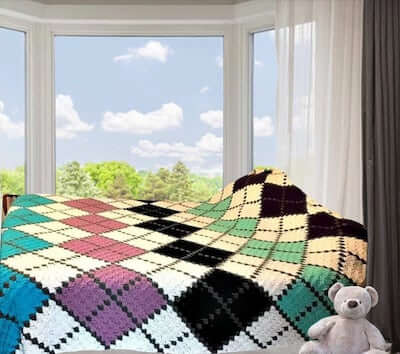 Get the Pattern by Crochet Couch here

7. Arcade Waffle Crochet Blanket Pattern by Winding Road Crochet
This Arcade Waffle Crochet Blanket is a combination of two beautiful stitches. The raised texture of the waffle stitch is balanced by the stunning look of an arcade stitch border.

This stitch combination makes a beautiful crochet baby blanket, but it would also look amazing as a comforter on a twin, full, queen or even king sized bed.

Since this waffle stitch blanket has such a stunning amount of texture and design, it is recommended to use solid or ombre colored yarn for the main part of the blanket and border.
Get the Pattern here

8. Leaping Stripes And Blocks Blanket Crochet Pattern by Moogly
This Leaping Stripes and Blocks Blanket features soft cotton and a beautiful overlapping blocks pattern! The colors seem to move up and down the blanket in a fun zigzag pattern, and the overlapping boxes create a yummy rhythmic pattern to crochet.
This patterns includes sizing information for making a standard baby blanket, afghan, and queen size blanket as well!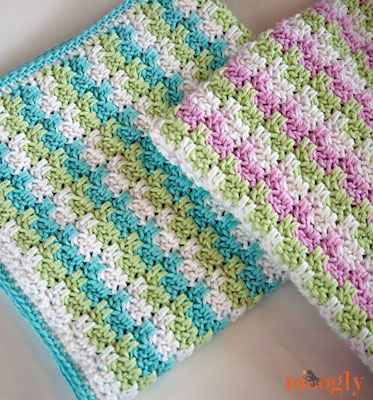 Get the Pattern here

9. Frost Crochet Queen Size Blanket Pattern by Fantastic Mio
This stunning intermediate crochet queen size blanket pattern was inspired by ice-covered trees, though this queen-sized blanket will keep you warm all winter!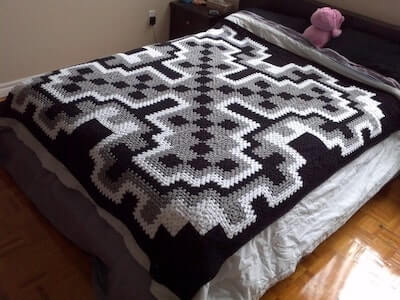 Get the Pattern by Fantastic Mio here

10. Square Sampler Blanket Crochet Pattern by Crochet It Creations US
Make the blanket in any size, from baby to king. The pattern is worked up in 6 different square variations of the beautiful textures. The measurements and amount of squares/yarn needed for each size is included in the pattern.
Get the Pattern by Crochet It Creations US here
WHATEVER CROCHET QUEEN SIZE BLANKET PATTERN YOU CHOOSE TO MAKE JUST REMEMBER TO BE PATIENT, PERSEVERE AND ABOVE ALL ENJOY IT!
I'd love to see what you make – don't forget to share them on our Facebook Page. I love to browse your projects!

Ready to make more? Do sure to check these Lap Blankets, Dog Blankets, Ripple Blankets, Fire Blanket, Gingham Blankets, Crochet Rectangles and more.
We have a huge collection of crochet blanket patterns to help keep your hooks busy. There are many options for you to choose from!
So don't waste a single minute more and head straight into your favorite crochet queen size blanket patterns!