These Crochet Cactus and Crochet Succulent Patterns are enough to make you swoon without getting prickly!

Crochet cacti and succulents are the latest trends. Whether you're a plant lady waiting to happen, or just have a deep love of all things cactus.
Each of these crochet cactus patterns is different from one another. Have fun playing with different techniques, yarns, stitches, and styles to create the houseplant that's perfect for you.
After all, who wouldn't want to have their own cuddly cactus that you absolutely never have to water?

1. Amigurumi Cactus Pattern by Swedish Crocheting
This little potted cacti makes for a lovely decoration that can liven up any place, and makes for the perfect gift! Each cactus is worked in green yarn, planted in brown cotton "soil", and then placed in a small pot.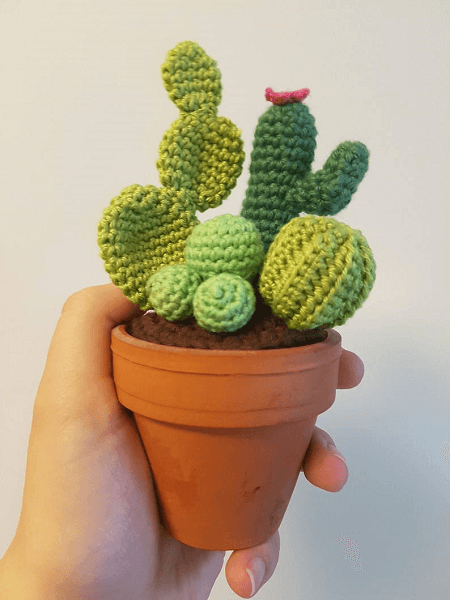 Get the Pattern by Swedish Crocheting here

2. Crochet Succulent Pattern by Planet June
A crocheted succulent never needs watering, never dies, and is always in peak condition. With this collection, you can make 4 different realistic succulents in individual pots, or a beautiful succulent garden arranged in one large crocheted pot. It's the perfect thing to brighten up your window, or to give as an unusual and thoughtful gift.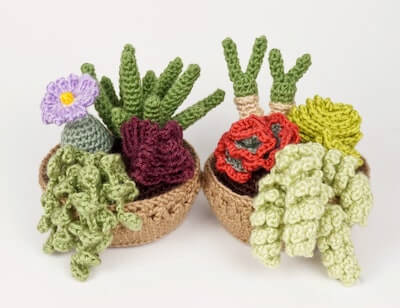 Get the Pattern by Planet June here

3. Succulent Amigurumi Free Crochet Pattern by Stringy Ding Ding
Do you need an adorable desk buddy to keep you smiling throughout the day? This cute crochet succulent is your new best friend! He's low maintenance (requires no water!) and is pretty easy to make.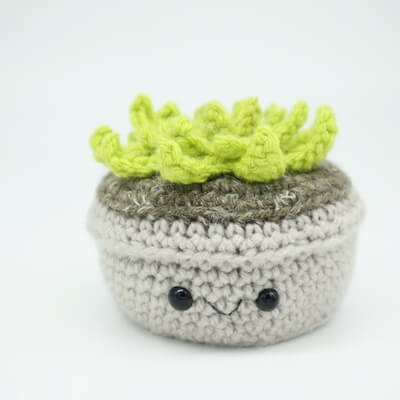 Get the Pattern here

4. Crochet Cactus In The Facepot Pattern by Big Bebez
The pattern includes six pots of animal faces and six cactus shapes. They sit adorably on your windowsill or make an unexpected housewarming gift that's accompanied by your very best wishes. Where will you display these friendly little guys?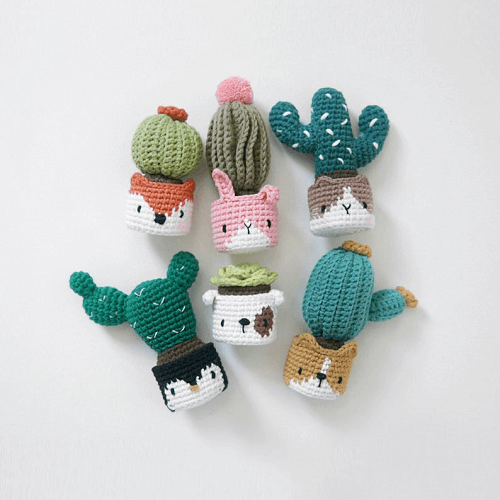 Get the Pattern by Big Bebez here

5. Free Sedum Adolphii Succulent Amigurumi Pattern by Ollie + Holly
This Amigurumi Sedum Adolphii will measure to be about 3 to 4 inches tall. This plant will look great in a terracotta pot pot with crocheted soil or in a bed of pebbles. It also looks great when placed into a terrarium with other crocheted plants.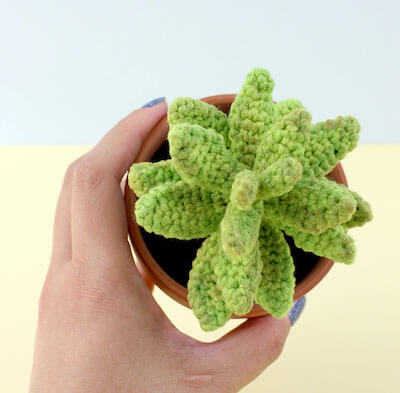 Get the Pattern here

6. Crochet Mini Succulent Amigurumi Pattern by Wonder Crochet
Succulents are definitely a popular trend, mostly because they are so easy to take care of. These unique plants are quite versatile and the crochet version is even better because it never dies!

This pattern will be one of your favorite beginner amigurumi creations. Also, the small size of this succulent makes it perfect for a keychain or little decor for your work desk.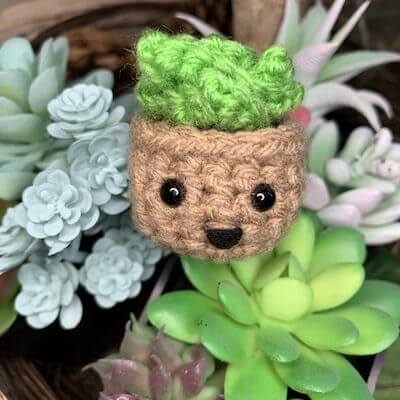 Get the Pattern here

7. Succulent Amigurumi Free Pattern by Furls Crochet
Whip up a few of these little kawaii succulents and make a batch for you and your friends! Make a few of these and create your very own little magical indoor garden space. The best part? No watering!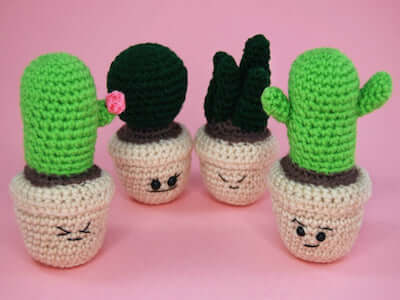 Get the Pattern here

8. Crochet Amigurumi Snake Plant Pattern by Craftsy
If you dream of being a plant lady but weren't blessed with a green thumb, say hello to your new BFF: the crochet amigurumi snake plant. This friendly little fella doesn't care what color your thumbs are, as long as they can hold a crochet hook.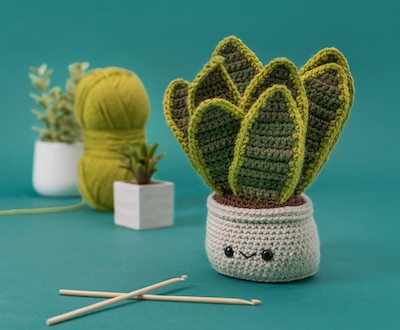 Get the Pattern here

9. Crochet Rattle Cactus Pattern by KNUFL
This adorable cactus rattle is your little one's new best friend! This baby toy is the ideal size for baby to grasp onto and the gentle rattle sound is stimulating for your baby. Be sure to use super fine yarn to make it suitable for babies.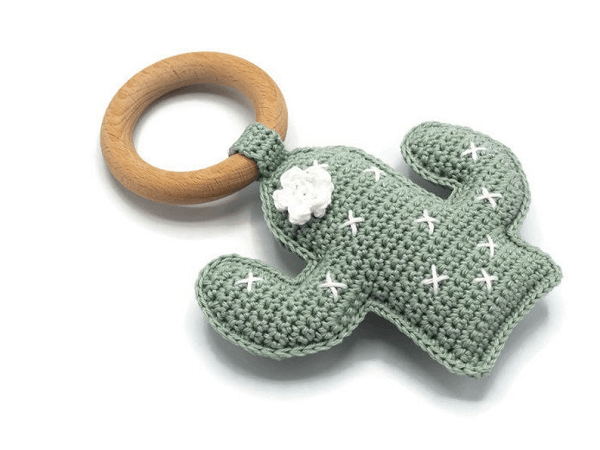 10. Cactus Pet House Crochet Pattern by Foxalope Fiber Co
Create your own cute and cuddly crochet mini/mega cactus pet cave for both small and medium pets. Crocheted with an extra tight gauge to be comfortable as bedding, yet able to retain its shape under a small pet's weight. Amigurumi style to maximize adorableness.

Cute crochet cat beds here.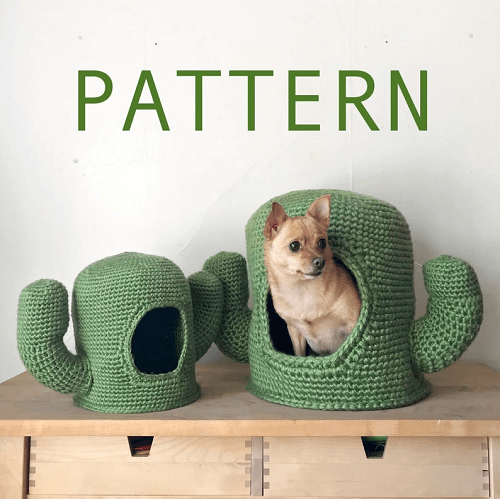 Get the Pattern by Foxalope Fiber Co here

11. Crochet Mother-Of-Pearl Succulent Pillow Amigurumi Pattern by Liz's Indiana Attic
Say hello to this beautiful Mother-of-Pearl Succulent Pillow! She would make the perfect addition to any home or living space and better yet she can be made 100% by you.

This amigurumi pillow pattern comes with two size options. An XL – 23″ size and a Regular – 15″ size. Each one can be customized to match the decor in your own homework.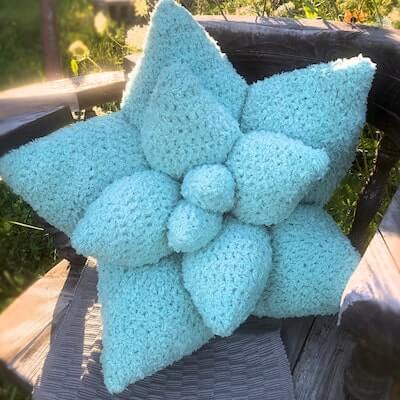 Get the Pattern by Liz's Indiana Attic here

12. Ellie, The Whale Succulent Amigurumi Pattern by Buddy Rumi
Ellie, the Whale Succulent Amigurumi is so sweet and caring that she always brings her plants up to take a breath with her! Add this cute little critter to your succulent amigurumi family!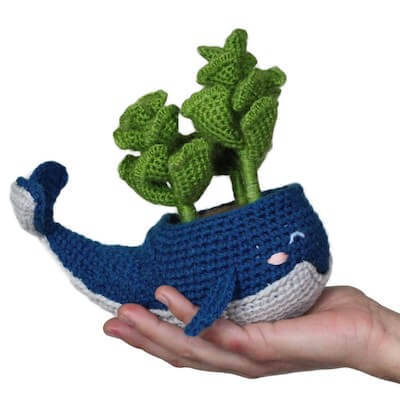 Get the Pattern by Buddy Rumi here

13. Crochet Succulent Cactus Eyeball Plant Pattern by Crafty Intentions
This Succulent Cactus Eyeball Plant Crochet Pattern comes with instructions for ten different kinds of Cactuses, Succulents, and hanging plants with hidden eyeballs on the bottom! These mischievous plants only hide your stuff sometimes, and they can never be killed!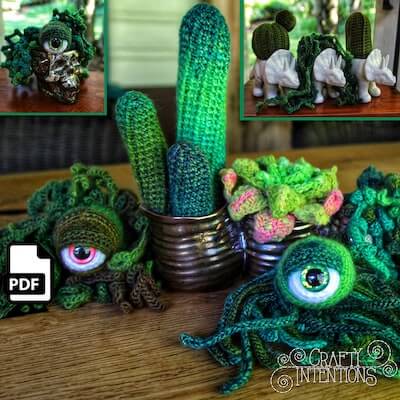 Get the Pattern by Crafty Intentions here

14. Crochet Succulents Set Free Pattern by Elisa's Crochet
Let's face it, not everyone is born with a green thumb, and if you've always had hard times in seeing plants bloom in your house/garden, this pattern can come in your help!

This set can be a fun decor for your work desk at the office, your kitchen window sill or a bookcase shelf. The mini clay pots bring an earthy and rustic feeling to your house and match so well with the deep shade of green of the plants.
Get the Pattern here

15. Mini Crochet Succulent Amigurumi Pattern by Love Life Yarn
Whether you use as a decoration or even for a keychain, you'll love this mini crochet succulent amigurumi pattern. This easy pattern is made in a few parts and stitched together. It only takes a tiny yardage of yarn and fiberfill.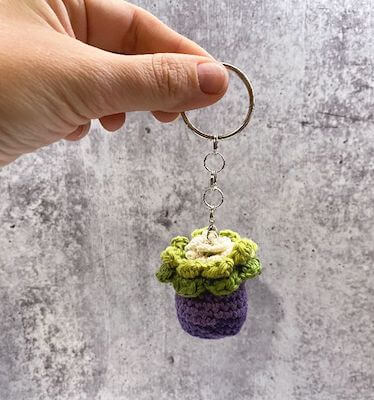 Get the Pattern here

16. Kawaii Succulent Amigurumi Pattern by 3am Grace Designs
Just a look at those bright and beautiful colors! This cute Cactus Succulent Amigurumi Pattern is the perfect quick make. Bold, bright and bucket loads of fun to make up, this is one Kawaii Cuddler you're going to want to get on your hook immediately!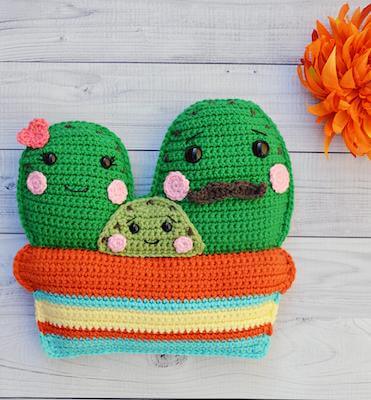 Get the Pattern here

17. String Of Pearls Amigurumi Crochet Cactus Free Pattern by Ollie + Holly
If you love weird and wonderful succulents, then you're going to adore this Crochet String Of Pearls. Look how cute those little crochet trendils are!
And not only that, this little cutie comes with crocheted soil too. You can also work these strings up in differnt colors and lengths to create cool hanging decor.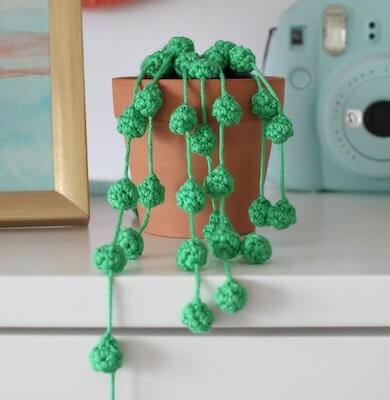 Get the Pattern here

18. Crochet Cactus Pillow Pattern by A Crafty Concept
These pretty crochet cactus pillows are very easy to make, perfect for your desert chic decor! Try playing with different hooks and yarn weights to get different sized pillows. These cactus pillows will add new life and brighten up your space.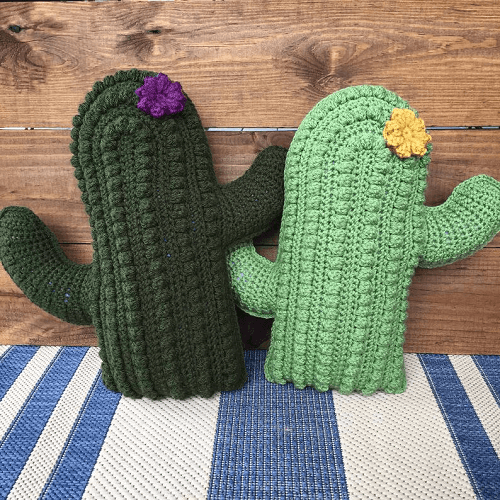 Get the Pattern by A Crafty Concept here

19. Big Cactus Amigurumi Doll Crochet Pattern by Elisa's Crochet
Who says you can't make a cactus cuddly? This cute and soft cactus amigurumi is perfect for hugs because he has no sharp points! Set your cactus on a shelf as home decor or tuck it in bed with the little ones. I promise this cactus is ouch-free.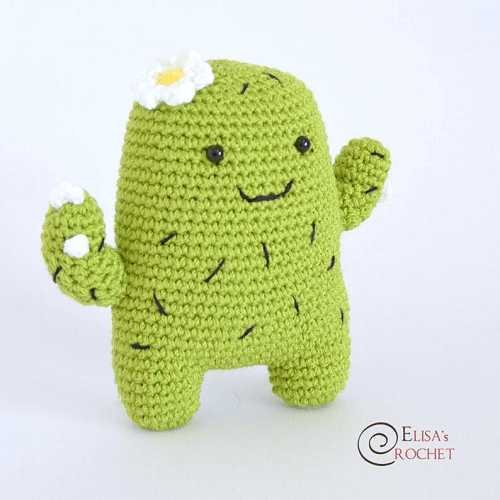 Get the Pattern by Elisa's Crochet here

20. Crochet Cactus Garden Pattern by Artefacts Crochet Design
This is a fun project that includes patterns for 5 different cactus/succulent plants as well as the soil and the pot. You can follow the pattern as it is, or you can make up the plants individually and glue them into plastic or terracotta pots instead.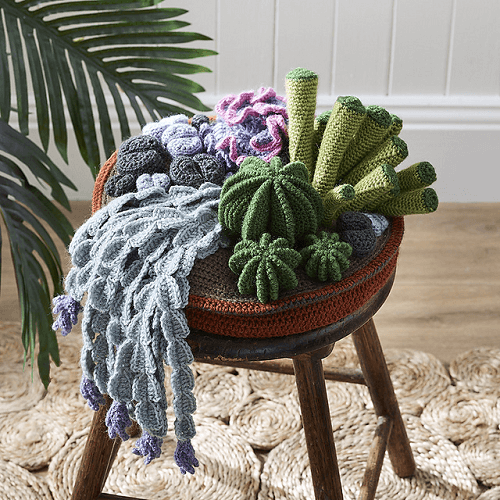 Get the Pattern here

21. Pincushion Crochet Cactus Free Pattern by Whistle And Ivy
This cute and easy crochet cactus pincushion is a delightful addition to your craft room! Make this project easily in just an afternoon. Your finished crochet cactus pincushion will be a fun and whimsical place to store your pins for all your future crochet, sewing and crafting needs.
Get the Pattern here

22. Crochet Cactus Amigurumi Pattern by Super Cute Design Shop
This is a pattern for 3 cactus friends with a crochet pot. These cactuses look super cute as decoration! And the best thing is that they don't need any water and the pot will never break!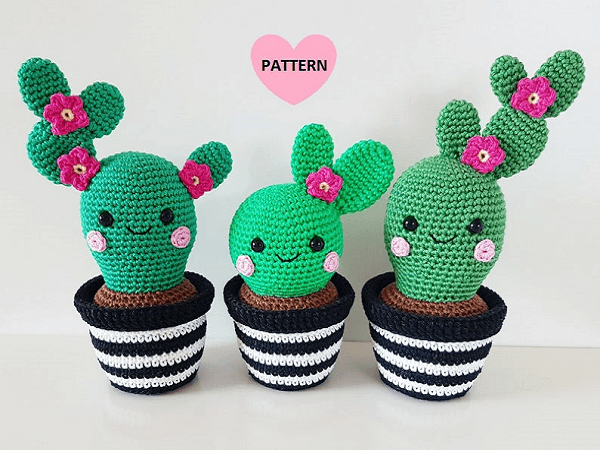 Get the Pattern by Super Cute Design Shop here

23. Simple Succulents Crochet Pattern by Interweave
Create cute cacti and succulent plants with crochet stitches! Never worry about killing a potted plant again with these adorable replacements. You'll want to put these cute projects all over your house.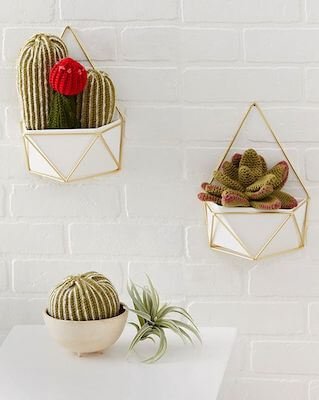 Get the Pattern here

24. Agave And Aloe Crochet Cactus Free Pattern by Red Heart
Don't let prickly personalities keep you from shaping these adorable crochet cacti! They're always excited to make new friends, so display them anywhere, or delight the kids. Discover these endearing additions to any Amigurumi collection!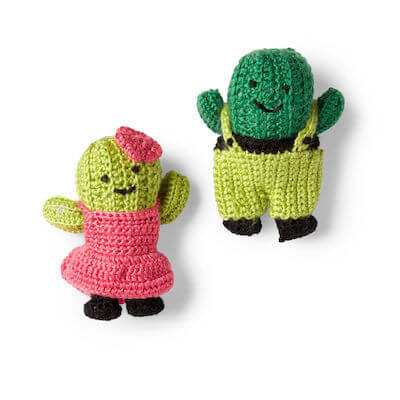 Get the Pattern here

25. Cactus Ornament Crochet Pattern by Spin A Yarn Crochet
This cute crochet ornament brings boho desert flair and a southwest moaner touch to your home decor. This festive cactus ornament makes an adorable addition to your tree or as the perfect addition to wrapped gifts during the holiday season.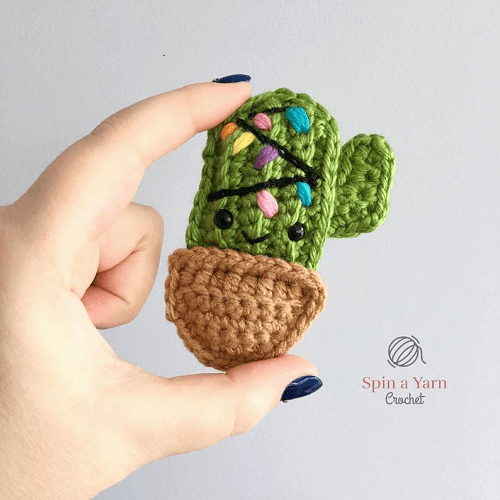 Get the Pattern here

26. Crochet Cacti Pillows by Yarnspirations
These adorable crochet cacti pillows are created using alternating rows of double crochet and double crochet front post to create the cacti's ridged look.

Whether you prop it in the corner or toss it on the bed, these fun cacti pillows are sure to add a bit of southwestern flair to your decor. No gardening expertise needed!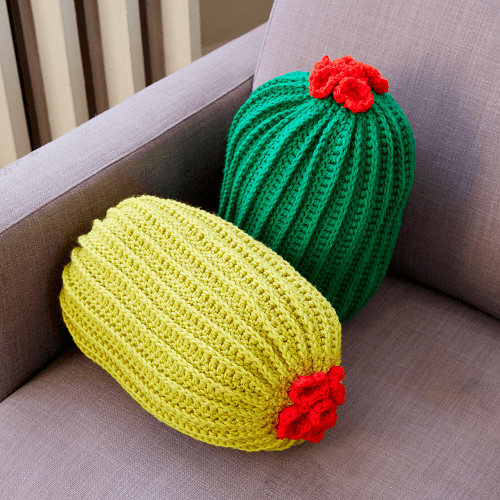 Get the Pattern here

27. Carl The Amigurumi Cactus Pattern by Yarn Blossom Boutique
This pattern includes instructions to make the cutest little cactus named Carl and his sombrero hat. Carl is so much fun to make, plus you can customize it with its own personality. Add eyes and/or a variety of mustaches which are included in the pattern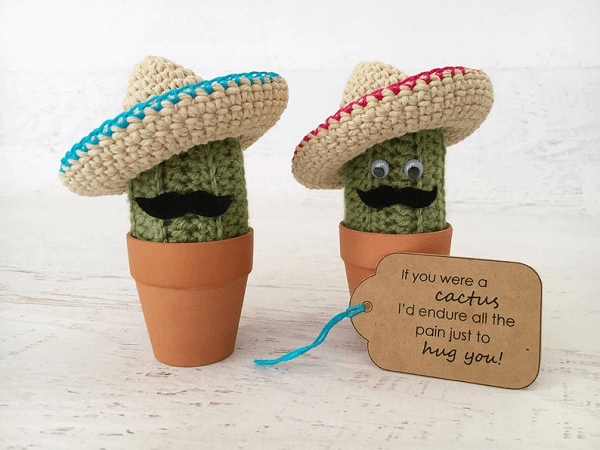 Get the Pattern by Yarn Blossom Boutique here

28. Crochet Cactus Keychain Pattern by Repeat Crafter Me
The cactus pattern is worked flat in rows. The terracotta pot is made the same way, so once you've gotten the hang of it, you'll be zooming through the pattern. Don't forget to add a keyring to the top of your pattern so you can attach it to your bag or keys and carry it anywhere.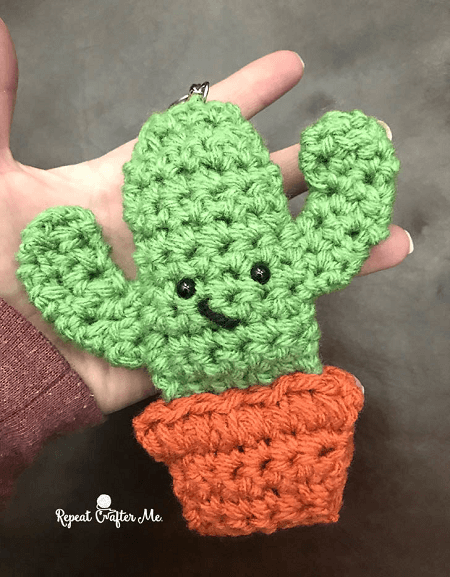 Get the Pattern here

29. Crochet Cactus Coasters Pattern by Sewrella
These cactus coasters are perfect for any home! They are a lot of fun to make as they work up rather quickly – you could easily make a set in an afternoon.

These make a great housewarming or hostess gift! The crochet pattern is easy to follow and they're even cuter stored in the little potholder.

Check out more crochet coaster patterns here!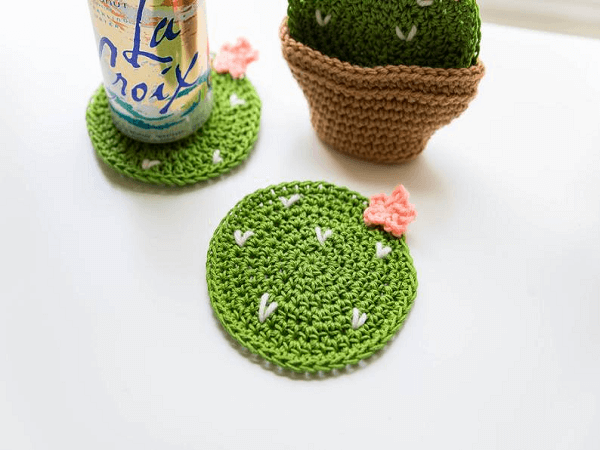 Get the Pattern here

30. Crochet Cactus Earrings Pattern by Whistle And Ivy
These darling crochet cactus earrings make a quick gift or a fun evening crochet project. The whimsical design makes them fun for summer barbecues or a day spent at the farmer's market. These crochet earrings are made using embroidery floss, so the color options are endless.
Here are more crochet earrings to match your OOTDs.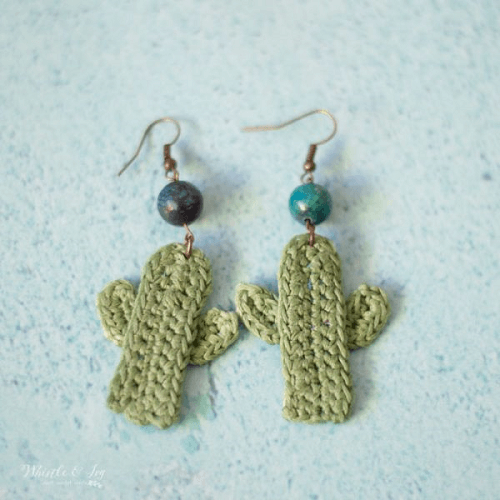 Get the Pattern here

31. Crochet Cactus Baby Blanket Pattern by Owl B Hooked
A very easy pattern to read and this blanket works up fast! A subtle cacti design with no need for several color changes or ends to weave in.

Or add all the color your heart desires! Simple, modern and gender-neutral, it makes for a special newborn baby or 1st birthday gift.

Get more adorable crochet baby blanket patterns here!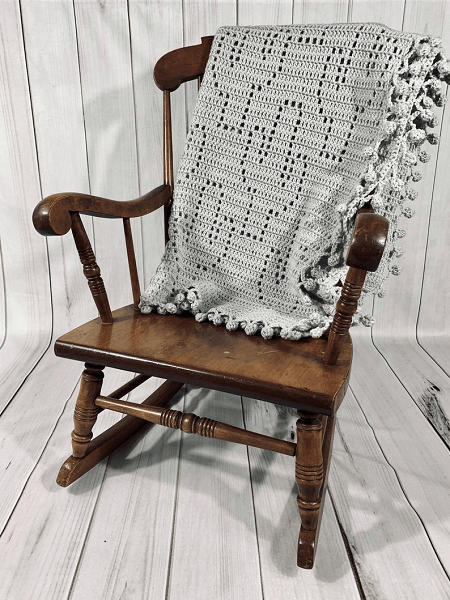 Get the Pattern by Owl B Hooked here

32. Crochet Cactus Hat Pattern by Repeat Crafter Me
Finally, a cactus you can wear on your head! Add a dash of summer warmth to your wardrobe with this fun and quirky crochet pattern. Make one for your newborn, baby, toddler and for yourself!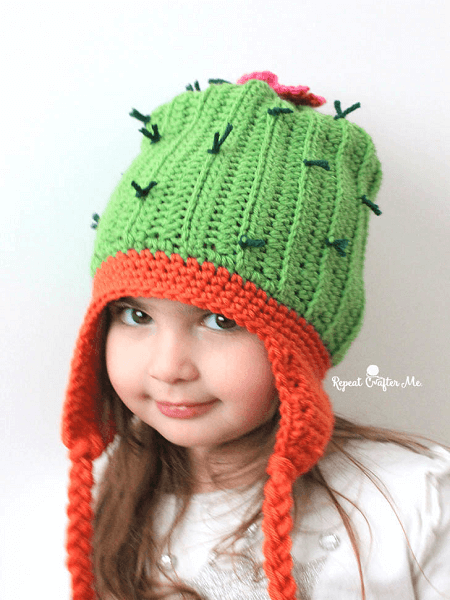 Get the Pattern here

33. Crochet Cactus Potholders Pattern by Moogly
These Crochet Cactus Potholders are a set – there's a tall cactus and a ball cactus, both kitchen ready. But they aren't limited to being just potholders!
The tall cactus also would make a great oven mitt if you sew two of them together. And the Ball Cactus would be super cute under a real flower pot! However you use them, they are sure to brighten up your table.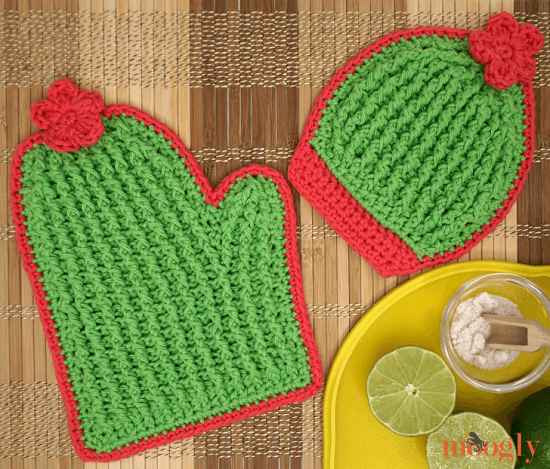 Get the Pattern here

34. Cactus Scarf Crochet Pattern by Hello Happy
Make an adorable, flowering cactus scarf with this crochet pattern! Not even you can kill this plant. You need to have a basic knowledge of crochet stitches to finish this project. You can customize this scarf however you'd like.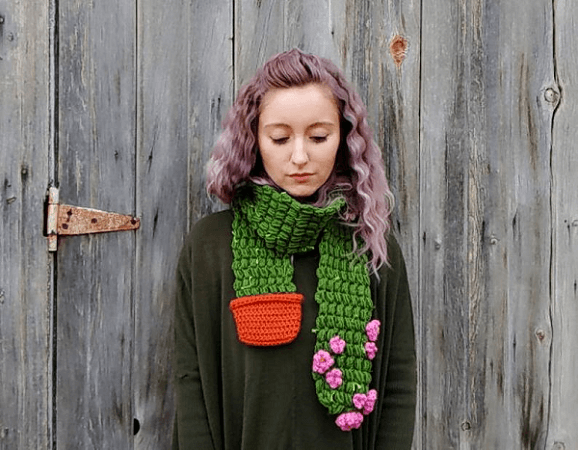 Get the Pattern by Hello Happy here

35. Crochet Cactus Applique Pattern by Fancy Infancy Crochet
This adorable cactus applique can be used in so many ways. Make some for a garland, a wall hanging, a bag applique, clothes applique, or a gift topper. Everything that comes to mind!

This is also a great little take-along project to keep in your bag. You just never know when you'll have extra minutes to whip up this cute little cactus.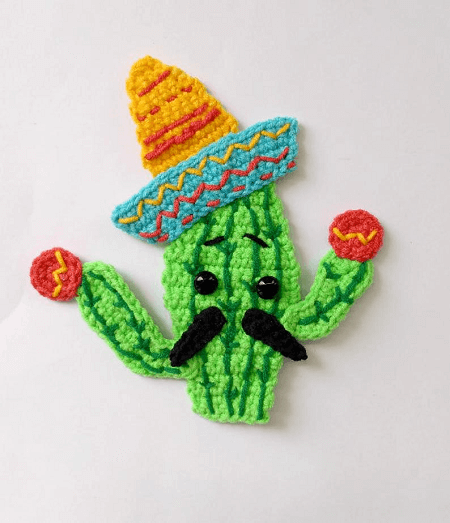 Get the Pattern by Fancy Infancy Crochet here

36. Crochet Cactus Mittens Pattern by Orange Door Gifts & More
These mittens are thick and warm! You can use any DK weight wool yarn. The pattern is written so that you could adjust the sizing for a custom fit.

Look sharp as you signal your love of our spiny friends by wearing a cactus mittens. After all, who doesn't want to have cactus hands all winter long?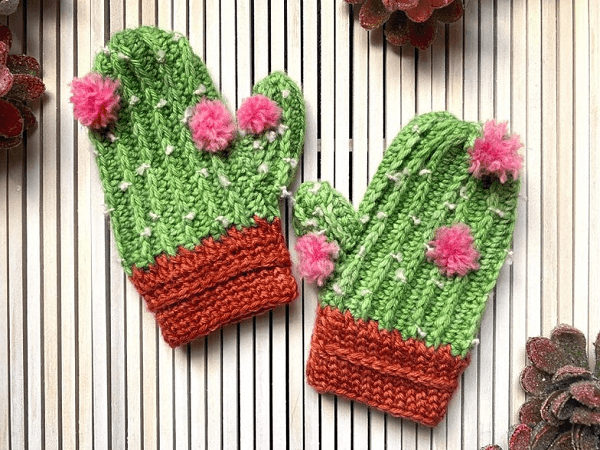 Get the Pattern by Orange Door Gifts & More here

37. Corner To Corner Crochet Cactus Blanket by Yarnspirations
Craft this super-bulky blanket that's worked from corner to corner featuring a fun cactus motif. Stitch using double crochet blocks and reverse single crochet to bring this original to life. Appliqued flowers add fun dimension, and a color-coordinated border brings it all together.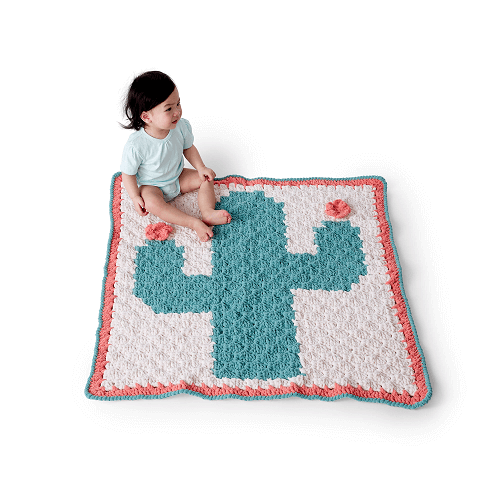 Get the Pattern here

38. Cactus Pen And Pencil Cozy Pattern by Yazmina Nieblas
This Cactus Pen and Pencil Cozy will make your pen or pencil be unique and fun, even make you love to write more than before. Since they are easy and quick to make and cost almost no yarn, they are great for a classroom reward or party favor.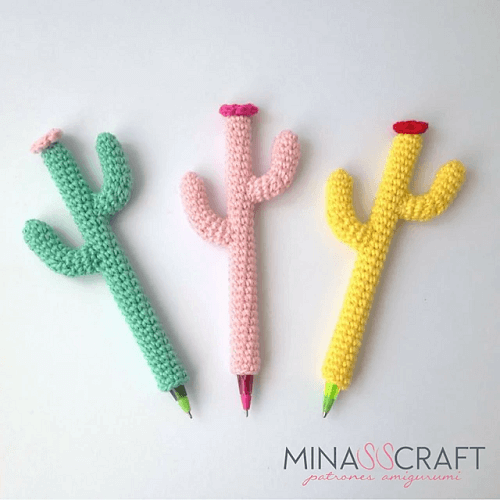 Get the Pattern here

39. Crochet Cactus Rug Pattern by Irarott Patterns
If you're looking for a crochet pattern that's easy to make and is unique, too, then this crochet cactus rug will be your cup of tea. Despite its name, this cactus rug is anything but prickly. You'll love making this for the parents-to-be in your life, and they'll enjoy the cute design.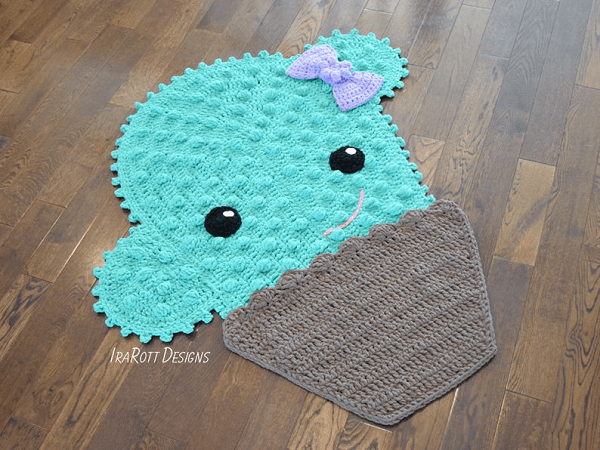 Get the Pattern by Irarott Patterns here

40. Crochet Cactus Wall Hanging Pattern by Thores By Cottage
Take a dip into the world of tapestry crochet with this gorgeous wall hanging. The particular pattern is great for a beginner. This only uses 3 colors on the panel and so won't get too tangled up. This crochet cactus wall hanging is sure to add an instant desert feel to any room!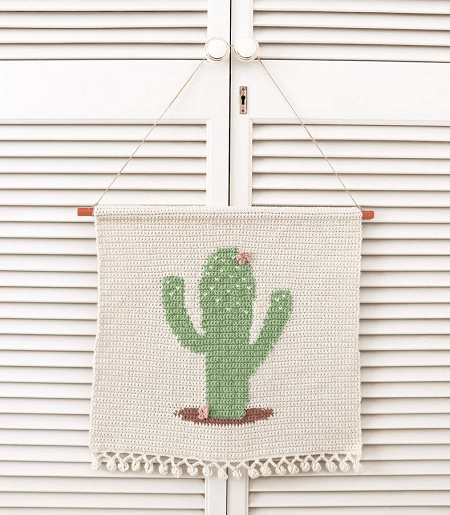 Get the Pattern by Thores By Cottage here

41. Crochet Cactus Scrubby Pattern by Bethany Dearden
The pattern for this crochet cactus scrubby is very simple and easy to make. You will love having a darling cactus by your sink. It would make a lovely housewarming or Mother's Day gift, or for you to keep for yourself.

When not in use, this cactus scrubby can sit in a little clay pot to dry out and look absolutely adorable at the same time!
Also see: Crochet Scrubbie Patterns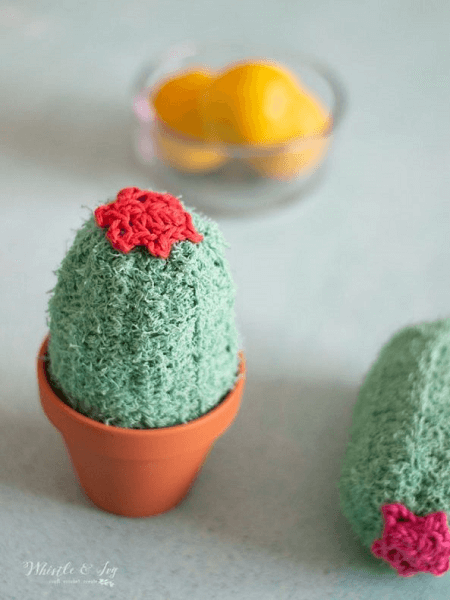 Get the Pattern here

42. Cactus Crochet Tote Pattern by Yarnspirations
Hit the town looking sharp with this fun crochet tote bag. Perfect for carrying your essentials, this tapestry crochet tote is adorned with pompoms and fringe, plus a cheerful cactus motif.

The pattern keeps you smiling as you practice tapestry crochet, color chart work, embroidery, pompoms, and fringe.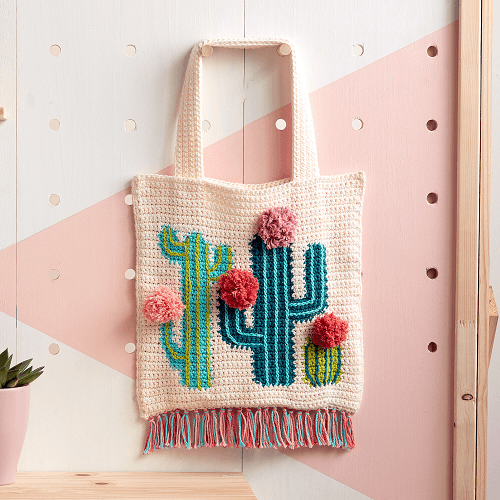 Get the Pattern here
I hope you liked these patterns and are able to make your very own cute crochet cactus.
Please feel free to share your makes with us on our Facebook Page. We can't wait to see what you create!
If you're up for more artificial plants, check out these Crochet Plants patterns, Crochet Flower Patterns and Crochet Mushroom Patterns, . You can also go here to see a roundup of all sorts of fun things to make in your free time. We have tons of it!
These crochet cactus patterns are so fun to make you'll be making them for all of your gal pals and you'd be like a cactus garden!