Mushrooms have a huge fan base which is made up of mushroom lovers, hunters, or those who consider themselves mycologists, but the one thing they have in common is their love of nature's fungi.
Surprise them with one of these crochet mushroom patterns in this list, which includes amigurumi mushrooms, mushroom hats and bags!
Joke – Why was the mushroom invited to the party?
Because he is a fungi!!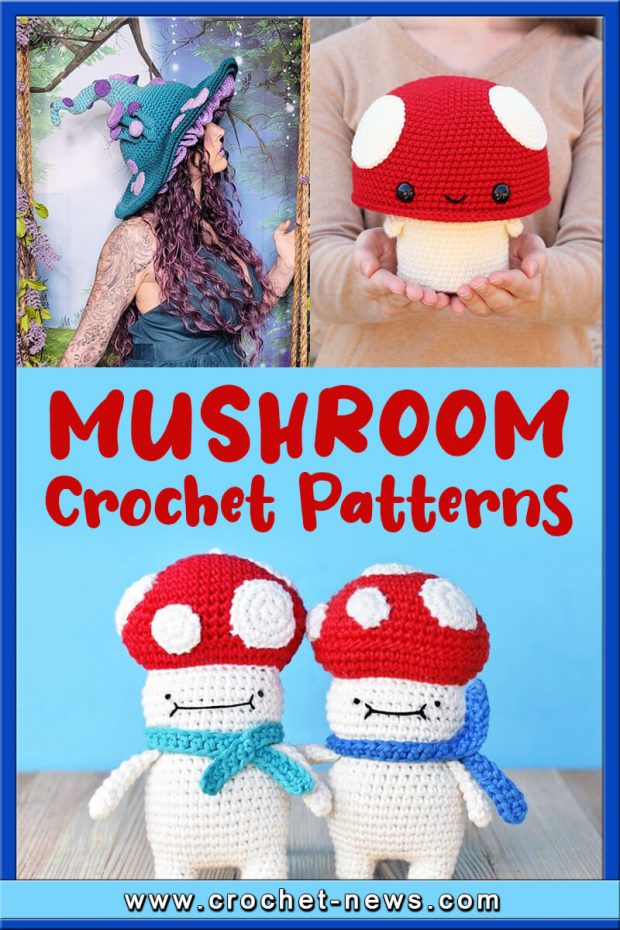 If you've got a friend or family member who's just as hooked on fungi, check out the collection below for a whole host of mushroom-themed patterns that feature mushroom, toadstool, and other fungus motifs. This list has everything you need to surprise and delight the mycophile in your life!
36 Amigurumi Mushrooms and Crochet Mushroom Hats, Bags and Appliques

1. Morel Mushroom Crochet Pattern by Wild Heart Crafts Art
Morel-loving crocheters rejoice! At last, a way to honor a love of foraging together with your enjoyment of crochet. These morels make great decorations, gifts, or toys, and they all stand up on their own when finished.

No matter how your season went, you can always turn to this pattern to whip up a batch of your very own morels to remind you of that sweet in-the-woods feeling.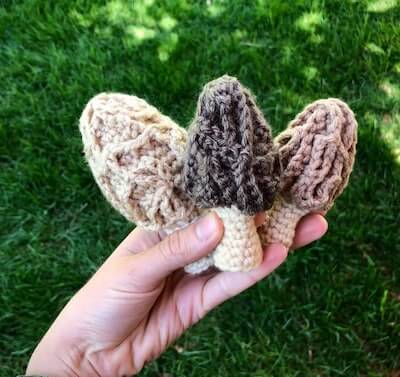 Get the Pattern by Wild Heart Crafts Art here

2. Mushroom Cutie Crochet Pattern by Deprecat
These little mushroom cuties are a perfect addition to any garden-lovers home! Make a bunch of these fun-guys: they prefer to hang out in clusters!
Get the Pattern by Deprecat here

3. Giant Crochet Mushroom Pattern by Lilliputian Crochet
Bring the enchanted forest to your living space with this jumbo crocheted mushroom. Both an oversized plush and a huggable pillow, this beautiful item will give any room a magical touch.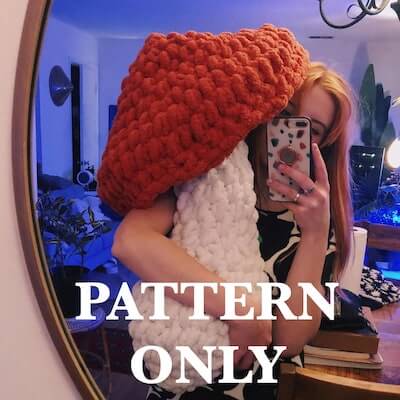 Get the Pattern by Lilliputian Crochet here

4. Free Crochet Mushroom Pattern by Thoresby Cottage
These mushrooms would make a lovely gift for your forest loving friends, or hung on a Christmas or Easter tree. You could even add a small rattle insert and it would fit in perfectly with a woodland themed nursery.

There are 2 different shapes of cap included in this crochet mushroom pattern; a traditional pointed cap as well as a flatter cap with embroidered details. Have fun with the colors and textures of this pattern!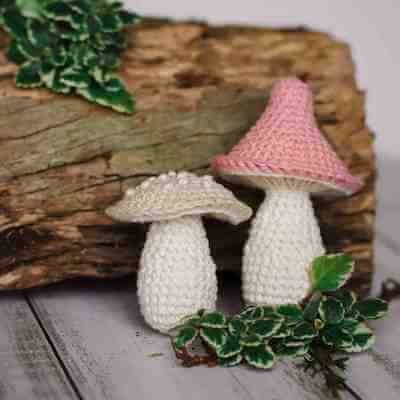 Get the Pattern here

5. Mushie, The Mushroom Crochet Pattern by Tiny Curl
You'll find Mushie sitting under a pine tree drinking a cup of hot cocoa and bundling up for the winter. Although Mushie makes the perfect crochet mushroom ornament, they can also double as small amigurumi toys that are sure to bring you lots of cheer.

It works up quickly and makes a great holiday gift. You could even add it to the top of a gift to up your wrapping game!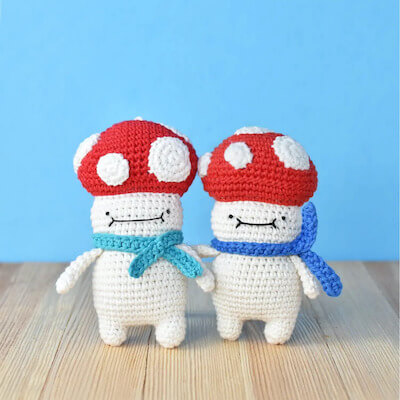 Get the Pattern here

6. Crochet Mushroom Pattern by The Loopy Lamb
Whether you're looking for a last minute crochet gift, something to crochet for a market or just looking for something cute and fun to make, this free crochet mushroom pattern is sure to fit the bill.

This adorable mushroom is easy to make and accessible for beginner crocheters. The embroidery on the face is minimal and can be done by even those that don't posess strong embroidery skills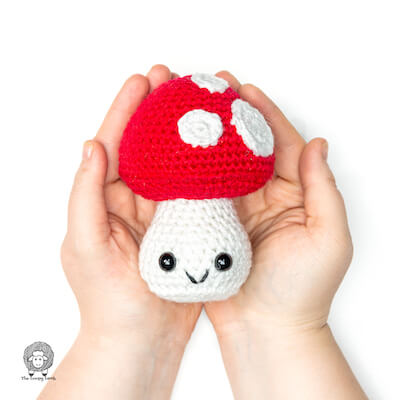 Get the Pattern here

7. Mushrooms Free Crochet Pattern by Elisa's Crochet
Here's a nice crochet project that could come in hand if you are thinking of making yourself a Fall table centerpiece – two adorable mushrooms! The finished mushrooms are approximately 4″ and 4.5″ tall.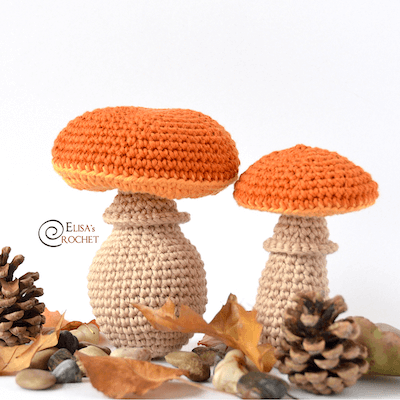 Get the Pattern here

8. Mushroom Sprite Amigurumi Crochet Pattern by Crafty Intentions
This pattern comes with instructions to make Mushroom Sprites!! There are six different styles of mushroom sprites all in one pattern.
One of those styles comes with two cap options. Make over half a dozen adorable little Mushroom Sprites with these instructions!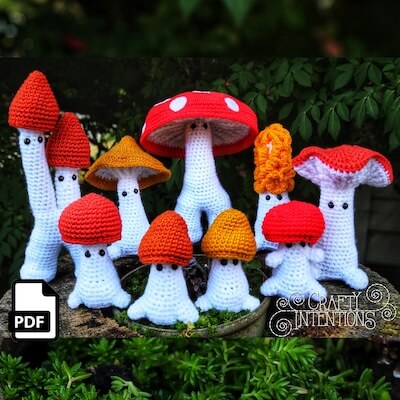 Get the Pattern by Crafty Intentions here

9. Crochet Mushroom Bag Dice Pattern by Craig's Cottage
Featuring basic stitches with unique stitch counts to create the domed top, this pattern is an easy difficulty, and well worth picking up!

The finished product has a very sturdy design, and measures about 5 inches tall and 6 inches wide. It is spacious enough to hold over a dozen sets of dice, and sturdy enough to support over 1.5 pounds of weight! It makes a great gaming accessory, but can be used to hold whatever you'd like!
Here's more crochet dice bag patterns you can do-it-yourself.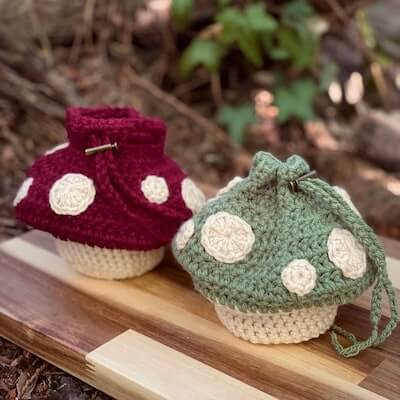 Get the Pattern by Craig's Cottage here

10. Crochet Lighted Mushrooms Pattern by Krochet Keepers
This pattern includes 3 different illuminated mushroom designs (small, medium, and large), with flat caps and gills that allow LED "fairy lights" hidden inside to cast a warm glow all around. All the mushrooms in this collection are made in one piece from the top all the way down to the self-standing base, with no sewing required.

Once you've learned the simple techniques used to make these mushrooms, you'll be able to whip up more in no time for yourself or as charming gifts for friends!

Choose the sizes you prefer, or create a mixed arrangement in whatever shades suit your mood or decor. Sit them by your bed as shatterproof nightlights, arrange them on a window ledge, or add them to a seasonal centerpiece.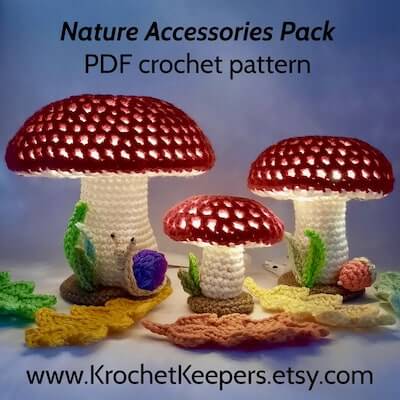 Get the Pattern by Krochet Keepers here

11. Crochet Mushroom Pouch Pattern by Whistle And Ivy
This darling woodland crochet mushroom pouch features cute little red polkadot toadstools. The design comes to life using the tapestry crochet technique in this crochet pattern.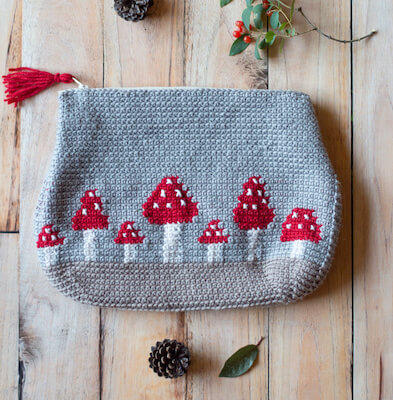 Get the Pattern here

12. Mushroom Box Free Crochet Pattern by Sweet Softies
For those of you who have an affinity for woodland fairytale themes, here's a cute keepsake box in the shape of a mushroom! What a sweet way to add some whimsy to your home, wouldn't you agree? It's a beginner-friendly pattern that can be whipped up in a jiffy with super bulky yarn and a large, 6mm crochet hook.

The top is – of course – a removable lid for you to store little treasures inside. Buttons, beads, jewelry, you name it! It's not only an easy stash buster project, but functional home decor as well because it works as a storage container!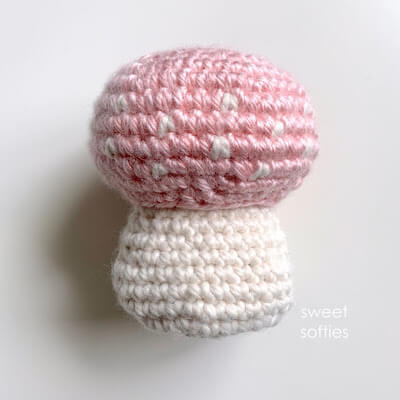 Get the Pattern here

13. Fly Agaric Mushroom Crochet Pattern by Vliegende Hollander
Get ready for autumn with this crochet pattern for this set of four lovely fly agarics! Now you can make your own and decorate your home right in time for autumn or Halloween.

Each fly agaric made from it will make a great home decoration! Imagine placing a couple of them near a fireplace or in the windowsill.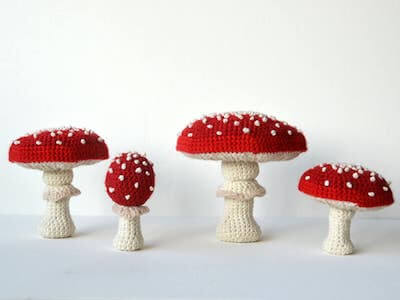 Get the Pattern by Vliegende Hollander here

14. Crochet Toadstool Hat Pattern by Jenia's Designs
This one-of-a-kind, absolutely adorable Toadstool Hat features a mushroom shaped cap with a red top and lots of white speckles that brings it to life. The stem has grassy look with lots of leaves and flowers embroidered on it. This Toadstool is so cute that it attracted a pretty butterfly taking a break from her busy day.

The pattern sizing accommodates ages from newborn to adult. A great gift idea that is perfect for chilly days, picture time and back to school.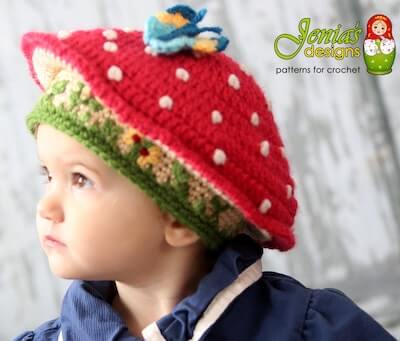 Get the Pattern by Jenia's Designs here

15. Crochet Mushroom Beret Pattern by Earthy Fae Crochet
This crochet beret is a quick stash buster pattern suitable for the beginner who is looking to add some more variety to their experience and it makes the cutest mushroom hat to add to a wide variety of outfits!
Get the Pattern by Earthy Fae Crochet here

16. Cuddle-Sized Mushroom Amigurumi Pattern by Storyland Amis
Meet Aidan, the Mushroom! Aidan is a lovable little guy. Thankfully for you, he is not of the poisonous variety so he's perfectly safe to have around and smothering him with kisses won't cause you any harm!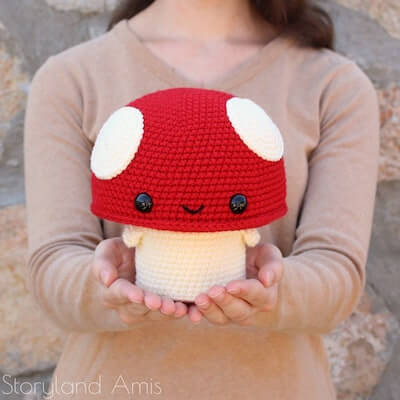 Get the Pattern by Storyland Amis here

17. Toadstool Square Crochet Pattern by Pony Mc Tate
Add a touch of woodland whimsy to your next project with this eye-catching crochet square. It's a fun and absorbing make that's perfect for afghan blankets, cushions or on its own.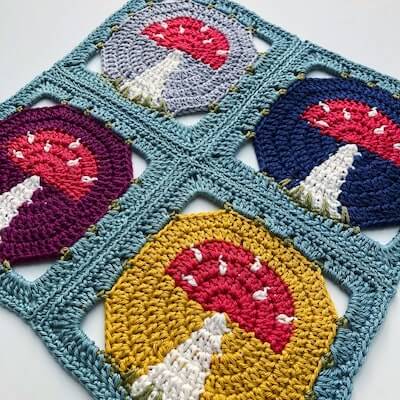 Get the Pattern by Pony Mc Tate here

18. Crochet Merry Mushroom Top Pattern by Sugaree Co
Bring some 70s mushroom vibes to your wardrobe with this unique crop top! This pattern shows you how to make the 70's inspired mushroom top of your dreams!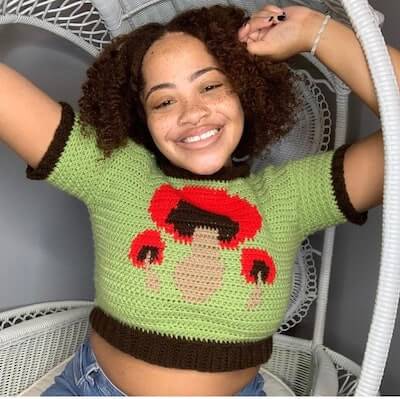 Get the Pattern by Sugaree Co here

19. Spring Fairy House Crochet Pattern by Crafty Is Cool
Perfect for a springtime display, this little house will welcome tiny magical fairies. You'll love using simple stitches and fun embellishments to crochet the house, and children will love imagining the secret world inside.

Texture-changing yarn creates the perfect landscape with a variety of green shades. A sweet butterfly rests on top and a tiny door opens and closes.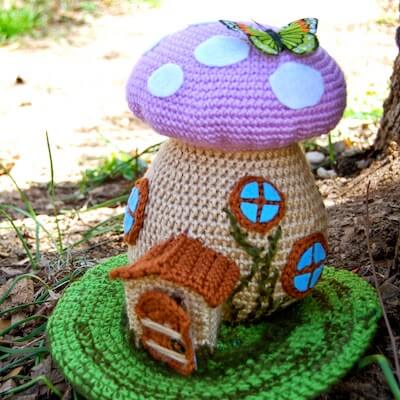 Get the Pattern here
20. Twisted Mushroom Witchy Hat Crochet Pattern by Stephanie Pokorny
Create this amazing textural twisty twirly hat and get enchanting! This hat is made with an especially pointy top. It is very comfortable and flexible to adapt to different head sizes and shapes.

It's perfect for any druid, woodland fairy or elf. Some muggles prefer to wear it as a costume when they pretend to be witches. Hide in your garden and wait for that gnome to come alive!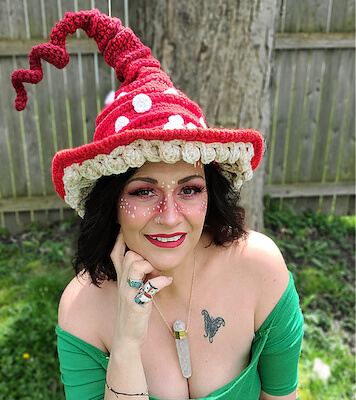 Get the Pattern here

21. Crochet Amanita Mushroom Cap Hat Pattern by Little X Human Crocheters
This Amanita Mushroom Cap Hat is surprisingly beginner-friendly using simple stitches and techniques to achieve an advanced look. Best with hook sizes smaller than the recommended hook for your yarn to get the stiff look and firm feel.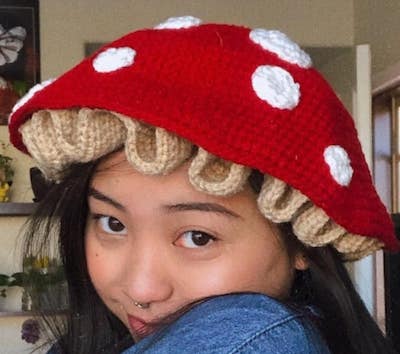 Get the Pattern by Little X Human Crocheters here

22. Mushroom Hat Crochet Pattern by Goddess Connections
Developed from passion for nature and a joy for mushroom spotting, this toadstool/mushroom/fly agaric crochet hat is a great addition to any autumn winter wardrobe!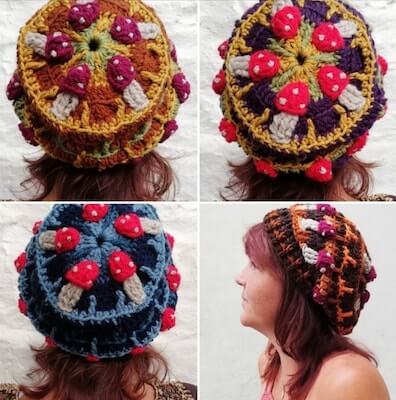 Get the Pattern by Goddess Connections here

23. Crochet Mushroom Pet House Pattern by Buddyrumi
The crochet pattern to make the home of your furry friend's dreams is ready! It has a window on the side so kitty can observe the outside without being spotted. It is made mainly with t-shirt yarn! It's very comfy, with a cushion inside where kitty can curl up and dream!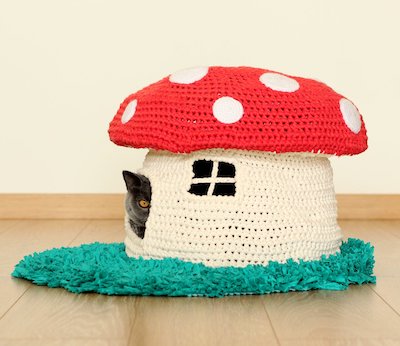 Get the Pattern here

24. Amigurumi Mushroom Crochet Pattern by Kornflake Stew
This cute little mushroom pattern is so versatile, make it with cotton yarn and create a keyring, or use chunky chenille yarn for a chonky boi mushrrom toy!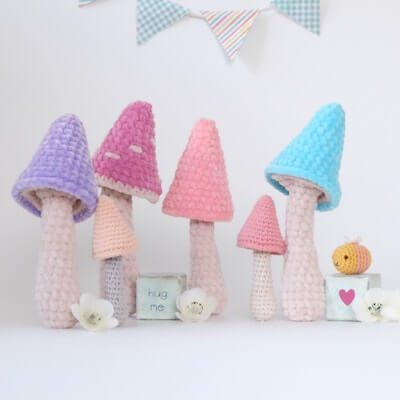 Get the Pattern by Kornflake Stew here

25. Crochet Mushroom Bag Pattern by Rachel Veenstra
You don't have to be a fungi enthusiast or even know what they look like, but you will be now with this mushroom-inspired bag!
This bag is designed as both a functional travel companion while still maintaining an eye-catching appearance when out about town – perfect if you love mushroom hunting as much as we do!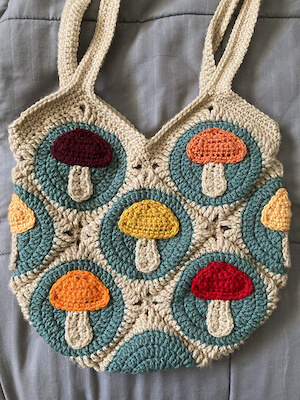 Get the Pattern here

26. Crochet Twisted Toadstool Hat Pattern by The Twisted Hatter
Hey there fungus fans! We've got a way to keep your head warm. When you look like a fungi, you can pretty mush do anything you want!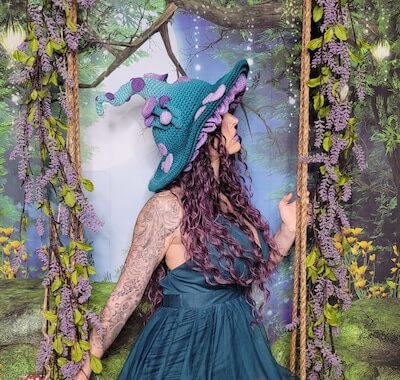 Get the Pattern by The Twisted Hatter here

27. Crochet Mario Bros Mushroom Pattern by Azelia Crochet
Super mushrooms from the Super Mario games are a cute character that give Mario his superpowers. Make one for your kids or make one for someone older who has been a Mario fan for a long time!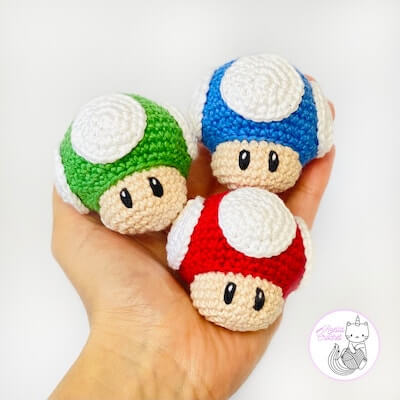 Get the Pattern by Azelia Crochet here

28. Crochet Mushroom Applique Pattern by Golden Lucy Crafts
To make this applique, you will need to crochet a heart for the Mushroom's cap and a stem, then sew them together. These mushroom appliques are perfect for embellishing kids' clothes, blankets, hats, etc.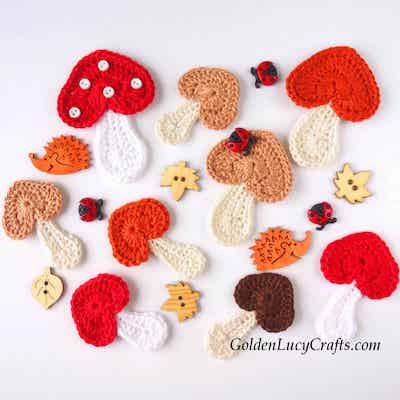 Get the Pattern here

29. Crochet Mushroom Rattle Pattern by Lilleliis
This Mushroom Rattle is a super quick and sweet gift for babies and newborns, especially for those who are born in autumn. A fallen leaf sewn on the mushroom hat and grass stitched on the stalk makes this rattle very special.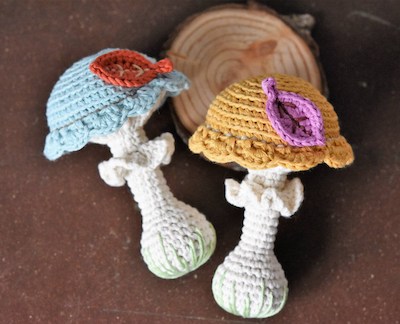 Get the Pattern by Lilleliis here

30. Amigurumi Mushroom Crochet Pattern by Spin A Yarn Crochet
This ultra-plush mushroom is big and squishy; perfect as a cute cushion or cuddle buddy. Of course, it doesn't have to be big! This pattern can be made in any yarn weight to make the perfect-sized mushy for you.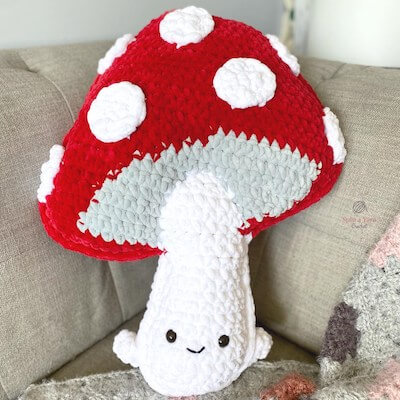 Get the Pattern here

31. Mushroom Bucket Hat Crochet Pattern by Nano Stitches
Complete your cottagecore spring outfit with a Mushroom Bucket Hat entirely made by you!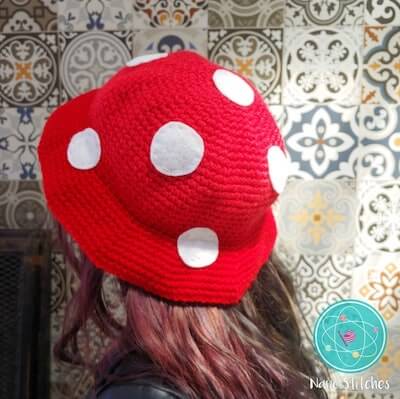 Get the Pattern by Nano Stitches here

32. Crochet Mushroom Hat Pattern by HELLO Happy
Get into fall or your very own Fairy Tale! Crochet yourself this whimsical mushroom beanie, just in time for the cool weather!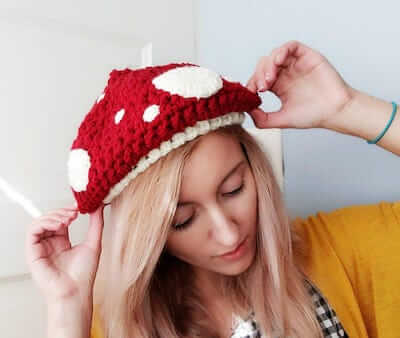 Get the Pattern by HELLO Happy here

33. Enchanted Fairy House Hat Crochet Pattern by Wolf Bite Fiber Works
This Enchanted Fairy Hat is primarily worked with heavy worsted weight yarn held double. It works up relatively quickly and the personalization options are virtually endless.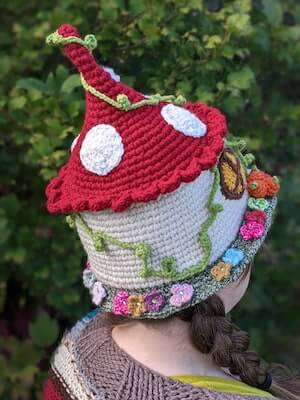 Get the Pattern by Wolf Bite Fiber Works here

34. Crochet Mushroom Dog Hat Pattern by Oona Patterns Etc
This is a mushroom hat crochet pattern for cats, small dogs, and other small pets. You'll be the talk of the neighborhood as you walk your little friend in this cool headgear!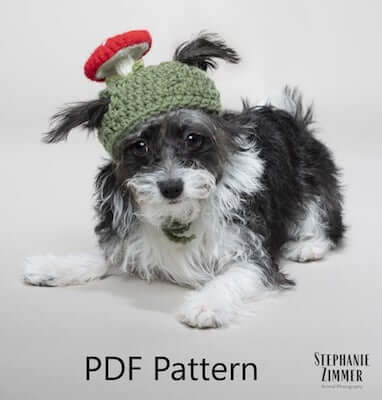 Get the Pattern by Oona Patterns Etc here

35. Crochet Festival Mushroom Purse Pattern by Crochet With Carrie
This mushroom bag works up very quickly, and is perfect for so many occasions. Super fun to make in different colors!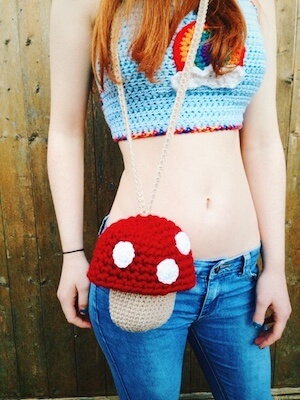 Get the Pattern here

36. Toadstool Coin Purse Crochet Pattern by Lau Loves Crochet
If you're looking for a crochet purse pattern with a bit of magic to it, then how about this fabulous toadstool coin purse pattern. With it's pretty embroidered flower details and that iconic mushroom shape, it's one awesome accessory!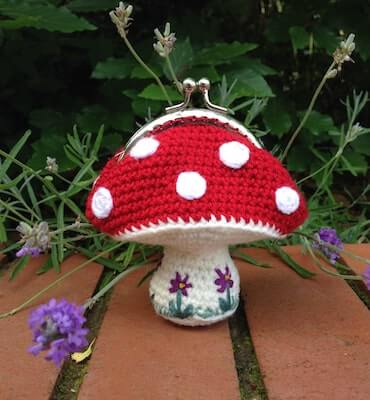 Get the Pattern by Lau Loves Crochet here
THESE CROCHET MUSHROOM PATTERNS ARE PERFECT IF YOU NEED A GIFT FOR ONE OF YOUR MUSHROOM-LOVING 'SHROOMATES!
We'd love to see your finished items! Please share your finished makes by sharing it to our Facebook Page.

Artificial plants can bring a natural appeal indoors with an added advantage of being completely maintenance free. So, if you want more of these, check out these Crochet Plants Patterns, Crochet Cactus Patterns, Crochet Vegetable Patterns, and Crochet Fruit Patterns.

Gifting struggles are over for that mushroom lover in your life. Choose from these crochet mushroom patterns to make for years to come!