Grab your fruitiest scrap pieces of yarn to make these crochet fruits. Whether you're using these cuties for toys or decoration, this crocheted food will brighten up any kitchen or play area.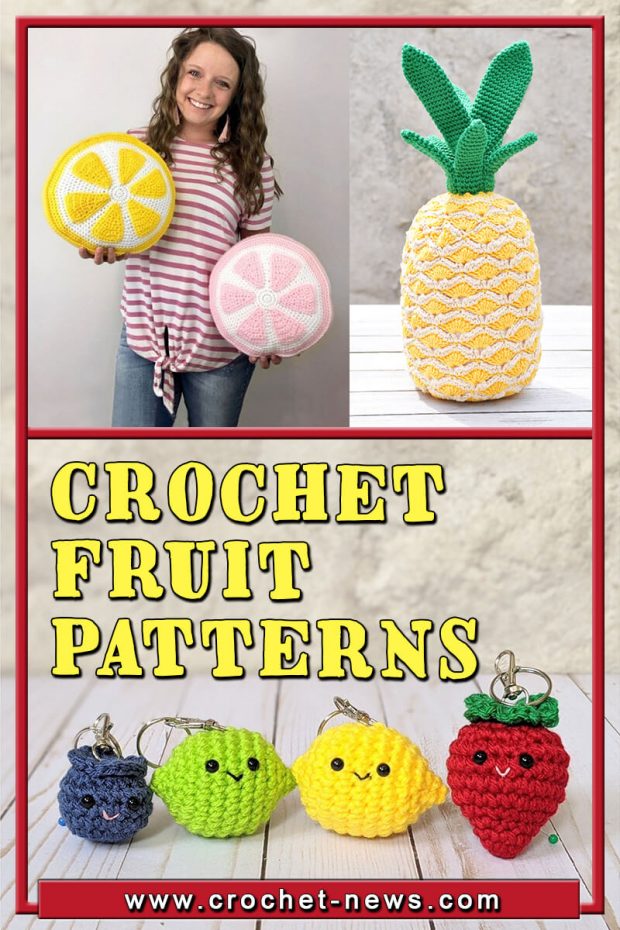 Sure, kiddos can use these crocheted fruit as a toy, but the cute plush toys are not just for playtime. These projects can be anything from a magnet on your fridge to a keychain, fun accessories, ornament, or kitchen decor. They make fun gifts for friends, too!

1. Fruit Stacking Toy Crochet Pattern by Pinky Pinky Blue
This bright and fun stacking toy fruit crochet pattern is crocheted in the shape of a classic educational toy for babies, but the rings in it look like slices of juicy fruits.
The height of the finished toy is 22 cm, the diameter of the largest ring is 11.5 cm.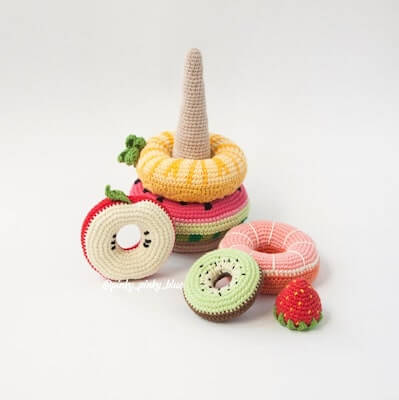 Get the Pattern by Pinky Pinky Blue here

2. Free Pineapple Amigurumi Fruit Crochet Pattern by Yarn Plaza
This adorable stuffed pineapple is a realistic design incorporating shell stitches with contrasting edging. This fashionable amigurumi fruit pineapple is the perfect item to cheer up your living room!

The free tutorial recommends filling it whit stuffing but adding some weighted filler in the bottom to keep it upright would also make it into an adorable doorstop.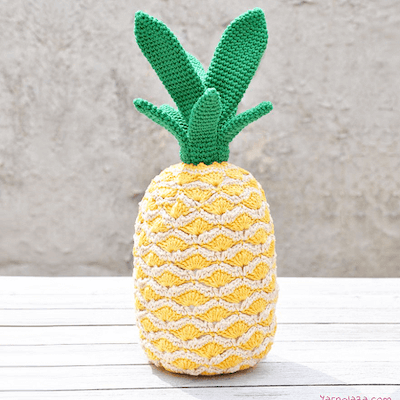 Get the Pattern here

3. Crochet Banana Pattern by Little Conkers
This banana is intended to be as lifelike as possible, and is worked end to end (rather than in the round) to create a realistic look to the banana skin.
It is made with DK, light worsted weight yarn but you can easily work a larger or smaller banana using heavier or lighter yarn and varying your hook accordingly!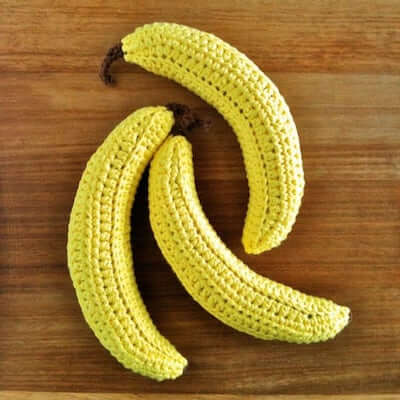 Get the Pattern by Little Conkers here

4. Crochet Fruit Keychains Pattern by Baby Cakes Studios
Crochet your own cute little fruit keychains featuring: lemon/lime, blueberry, and strawberry keychains. These are quick and easy to make, they are great to use up some scrap yarn and make a cute little gift. Plus, they are a great project for the summer!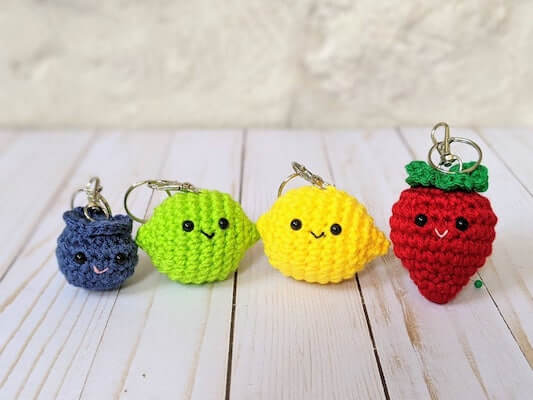 Get the Pattern by Baby Cakes Studios here

5. Crochet Citrus Pillow Pattern by A Crafty Concept
This Citrus Pillow Crochet Pattern is a super fun, summer crochet project! You can make a lemon, orange, lime or grapefruit just by changing up the yarn colors! This crochet citrus pillow will add some fun summer vibes to your decor this season!
Get the Pattern by A Crafty Concept here

6. Free Apple Amigurumi Fruit Crochet Pattern by Kitty Adventures
Apples are one of the most popular foods to crochet. This isn't just because of their popularity for kitchen decor. They're also great for teacher gifts, the beginning of fall, and anything school-themed.
And they can be used in educational presentations about healthy eating.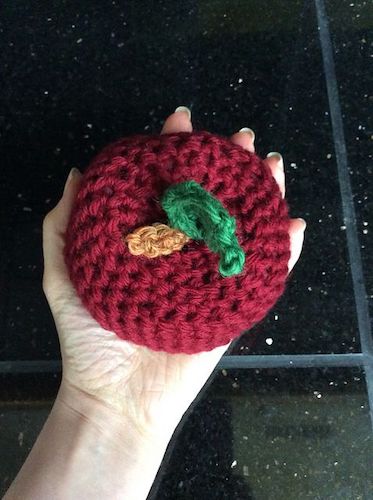 Get the Pattern here

7. Fruit Potholder Crochet Pattern by All My Styles
This pattern includes instructions to make three tasty-looking fruit potholders (grapes, strawberries, and orange) in 100% cotton yarn. The potholders are made of two thicknesses that are crocheted together.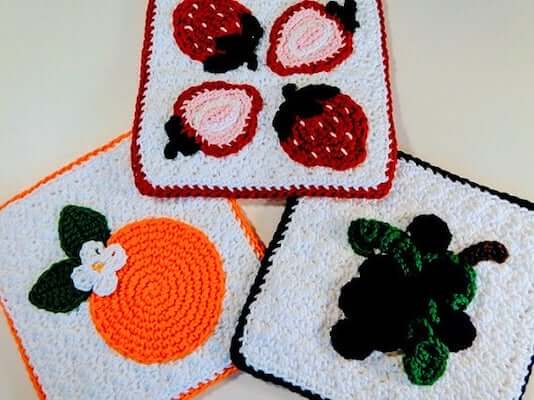 Get the Pattern by All My Styles here

8. Crochet Fruit Scrubby Sponge Pattern by Left In Knots
Use super bulky blanket yarn to make these fast, bright and cheerful fruit shaped sponges. Perfect for cleaning or bath time – you will find plenty of uses for these reusable scrubbies.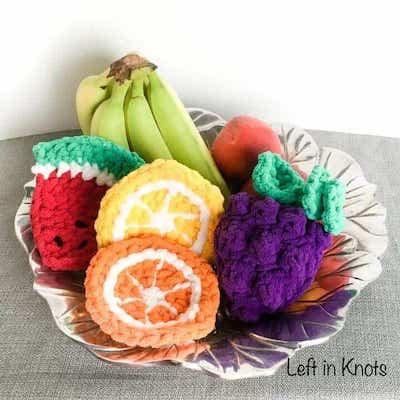 Get the Pattern here

9. Amigurumi Fruit Crochet Pattern by Sabrina's Amigurumi
With this pattern you can make 8 different fruits. The plushies will be about 7 cm (2.8 in) tall.
The fruits are ideal for children to play with and with their small sizes and variation of color, they are also perfect to use for a baby mobile.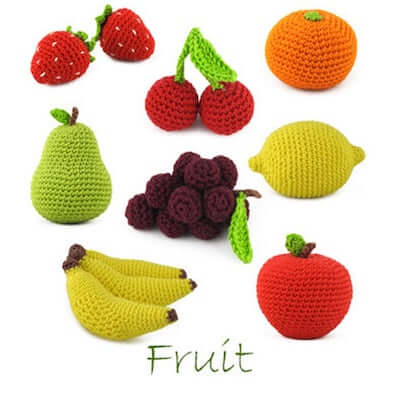 Get the Pattern by Sabrina's Amigurumi here

10. Crochet Tutti Frutti Potholders Pattern by Wink
With these bang-on-trend tutti-frutti beauties, you'll never look at a plain old potholder in the same way again. Add some pretty fruity potholders for your summer kitchen.

You can vary the colors to get different fruits; for example, use the lemon pattern with green yarn for a lime potholder.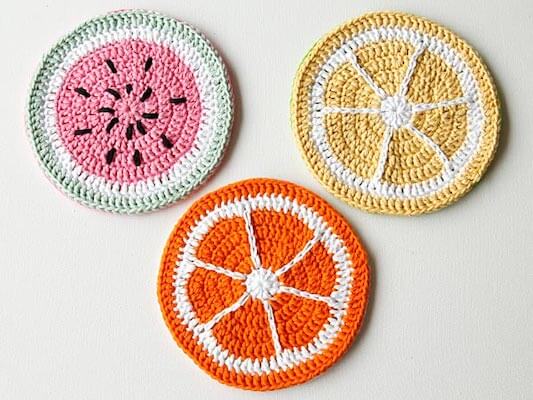 Get the Pattern here

11. Peelable Orange Amigurumi Crochet Fruit Pattern by Honey Bee 69
How cute would this Crochet Peelable Orange be to add to a child's playset? It would also be cute as a display on your table! This orange opens up to reveal 6 orange wedges.
This measures 4 1/2 inches wide and about 4 inches tall. Each wedge measures about 3 inches long and almost 1 1/2 inches wide.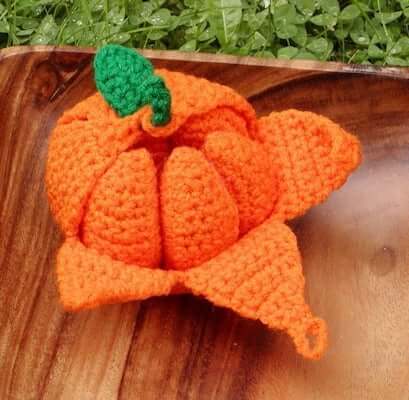 Get the Pattern by Honey Bee 69 here

12. Crochet Fruit Set Pattern by Crochet Spot Patterns
This set includes 4 different fruits to crochet: apple, banana, orange and pear. Crochet these classic fruits for kids to play with or to use as a unique table center piece.
Store the fruits in a bowl or in a cornucopia for Thanksgiving or other festive occasions. Each fruit is crocheted with tight stitches, like amigurumi toys, and stuffed with filling.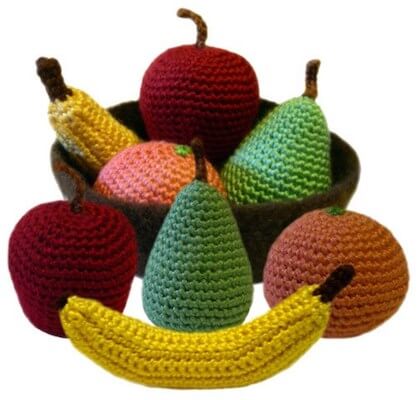 Get the Pattern by Crochet Spot Patterns here

13. Strawberry Garland Crochet Fruit Pattern by Golden Lucy Crafts
This crochet Strawberry garland or bunting will make a beautiful handmade summer decoration for your home. Such garland is perfect for birthdays, a garden party, kid's room or kitchen!

This garland consists of Strawberries made in the shape of a heart. The leafy part is also made from small green hearts.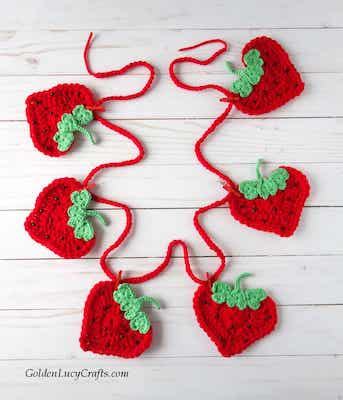 Get the Pattern here

14. Crochet Dragon Fruit Wall Hanging Pattern by Love And Stitch Designs
This Dragon Fruit Wall Hanging would make the perfect gift for the fruit lover in your life who loves modern and trendy wall decor. This wall hanging would also be the perfect piece in your craft market inventory.
This crochet fruit pattern is for intermediate crocheters who are comfortable working with more than one color.
Get the Pattern by Love And Stitch Designs here

15. Watermelon Wedge Crochet Pattern by Chi-Sze Ooi
Here's a free crochet pattern for a watermelon wedge in the Japanese art of amigurumi. You can use it for decor. For example, make a set to use as pillows for a spot of color on your couch. Alternatively, this is an excellent addition to a child's play food set.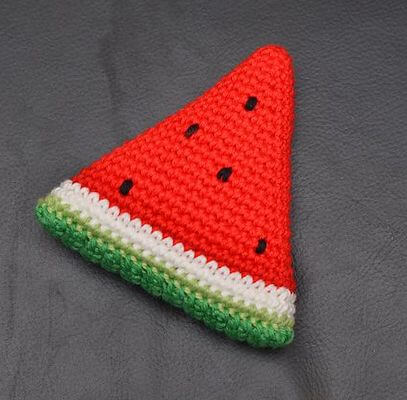 Get the Pattern here

16. Free Crochet Strawberry Pattern by Felt Magnet
These deliciously sweet fruits with their plump and juicy flesh and beautiful green leaves make a wonderful theme for decorations and gifts that you can crochet. Because they are small, you can use up leftover bits of yarn to make them.

When you are done, you can display these mini amigurumi fruits in a bowl as home décor, use them as decorative elements for clothes, hats and fashion accessories or hang them up as part of a garland.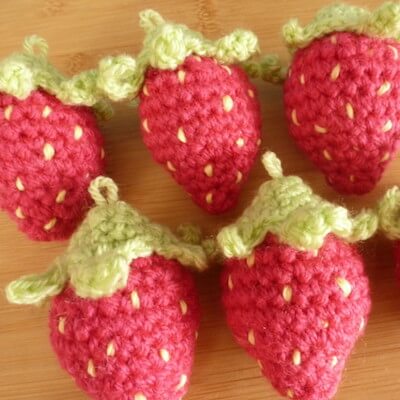 Get the Pattern here

17. Crochet Fruit Bucket Hat Pattern by Punk Crochetier
Make the perfect hat for a warm, sunny day! You can make frilly, wavy, or flat brimmed hats, and make 1, 2, or 6 leafed stems. Feel free to experiment with different colors and stems to make all different sorts of fruits!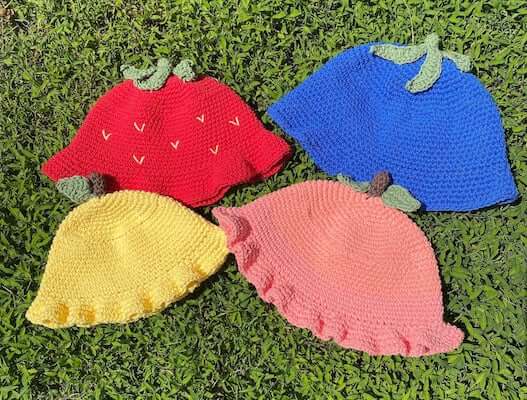 Get the Pattern by Punk Crocheted here

18. Fruit Bowl Crochet Pattern by Heather Gibbs
Known as nature's candy, sometimes only a juicy apple or pear will do – and best of all, they're good for you. Now you can whip up a cute little fruit bowl groaning with delicious fruit, which also includes a banana, lemon and scrummy peaches – almost good enough to eat!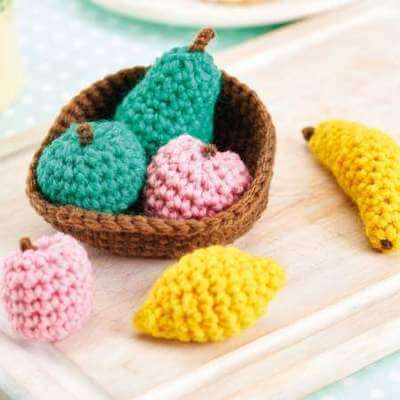 Get the Pattern here

19. Crochet Sliced Apple Coaster Pattern by Hookedo Patterns
These adorable little coasters would look great on anyone's coffee table! Crochet a cute apple coaster to hold your drink or your apple. These lovely crochet apple coasters will look fabulous on your garden table or your autumn dinner table.f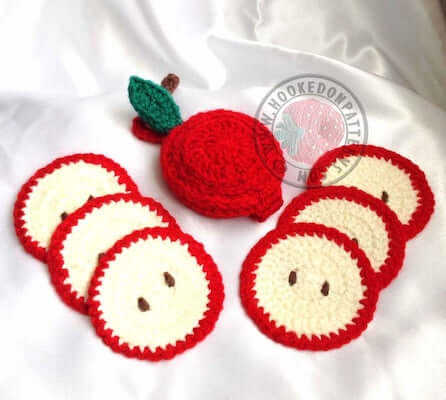 Get the Pattern by Hookedo Patterns here

20. Fruit Tart Crochet Pattern by Addie's Knitted Gifts
This crochet fruit pattern will show you how to create your own fruit tarts, including all off the fruit combinations shown in the pictures. They are so much fun to make.
The finished tarts can be used as play food or as decorations. Make a whole range of different flavors!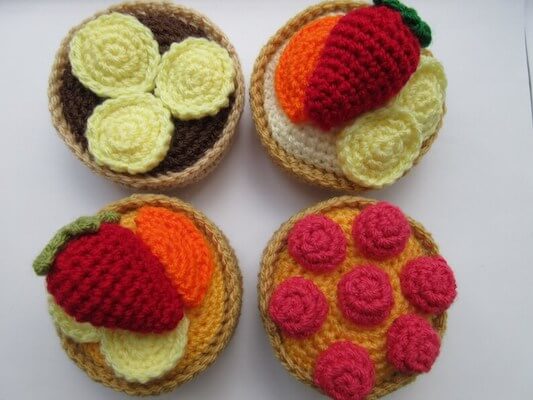 Get the Pattern by Addie's Knitted Gifts here
WHAT CROCHET FRUIT WOULD YOU LIKE TO MAKE? HOW WILL YOU USE IT?
Pick your favorite fruits to make and be sure to share your finished ones with us on our Facebook Page!
And when you already have your fruits, balance it out with veggies with these crochet vegetable patterns, crochet carrot patterns, crochet mushroom patterns or these felt food patterns. You can also add a little sweetness with these crochet donut patterns.

Bring freshness to your home by whipping up your favorite crochet fruit today! What are you waiting for?