What's better than a big basket of fresh picked vegetables? How about a basket of crocheted ones? With these adorable crochet vegetables, your children will surely love to help you gardening.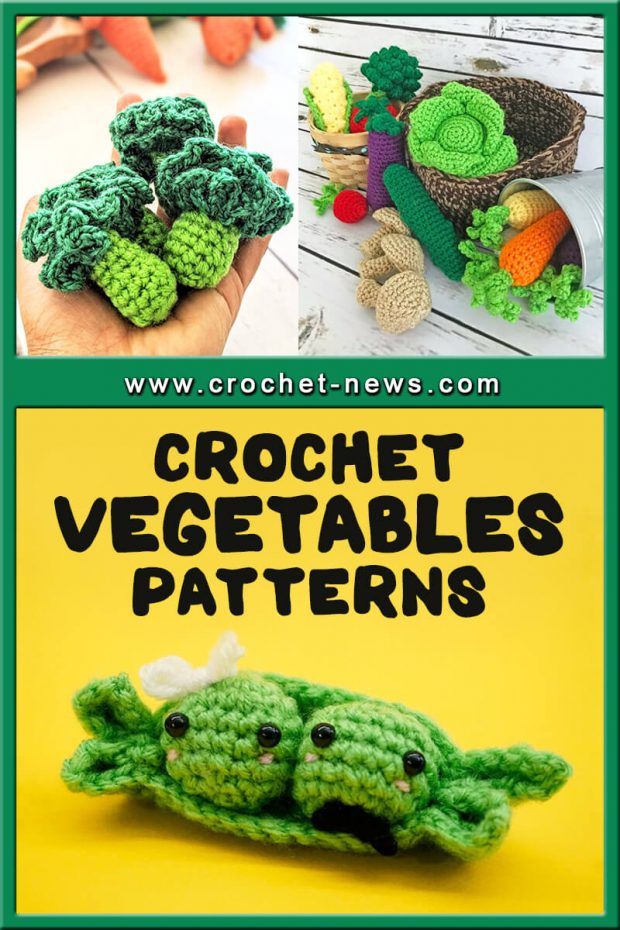 Healthy foods such as vegetables are significantly promoted among kids and adults to maintain the best of immunity and health. However, often it may get tiring to teach the kids the respective benefits.
How about keeping it in a fun way? This collection of crochet vegetable patterns is one such example!

1. Crochet Radish, Carrot, And Pea Applique Pattern by Golden Lucy Crafts
These crochet Radish, Carrot and Pea appliques will make a beautiful embellishment for your kitchen items (towels, potholders, placemats or napkins), you can use them to decorate your market bag or, you can make a crochet veggies garland.

You can also embellish your kid's items to remind them to eat their veggies!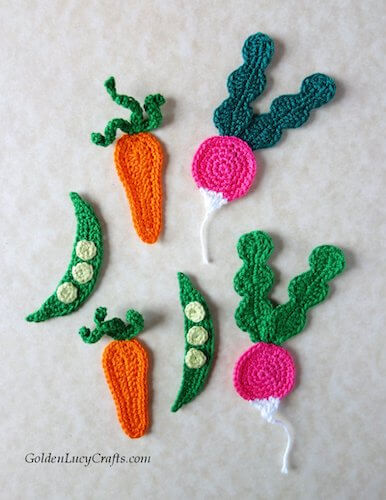 Get the Pattern here

2. Carrot Amigurumi Crochet Vegetable Free Pattern by Craft Passion
A ball of yarn could make a few carrots so make more of these little carrot toys, they are a great prop for photography decoration. Not only could you pair them with your other toys but you could also put them alongside your dishes for a pop of color in food photography.
It would be a great addition for a monthly baby photoshoot as well, or it could just be a nice little gift for children or even pets.
If you're looking for more carrot ideas for Easter and Spring, just click here.
Get the Pattern here

3. Crochet Vegetable Pattern by Green Fox Farms
What a fun way for kids to learn about the importance of eating fresh, healthy food with these beautiful crochet vegetable pattern that includes: Corn, Tomato, Eggplant, Broccoli, Carrots, Lettuce, Radish, Cucumber, and Mushroom.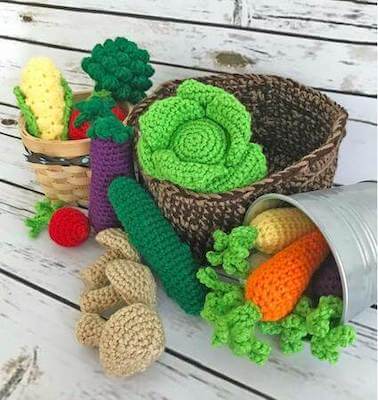 Get the Pattern by Green Fox Farms here

4. Crochet Turnip Pattern by Little Conkers
Aren't turnips beautiful? This crochet copy of nature's design has shading on the root and three different, naturally uneven leaves. No visible seams or front/back – it looks great from all angles!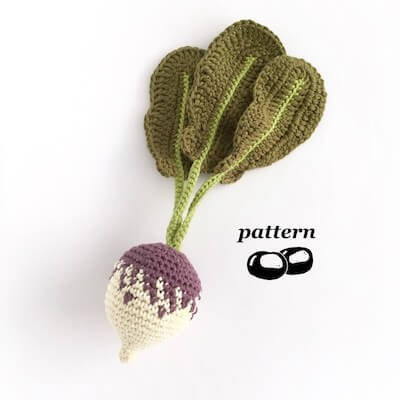 Get the Pattern by Little Conkers here

5. Crochet Brussel Sprouts Pattern by Made Out Of Things
Add googly eyes to your crochet vegetables to give them a different bit of style. That's what Made Out Of Things has done on this crochet vegetables free pattern to make Brussels sprouts more fun to play with.
This is a great pattern to encourage kids to try eating healthy vegetables.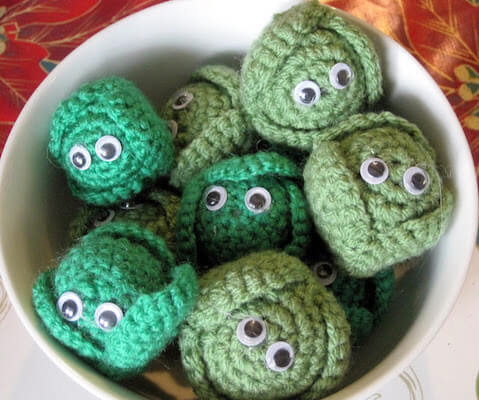 Get the Pattern here

6. Cottage Garden Vegetable Crochet Pattern by Jen Hayes Creations
The more Cottage Vegetables the merrier! This pattern will help you to make Cottage Garden Cabbage, Carrots, and Tomatoes in a variety of styles and colors.
Beginner friendly and easy to make with just a small amount of yarn you'll soon have bushels and bushels of these fun veggies!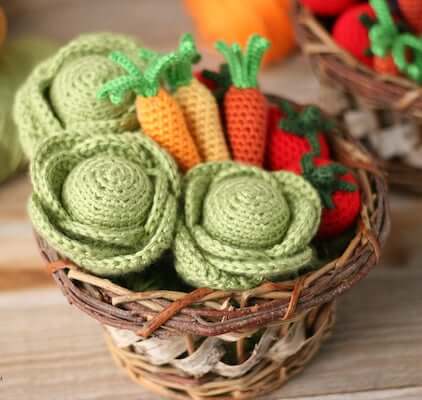 Get the Pattern by Jen Hayes Creations here

7. Broccoli Vegetable Crochet Pattern by Asmi Handmade
Broccoli is the undeniable king of the cruciferous – a nutrition packed (or in this case, poly-filled) veggie. Worked with two shades of green using elementary crochet stitches, these bite-sized florets can be stitched up quickly.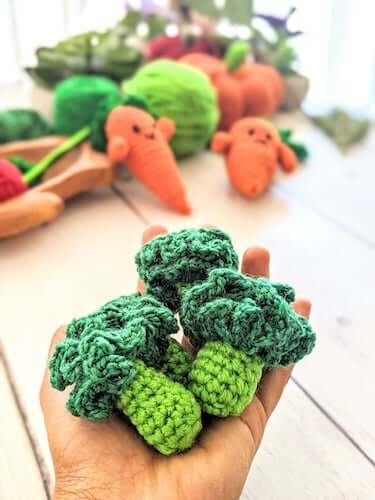 Get the Pattern by Asmi Handmade here

8. Dancing Chili Crochet Pattern by Moji Moji Design
Crochet food doesn't have to look the way that the food looks in real life. Food can be the inspiration for a cute character as we see in this dancing chili pattern.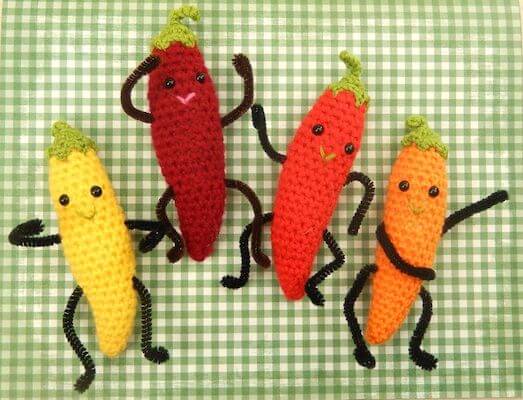 Get the Pattern here

9. Little Veggie Baby Mobile Crochet Pattern by Kendra Kat
Teach your baby to love their veggies early on with this adorable veggie baby mobile! This pattern includes everything you need to know to create your very own Ethel the Eggplant, Carl the Carrot, Ruby the Radish, Piper and Pete the Petite Peas, and Roux the Rabbit.
As baby gets a little older, the veggies will make great toys for playtime!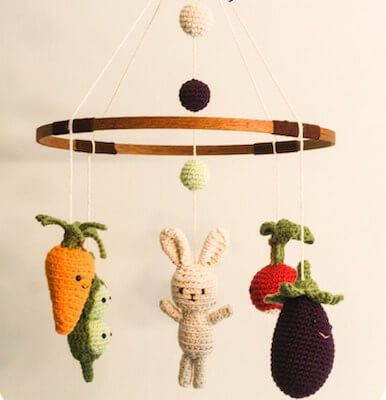 Get the Pattern by Kendra Kat here

10. Carrot Baby Toy Crochet Pattern by Make And Do Crew
This Carrot Crochet Baby Toy Pattern makes a quick DIY gift for all the tiny "bunnies" in your life. And of course, if you know a vegan baby, this veggie rattle is a total slam dunk! This easy crochet baby toy pattern can be made in one sitting while you catch up on your favorite shows.

Make it with cotton yarn if you prefer a yarn that isn't fuzzy since this toy is going to get a lot of chewing action. You can really use any worsted weight yarn you'd like though.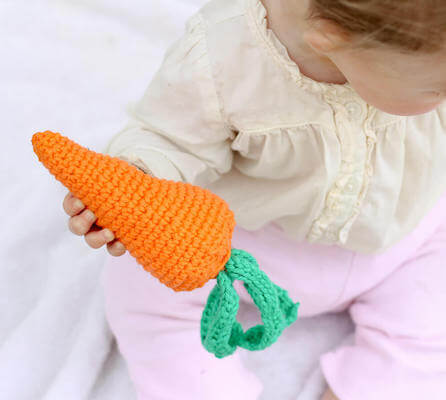 Get the Pattern here

11. Veggie Pen Cozies Crochet Pattern by Twinkie Chan
This vegetable medley works up quickly and is a fun way to celebrate nature's bounty and the arrival of Spring. Make a bunch and place them in a lentil-filled mason jar for a uniquely homegrown, handmade gift!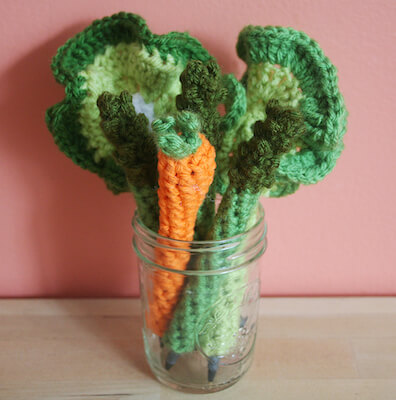 Get the Pattern here

12. Crochet Vegetables Pattern by Little Conkers
Crocheted vegetables make an unusual table centre, or natural playthings for your children. The vegetables are designed to be realistic and approximately life-sized when made in double-knitting yarn, with a 3.5mm (E-4) crochet hook.

But of course you can make mini or mammoth, fuzzy or sparkly vegetables with different yarns and an appropriate hook!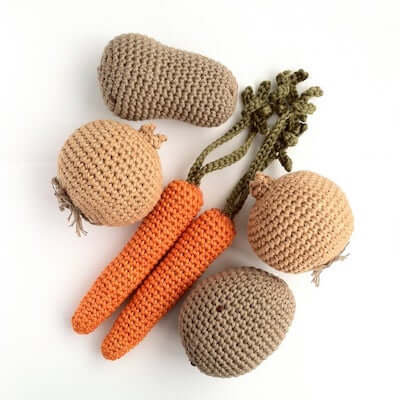 Get the Pattern by Little Conkers here

13. Two Peas In A Pod Vegetable Amigurumi Crochet Pattern by The Woobles
This pattern makes for a perfect Valentine's Day, wedding, wedding shower, or engagement shower gift! Surprise that special couple, bride, or groom with your very own DIY handmade present. Or make one for your own wedding, and show off your crochet prowess to your wedding guests.

Not in the wedding mode? Just drop the bows, and your peas will make for a cute housewarming gift, thoughtful present for a best friend, or adorable play food for a little someone. Spread that peas and love!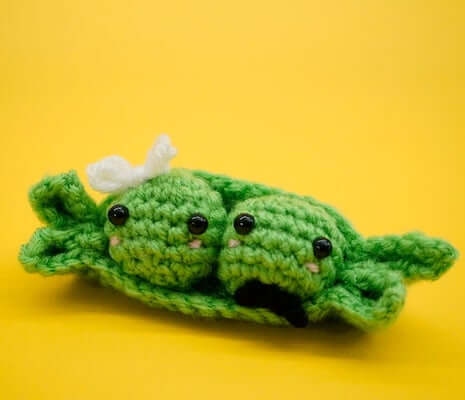 Get the Pattern by The Woobles here

14. Crochet Pumpkin Pattern by Petals To Picots
Another great Thanksgiving decoration that is also a yummy vegetable is the pumpkin. We see people crocheting these all throughout the fall, especially around Halloween, and it's a food that can really inspire us in any season.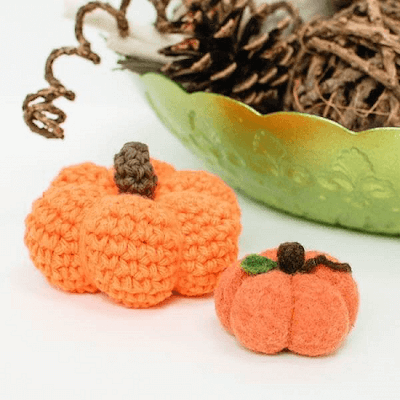 Get the Pattern here

15. Crochet Pepper Pattern by Little Conkers
This crochet pepper is intended to be as lifelike as possible, with a gentle tapering body and naturalistic bulgy top. The pattern includes notes on varying the pattern so if you are making more than one pepper, they can all be different.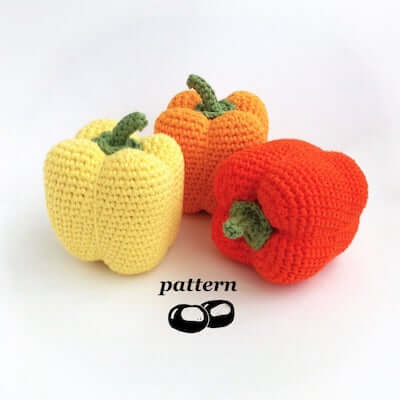 Get the Pattern by Little Conkers here
WITH THESE CROCHET VEGETABLE PATTERNS, WHO SAYS YOU CAN'T PLAY WITH YOUR FOOD?
You can create realistic looking play food that will last for years and promote open-ended, imaginative play. What are you waiting for? Once finished, please have a moment to share your works on our Facebook Page.

Can't get enough? Check out these crochet mushroom patterns, crochet fruit patterns and realistic felt food play patterns as well.

Whether they're play food or for the kids or fun projects for you, you'll love increasing your daily fiber intake with these crochet vegetable patterns!