The Spring season has passed, but soon, we'll see colorful Easter eggs, fuzzy little bunnies, and lots of pretty orange carrots everywhere. So, in the spirit of all things fresh and new, let's hop into spring with these totally cute crochet carrot patterns.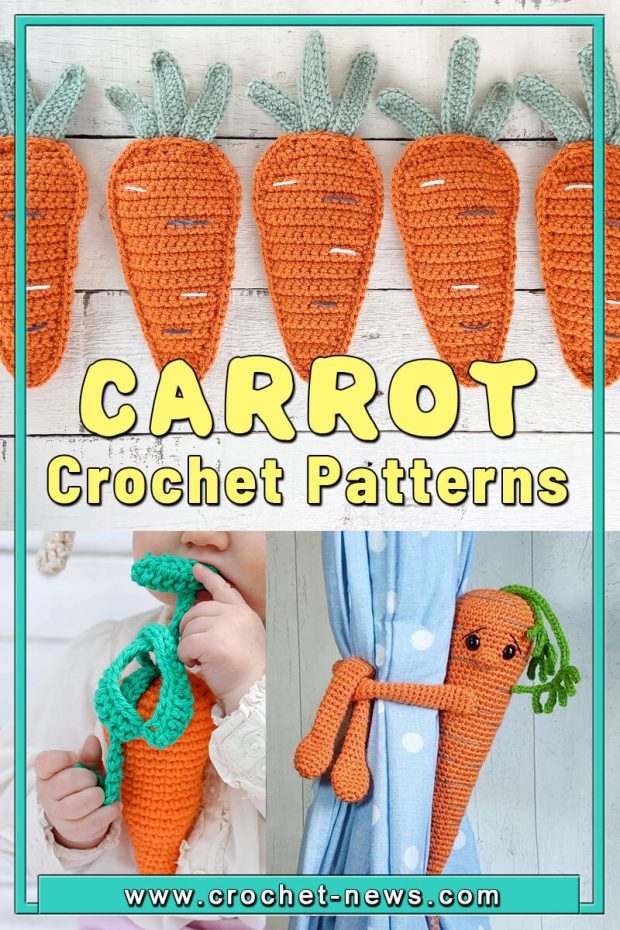 You don't have to be a bunny to love carrots! These crocheted vegetables that look good enough to munch will shoot off your hook in no time at all! Whether you're looking for carrot ideas for Easter and Spring, or are encouraging your kids through crocheted carrot toys, you're sure to find a terrific carrot craft here!

1. Carrot Amigurumi Crochet Pattern by Craft Passion
This Carrot Amigurumi Crochet Pattern is a great intro for beginners hoping to get a hang of amigurumi craft. It is a little project that will not take up much of your time. Perfect for a wind-down session during some me-time after a stressful day of work or school.
A ball of yarn could make a few carrots so make more of these little carrot toys, they are a great prop for photography decoration. Not only could you pair them with your other toys, but you could also put them alongside your dishes for a pop of color in food photography.
It would be a great addition for a monthly baby photoshoot as well, or it could just be a nice little gift for children or even pets.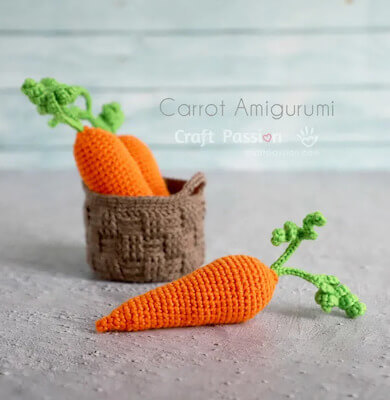 Get the Pattern here

2. Crochet Carrot Costume Pattern by Steady Hands Crochet
Look who's found a Baby Carrot! Just in time for Halloween. This adorable bunting/cocoon and hat with greenery is an easy choice for newborns and baby showers. Stretchy enough to keep the little arms inside and room for the legs to pull up or stay straighter.

The set is newborn size: hat is approx. 5" tall, 13" circumference, and the stretchy cocoon is approx. 18" long and 17" in circumference – enough wiggle room for tiny toes!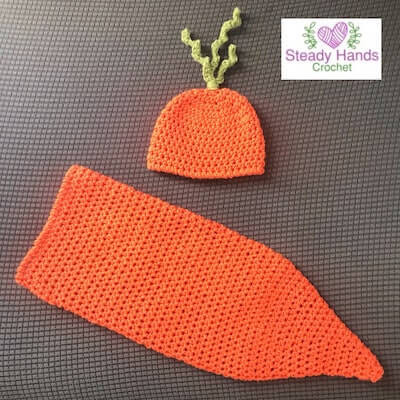 Get the Pattern by Steady Hands Crochet here

3. Large Crochet Carrots Pattern by Jen Hayes Creations
You've just found the best Large Carrot crochet pattern, perfect for creating carrots in larger sizes for home decor, play, gifts, stand-alone or group props, seasonal decor, and more!

The Large Crochet Carrot Pattern includes patterns for two different sized carrots which when made with a single or double strand of worsted weight yarn produces four different sized carrots.
Also included with the pattern are four different versions of the green carrot top, two slightly more advanced and two beginner-friendly versions that can also be mixed and matched to the various carrot sizes.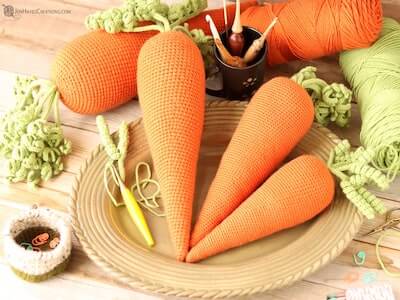 Get the Pattern by Jen Hayes Creations here

4. Favor Bag Crochet Carrot Free Pattern by Crochet Spot Patterns
This carrot cinch bag is made in one piece, starting from the point of the carrot and increasing. The carrot greenery is even simpler, made with a mesh stitch pattern of single crochet and chain 1 intervals, and topped with a lovely round of shells. Whip a few of these bags up in no time and fill with any little treat to give as gifts for Easter!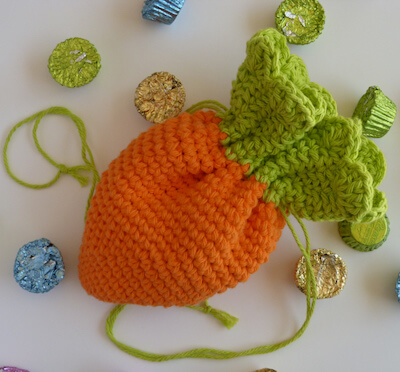 Get the Pattern here

5. Crochet Carrot Applique Pattern by Fiber Flux
Using just a bit of of yarn, this sweet little carrot works up in no time. The carrot is worked in just one round and is topped off with a cute little leaf cluster on top. A perfect applique for your market tote!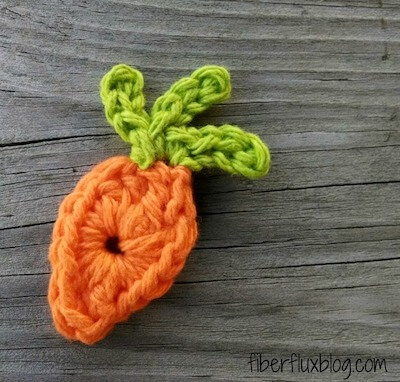 Get the Pattern here

6. Crochet Carrot Amigurumi Curtain Tie Backs Pattern by Cottontail And Whisker
These Carrot Curtain Tie Backs are a healthy dram come true for crocheters struggling to see in the dim light. For vegetable garden lovers, this carrot would be a fine curtain ornament. It looks so cute hgging the curtain!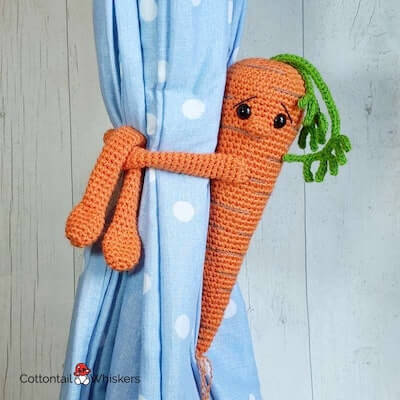 Get the Pattern by Cottontail And Whisker here

7. Crochet Carrot Garland Pattern by The Knotted Nest Shop
This sweet Crochet Carrots Garland will add a touch of Spring to your home! String the carrots as a bunting or use them as a fun decoration for your Easter table. You could even use them to dress up your Easter baskets!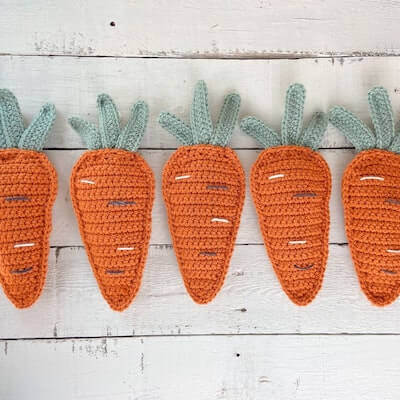 Get the Pattern by The Knotted Nest Shop here

8. Amigurumi Carrot Rattle Pattern by Make & Do Crew
This Amigurumi Carrot Rattle makes a quick DIY gift for all the tiny "bunnies" in your life. And of course, if you know a vegan baby, this veggie rattle is a total slam dunk!
This easy crochet baby toy pattern can be made in one sitting while you catch up on your favorite shows. Make it with cotton yarn if you prefer a yarn that isn't fuzzy since this toy is going to get a lot of chewing action. You can really use any worsted weight yarn you'd like though.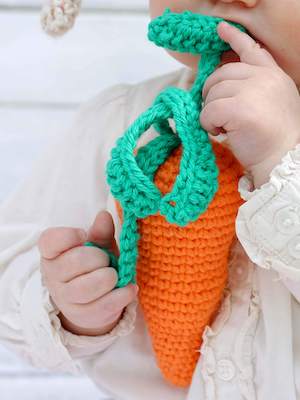 Get the Pattern here

9. Crochet Rainbow Carrot Pattern by Crochet Verse
Here's a pattern for Realistic Rainbow Carrots in every color they come in. Accurate to size and shape of the real deal. I am thinking these would be adorable in a bunting, wreath, for a little one's play kitchen, or just as farm house decor!
Each carrot will take you almost exactly one hour from start to finish, not too shabby for something cute like this!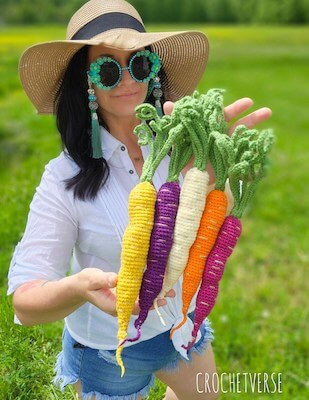 Get the Pattern by Crochet Verse here

10. Cute Crochet Carrot Basket Pattern by Divine Debris
Baskets are super useful, they can hold candy, pens, lipstick, or just trash if you're into that. What's great it in addition to their usefulness they're super cute to decorate with.
This Cute Carrots Basket is perfect for Easter without being "too" holiday-centric, which makes it great for any time you need a cute basket with carrots on it, and, really, who doesn't?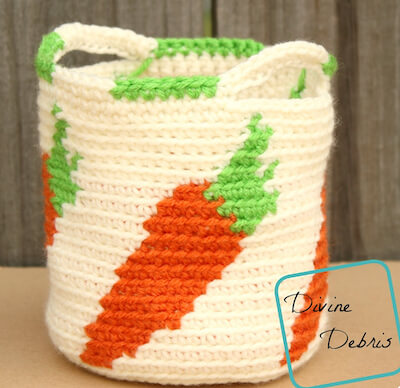 Get the Pattern here
VEGETABLES TYPICALLY GET THE BOOT, BUT THESE CROCHET CARROTS ARE KEEPERS AS THEY'RE SUPER CUTE!
Whip up a whole bunch and use them as a Christmas, Easter and for little ones to play greengrocers with! When you're done, be sure to share your makes on our Facebook Page. Seeing your finished projects bring us so much joy!

If you want to celebrate healthy eating, vegetarianism, or just the goodness of nature's foods, we have more crochet vegetables and crochet fruits for you to try next!

Bring your vegetable patch to life with these crochet carrot patterns! Happy crocheting!