Love—like really love—donuts? Then these 15 crochet donut patterns are for you! Celebrate your love for donuts by dedicating some crafty projects that pay a tribute to these delicacies. From donut pillows to donut coasters, this list has it all!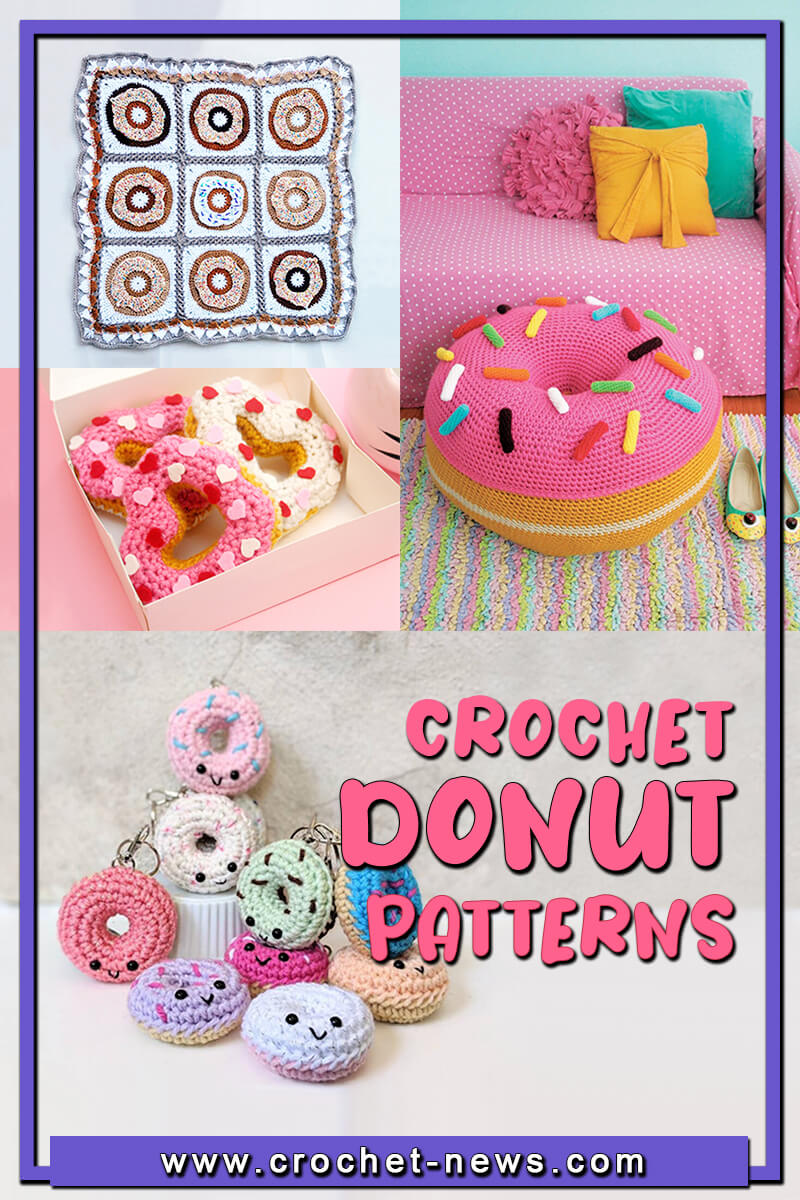 Tea party? Baked goods display? It's always the right occasion to indulge in these lifelike pieces of decadence. Crochet them in their delicious colors shown, or beautifully match the theme of your display or event.
15 Donut Crochet Patterns
With so many ideas to choose from, each one of them will surely inspire even the sweetest of appetites!

1. Giant Floor Pouf Crochet Donut Free Pattern by Twinkie Chan
Seriously, is there anything cuter than this Giant Donut Floor Pouf? This easy crochet donut free pattern will transform your room into a space that's uniquely yours by providing a cushy, cozy place to sit or rest your feet.

Stick with the colors as written or switch things up to go along with your favorite donut type – the choice is yours!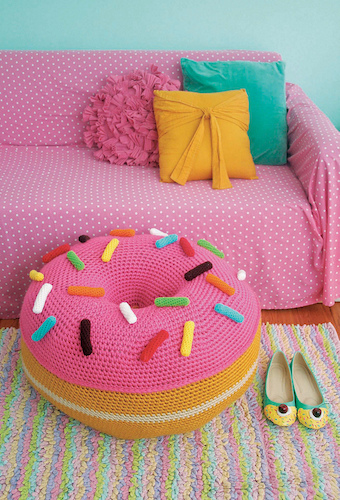 Get the Pattern here

2. Crochet Donut Keychain Pattern by Baby Cakes Studios
These donut keychains are perfect for all ages! The little ones can use them as okay food just leave off the keychain part for them.
School-age kids can attach them to their backpacks or lunchboxes and everyone else can use them on their keys. And of course, people who are old enough to drive can put them on their car keys!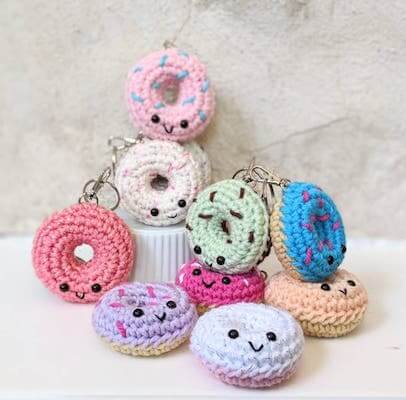 Get the Pattern by Baby Cakes Studios here

3. Crochet Donut Scrubby Pattern by Fiber Flux
These fun donut scrubbies are super simple to make and perfect for both bath and kitchen! Work a few up to make a set for your home and they also make great gifts too!
Here's more colorful crochet scrubby patterns.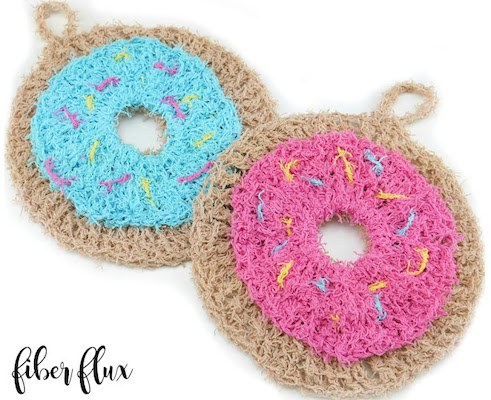 Get the Pattern here

4. Dangling Donut Ornament Crochet Pattern by Red Heart
This design will add a little sweetness and color to your decor. You probably know a slew of people who would like to hang a crochet donut on their tree!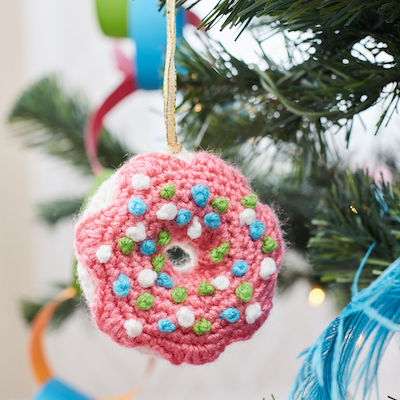 Get the Pattern here

5. Heart Donut Crochet Pattern by Twinkie Chan
These sure are some delicious looking heart-shaped crochet donuts! And with those little heart sprinkles they will delight any sweet-toothed sweetheart!
Create that yummy donut-frosting in any color you want: what a great stash buster as well as cute Valentine's Day gift!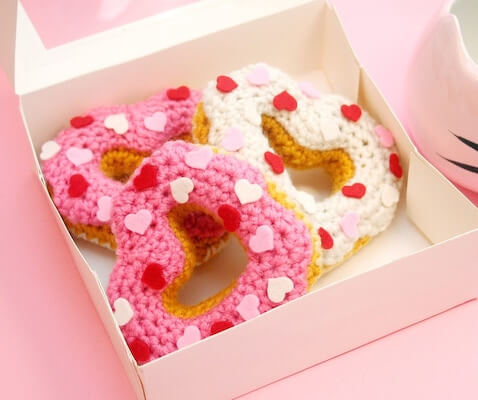 Get the Pattern by Twinkie Chan here

6. Crochet Tiny Donut Pattern by Sylemn
This Tiny Baby Donut is super quick to work up, beginner-friendly, and perfect for your amigurumi doll or stuffed animal to hold!
It can also make a pretty darn cute little keychain, necklace charm, bag or cell phone charm, miniature pin cushion, birthday gift for a friend, or even as a summer party favor! The possibilities are endless with flavors and sprinkle toppings!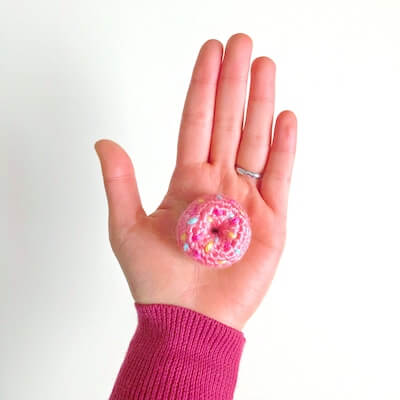 Get the Pattern by Sylemn here

7. Unicorn Donut Amigurumi Pattern by Minasscraft
If you love unicorns, donuts, and sparkles, this Unicorn Donut Amigurumi Pattern is perfect for you. These unicorn donuts look super cute as decoration or why not use them as play food for your kids (or yourself).

You may also add squeakers or jingly bells to make a unique unicorn donut baby rattles. Or maybe hang them somewhere as ornaments. Isn't that cute?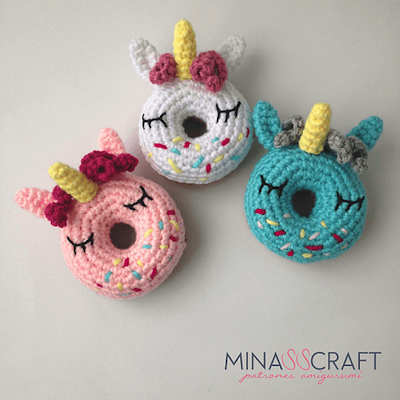 Get the Pattern here

8. Crochet Donut Blanket Pattern by Chai Sips Designs
Looking for a sweet treat? This Crochet Donut Blanket Pattern is a great baby shower gift or scrap buster – or both! The frosting uses small amounts of yarn making it great for working in a fun color scheme while also using what you have on hand.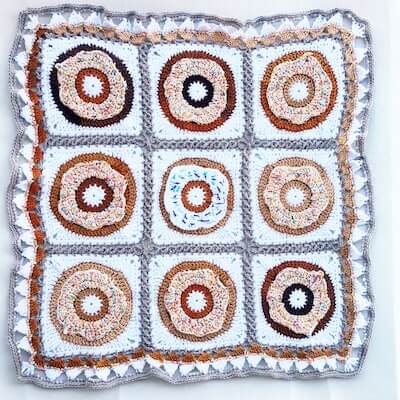 Get the Pattern by Chai Sips Designs here

9. Crochet Doughnut Coasters Pattern by Crochet Dreamz
Make yourself a unique and delicious looking doughnut coasters set using this incredible cute pattern. These Doughnut Coasters are easy to make and most certainly will protect your surfaces in the yummiest way!

These crochet doughnut coasters pattern also comes with a holder to keep them organized. Surprise your guests with this cute set!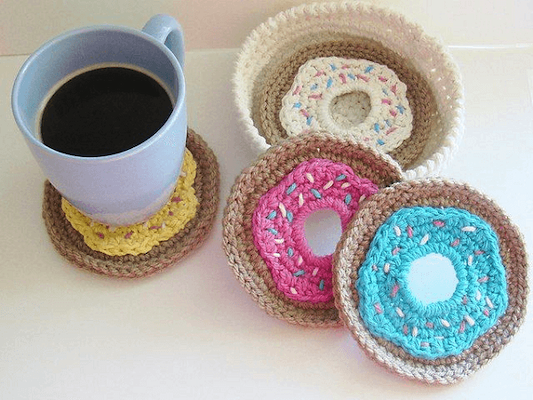 Get the Pattern here

10. Giant Donut Cushion Crochet Pattern by Gathered
What's better than a doughnut? A giant one of course! Go jumbo with this large donut cushion pattern. This magnificent ring of two-toned goodness will put your ripple stitch cushions to shame.
If you're au fait with whipping up stacks of granny squares then this big doughnut pattern will be a piece of cake! With only two crochet stitches to master (double crochet and slip stitch), beginners can totally have a go at making this crochet doughnut, too.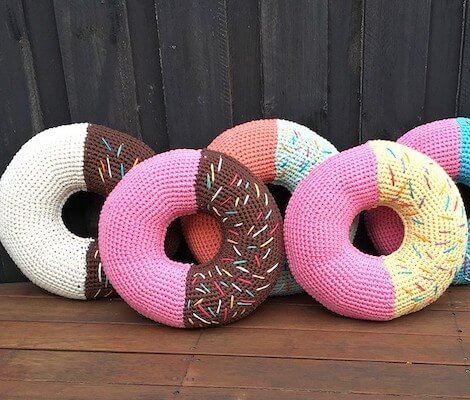 Get the Pattern here

11. Crochet Donut Trio Pattern by Tiny Friends Crochet
Make a dozen donuts, of all shapes and flavors! This pattern includes directions on making a classic donut, a Boston Cream (or jelly filled), and a maple bar (or long john)! You can make traditional glazed, a jam-filled jelly donut, a chocolate long john with sprinkles – the possibilities are unlimited.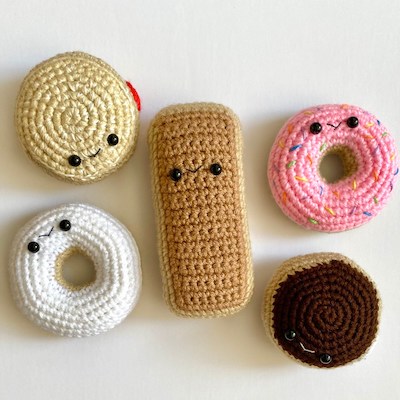 Get the Pattern by Tiny Friends Crochet here

12. Doughnut Earrings Free Crochet Pattern by Stella's Yarn Universe
These Doughnut Earrings are just too cute not to show them off outside the home, aren't they? However you can use this pattern to simply crochet them as decoration.
Or you could turn them into cake toppers or doughnut toppers, how cool would that be? You could also make a doughnut baby mobile, or a doughnut garland for your next party – the options are endless!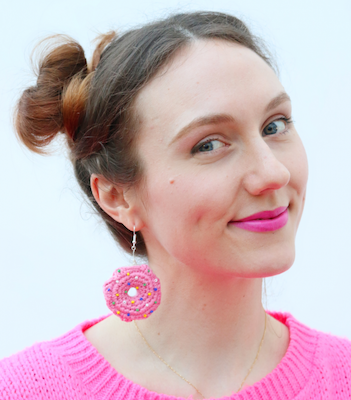 Get the Pattern here

13. Halloween Donut Amigurumi Pattern by Amigurumi Food
Scary donut? Why not! This one is sprinkled with eyeballs and bats, and will make a fun decoration on your table. Have fun making it and adorn it with whatever comes to your mind. You can make a bunch of these in no time at all!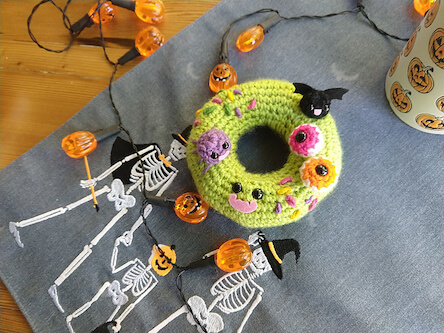 Get the Pattern here


14. Crochet Donut Pattern by Red Heart
These frosted crochet donuts and donut holes look almost good enough to eat! The pattern features crocheting in rounds, single crochet, chain and assembly techniques.
One ball makes 2 delectable donuts and 4 donut holes. Add them to your collection or give them to a child to serve at their imaginary tea party!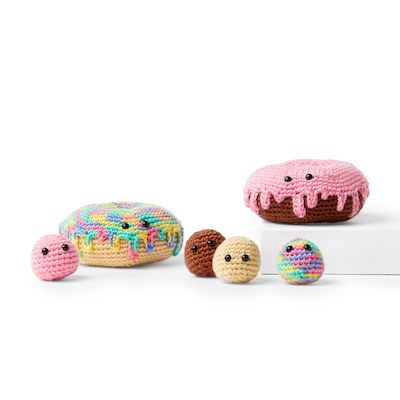 Get the Pattern here

15. Festive Donut Garland Crochet Pattern by Fiber Flux
This Festive Donut Garland is a super fun project to brighten up any space! Sweet little donuts are all lined up with pastel icing and cute embroidered sprinkles too! This would be so much fun for a birthday or other special celebration too!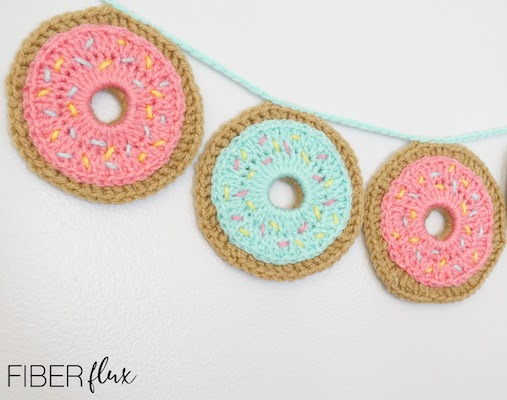 Get the Pattern here
GET FREE DONUTS EVERYDAY – WHEN YOU MAKE THEM YOURSELF!
Do you know a fellow crocheter who loves donuts just as much as we do, if not more? Share this post with them so they have all kinds of creative new ways to combine their favorite things in one place! And be sure to share your finished pieces on our Facebook Page. We'd love to see!

It's so fun to crochet food items. If you want to celebrate healthy eating instead, vegetarianism, or just the goddess of nature's foods, check out these crochet vegetable, fruit patterns and Felt Food Patterns!

Warning: Making of these crochet donut projects may cause serious donut cravings, so you may need to consult a local bakery beforehand!