Our tutorial is all about the crochet linen stitch pattern, a great stitch that is quick and easy to learn.
With the linen stitch, you can create your own patterns using just a couple of basic stitches.
We'll show you how to work the linen stitch below–just keep reading!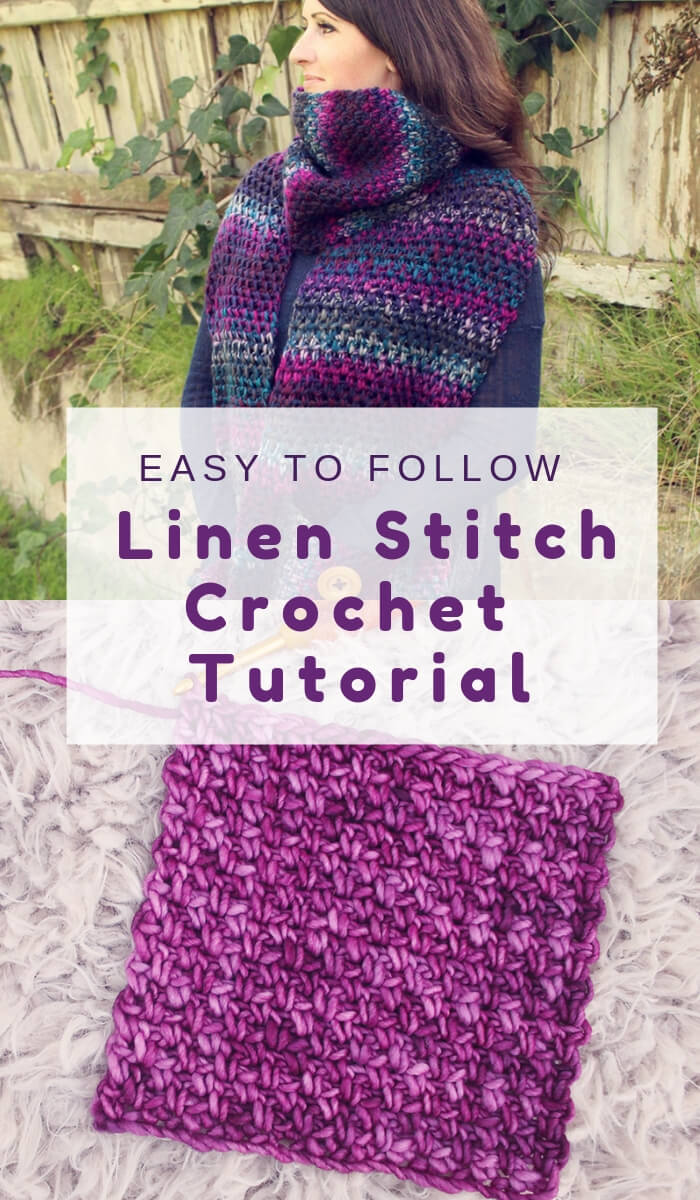 Written Linen Stitch Crochet Tutorial
Techniques Used
Step 1: Crochet foundation chain in whatever number you'd like. For practice, 20 is a good start.
Step 2: This begins row 1. Work a single crochet stitch into the FOURTH chain stitch from your hook.
Step 3: Chain ONE and then SKIP the next chain stitch. Work a SINGLE CROCHET stitch in the next chain stitch.
Step 4: Repeat STEP 3 to the end of the row.
Step 5: This step begins ROW 2. Chain TWO.
Step 6: In the space created by the FIRST chain-1, work a SINGLE CROCHET stitch.
Step 7: Chain ONE. Work a SINGLE CROCHET stitch in the next chain-1 space.
Step 8: Repeat Step 7 to the end of the row. End with a SINGLE CROCHET stitch.
Step 9: Repeat Steps 2 through 8 to your desired length!
Linen Crochet Stitch Video Tutorial
What is the Linen Stitch?
The linen stitch for crochet is a must learn! You only need to know two stitches: chain stitch and single crochet stitch.
In linen stitch crochet patterns, you work single crochet stitches between other single crochet stitches!
The result is much more attractive, while being just as simple, as working row after row of single crochet. Yes, I know that sounds odd, but trust me, it works!
Even more, this stitch is completely versatile as it works with any weight yarn and hook size that you want to play around with.
I find that some of my favorite projects have been when I just try out different stitches and yarns. I like to see where the project takes me!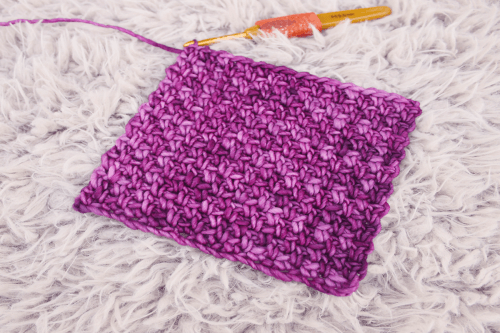 What Can You Use the Linen Stitch for in Crochet?
Many of us needle crafters enjoy having a yarn and hook in hand while doing other activities, like watching a television show or listening to an audio book.
Linen stitch crochet projects are perfect for this as you don't have to count complicated stitches while you work!
Another great thing about the linen stitch? It's perfect for color pooling! What is color pooling? The basic answer is creating patterns with variegated yarns.
Personally, I love using variegated yarns, whether they create specific patterns or not. Specific kinds of variegated yarns create some wonderful patterns, such as self-striping yarns.
Linen stitch takes advantage of the multiple colors and allows the yarn to be the star of the show, rather than the pattern itself.
Patterns to Use the Linen Crochet Stitch
The linen stitch is great for a number of patterns, such as the following scarf pattern!

Linen Stitch Crochet Scarf Pattern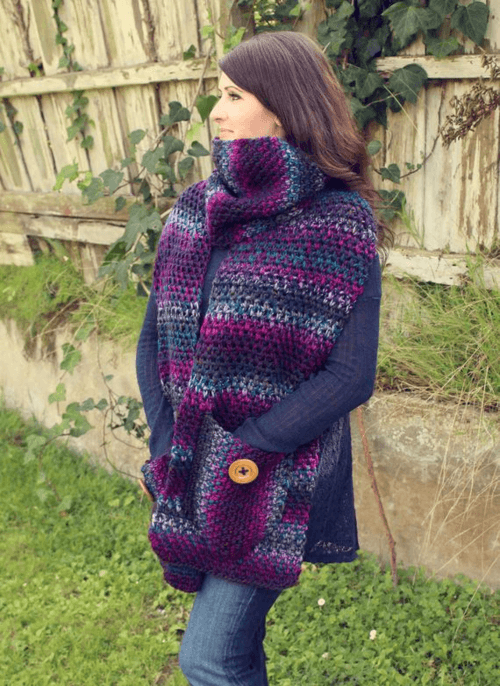 Scarf patterns are a great way to practice a new stitch! They aren't huge projects to take on and make wonderful gifts (assuming you don't keep it for yourself, of course).
This pattern for an amethyst scarf by Julie King combines the linen stitch with a beautiful self-striping yarn to create a fun and functional piece to add to your wardrobe once you've finished.
King's Etsy store, Gleeful Things, is the place to go for this great pattern.
Okay, so now that you know how to work the linen stitch for crochet, it's time to put that new stitch to work for you! Because it is such an easy stitch to work with, you can easily create your own patterns to work up whatever item you'd like.
Play with different yarn weights and textures and different hook sizes to see what you can come up with to really have the most fun with the linen stitch for crochet!
Crochet Linen Stitch
We hope you have enjoyed learning the linen stitch crochet.
Be sure to post the patterns you make to our Facebook page.
Check out all of our crochet stitch tutorials here.
Happy crocheting with your new crochet linen stitch!