Textured crochet stitches are a great way to add interest. The stitches do not only feel nice, but they can really make the project pop. If you are a beginner, you have probably passed on patterns that use textured crochet stitches. But you do not have to.
There are a lot of beginner-friendly textured crochet stitches you can master in no time.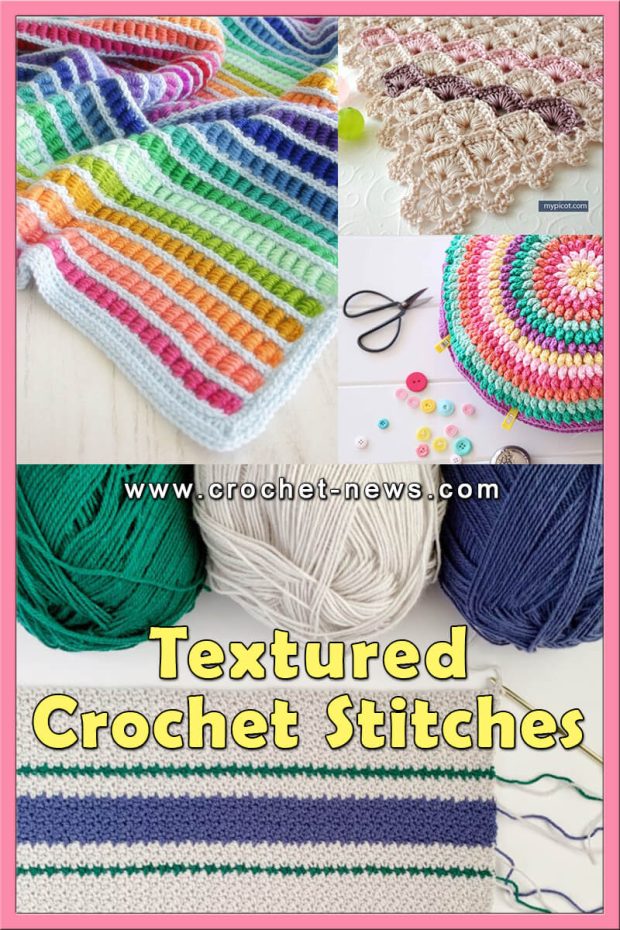 Below are 15 textured crochet stitches. We have included a variety of stitches that range from basic to more advanced.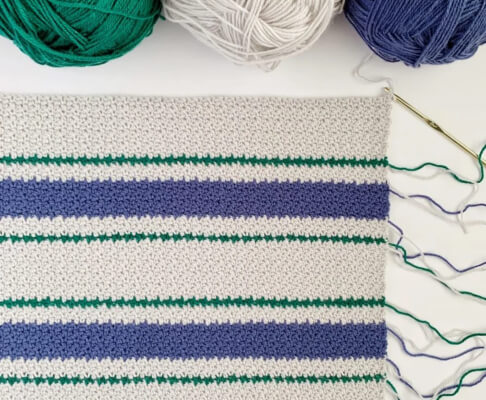 1. Popcorn Stitch
The popcorn stitch is one of our favourite textured crochet stitches. It is used to add dimension and texture. It can also be used to add eye-catching pops of colour.
You can often find the popcorn stitch in cold weather projects that need a puffy, thick texture. The stitch can be found in patterns such as hats, blankets, scarves, sweaters, and more.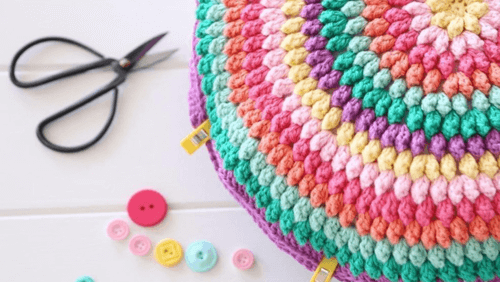 Find the popcorn stitch tutorial HERE
2. Bullion Stitch
If you are looking for unique textured crochet stitches, the bullion stitch is fun to learn. It is an advanced crochet stitch. The stitch is made by working a large number of yarn overs and then pulling the hook through all of them.
The bullion stitch can be found in quite a few vintage designs. It can be used to make baby blankets, scarves, cowls, pillows, etc.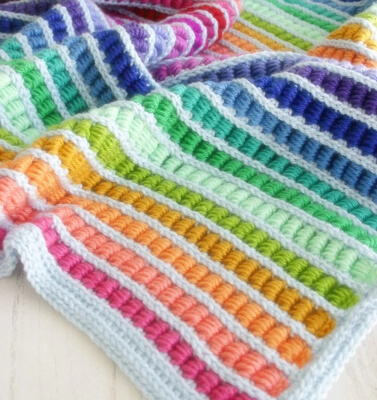 Find the bullion stitch tutorial HERE
3. Diamond Stitch
The diamond stitch creates a diamond shaped lattice pattern on top of a base. To make the stitch, you will need to know chain, double crochet, front post treble crochet, and front post treble crochet 2 together.
The diamond stitch is a repeated stitch that produces a constant, flowing design. It can be found in patterns for blankets, pillow covers, hats, bags, and more.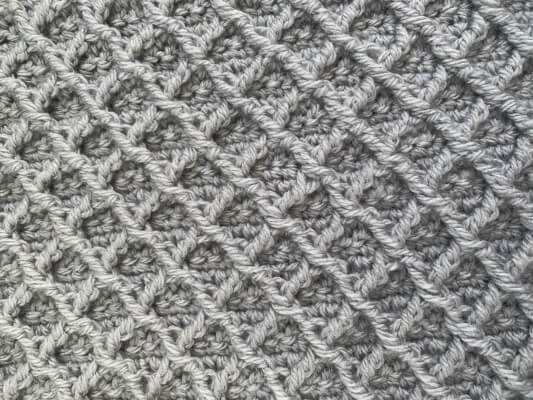 Find the diamond stitch tutorial HERE
4. Trinity Stitch
The trinity crochet stitch creates a lot of texture. It is a lovely stitch that is easy to make. The vertical bars produced by the stitch are made using chain stitches and decrease stitches.
The textured crochet stitch creates a solid fabric with a very minimum number of holes. It can be used to make scarves, hats, bags, and more.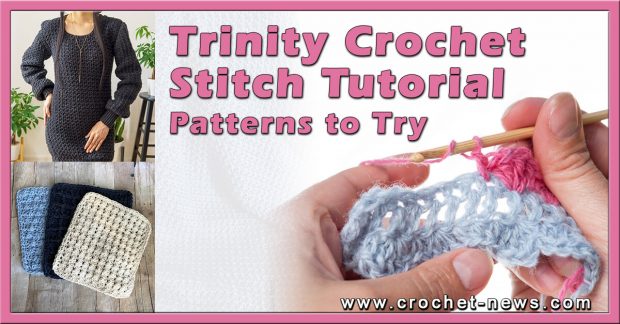 Find the trinity stitch tutorial HERE
5. Wave Stitch
Make stunning wave designs using the wave stitch. The stitch creates a 3D appearance. It is an easy, beginner-friendly crochet stitch that is a lot of fun to make.
The wave stitch can be found in a variety of crochet patterns such as scarves, blankets, shawls, cowls, etc.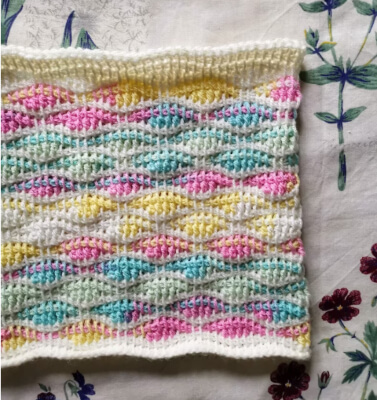 Find the wave stitch tutorial HERE
6. Basket Weave Stitch
The basket weave stitch produces a gorgeous pattern that mimics a basket. To create the basket weave stitch, you use an alternating pattern of both the knit stitch and the purl stitch.
The basket stitch is an advanced crochet stitch. It can be used to make washcloths, potholders, cowls, scarves, hats, and more.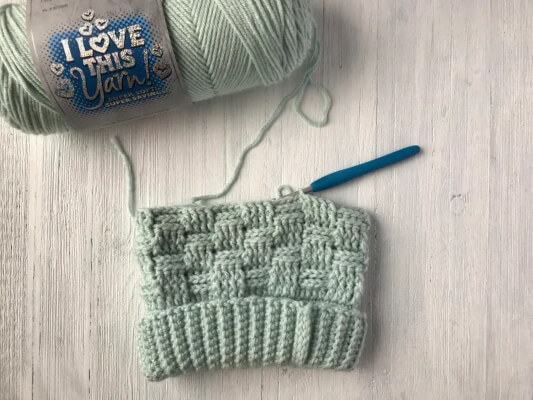 Find the basket weave stitch tutorial here
7. Waffle Stitch
Looking at the pattern, you can easily see why it is called the waffle stitch. The stitch creates repeating squares that look just like a waffle. The fabric it creates is sturdy, thick, and squishy.
The waffle stitch is often used when making blankets, hats, scarves, and wash cloths.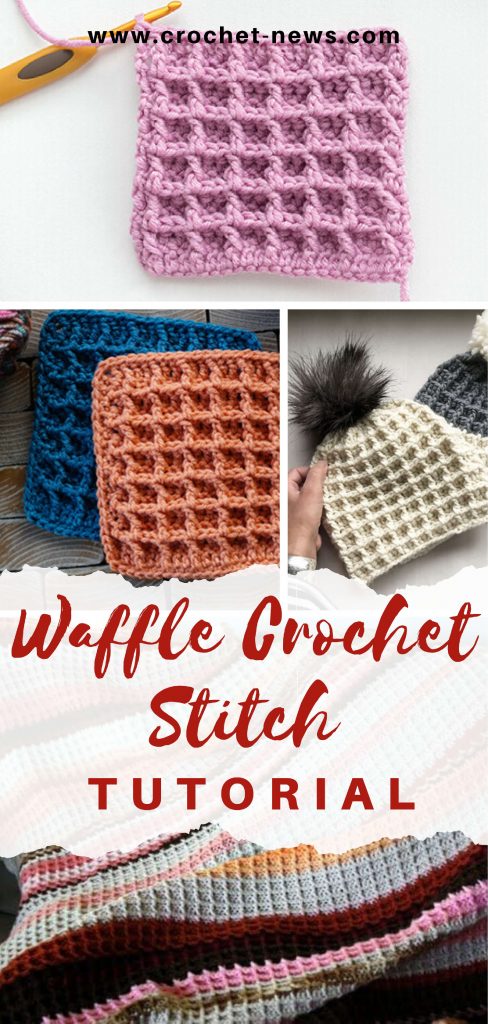 Find the waffle stitch tutorial HERE
8. Bean Stitch
The bean stitch is used to create a thick, warm fabric that is reversible. Mastering the stitch can take a bit of time. But once you learn it, you will want to use it all the time.
You can use the bean stitch to make winter accessories. It works well for hats, scarves, sweaters, wraps, and blankets.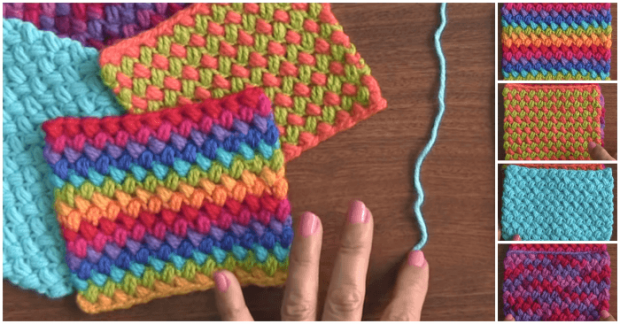 Find the bean stitch tutorial HERE
9. Raspberry Stitch
The raspberry stitch creates a fabric of staggered, textured bobbles. These bobbles resemble the surface of a raspberry.
This stitch is made using a multiple of 3 stitches. The bobbles are created on the wrong side of the fabric. You can find the raspberry stitch used in hat, scarf, and blanket patterns.
10. Griddle Stitch
The griddle stitch is also referred to as the cobble stitch. It is created using a mixture of beginner-friendly stitches. The fabric created has a texture that resembles cobblestone streets. Fabric created using the griddle stitch is ideal for making dishcloths and blankets.
11. Cluster Bobble Stitch
The bobble stitch creates a warm yet lacy fabric. Repeating bobbles create the warmth. The lacy feature is produced from the arches that band together the bobbles.
Some common projects that use the cluster bobble stitch are blankets, scarves, and shawls.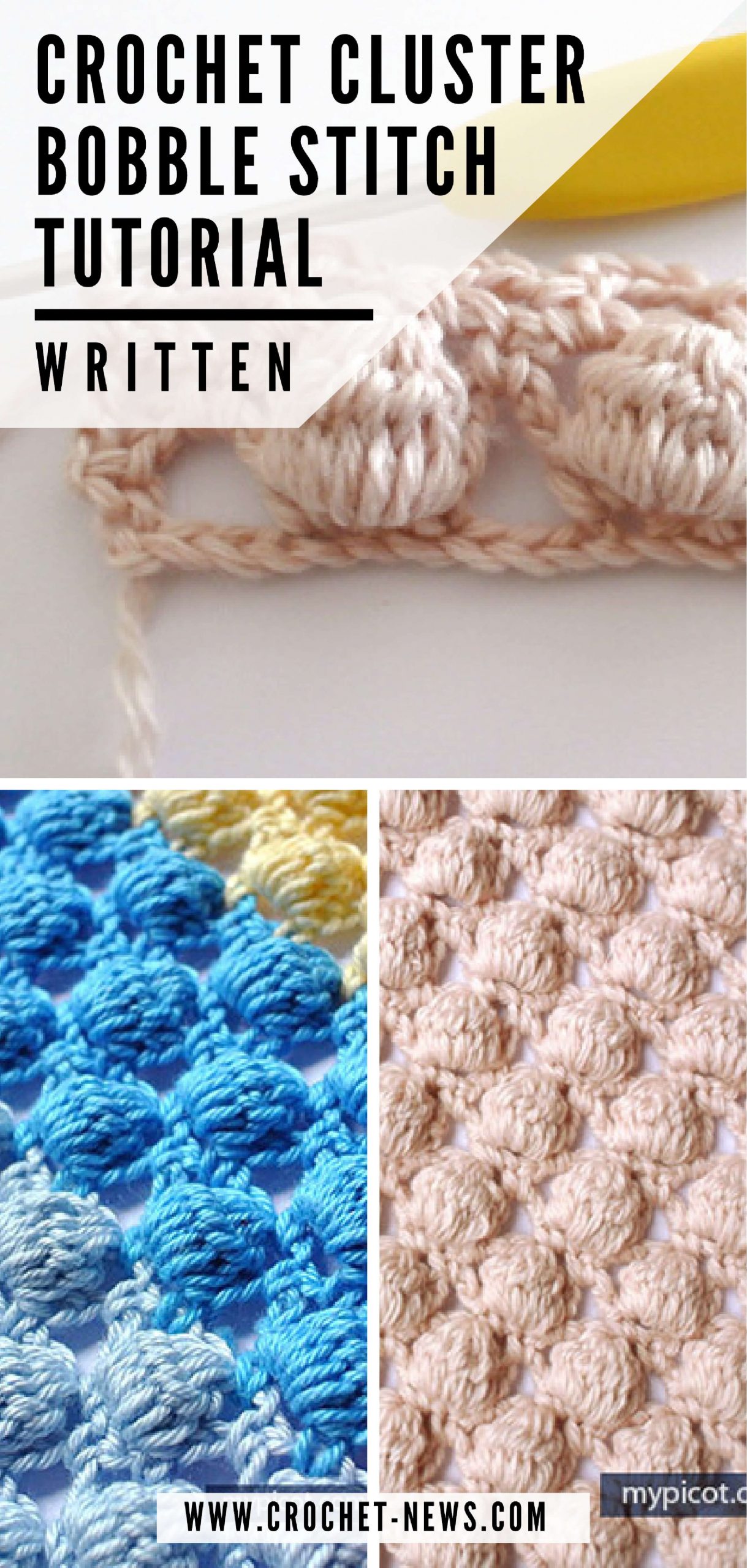 Find the bobble stitch tutorial HERE
12. Box Stitch
The box stitch is one of the most unique textured crochet stitches on our list. The stitch creates a repeating pattern of boxes.
Box stitches are becoming more popular among crocheters. You can find them used in blanket and shawl patterns.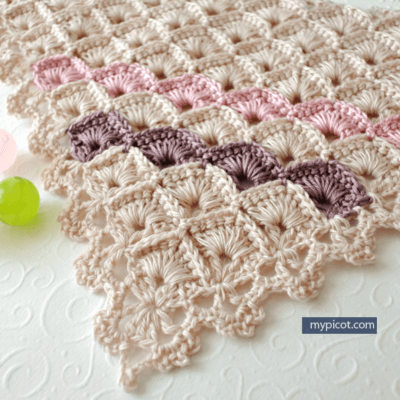 Find the box stitch tutorial HERE
13. Crocodile Stitch
This must be the most interesting stitch in our list of textured crochet stitches. The crocodile stitch is eye-catching and fun to make.
The crocodile stitch is used to create interest. You can find the stitch used a lot when making fantasy projects that need a stitch that resembles dragon scales or fish scales. However, it can also be used to make hats, scarves, slippers, and more.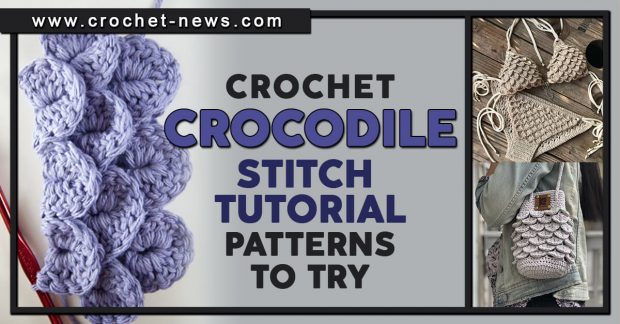 Find the crocodile stitch tutorial HERE
14. Lotus Stitch
This is a beautiful stitch that forms a nice, thick fabric. The stitch creates a puffy design that resembles small flowers.
The lotus stitch is an intermediate level crochet stitch. It is a great stitch for making blankets, pillows, cuffs, and placemats.
15. Alpine Stitch
Learning to make the alpine stitch is easy. However, the unique texture it creates looks complicated. The stitch creates a repeating V pattern that resembles an alpine tree forest.
If you know how to make a single crochet and a double crochet, you will be able to make the alpine stitch. The alpine stitch is a great choice for making blankets and winter accessories.
Crochet is a fun hobby that is relaxing and rewarding. And there are always new and exciting textured crochet stitches you can add to your repertoire.
For more stitches, check out round-up of Advanced Crochet Stitches, Crochet Stretchy Stitches, Open Crochet Stitches, Unique Crochet Stitches, Pretty Crochet Stitches, Tight Crochet Stitches, and Fastest Crochet Stitches. And share your experience learning these stiches on our Facebook Page.
Do you love creating projects will lots of texture? If so, you do not want to use the same stitch over and over again. Instead, add some of these textured crochet stitches to your projects.