Check out some of the unique crochet stitches on the web – you have probably never seen many of these before! Maybe you've been using the same crochet stitch patterns repeatedly and are ready for some new ones.
If that sounds like you, or you just want to learn something new, then you've come to the right place!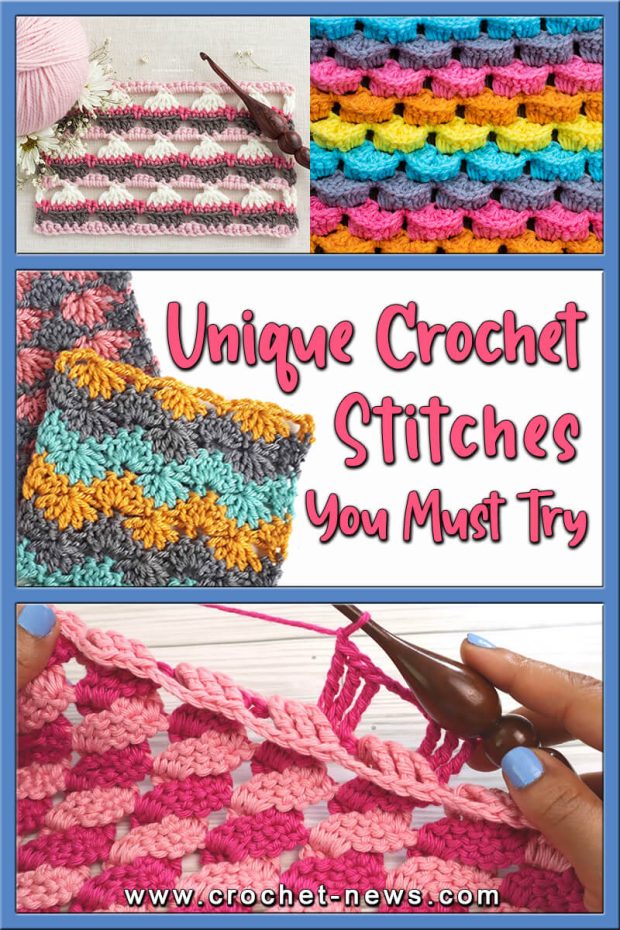 Are you looking to spice up your crochet projects with a bit of whimsy or dimension? Take a look at these 15 unique crochet stitches to be inspired by some of the most interesting newer crochet stitches hooked today!

1. Textured Wave Crochet Stitch by B.Hooked Crochet
The textured wave crochet stitch is a great way to bring a little extra texture to your projects. It isn't a reversible stitch so it's best suited for projects where only one side will show.

The textured wave crochet stitch works up stretchy and dense and although it's perfect for medium weight yarn, it works up nice in other yarn weights too.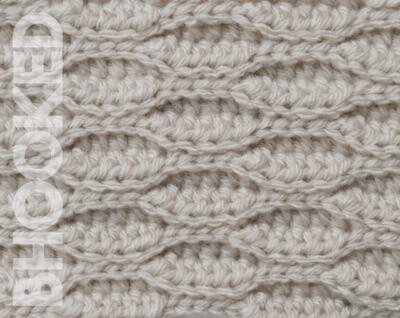 Learn the stitch here

2. Easy Braided Crochet Stitch by Crochet Beja
Here is an interesting proposition of a braided stitch that produces a firm, but still lacy material that would be excellent for all blanket or throw type projects.

There are countless unique crochet projects you can create using the braids stitch! For the wintertime, you can make a warm hat using the braided stitch! You can use alternating colors for each braid strand.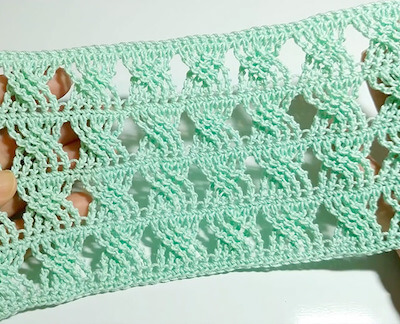 Learn the stitch here

3. Crochet Spider Stitch by Stitching Together
The Spider stitch is a classic stitch, with a beautiful texture, so don't let the name scare you off. It's just called the spider stitch because it has a specific group of stitches that when combined, resemble spider legs.
But once you've got several rows worked together, it's really just a pretty fabric. No bugs involved! This stitch is very versatile because of its short repeating pattern and it is reversible. It can be used for just about anything from dishcloths to afghans.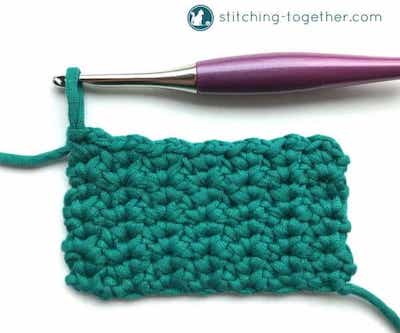 Learn the stitch here

4. Crochet Arrow Stitch by Yarn & Hooks
If you like crochet patterns with special style, this arrow stitch is a perfect technique for you. With one of the most eye-catching styling of this stitch, you will be able to crochet the most desirable and complex projects you could only dream about.

This beautiful stitch can seem intimidating to some but once you have mastered your basic stitches, you will be well on your way to creating this gorgeous stitch.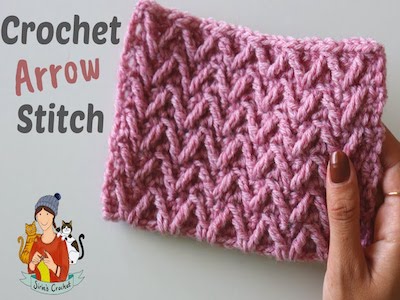 Learn the stitch here

5. Crochet Drop Loop Stitch by For The Frills
The Drop Loop stitch is a very unique crochet stitch that uses a wooden dowel or knitting needle to create loops of yarn. Crochet chains are pulled up to form 'loops' and then the loops slide onto the dowel.
You'll then crochet into the loops which creates the vertical mesh texture. The loops are a great way to create sections of mesh in crochet garments or accessories that have a 'knit-like' look to them.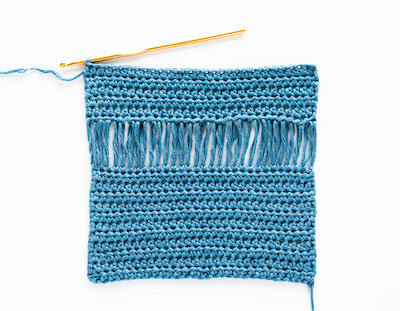 Learn the stitch here

6. 3D Crochet Stitch by Naztazia
This is a rather unique stitch, wouldn't you say? It's a lot of fun to make and even cooler to look at with that 3 dimensional effect. This 3D stitch works nicely for blankets, scarves, shawls, and more. Definitely is nice when you need some texture.

The effect is created by doing a series of front post double crochet together stitches. Then you offset those stitches every other row. If you already know how to crochet a double crochet, chain, and dc2tog type of stitches, you'll find this rather easy to make!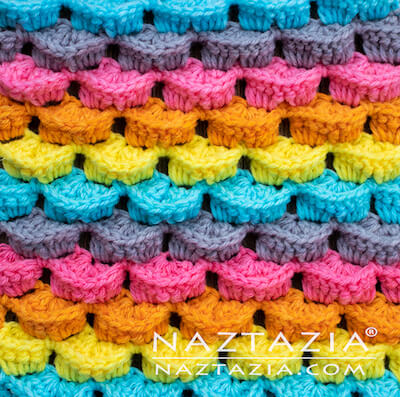 Learn the stitch here

7. Crochet Feather Stitch by Annie Design Crochet
This is called a feather stitch, as the clusters of double crochet and eyelets will remind you of birds feathers. The stitch creates a substantial fabric with a lot of visual interest and loads of potential for colour play.
It is a very relaxing stitch to work. It is best to use 2 or more colours, so that the stitch design is more apparent. ( See our Crochet Feather Stitch Written Tutorial )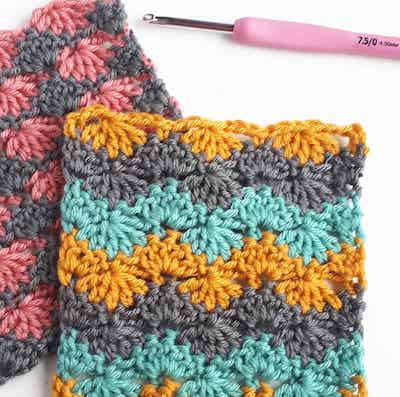 Learn the stitch here

8. Crochet Apache Tears by Sarah London
Are you a fan of texture? Then you're going to love the Apache Tears crochet stitch. This beautifully tactile stitch adds an attractive and interesting texture to all sorts of projects, from blankets to bobble hats.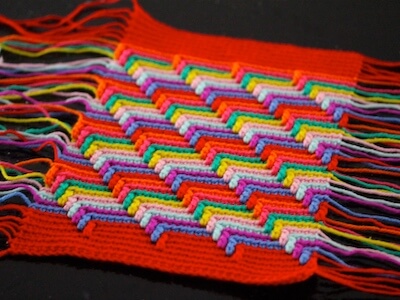 Learn the stitch here

9. Crochet Leopard Stitch by E'Claire Makery
Let your inner wild child out with the Leopard Stitch! If you're looking for a unique crochet stitches to use for blankets, garments, and more, this stitch will add a wild flair.

By just using tapestry crochet (or intarsia crochet if your prefer), you are able to create leopard spots by changing colors in crochet! Soon you'll want to add crochet leopard stitches to every crochet pattern!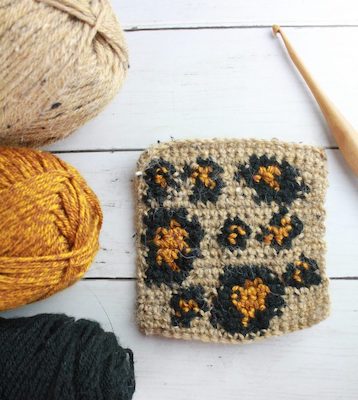 Learn the stitch here

10. Triangles And Trees Crochet Stitch by Joy Of Motion Crochet
This lacy and unique free crochet lace stitch pattern is perfect for summer! It would work wonderfully for garments, shawls, or other summer crochet accessories!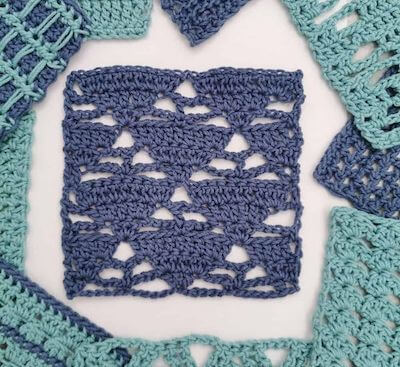 Learn the stitch here

11. Interlocking Twist Unique Crochet Stitch by Little John's Yarn
Here's a neat crochet stitch that you've probably never seen before! The beautiful 2 color spiral looks complicated, but it's made entirely with double treble stitches and chains! On top of that, once you are finished with the setup rows, it's an easy 2 row repeats from there.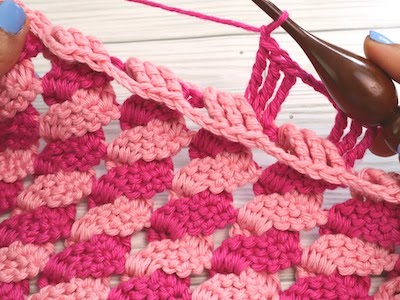 Learn the stitch here

12. Crochet Royal Stitch by Urbaki Crochet
The Crochet Royal Stitch is a pattern that uses long loop stitches and treble crochet to create a unique lace texture. It looks a bit like a crocheted crown and is a stitch that it's simple to learn and great for many different types of crochet projects.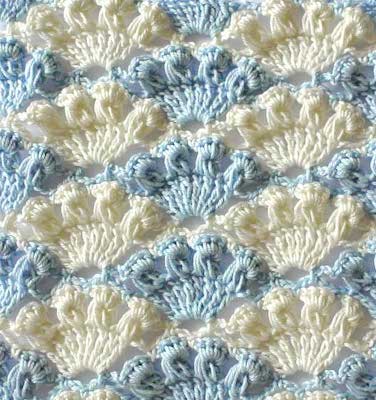 Learn the stitch here

13. Extreme Drop Leaf Crochet Stitch by Nana's Crafty Home
This stitch is so beautiful and unique! Worked over several stitches, keeping loops on our hook throughout and then pulling a loop through at the end creates a very stunning stitch. When worked in fall colors, it really does look like a leaf!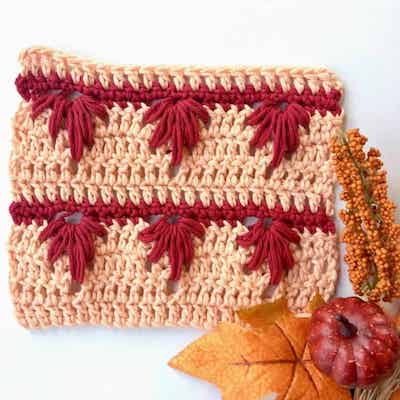 Learn the stitch here

14. Crochet T Stitch by Naztazia
The Crochet T Stitch works up fast and easy and looks great in a blanket. Front post stitches create the unique look. This T Stitch is an interesting crochet pattern.
You can see the letter T shapes that form in the final work. Elongated front post stitches along with traditional double crochet stitches form the pattern. There are elements of the crochet basket weave stitch in it as well.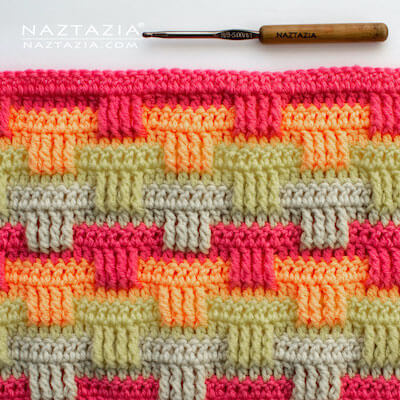 Learn the stitch here

15. Crochet Cupcake Stitch by Hopeful Honey
The Cupcake Stitch creates a playful and whimsical fabric, making this the perfect stitch to use when crocheting lightweight scarves and blankets. Treat yourself this week by crocheting these darling little cupcakes, and it won't be long before you're in the kitchen baking up a scrumptious storm.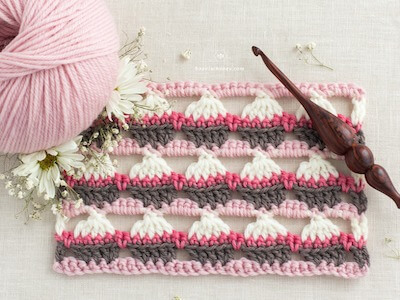 Learn the stitch here
IMPROVE YOUR SKILLS AND BEEF UP YOUR CROCHET STITCHES LIST BY PRACTICING YOUR HAND AT THESE UNIQUE CROCHET STITCHES!
Learning a new crochet stitch or technique is always fun, don't you agree? If you're keen to challenge yourself this weekend, you're in luck! We have more decorative unique crochet stitches you must try, as well! Also, check our Crochet Ribbing Tutorial, Leafhopper Stitch Crochet Tutorial, Pretty Crochet Stitches and Tight Crochet Stitches.
Be sure to post some pictures of your stitches on our Facebook Page. We love seeing what you create from these stitches!
Once you get comfortable with any of these unique crochet stitches, you might find yourself using them for your next project! Have a lovely day crocheting!