Crochet ribbing is great for creating warm, thick fabrics. There are several ways to create ribbing. You can use it for many types of patterns from hats to blankets, and sweater cuffs.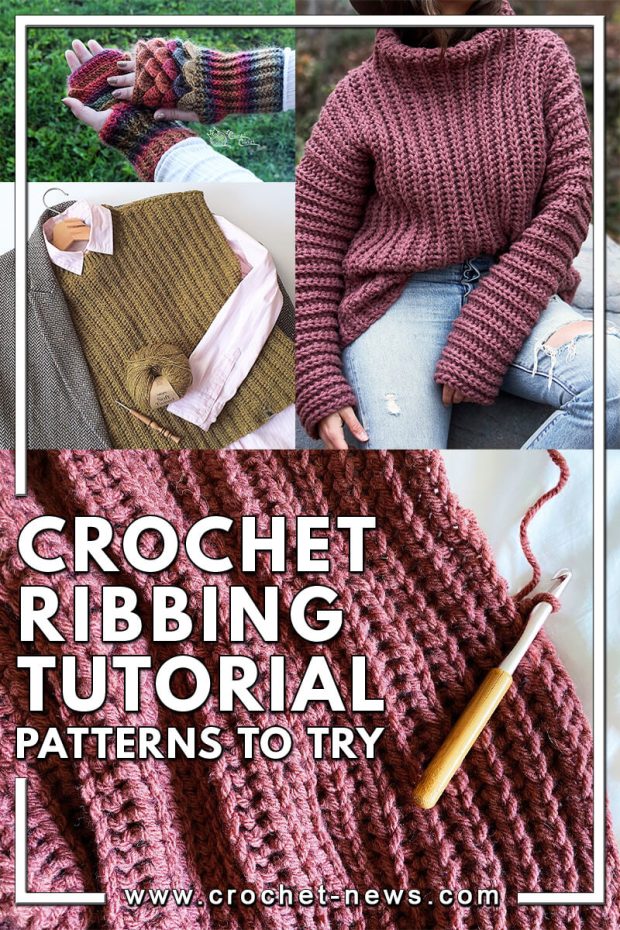 What is Crochet Ribbing?
Crochet ribbing can be created using several different techniques. However, they all produce a fabric with ribbing. The ribbing is often used to create a stretchy fabric that is warm and thick.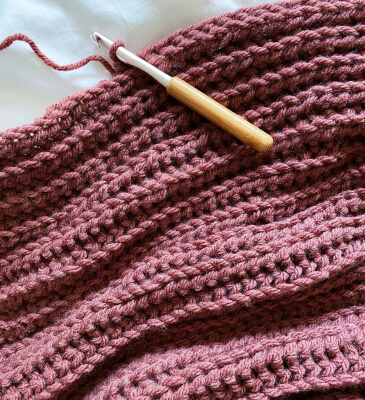 Patterns that Use Crochet Ribbing
Crochet ribbing adds texture, thickness, and stretch. It is a great stitch for winter projects.
Types of patterns that use crochet rib stitch:
Blanket
Scarves
Afghans
Hats
Etc.
How to Crochet Ribbing
First, gather your supplies. You will need:
Yarn
Coordinating Crochet Hook
Scissors
Crochet Ribbing Tutorial: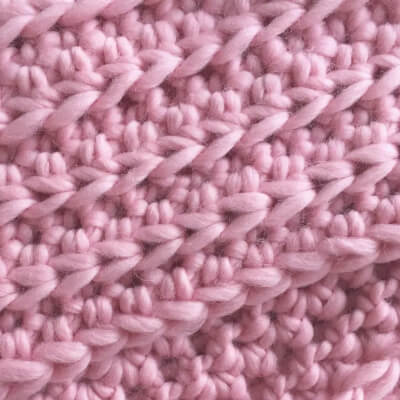 Below, you will learn one of the easy ways to create crochet ribbing. There are many different techniques, so always check the pattern before starting. This beginner-friendly crochet ribbing tutorial uses single crochet.
1. Make a slip knot.
2. Create a chain in any number of stitches.
3. Skip two chains and make a single crochet in the next chain.
4. Add a single crochet into each chain in the foundation chain.
5. Turn your work.
6. Add a slip stitch into each stitch along the row.
7. Turn your work.
8. Chain 1.
9. Add a single crochet into each slip stitch along the row.
10. Turn your work.
11. Repeat steps 6-10 until you reach your desired length.
10 Crochet Ribbing Patterns
Crochet ribbing adds texture and a nice stretch. Below you will find 10 patterns that use crochet ribbing.
1. Fisherman's Ribbed Crochet Beanie Hat Pattern by DoraDoes
The Fisherman's Winter beanie looks like it is knit, but it is crochet. The hat is a classic take on the fisherman beanie. It has a lot of stretch and is seamed at the crown. It fits snugly without any gathering on the top.
The pattern includes instructions for 4 sizes using 3 yarn weights. This pattern uses mainly slip stitches and chains.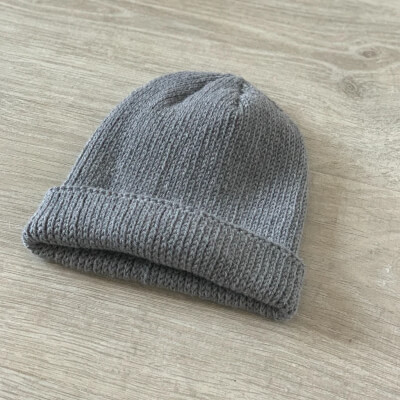 Find the Pattern by DoraDoes HERE
2. Vertical Rib Crochet Sweater Pattern by fmlcrochet
Comfortable and form fitting, this sweater is perfect on its own or worn with a camisole. It has long sleeves, a V-neck, and crochet ribbing.
This is an intermediate level crochet pattern. It is worked vertically using worsted weight yarn. It is written for bust measurements small-XL.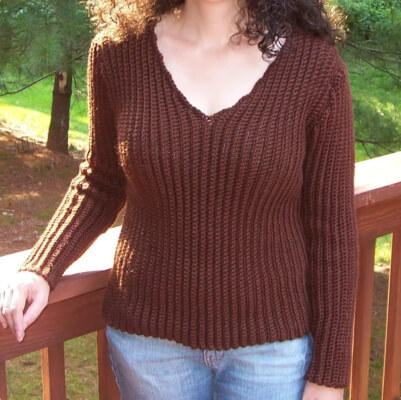 Find the Pattern by fmlcrochet HERE
3. Rib Stitch Crochet Blanket Pattern by Katiebeingcreative
Here is a great pattern for a throw blanket that uses crochet ribbing. The finished blanket would make a wonderful gift.
To make the blanket, you can use the recommended yarns or choose your own. The blanket works well with variegated and multicoloured yarns. When complete, the blanket will measure approximately 55 inches (138 cm) x 34.5 inches (88 cm).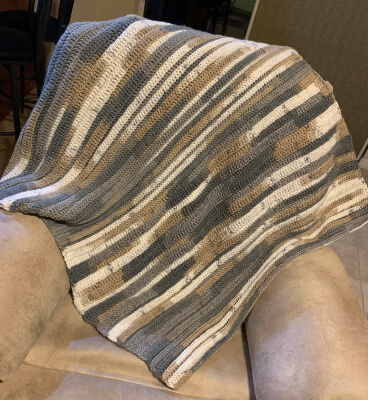 Find the Pattern by Katiebeingcreative HERE
4. Off the Rails Crochet Infinity Scarf by Dora Does
Practice the crochet ribbing technique and create a beautiful infinity scarf with this free pattern. Once you make one, you will want to make all your friends a scarf too.
To complete the pattern, you will need knowledge of working in turned rounds using US single crochet, half double crochet, and working in the back loops only.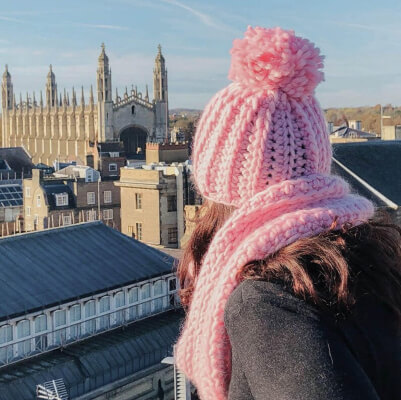 Find the Pattern by Dora Does HERE
5. Crocodile Stitch Fingerless Gloves with Crochet Ribbing Pattern by CrownedCrochet
Create a pair of mythical themed gloves with this crochet pattern. The gauntlets have a repeating dragon scale pattern and crochet ribbing around the wrists.
This is an intermediate level crochet pattern. You will need to know the crocodile stitch, front and back post double crochet, decreasing front post double crochet, and decreasing back post double crochet. The pattern includes adult sizes small, medium, and large.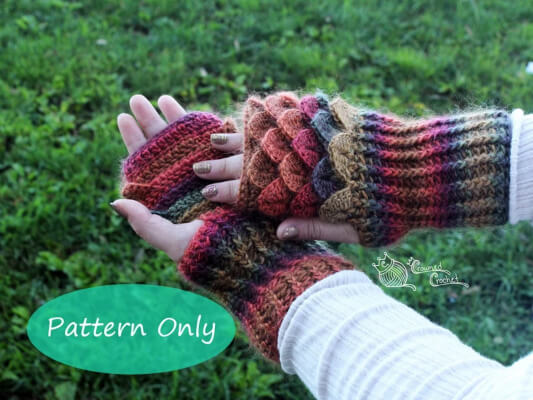 Find the Pattern by CrownedCrochet HERE
6. Crochet Ribbed Vest Pattern by MadebyAsya
Work up this vest to wear on chilly spring and fall days. The basic sweater vest can be worn over a blouse or alone. It would look cute paired with jeans, slacks, skirts, or shorts.
The crochet ribbing pattern is written using USA crochet terms. It contains written row-by-row instructions with photos. Included are sizes XS – XXL.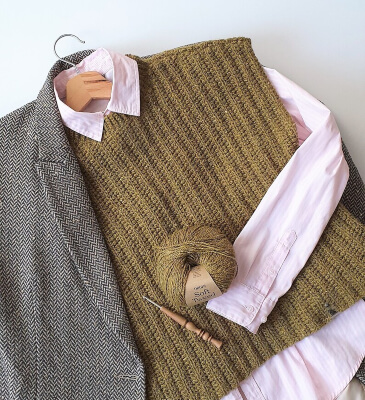 Get the Pattern by MadebyAsya HERE
7. Cozy Ribbed Crochet Pillow Pattern by Yarnspiration
Make a colourful pillow cover to match your home's decor with this free crochet ribbing pattern. This is an easy pattern that makes a super soft, stretchy pillow cover. Using the Bernet Velvet Stripes yarn, you do not have to change colours.
To make the pattern, you will need 2 balls of Bernat Velvet Stripes yarn, a US 10 ½ (6.5 mm) crochet hook, and a 20 inch (51 cm) square pillow form.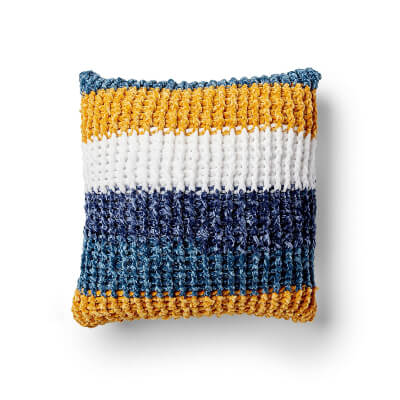 Find the Pattern by Yarnspirations HERE
8. Pescador Beanie Crochet Pattern by NomadStitches
This hat can be made in one day using only one skein or worsted weight yarn. The knit-like crochet ribbing makes the hat fit snugly around your head. The short rows at the top help get rid of any excess bulk.
You can use the unisex pattern to make a hat for everyone in your family. The pattern comes in 6 sizes, from baby to adult large.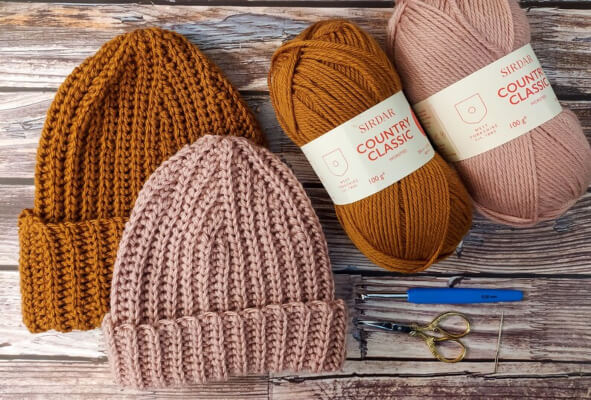 Find the Pattern by NomadStitches HERE
9. Oversized Fisherman's Rib Turtleneck Pullover Crochet Pattern by TwoOfWandsShop
You will fall in love with this oversized and chunky turtleneck. The sweater is the ultimate statement piece for fall and winter. The fabric is baggy, cosy, and squishy. It has plenty of stretch due to the crochet ribbing.
This is a beginner-friendly pattern. It includes sizes XS-4XL.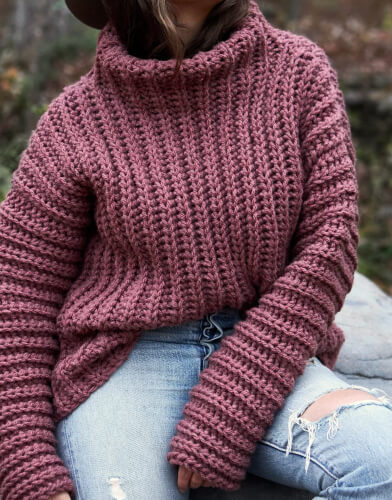 Find the Pattern by TwoOfWandsShop HERE
10. Crocheted Rib Stitch Hat Pattern by YarnOverisuniversal
Get ready for winter with a stretchy ribbed hat. Finish the top off with a fluffy pom pom or a button. Make several of these warm hats in multiple colours to match all your outfits.
The pattern requires a US L (8 mm) crochet hook, chunky yarn, and a pom-pom or button, button. To make the hat you will need to know chain, half double crochet, and slip stitch.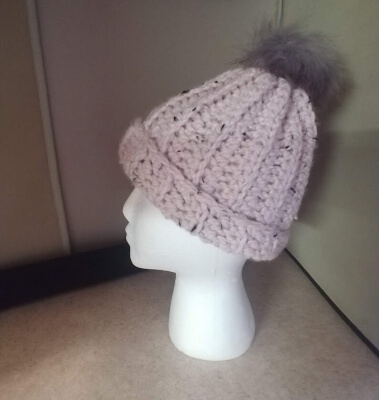 Find the Pattern by YarnOverisuniversal HERE
Are you ready to get busy on some winter projects? Check out our list of patterns that use crochet ribbing.
For more crochet tutorials, check out our Corner To Corner Crochet Tutorial, Spider Stitch Crochet Tutorial, Wave Stitch Tutorial, How To Join Granny Squares and a lot more.
If you are looking for a way to create a thick, warm fabric, give crochet ribbing a try. Crochet ribbing creates an interesting texture while adding stretch and warmth.