If you are one of those persons who can't sleep without a blanket, even though it is scalding, you should try these crochet blankets. Humans are really gifted with creative and talented minds! Because we are very creative, we developed new styles of blankets that are designed exquisitely.
Crochet blankets are one of the most preferred designs for stitchers because they can be made in any yarn weight and stitch patterns. Though stitching is not really easy, these free modern crochet blanket patterns will help you carry out your way. You can make your own!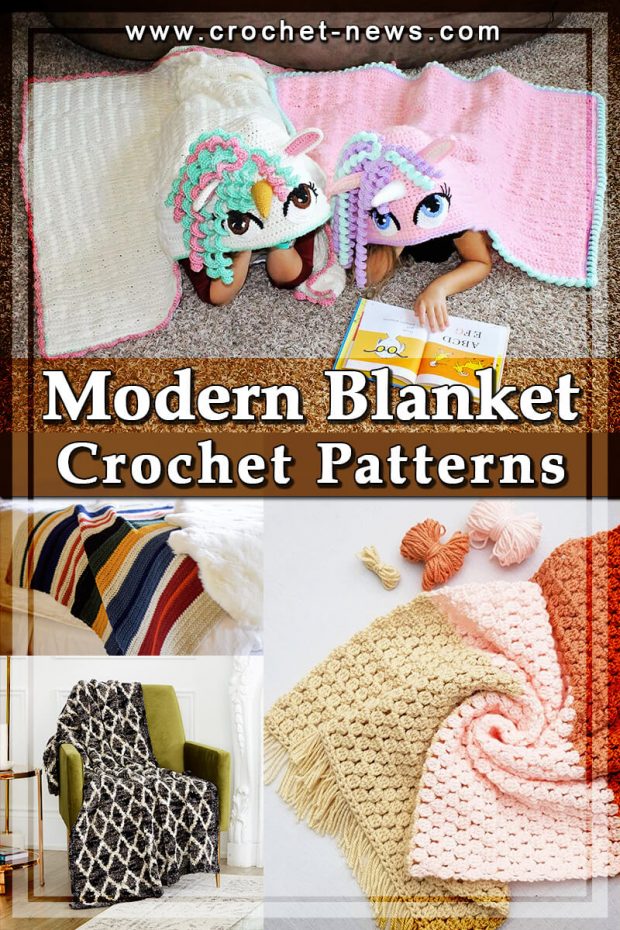 1. Peppy Pink Baby Modern Free Crochet Blanket Pattern by Daisy Cottage Designs
A crochet blanket pattern that can be stitched quickly. It is made up of colorful girly shades but can be customized for to any color if desired.
Materials:
Hobby Lobby "I Love This Yarn!" In Graymist and White (1 Skein each)
Vanna's Choice in Pink (approximately 1.5 skeins). If this is for a boy, I suggest replacing the pink with Vanna's Choice Baby in Aqua or Aquamarine.
I Crochet Hook
Scissors
Tapestry Needle for weaving ends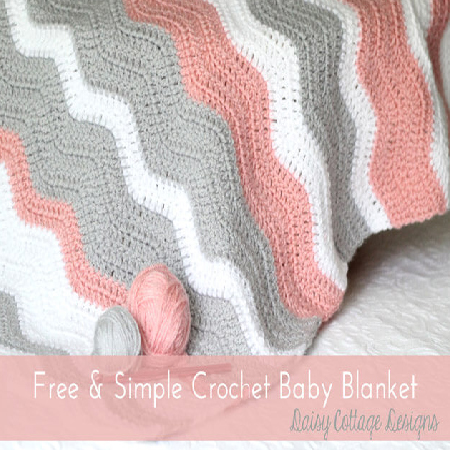 Get the Peppy Pink Baby Blanket Crochet pattern here
2. Modern Crochet Blanket Pattern Free by Fine Craft Guild
This pattern is easy and enjoyable to stitch. The guide for making this pattern comes for free! What are you waiting for? Click the link below!
Material:
Bernat Baby Blanket Yarn, which is super-bulky and super soft (100% polyester). Also, here are more Bernat blanket yarn crochet patterns.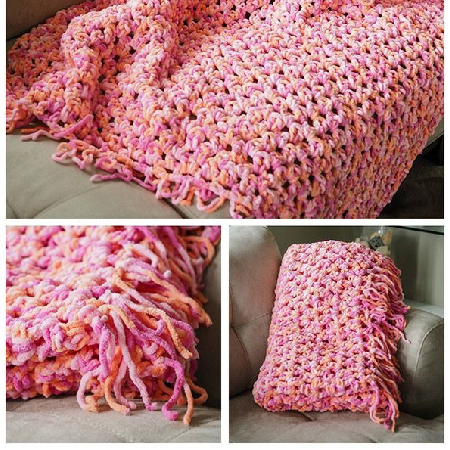 Get the Sofa Blanket Beginners Crochet pattern here

3. Free Mitered Summer Daisy Baby Crochet Blanket Pattern by Ravelry
Easy to made yet a fashionable and exquisite!
YARN REQUIREMENT:
approx. 17 oz Worsted Weight Yarn, as follows: white – 8 oz, yellow – 1 oz, green – 2 oz, dark blue – 3 oz, light blue – 3 oz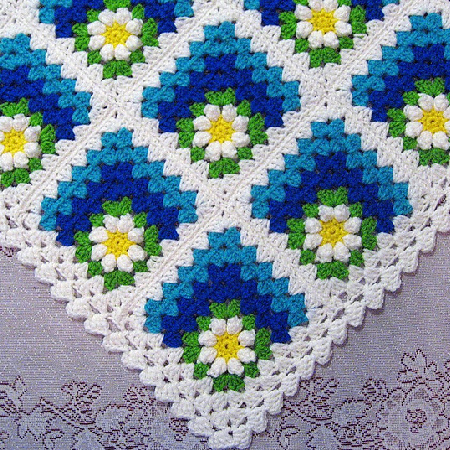 Get the Mitered Summer Daisy Baby Crochet Blanket pattern here.

4. Diamond Stitch Free Crochet Modern Blanket Pattern by Happy in Red
The design is colorful and classy. It is composed of several colors that lightens the moods of the person who will be using it. The step-by-step guide is available for free, download it now!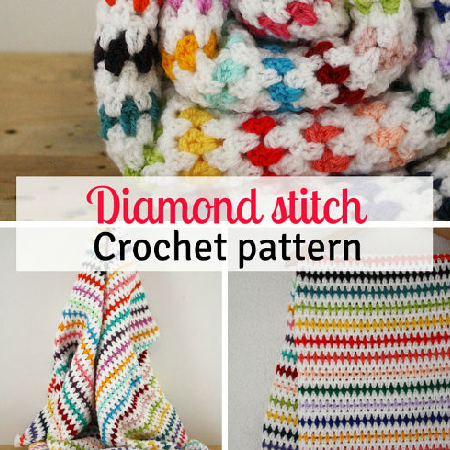 Get the Diamond Stitch Blanket Crochet pattern here.

5. Free Primavera flowers baby blanket Crochet Pattern by Dada
This pattern is perfect for individuals who loves floral designs. Stunning and alluring field of primavera flowers. This pattern comes for free. Check out the link below!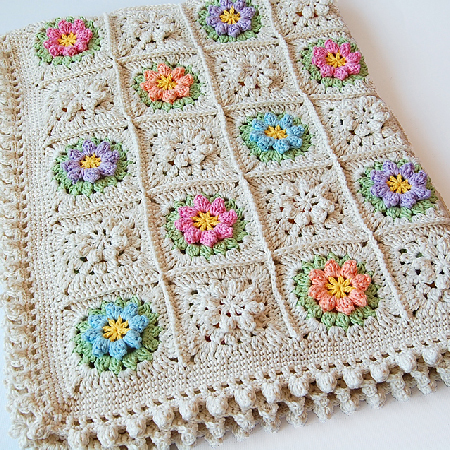 Get the Primavera flowers baby blanket Crochet pattern here.

6. Sedona Fringed Crochet Blanket Pattern by Make And Do Crew
Monochromatic doesn't have to be boring! In this modern fringed crochet blanket free pattern, two weights of yarn combine to add instant style and texture to any room of your house.

You'll be able to whip up the blanket portion of the pattern over a weekend and add the fringe while watching TV during the week. It's a super fun, satisfying project that you can enjoy for years to come!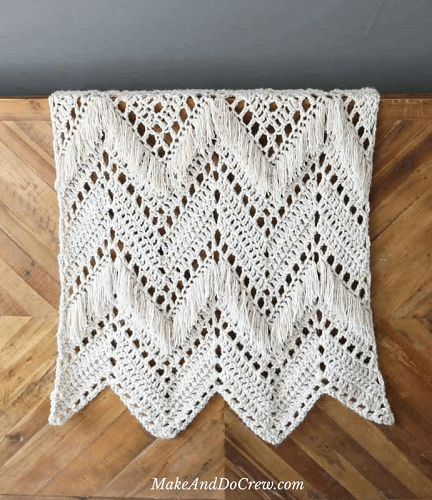 Get the Pattern here

7. Trellis Crochet Blanket Pattern by Yarnspirations
Using contrasting colors, stitch up this silken blanket in easy single crochet. Practice colorwork on this pattern featuring a prominent trellis design and an irresistible velvet texture that makes it a stunning showpiece in any room.

Crochet it as shown, or select shades that complement your décor. The pattern includes written instructions, plus a handy chart for more visual learners.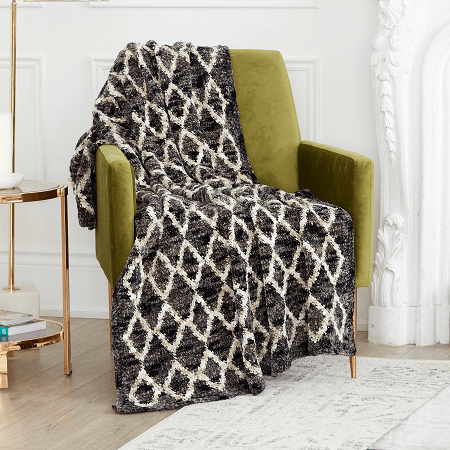 Get the Pattern here

8. Free Crochet Hexagon Blanket Pattern by Winding Road Crochet
This free Crochet Hexagon Blanket Pattern uses hexagon blocks, so you can make a modern baby blanket or easily customize the size however you wish. After making just a few hexagons, you will have the pattern memorized and be able to work on it anywhere!

If you love to crochet blankets, but you are facing warm weather or you are often on the go, this blanket may be the perfect project for you.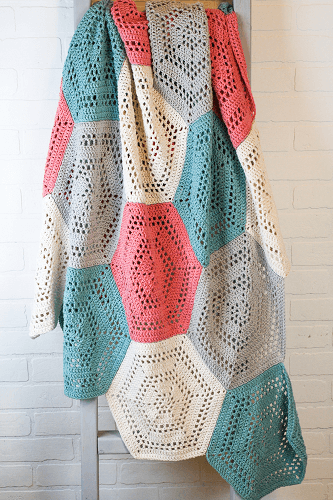 Get the Pattern here

9. Moon Shadow Crochet Blanket Pattern by Only As Brave
This Moon Shadow Crochet Blanket Pattern is a simple, modern blanket throw that's made with easy crochet stitches. It is crocheted using one simple stitch – the herringbone double crochet. When this stitch is repeated, it gives a beautiful woven-look to the fabric.

This project uses a chunky yarn that stitches up quickly without creating a blanket that is too heavy or bulky. A cozy night in isn't complete unless you're snuggled under a big, soft blanket like this one.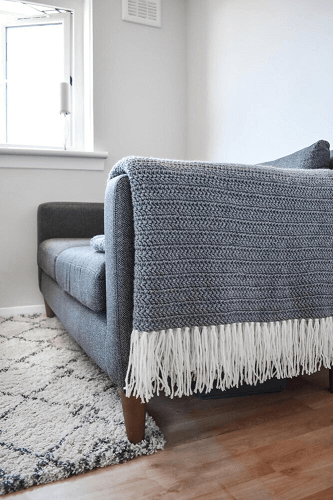 Get the Pattern here

10. Cabin Stripes Blanket Crochet Pattern by Mama In A Stitch
Featuring a modern stitch pattern with clean lines and a warm, wool blend fabric, this blanket is sure to add cozy vibes to any space. The stripes are reminiscent of rustic camp blankets, making it a perfect choice for guys and gals alike. Easy enough for new crocheters, anyone can enjoy this relaxing project full of color and warmth.
Get the Pattern here

11. Crochet Modern Moss Stitch Blanket Pattern by Daisy Farm Crafts
This is a perfect project for a beginner crocheter who wants a handmade touch added to their home. This Modern Moss Stitch Crochet Blanket looks amazing on a couch or a chair and combines that mid-century look that is so popular right now with crochet.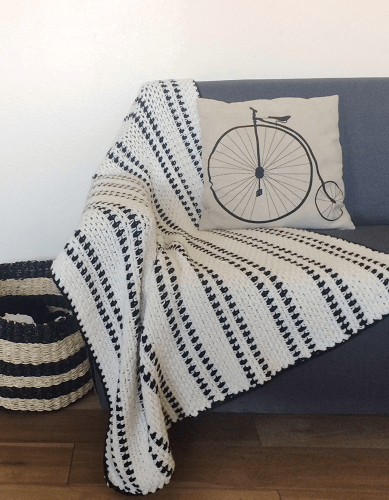 Get the Pattern here

12. Quarter Circle Crochet Blanket Pattern by Yarnspirations
Featuring a quintessential mid-century pattern (and palette), this crochet blanket is sure to become a showstopper in any modern home! Cleverly crocheted in bright shades, individual 2-color squares are rotated and seamed together in finishing.

We love it as designed, but you can swap out shades for ones that match your space. The overall look is crisp and playful, making this throw an amazing way to refresh a room!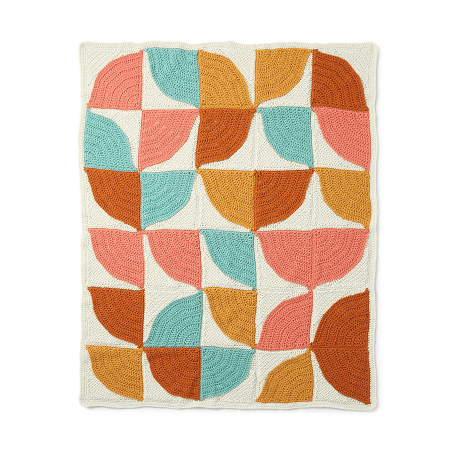 Get the Pattern here

13. Modern Crochet Blanket For Babies Pattern by Han Jan Crochet
Clever stitch combinations and subtle textures make this Peaches and Teal blanket the perfect gender-neutral modern crochet blanket for babies.

Featuring crochet overlay sections to get amazing colorwork and simple filet sections to add a beautiful drape, this blanket is one you will want to make again and again.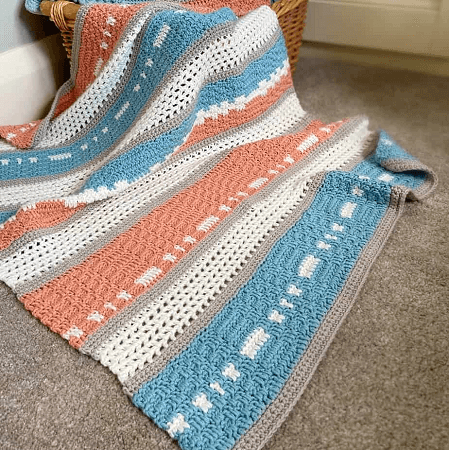 Get the Pattern here

14. Modern Corner To Corner Crochet Blanket Free Pattern by Fly The Distance Co
Whip up this Modern Corner to Corner Crochet Blanket for your couch, nursery, or bedroom. It's the perfect project to fit any style décor and personality. Nature adventure-inspired patterns like this one can easily liven up your own little corner of comfort!

This blanket is simple in its monochromatic color scheme but packs a stylish punch for your home décor. The size is just right to snuggle under, drape over the couch or have story time on the floor.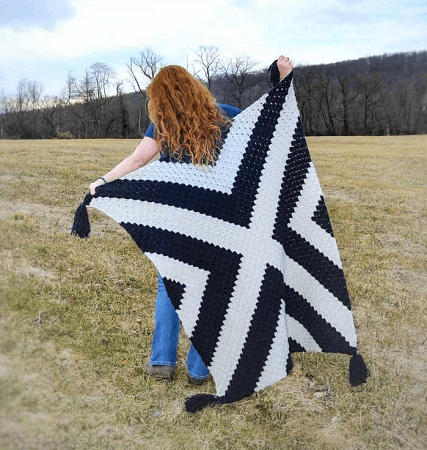 15. Modern Granny Square Blanket Crochet Pattern by TL Yarn Crafts
There's something so classic about a granny square blanket. This Sweet Granny Crochet Baby Blanket Pattern uses motifs joined on the bias with a simple and cute border.

Easily adjust the size and dimensions of this blanket to create the ideal heirloom blanket that you need. Create a custom color palette or use up worsted weight scraps for your blanket. You make the rules!
Get the Pattern here

16. Modern Crochet Granny Stitch Blanket Pattern by Make And Do Crew
Modernize a classic crochet staple with this super easy granny stitch blanket. Add some tassels to emphasize the playful color palette and you'll have the perfect blanket for the coolest kiddo in your life. Or choose neutral colors for a granny stitch couch throw that will stand the test of time.

Either way, this blanket pattern comes together quickly and easily, making it wonderful for confident beginners or advanced crocheters looking for a good Netflix project.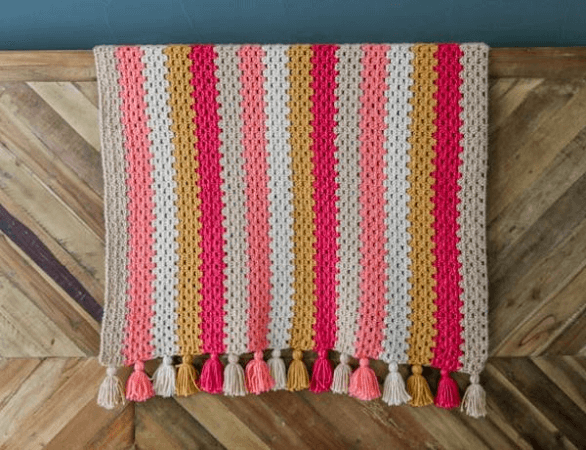 Get the Pattern here

17. Modern Crochet Baby Blanket Pattern by Annie Design Crochet
Would you like to crochet a baby blanket that has plenty of texture and with a fresh, gender-neutral color palette? We are happy to share with you this Modern Crochet Baby Blanket Pattern, and all the details you need to make your own baby blanket.

You can use this pattern to make a blanket from stash yarn or change around the color repeats to give a completely different look to your blanket. It would look very striking in just two colors!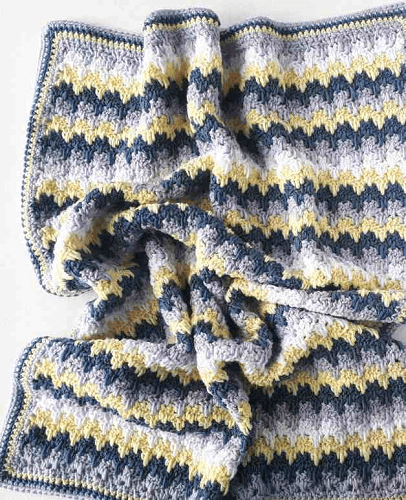 Get the Pattern here

18. Modern Camp Crochet Blanket Pattern by Mama In A Stitch
The idea for this blanket is to make something with a happy feel, geometric modern shapes and a bit of a campy/southwest theme. The size is suitable for a lapghan, toddler blanket, or even a baby blanket. It would be very easy to make it larger or smaller by simply repeating any of the rows or stripes that you like.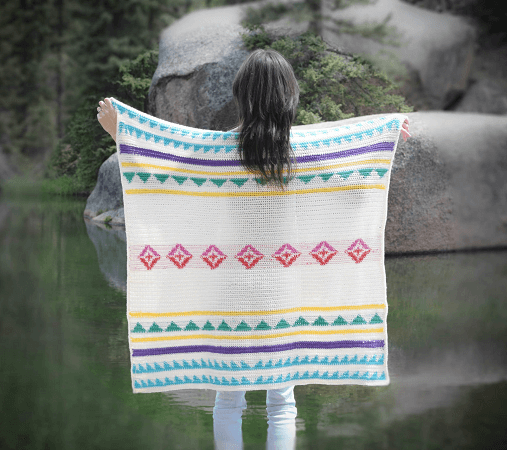 Get the Pattern here
When it comes to crochet blanket patterns, there's no reason that you have to stick with the traditional, there are tons of modern crochet blanket patterns here that you can choose from!
Share your finished snuggly blankets with us on our Facebook Page. We'd love to see you cuddling up under those. You've earned it! And we have a lot more fun crochet blanket patterns for the whole family. Be sure to also check them out!

We hope there's a modern crochet blanket pattern in here that you love. Make one or more of these blanket crochet patterns for chilly weather.