Spruce up your home with these super stylish chunky crochet blanket patterns! They are the perfect projects all-year-round but especially during the colder months as you can cozy up whilst crocheting – it's a win, win!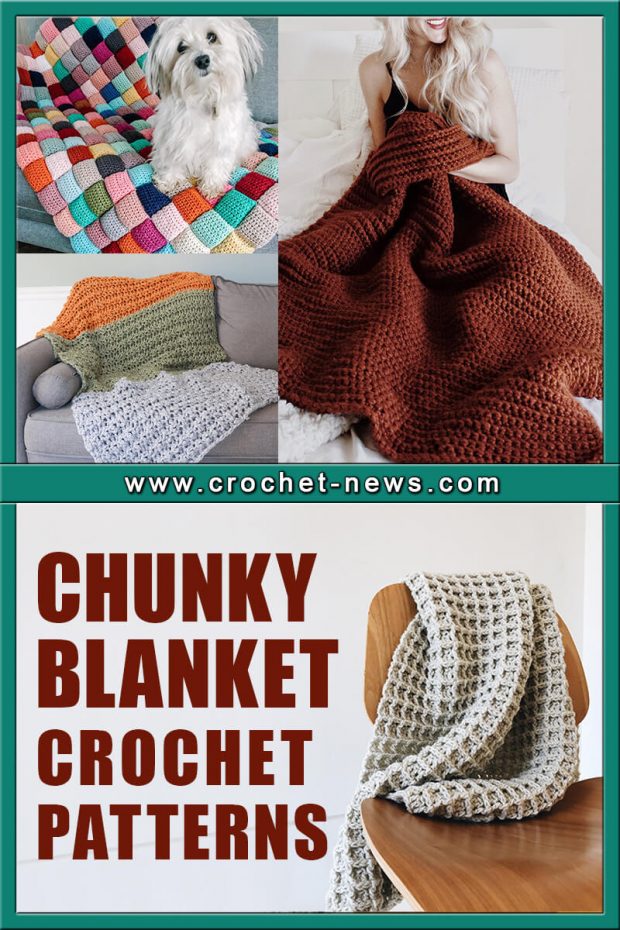 No matter the season, there's no denying the fact that snuggling inside with a warm blanket beats going to work or running errands any day. Toss a good book, and maybe even a glass of wine, into the mix, and you're practically in staycation paradise.

But there's another key ingredient to this dreamy scene that would really take things up a majorly cozy notch—a chunky crochet blanket.
37 Chunky Blanket Crochet Patterns
Check out our featured patterns below to create the chunky crochet blanket of your dreams!

1. Chunky Braided Cabled Crochet Blanket Pattern by All About Ami
Crochet this incredibly luxurious Chunky Braided Cabled Blanket! This blanket works up quickly since it uses jumbo yarn and a very large crochet hook. It helps keep you warm and is such a lovely piece to display in your home!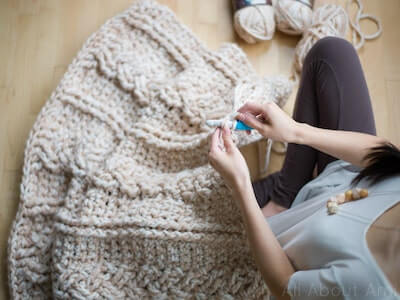 Get the Pattern by All About Ami here

2. Fireside Throw Chunky Crochet Blanket Pattern by Darling Jadore
Chunky, textured, and oh-so warm, this Fireside Throw is aptly named because it's the coziest blanket to snuggle up in on a cold evening by a roaring fire. A beginner-friendly pattern, it's a real delight to crochet.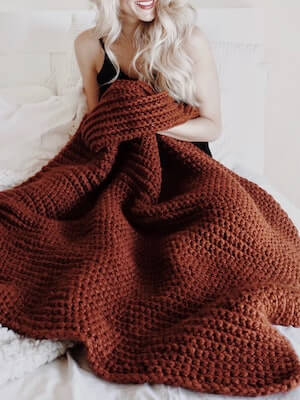 Get the Pattern by Darling Jadore here

3. Twisted Grid Chunky Crochet Blanket Pattern by Yarnspirations
Featuring 2 colorful shades of chunky yarn gives this crochet blanket a gorgeous marbled effect. Stitched in 7 panels of alternating textures and colors, this seamed blanket is irresistibly thick and cozy.

This project works up quickly using front and back post double crochet and half double crochet through the third loop. Customize the pattern with any 2 colors, or even increase the size by adding more panels.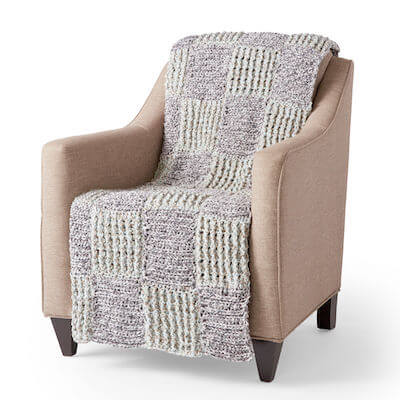 Get the Pattern here

4. Chunky Basketweave Crochet Blanket Pattern by Hooked On Homemade Happiness
Need to cozy up with something snuggly? This Chunky Basketweave Blanket Crochet Pattern works up surprisingly quick and you'll be warm and toasty in no time! With a simple 5 row repeat, this basketweave stitch is easy to create and turns out absolutely gorgeous.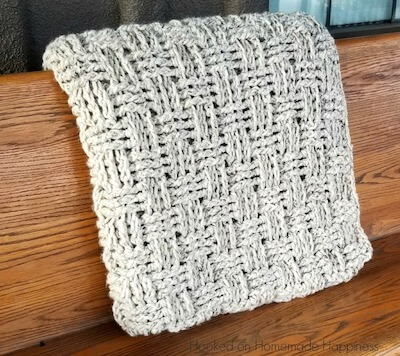 Get the Pattern here

5. Wintertide Chunky Crochet Blanket Pattern by Mama In A Stitch
Full of texture, bobbles, and knit-like stitching, this warm Wintertide Chunky Blanket is the ultimate in comfort and style.
The various stitch patterns will keep your attention as you make it and the super bulky yarn lends to a quick project. Cuddle up under the squishiest, boho inspired winter blanket you've ever made!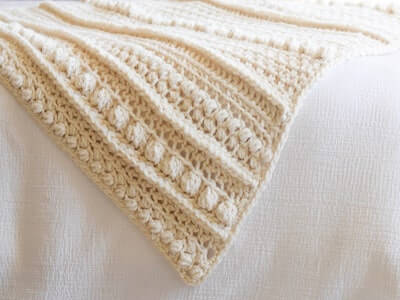 Get the Pattern by Mama In A Stitch here

6. Chunky Stripe Crochet Blanket Pattern by EClaire Makery
Want to make a blanket in a day? This chunky, cozy crochet blanket pattern is one of the softest blanket patterns, that's perfect for curling up by the fire with a good book.. It's vintage inspired stripe pattern adds a festive and stylish touch to your home, and you will want to cuddle with it all season long.

This pattern is a beginner friendly chunky crochet blanket that is one of the easiest you'll ever make! It uses the lemon peel stitch to create cozy texture, and the yarn used makes it so nice and warm.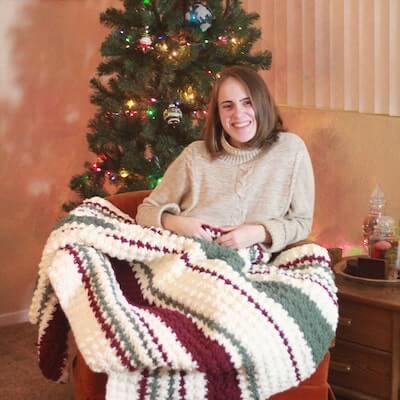 Get the Pattern by EClaire Makery here

7. Crochet Puff Quilt Blanket Pattern by Sass And Stitch Crochet
Create this heavy-weight, quilt-like crochet blanket with just one simple stitch and simple seaming techniques! This quilt has also been designed to be a slow make.
This takes a lot of time. Its not something you can work up in a week. But there's something so rewarding about putting so much time and effort into such a beautiful make.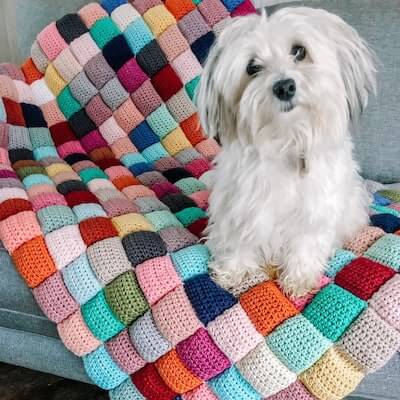 Get the Pattern by Sass And Stitch Crochet here

8. Tunisian Crochet Confetti Blanket Pattern by Yarn Hook Needles
If you have been wanting to have a velvet blanket to curl up with or to gift at a baby shower, this is the best beginner tunisian crochet pattern you could make! Simply grab your favorite size 4 yarn and an 8MM tunisian crochet hook and you're ready to go!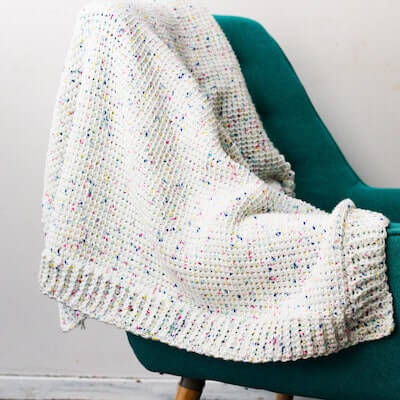 Get the Pattern by Yarn Hook Needles here

9. Free Chunky Crochet Blanket Pattern by Make And Do Crew
This Chunky Crochet Blanket Pattern makes a perfect timeless baby gift, but once you feel how soft it is, there's no way you won't want to make one for yourself too!

It's a perfect blend of delicate, soft and gender-neutral, and the resulting blanket is practical enough to actually get used (and washed!) and used again by a new baby.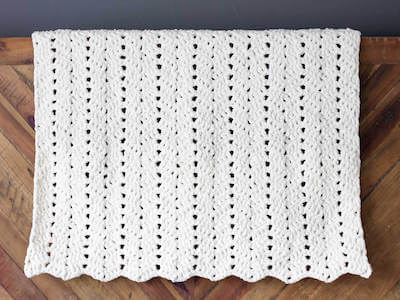 Get the Pattern here

10. Chunky Crochet Blanket Pattern by Left In Knots
This is a fast and free pattern for a chunky crochet blanket. You'll love the texture created by the star stitch and the fact that this blanket is easy to make in many sizes from baby blanket to full afghan.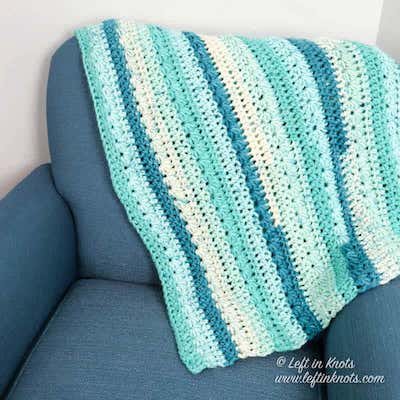 Get the Pattern here

11. Two Hour C2C Crochet Blanket Pattern by Rich Textures Crochet
This might be the fastest and coziest crochet blanket pattern you ever crochet! Worked as a corner to corner design and made with a Jumbo weight yarn, this blanket works up in two hours or less!

This Two Hour C2C throw is an easy design. The final blanket measures approximately 54 x 54 inches, although with more yarn, you can make it as big as you would like!
Get the Pattern by Rich Textures Crochet here

12. Chunky Crochet Ripple Blanket Pattern by You Should Craft
Using super bulky yarn and a 12 mm hook, whip up a simple, chunky crochet ripple blanket that's perfect for snuggling on the couch.

The pattern works up quickly and easily using a repetitive, meditative pattern. This blanket project is suitable for beginners as the chevron/ripple pattern is created using simple increases and decreases. There are no complicated stitches, just half-double and double crochets!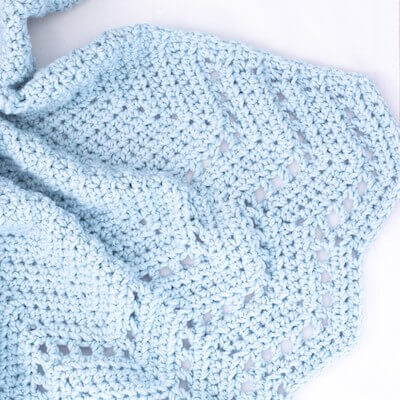 Get the Pattern here

13. Chunky Crochet Baby Blanket Pattern by Many Evenings Crochet
This is a very easy and quick to make, as it is based only on basic crochet stitches and a super chunky yarn. It has a pretty texture and modern and sophisticated look. Plus look at those lovely colors!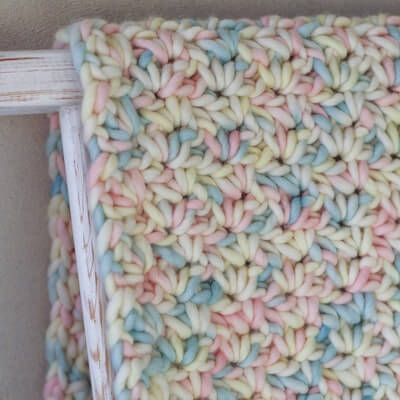 Get the Pattern by Many Evenings Crochet here

14. Chunky Bobble Stitch Crochet Blanket Pattern by Leelee Knits
This extra cozy and chunky blanket is so much fun to make and looks amazing with any style of decor. You will love how quickly your work builds since the pattern calls for bulky weight yarn. An added bonus: there is a video demo on the stitch pattern used to create the blanket, which visual learners will love!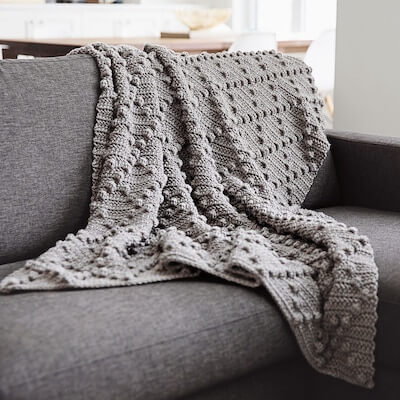 Get the Pattern by Leelee Knits here

15. Chunky Buffalo Plaid Crochet Blanket Pattern by Whistle & Ivy
This luxuriously Crochet Buffalo Plaid Blanket will be your new favorite thing! The soft, chunky plaid blanket top works up quickly and the back is made of plush faux sheepskin. This blanket is perfect for snuggling under by the fire with your currently project or WIP.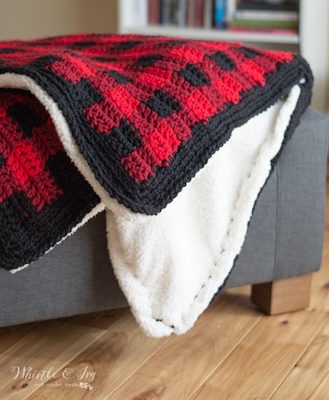 Get the Pattern here

16. Super Chunky Crochet Blanket Pattern by The Loopy Lamb
Get ready to get cozy with this free Super Chunky Crochet Blanket Pattern. This is a quick and easy blanket to crochet as it uses a super chunky yarn and a large crochet hook which means that you'll be ready for a cozy snuggle before you know it.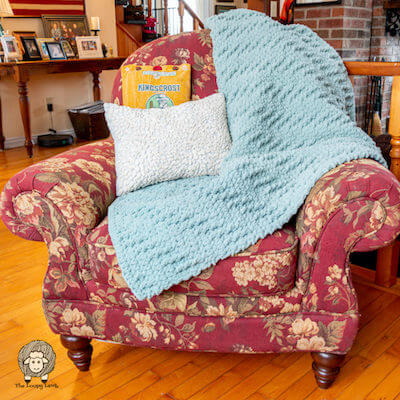 Get the Pattern here

17. Super Alexa Blanket Crochet Pattern by HanJan Crochet
This Super Alexa Blanket is a fun and quick crochet project that you will love to make. The chunky crochet blanket is made from 20 matching motifs featuring cluster stitches to give loads of lovely texture and make it a really tactile blanket to snuggle in.

Designed in chunky yarn, this pattern is also brilliant as a baby blanket and all you need to do is switch the yarn for a lighter weight! A double knit or worsted weight yarn would make an adorable crochet baby blanket too. Just imagine all the beautiful color options you could choose for it!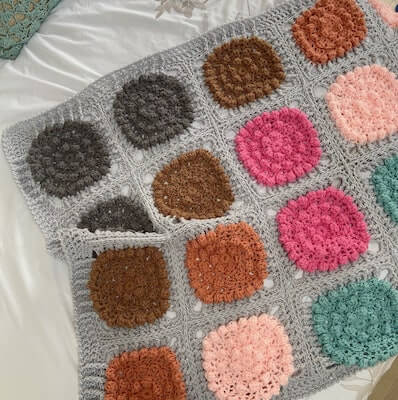 Get the Pattern here

18. Chunky Texture Crochet Blanket Pattern by Darling Be Brave
This blanket made up of a gorgeous lace stitch and has a lovely hint of retro and modern all mixed into one. Not only is this an absolute dream to snuggle up with on chilly days, but this blanket is also the perfect cozy touch to add to any room, draped across a sofa, arm chair, or the foot of your bed.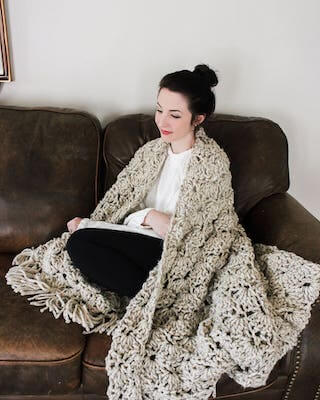 Get the Pattern by Darling Be Brave here

19. Diamond In The Rough Crochet Blanket Pattern by Red Heart
If you can stitch a granny square, you can make this project that takes the iconic granny and turns it into a comfy crochet throw!

Work in chunky yarn, choosing shades that delight, or stitch it as designed for your first creation. Wrap yourself in this nice bulky blanket, from bedroom to living room, to the Zen room and more!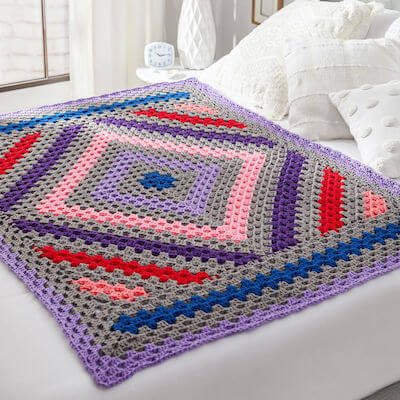 Get the Pattern here

20. Super Bulky Herringbone Crochet Blanket Pattern by MJs Off The Hook Designs
Bundle up and stay cozy in this Super Bulky Herringbone Blanket. Herringbone stitch adds texture and modern lines to this cozy throw. Blanket is worked holding together 2 strands of Super Bulky yarn for an extra thick blanket.
Small size makes a great throw for couch, chair or twin size bed.  Large size throw for king size bed (covers foot of bed).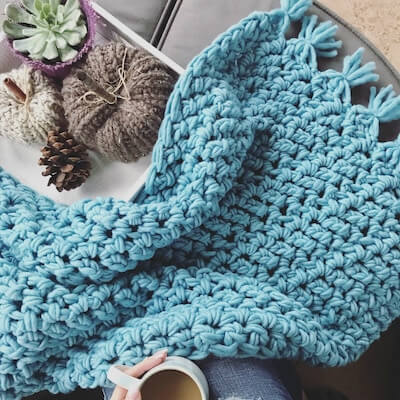 Get the Pattern by MJs Off The Hook Designs here

21. Cloverhill Cable Blanket Crochet Pattern by Rebecca's Stylings
This design is an aran style blanket, with dense cables that interlock seamlessly across the surface. Each saxon cable connects to its neighbor but also has separate shape and curvature.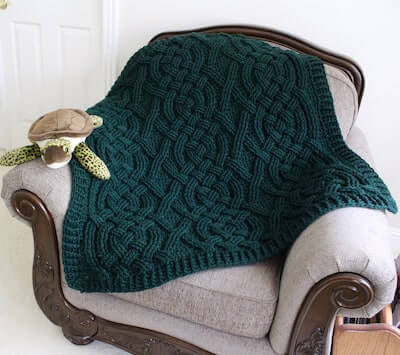 Get the Pattern by Rebecca's Stylings here

22. Chunky Feather And Fan Crochet Blanket Pattern by Persia Lou
Make your own beautiful Feather and Fan Crochet Blanket. This free chunky afghan pattern works up quickly and has lots of great texture.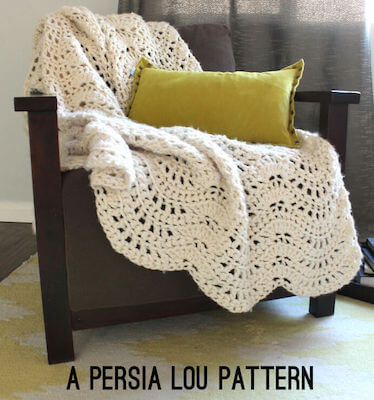 Get the Pattern here

23. Men's Jumbo Crochet Blanket Pattern by Desert Blossom Crafts
A cozy and masculine crochet blanket you need to try! This Mens Crochet Blanket Pattern Uses jumbo weight yarn and simple stitches for a no-nonsense design.

This crochet blanket is very large, to say the least. The pattern comes in a total of 6 sizes, from a throw all the way up to a king size bed.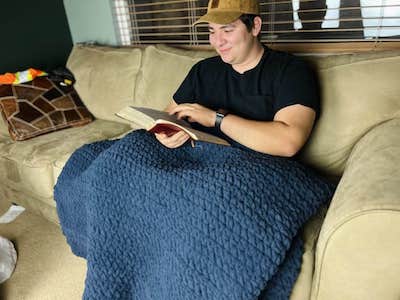 Get the Pattern here

24. Chunky Bobble Blanket Free Crochet Pattern by Teal And Finch
This cozy blanket is one of my favorites for snuggling on the couch. It's big and warm and just the right amount of heaviness. This free pattern comes with calculations on how to get started if you want to make the blanket a different size. This would make such a cute baby gift!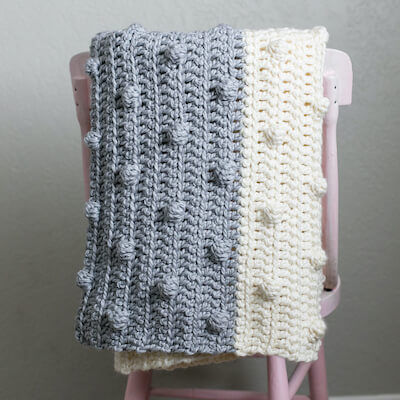 Get the Pattern here

25. Squishy Home Blanket Crochet Pattern by Kaylee Knots
This Squishy Home Blanket is a crochet pattern that comes with two sizes. The pattern includes a standard throw sized blanket (50″x60″) and an extra large size (66″x78″). The extra large size comfortably covers your entire body making it the ultimate blanket!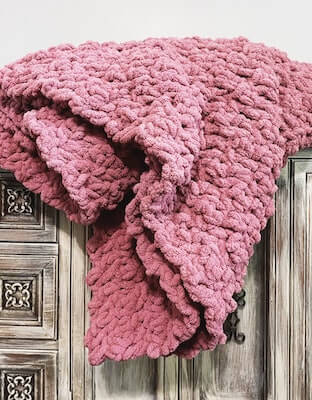 Get the Pattern by Kaylee Knots here

26. Chunky Waffle Crochet Blanket Pattern by De Brosse NYC
This Chunky Waffle Blanket features an eye-catching grid design. Despite its intricate aesthetic, the making process is incredibly cathartic and can be worked quite effortlessly (pairs perfectly with a good Netflix binge).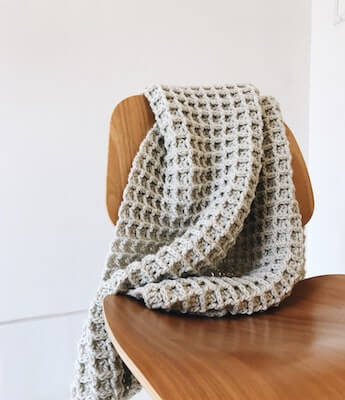 Get the Pattern by De Brosse NYC here

27. Chunky Rainbow Ripple Crochet Baby Blanket Pattern by Truly Crochet
Crochet this Chunky Ripple Rainbow Baby Blanket Crochet Pattern, this is such a fun and vibrant baby blanket crochet to make!

You may notice in the pictures that the ripples really pop out at you and there's a little secret to this that you may or may not know – Back loops!

Going into the back loop only when crocheting this gives the effect that these ripple stitches are raised, it's just so dreamy and gorgeous!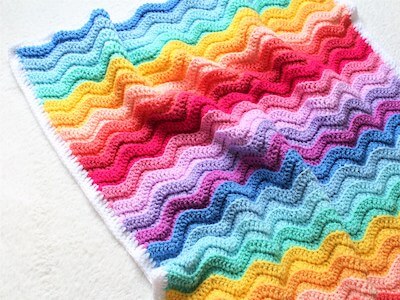 Get the Pattern by Truly Crochet here

28. Chunky Crochet Bobble Blanket Pattern by A Crafty Concept
Follow this free crochet pattern to learn how to make this Chunky Crochet Bobble Blanket and add crazy texture to any room!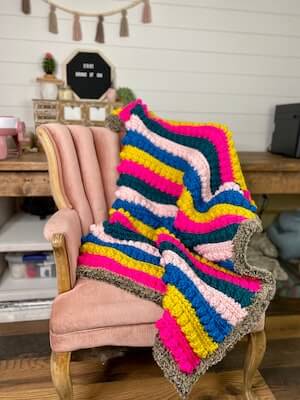 Get the Pattern here

29. Chunky Icelandic Crochet Blanket Pattern by Mama In A Stitch
Learn how to use the lemon peel stitch to make a gorgeous chunky crochet blanket that can stand up to everyday wear and tear.

This gorgeous Chunky Icelandic Crochet Blanket is a breeze to make as it's done with a large hook and super bulky yarn. While this one is made in a fresh cream color, you could choose any color that goes with your home decor.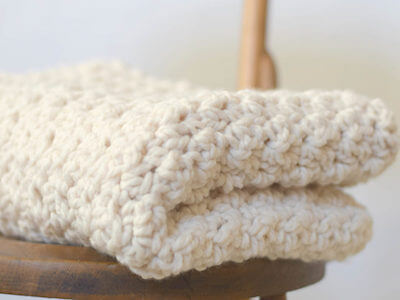 Get the Pattern here

30. Easy Chunky Crochet Blanket Pattern by Jewels And Jones
Cozy up by the fire with this "hygge" inspired chunky crochet blanket. It's the perfect blanket to keep you warm in the morning and also works great as an oversized coverup during the day.

This free crochet blanket pattern is made with bulky weight yarn and a 15 mm crochet hook. It's simple, works up fast, and is made using only 2 stitches. The perfect beginner-friendly crochet pattern!
Get the Pattern here

31. Hexagon Flower Blanket Crochet Pattern by Knitting With Chopsticks
If you're dreaming of cool fall days, then you must add this modern crochet blanket pattern to your project list! Made out of hexagons, it's a beginner-friendly pattern that works up fast. It includes original seaming, and is available in 4 sizes.
You'll wind up with that perfect farmhouse look when you drape this chunky crochet blanket over your couch or lay it at the bottom of your bed.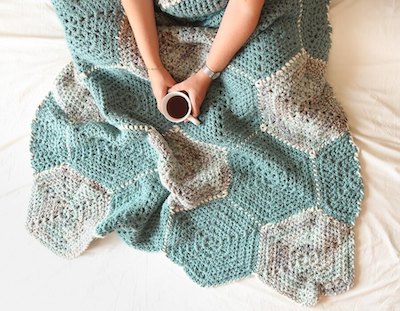 Get the Pattern by Knitting With Chopsticks here

32. Chunky Hand Crochet Blanket Pattern by Anne Weil
Chunky and absolutely fabulous, this simple hand crochet blanket, which takes only an hour to make will be the envy of everyone in your life. Is crocheting using only your hand new to you? Check out our how to hand crochet tutorial with a few patterns for you to try on.

Crochet stitches in this extra-large scale are fabulously structural and plush at the same time. Sized at 36" x 46", it's sure to bring just the right spot of luxury to your bed or sofa.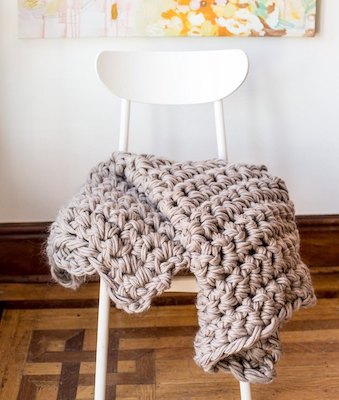 Get the Pattern by Anne Weil here

33. Cozy Chunky Crochet Blanket Pattern by Maria's Blue Crayon
This crochet blanket is super easy to make with super bulky yarn. The chunky weight makes it a quick project to complete.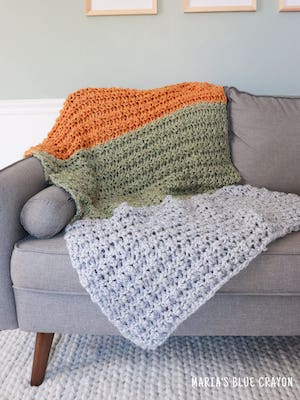 Get the Pattern here

34. Crochet C2C Nordic Blanket Pattern by Yarnspirations
Festive style abounds on this gorgeous, Nordic-inspired crochet blanket for the home. The design is stitched corner-to-corner and features deep, warm tones of super bulky yarn.

The characteristic tweed yarn gives this project a cozy, rustic effect that adds warmth to modern or traditional settings. This blanket will look wonderful in any room in the home!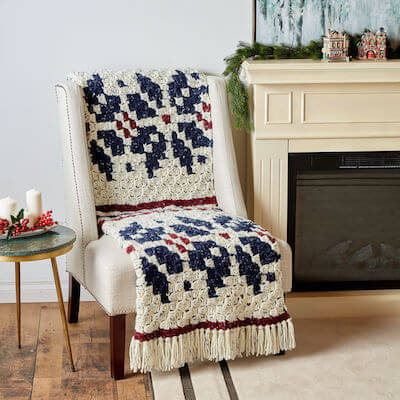 Get the Pattern here

35. Chunky Granny Square Blanket Crochet Pattern by Sigoni Macaroni
Have you ever wanted to make a granny square blanket, but felt overwhelmed by the whole process? This pattern was designed just for you! Make this chunky granny square blanket in a quarter of the time and still have a beautiful trendy crochet blanket to decorate your home.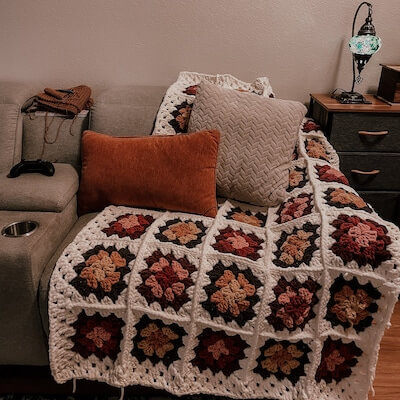 Get the Pattern by Sigoni Macaroni here

36. Chunky Ribbed Crochet Blanket Pattern by The Snugglery Patterns
This oh so chunky and lush blanket utilizes surface crochet which is a way to add slip stitches to one side of your work after you've finished a project.

With surface crochet and the camel stitch, you will be able to create this pattern for a crochet chunky blanket that looks just like a "knit two purl two" ribbed blanket, all done with crochet!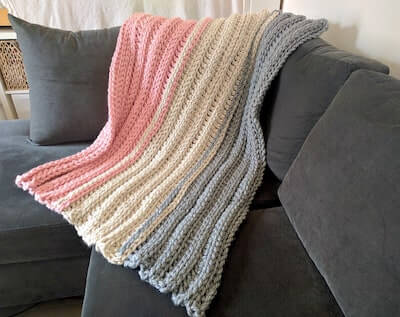 Get the Pattern by The Snugglery Patterns here

37. Free Chunky Crochet Blanket Pattern by TL Yarn Crafts
There's nothing quite like a great movie, your favorite spot on the couch, and a handmade blanket. Cuddle up with this cozy blanket for your next Netflix binge session.

Playful puff stitches dot either end of the blanket, adding texture and visual interest. The body is a sea of single crochet stitches, allowing you to get into the groove of this quick and easy project. You'll be planning your next afghan before you finish the first!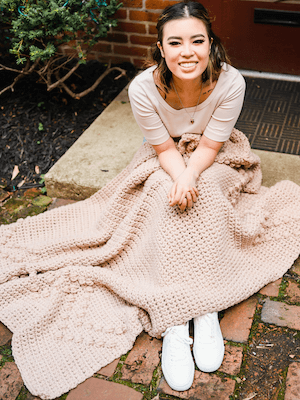 Get the Pattern here
EVERYONE IS OBSESSED WITH CHUNKY CROCHET BLANKETS, AND IT'S EASY TO SEE WHY!
We love seeing your creations so feel free to share pictures of your finished cozy blankets on our Facebook Page. Fair warning – if you settle on one of these chunky crochet blanket picks, you may never want to leave your couch again!
Ready to find your next project? Whether you're into crochet sweaters, C2C crochet blankets, baby blankets, or crocheting your own hat, we've got you covered!

Truly, these chunky crochet blanket patterns have downright adorable edge over the rest of your blanket collection. Make yours today or to gift for people who are always cold!